When cooked right, pan fried duck breast is out of this world!
It's a very short cooking process – not much more than 10 minutes. Still, there are a few tricks that you can use to ensure you get that heavenly marriage of crispy skin and tender meat.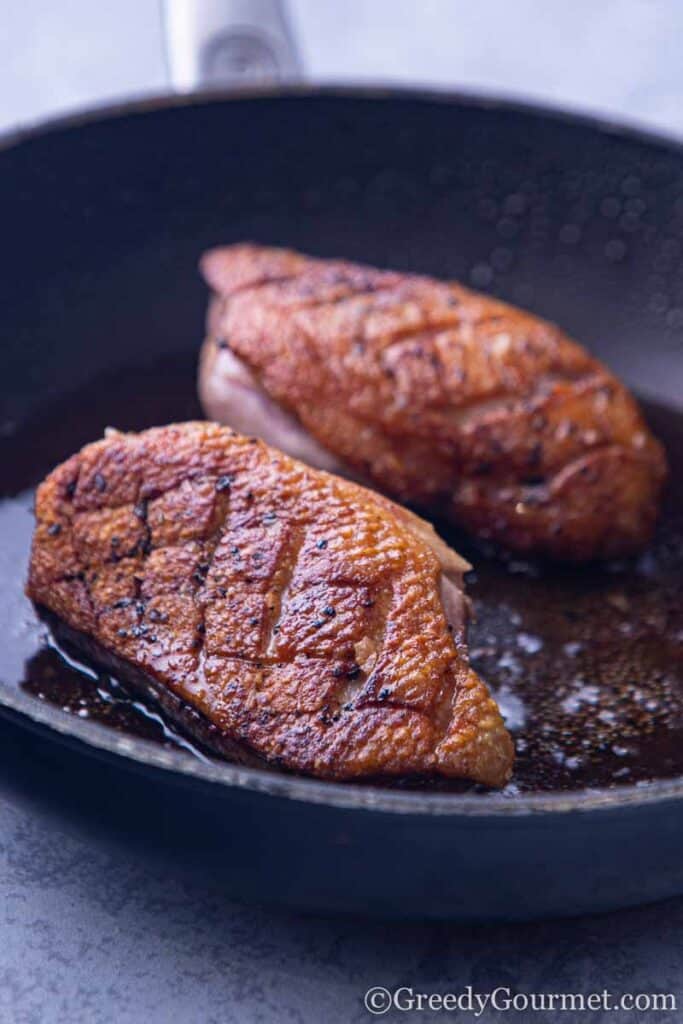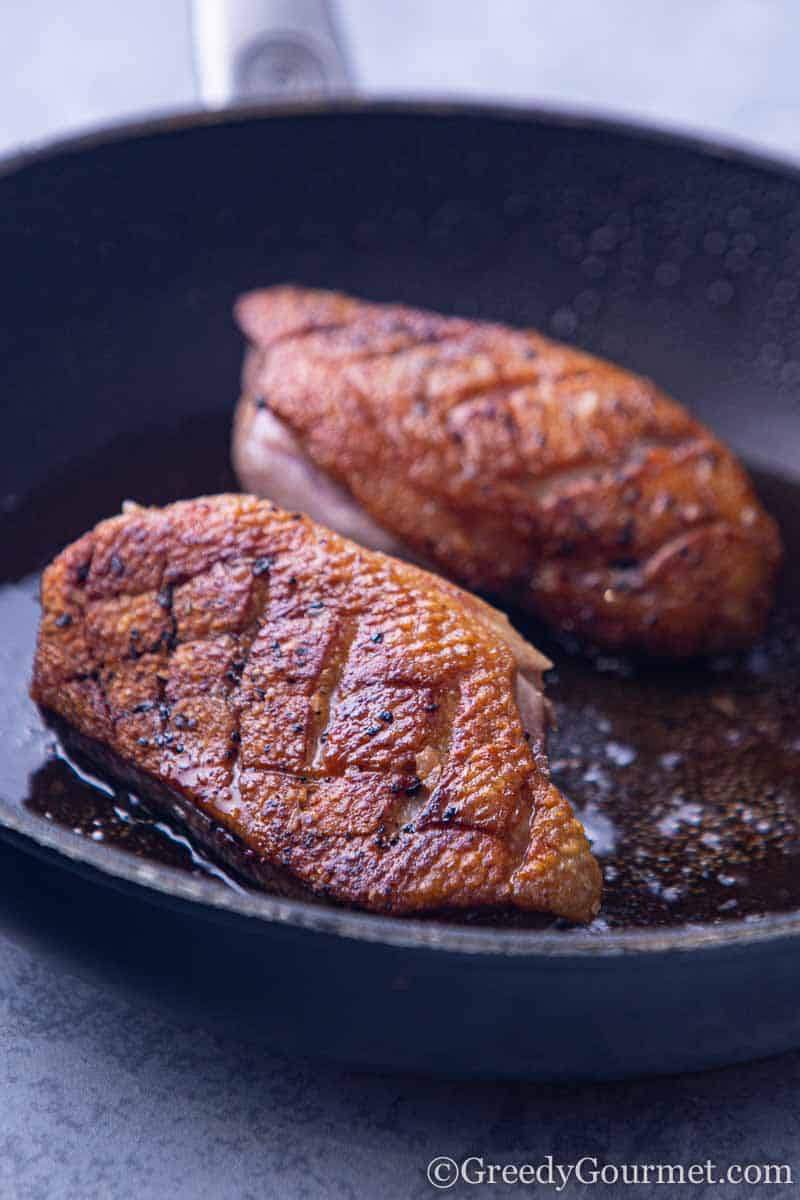 Want to know how to cook a duck breast to perfection? Here's how…
Products you need for this recipe
Before we go any further, let's take a look at some of the essential pieces of kit you're going to need for this duck breast recipe:
Cast iron frying pan – a quality non-stick frying pan is a great piece of kit to have in the kitchen and is an essential item for this duck breast recipe
Sharp knife – you'll need a good sharp chef's knife in order to score the skin of the duck breast
Spatula – you'll need your trusty spatula to press down on and turn the duck. Go for a well-made silicone spatula for flexibility and sturdiness
Kitchen towel – you'll need to pat your duck breasts dry before placing them in the pan
Sea salt – when it comes to sea salt for this recipe, don't skimp on quality. Sea salt is one of the few ingredients, so it's worth getting it right!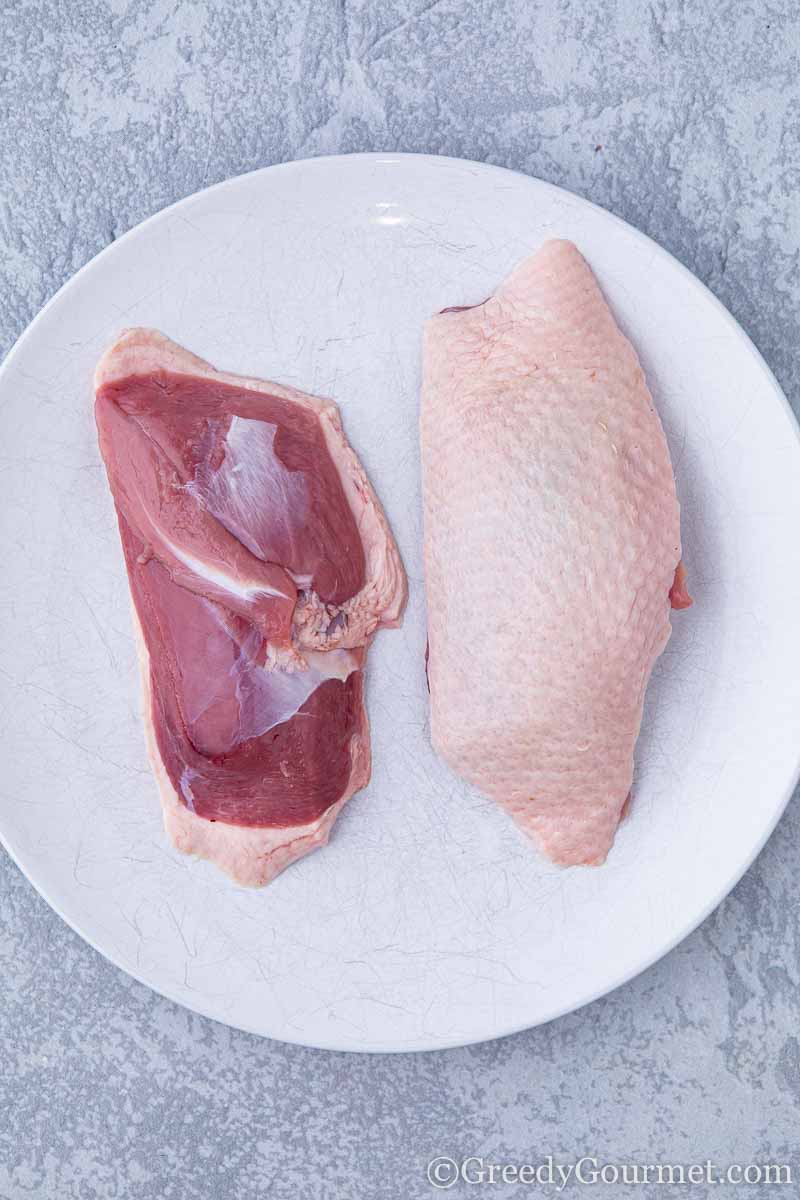 Pan fried duck breast recipe
Many people are scared away from cooking and eating duck. They're either put off by the fat content or worried about the taste being too much.
What they don't know, however, is that there is a way to cook duck that makes it irresistible. While you won't want it every day, cook a duck breast properly and it will make the most delectable treat.
If there's one thing we all deserve from time to time, it's a delectable treat!
How to cook a duck breast
Before you cook it, you need to score the skin side of the duck with a sharp knife. This lets the duck fat render away when you cook it, leaving you with crispy, golden brown skin.
Another key part of the preparation is to season the duck breasts with a good amount of salt. Then pat them dry and let them stand for 15 minutes. It's always best to cook meat closer to room temperature than straight out of the fridge.
The first trick to cook duck breasts to perfection is to not preheat the pan. Yep, that's right, don't preheat the pan.
This probably goes against everything you've been told when it comes to cooking. Trust me though, this is the way to cook duck breast so that it melts in your mouth every time.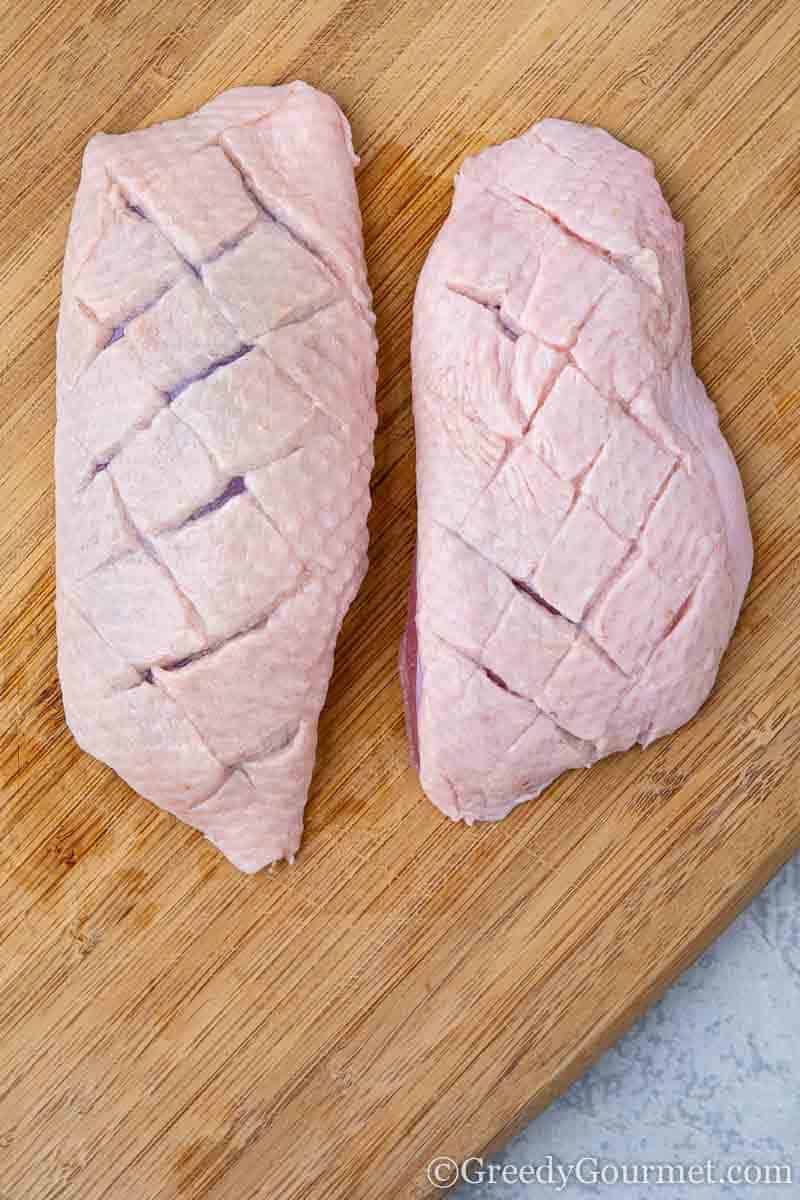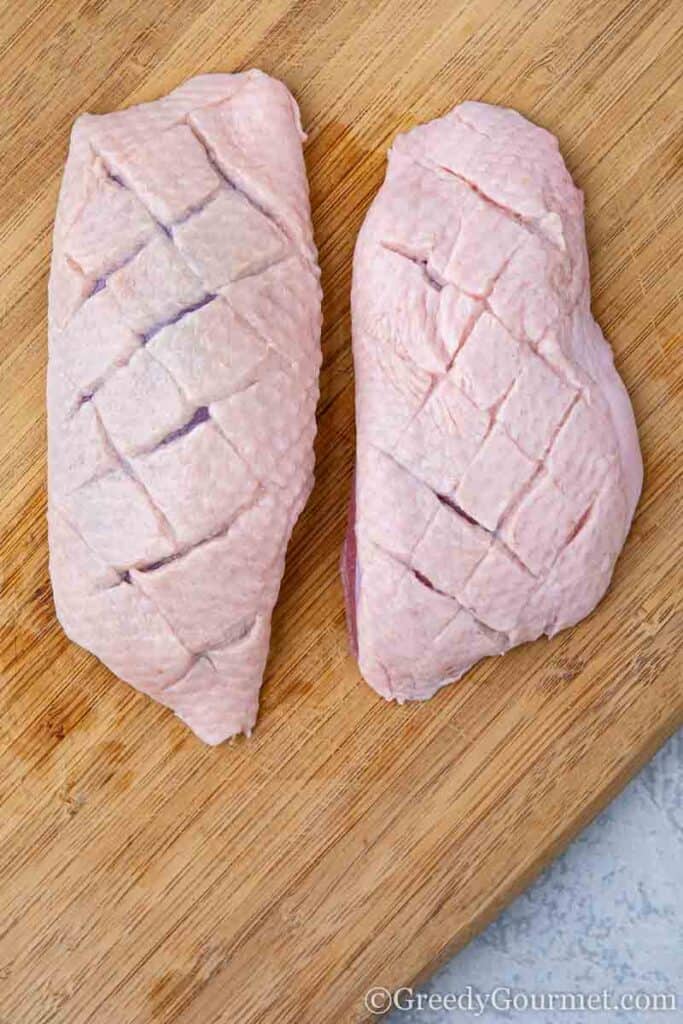 When you start with a cool pan, you enable as much of the fat as possible to render out of the duck breast. Just turn it onto a medium high heat and place the duck breasts in the pan straight away.
You'll want to leave your duck breast to cook for around 5 minutes, although it depends on the size of the duck. If you're using duck breast from a mallard, pintail, canvasback or domestic duck, your duck breasts are probably on the larger side. So, aim for a 5 minutes minimum.
You'll know you've got the right heat if you can hear a nice steady sizzle. If you need to, use your spatula to lightly press the duck breast down. This will ensure an even cook across the whole of the duck breast.
Next, flip the duck breast over and cook for about 3-4 minutes more, maximum. Be careful not to overcook the duck. You want it to be tender and juicy.
When it's cooked, remove the duck breast from the pan and let it rest for 5 minutes. This allows all the juices to be soaked up by the meat, giving you an unbelievable, melt-in-your-mouth taste and texture.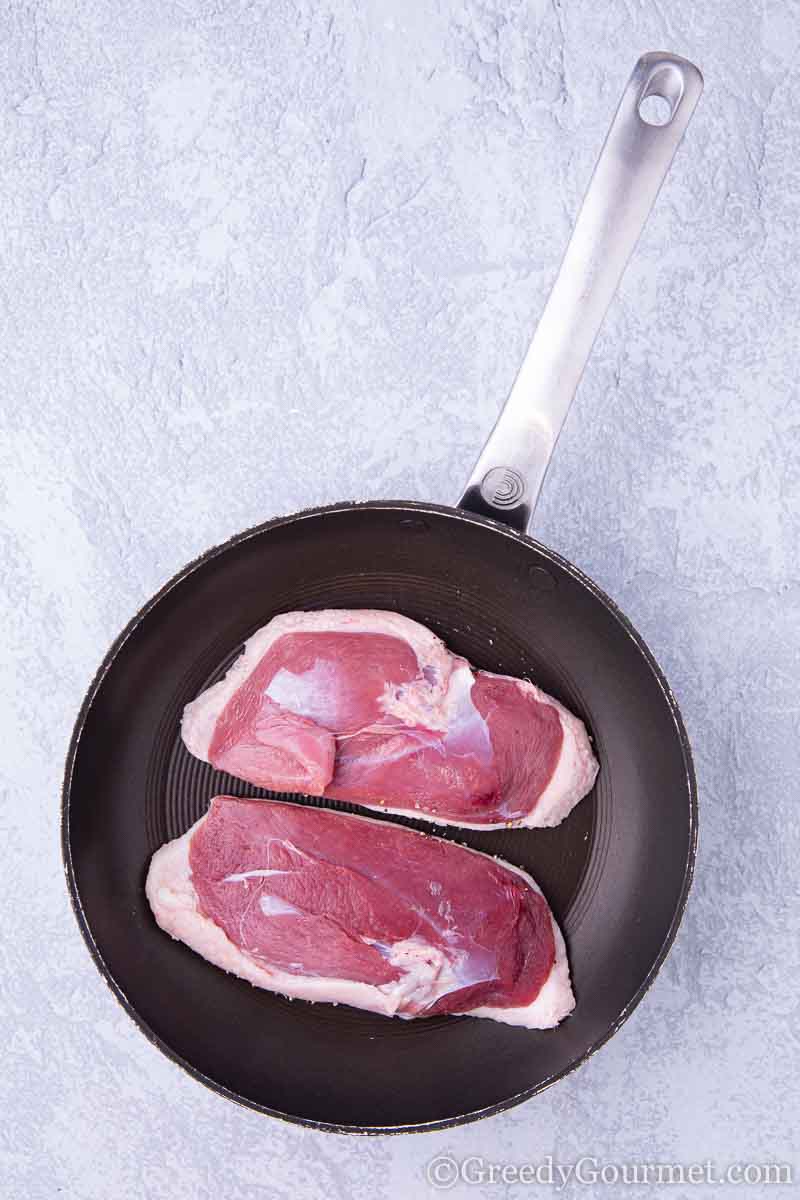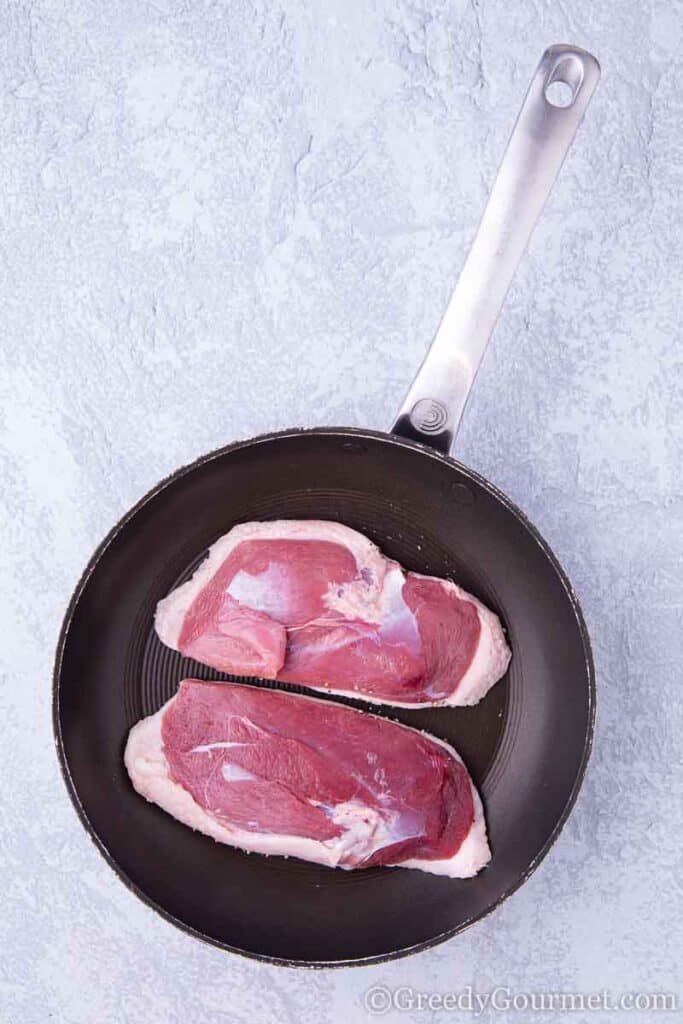 Why do you need to score the skin?
When cooking a duck breast, scoring the breast skin gives you a bigger surface area of fat. This helps it to render away, giving you crispier skin. 
Once you've rendered the fat, don't throw it away. Duck fat is an amazing ingredient, especially when used with roast potatoes. In fact, you can use it to cook up some of the roast potatoes recipes at this end of this article.
How do you know when pan fried duck breasts are cooked?
The easiest way to find out if it is properly cooked is to use the finger test – just press your forefinger on the cooked meat. It should be quite firm but springy.
To be more accurate, use a meat thermometer. Aim for an internal temperature of between 57ºC for medium rare and 74ºC for well-done.
Do you need to let duck breasts rest after cooking them?
Absolutely! It's important to let all meat rest after you've cooked it. This allows it to absorb all the juices and spread them throughout the cut of meat. 
If you cut meat before it's been properly rested, all the juices will spill out onto the chopping board.
What's the best sauce to serve with pan fried duck breasts?
Some people will call for a simple jus to serve with duck breasts. Others will opt for a plum sauce.
For me, there's a clear winner when it comes to serving a sauce with duck. Orange sauce is absolutely to die for when served with duck. 
Why not try for yourself? Make this duck breast recipe alongside my easy orange sauce recipe. You won't be disappointed!
What other seasoning can you add to duck breasts?
For me, this recipe is all about simplicity. Get yourself a quality duck breast, add a pinch of salt, cook it well and you'll be in heaven.
Sometimes simplicity is bliss.
However, if you want to bring a little more flavour to the table, feel free. Duck loves sweet and sour, as well as spicy flavours, and there are many ingredients you can add that will bring an extra dimension to the flavour of this dish.
Chinese five-spice powder, cinnamon, fennel and allspice are all spices that will add a really interesting angle to duck breast. If you're going for that Asian-inspired taste, any of these ingredients would be fantastic. Add a bit of black pepper for good measure.
You could also add that magic ingredient Worcestershire sauce for an extra hit of unami.
Is duck healthy?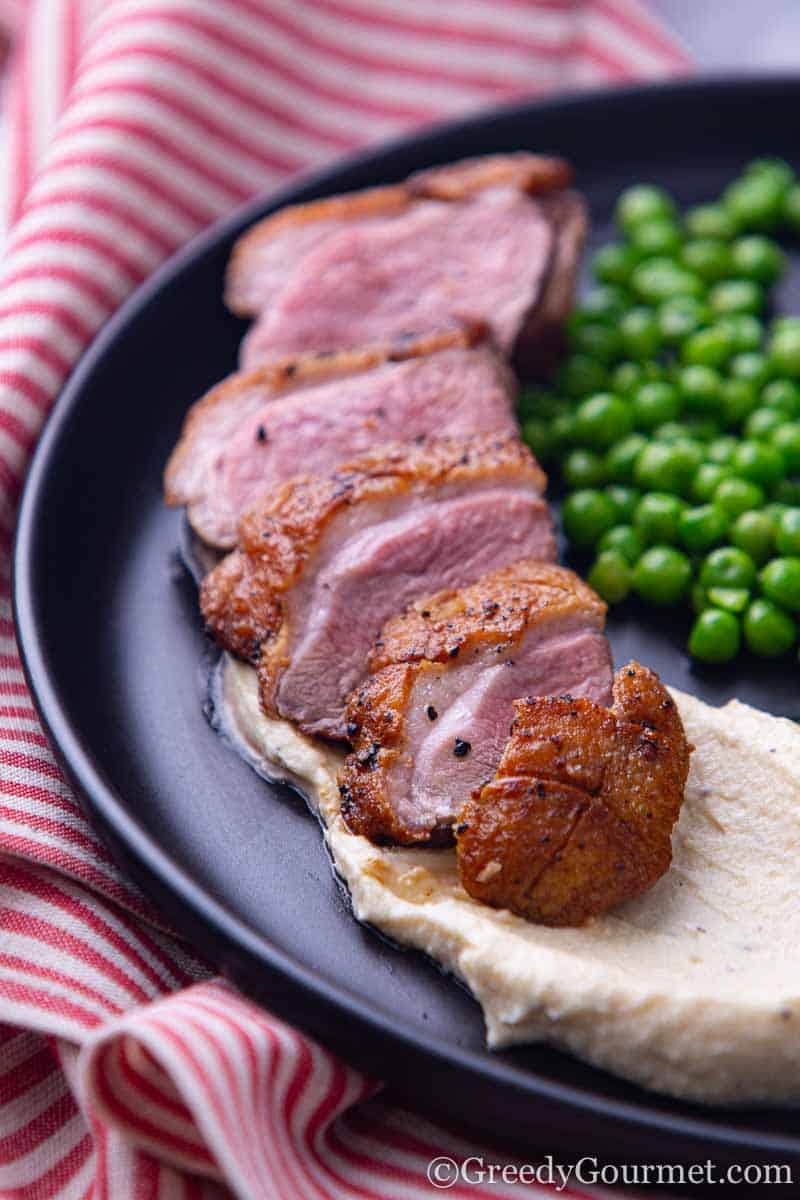 It is absolutely healthy. Okay, so it is a high fat meat. Hence it's reputation for being unhealthy. 
In fact, not only are the fats found in duck the healthy kind, but it is absolutely jam-packed with nutrients, vitamins and minerals. 
Just a 100g serving of duck contains 20% of your daily value (DV) of vitamin B3, or niacin, which helps to lower cholesterol and keep your nervous system, digestive system and skin healthy.
It also contains 13% of your DV of vitamin B1, or thiamin, an essential vitamin for maintaining a healthy nervous system.
This delicious meat also contains copper, iron, phosphorus and selenium, all very important minerals for maintaining a healthy immune system.  
In addition to all this, duck meat contains healthy essential fats like omega-3 and omega-6. Omega-3 helps to regulate blood pressure and maintain a healthy heart, while omega-6 helps to lower cholesterol, maintain a healthy heart and reduce the risk of cancer.
Which wine best goes with duck?
To really take this dish to another level, you simply have to serve it with wine. Well-cooked food on its own is delightful. Served with a fine wine – well, now we're talking blissful.
A ripe, delicate Pinot Noir would be a fantastic wine pairing with duck breast. With a bright,  fruity character, Pinot Noir makes an excellent match for earthy rich flavours like duck, especially when served with an orange sauce (see my recipe above).
You could also pair it with a heavy-bodied red such as a Cabernet Sauvignon or a Bordeaux Blend. The richness and fattiness of the duck and the boldness of heavy, fruity reds with high tannins goes together very well indeed.
Try these wines with this fantastic Braised Short Ribs recipe too.
Side dish recommendations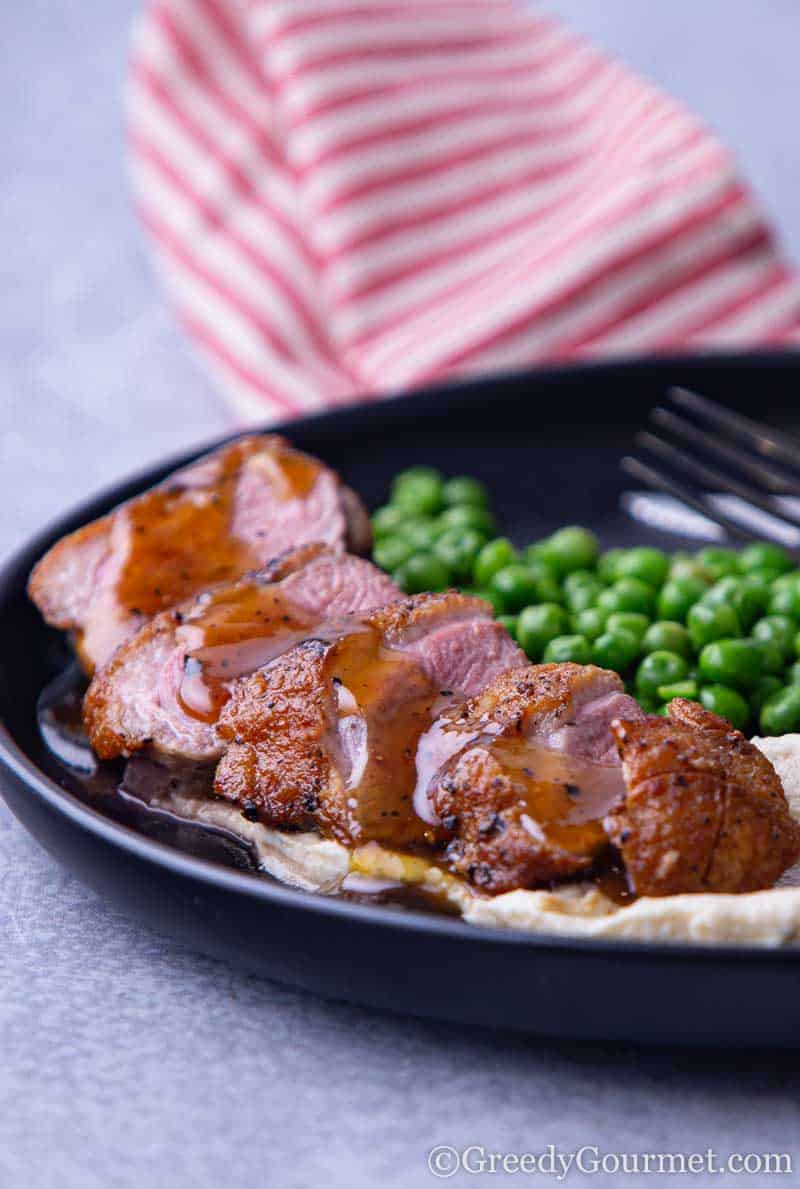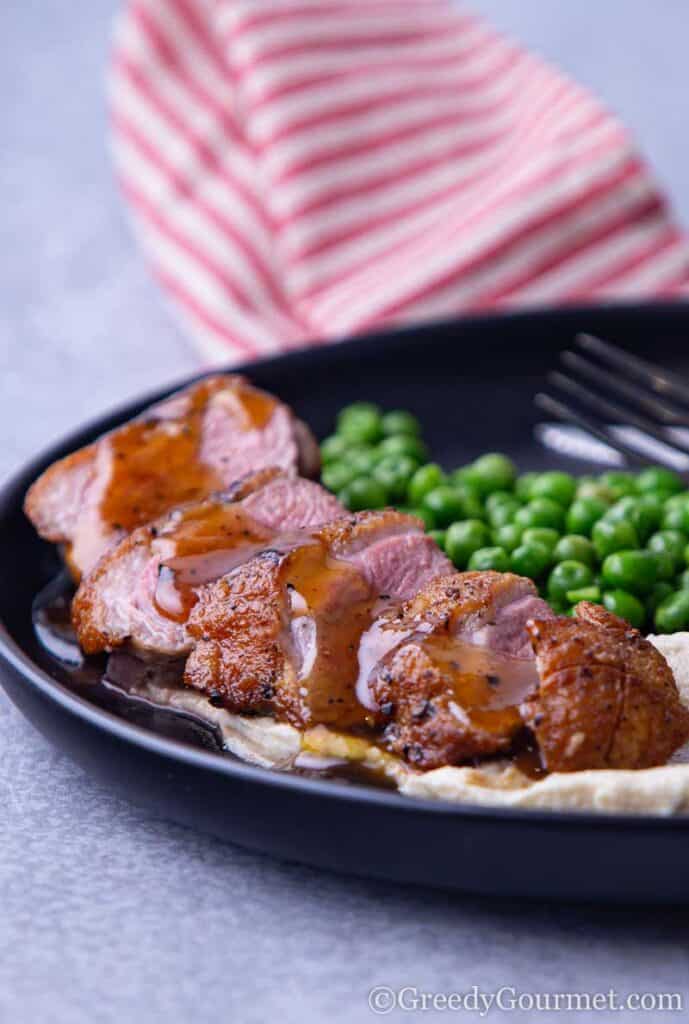 More delicious poultry recipes
What would you serve with your duck breast?
Print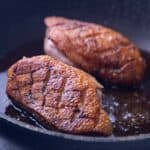 Pan Fried Duck Breast
---
Author:

Michelle Minnaar

Total Time:

15 minutes

Yield:

2

servings

1

x

Diet:

Gluten Free
Description
Pan Fried Duck Breast is one of the easiest French recipes you'll find. Best served with orange sauce, greens and dauphinoise potatoes.
---
2

large duck breasts
salt, to taste
---
Instructions
Score each duck breast's skin with a sharp knife, ensuring not to cut into the meat.
Season generously with salt and leave the duck breasts to stand for 15 minutes. Pat both sides dry with a paper towel.
Place the duck breasts skin side down in a cold frying pan and switch on the heat to a medium-high setting.
Wait. Leave the duck undisturbed for around 3-5 minutes (depending on size of breasts) and watch as the fat melts, which lubricates the meat. Using a spatula or tongs, you can press down on the meat side to ensure the skin is evenly cooked.
Flip the breasts over and cook for 3-4 minutes, all depending on how well you like your duck cooked.
We advise medium-rare pink. If the duck is thicker on one side, tip the breasts onto the thick sides and allow to cook for another 30 seconds to 1 minute.
Remove from the pan and allow to rest for 5 minutes.
Serve with your choice of vegetables and accompanying sauce. I suggest dauphinoise potatoes, steamed broccoli and orange sauce. Enjoy!
Notes
The cooking time depends on the size of duck breasts you bought. Mallard, pintail, canvasbacks and domestic ducks are large in size and may need 5-8 minutes for the fat to melt away perfectly.
Prep Time:

5 minutes

Cook Time:

10 minutes

Category:

Main Course

Method:

Pan Fry

Cuisine:

French
Keywords: pan fried duck breast, duck breast recipe, how to cook duck breast, duck breast dish