These creamy curried courgette noodles are rich in flavour and as a bonus they are very light on your tummy. You can enjoy them and eat as much as you want without feeling heavy after finishing the whole pot.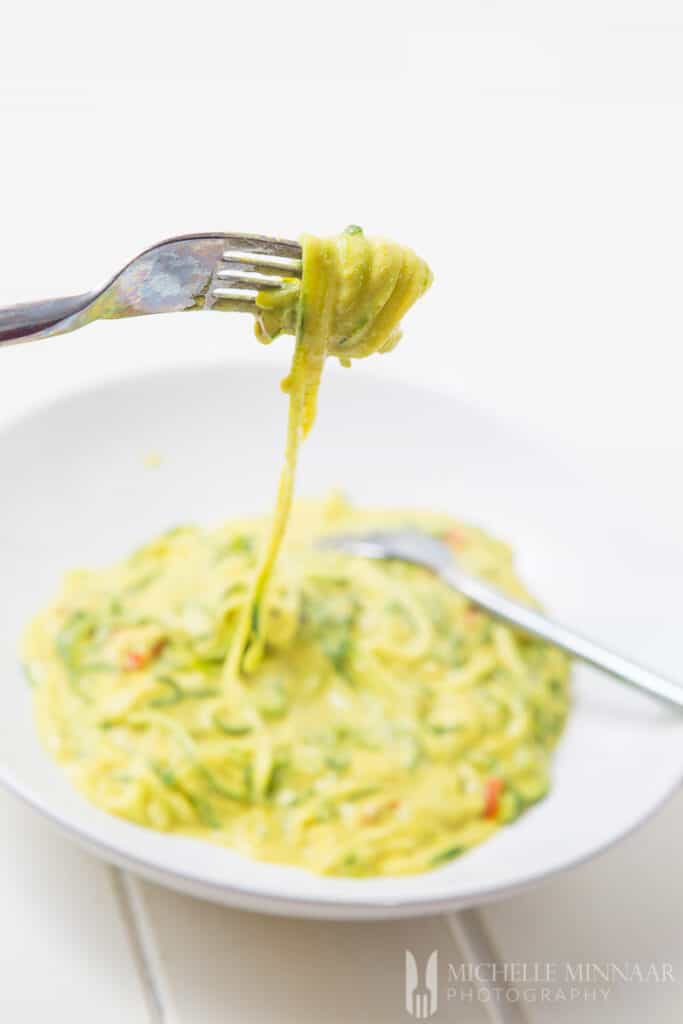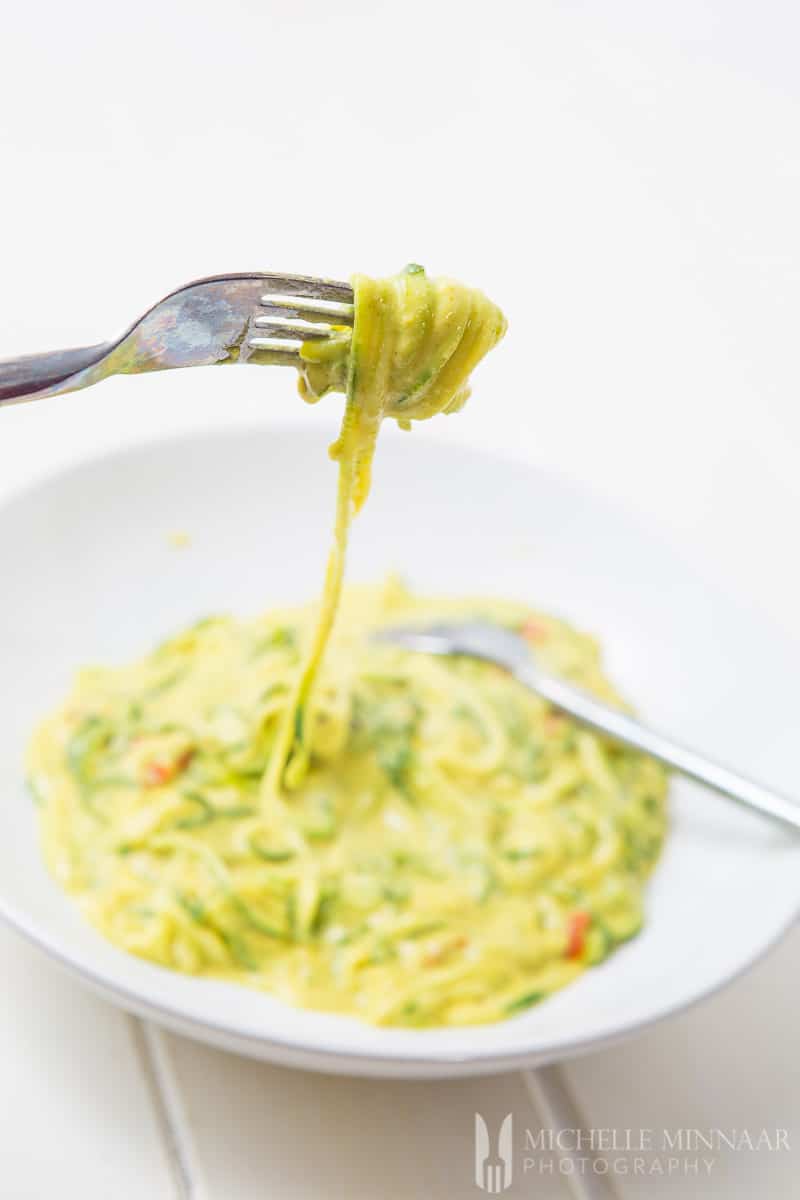 Based on a recipe from the new vegetarian Indian cookbook, Saffron Soul, this is a vegan dish and totally animal friendly. Not so complicated to prepare, cheap ingredients and delicious!
Great for preparing large batches and preparing a healthy lunch for everyday of the week.
Courgetti
Courgetti are courgette noodles. Imagine eating spaghetti made from courgette. I know it sounds complicated to make. It's not. There are plenty of kitchen tools you can use, like the spiralizer, that have the desired "spagetti" like effect.
If you don't have too many utensils in your kitchen drawers, not a problem. Just grab a vegetable peeler and use it to create the veggie noodles or courgettini.
A little piece of advice. Be very careful when you use the vegetable peeler. If you own a really sharp one, do it slowly rather than quickly.
I know we tend to be impatient sometimes, however more than once I have cut off bits of my skin because I did it too fast. The best and safest way for you to do it, is to grab a hold of the vegetable and peel in a downward direction; the direction away from your body.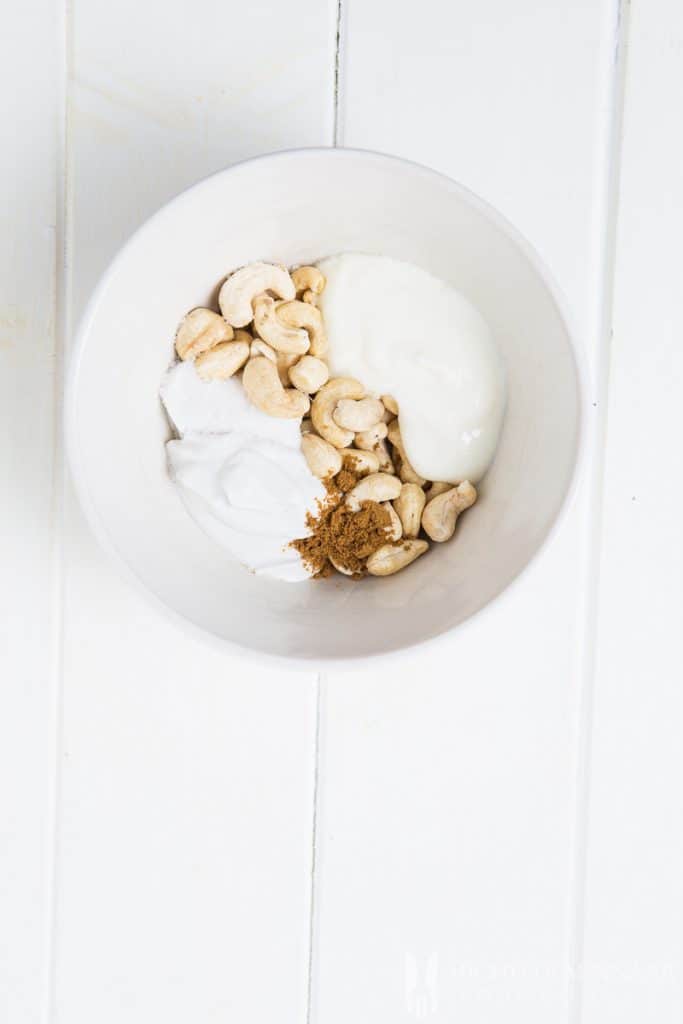 Courgette varieties
Courgettes have many names, this one originates from France. You might also know them as zucchini, the Italian version. They also come in many colours and sizes.
Let's start with the basics. You've obviously seen the green courgette. They are rather large and dark green in colour. You might have also come across the miniature version.
These are called baby courgettes or baby zucchini. Baby courgettes are reputed to have more flavour, however they are not so great for the creamy curried courgette noodles recipe.
You should aim for getting those big courgettes. Remember, the bigger they are, the longer your courgettini will be!
You may have also come across yellow courgettes. I've tried them, and honestly, they don't taste any different to the green courgettes. You can definitely use the yellow courgettes for the creamy curried courgette noodles too.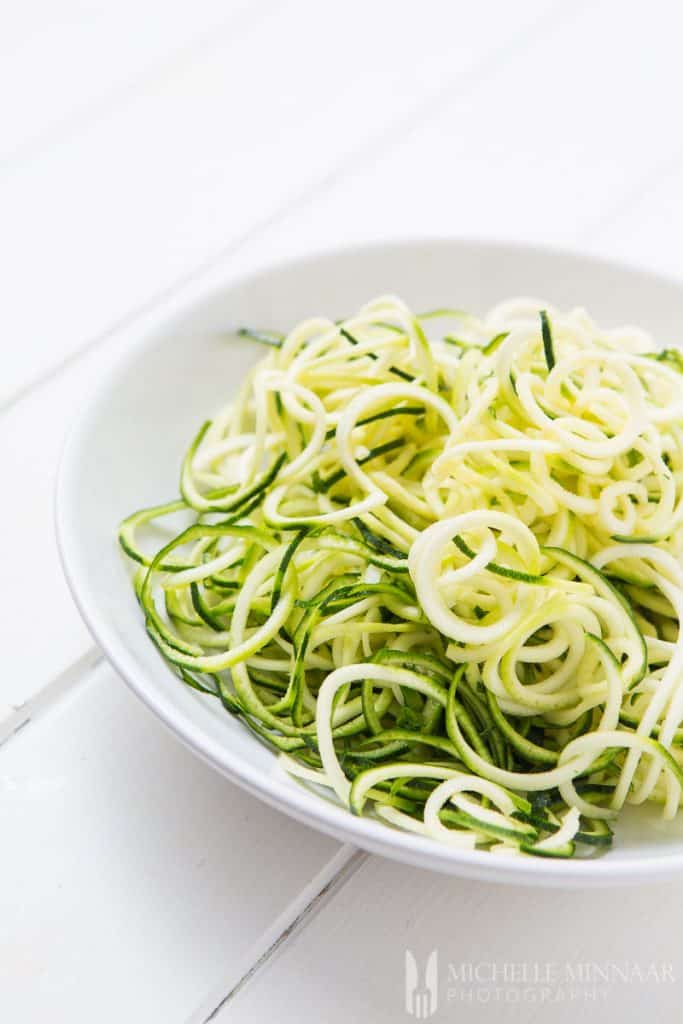 Substitutes
If for some reason, you are not a fan of the courgettes, you can also try using carrots. Use the same technique, this time to make carottini. They might need a bit longer to cook, so make sure you expose them to higher amounts of heat.
The carottini will also give off a little bit of a sweeter kick, but work very well with the curry flavours. Sweet potato will work too.
Handy trick with the spices
Are you an experienced curry maker? If yes, then you probably know that it's best to give the spices a bit of heat. Place all the spices you want to add into the curry on a pan or a wok.
Do not add the coconut oil yet! Let the spices sit on the pan and stir occasionally from one side of the pan to the other. Once you see that the spices are starting to release a little bit of scent and vapour, take them off the heat immediaitely.
By exposing the spices to high heat, you allow the spices to release more aroma and flavour into your creamy curried courgette noodles. Try it! Just be careful that you don't burn the spices.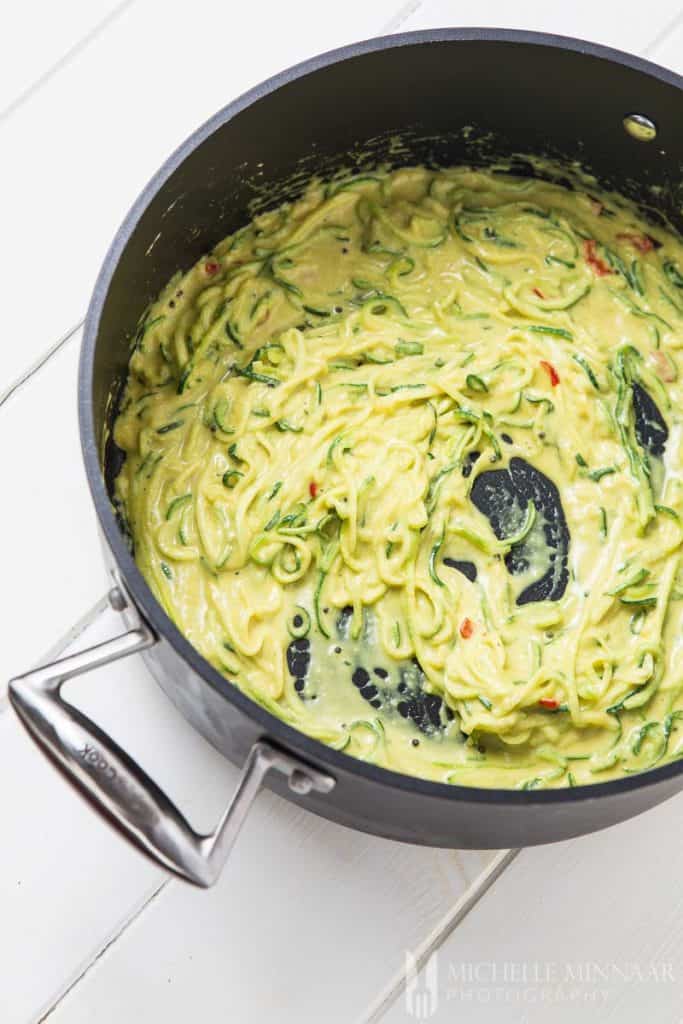 Coconut
Want to go nuts? Literally? Nothing is better than fresh coconut juice. If you are already using coconut oil in this recipe, why not use the entire coconut, right?
It will unlock a whole new level of flavours. I've once used five coconuts for my red thai curry and it tasted much better!
The only downsides of including the fresh coconut is that it's not very easy to find. Furthermore, it's not that cheap either.
The fresh juice will bring out the curry flavours more; coconut milk from a can will supress them due to the creamy nature of the milk.
If you do dedice do go fresh all the way, make sure you have a hammer or a meat cleaver at home. Smack the coconut between the three dots on the top of the coconuts - that's the weak spot.
Pour the juice through a sieve. This way, you'll get rid of the residue.
Herbs and Additional Spices
There are plenty herbs and spices you can add to the creamy curried courgette noodles. Here are just a few:
Fresh coriander – amazing herb to be served right at the end.
Ground coriander – I enjoy adding a sprinkle of ground coriander into my Asian recipes.
Fresh chilli – the most popular asian chilli is the green thai chilli. Beware, it's strong!
Ground chilli – I like to use the ground version, it's less spicy.
Cumin – don't add too much! Othwerise you'll overpower the dish!
Turmeric – already in this recipe.
Pumpkin seeds – topping with oily and bitter aftertaste.
Parsley – not very traditional, but since the courgettini is healthy, why not kick it up a knotch?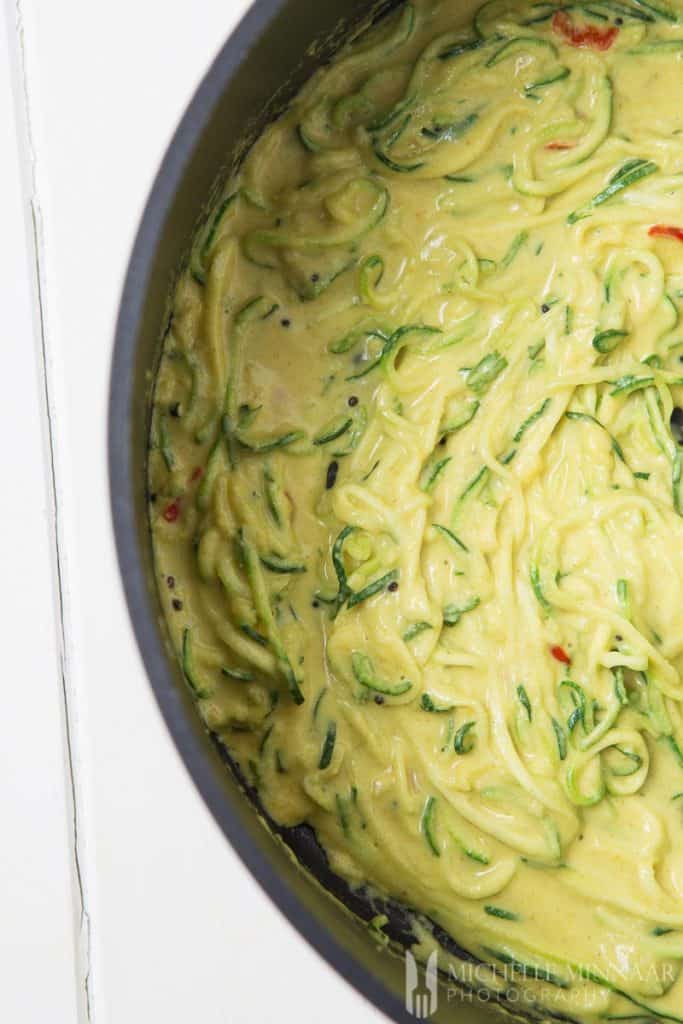 Sides
I can eat the creamy curried courgette noodles as a main course easily. It's just so delicious. You can however choose to serve it as a side. If you decide to do so, you can consider serving it with:
Seabass, salmon or cod
Tofu: I recommend frying the tofu in oil
Even if you add these ingredients, you'll still have one delicious and flavourful vegetarian dish!
You might also enjoy:
Print
Creamy Curried Courgette Noodles
---
50

g

(1/3 cup) cashews

100

ml

(3 oz) coconut milk

1.25

ml

(1/4 tsp) salt

1.25

ml

(1/4 tsp) ground cumin

1

large courgette

5

ml

(1 tbsp) coconut oil

2.5

ml

(1/2 tsp) mustard seeds

1

green chilli, finely chopped

2.5

ml

(1/2 tsp) salt

45

ml

(3 tbsp) pumpkin seeds, toasted [optional]

1/2

lime, juiced
---
Instructions
To make the sauce, place the cashews, milk, salt and cumin in a bowl and leave to soak for at least an hour or overnight. If leaving overnight, leave it in the fridge.
When ready to make the salad, place the courgette in a spiralizer to make the courgetti, or if you don't have a spiralizer, use a potato peeler to make long, thin slices.
Place the soaked sauce ingredients into a blender or food processor and blend together until smooth, then set aside.
In a large saucepan, heat the coconut oil, then add the mustard seeds. Once they pop, add the chilli.
Next add the ground turmeric and stir for a few seconds, then pour the blended sauce into the saucepan and add the courgetti and salt.
Stir the sauce and courgetti lightly then taste the sauce and add more salt or lime if needed.
Serve the dish immediately with pumpkin seeds sprinkled on top.
Prep Time:

15 minutes

Cook Time:

5 minutes

Category:

Main

Cuisine:

Indian
Nutrition
Serving Size:

1 sreving

Calories:

382

Sugar:

5.9 g

Sodium:

190 mg

Fat:

32.6 g

Saturated Fat:

16.2 g

Carbohydrates:

19.2 g

Fiber:

4.3 g

Protein:

10.4 g
save the recipe to your pinterest board