This dish is perhaps one of the lesser known Italian dishes. Nevertheless, this tomato orzo is jam packed with flavour and it is easy and quick to make – under 30 minutes! So, no excuse for buying takeaway on the way home from work anymore! These kinds of dishes are some of my favourite dishes during a busy work week. Quick to prepare, yet as tasty and filling as any good, home cooked meal should be. Besides that, it's even inexpensive and thereby ideal for January. Enjoy!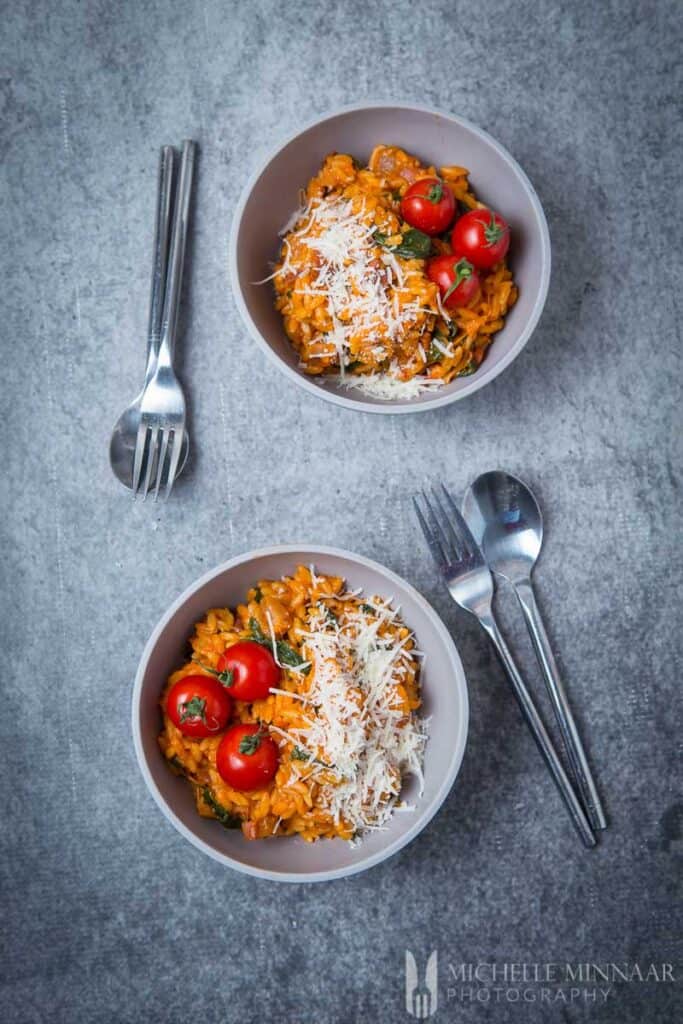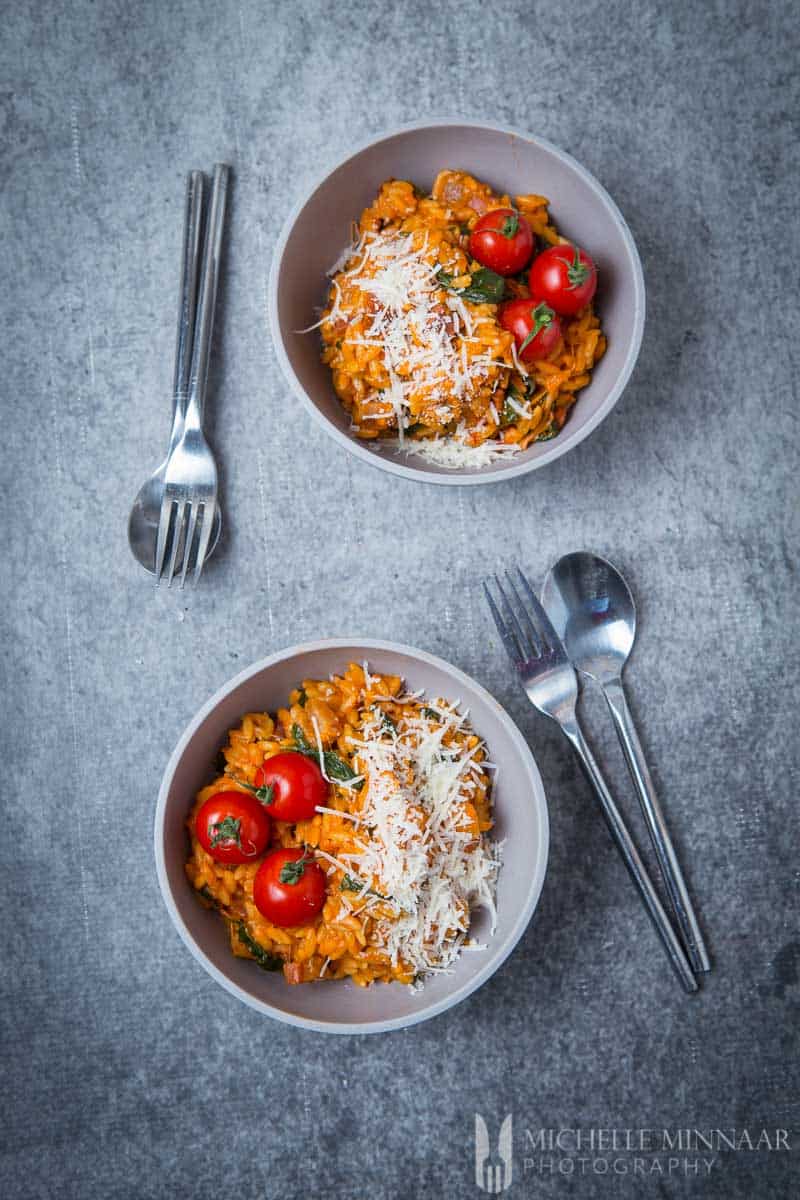 What exactly is orzo?
Orzo is a type of Italian pasta although, admittedly, perhaps not the most widely known kind in Britain. Although it is made from wheat, the word 'orzo' in Italian literally translates into 'barley'. When you look at the orzo it's easy to see why. The pasta looks like little grains, not much bigger than normal rice. Simply put, orzo is a pasta that looks like a grain of rice. Traditionally the Italians use the orzo mostly as a filling for soups. However, it is surprisingly good as a base for more "normal" pasta dishes. Also, if you want to try something completely different, use the orzo instead of rice in a risotto. Cook the orzo 'al dente' and get a whole new spin on an Italian classic.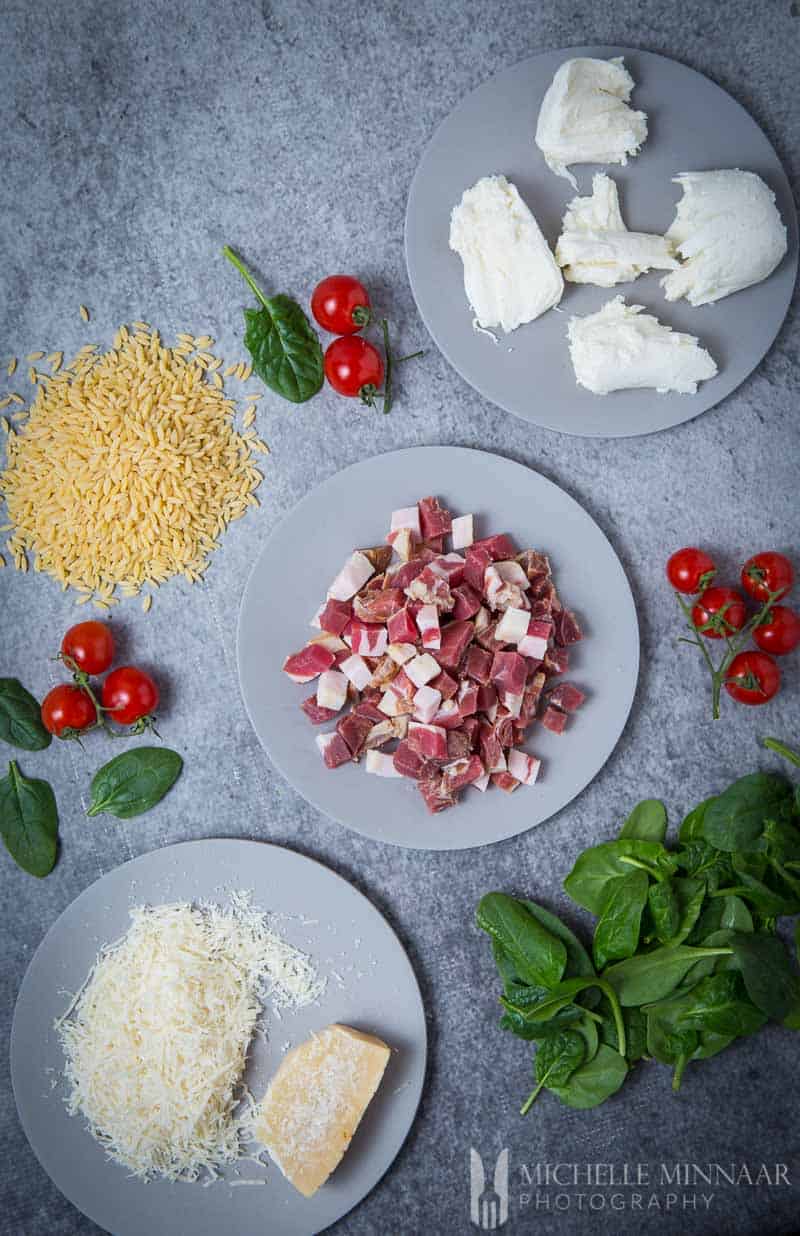 My tomato orzo consists of very few ingredients of which you can have most in stock at any given time. Of course, you can make your own tomato passata if you have the time, but otherwise there are many good ones to be found in stores. The same goes for vegetable stock. Obviously you can spend a couple of hours making your own from scratch, and it will probably be delicious. However, for the reason that I wanted this to be a quick dish to make, I have used a pre-made one. A little tip for you on that note. If you fancy making your own stock one day, make sure to make plenty of it. Afterwards, simply freeze it down in portion-sized containers for later use!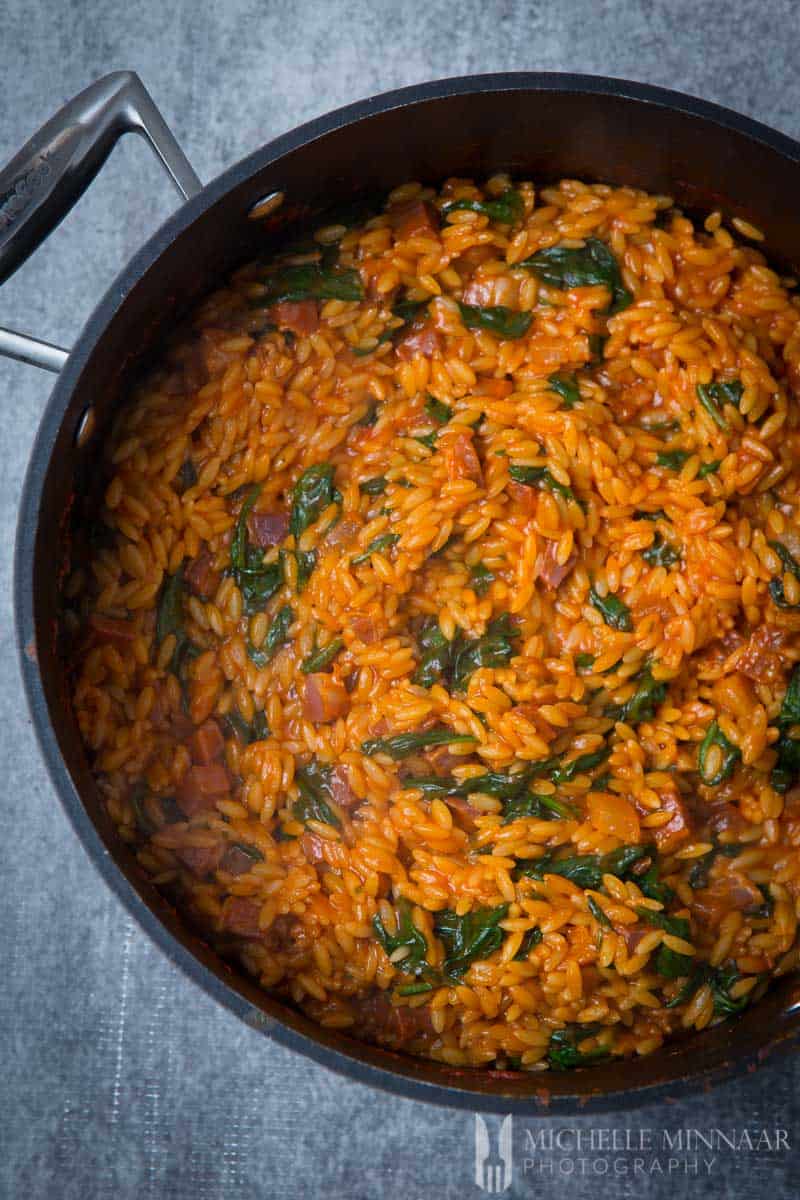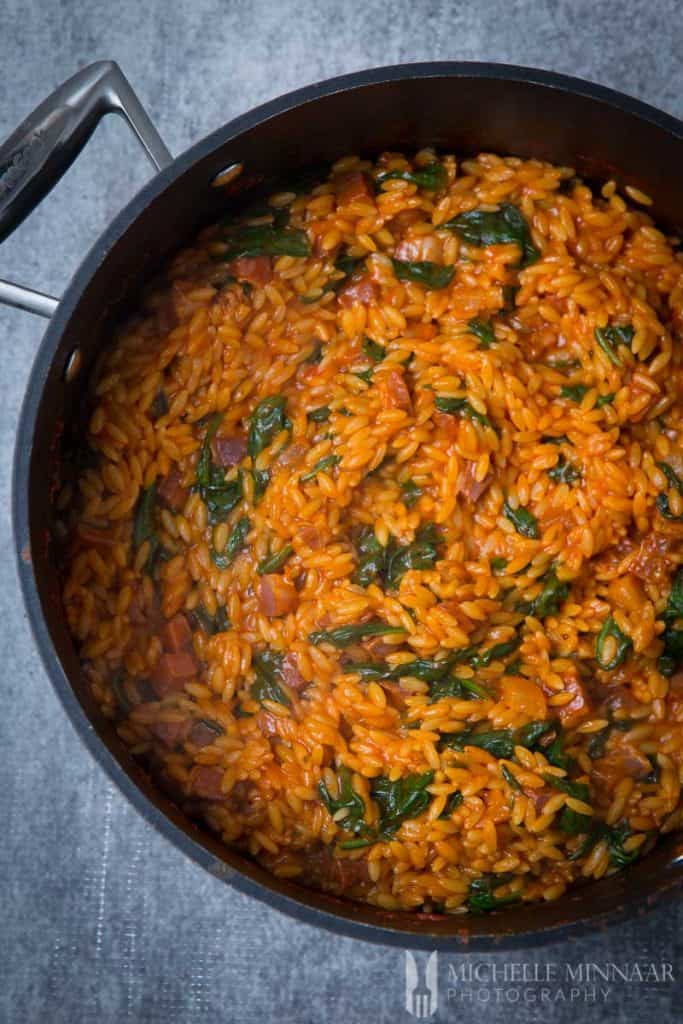 Bacon or ham?
This dish only has a few ingredients but the ones there are you can play around with to fit your taste. Or for that matter, to fit what you have in the fridge. Usually, I would make tomato orzo with bacon. You can either use streaky bacon sliced into strips, or you can use bacon lardons. I used 300g (2/3lb) in my recipe, but if you're a real bacon fan feel free to add more. Likewise, you can leave it out altogether if you don't fancy any meat at all. I find that the bacon adds a nice subtle smokiness to the dish that brings me memories of an Italian trattoria.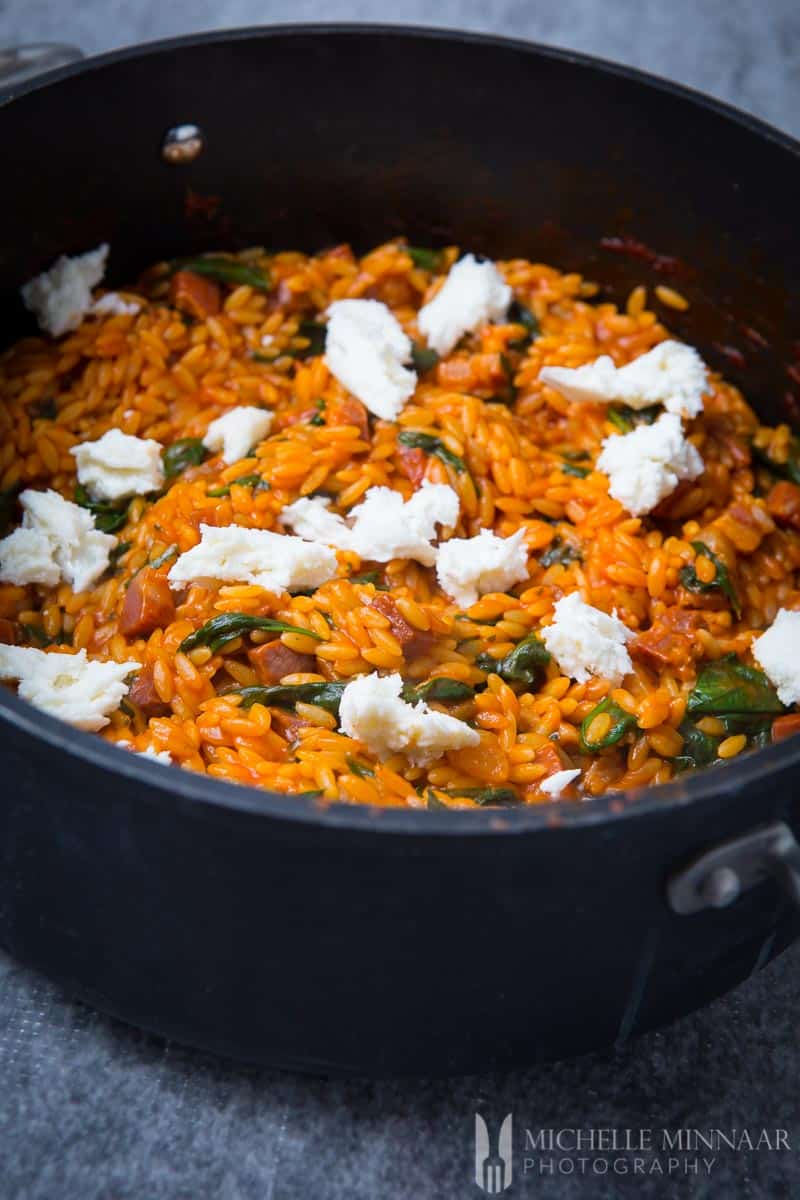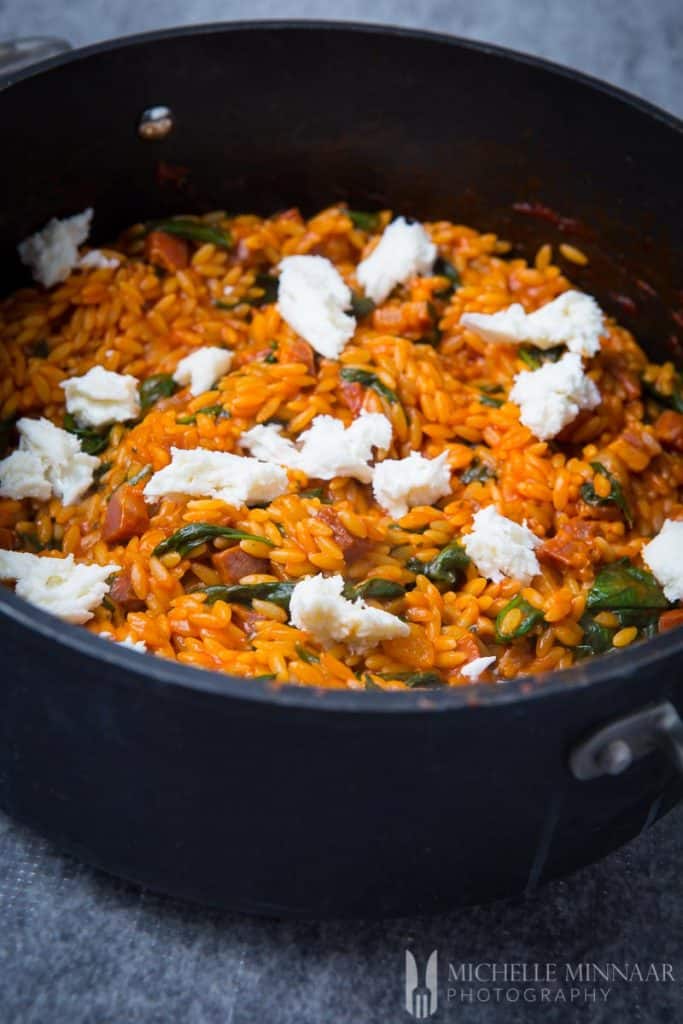 You can also use Parma ham. Simply slice the Parma ham up into smaller pieces. The Parma ham does not give the smokiness like the bacon does. Instead it brings a more savory note to the dish, with that distinct meaty flavour in the background. I like both versions! If you don't have any Parma ham you can use cooked ham instead. This way the tomato orzo can even be a way to make best use of leftover ham from dinner the night before. If you have some leftover Parma ham, feel free to make a delicious starter like the baked Parma ham and parmesan croquettes. You can also go for some lovely bruschetta with tomato and Parma ham or even make Parma ham, mango and mozzarella bites as canapés for parties.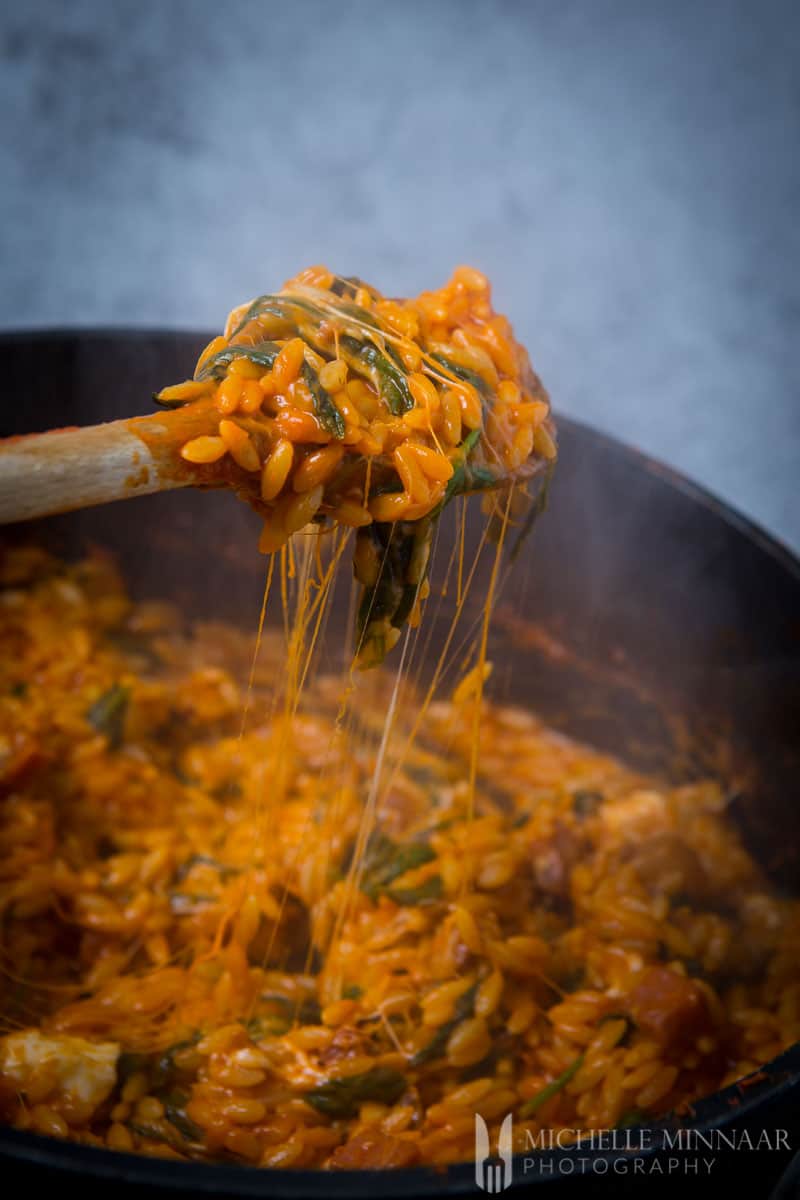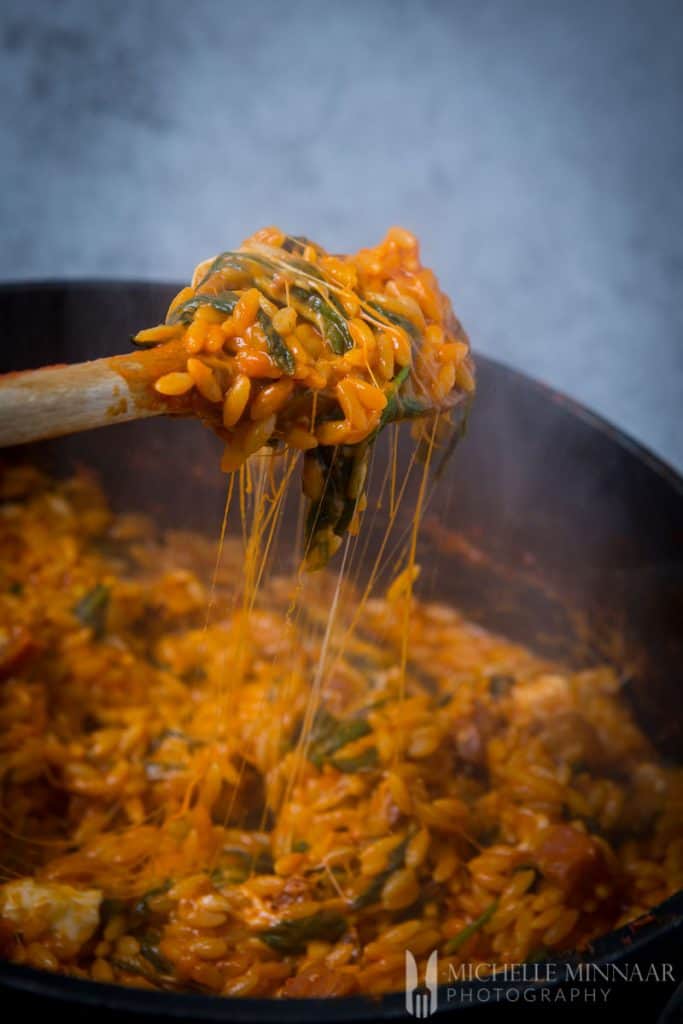 Your personal touch
I finished off my tomato orzo with spinach and mozzarella, but you can add just about anything. For instance, if you are not a fan of spinach, add green peas instead. The peas obviously give a sweeter flavour to the dish than the bitterness of the spinach. However, this is all a matter of personal taste. Shredded courgettes are a welcome addition as well as finely chopped leek, or even shredded turnip to give it more substance and still keep that hint of bitterness.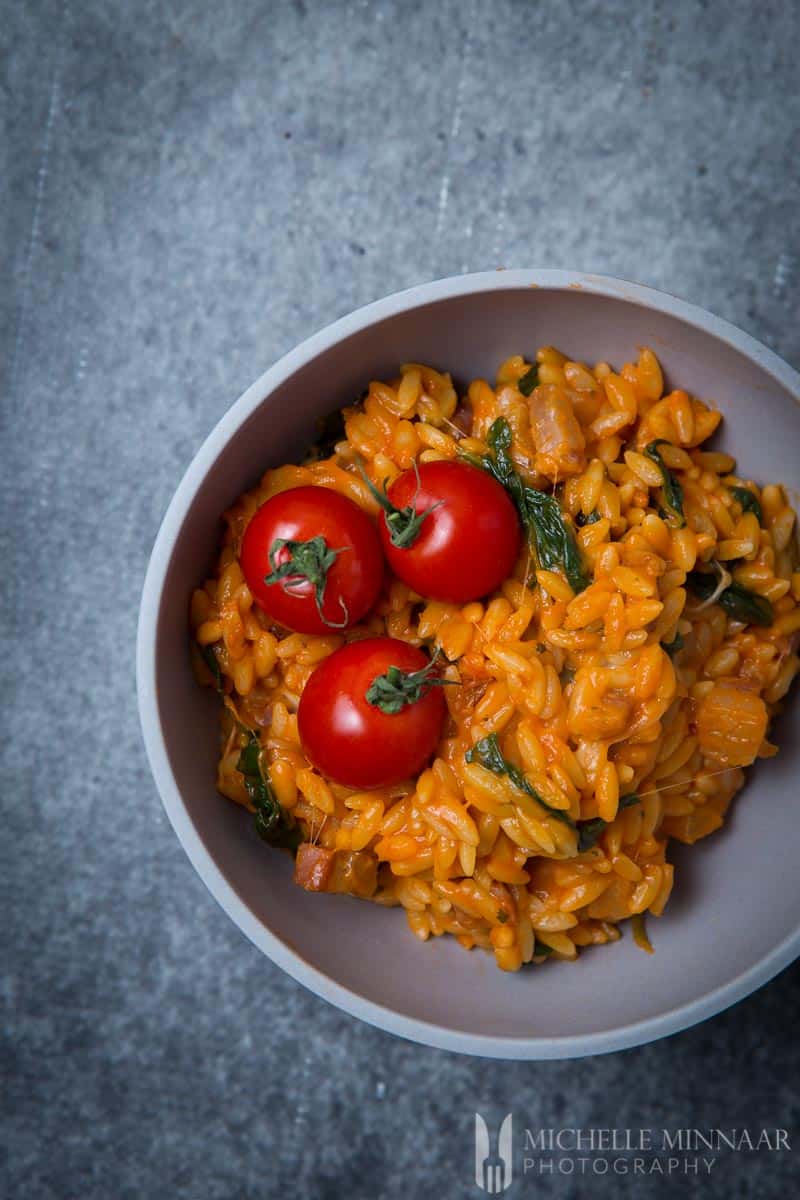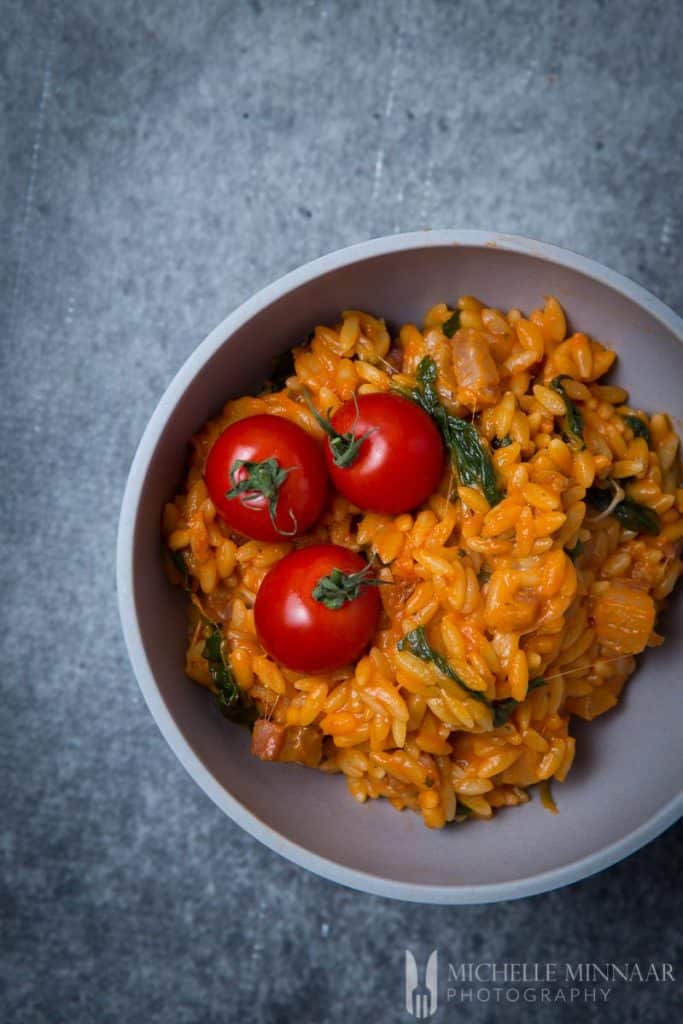 Feel free to add a couple of chopped garlic cloves in the pan when you are frying the bacon. There are lots of ways that you can tweak this dish to completely suit your personal taste. Perhaps you have already come up with a brilliant version or tried something that I haven't thought of. If so, please leave a comment below and let us know about it!
Lastly, you can also make a seafood version. I've made a delicious baked sea food pasta recipe. These ingredients work very well with the tomato orzo.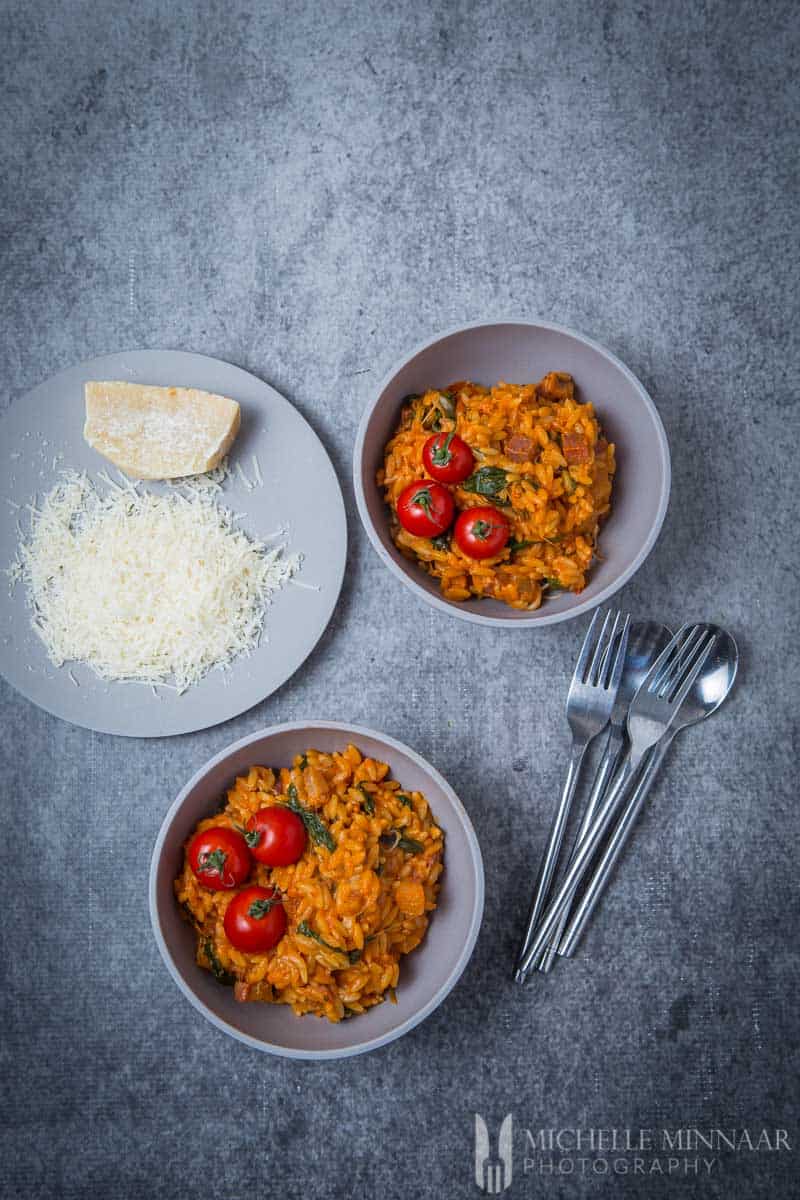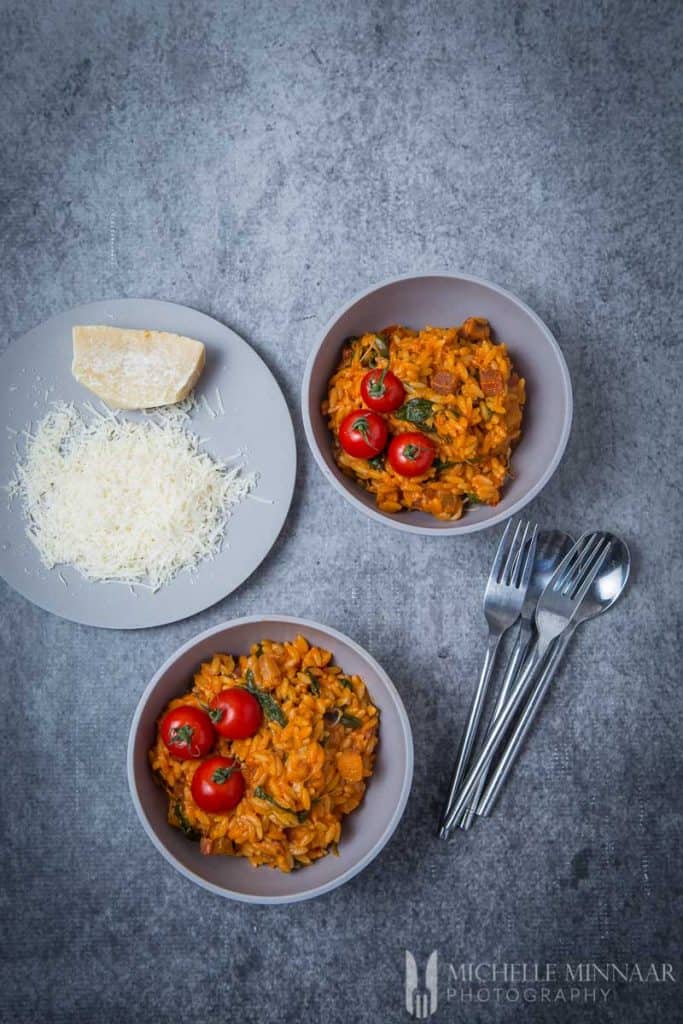 Serving
In the end of the cook, I added mozzarella to my tomato orzo. The cheese ties it all together. Once melted into the dish, you will be able to fork out stringy bites of joy. To finish off the dish I sprinkled each bowl with grated parmesan. Of course this is optional, and if you find it to be too much cheese just leave it out. Should you prefer your dish a bit greener, you can top off the bowls with finely chopped herbs instead.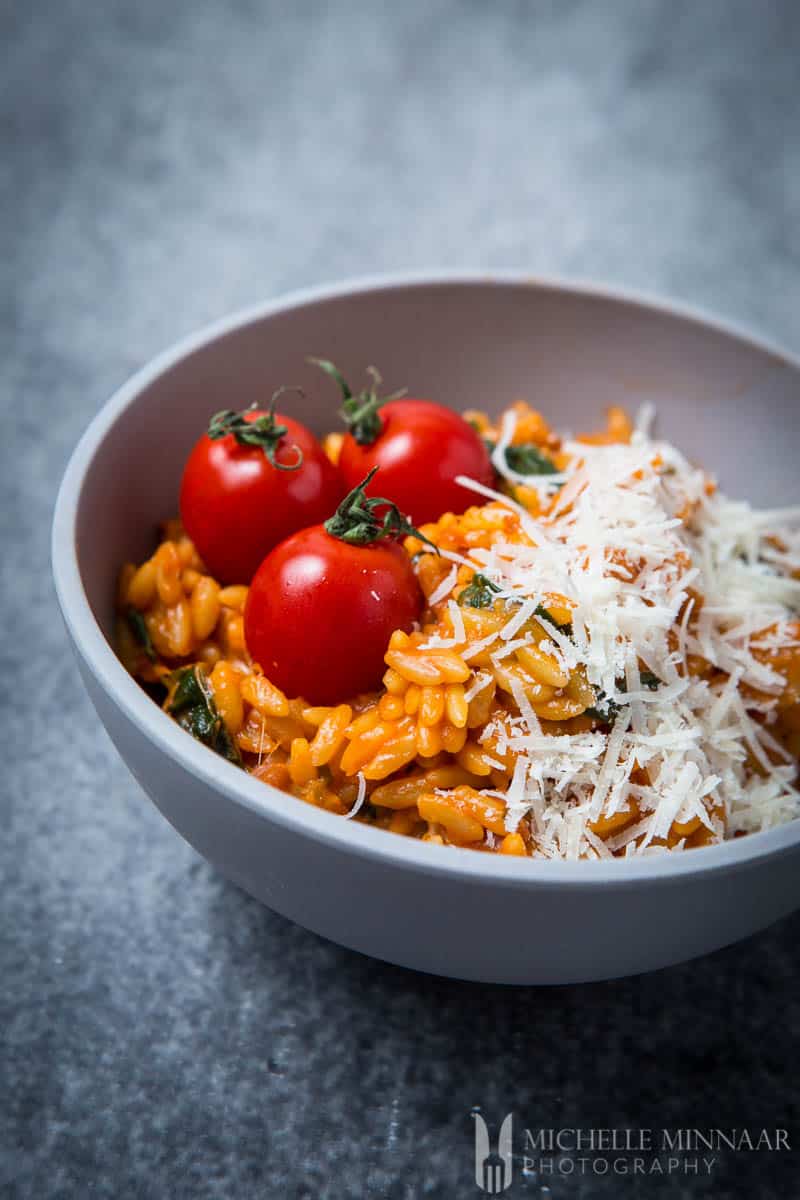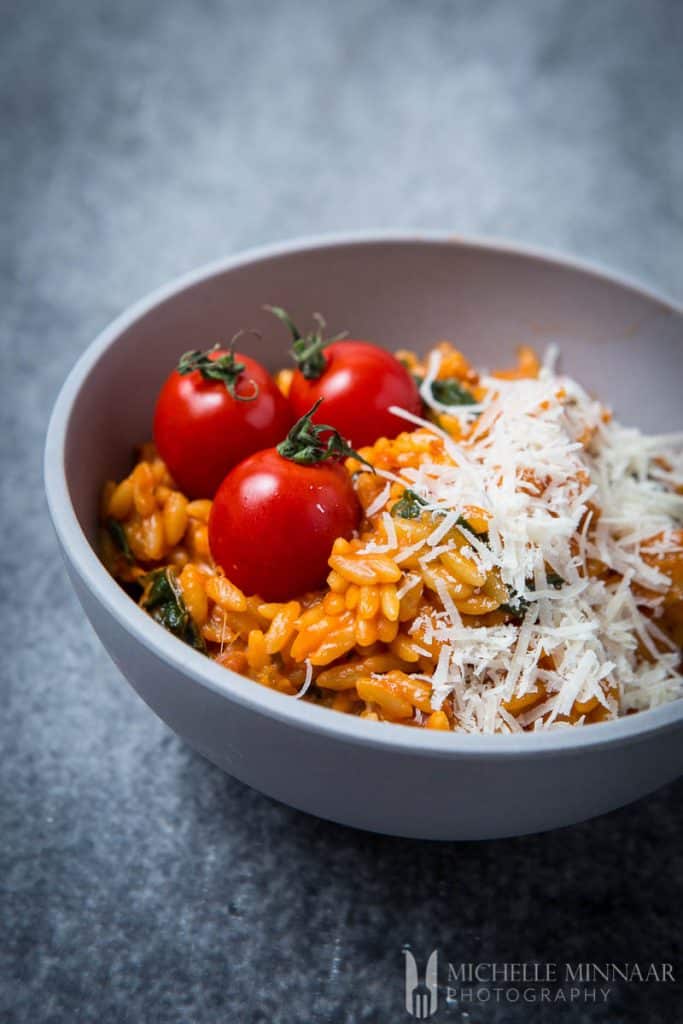 Herb-wise, basil and parsley will go particularly well with the tomato orzo. In Italy, you would probably serve the tomato orzo would probably as a "primi". The primi is the second dish, after the starter but before the meat in a traditional Italian dinner. Generally speaking though, I find that the dish can easily stand on its own as a complete meal. If you want to serve it with anything at all, I would recommend a simple green salad on the side. Or a piece of good quality Italian style bread.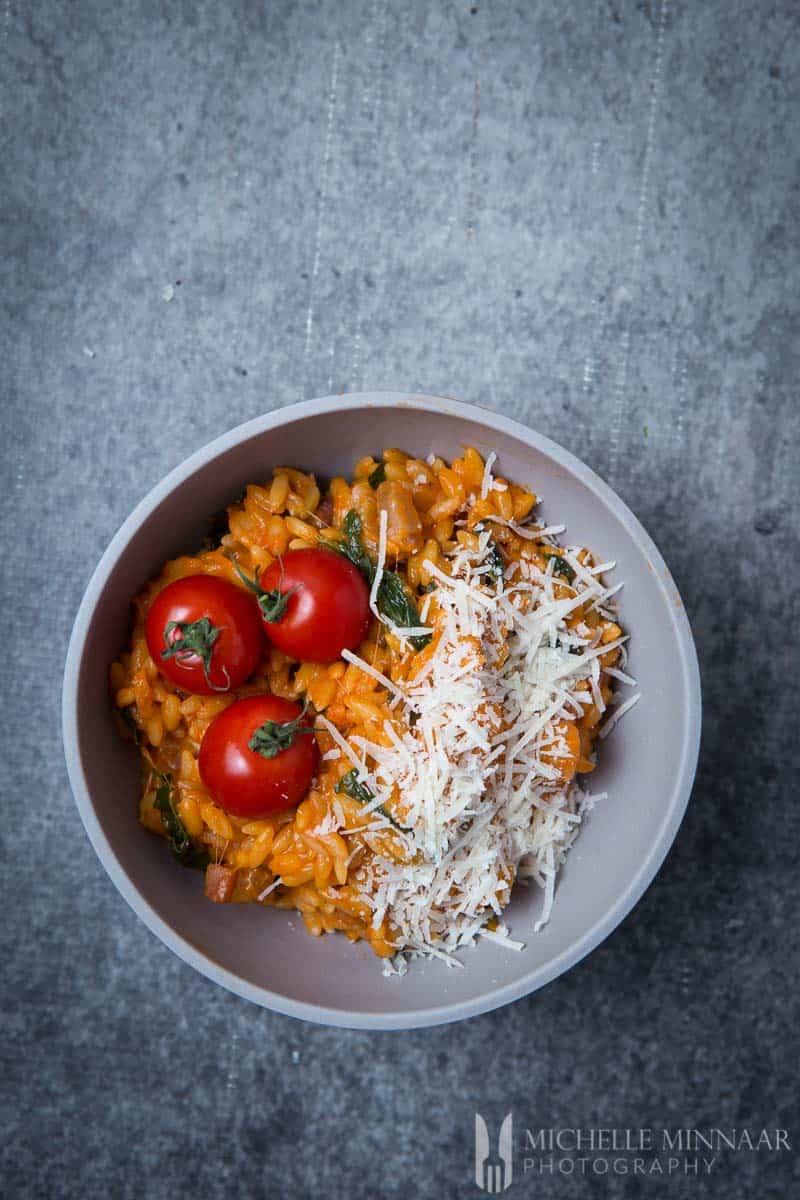 Storage
If you make too much tomato orzo you can easily keep the rest for about three days in the fridge. It makes for an easy lunch to take with you to work and heat up in the microwave. However, if you do so, do not expect the same bite in the orzo as on the first serving. As orzo is basically tiny pasta if will keep cooking in the sauce as long as it is warm, and then again when heated up. Therefore the orzo might have been al dente in the evening but next day at lunch it will be soft. The fantastic flavour is still there though so don't despair!
Print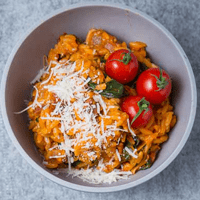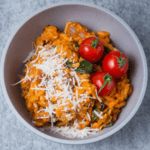 Tomato Orzo with Bacon, Mozzarella, Spinach and Parmesan Cheese
---
Description
Orzo pasta is cooked in a tomato sauce. The addition of bacon and melted mozzarella makes this orzo recipe simply divine!
---
12

rashers streaky bacon, sliced into 1cm (½in) strips

15

ml (1 tbsp) oil

450g

(1lb) orzo

450g

(1lb) passata

600

ml (1pt) vegetable stock

180g

(

6oz

) baby spinach, washed

120g

(

4oz

) Parmesan cheese, grated
---
Instructions
Fry the bacon pieces on a high heat in the oil in a large saucepan.
Cook until browned, then add the orzo and passata. Stir until thoroughly mixed.
Add the stock and bring the mixture to the boil.
Simmer until the liquid has been absorbed and the orzo is tender, which takes about 15 minutes. Stir frequently to prevent orzo from sticking to the bottom of the pan. Add a splash more water if needed in case it dries up and the pasta isn't cooked yet.
When the orzo is cooked, remove the pan from the heat and add the spinach and mozzarella. Stir until the spinach is wilted and the mozzarella melted, forming strings.
Serve in bowls and top with Parmesan cheese. Enjoy!
Notes
You can use bacon lardons, like I did in this case. About 300g (10oz) will do but you can use more if you prefer!
The bacon can be substituted with cooked ham, which is added towards the end of cooking time to heat through.
If you find you have plenty of bacon left-over after making this recipe, you can safely freeze it. Check out my guide on freezing bacon.
Prep Time:

10 minutes

Cook Time:

30 minutes

Category:

Dinner

Method:

Fry

Cuisine:

Italian
Nutrition
Serving Size:

1 serving

Calories:

546

Sugar:

4.2 g

Sodium:

1018 mg

Fat:

19.1 g

Saturated Fat:

7.8 g

Unsaturated Fat:

0

Trans Fat:

0

Carbohydrates:

62 g

Fiber:

4.1 g

Protein:

28.9 g

Cholesterol:

14 mg
Keywords: orzo pasta, tomato and mozzarella orzo, orzo mozzarella, tomato orzo, bacon orzo
save the recipe to your pinterest board