Dairy free waffles! Who ever thought it would be possible? If you, like me, have food intolerances you have probably given up on the notion of enjoying mainstream desserts on a regular basis.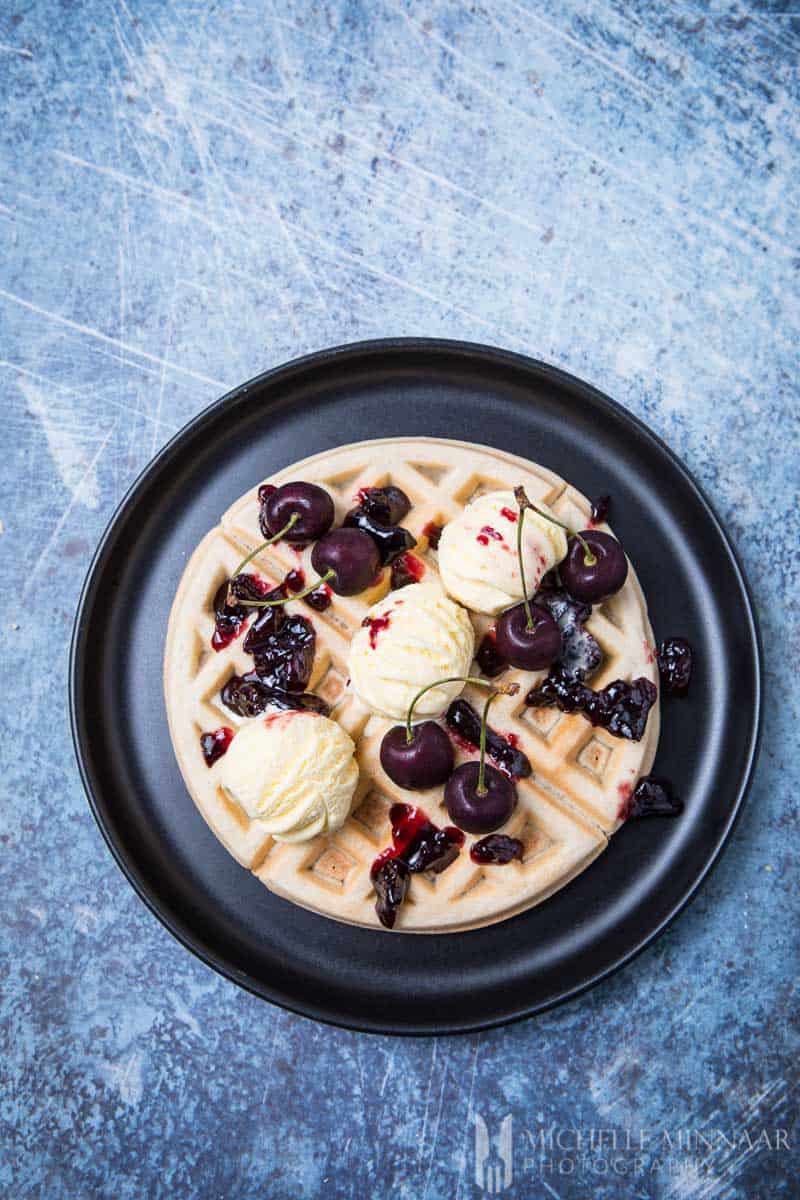 Luckily, alternatives to culprits, such as dairy and gluten, have popped onto the market over the years and there are now plenty of options to choose from.
Other than using milk and butter substitutes, no extra steps are necessary to create these dairy free waffles. These crusty, sweet and chewy waffles are quick to prepare and can even be served up for breakfast with fresh fruit. 
Otherwise, you can serve these babies with a scoop of silky dairy free ice cream and sweet maple syrup.
Cooking waffles is also a great family activity that you can do with your kids. Nothing will get them in the kitchen quicker than the prospect of cooking up a big batch of waffles!
making waffles with a Global Gourmet American waffle maker
In order to prepare any kind of waffle, you will need a waffle maker, also known as a waffle iron. For this recipe I have used Global Gourmet, available for a bargain at Amazon.
This waffle maker is the classic American round type that can produce circular, triangular, or heart-shaped waffles.
Personally, I find that these present themselves much nicer on a plate than the square Belgian ones. American waffles are simply just more elegant.
Unlike the old relic of an iron I had inherited from a relative that never used hers, this waffle maker uses the latest technology.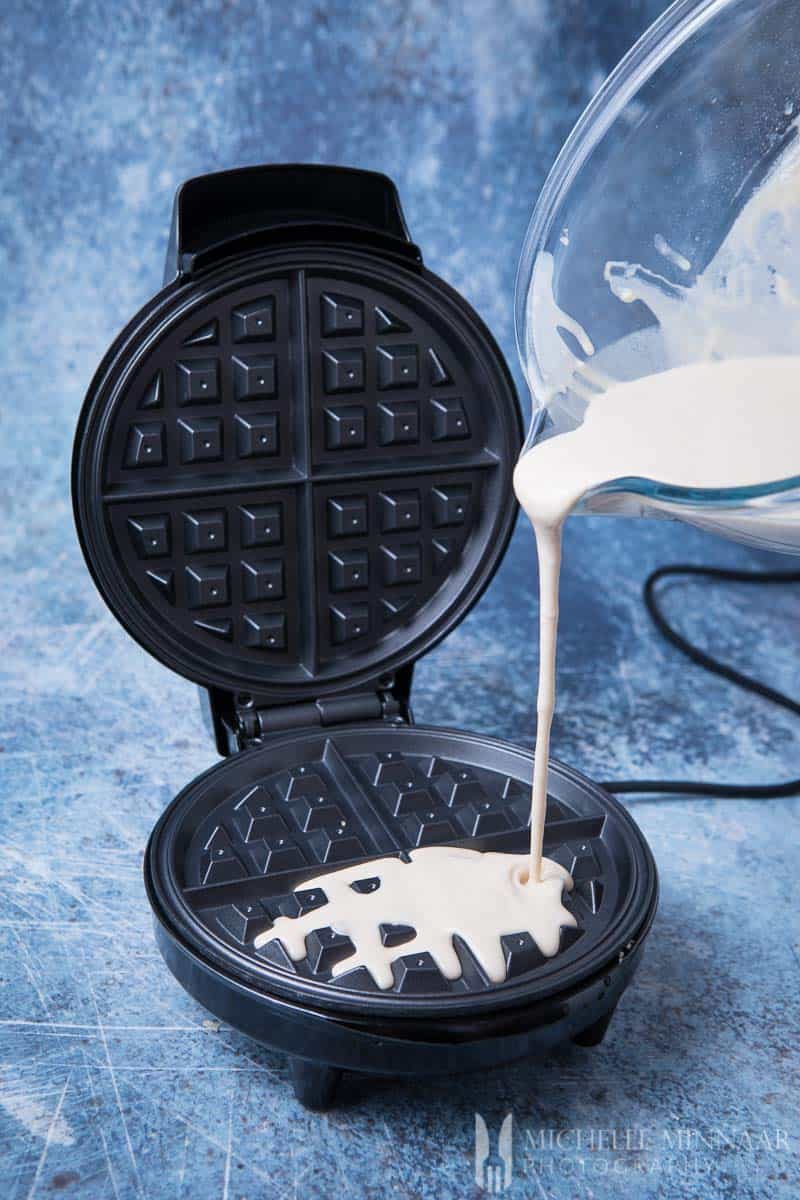 The Global Gourmet American waffle maker has extra deep nonstick plates, which brings you thicker, yet still light waffles, with that beautiful golden surface intact.
It is also a lot easier to clean than a traditional iron. No more endless scrubbing after having made waffles.
Furthermore, this waffle maker from Global Gourmet allows you to adjust the cooking temperature. This means that you can have your dairy free waffles cooked just as you like them.
If you want them softer on the inside and not quite as brown and crusty, simply set a lower temperature. The handy power and ready light indicators will let you know as soon as the waffle maker is warmed up to the desired temperature and ready to go.
This function turns it into child's play to make the perfect dairy free waffles.
my favourite dairy free waffles
If you are lactose intolerant, many dessert recipes seem to be simply off limits. However, it does not have to be like that. Nowadays, there are plenty of alternative ways to cook delicious food.
In fact, this area has developed tremendously since the humble beginning with a few soy milk products back in the days. Now you can get a whole range of not only soy products, but also dairy substitutes made from coconut, almond, and even hemp!
Studies frequently show that there are drawbacks as well as benefits from eating dairy products. Sometimes, it can be hard to tell what the actual facts are among it all. In any case, many dairy products contain large amounts of fat, which most of the plant based substitutes do not.
I have chosen almond milk for my dairy free waffles. It is not a choice I have made based on almond milk being significantly better than soy milk.
It is simply a matter of flavour. If you want to indulge yourself in a stack of sweet dairy free waffles, the sweetness of the almond milk is the perfect choice.
That hint of almond flavour in the baked waffles will lift the dish to a new level.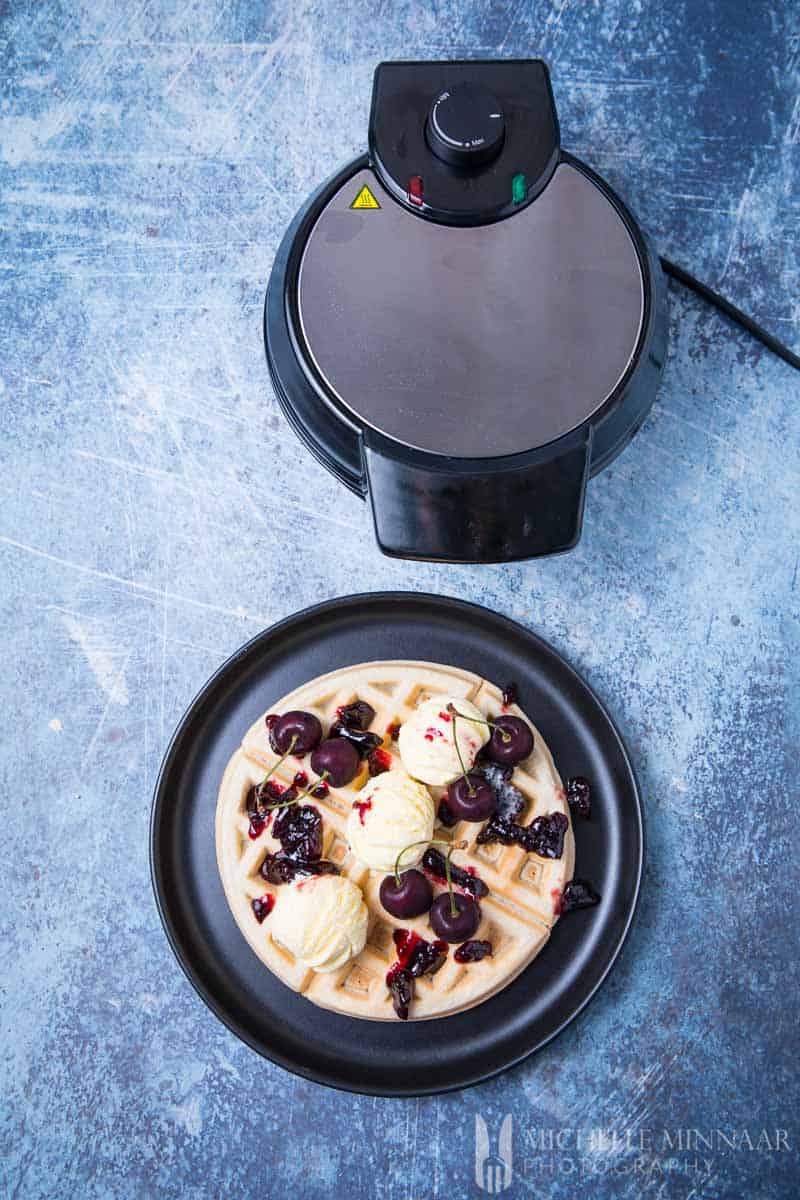 milk free waffles
As the saying goes, sometimes less is more. You can keep the toppings for your dairy free waffles simple too.
A fantastic choice is to serve the waffles with your favourite jam or fruit preserve. In this recipe, I used cherry preserve with fresh cherries.
Which one is your favourite? I think I would have to go with blackberry compote or raspberry jam. It is hard to choose though because there are so many good kinds you can have.
In either case, the higher the acidity of the jam, the better it complements the dairy free waffles. If you fancy having a go at making your own jam, have a look at my zesty recipe for Seville orange marmalade.
If you have a sweet tooth you can dust the waffles with caster sugar for extra sweetness. For something more sinful, you can serve the waffles with lemon curd instead of jam. For a colder winter's day I can recommend my dried fruit compote.
the best dairy free waffles recipe
Whatever you do, don't forget ice cream! There are plenty of dairy free ice creams available on the shelves today. If you're not lactose intolerant, then check out my easy no churn peanut butter oreo ice cream. 
For waffles, I generally prefer the creamier types of ice cream such as either vanilla or chocolate, but anything goes of course. You can also use ice cream with cherries.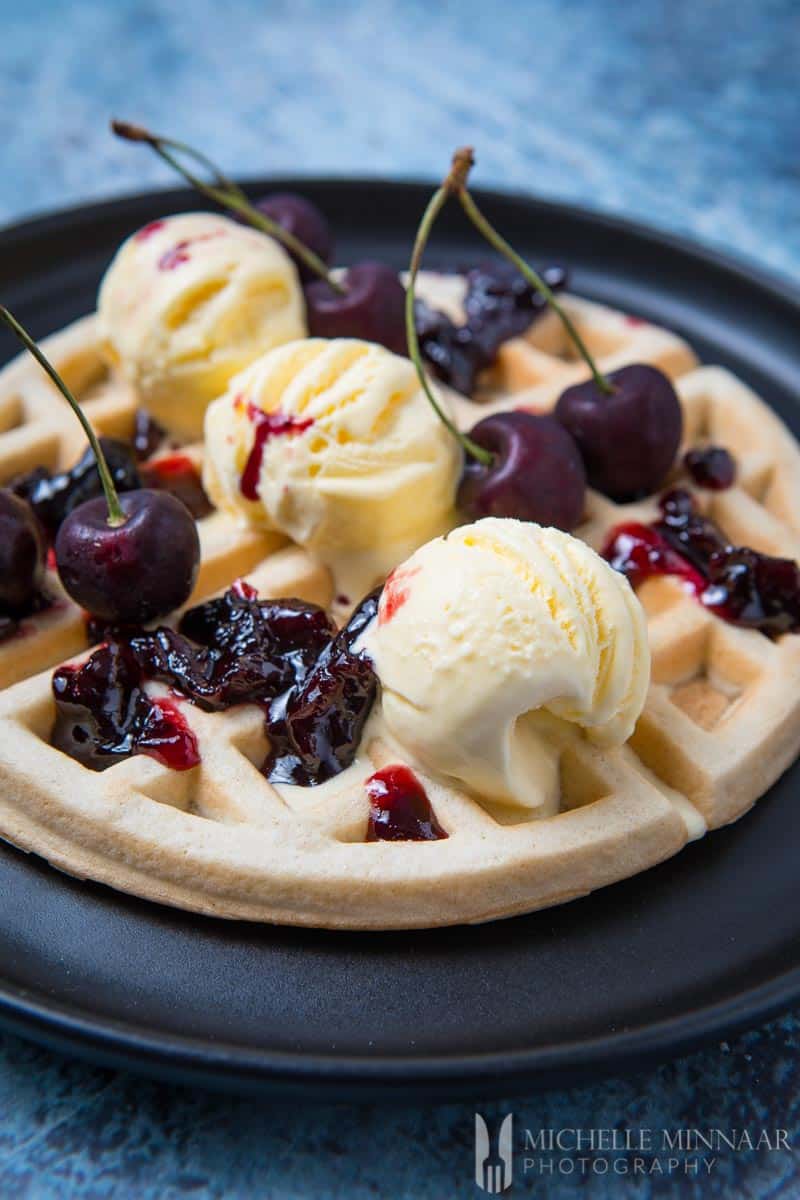 healthy no milk waffles
Another slightly healthier alternative is to serve the dairy free waffles with your favourite fresh fruit. Basically, you can use whichever fruit you like, but I find fresh berries to be great with waffles.
For instance use fresh cherries, raspberries, strawberries, blueberries. Basically, whatever is in season and whichever you enjoy the most.
Combine the berries with a scoop of vanilla ice cream, or a dash of whipped cream, and it's even better. Other fruits you can use could be banana, kiwi, pineapple, orange or diced apple or pear.
Print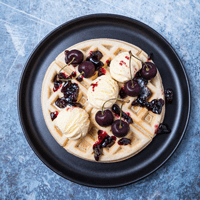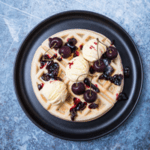 Dairy Free Waffles
---
Description
If you are looking for a healthier dessert or breakfast alternative, then these dairy free waffles are for you. Pair with fresh fruit, jam, or an ice cream.
---
250g

(8oz) flour, sifted

30

ml (2 tbsp) sugar

2.5

ml (½ tsp) baking powder

2.5

ml (½ tsp) salt

350

ml (12fl oz) almond milk

80

ml (2½fl oz) vegetable oil

2

eggs
---
Instructions
In a large bowl, mix together flour, salt, baking powder and sugar; set aside.

Preheat waffle maker to desired temperature.

In a separate bowl, beat the eggs, milk, and oil together.

Pour the wet mixture into the dry mixture bowl and continue to beat until the batter is smooth.

Ladle the batter into a preheated waffle maker. The waffle take around 5 minutes to cook but should be golden and crisp.

Repeat the process until all the batter is used up.

Serve immediately with your favourite toppings.
Notes
You can use coconut milk and coconut oil instead of almond milk and vegetable oil.

In this recipe I topped the waffles with dairy free ice cream, cherry preserve and fresh cherries.
Prep Time:

10 minutes

Category:

Dessert

Cuisine:

American
Nutrition
Serving Size:

1 serving

Calories:

649

Sugar:

9.4 g

Sodium:

205 mg

Fat:

42.4 g

Saturated Fat:

23.2 g

Carbohydrates:

59.2 g

Fiber:

3.7 g

Protein:

11.3 g

Cholesterol:

82 mg
save the recipe to your pinterest board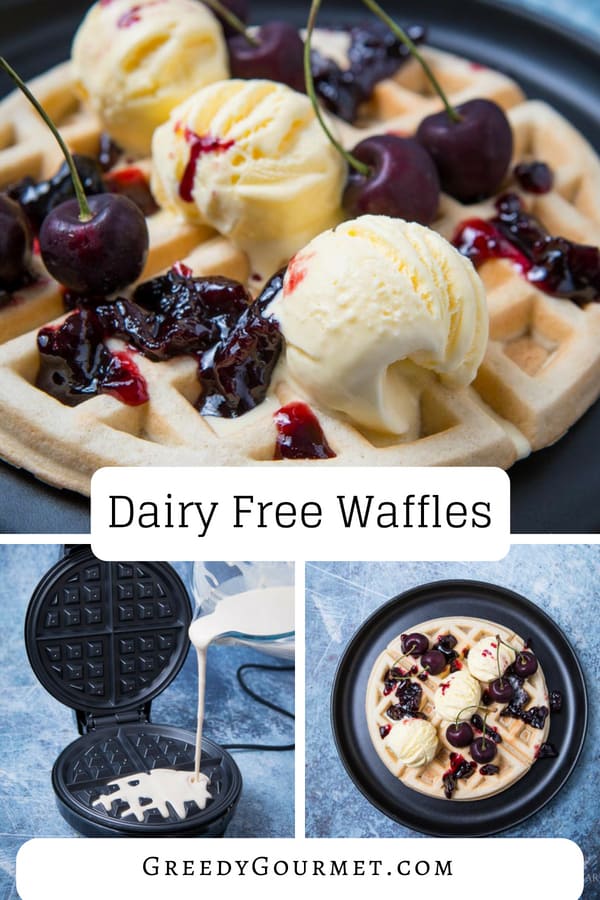 P.S. This is a sponsored post.