If you're a fan of recipe boxes, you're probably familiar with the big brands, such as HelloFresh and Gousto. Have you heard of Simply Cook though? It's different from the rest. Here's why.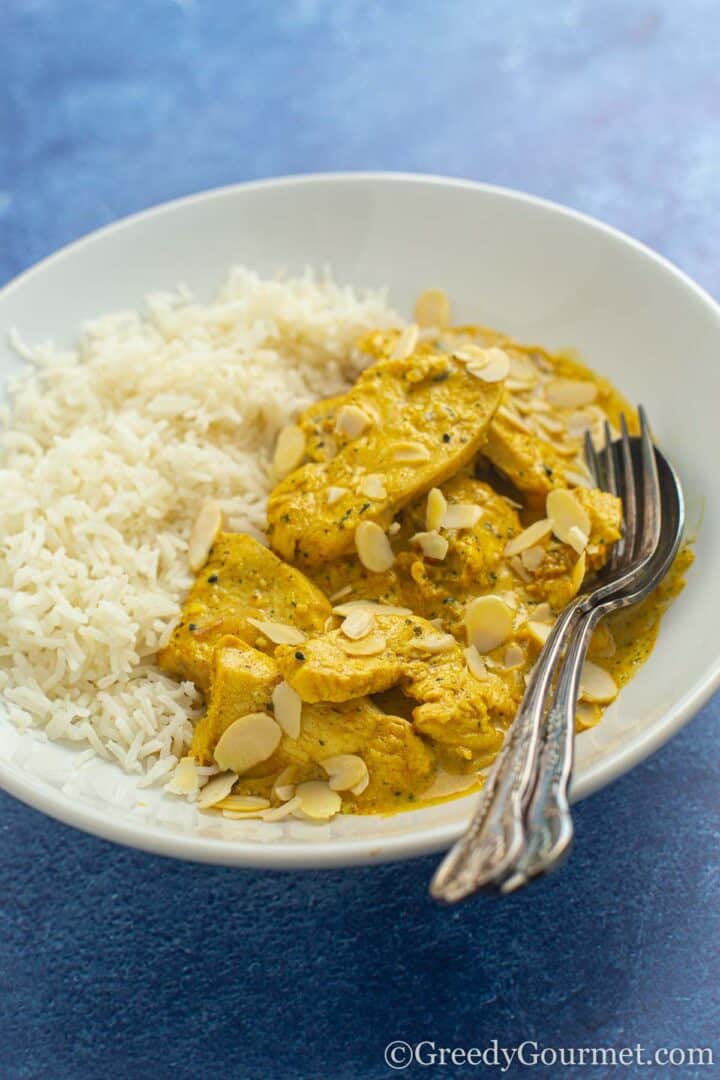 As you can see, I've had a ball cooking a whole range of recipes Simply Cook has sent me to try out. I've kept presentation simple and homey, so that you can see just how approachable these meals are and that they are easily achievable.
Too much spice in your life?
How many bottles of spices do you have in your kitchen? How many do you use on a regular basis? Do you have any duplicates?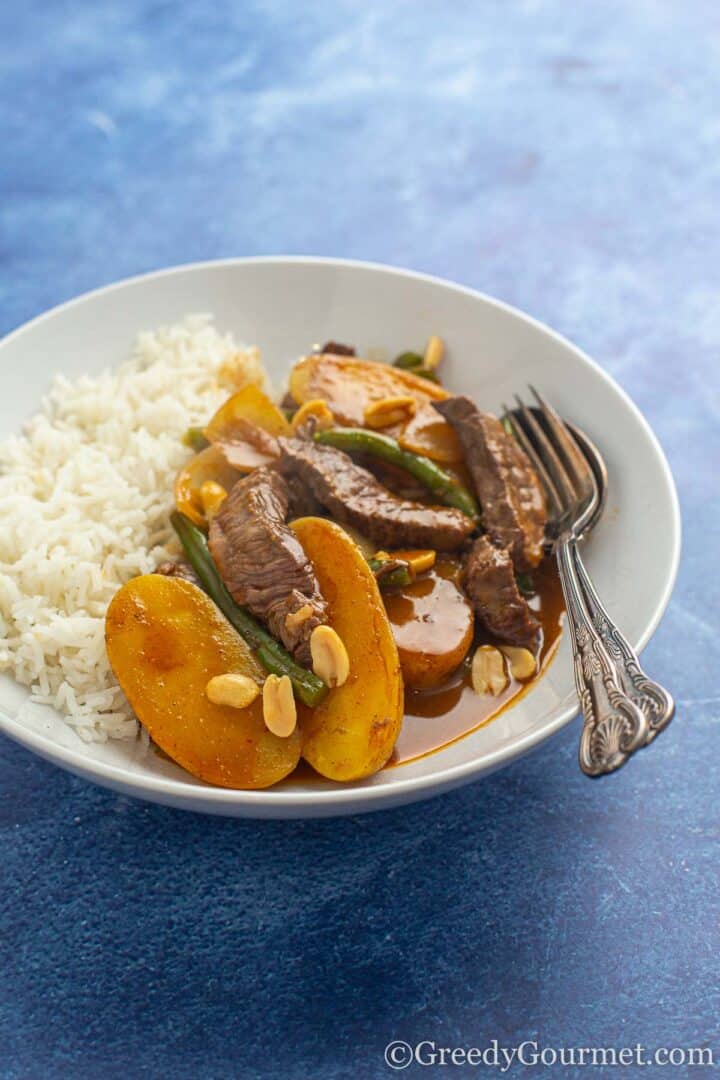 I'm embarrassed to admit that I have at least 50 spice bottles rattling away in drawers. Some have expired. Nope, I'm not going to start counting how many ground cumin jars I have. All I know is after blogging about food for 14 years, things can get pretty cluttered!
This is why Simply Cook is a godsend for people like me. You cook, using the allotted seasonings, you eat, and everything is done. No leftovers, no wastage.
Busy lives and small kitchens
If you love food and trying out new dishes but you're too busy, or you have a tiny kitchen with not much storage, then this type of recipe kit is also for you.
You can try out new recipes at your leisure without having to invest in dear exotic ingredients at the risk of not using them again if things didn't pan out on your plate.
If you're going on self-catering holiday, take a Simply Cook box along with you. No specialist equipment is necessary; the usual knife, chopping block, a pot and frying pan will do. Promise.
Quick and easy meals
All meals take 30 minutes or less to cook. This is a biggie. I actually watched the clock as I went along and it stays true to its word.
Trust me, there were days where I just couldn't be bothered cook (But had to. Thanks, Lockdown!) and realised the other food I had in mind would actually take longer than just whipping through a Simply Cook box.
The end result? A better than average home cooked meal at a cheaper and healthier cost than greasy takeaways.
Cook with quality ingredients at your own pace
What makes Simply Cook different from the rest of the recipe kits is that fresh produce isn't included in these boxes. In fact, the boxes that arrive fit through a letterbox, so no waiting around for the postman to arrive either!
At first I was annoyed that I had to go shopping for actual ingredients before being able to cook. It cuts both ways though.
In the past, I've reviewed other recipe boxes and let me tell you the following issues I've come across:
The ingredients are of dubious quality. Yay, I didn't have to go shopping, but wait, where's this chicken from? Hmmm, the broccoli looks not quite right. I wish I could pick the ingredients myself.
Tiny, tiny ingredients. Oooh, what's in this bag? Oh, another bag. Let me unwrap this piece of plastic. A clove of garlic. Seriously?!? (Imagine having to go through this process 4 times in the same box. The pieces of ginger I received were in pretty small and sorry states too.)
A mountain of waste. While cardboard and paper make up the majority of waste, let's not forget the plastic and coolants that have to be discarded. It's like Christmas came early, including all the additional discarding of waste.
So. What makes Simply Cook different is that you have complete control of the ingredients that go into your food – from Aldi budget range to Harrods' gold foiled chicken (I made that one up). By the way, all fresh ingredients are easily obtainable.
Another bonus is that you can take things at your own pace. So no fretting about having to cook with the fear that ingredients will soon go off.
Swapping and Sizes
Not all recipes tickled my fancy, for example, the Keralan Curry. As a meat eater, a carrot, courgette and tomato doesn't constitute a meal. Instead, I swapped the vegetables for aubergine and green beans. A much better end result!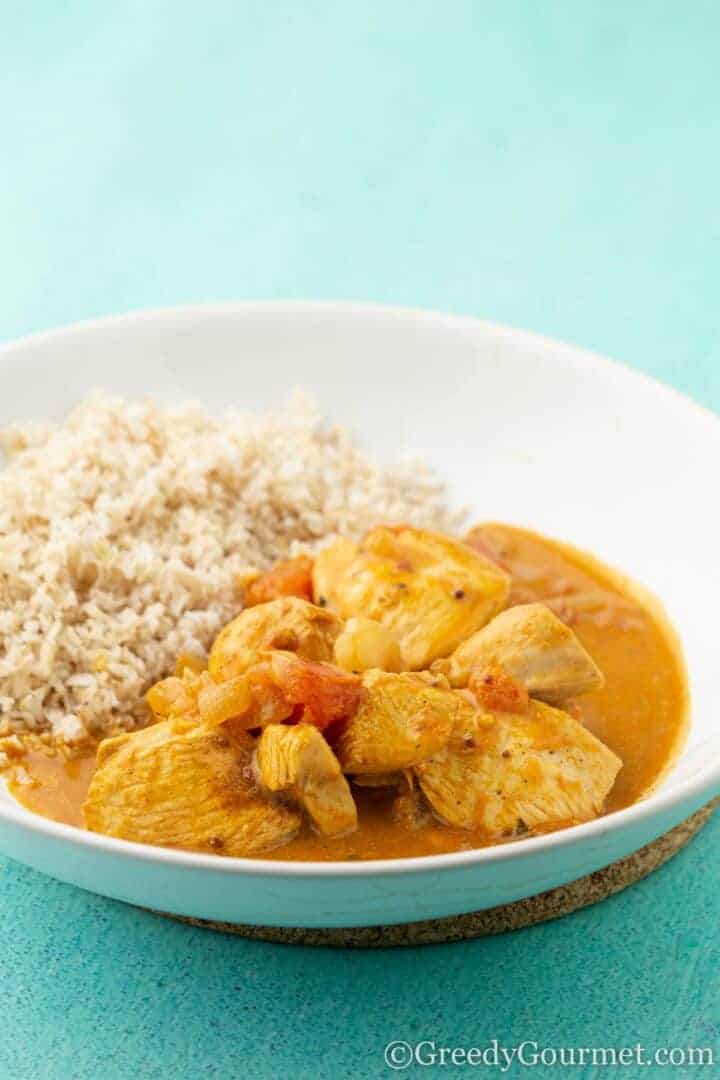 In some recipes, such as the Goan Fish Curry, chicken and white fish can be used interchangeably, as I'v done here.
The moral of the story is you can make your own substitutions where you see fit and each recipe card provides lots of helpful guidance.
You won't go hungry either. The portions are simply massive if you stick to serving 2 people per recipe box. Divide the food into three for more sensible portion sizes.
The recipe cards provide extra details as to how you can bulk meals out. Please do keep in mind that the spice factor will go down the more ingredients are added to the dish.
Whatever you do, don't salt your food after cooking. All seasoning has already been added up to that point and nothing else is needed. To be honest, some of the dishes I found a bit on the salty side and that's coming from a salt fiend.
Another critique is that I wouldn't opt for the steak-based meals. Of course, I'm biased because I like mine blue. Yet, it makes it quite an expensive meal just to eat overcooked steak, such as in the Japanese Seared Steak and Beef Stroganoff.
My Favourite Meals
Personally, I've made a few discoveries. My family simply loves the Mexican Beef Quesadillas. Chicken Tinga and Balinese Chicken Curry I won't mind having again and again. And again.
And again.
That's it!
For a quick summary, see the list of helpful questions and answer below. Happy cooking!
What is Simply Cook?
Simply Cook is a recipe kit comprising little containers filled with different spice combinations, pastes and seasonings used to spruce up meals.
Various different cuisines, from Balinese to Thai, are explored through its numerous recipe offerings. Most of the recipes contain meat. Some are vegetarian but very few are truly vegan.
Each box fits through the letterbox and contains 4 recipes. Each recipe uses 3 plastic containers. Everything is recyclable except the lids.
How Does Simply Cook Work?
Simply go to Simply Cook's website and order how often you'd like a box delivered, starting at every week and up to every 6 weeks.
The box will be delivered through your letterbox. You'll need to buy the fresh ingredients but it also means you can cook at your own pace. The ingredients in the box have got a long shelf life.
Simply Cook Prices
Each box costs £9.99, which is for 4 meals. The average cost per person ranges from £3 to £6 depending on the recipe.
How many syns in simply cook?
It varies. It's best to visit the page for each recipe, where allergen and nutritional information can be found. From there you can calculate the syns of the little pots plus the fresh ingredients to be used.
Simply Cook Trial Box
Your first box only costs £3. Click here to get started!
How To Cancel Simply Cook
Canceling is easy. Simply login to your account, go to "Membership Settings" and click on "Stop My Regular Deliveries".
Where can I get a Simply Cook voucher?
Keep a lookout, they are online!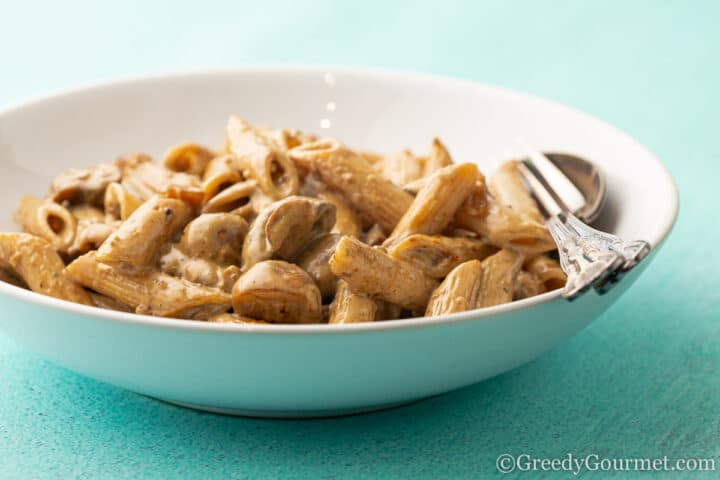 P.S. This is a sponsored post.