Looking for Aleppo pepper substitutes? Look no further! This spice, which also come in the form of Aleppo pepper flakes, is one of the most common ingredients used in the Mediterranean and Middle Eastern cuisines.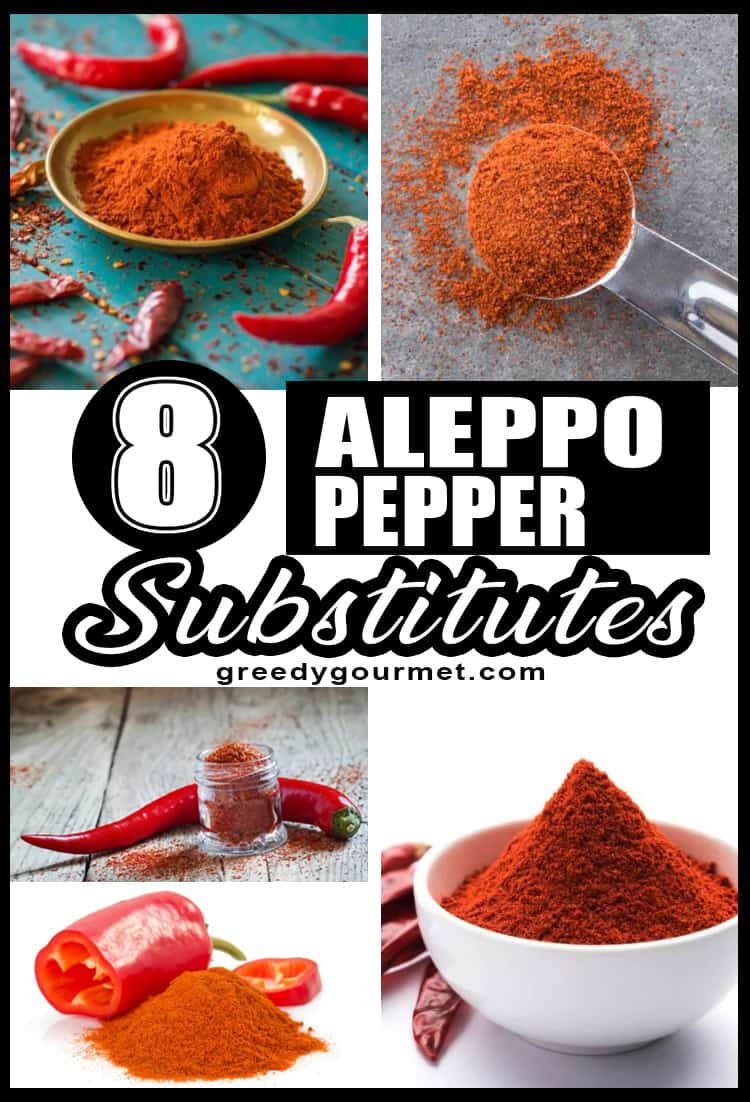 Oftentimes, Aleppo pepper ends up in soups as seasoning or as a topping. For example, you can use Aleppo pepper for an extra kick alongside sumac in this fattoush salad.
If you find yourself in a position where your recipe calls for this ingredient, make sure you also have some of these Aleppo pepper substitutes.
For some people, Aleppo peppers might be too hot. Therefore, you can actually use milder substitutes for Aleppo peppers and still end up with a delicious meal.
8 Aleppo Pepper Substitutes
In fact, some Aleppo pepper substitutes are completely interchangeable with Aleppo pepper dried chilli flakes. So, depending on your heat tolerance, you can select the substitute that suits you best.Hopefully, this list of top Aleppo pepper substitutes will provide you with the right guidance for selecting the appropriate alternative, whether you are looking for a hot or mild Aleppo pepper substitute.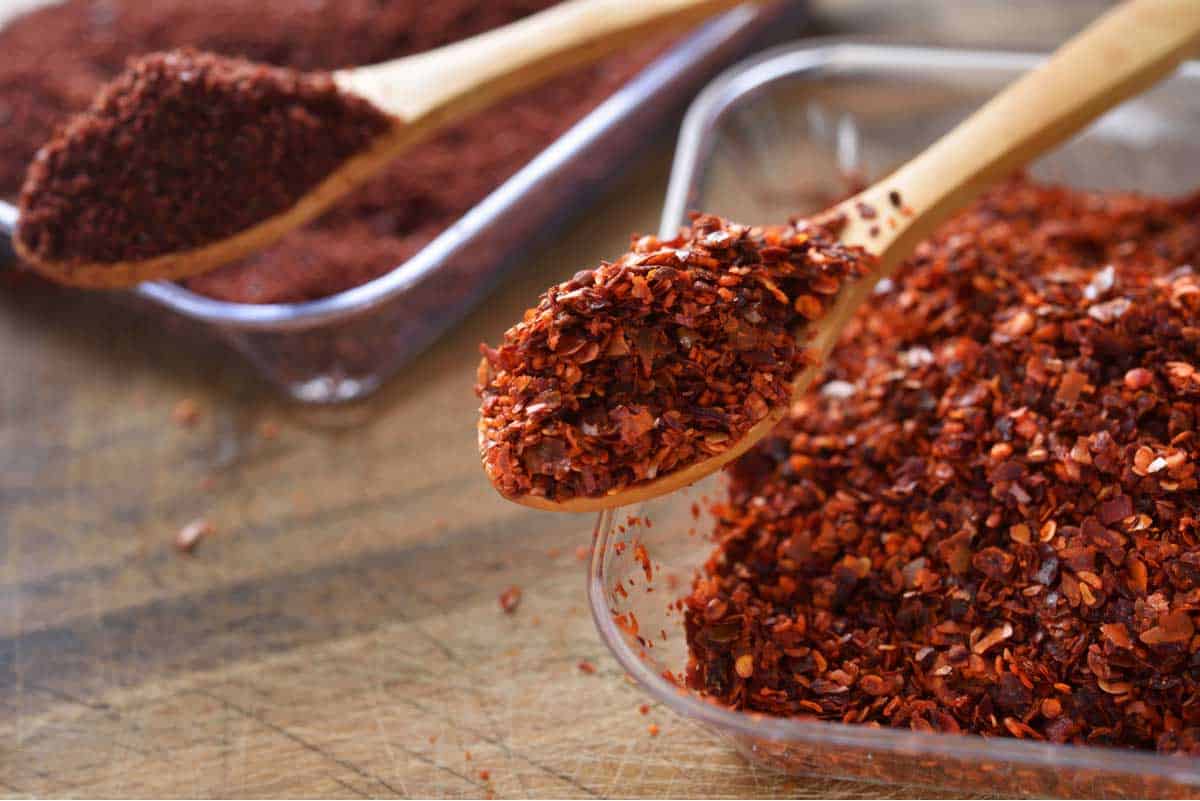 different places, different names
Which Aleppo pepper substitute will fit your desired recipe the best? Let's dive a little deeper. Aleppo pepper is often referred to as an Arabic spice, although it also appears a lot in the Mediterranean region.
You might also know Aleppo pepper as "Halaby pepper".
In Turkey, the flakes of Aleppo pepper are known as "pul biber".
In Armenia they are known as "haleb biber".
Did you know that Aleppo peppers are named after the city of Aleppo? If you didn't know already, the city of Aleppo is actually based in northern Syria, in the Middle East. Historically speaking, Aleppo formed a major part of the Silk Road where spices were traded for other goods. You can consider Aleppo pepper a traditional Middle Eastern spice.
Today, it is grown and cultivated in Turkey and in Syria. It was only in the 20th century that Aleppo pepper made its way to the USA and Britain along with the immigrant communities.
what is similar to Aleppo pepper?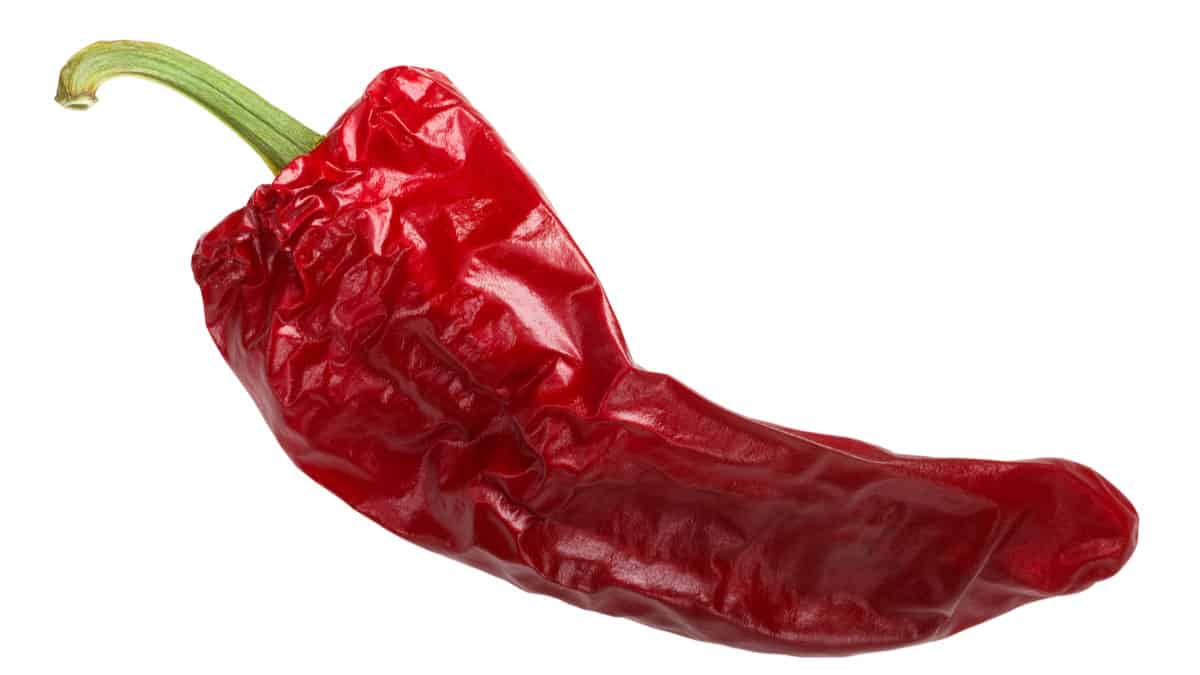 The fruit reaches a beautiful burgundy colour when ripe, which is then deseeded and ground to make a delicious seasoning mix. In terms of heat, Aleppo peppers are actually quite hot. They score roughly 10,000 heat units on the Scoville heat scale, ranking as a moderately hot pepper. Therefore, if you have an intolerance to chili or ingredients with high heat, I encourage you to select one of the milder Aleppo pepper substitutes.
In terms of the taste profile, Aleppo pepper tastes very similar to ancho powder. In comparison to the latter, it carries slight notes of fruitiness, similar to those of raisins, along with a touch of saltiness. So, if you cook with Aleppo pepper, you should go easy on the salt. If you use one of the other Aleppo pepper substitutes, you can add a little bit more salt to your recipe.
Remember, you don't want to throw your recipe off balance. Some varieties of Aleppo pepper also taste like ground sun-dried tomatoes with mild notes of cumin as well. So as you can see, Aleppo peppers are quite a complex ingredient and is no ordinary hot pepper.
how to dry Aleppo peppers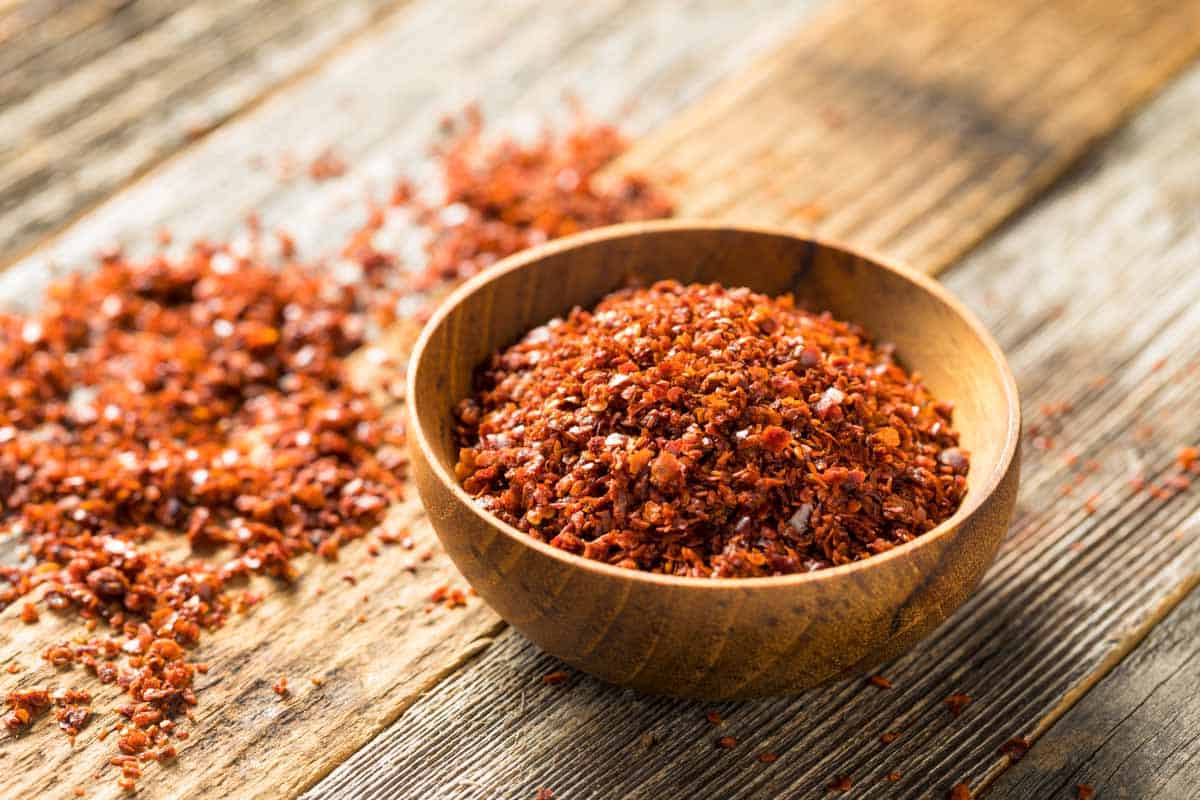 It can be the case they you might find fresh Aleppo peppers. Naturally, the best way to dry fresh Aleppo pepper would be using your kitchen oven. First, pre-heat your oven to the lowest possible setting. In the meantime, wash the Aleppo peppers and clean them thoroughly. I recommend wearing gloves for protection, just in case. Next, using a sharp knife cut the Aleppo peppers lengthwise.
With their innards exposed completely, spread them out on a baking tray - side-down best. By the way, cooking the Aleppo peppers can take hours and even a full day on the lowest possible setting. So, every hour, you will need to flip and rotate the peppers so that they get dehydrated evenly.
Once the peppers are completely dry, you can store them, or ground them into a fine powder or crush them into flakes. Alternatively, you if you have a dehydrator at home, feel free to use it!
Aleppo pepper recipes
My favourite ways to consume Aleppo pepper is to use it with chicken. For instance, feel free to add the Aleppo pepper flakes into these delicious recipes:

Find it on amazon
In short, you can find Aleppo peppers in any Asian specialty store. Also, if you have a favourite Middle Eastern restaurant in your neighbourhood, you can also consider asking them where they source it. Oftentimes, I've been able to locate ingredients by asking the right people. If you live in a larger town, you should also consider attending the local community market.
Alternatively, you can always find Aleppo pepper flakes online. Just take a look at these crushed Aleppo pepper chilli flakes sellers here: