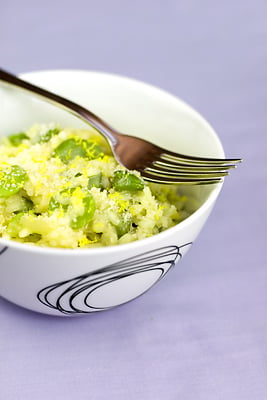 Inspecting each packet at the vegetable seed stand carefully, broad beans immediately caught my eye. Not having a clue what I was about to grow didn't matter much to me for as long as it came out of my garden I was happy. Strangely, the plants weren't like the ordinary bean ones, i.e. needing poles and stood proudly on their own without the need for assistance of any kind. They flowered, and then the beans came. Since I have more ants in our garden than I would dare to imagine I came across something unexpected. One day when I looked a bit closer at the plants, I noted black patches at the top. Tiny black little bugs sat fixed to the stem and flowers. This was the first time I came across these little, disgusting plant lice; blackfly. The ants protect the blackfly, while the blackfly produce honeydew which the ants eat. It's a match made in heaven for the two species and the pests from hell for me. The blackfly sucked every last drop of life from my beautiful green soldiers until they resembled the poor unfortunate souls captured by Ursula, the Sea Witch, in The Little Mermaid. (No, I haven't watched the movie with Gabriel for like 10 000 times already. Oh dear, I'm not fooling anyone, am I?) I salvaged one meal's worth of beans before they bit the dust and they tasted divine simply boiled. Year after year I keep trying to grow broad beans and every single time the ants/blackfly get to them! It leaves me feeling quite depressed…
For a long time I stood in the shop staring at the fresh broad beans boxed in big cases. It really peeves me to buy something at the shops when I know it can grow perfectly well in my backyard. Those damn ants! Bloody blackfly! The old lady shuffled away quicker than I thought she could, trying to get away from the nutcase who mutters to herself. Ah well, I couldn't resist any longer. I had to have broad beans. It was as simple as that.
P.S. Each bean was shelled lovingly before meeting its gory end.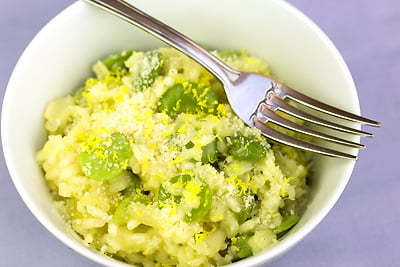 Print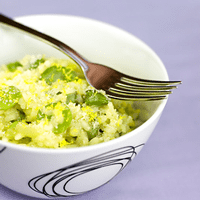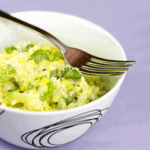 Broad Bean & Lemon Risotto
---
350

g

(12 oz) fresh or frozen broad beans
salt and pepper

15

g

(1 tbsp) butter

1

medium onion, finely chopped

200

g

(7 oz) arborio (risotto) rice

1

litre

(1 3/4 pints) hot vegetable stock
grated rind and juice of 1 lemon
grated Parmesan, optional
---
Instructions
Cook the broad beans in a large pan of boiling salted water for 3-5 minutes or until just tender. Plunge into ice-cold water to cool. Drain, peel off the outer skin, if wished, and set aside.
Melt the butter in a large saucepan, add the onion and cook over a medium heat for 5 minutes or until beginning to soften. Add the rice and continue to cook, stirring for 1-2 minutes.
Pour in a ladleful of the hot stock and simmer gently, stirring frequently until the rice has absorbed most of it. Keep adding the stock I nthis way until the rice is tender but still has bite to it; this will take about 15-20 minutes. The risotto should look creamy and soft when cooked.
Add the broad beans, lemon rind and juice and warm through.
Serve the risotto immediately, garnished with grated Parmesan and lemon rind.
Prep Time:

35 minutes

Cook Time:

25 minutes
Nutrition
Serving Size:

1 serving

Calories:

327

Sugar:

2.1 g

Sodium:

110 mg

Fat:

6.5 g

Saturated Fat:

2.4 g

Carbohydrates:

56.8 g

Fiber:

3.6 g

Protein:

9.6 g

Cholesterol:

8 mg