There's never a wrong time to have some of our favourite soup recipes. I'm a sucker for curried butternut squash soup, and I can have it anytime of the year. It's creamy but light, and the curry makes it so flavorful.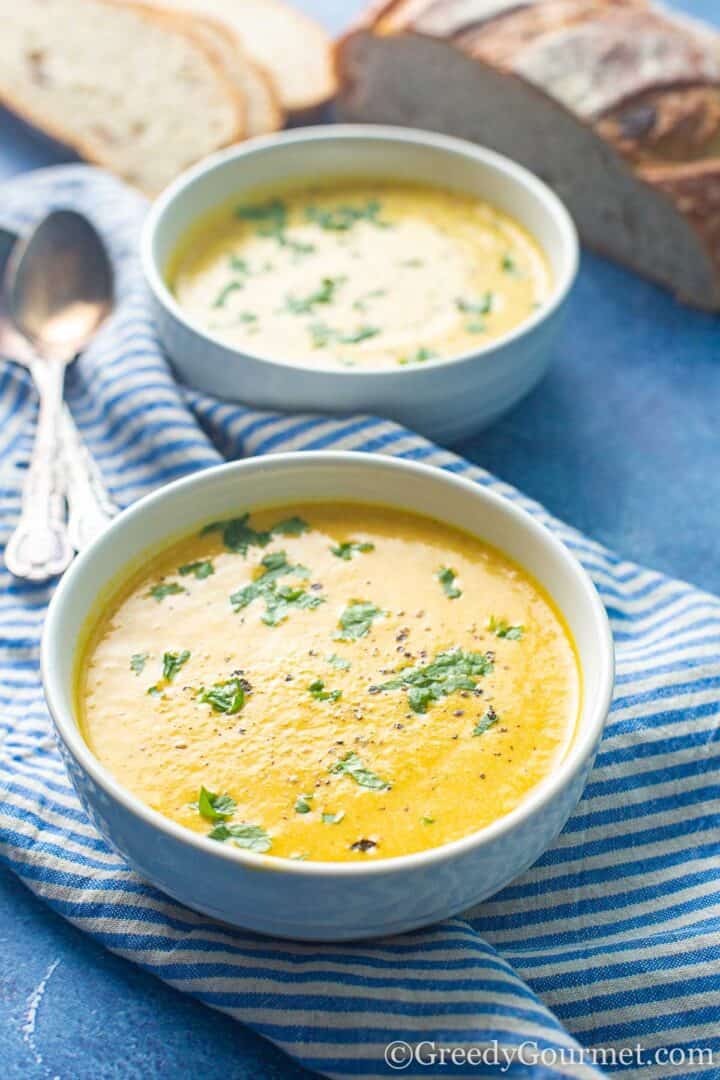 If you're looking to make something comforting and delicious any time of the year, this is the soup for you.
Why You'll Love This Recipe
There are many reasons to love this curried butternut squash soup recipe. As I mentioned before, it's luscious but light, and it fits a variety of dietary preferences.
I use vegan (or coconut) cream and vegetable stock in this recipe, making it totally vegan friendly. With the use of whole foods, like tasty fresh vegetables, it's healthy, making it perfect to eat when you want to indulge, but not too much.
I also love this curried butternut squash soup recipe because it is easily adaptable. It fits many diets, and can easily be changed to accommodate different tastes and dietary preferences.
It's the perfect soup recipe!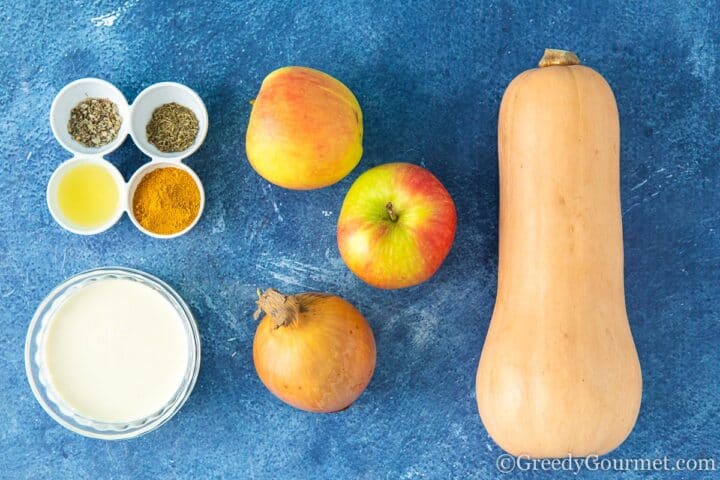 Essential Equipment
Here are the essential items you'll need to make curried butternut squash soup:
Large saucepan - The soup has a lot of ingredients, and you're going to need to blend them to get that creamy base. Using a smaller saucepan will make it difficult to blend the ingredients without making a mess.
Immersion blender - You'll use an immersion blender to puree the ingredients in the same pot you cooked them in. If you don't have one, you can use one that's standalone, but it's not quite as convenient.
Individual bowls - To enjoy this recipe fully, make sure you serve it in individual bowls so that everybody can enjoy it.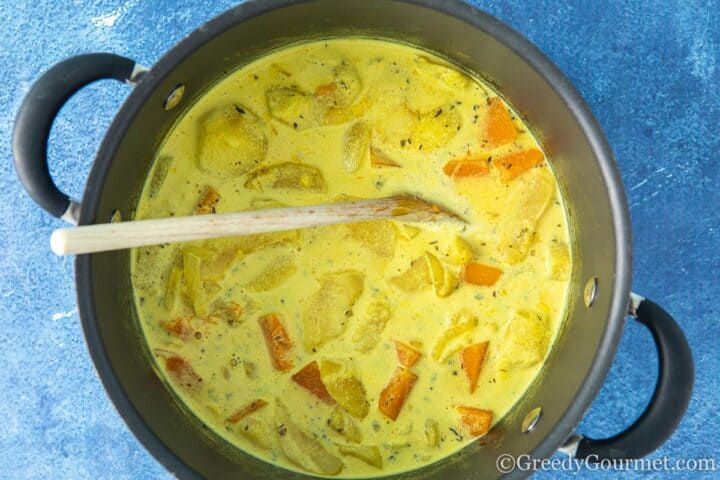 Essential Ingredients
The best thing about soup is that you can throw just about anything you have in your pantry in a pot and it will turn out beautifully. 
For curried butternut squash soup, though, there are some ingredients that you can't go without:
Butternut squash - Butternut squash is the star of the show. With its sweet and nutty taste, it's the perfect squash for curried squash soup. Make sure you peel it and deseed it before adding it to the pot. 
Apples - Apples may seem like a silly ingredient, but hear me out they are the perfect addition to curried butternut soup. I suggest using Fuji or Honeycrisp apples, as these will give you the sweetest flavour to help balance some of the curry flavour.
Vegetable stock - This is a sick soup thanks to blending the vegetables and adding cream, so it's essential that you do not skip the vegetable stock. If you're not on a vegan diet, you can use chicken stock instead if that is what you have on hand.
Vegetable oil - I use vegetable oil, but you can easily substitute olive oil instead. Olive oil will be delicious, too!
Can I Use Coconut Milk?
Cream is going to help this curried butternut squash soup become, you guessed it, creamy! You can use a variety of creams in this soup, like coconut cream or even coconut milk. 
If you are not vegan, though, you can use sour cream. If you do use sour cream, though, I still suggest using coconut milk to thin it out a little bit.
Can I Substitute Butternut Squash?
Like I said, butternut squash is the star of the show here, but I understand that it's not something you always have on hand, and you might not be able to get it locally. 
Don't fret, though, because there are ways to still enjoy a curried squash soup without the butternut squash.
Bear in mind, if you are substituting butternut squash, it will no longer be butternut squash soup, but it'll still be very good squash soup.
If you do not have any butternut squash, you can substitute for acorn squash. This will have a very similar taste, and you will prepare it the same way as you would butternut squash.
Recipe Tips 
Follow these tips for the best curried butternut squash soup of your life:
Don't forget to peel the squash. You can eat the peel of a squash, but it will definitely affect the texture of the dish. Leave them out for the creamiest curried butternut squash soup possible.
Roast the squash. To really elevate the squash and add some flavour, roast the squash before adding it to your pot. This will give the dish a totally different flavour profile, and is especially tasty during the fall.
Add spices at each stage. Soup tastes best when the flavours are consistent throughout. One way to do this is by adding the spices (aside from the curry powder) at each stage. For this particular recipe, add them with your onion, then with the squash and apple, and then a bit at the end.
Make it spicier. If you want this dish to be even spicier, add more cumin and curry powder. To balance the flavours when you make it spicier, add some garlic and pepper, as well. For a super spicy dish, add red pepper flakes.
How Do I Store and Reheat It?
Curried butternut squash soup is so easy to store and reheat. It can easily be frozen, or you can keep it in the fridge. It tastes so divine the second time around that  you don't even know you're having leftovers!
To reheat leftover soup, put it in a saucepan, perhaps the same pot you used before, depending on the amount you are reheating.
Put it over medium heat, stirring occasionally to prevent it from scorching. Once it's hot and smooth enough, give it a try. 
It should have taken on more of the spicy flavours, but feel free to add more garlic, curry powder, pepper, and cumin if you want it to have more of a bite.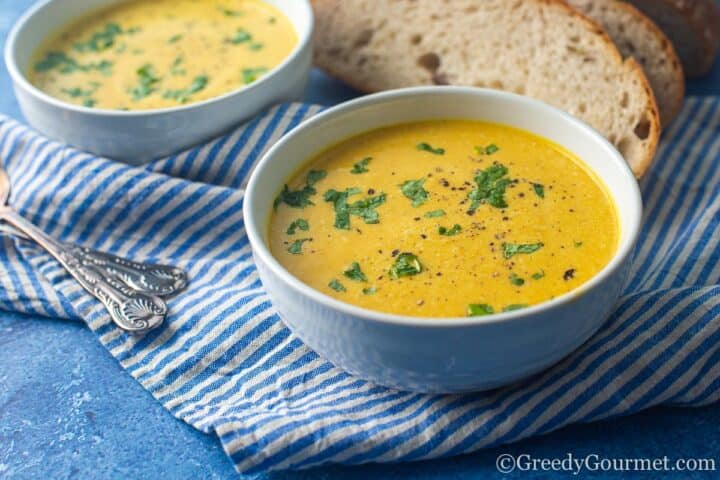 What Should I Serve With Curried Butternut Squash Soup?
Curried butternut squash soup is delicious on its own. Garnish it with some chopped fresh cilantro or fresh ginger, and you won't want anything else.
However, if you do want something on the side, I suggest a slice of crusty bread, or even a light salad. Toss either my Edamame Salad or my Aubergine Salad for a lovely side.
If you don't follow a vegan diet, this is the perfect soup to have with a roasted duck or a well-seasoned chicken breast.
Again, though, it's so tasty on its own that you won't notice if you don't have any other food to go with it.
Print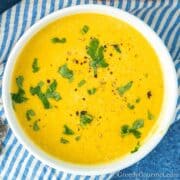 Curried Butternut Squash Soup
---
Author:

Michelle Minnaar

Total Time:

45 minutes

Yield:

4

servings

1

x

Diet:

Vegan
Description
This Curried Butternut Squash Soup is quick and easy to prepare and completely vegan. It is the perfect fall soup.
---
30

ml

(2 tbsp) vegetable oil

1

medium onion, chopped

2

g

(1 tsp) curry powder

1

butternut squash, peeled, deseeded and chopped

2

medium apples, cored, peeled and chopped

2.5

ml

(1/2 tsp) dried thyme

2.5

ml

(1/2 tsp) dried sage

1

L (4 cups) vegetable stock

2.5

ml

(1/2 tsp) salt, or to taste

125

ml

(1/2 cup) vegan or coconut cream
fresh coriander leaves, chopped [for garnishing]
---
Instructions
Heat the oil in a big saucepan. 
Add the onion and cook until softened but not browned, which should take about 5 minutes. 
Add curry powder and stir for 1 minute.
Add the butternut, apple, thyme, sage, stock and salt. 
Bring to a boil, then lower the heat to a steady simmer and cook for 15 minutes.
Using a hand blender, purée the soup until smooth. If you don't have a hand blender, wait for the soup to cool a bit then transfer it to a blender and purée it in batches. Return the soup to the pot.
Slowly reheat the soup, add the cream, stir well, sprinkle with coriander and serve immediately with your favourite bread. Enjoy!
Notes
After the butternut has been prepared, you should have around 450g (1lb) or flesh to cook with.
This soup is really good served with whole-wheat pita wedges for dipping.
If you're not vegan or lactose intolerant, you can substitute the oil with butter and use double (heavy) cream instead of the vegan version.
If you find you have plenty of butternut squash leftover, you can freeze it to use later! Check out my guide on how to freeze butternut squash for more info.
Prep Time:

20 minutes

Cook Time:

25 minutes

Category:

Soup

Method:

Boil

Cuisine:

English
Keywords: urried butternut squash soup, butternut squash recipe, vegan soup, vegan butternut squash recipe, butternut squash and apple, autumn soup recipe, fall soup recipe, spicy butternut soup