A fresh, vibrant dish that takes a mere five minutes to make, this edamame salad is packed with protein, full of flavor and looks wonderful in your salad bowl.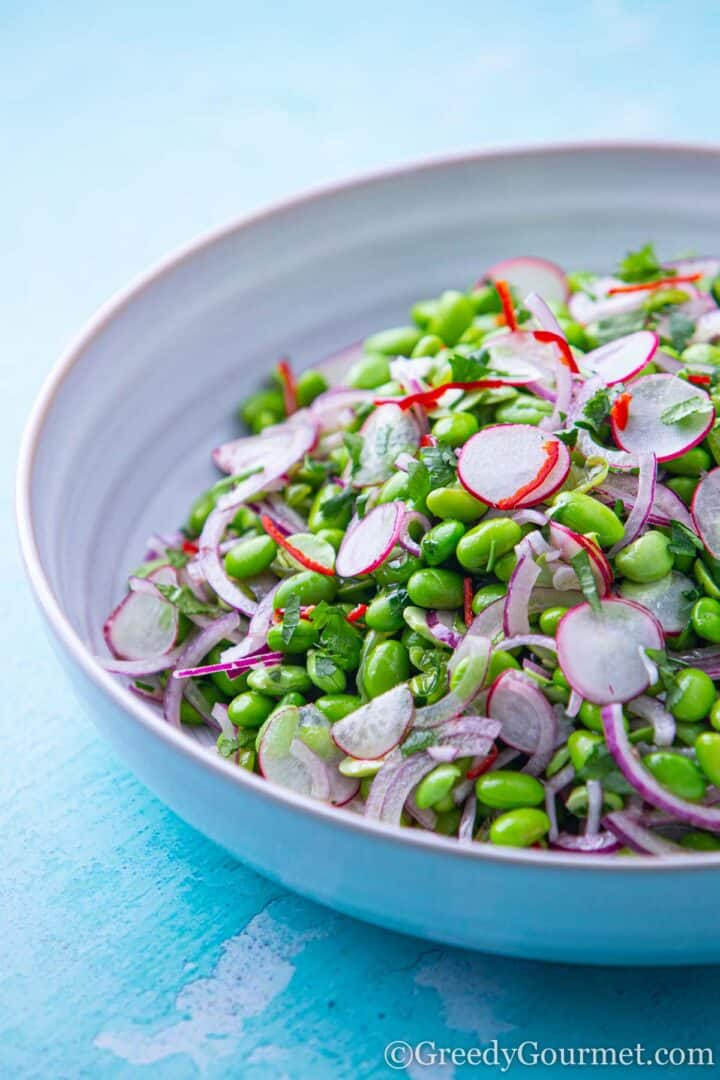 This satisfying Asian salad is so delicious, yet it couldn't be easier to make!
Products you need for this recipe
There are a few items you'll want to get hold of before you start: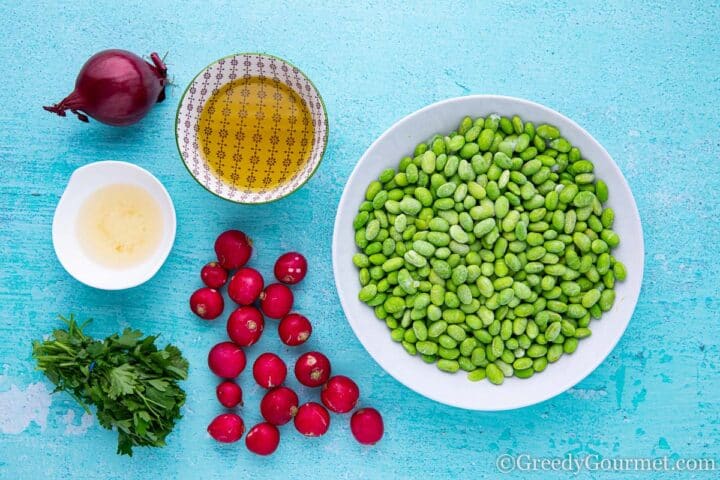 Edamame salad recipe
A refreshing, tasty salad that's incredibly easy to prepare, this makes the perfect light lunch or side dish.
It's so good for you too – all natural ingredients and it's perfect for vegans, vegetarians and those on a keto or gluten-free diet. If you're following the keto diet you should also try out this refreshing Keto Smoothie.
It even looks great. The bright green of the edamame beans and the parsley mixed with the vivid red of the radish and the red onion make for a beautifully colorful salad. It's going to look so appetizing when you serve up this salad!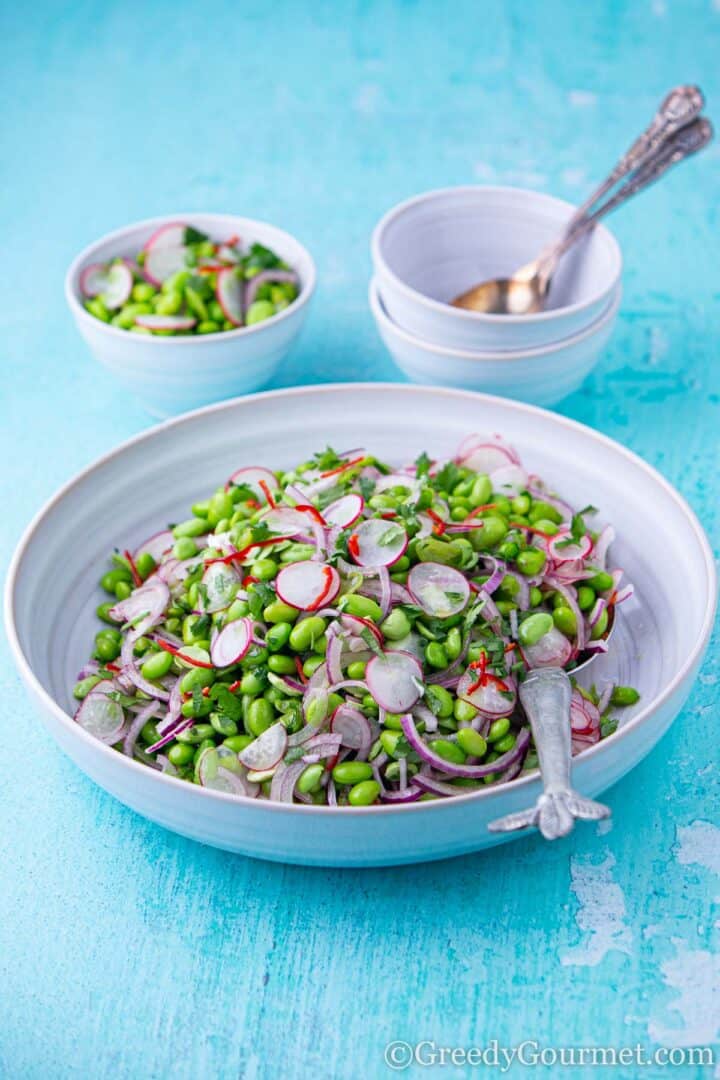 What is edamame?
Edamame is a type of nutrient dense soybean that is sweeter and more umami than other types of soybean.
It's a very popular ingredient in stir fries and all types of vegetarian and vegan dishes, but it's most commonly eaten on its own as a snack.
Where does edamame come from?
Edamame comes from Japan. The name means "stem bean" in Japanese, due to the fact that the green pods are picked straight from the plant and are traditionally sold with the stems still attached.
While edamame has exploded in popularity in the West in recent years, it has been cultivated and eaten in Japan and throughout Asia for more than 2,000 years.
In fact, it's believed that edamame was first cultivated in China and then introduced into Japanese culture, where it became a staple of Japanese cuisine.
It wasn't until the 1970s when edamame became known in the US. As healthy eating and veganism become more popular, so too did edamame.
How do you pronounce edamame?
It's pronounced eh-da-MA-meh.
Do you have to boil edamame?
Yes, you have to cook edamame before eating. As edamame is a soybean, it cannot be eaten raw. In fact, it can be dangerous to eat edamame raw and it may make you sick.
So, always cook edamame before eating it. The best way to cook edamame, to ensure it keeps its nutrients and softens up without losing that irresistible taste and texture, is to blanch it.
What is blanching?
Blanching is when you rapidly boil food, then remove it from the boil and quickly plunge it into ice cold water, to stop the cooking process.
There are a few key benefits to blanching food. Firstly, blanching helps the food maintain its nutrients. It also helps with taste and texture, while helping the food to maintain its color.
Finally, blanching can extend the lifespan of food, whether storing in the refrigerator or the freezer.
As an example, check out this blanched kale recipe.
Can you freeze edamame?
Yes! When freezing edamame, blanch it and store it in an airtight container. It will keep its flavor and texture for up to 12 months.
Keep in mind that refrozen edamame beans will suffer some loss of quality to the taste and texture. So, it's best to freeze them fresh.
What are the health benefits of edamame?
One of the reasons this edamame salad is so great is that edamame is really good for you. It's no wonder this soybean is so popular with vegans, vegetarians and health conscious foodies.
First of all, it's a great source of protein, with one cup containing 18g of protein. It's also a great source of fiber, with 8g per cup. Edamame is also packed full of essential vitamins and minerals, including manganese and vitamin C and K.
Is this recipe gluten free and vegan?
Yes! It's 100% gluten free and vegan.
Is this edamame salad keto friendly?
For most people, yes. A 100g serving of edamame contains only 3.6g of carbs, so fitting this edamame salad into a keto diet shouldn't be a problem.
Should I use olive oil or sesame oil?
I've gone for extra virgin oil for this recipe; but if you want, you can use sesame oil. It has a much stronger taste and would take the dressing in a completely different direction. 
So, if you're a fan of the taste of sesame oil and you prefer a more Asian inspired salad, feel free to use it.
Should I use red bell pepper or red radishes?
Many edamame salad recipes call for chopped red bell pepper to be used. You can of course use this if you wish.
For me, red radishes are just so satisfying, especially in this edamame salad. There's something about that peppery heat and crunchy texture that makes this salad extra special. You can even make these tasty radish chips with any spare ones
What types of onions should I use?
I've gone for red onion in this recipe. It's milder than white onion and brings a nice subtle sweetness to the salad, not to mention that lovely vivid color.
If you think red onion is a little too strong to be eaten raw, try green onions, spring onions or scallions in this salad.
Can I use frozen shelled edamame?
To make the salad you'll need a bag of shelled edamame, which you can find in the frozen vegetable section of your grocery store. I highly recommend getting them shelled so you don't have to stand there for ages shelling them yourself.
Can I use canned edamame?
You can buy canned edamame, but I recommend getting hold of fresh or frozen edamame. Look for the type that's already been shelled, as shelling edamame beans can be a bit of a chore.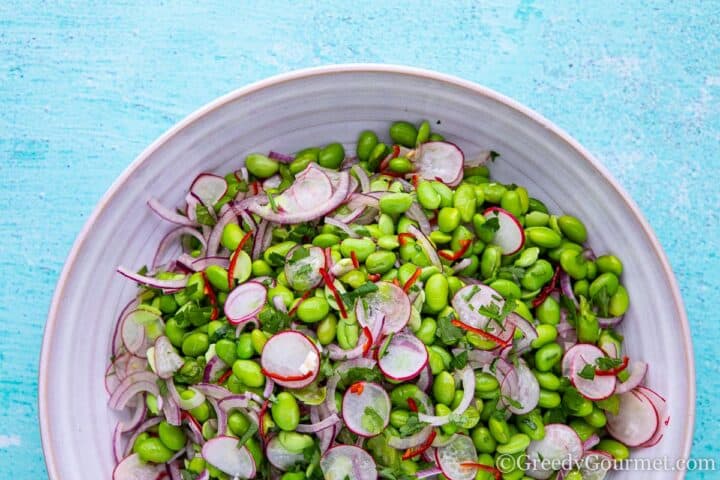 What goes well with edamame salad?
This edamame salad is delicious on its own, either as a starter or a light lunch. Still, serve it as a side dish alongside one of the following and make your meal extra special:
Thai shrimp cakes – light, healthy and supremely tasty, these little Thai shrimp cakes are an absolute joy. Make them just the once and you'll be completely hooked!
Bok choy stir fry – a super quick, extremely healthy stir fry that's all about simple flavors and ingredients. If you've never tried bok choy, or pak choi as it's sometimes known, you're in for a treat. It's very healthy and tastes delicious
Pan fried garlic butter prawns – these buttery, garlicky prawns are out of this world! Fast food really doesn't get any better than this. With a helping of edamame salad on the side, you'll have a dining experience to remember
Shrimp in oyster sauce – another sensational shrimp dish, this one brings the delicious flavor of oyster sauce, which works really well with this salad
King prawn butterfly – the ultimate way to eat shrimp or prawns, this is the recipe for you if you're a fan of seafood. Again, great with this salad on the side
Miso eggplant – when paired with edamame salad, these would make the perfect vegan double bill. Soy sauce gives it a real richness, which balances well with the fresh salad
Keto Coleslaw - This easy keto coleslaw recipe is a 5 minute marvel! When it comes to the perfect low carb summer side for your backyard barbecue, this recipe is hard to beat.
More amazing salads
If you've got a taste for a satisfying, simple salad, have a look at some of these. They all taste great and are very easy to put together:
Print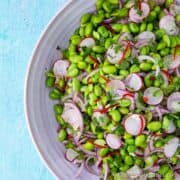 Edamame Salad
---
Description
This refreshing Edamame Salad takes less than 15 minutes to make. Full of vibrant colours, it is keto, vegetarian and vegan friendly.
---
900

g

(2lbs) shelled edamame beans

10

red radishes, thinly sliced

1

red onion, finely chopped

30

ml

(2 tbsp) apple cider vinegar

90

ml

(1/3 cup) extra virgin olive oil

15

g

(1/4 cup) flat leaf parsley, finely chopped
salt and pepper, to taste
---
Instructions
Blanch the beans for 3 minutes, then refresh in cold water and drain. 
Add the beans and remaining ingredients in a large bowl and mix well. 
Season to taste and serve immediately. Enjoy!
Notes
Fresh edamame beans aren't always available. In this case, I used frozen edamame beans which work just as well. 
Prep Time:

10 minutes

Cook Time:

3 minutes

Category:

Side Dish

Method:

Boil

Cuisine:

American
Keywords: edamame salad, vegan edamame recipe, keto edamame recipe, edamame beans, edamame recipe