This easy keto coleslaw recipe is a 5 minute marvel! When it comes to the perfect low carb summer side for your backyard barbecue, this recipe is hard to beat.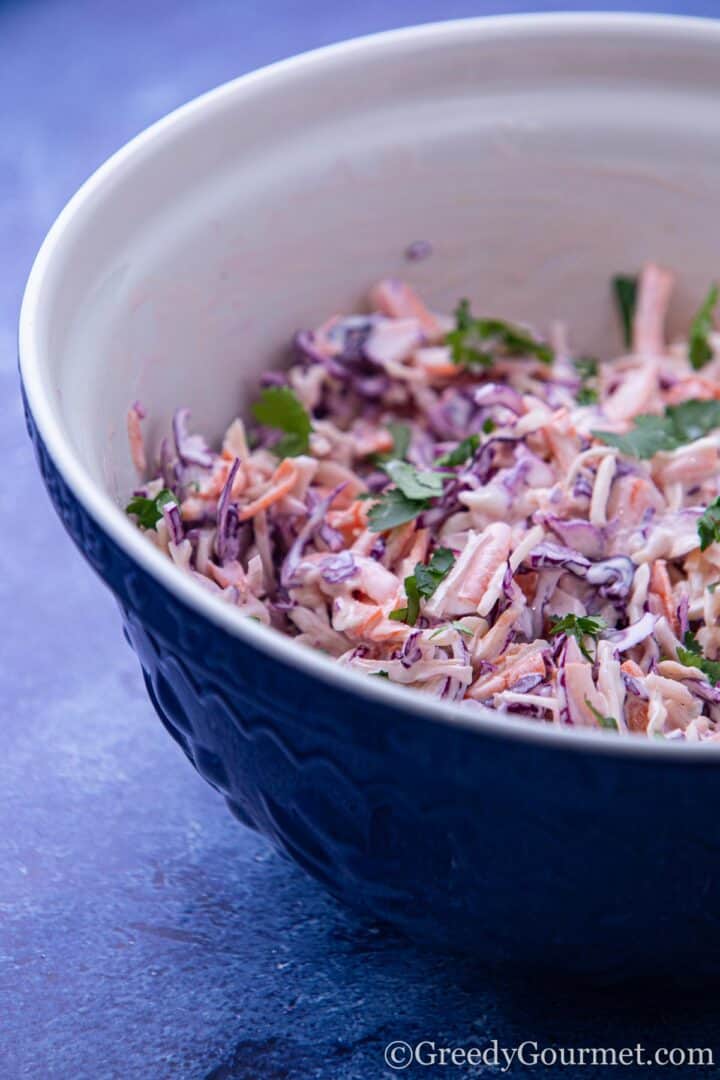 Sliced cabbage, red onion and carrot combine with a creamy coleslaw dressing for a low carb treat that's simple yet delicious!
Products you need for this recipe
There are a few kitchen items you'll need for this keto coleslaw recipe: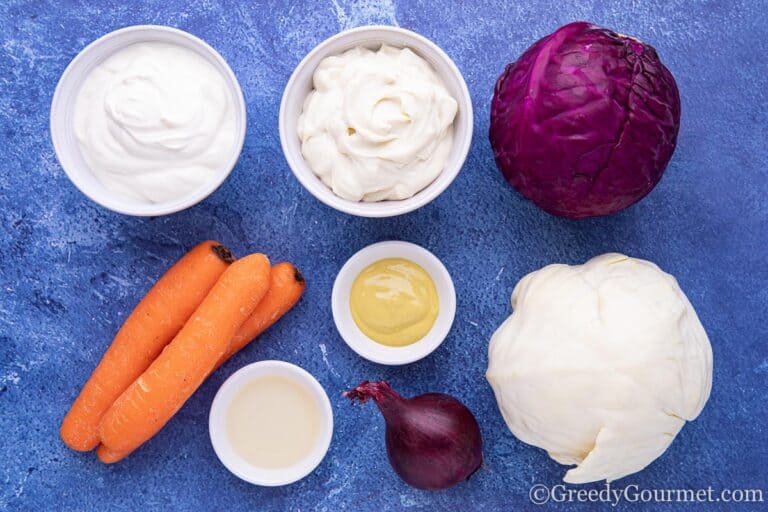 Low carb keto coleslaw recipe
If you love a good coleslaw but want to kick those carbs, you've come to the right place. Eating coleslaw doesn't have to mean breaking the keto code.
In fact, it's really easy to whip up a delicious sugar free dressing that delivers the perfect flavor and consistency.
It's a guaranteed crowd-pleaser at big backyard barbecues, dinner parties and picnics, providing the perfect balance of creamy, crunchy and cool, minus the carbs.
Four ingredients in the shredded coleslaw mix and four sugar free dressing ingredients. That's it!
Red and white cabbage, carrot and onion are shredded to bring that all important crunch! If you're looking to sneak some more healthy veggies into your kids' diets, this is the perfect recipe.
The creamy dressing comes courtesy of mayo, apple cider vinegar and Dijon mustard, for the ideal flavor and consistency.
You can play with the flavors to suit your taste. See 'What other flavors can I add to this recipe' for more inspiration.
So, a low carb coleslaw recipe that's incredibly adaptable, suits every scenario and will go down a storm with the whole family. When it comes to low-carb keto summer side dish cuisine, make this your go to recipe.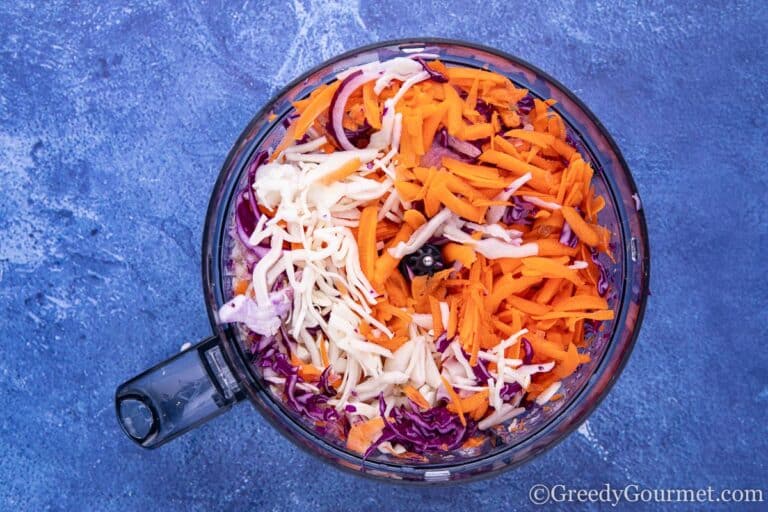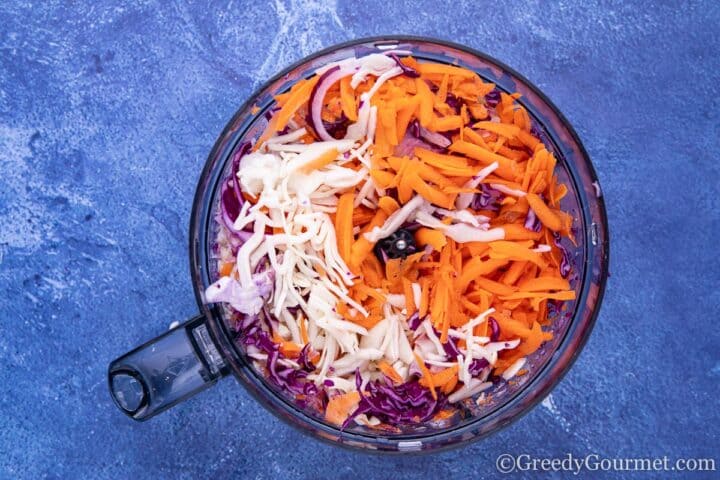 What is coleslaw?
Traditional coleslaw consists of shredded cabbage (normally white cabbage) mixed with a mildly sweet creamy dressing. The dressing is generally mayo-based, with a touch of vinegar to bring some acidity.
Other vegetables such as red cabbage, broccoli and carrot are commonly added. Sometimes even fruits, such as apples, can be added too.
In the 20th century, coleslaw cemented its status as a key part of American cuisine, particularly in the South, where no barbecue or picnic goes without it. However, its origins go back much further, to a place that might surprise many people.
Where did coleslaw originate?
Coleslaw originated in the 18th century in the Netherlands. Coleslaw recipes have been found in Dutch cookbooks as far back as 1770.
In fact, this predates the invention of mayonnaise – original Dutch coleslaw recipes contained raw shredded cabbage, melted butter, vinegar and oil.
Some culinary historians even claim that coleslaw in some form or another goes all the way back to Roman times. Still, the Dutch can certainly lay claim to the invention of the modern form of coleslaw.
They even coined the term. Or rather, the term "coleslaw" or "cole slaw" comes from their word for cabbage salad – "koolsla."
What does keto mean?
Chances are, if you're reading this keto coleslaw recipe, you're already clued up on all things keto. If you're not, here's a quick snapshot on the keto diet.
Keto, short for ketogenic, is a type of low-carb diet. The basic idea is that you get your calories from protein and fat, rather than from carbohydrates. So, less sugary snacks, bread, pasta and pastries and more natural foods.
The keto diet is specifically geared towards weight loss. When you consume less than 50g of carbs per day, your body enters ketosis – this is when it starts to break down protein and fat for energy, in place of carbs.
Is coleslaw normally keto-friendly?
The vast majority of coleslaw recipes contain a sweet dressing with added sugar. This means they are not keto-friendly.
This low carb keto coleslaw leaves out the sweetness for a more satisfying savory dressing. There's a hint of sweetness in the cider apple vinegar, but that's all that's needed for this recipe.
How many carbs are in coleslaw?
It really depends on the recipe, as the ingredients and added sugar vary. Some coleslaw can contain up to 15g net carbs and 12g sugar in a 100g serving.
Can I sweeten this keto coleslaw?
While lots of people prefer their slaw on the sweeter side, I much prefer the savory, creamy with a hit of vinegar kind of coleslaw.
So, follow this recipe to a tee and you'll have a balanced, delicious low carb keto coleslaw. For my money, you won't be missing the sweetness.
If you do want to add something a little sweet, maybe try grating a crisp, sweet apple and throwing it into the mix, or maybe a squeeze of lemon juice. 
You can also try keto-friendly sweeteners such as stevia, erythritol or xylitol.
Can I make keto coleslaw in advance?
Yes, you can definitely make this coleslaw in advance. In fact, it's best to leave it in the fridge for at least an hour, to let the flavors intensify and mingle together.
Even better, make the coleslaw the day before you're planning on serving it. Then, once you've left it to settle in the fridge overnight, the flavor will be that much more developed.
Can I use a ready made coleslaw mix?
You can, but it's so much better to use fresh vegetables. Pre-packaged vegetables won't have the same fresh taste, plus it doesn't take long to shred your cabbage, carrot and onion, especially if you're using a food processor.
What's the best vinegar to use in coleslaw?
There are a few options when it comes to vinegar. Coleslaw generally benefits from the acidity that vinegar brings, plus it will extend its lifespan.  
Apple cider vinegar
I've gone for this type of vinegar in this keto coleslaw recipe. It delivers more of a tang, with a subtle sweetness that helps to balance things out.
Distilled white vinegar 
Another great vinegar to use in coleslaw is distilled white vinegar. It won't bring the same tang as apple cider vinegar, but you can add a squeeze of lemon juice or lime juice.
Balsamic vinegar
I wouldn't use it on its own, but mixing a little bit of balsamic vinegar with one of the above is a good way to bring a touch more sweetness to your low carb keto recipe.
What's the best low carb mayonnaise to use?
Standard mayonnaise is actually fairly low in carbs, with only 0.6g of net carbs per 100g. So, feel free to use a normal mayonnaise for this recipe.
However, for the best keto low carb mayonnaise, I would recommend you use an avocado oil mayo. While you can buy your own, you should definitely check out my avocado oil mayo recipe. 
It's easy to make and tastes like a dream. Once you've tried homemade mayo, you'll never go back!
Is this coleslaw recipe vegan?
As it contains mayonnaise, it's not vegan. Even if you use my avocado oil mayo recipe, it contains eggs so it's not vegan.
You can find good vegan mayo nowadays, so you can easily swap that in to make a vegan sugar free coleslaw dressing.
Or, you could check out my excellent vegan coleslaw recipe!
How do you store low-carb coleslaw?
Store your low carb coleslaw in the fridge. If sealed properly in an airtight container, it will last up to 5 days.
Can you freeze it?
While technically you can freeze this low carb coleslaw, I don't recommend it.
When frozen, the mayonnaise will split and your coleslaw will become watery when defrosted. Also, the shredded cabbage, carrot and onion will lose their crunch.
If you do want to freeze your coleslaw, make sure you store it in an airtight freezer-safe container. Consume it within 4 months of freezing.
What other flavors can I add to this recipe?
Simplicity really is bliss with this recipe. Four ingredients for the coleslaw mix and four for the dressing bring a perfect balance of flavor and texture.
However, if you want to add a little bit of flair, feel free. The beauty of cooking is in experimenting with flavors and finding your own sweet spot when it comes to harmony of flavor.
For an extra touch of sweetness and crunch, you could try adding some grated apple into the mix. You could also add other crunchy fruits or vegetables – grate or shred them to maintain the consistency of the coleslaw.
You could add some earthy spice with ground mustard seed or celery seed. Celery salt would also work very well, especially along with the ground celery seed, to bring a salty, peppery, herbal element. 
For extra crunch, add nuts – peanuts, pine nuts and pistachios would all mix in well. Seeds would be another good ingredient to add for a little extra crunch, alongside the shredded cabbage and other veg. 
Sunflower seeds would bring crunch and neutral flavor, while caraway seeds and fenugreek seeds would add a very interesting angle in terms of taste.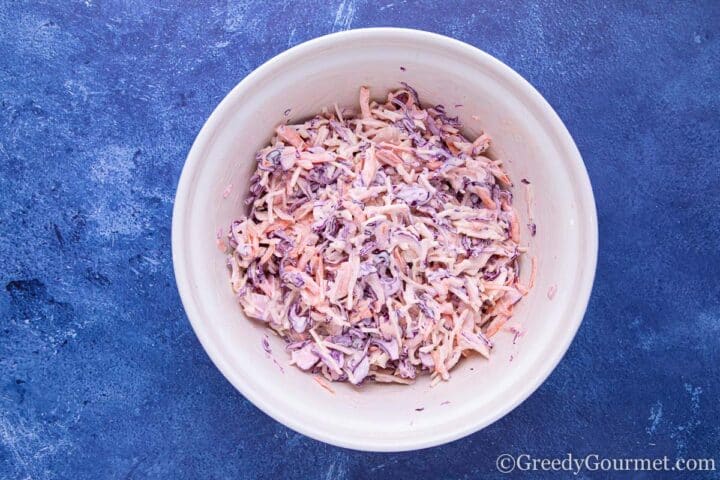 Tips for the perfect low carb slaw
Let's recap on a few key points when it comes to making this low carb coleslaw recipe:
Save time and use a food processor to make the shredded cabbage, shredded carrot and shredded onion
Use avocado oil mayonnaise for a great flavor and lower net carbs
Let it sit in the fridge for at least an hour before serving, preferably overnight. This will give the flavors a chance to settle and blend in to make an amazing keto coleslaw
If you want to add a touch of sweetness, grate some apple or add a low carb sweetener like stevia
Ground celery seed and celery salt will bring extra depth, while sunflower seeds or nuts will add a pleasant crunch
What to serve with this keto coleslaw
This creamy keto coleslaw recipe is the perfect side for your summer barbecue. Need some inspiration on what to serve with it? Here are a few sumptuous suggestions:
Keto bbq chicken – Savor the deliciousness of keto-friendly BBQ chicken, with tender and juicy meat smothered in a low-carb barbecue sauce, perfect for a guilt-free and flavor-packed meal.
BBQ pulled lamb – juicy, melt-in-your-mouth slow cooked lamb seasoned with smoky spices, this is a burger you won't be able to resist. Pair this or pulled pork with this sugar free coleslaw dressing and you'll be in dreamland. Leave out the burger buns to keep it keto
Lamb sloppy Joes – a twist on an American classic, anyone can cook this simple recipe. It's pure comfort food and, when compared with this easy keto coleslaw recipe, you've got a great combo. Again, skip the bread for the keto-friendly version 
Smoked beef short ribs – these beef short ribs are pure bliss. Buttery texture and incredible taste combine for the best ribs you've ever had. Slow smoked for maximum flavor and perfect when served with creamy keto coleslaw 
Romesco chicken tray bake – while it's not cooked on a barbecue, this oven baked romesco chicken is succulent, rich and finger licking good. All you need is this coleslaw recipe on the side and you're all set!
Braised short ribs – another incredible ribs recipe, these go great with a keto coleslaw
Butternut and chickpea burger – this delicious vegan burger recipe makes for the perfect pairing with a creamy vinegar coleslaw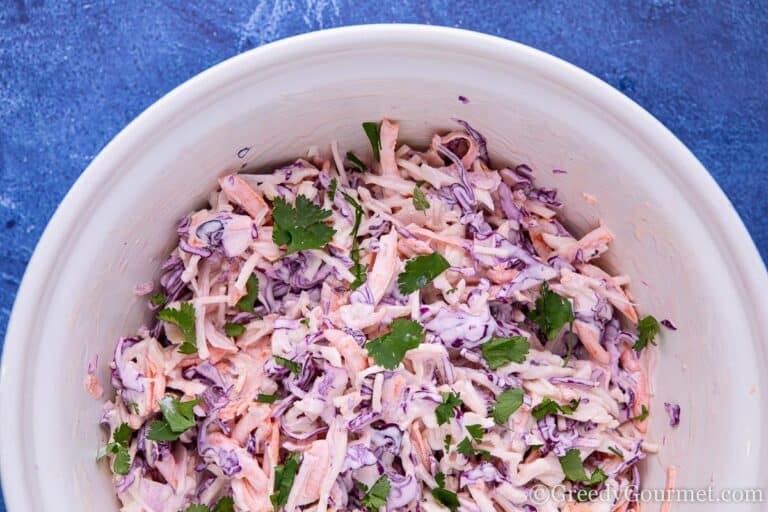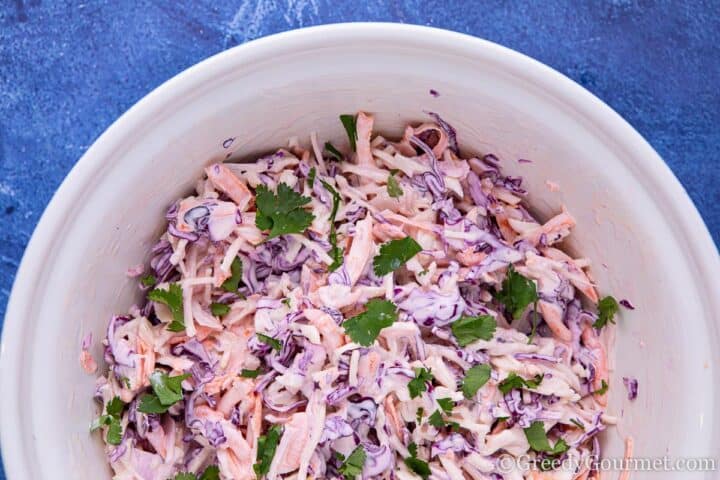 More low carb recipes
If you're on the lookout for low carb keto recipes, look no further! After you've mastered this keto coleslaw, work your way through this list of delicious low carb recipes:
Turnip skordalia – a creamy, garlicky side, this is my low carb version of the classic Greek dish. One of the best keto recipes to serve with fried fish or rich meat
Adobo sauce – big flavors with smoky spices, this Mexican sauce is delicious as a meat marinade or when served with your favorite Mexican dish
Mexican omelette – speaking of Mexican dishes, this is one you have to try. It's no ordinary omelette, with an ingredients list that includes avocado, black beans and jalapenos
Cucumber ribbon salad – a wonderfully refreshing light summer salad, keto recipes don't come much easier than this
Edamame salad – this dish takes less than 5 minutes and tastes fantastic
Bok choy stir fry – if you've never tried this superfood before, now's the time. Bok choy is so good for you and is so simple to cook
Blanched kale – another green superfood side that can be served alongside your favorite BBQ dish
Pan fried haddock – quick and easy, this rich fish dish is an absolute delight
Sautéed peppers and onions – so simple and packed full of flavor, this is one of those easy keto recipes that anyone can master
Print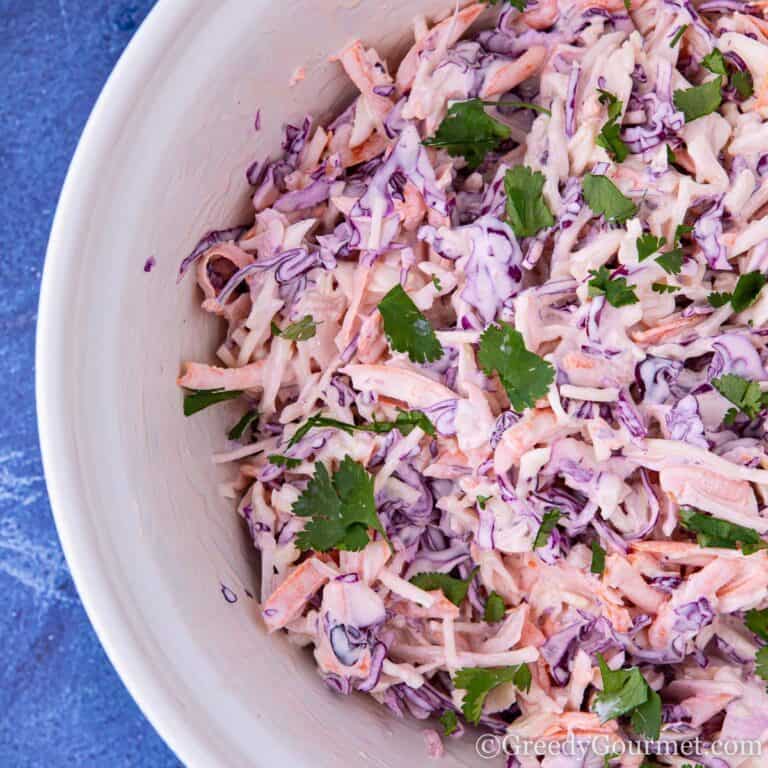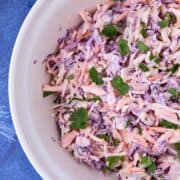 Keto Coleslaw
---
Author:

Michelle Minnaar

Total Time:

20 minutes

Yield:

Serves 4

Diet:

Vegetarian
Description
This tasty Keto Coleslaw comprises shredded cabbage, carrot, onion and a low carb dressing. Great for summer and barbecues. It only takes 20 minutes to make. 
---
Keto Coleslaw Dressing
125

ml (½ cup) sour cream

250

ml (1 cup) mayonnaise

5

ml (1 tsp) apple cider vinegar

5

ml (1 tsp) Dijon mustard
Keto Coleslaw
¼

white cabbage, shredded

¼

red cabbage, shredded

1

carrot, peeled and grated

½

red onion, shredded
---
Instructions
For the Keto Coleslaw Dressing: Whisk all the ingredients together in a small bowl until everything is well incorporated. Set aside.
For the Keto Coleslaw: Tip the cabbages, carrot and onion in a large salad bowl and mix. 
Drizzle with the dressing and mix well, adding liberal seasoning of salt and pepper as you go along. 
Leave in the coleslaw in the fridge for about an hour for it to chill and the flavours to mingle before serving. Enjoy!
Notes
On the keto diet you need to be careful of the types of oils you consume. For best results, make your own mayonnaise at home, such as this Avocado Oil Mayo.
I like to give my coleslaw an extra twist whenever possible. In this photo, I added cilantro leaves. For a different type of crunch, I like to add nuts to it, such as peanuts, pine nuts and even seeds like sunflower!
If you find you have a lot of left-over cabbage, don't worry! Check out my guide on freezing cabbage.
Prep Time:

20 minutes

Cook Time:

0 minutes

Category:

Side Dish

Method:

No Cook

Cuisine:

Dutch
Keywords: keto coleslaw recipe , keto side dish, easy coleslaw, cole slaw, coleslaw recipes, keto coleslaw recipe, barbecue salad, bbq side dish