Everybody loves sloppy Joes! But have you tried lamb sloppy joes? Well, you're in for a treat!
Big, messy and utterly marvelous, these sloppy Joes are the height of good ol' comfort food. They're a cinch to make, only use a few simple ingredients and will be ready in a matter of minutes.
So, what are you waiting for? Let's make some sloppy Joes!
Products you need for this recipe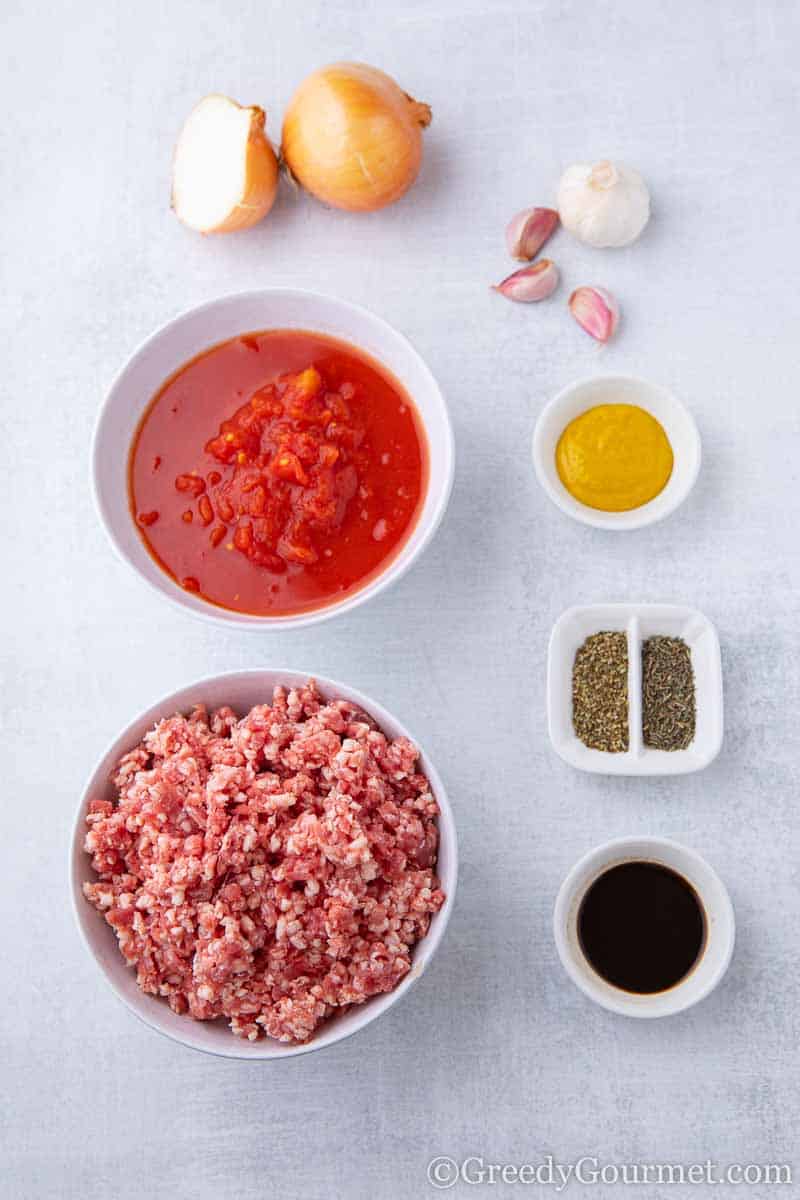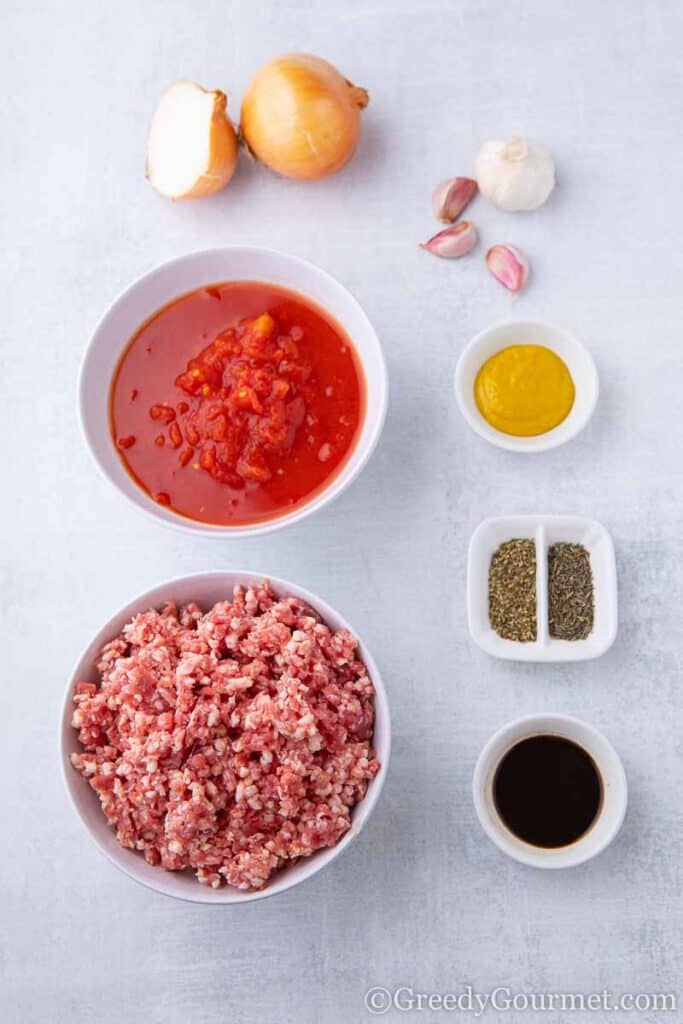 What are sloppy Joes?
A Sloppy Joe is the big, sloppy, sumptuous king of American comfort food. It's a messy masterpiece of quickfire food, made to put a big smile on your face.
If elegant fine dining is your thing and the idea of a spilling sauce all over the place is your worst nightmare, this probably isn't for you.
However, if you love the rough and ready charm of messy, tasty food, this homemade classic will be right up your street.
Normally, ground beef is the meat of choice. My recipe puts a twist on things though.
Ground lamb gives the sloppy joe a whole new level of deliciousness in my view. It's got a deeper, more savory taste. Especially with the other ingredients in this recipe.
How do you make a sloppy joe?
First, the onions and garlic are fried on a medium high heat. Add the lamb and cook, stirring all the time and breaking up the ground lamb. Fry for around 3 minutes. 
Add the mustard, Worcestershire sauce, chopped tomatoes and stock. Turn the heat to low and simmer for 20 minutes. The sauce should be nice and thick.
Spoon your sloppy lamb sauce into a burger bun and… voilà! You have an irresistible, homemade sloppy joe!
Who invented sloppy Joes and why are they called that?
Legend has it that they originated at Floyd Angell's café in Sioux City, Iowa, way back in the 1930s. A cook named Joe would serve up loose meat sandwiches, together with a rich tomato sauce.
Word soon got around and the meat and tomato sauce sandwiches became more and more popular as the decade went on.
By the 1940s, the term 'sloppy joe' had stuck. The humble cook had created a sensation that would be written into the American cookbooks.
Are sloppy Joes healthy?
While a sloppy Joe is normally made from ground beef, mine are made from ground lamb. As they're homemade, they're a lot healthier than any store bought comfort food.
Lamb has many health benefits. Firstly, it's a great source of quality protein. It's also packed full of many essential vitamins and minerals, such as iron, zinc and vitamin B12 – all crucial for a healthy immune system. 
For an extra healthy sloppy joe, use quality lean lamb mince and wholewheat buns.
Can you keep sloppy joes in the fridge?
Cooked lamb mince can be kept in an airtight container for 3–4 days. When you're ready to assemble your sloppy joe, reheat the meat sauce in the pan for 10 minutes before serving on your toasted bun.
Can sloppy joes be frozen?
If you want to freeze the meat sauce to make a sloppy Joe later, first be sure it has cooled completely in the fridge. Then spoon it into an airtight freezable container. You can freeze it for up to 6 months.
What can I substitute for Worcestershire sauce?
If you can't find any of this magical stuff, there are a few options. Check out my Worcestershire sauce substitute guide.
What can I add to lamb sloppy Joes for extra flavor?
Ground spices like ground cumin will add another dimension of flavor to this recipe. You could also use a touch of curry powder, coriander or mint, as these all go well with the taste of lamb.
This recipe calls for dried mixed herbs, but you could always use fresh herbs. Try throwing some fresh rosemary or oregano in. It'll taste fantastic!
What do you eat with sloppy Joes?
Looking for something to serve alongside this delicious recipe? Here are some suggestions:
Parmesan crisps – these are no ordinary crisps! If you've never made parmesan crisps before, you have to try them! A deep, rich flavor makes this little crisps extra special
Salt and chili chips – these chips pack a punch and would go well as a sloppy Joe side
Salad olivieh – a twist on the traditional potato salad, this is rich and creamy with mountains of flavor. It'll pair perfectly with a delicious sloppy Joe
Rocket salad with avocado, blue cheese and pecans – this is one helluva salad! So simple to make, yet try it once and you'll be hooked. There's so much flavor packed into one salad and it'll taste fantastic when paired with a big meaty sandwich like this one
Baked sweet potato fries – healthy, crispy, crunchy and utterly delicious, this is one recipe you don't want to miss. These fries are the perfect side for a dish like sloppy joes
Pear and rocket salad – if you prefer a lighter salad, this one is perfect. It doesn't lack in flavor though and would complement the flavors in your sloppy joe perfectly
Tobacco onions – you've got to try this smokin' side! It's really easy to make and would be perfect to the side of or even on top off, a sloppy Joe
Animal style fries – these fries are a real mouth full and pair excellently with sloppy Joes!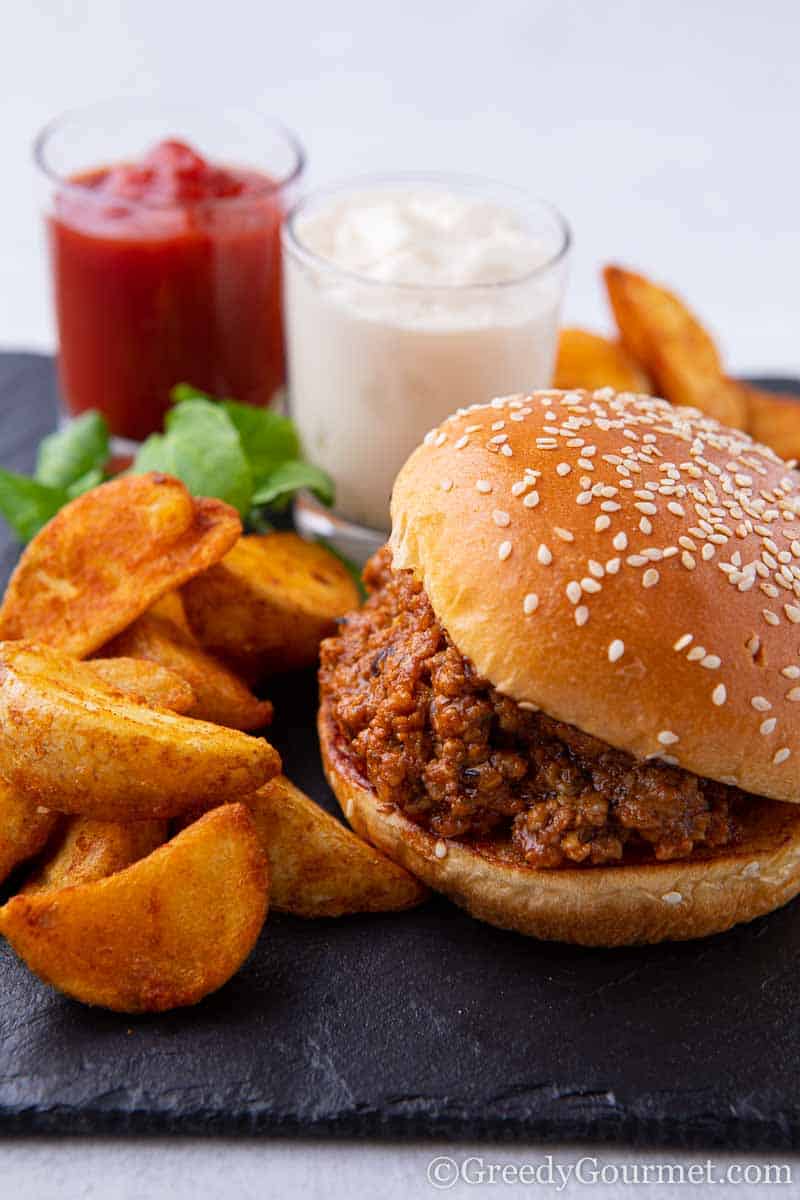 More amazing lamb recipes
Print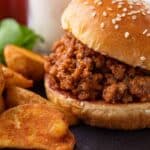 Lamb Sloppy Joes
---
Author:

Michelle Minnaar

Total Time:

40 minutes

Yield:

4

servings

1

x

Diet:

Gluten Free
Description
Lamb Sloppy Joes is an American recipe loved by all. The ground lamb puts a new twist on this classic comfort food and it's still served in a bun as usual.
---
15

ml (1 tbsp) vegetable oil

2

onions, peeled and finely chopped

4

garlic cloves, peeled and crushed

1

kg (2.2lbs) lamb mince

2

x 400g (

14.5oz

) tins chopped tomatoes

2

x lamb stock pots / cubes

3g

(

1 tbsp

) dried mixed herbs

30

ml (2 tbsp) Worcestershire sauce

30

ml (2 tbsp) Dijon mustard

12g

(

1 tbsp

) brown sugar [optional]

4

hamburger buns, toasted
---
Instructions
Heat the oil in a large frying pan.
Gently fry the onions and garlic until softened and translucent, which should take about 5 minutes.
Turn up the heat and add the mince, breaking it up with a wooden spoon.
Fry until golden brown and drain the excess fat if there is any.
Add the herbs, Worcestershire sauce, Dijon mustard and brown sugar to the meat and give it a good stir.
Lower the heat until a consistent simmering point is reached and cook for about 20 minutes until the sauce is reduced and the meat is cooked through and tender.
Serve in burger buns with salad and chips. Enjoy!
Notes
Feel free to experiment with different meat. Beef will definitely work!
Prep Time:

10 minutes

Cook Time:

30 minutes

Category:

Main Course

Method:

Pan Fry

Cuisine:

American
Keywords: lamb sloppy joes, sloppy Joe recipe, ground lamb recipe, how to make sloppy joes, what to serve with sloppy joes