Lamb dopiaza is a hearty, comforting lamb dish. The lamb meat is simmered in a spicy curry that, in turn, results in perfectly tender and flavourful meat. To make this lamb dopiaza as flavourful as possible, you will need a cooking time of roughly two hours. This allows all the ingredients to fuse together.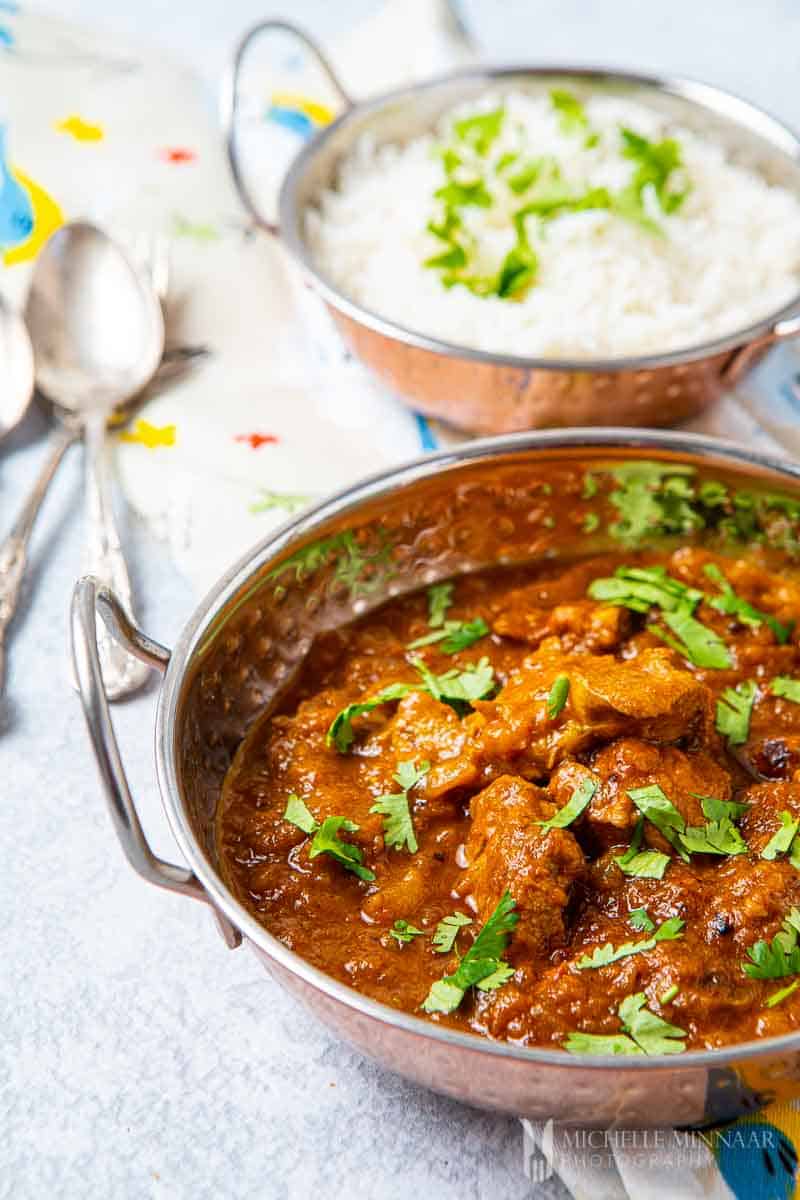 There's absolutely no need for you to order expensive Indian and Pakistani take outs anymore. If you make this lamb dopiaza, you can enjoy your very own 'fakeaway' at minimum expense. Plus, you'll be left with a large batch, which can last you throughout the week. Efficient, delicious and inexpensive – my style of cooking! If you like this style of cooking, you should also check out my lamb korma, lamb bhuna or my chicken jalfrezi curry.
You can serve the lamb dopiaza with traditional Indian side dishes. For instance, if you have a large family to feed, then serve the dopiaza with white steamed rice. Next, you can also consider serving it with a naan, roti and much more. Top the curry off with some fresh coriander leaves and you're good to go. Enjoy this delicious Pakistani and Indian dish.
top things you'll need for making dopiaza curry
Here's a list of the top things you'll need to make a delicious and authentic lamb dopiaza curry:
lamb dopiaza recipe Pakistani
Generally speaking, a lamb dopiaza curry is most accredited to being served in India (all over the country) and Pakistan. However, it is not uncommon to find versions of lamb dopiaza in Bangladesh, Afghanistan and even in Iran. Apparently, the origin of this dopiaza dish lies in Khorasan (a region somewhere between Iran and Afghanistan in the present day). The recipe was spread throughout Southeastern Asia by the Mughals, and thus has become a favourite curry dish in India as well as in Pakistan.
When referring to Iran, a version of it served there is called 'dopiazeh'. It's a traditional curry dish which is served in Shiraz (Iran). It includes cubed pieces of meat (mostly lamb or chicken) as well as seafood (shrimp, fish) or potatoes. It's a very versatile curry in fact.
My version of lamb dopiaza includes cubed lamb shoulder which is simmered in a homemade curry base sauce. Then, I've added the onions, which is a very important part of a dopiaza curry because it usually calls for an acidic element. Onions are fantastic flavour enhancers in this case. In fact, the name 'dopiaza' suggests that onions are added during two stages of the cook. You can even add raw onions at the end of the cook for a bit of crunch.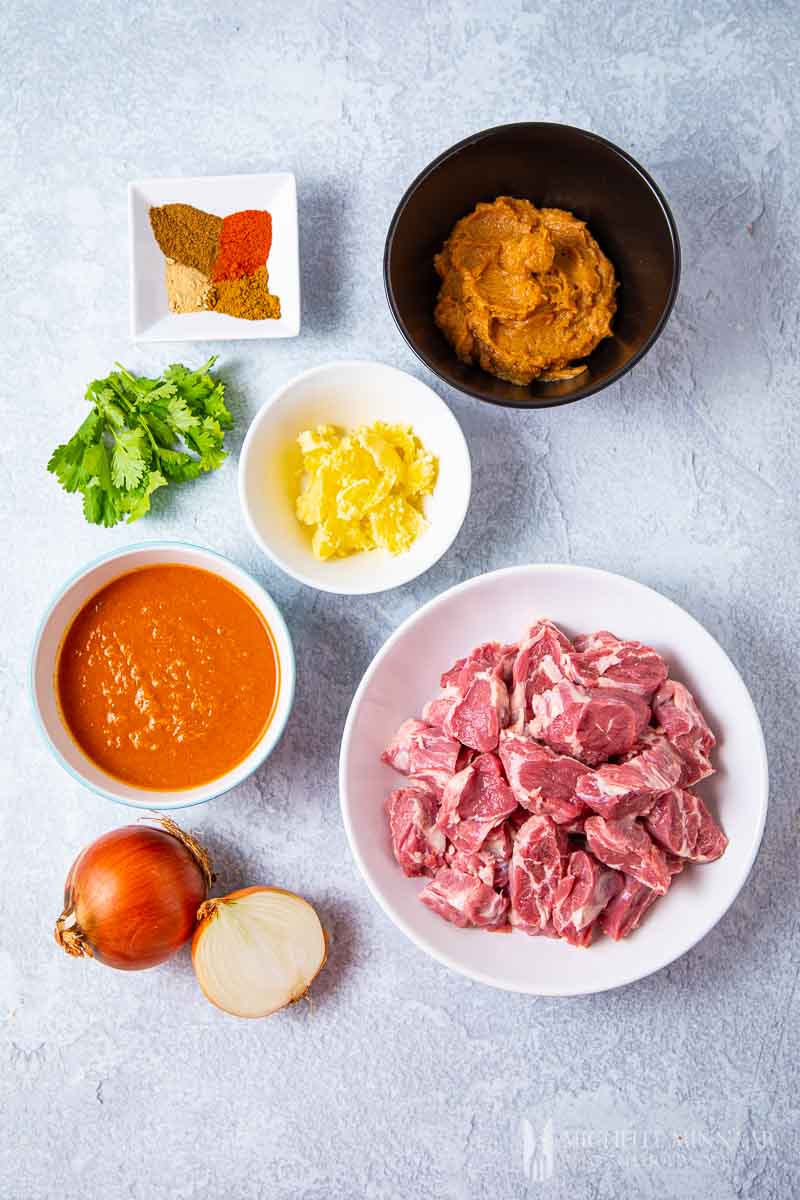 how to make dopiaza curry
Typically, a dopiaza curry calls for the addition of an acidic element. That being said, you'll find in some versions of the lamb dopiaza the addition of mangoes, lemon juice or even cranberries (believe it or not). The addition of cranberries would actually work very well with the cubed shoulder of lamb. So feel free to add it in. However, this time I've added onion, which is also considered to be an acidic element.
Hence, if you are not a huge fan of onions, then substitute them with some lemon juice, lime juice or cranberries. The lamb dopiaza curry always needs an acidic element / sour agent to bind all the flavours together.
lamb tikka dopiaza
In order to make this lamb dopiaza, you can also use lamb tikka. Also, you can use your leftovers from the lamb tikka masala. It's a sustainable way of cooking, plus, you can always twist the curry in any direction you want.
If you fancy more lamb curries, you should check out my lamb madras, lamb pasanda or lamb karahi. Don't you love Indian food? There are so many flavour combinations to explore! Plus, trust me, there is nothing more satisfying than eating your own homemade curry.
chicken dopiaza
Next, you can also substitute the shoulder of lamb with another meat – like chicken for example. Nevertheless, any type of meat works well with a dopiaza recipe. If you opt for adding the chicken instead, then I highly recommend adding the mango or pineapple (sour agent) into the recipe. Of course, you can always opt for adding the onions.
If you love chicken curries, then check these out: chicken kasha, chicken korma, jeera chicken or chicken tikka masala.
Lastly, a lamb dopiaza curry doesn't even have to be meaty. It could be made in a vegetarian fashion where you completely omit the meat element. Just add your favourite vegetable (or better yet, leftover vegetables at the bottom of the fridge). For more vegetarian curries, check these out: paneer korma or beetroot curry.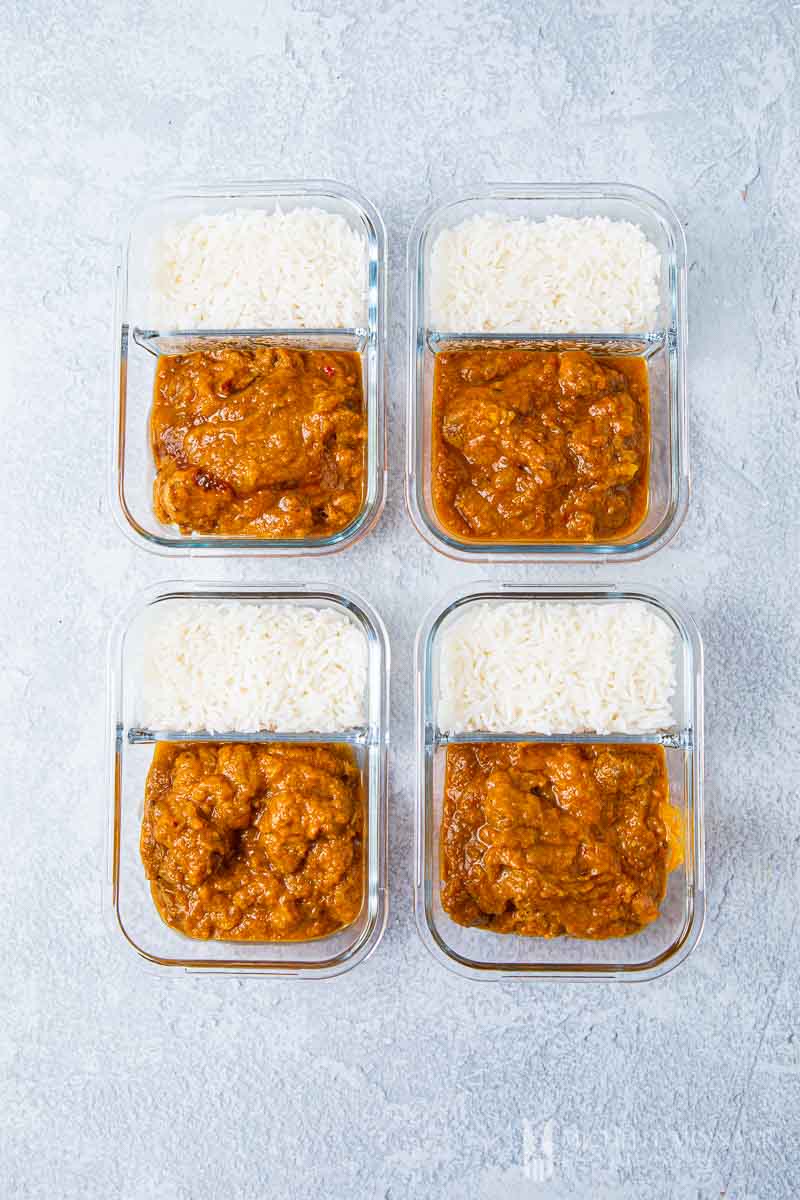 lamb dopiaza calories
Don't fall under the impression that lamb is a fatty and heavy meat. On the contrary, it's very nutritious. Also, it's quite filling and contains lots of protein. Therefore, after you've finished one serving of this lamb dopiaza, you'll be full and won't crave more food.
If you want to reduce the calorie intake, then I recommend not pairing the lamb dopiaza with white rice, rotis or naans. Just enjoy the curry as is, or top it off with lots of coriander or parsley. These are practically calorie free.
best curry toppings
I suggest pairing the lamb dopiaza with fresh coriander, fresh parsley, lime / lemon juice and fresh red chilli peppers. Serve with rice, naans or rotis.
How would you serve your lamb dopiaza curry? Would you make it spicy or mild? Let me know in the comments section below.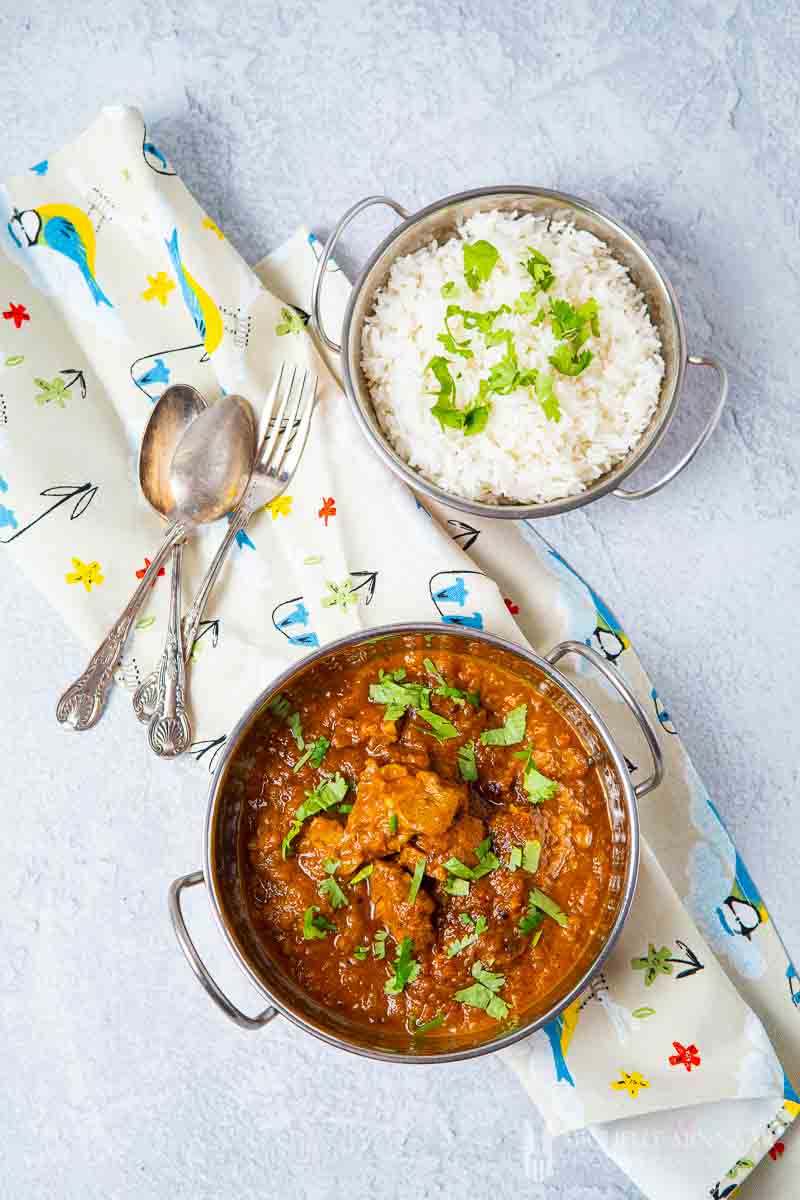 Print
Lamb Dopiaza
---
Author:

Michelle Minnaar

Prep Time:

10 minutes

Cook Time:

2 hours

Total Time:

2 hours 10 minutes

Yield:

6

1

x
Description
Follow this easy Lamb Dopiaza recipe and make your own Indian 'fakeaway'. You'll need shoulder of lamb, curry base sauce and onions.
---
Scale
Ingredients
30

ml (1 tbsp) ghee

2

large onions, peeled and thinly sliced

800g

(2lbs) lamb shoulder, cubed

30

ml (2 tbsp) ground turmeric

500

ml (2 cups)

curry base sauce

250

ml (1 cup) onion paste

15

ml (1 tbsp) ground cumin

15

ml (1 tbsp) ground coriander

5

ml (1 tsp) ground fenugreek

5

ml (1 tbsp) garam masala

15

ml (1 tbsp) chilli powder

Coriander, for garnishing
---
Instructions
Heat the ghee in a large ovenproof casserole.

Gently fry the onions until softened.

Cover the lamb with turmeric and brown on all sides in the casserole with the onions.

Pour in the curry base sauce, stir and cover with a lid.

Simmer on low heat until the meat is cooked and tender. In this case, it took about 90 minutes. 

Add the remaining ingredients with the lamb and let it simmer for 15 minutes in order for the spices to be incorporated into the curry.

Serve with favourite Indian side dishes. Enjoy!
---
Category:

Curry

Method:

Braise

Cuisine:

Indian
Keywords: lamb dopiaza, dopiaza curry recipe, indian lamb curry, indian curry recipe