Never made your own lamb jalfrezi before? It's time to start then. Lamb jalfrezi is an Indian curry dish, with braised lamb, served with stir fried vegetables in a spicy gravy. Like many good Indian curries, the lamb jalfrezi also needs quite a bit of time to cook. However, the rewarding result is certainly worth the wait. If you love Indian food as much as I do, by now you will also have all the usual suspects of spices at home. And let me tell you, a good curry needs them. For a successful lamb jalfrezi, turmeric powder is a must. Coat the cubed lamb shoulder in turmeric powder before frying the meat. This will intensify the flavour. The most important ingredient though, is a good curry base sauce. For that purpose I have made my own.
Before starting off on your lamb jalfrezi, you can learn how to make a great curry base sauce here. If you are not that much into lamb, this jalfrezi recipe will also work well with beef.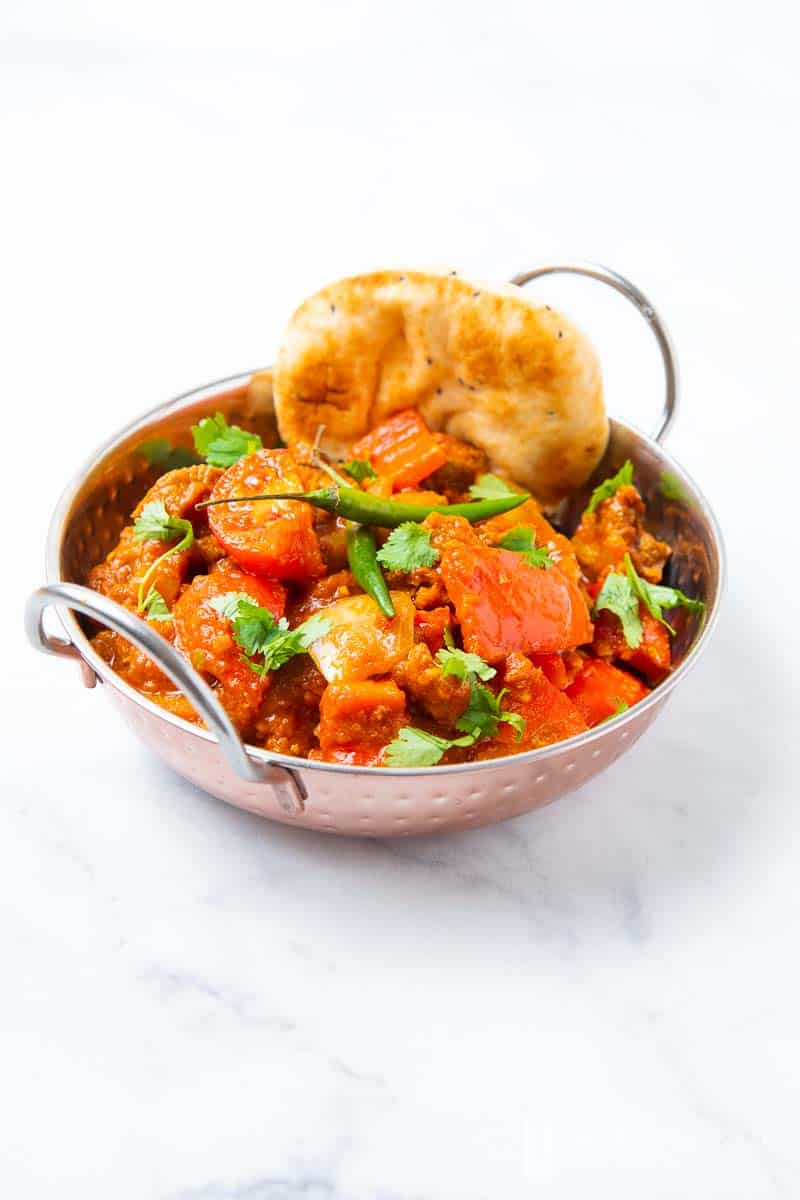 lamb jalfrezi – a Pakistani recipe
It is actually believed that jalfrezi was invented as a sort of leftover dish. A way to use up the meat from the day before. By frying the leftovers with chilli and onion, a new flavourful dish had been created. Lamb jalfrezi is normally by stir-frying the vegetables. It is believed that this technique was introduced to Indian cuisine from China.
Since then, the recipe has been perfected and lifted into the modern, yet tradition-based Indian cuisine that we know and love today. Today, lamb jalfrezi is one of the most popular dishes in Indian restaurants around the world. The original lamb jalfrezi is even said to have inspired our own chicken tikka masala.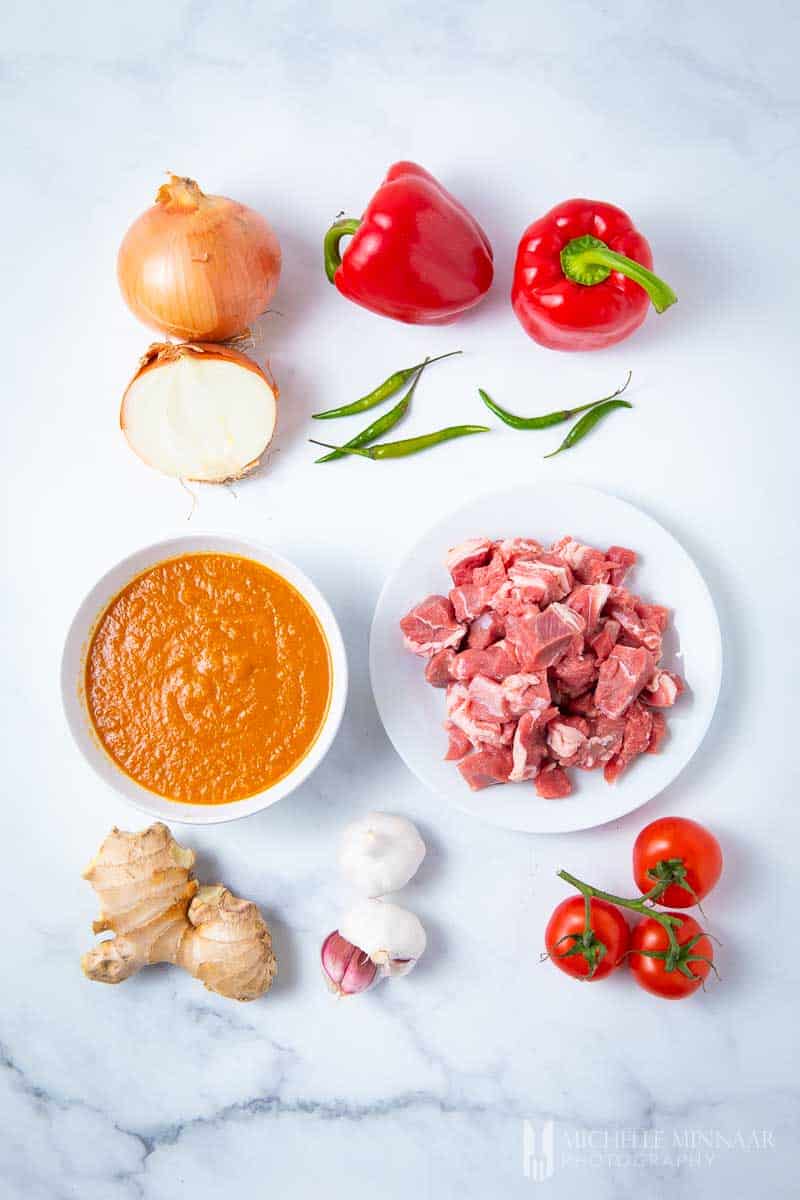 is lamb jalfrezi hot?
The quick answer is yes. Traditionally a lamb jalfrezi is definitely hot! If you are a bit uncertain how much chilli you can handle, start with a bit less. When preparing this lamb jalfrezi I used four green chilli peppers and, honestly, that did make the dish very spicy. If you are less of a chilli fanatic than me, try with two green chilli peppers to begin with. You can always add more chilli powder at the end if necessary. It is easier than trying to dilute a lamb jalfrezi that has turned out too spicy.
cooking with ghee
Ghee is a type of clarified butter that originated in India. The secret to ghee compared to normal clarified butter, is that you cook more slowly. When making ghee, you simmer it until all of the moisture evaporates. After this the leftover milk solids will start to brown, giving the ghee its characteristic nutty flavour. What this process also means is that ghee has a much higher burning point than normal butter or vegetable oil. This makes ghee perfect for frying.
You can buy jars of ghee in many supermarkets nowadays. Alternatively, you can seek out your local Indian store. Furthermore, ghee is actually a healthier alternative to regular butter, so it is worth considering using more ghee in your daily cooking, not only when preparing Indian dishes such as lamb jalfrezi. Ghee is rich in vitamins A, E and K, and is believed to help prevent cancer. Now if it is really a super food, I can't say for sure, however it is certainly delicious and a joy to cook with.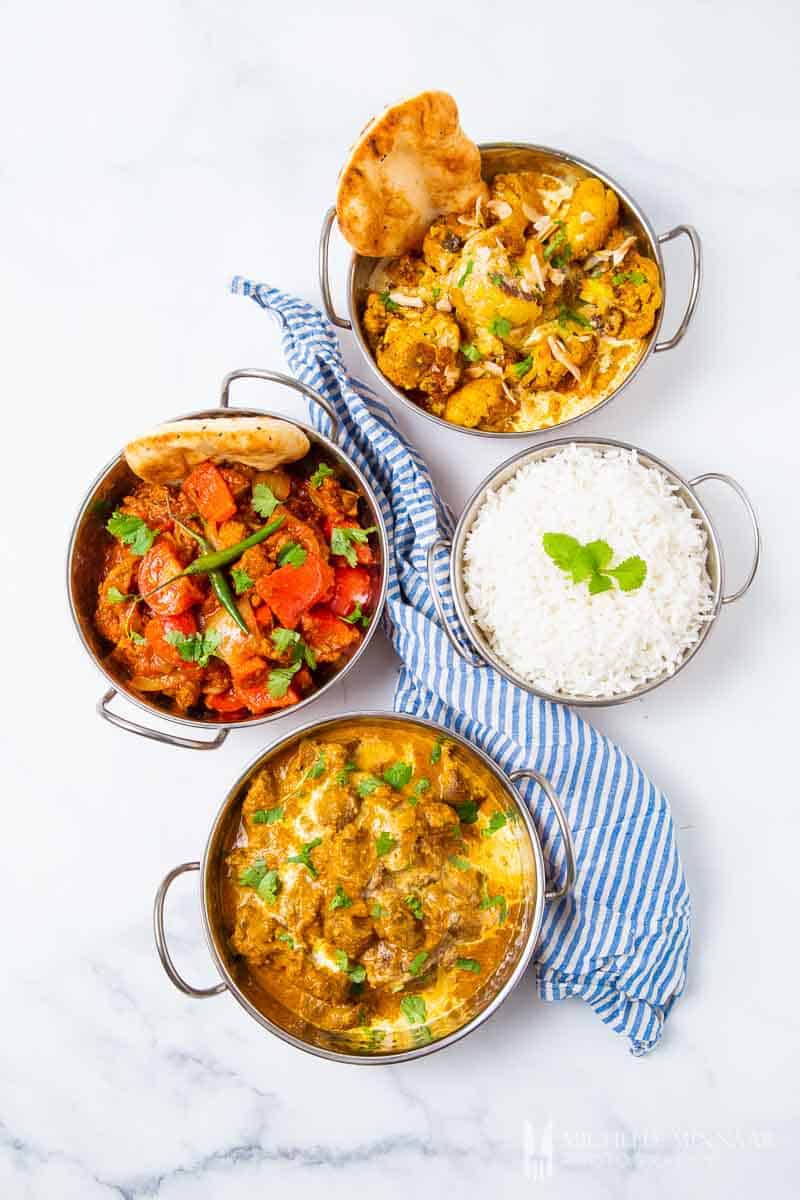 easy lamb jalfrezi with naan bread
Naan bread is one of my favourite side dishes for Indian food. Not only does it taste great by itself, it is also perfect for scooping up every drop of that delicious curry sauce. You can buy pre-made naan bread in many supermarkets, and all you need to do is heat them up in the oven before serving. On the other hand, if you are feeling up for a challenge, you can also make your own. I made my own peshwari naan and you can also learn how to do it. It is easier than you might think, and your guests will certainly be impressed by being served homemade naan bread with the lamb jalfrezi.
Once you have mastered the peshwari naan recipe, it will be easy for you to make garlic naan or neutral naan as well.
best side dishes for lamb jalfrezi
Apart from a good naan bread the most obvious side dish for lamb jalfrezi is of course rice. You can go with the classic, clean white basmati rice, or you can add more flavour by boiling the rice with cardamom pods.
Another great side dish is raita. Although raita is often served as a starter, I quite like it as a side dish too. It especially comes in handy if your lamb jalfrezi ended up a bit on the spicy side. The yogurt and cucumber raita will help counter the hot chilli. Moreover, it is super-easy to make your own raita, so why not have it complete the dinner? Here is how cucumber raita is done.
If you are preparing a larger Indian dinner, you might consider making some bhindi ki sabzi as a side dish.
Bhindi is the Indian word for okra, which you might also know as lady fingers. It is a very typical ingredient in North Indian cuisine, and an excellent side dish for lamb jalfrezi. It is a quick dish to prepare so you can easily do it while your lamb jalfrezi is simmering.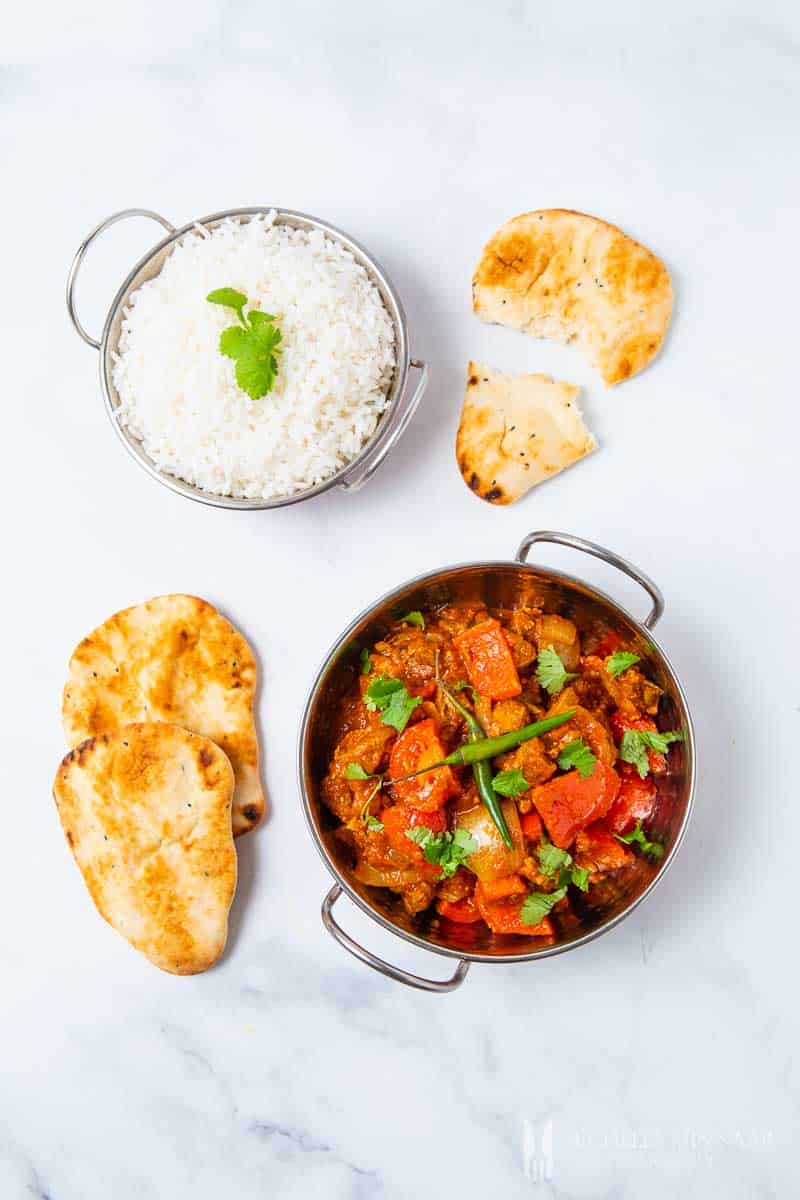 leftover lamb jalfrezi
If you've got leftover lamb you can also make other lamb curry dishes.
lamb madras
This is one of my favourite curries. Beware! Apparently, it's the second hottest. Click here to learn more about the madras curry sauce. To learn how to make lamb madras, check out my amazing lamb madras recipe.
lamb karahi
Again, another Pakistani popular dish. The most common one is a chicken karahi recipe, but you can use the leftover lamb and make lamb kahari too.
lamb curry
Other lamb curry dishes you can make include:
serving and storing
As always, a touch of green when serving is a must-have. I love to use fresh herbs in my cooking, and for the lamb jalfrezi, some fresh coriander is the perfect finish. The aromatic coriander gives the authentic Indian flavour to the dish. I know coriander has a reputation of being a bit of a love or hate herb. Therefore, if you just cannot stand coriander, simply use fresh parsley instead.
Another great thing about cooking Indian curries such as lamb jalfrezi is that you can easily scale it up without adding significantly to your workload. I love to cook double portions and freeze half. That way I always have a tasty dinner waiting that can be prepared in no time.
Print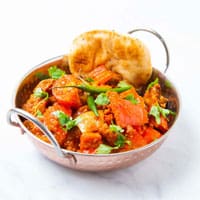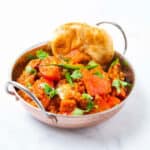 Lamb Jalfrezi
---
Author:

Michelle Minnaar

Prep Time:

20 minutes

Cook Time:

2 hours

Total Time:

2 hours 20 minutes

Yield:

4

1

x
Description
Make this easy & traditional lamb jalfrezi curry in the comfort of your own kitchen. Learn all there is to know about the history of jalfrezi curry & more.
---
30

ml (1 tbsp) ghee

800g

(2lbs) lamb shoulder, cubed

30

ml (2 tbsp) ground turmeric

500

ml (2 cups) curry base sauce

30

ml (2 tbsp) vegetable oil

2

onions, peeled and chopped

5

garlic cloves, peeled and crushed

2.5

cm (1in) fresh ginger, peeled and finely diced

2

red peppers, washed and chopped

2

green chilli peppers, peeled and finely chopped

60

ml (4 tbsp) fresh coriander stalks, washed and finely chopped

60

ml (4 tbsp) tomato puree

2

tomatoes, washed and quartered

10

ml (2 tsp) garam masala

60

ml (4 tbsp) fresh coriander leaves, washed and chopped
---
Instructions
Heat the ghee in a large ovenproof casserole.
Cover the lamb with turmeric and brown on all sides in the casserole.
Pour in the curry base sauce, stir and cover with a lid.
Simmer on a low heat until the meat is cooked and tender. In this case, it took about 90 minutes.
Heat the oil in a large frying pan.
Fry the onions at a high heat for 2 minutes.
Add the garlic, ginger, coriander stalks, peppers and chillies. Continue to fry for another 2 minutes.
Pour in the stewed lamb and all its sauce to the frying pan.
Stir in the tomato puree, tomatoes and garam masala. Let the curry bubble away for 5 minutes.
Serve immediately, topped with fresh coriander leaves, with your favourite Indian accompaniments. Enjoy!
Notes
When I prepared this recipe, I used 4 green chilli peppers, which made the curry quite spicy so feel free to adjust the spice level to your taste. You can always add more chilli powder afterwards!
Category:

Curry

Method:

Pan Fry

Cuisine:

Pakistani
save the recipe to your pinterest board