A supremely tasty green vegetable with a superfood status, kale is simple to prepare, brings tons of flavor and is really good for you.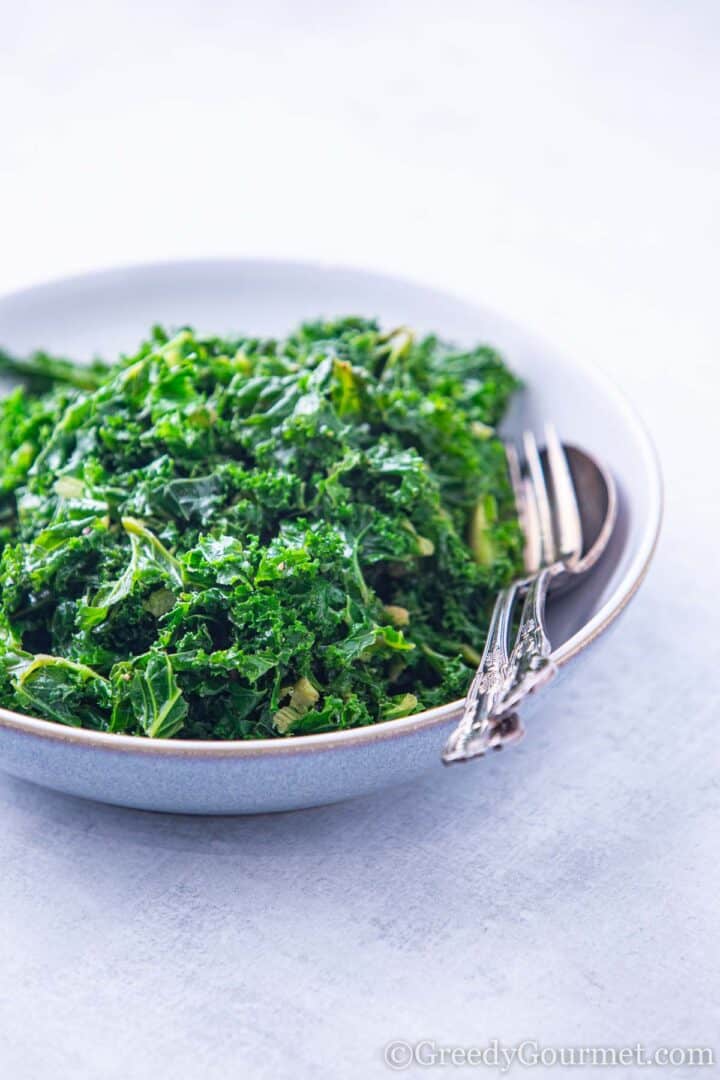 What about blanched kale? Well, this way of cooking kale takes it to a whole new level.
From brightening the color and making it more tender and easier to chew, to locking in the nutrients and extending its lifespan, there are plenty of benefits to blanching kale.
Products you need for this recipe
Blanching kale is really easy and you'll be able to do it easily. There are a few important kitchen items you'll need to get hold of before you blanch kale.
What is kale?
Over the last decade or so, kale has become the go-to side for vegans, vegetarians, those on a keto diet and other health-conscious foodies. Actually, it's become the go-to side for anyone with taste buds!
That's because, while kale is rightfully regarded as a super healthy ingredient, it also tastes fantastic.
It's so good that it's become one of the main ingredients in green smoothies.
A leafy green vegetable from the brassica family (cabbages and the like), kale originated in eastern parts of the Mediterranean and Anatolia. So, basically modern day Greece and Turkey.
In fact, the ancient Greeks were big on kale leaves. While kale was only introduced to the US in the 1800s and took over a century to become hugely popular, it was actually one of the most widely consumed vegetables from ancient times right through to the Middle Ages.
It seems that when it comes to the amazing qualities of this humble peppery vegetable, modern cuisine has been slow to catch up.
Are there different types of kale?
Yes, there are lots of different types of kale.
The most common type, the one you'll find on the shelves in most supermarkets and grocery stores, is curly kale. It can be anything from a pale green to a dark green and is usually sold with loose leaves bound together in a bunch.
Then there's the Italian variety, lacinato kale. Sometimes known as Tuscan kale or dinosaur kale (due to its scaly appearance), this type is a broader leaf that looks more like its cousin the cabbage. 
There's also ragged jack, or red russian kale. This type is more tender and sweeter than the common kale. Its intense coloring makes it really stand out in a salad.
Finally, Chinese kale has a similar taste to broccoli and is delicious when added to stir-fries.
What is blanching?
Blanching means to flash cook food in boiling water, usually for no more than 2 minutes, then to immediately plunge it into ice cold water.
Think of it as a kind of pre-cooking process.
Is blanching kale necessary?
Blanching is beneficial to many different types of vegetables, especially kale.
Raw kale or even cooked kale is quite a fibrous vegetable that can be quite tough to chew. Blanching kale helps to tenderize it, making it much easier to chew.
It also brightens the color and helps to kill harmful bacteria and preserve the nutrients. If you're planning on freezing kale (more on this later) blanching it will massively extend its lifespan.
Can I blanch kale stems?
Yes, you can blanch kale stems and kale leaves. As kale stems tend to be particularly tough, I'd definitely recommend blanching them.
How long do you need to blanch kale stems and leaves?
Blanching is a really quick process. You just need to blanch them for around a minute or two.
Should I add salt to the blanching water?
It's not absolutely essential, but adding salt to the boiling water helps to get flavor into the kale. 
It's the same with foods like pasta. While you can always season with salt afterwards, salting the cooking water is the best way to impart flavor into the food.
When following a recipe that calls for adding salt to cooking water, it may seem like way too much salt. Still, you're salting the water, not the food directly. So, a lot of the salt will be drained away.
Is kale good for you?
Kale is fantastically healthy. A single serving contains all the vitamin A, K and C that you'll need for an entire day.
It's also jam packed with important minerals like manganese, calcium, copper, potassium, and magnesium, all of which play a big part in a healthy immune system.
Lastly, it's full of flavonoids that act as antioxidants.
No wonder it's seen as a superfood!
How do you store blanched kale?
You can store blanched kale in the refrigerator for up to 7 days. Keep it in an airtight container or ziploc bag, for maximum freshness.
Can you freeze blanched kale?
Yes, you can! In fact, the best way to store kale long term is to blanch it and freeze it.  
Once you've blanched it and let it dry, chop your kale and place it evenly spaced on a baking sheet. Flash freeze it for a few hours, to avoid the chopped kale pieces sticking together. Then place them all in an airtight freezer-safe container or a ziploc freezer bag.
You can freeze kale for up to 8 months.
Is frozen kale as good for you as fresh kale?
Despite what you might think, frozen kale is actually as good as the fresh stuff. Frozen kale generally has all the same nutrients as fresh kale, especially if it has been blanched before the freezing process.
While your kale may lose small amounts of vitamins B and C when blanched, it will generally retain its vitamins and minerals.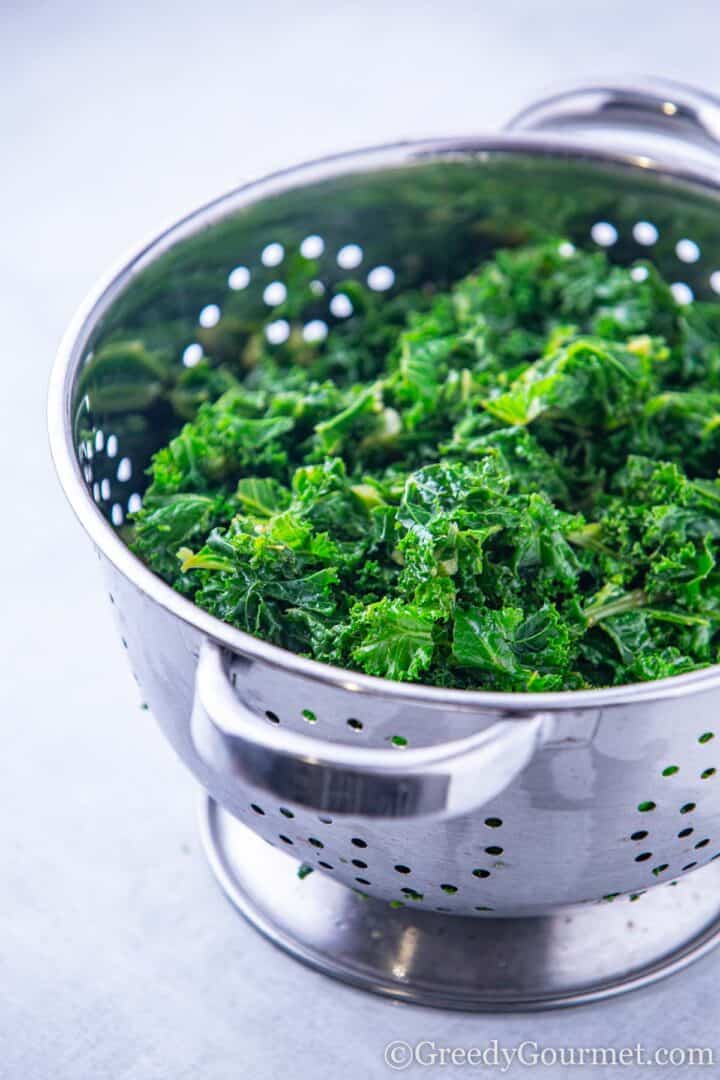 How to use blanched kale
Once you've blanched your kale, it's ready to be eaten straight away or added to a dish.
You can keep it simple and serve it with a drizzle of olive oil, a squeeze of lemon juice and a sprinkling of salt.
Or, a drizzle of sesame oil and some liquid aminos or soy sauce for an Asian twist. Add slices of ginger and roasted cashews and you're good to go!
You can also use blanched kale in a healthy super green smoothie. It will blend up a lot easier than raw kale.
My favorite way to serve blanched kale is to quickly fry it in melted butter, then season to taste, maybe with a little twist of lemon juice.
Dishes to serve with blanched kale
Whether you serve it up straight after blanching or quickly fry it with some butter, salt and pepper, this keto-friendly kale makes an amazing side. Here are some of my favorite dishes to pair with blanched kale.
Print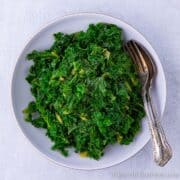 Blanched Kale
---
Author:

Michelle Minnaar

Total Time:

8 minutes

Yield:

300g

(

4½ cups

)

1

x

Diet:

Vegan
Description
Want to learn a new way to cook your kale? Blanched kale is healthy and high in fibre and can make a tasty snack or side dish. Great for if you're following a keto-lifestyle, vegan or not!
---
300g

(

4½ cups

) kale, destemmed and cut into pieces
---
Instructions
Bring a pot of water to a rolling boil and add 17g (1 tbsp) of salt.
Drop the kale into the water and cook for 3 minutes. 
[Option 1] Drain and serve immediately. 
[Option 2] If you're not eating the kale immediately, then transfer the kale into an ice bath with a slotted spoon. Once the kale has cooled down, remove it from the water, then pat dry. Place in the fridge and use when needed.
Notes
My favourite way to enjoy kale is by melting 28g (2 tbsp) butter in a frying pan and tossing the leaves around until everything has heated through. Season with salt and pepper.
Prep Time:

5 minutes

Cook Time:

3 minutes

Category:

Side Dish

Method:

Boil

Cuisine:

American
Keywords: blanched kale, kale recipes, how to cook kale, can you freeze kale, cooking kale, how do you blanch kale, what is blanched kale