Get ready for your new favorite meal! Forget lasagna. Forget cannelloni. One taste of this vegan spinach and ricotta rotolo and you'll be in heaven.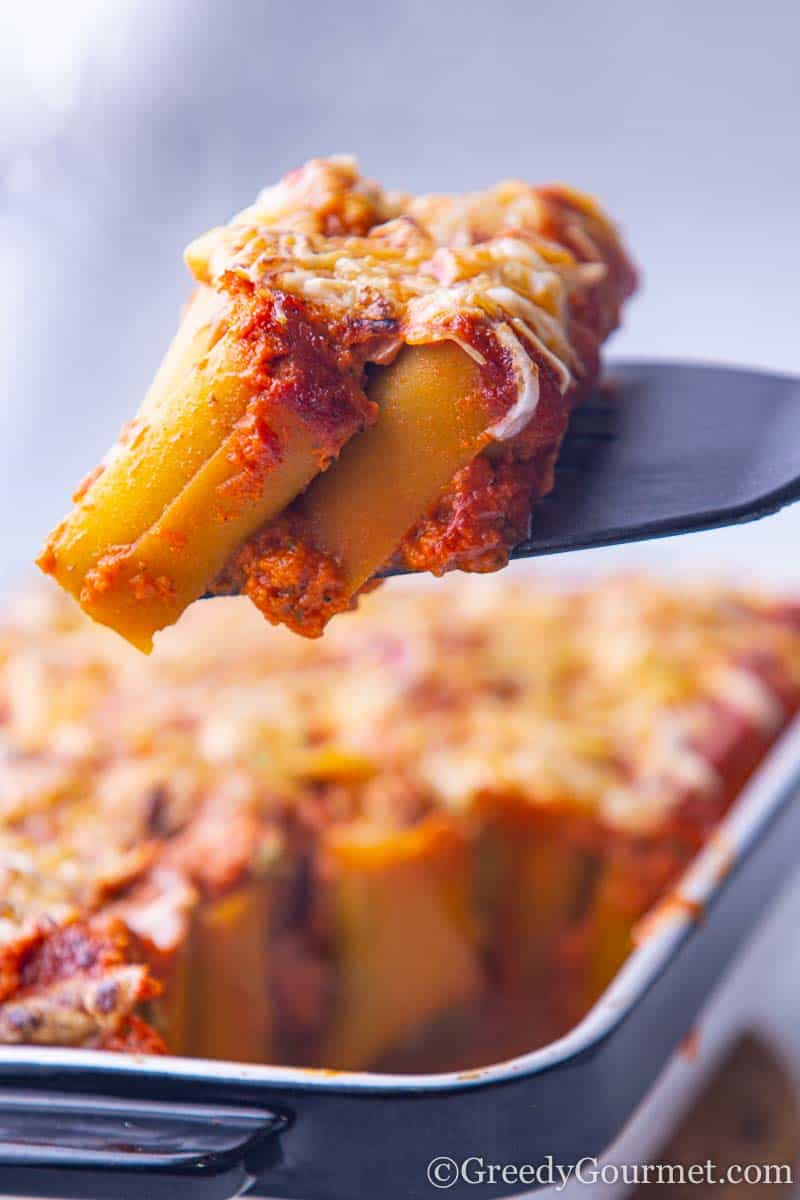 With a spinach and cashew ricotta filling rolled in vegan sheets, stacked in a baking tray and drenched in the most mouth watering marinara sauce, you simply can't go wrong. Vegan food has never tasted so good!
SpiraSlice
The key to shaping this dish is to make the perfect vegan sheets. To do that, we need the help of an ingenious kitchen gadget that's going to make you change the way you think about food prep.
The SpiraSlice is a compact, easy to use device that brings fruit and vegetables to life. It comes with three interchangeable, detachable blades that produce sheets, ribbons and spirals (check out this courgetti recipe!) in seconds.
Just one turn of a handle and you can create the base for delicious new meals that you may never even have thought of.
It's particularly great for vegans and those who want to cut the carbs. The SpiraSlice is going to help you get creative in the kitchen and ditch those carb-heavy meals.
Once you've used this gizmo to whip up some vegan classics, you'll realize there's really no need to put up with the bloated, fatigued effects of pasta.
It's not just savory masterpieces though. You'll also be inspired to create some delicate desserts that will wow your friends and family.
Try the SpiraSlice with this recipe and you'll be amazed at how easy it is to make thin yet strong sheets out of butternut squash. Just like lasagna sheets, but so much healthier.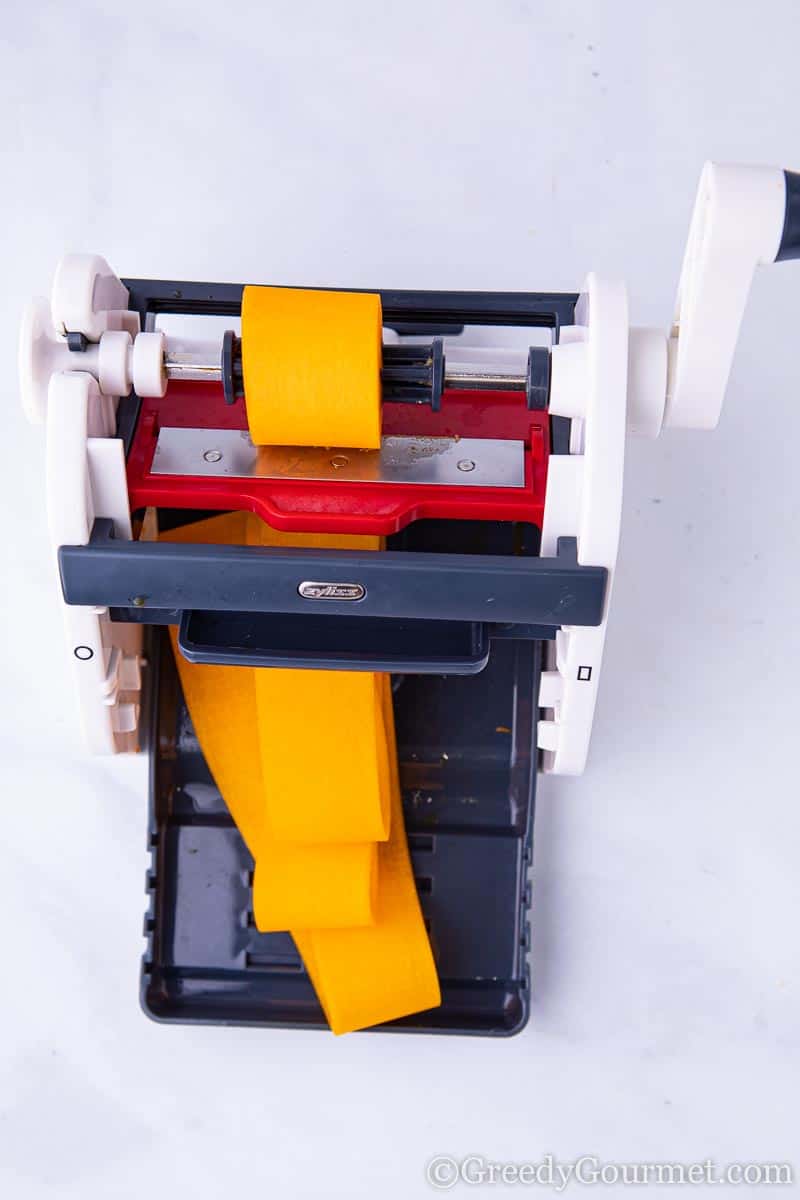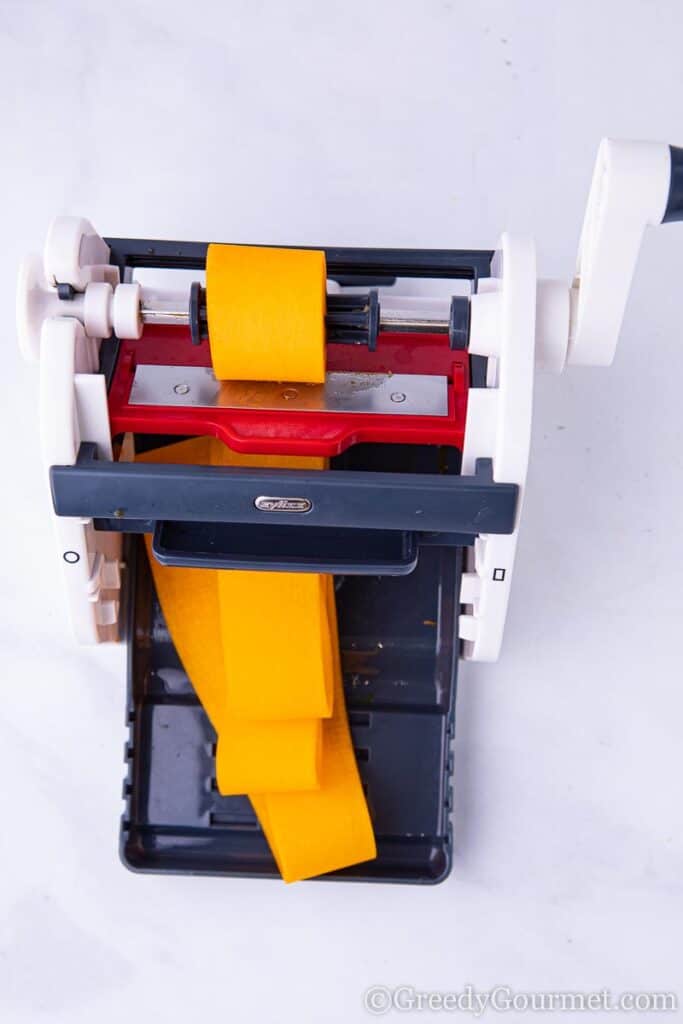 Vegan spinach and ricotta rotolo recipe
Like all Italian cuisine, this is a recipe that's all about simple ingredients lovingly prepared to produce something spectacular.
You'll start by making the sheets from the butternut squash, using your SpiraSlice. Make these in advance and then place them in cool water and leave them to one side.
Next comes the spinach and cashew ricotta filling. You'll have already soaked your cashews, so now place them in a food processor with a splash of water, some vinegar, yeast and onion powder to form your ricotta.
Once you've blitzed these together, in goes the spinach for a final blitz. You'll soon get the right consistency and the perfect spinach and cashew ricotta filling for each little roll.
The marinara sauce is the next step and a very important one. That rich flavor that typifies the best Italian recipes is so important and a lot of it will come from your marinara tomato sauce.
To make the tomato sauce, you'll fry onions and garlic for a few minutes, adding tomatoes and herbs to form the base of your sauce. Then all you have to do is wait. Patience is key to a good tomato sauce, as you need to give the ingredients time to take on a deep, rich flavor.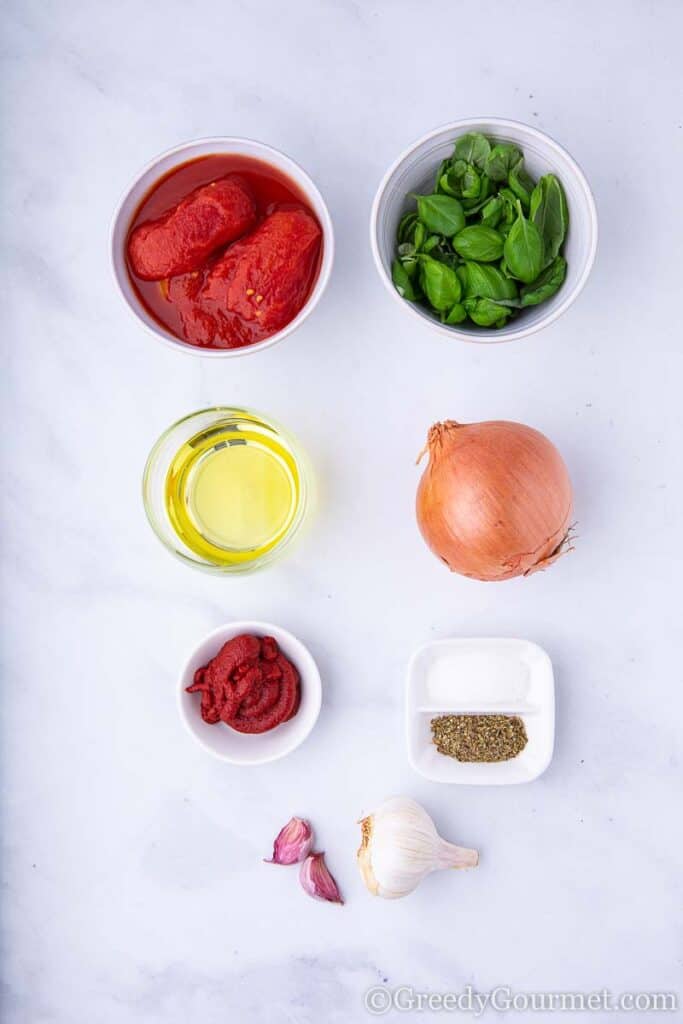 Next comes the fun bit. Each roll needs to be made with care. First, you'll blanch the sheets in hot water, then plunge immediately into cold water to cool off. Then, roll each sheet round your finger one at a time and place lengthways into the greased baking dish.
Stack each roll into the casserole dish until it's completely filled.
Finally, you'll pipe your spinach and cashew ricotta filling into each roll. Once you've made each roll with filling, you're ready to pour over the marinara sauce and sprinkle over the vegan cheese.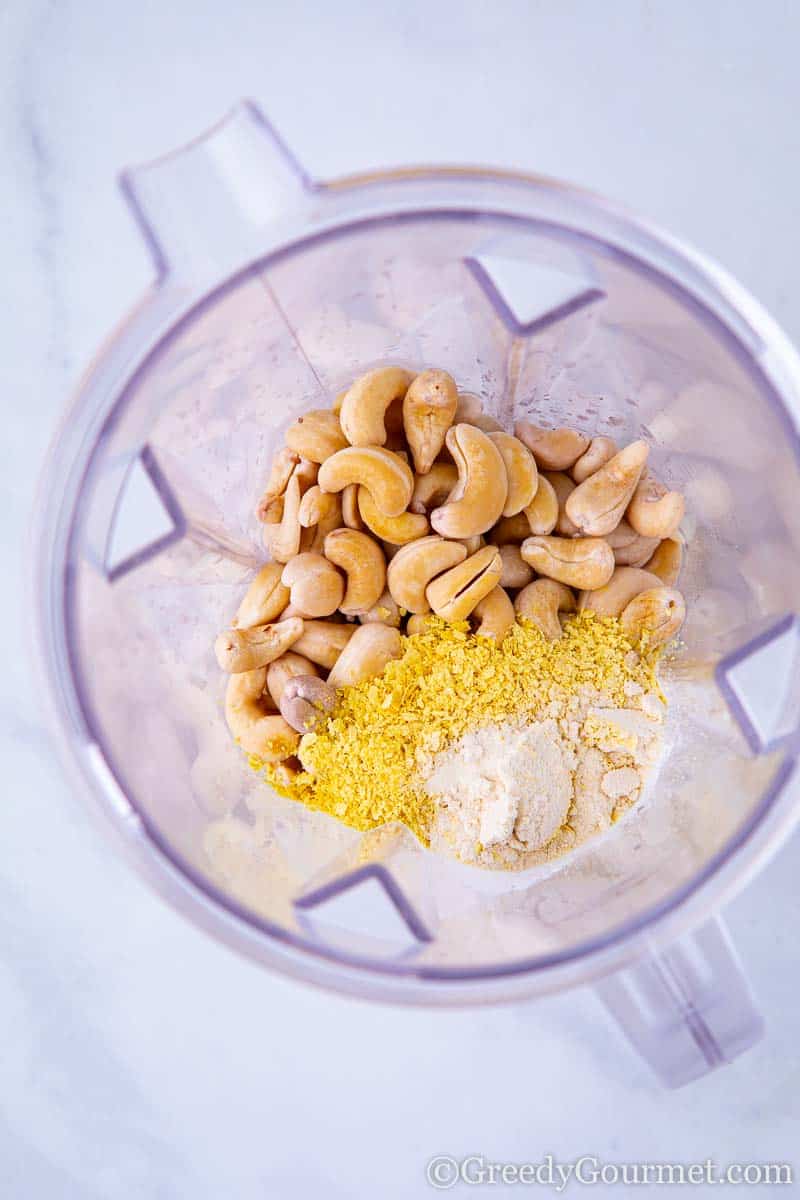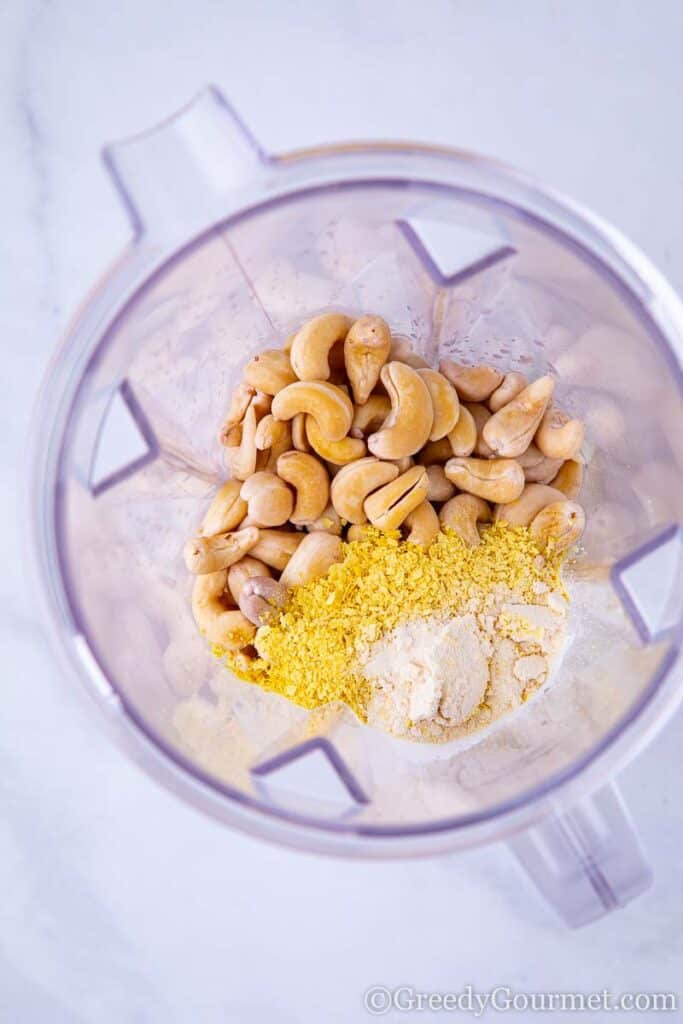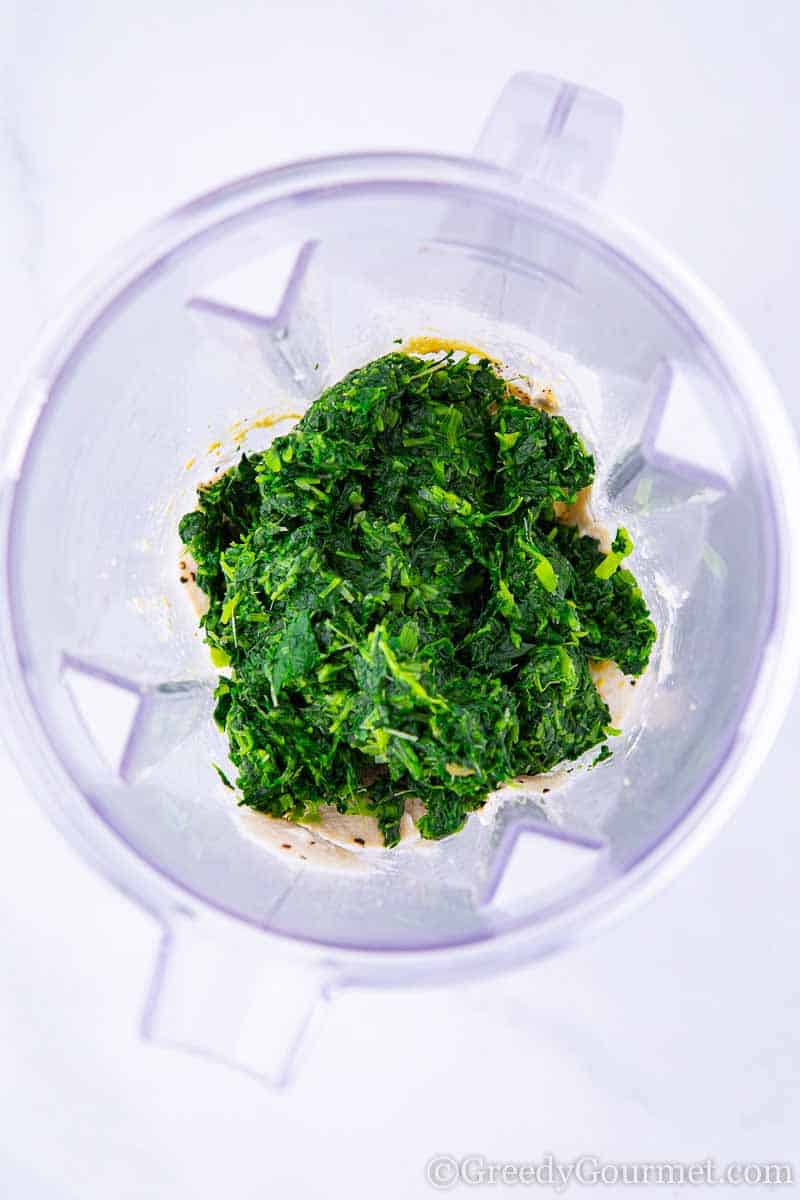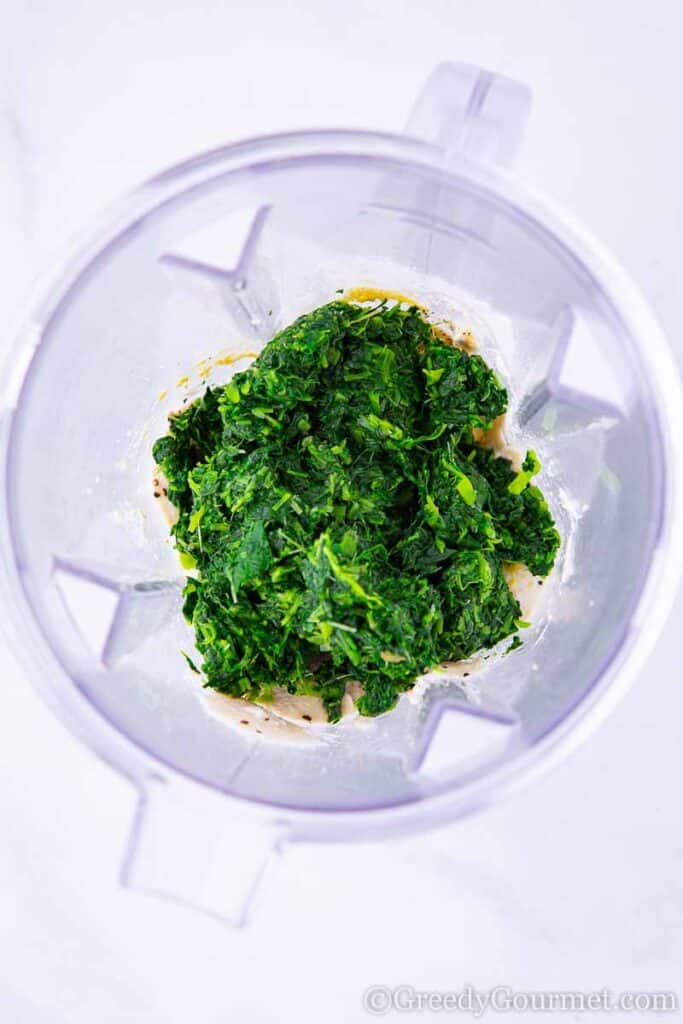 What is rotolo?
A traditional Italian dish, rotolo is well respected in Italy but barely known to the rest of the world. Everybody knows about lasagna and cannelloni, but rotolo is the unsung hero.
Rotolo consists of several rolls filled with a rich filling then stacked in a single layer in a baking dish then covered with a marinara tomato sauce. 
In fact, this spinach and ricotta rotolo is similar to cannelloni, but with a slightly different way of layering it.
The proper Italian rotolo is made with a giant fresh pasta sheet. Then the filling is spread across the sheet before it's rolled up, wrapped in a towel and slowly simmered.
Most modern recipes take the easier approach and leave the traditional way to the mamas.
What does the word "rotolo" mean?
"Rotolo" is an Italian word that translates as roll or coil in English.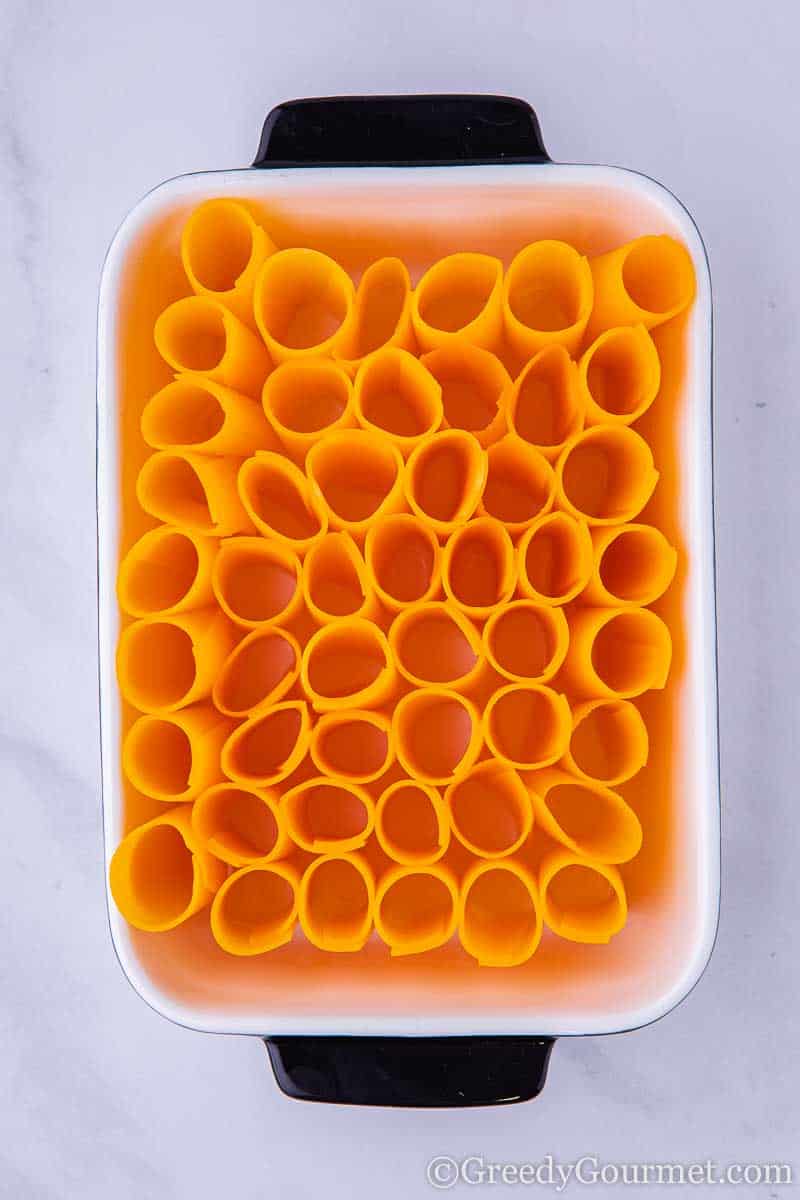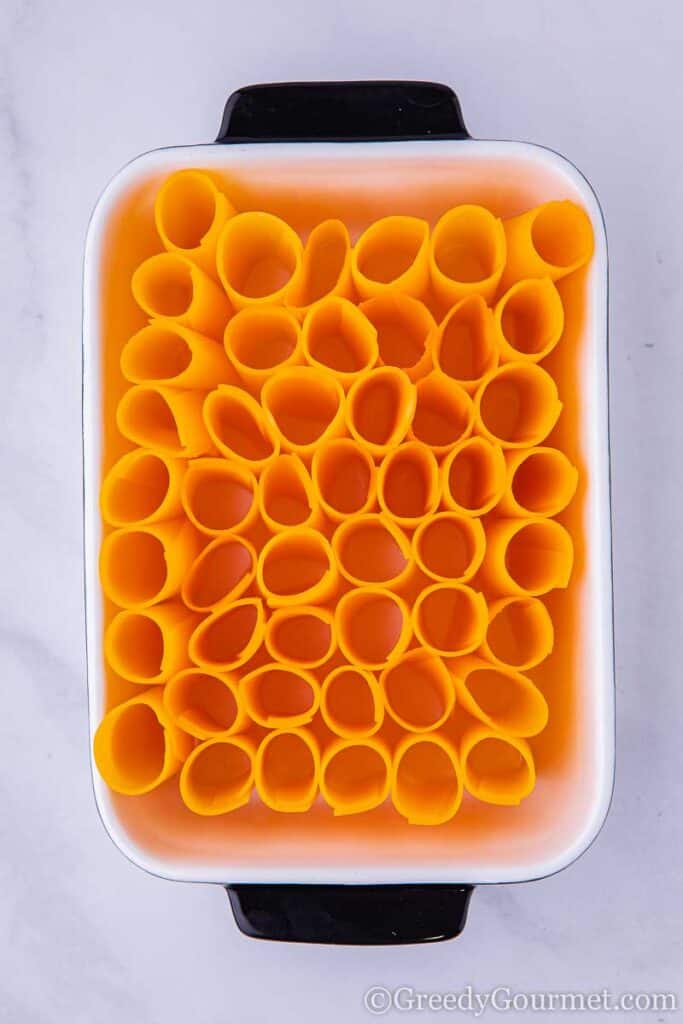 How to soak cashews
There are two ways to soak cashews: the quick way and the longer way. The one that suits you best depends on how much time you have.
You can leave your cashews to soak overnight or, alternatively, you can soak them in boiling water for 10-15 minutes.
Once they've soaked, they'll be ready to be blitzed up to make your ricotta filling.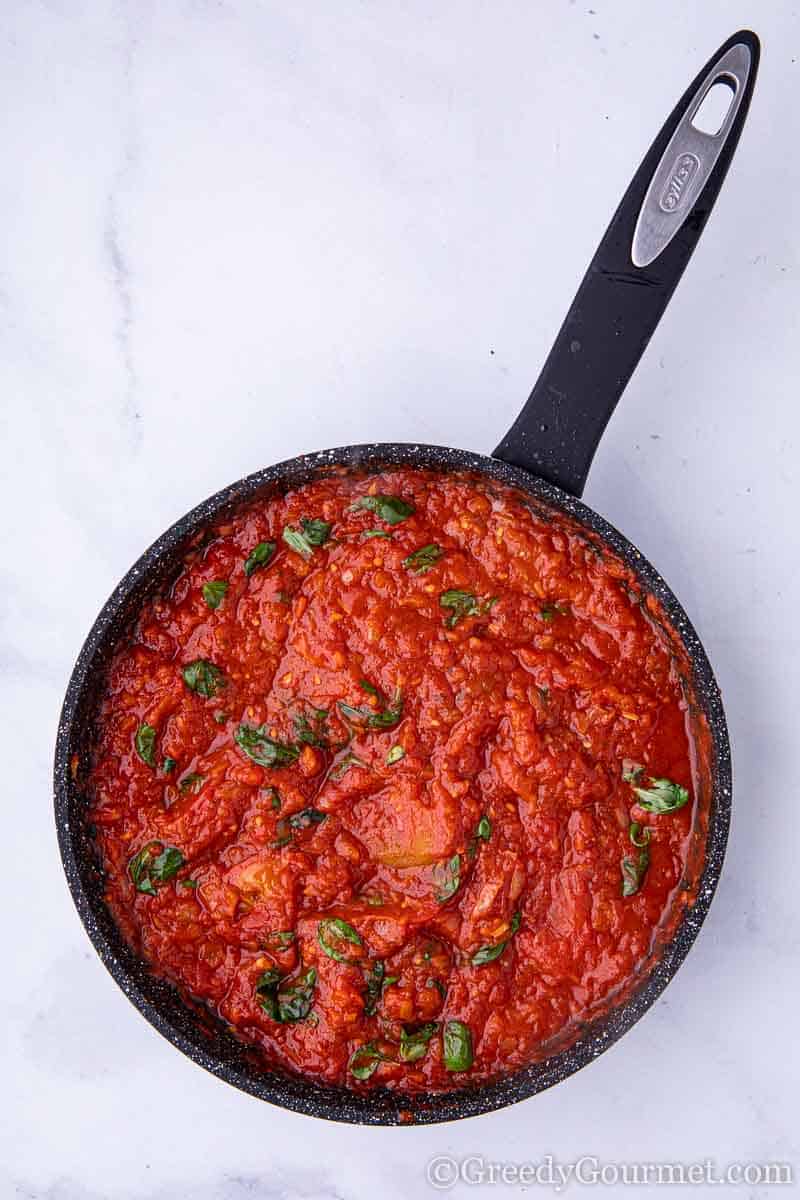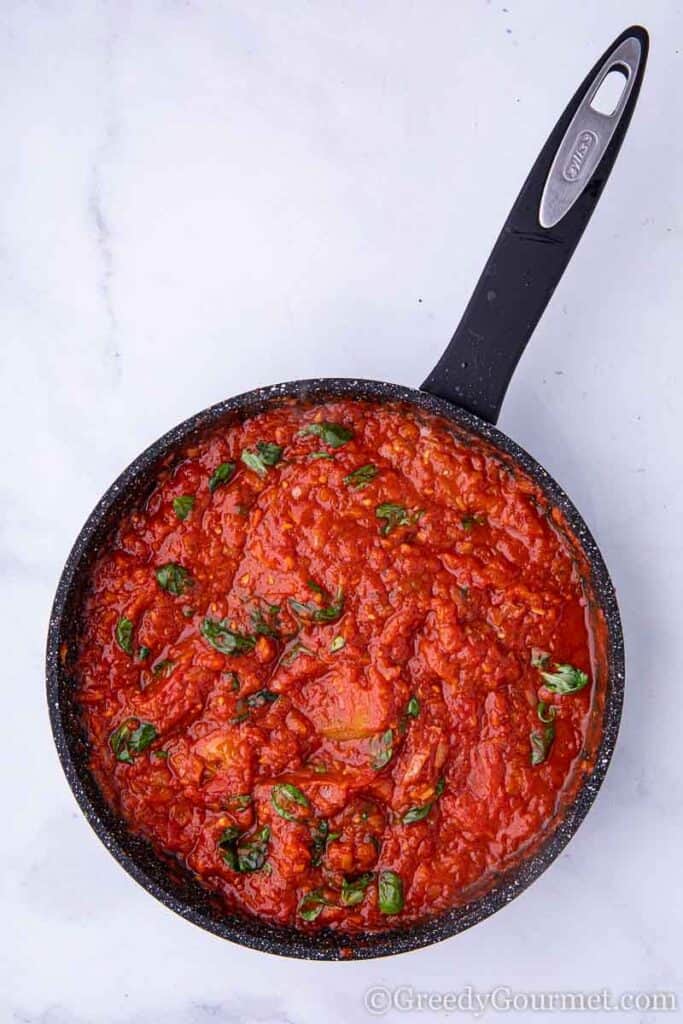 Easy swaps for this recipe
The joy of this recipe is that it's flexible. You can easily swap different ingredients and go for a different flavor angle.
You can use frozen or fresh spinach. If you're not a fan of spinach, you can use any type of greens you like. Think, chard, kale or rocket. If you've never tried any of them, now's the time!
You could also experiment with different types of vegan cheese to grate on top of your rotolo. Vegan parmesan and vegan cheddar are both delicious and will add a lot of richness to this dish once baked.
If you want a different flavor to your marinara tomato sauce, try experimenting with different herbs. Fresh basil goes great with tomato and has a flavor that would really complement the other elements in this recipe.
Fresh or dried thyme and tarragon would also work, as would a mixed herb seasoning. In terms of spices, you could add paprika or cayenne pepper for a bit of kick. You could even up the chili powder or even add a fresh chili at the start of the tomato sauce cooking period.
Another way to use spices is to add nutmeg to the cashew ricotta. This will bring an earthiness to your cashew ricotta and add an extra depth of flavor.
Instead of whole peeled tomato, you could also use canned plum tomato or sliced tomato. You could even use fresh tomato if you want.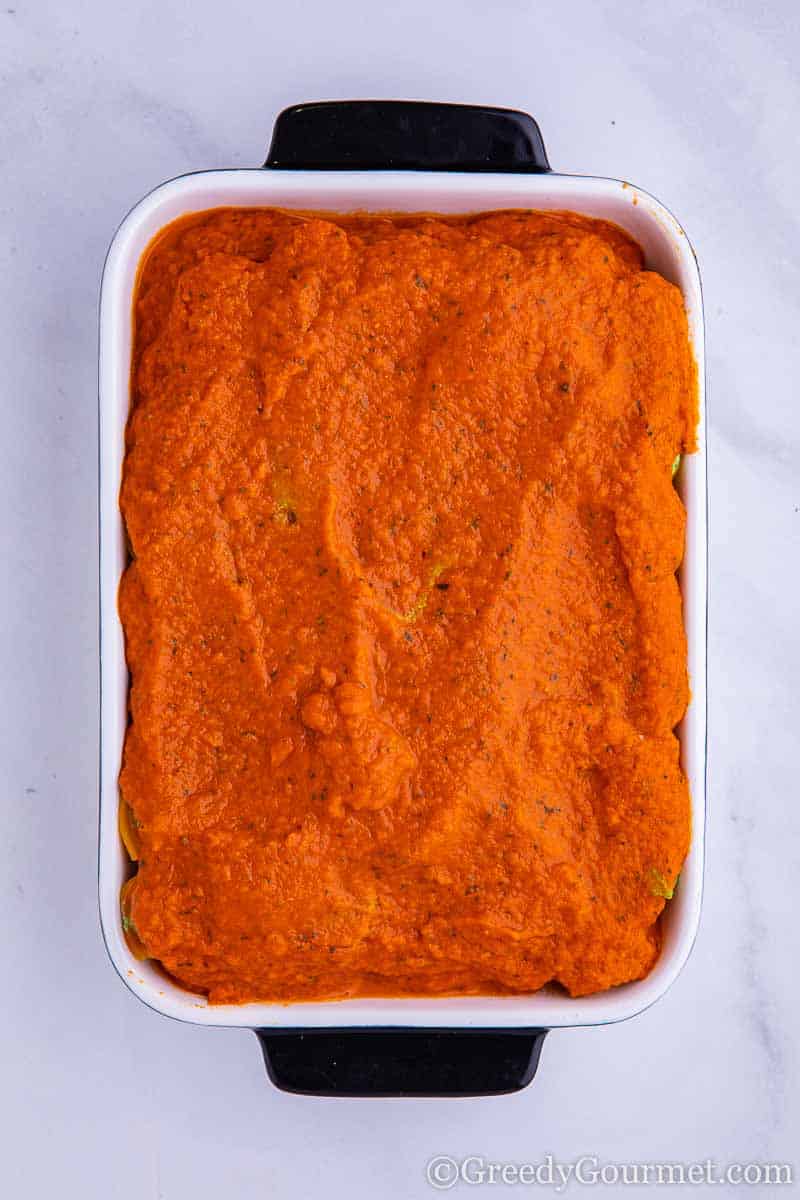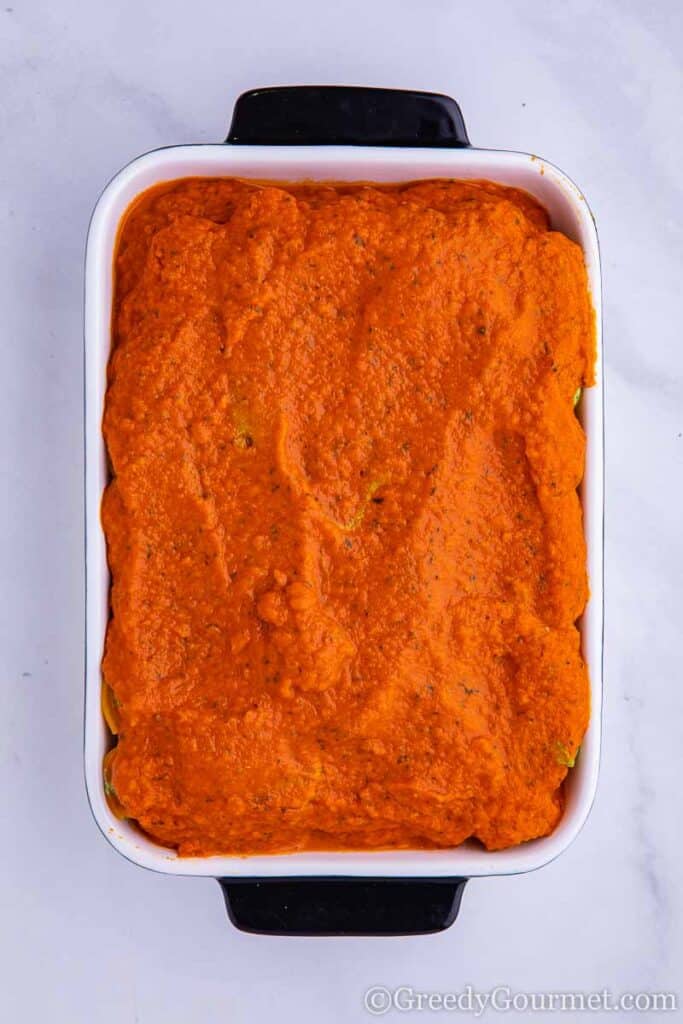 What to serve with vegan spinach and ricotta rotolo
Need some side dish inspiration? Here's a list of some of the most sumptuous recipes to make this spinach and ricotta rotolo even more delicious.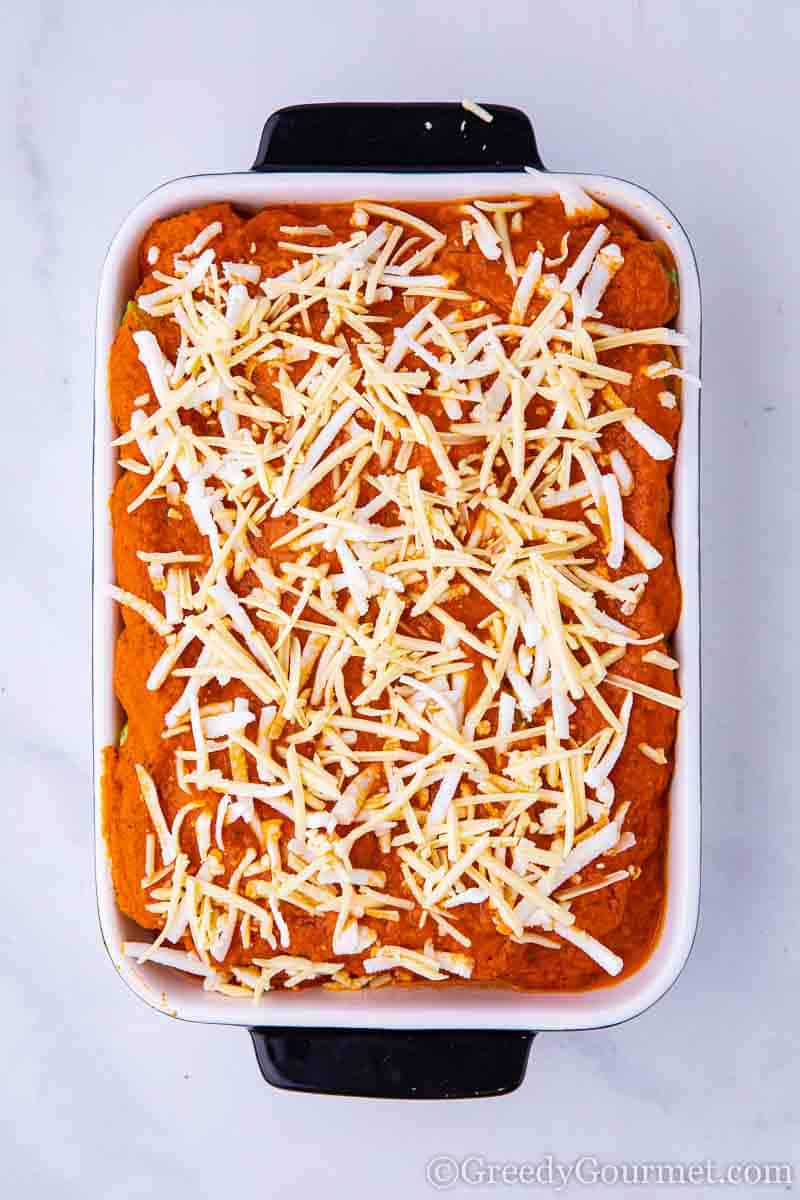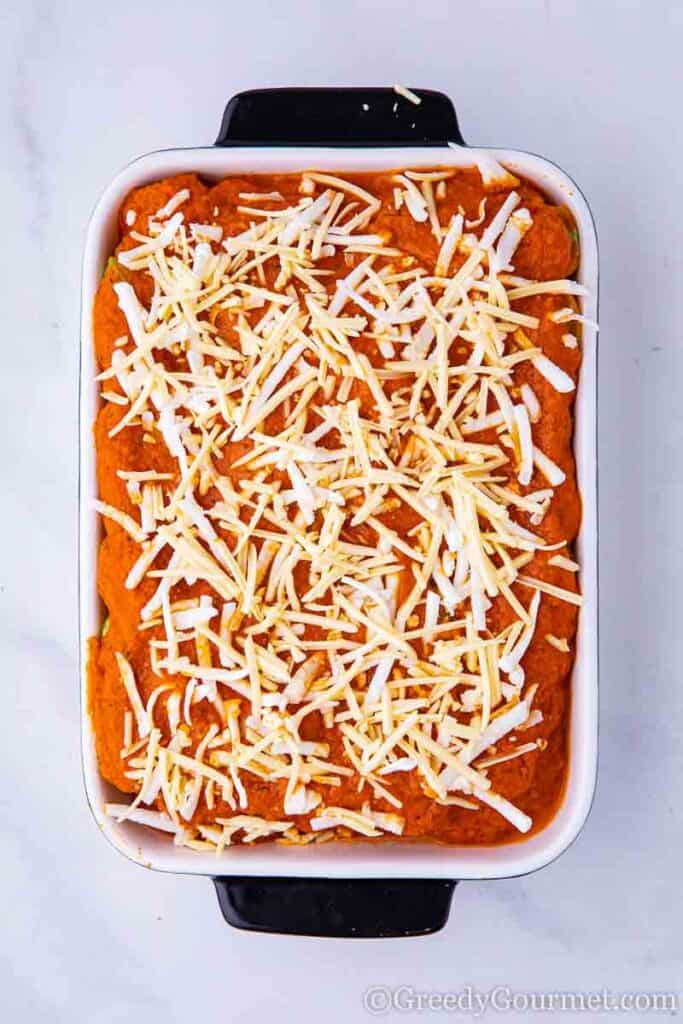 More delicious Italian recipes
If you want to really experiment with your SpiraSlice, try making these recipes, but substitute the pasta for sheets, ribbons or spirals of root vegetables!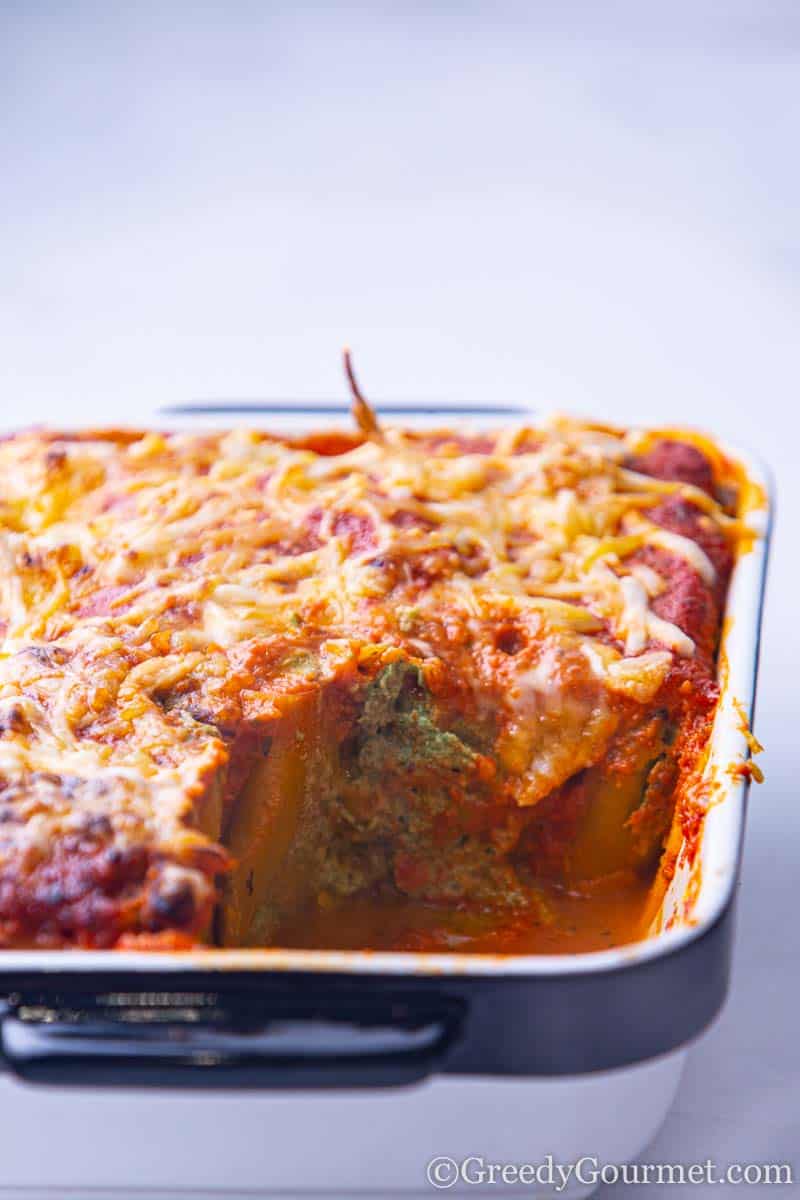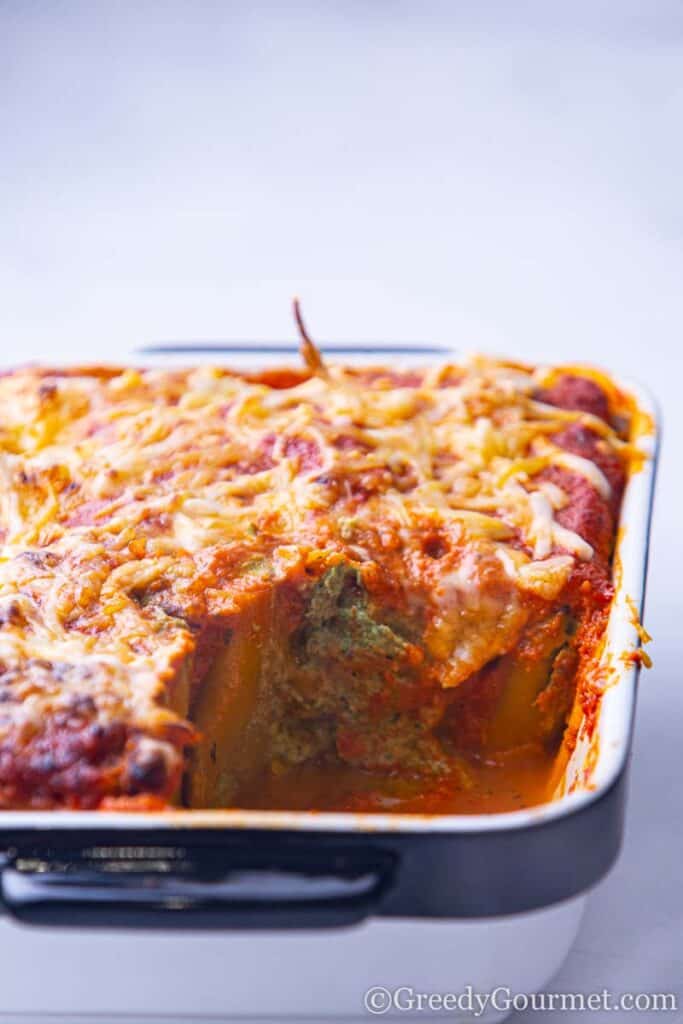 More amazing vegan recipes
Vegan spinach stew – Enjoy a warm and comforting bowl of this vegan spinach stew, sure to warm you up from the inside out.
Vegan moussaka – once you've used your SpiraSlice to create this vegan spinach and ricotta rotolo, give this vegan moussaka a go! It's based on the classic baked Greek recipe. The layers of eggplant, celeriac and potato and a rich lentil and tomato filling make for a rich and creamy delight!
Mutabal – a roasted eggplant dish that's smoky and creamy, with hints of citrus and earthy spice, this Middle Eastern marvel is set to become your new favorite dip
Marrow chutney – never made chutney? You need to get on board! It's so easy and this is one of the best and easiest to make. Try it with a cheese board and your taste buds will be dancing!
GIVEAWAY
This week one winner will receive a Zyliss SpiraSlice.
The Zyliss SpiraSlice includes three blades to create vegetable and fruits sheets, spirals and ribbons, recipes booklet, 5-year guarantee, and dishwasher safe. Zyliss SpiraSlice has a dedicated website where we post new recipes and include tips and more.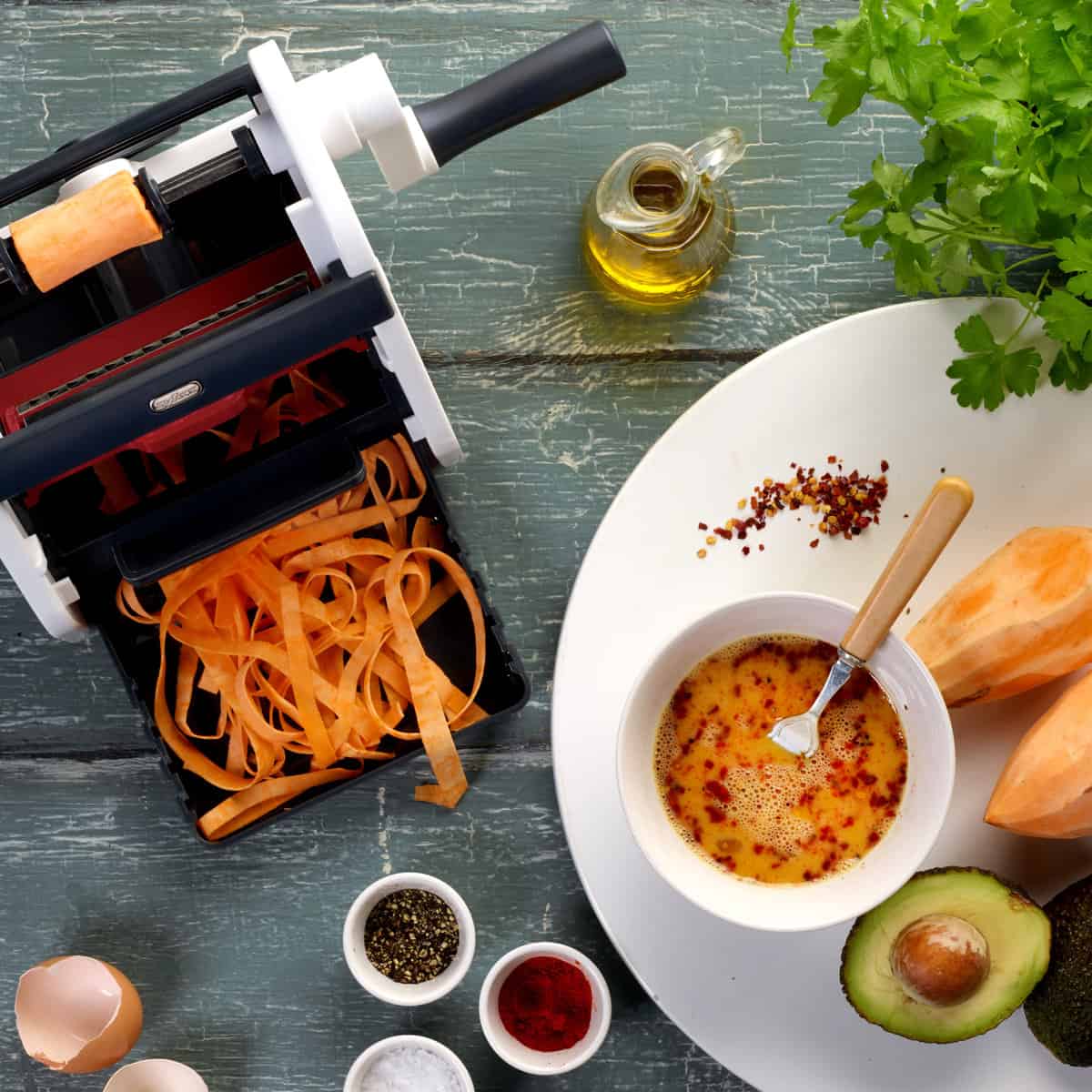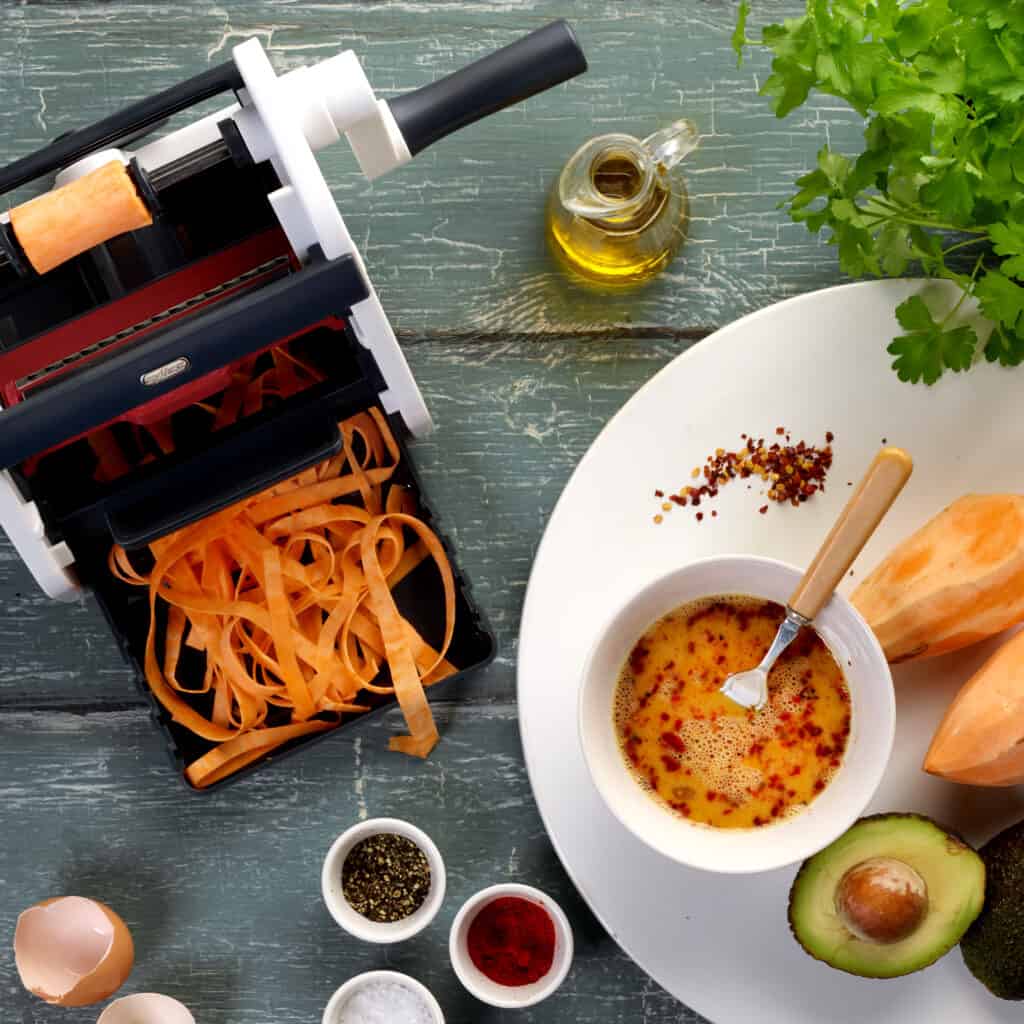 Exciting vegetable-based meals don't need to be time-consuming or complicated. At first glance, spiralised dishes might appear intricate and daunting, but the SpiraSlice makes them quick and easy to assemble.
SpiraSlice is the perfect addition to your kitchen.
This versatile tool comes with three blades to create vegetable and fruits sheets, spirals and ribbons - offering you a new twist on your favourite dishes and the opportunity to introduce a whole new range of vegetable-based dishes into your cooking.
Works on various cylindrical fruits and vegetables including Beetroot, Butternut Squash, Sweet Potato, Potato, Cucumber, Courgette, Swede, Daikon Radish, Apple and Pear.
Create unbroken cuts for perfect cooking results with SpiraSlice from Zyliss.
Choose your blade, pop your vegetable of choice on the skewer, and rotate the handle. The result is colourful, nutrient-rich strips that look impressive and taste delicious — plus, no nasty nicks from a paring knife!
Entering is easy, just follow the instructions below.
a Rafflecopter giveaway
HELP
Here you can find a tutorial on how to enter with Rafflecopter.
If your form is not showing, try refreshing the page.
Complete the form, otherwise your entries will not count.
Make sure the mandatory entries (e.g. leave a blog comment) are completed first.
Don't forget to come back daily for extra entries via Twitter.
If you're viewing this post by email, please come to the actual webpage to enter.
Competition Question: What vegan dish would you make with your SpiraSlice?
Print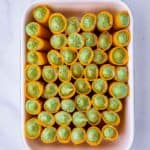 Vegan Spinach and Ricotta Rotolo
---
Author:

Michelle Minnaar

Total Time:

1 hour 30 minutes

Yield:

6

servings

1

x

Diet:

Vegan
Description
Have you ever heard of rotolo? It's a pasta dish, similar to lasagna and cannelloni. What makes this Italian recipe different is that it's vegan and gluten free!
---
Butternut Squash Rotolo
Spinach & Cashew Ricotta Filling
400

g

(2 1/2 cups) cashew nuts, soaked in water overnight

250

ml

(1 cup) water

30

ml

(2 tbsp) apple cider vinegar

33

g

(3 tbsp) nutritional yeast

2

g

(1 tsp) onion powder
salt and pepper, to taste

450

g

(3 cups) frozen spinach, thawed
Marinara Sauce
15

ml

(1 tbsp) olive oil

1

small onion, peeled and thinly sliced

1

garlic clove, peeled and crushed

400

g

(1 can) whole, peeled tomatoes

15

ml

(1 tbsp) tomato puree

1

g

(1/2 tsp) dried oregano

1

g

(1/2 tsp) dried basil

1

g

(1/2 tsp) red chilli powder [optional]

4

g

(1 tsp) sugar
Salt and pepper, to taste
Cheese Topping
---
Instructions
[Only the top, thick stem part of the butternut can be used in this recipe, so reserve the bottom half with the pips for something like a soup, risotto, burgers or dauphinoise.]
For the Butternut Squash Rotolo: Cut the butternut bulb end off the butternut and use in another recipe.
Cut the top's stem off, then peel, which would leave you with a cylindrical shape.
Cut the shape into 7.5cm (3in) wide cylinders, which should be around the halfway mark.
Using Zyliss' SpiraSlice, pierce the butternut cylinder with the metal prong and attach to the machine.
Using the sheet attachment, turn the handle and proceed to cut the butternut into sheets.
Slice the sheets into 10cm (4in) rectangles. Set aside in water in the fridge.
For the Spinach and Cashew Ricotta Filling: Place the drained, soaked cashew in the food processor, along with water, vinegar, yeast and onion powder.
Blitz until smooth and season to taste.
Squeeze as much liquid as you possibly can out of the spinach. Then tip it into the food processor and blitz until desired consistency.
Place in the fridge while you're preparing the other element of the recipe.
For the Marinara Sauce: Gently fry the onion in the oil until translucent, which will take about 3 minutes.
Add the garlic and cook for a further 2 minutes.
Tip in the tomatoes, tomato puree, oregano, basil and chilli powder and give it a good stir.
Leave to simmer until oil droplets form on top of the sauce, which would take about 25 minutes. If necessary, add a splash of water if the sauce dries out too much.
Season to taste, then tip everything into a food processor and blend until smooth. Set aside.
To assemble to Rotolo: Preheat the oven to 180°C / fan 160°C / 355°F / gas mark 4.
Grease a 22x15cm (9x6in) casserole dish with olive oil.
Fill a large pot with salted, boiling water on the stove.
Keeping the water at a rolling simmer, add the butternut sheets and blanch for 15 seconds each.
Remove with a slotted spoon and plunge into ice cold water.
Once cooled, wrap each sheet around your finger and stack upright in the casserole in a single layer. Repeat until the casserole dish is filled.
Transfer the spinach and ricotta filling into a piping bag and pipe the filling into the butternut stacks.
Cover with marinara sauce and sprinkle cheese on top.
Bake for 10 minutes, or until the cheese has melted.
Remove from the oven and serve immediately with your choice of vegetables. Enjoy!
Notes
Alternatively, if you didn't soak the cashew nuts in water overnight, you can use a shortcut by pouring boiling water over them and soaking the nuts for 10 minutes. Drain and proceed with the recipe.
You're welcome to use fresh spinach instead of its frozen counterpart.
Feel free to play with the cashew and spinach ratios for the filling.
If you find that you have some butternut squash leftover from making the rotolo, don't worry! You can always freeze it. Check out my guide on how to freeze butternut squash for more info.
Prep Time:

45 minutes

Cook Time:

45 minutes

Category:

Main Course

Method:

Bake

Cuisine:

Italian
Keywords: rotolo recipe, Italian rotolo recipe, butternut squash rotolo, vegan rotolo, spinach and ricotta rotolo, vegan Italian pasta dish
P.S. This is a sponsored post.