If you're a fan of pasta but can't deal with the high carb content, this recipe is for you.
Garlic and chilli courgetti is an easy, super quick recipe that takes just minutes to make. Fry a few simple ingredients and you've got instant, tasty, healthy fast food.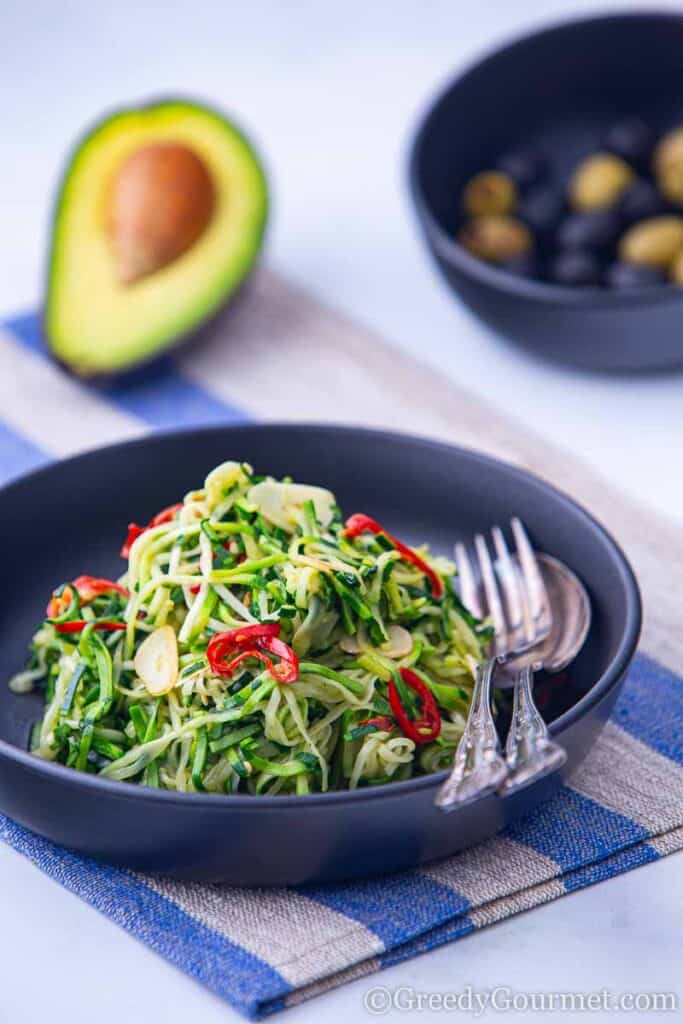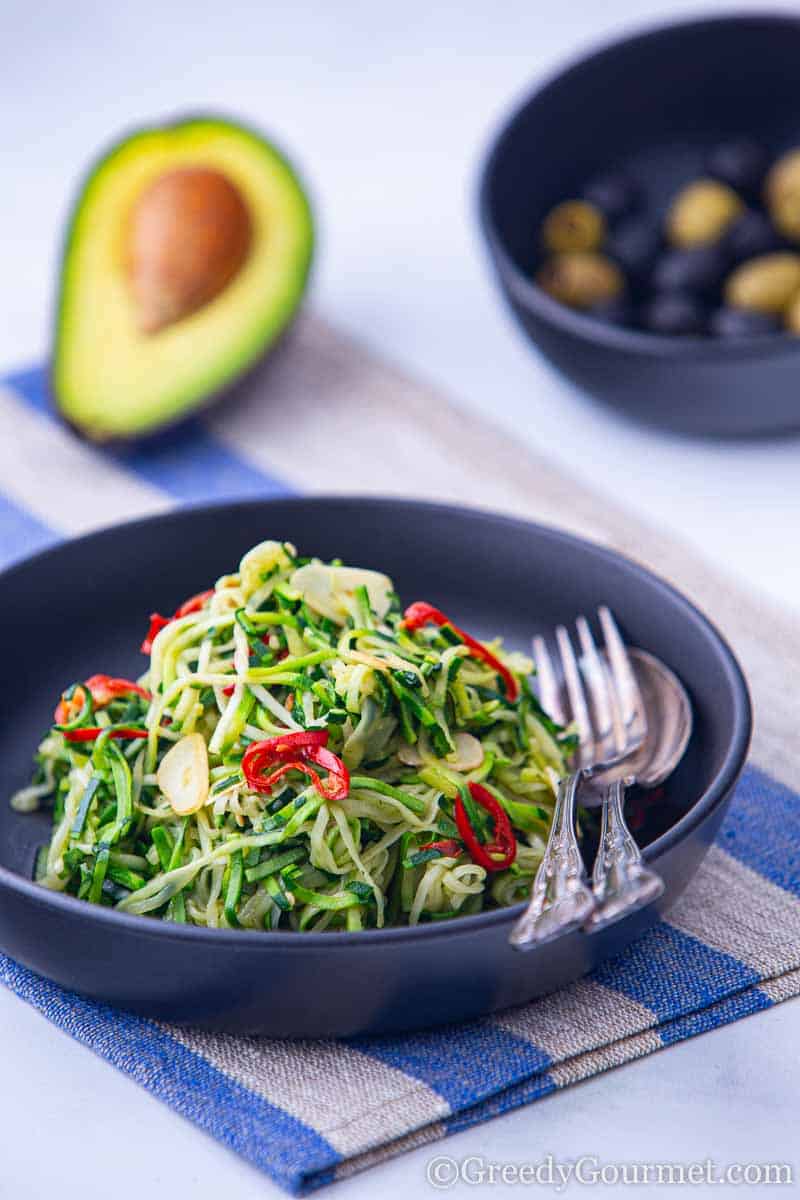 Want to know how to make courgetti? With a nifty little kitchen gizmo that's about to make your life a whole lot easier.
SpiraSlice
Ever wondered how to make the perfect courgetti? Well, here's the gadget for you. The SpiraSlice is an ingenious little gizmo that can produce sheets, ribbons or spirals in seconds, just with the turn of a handle.
It's compact, easy to assemble and disassemble, is dishwasher-safe and is so easy to use. Best of all, it's going to change the way you prepare and cook food.
So many of us are tired of carb-heavy meals that leave us feeling bloated and fatigued. Well, it's time to ditch the carbs and start making some creative, delicious low carb masterpieces!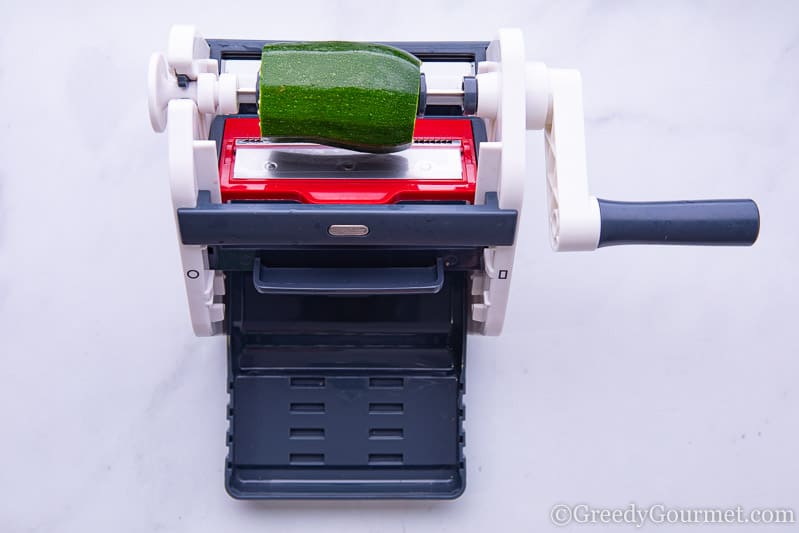 Whether you're a meat eater, vegetarian or vegan, you'll appreciate the SpiraSlice. It really brings vegetables and fruit to life. Three different detachable blades enable you to create sheets, ribbons or spirals and the variety of things you can create is seemingly endless.
From low carb meals to glorious desserts, the SpiraSlice is going to inspire you to create some incredible dishes that you didn't even realise you could make.
For this recipe, it took me literally seconds to make the courgetti. Just insert the ribbon blade, secure the courgettes in place, hold the machine with one hand and turn the handle with the other. You'll be amazed at how easy it is to turn courgettes into perfect ribbons!
Keep in mind that the maximum produce length that you can use in the SpiraSlice is 12cm. So, if your courgettes are longer, cut them into shorter pieces before you add them to the machine.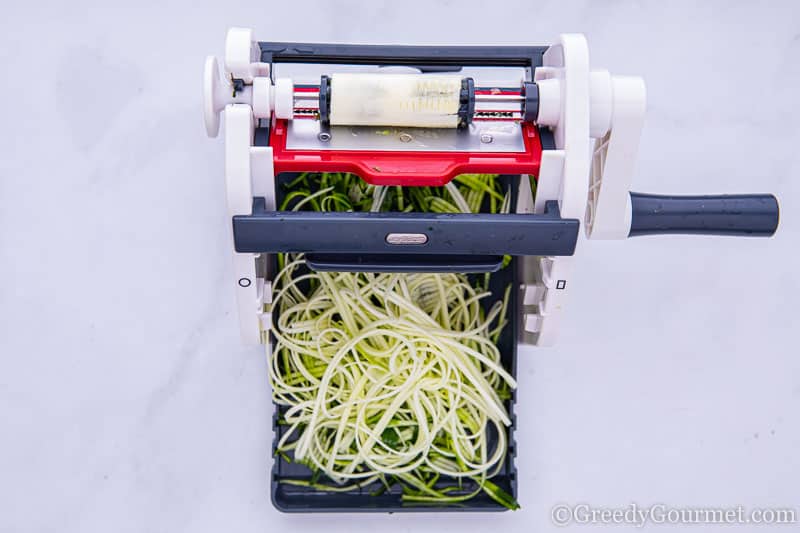 What is courgetti?
A healthy alternative to pasta and noodles, courgetti is a dish made from thin ribbons of courgette. It has a consistency that is very much like spaghetti or thicker types of noodles, which makes it great when served up with sauces and in stir-fries.
It's not just healthy and tasty – it's incredibly easy and quick to cook. If you're looking for a great alternative to noodles or pasta that takes less than a minute to cook, this is it! 
How do you cook courgetti?
It is cooked by stir frying a few ingredients quick and fast. That's what makes it such an amazing healthy fast food. No boiling… just a quick toss in the pan and it's done!
This recipe mixes just a few simple ingredients. Finely chopped red chilli brings a little zing, garlic gives the recipe a great depth of flavour and the oil adds that extra savoury taste.
You can use olive oil but I'm going for vegetable oil for this recipe.
How do you cook courgetti without going soggy?
Sometimes, courgetti can end up a bit of a soggy mess. There are a few things you can do to stop this happening.
First of all, once you've spirasliced the courgettes, sprinkle some salt over the courgetti and leave it for 5-10 mins. This will draw out the excess moisture.
Always make courgetti first, then add the sauce. A simple quick fry in the frying pan and it's done. Don't overcook it… it's easy to do, but avoid the temptation to keep it in the frying pan. It only takes a few minutes to make and doesn't need any longer.
Finally, once you've added the sauce, serve it straight away.
How do you heat up courgetti?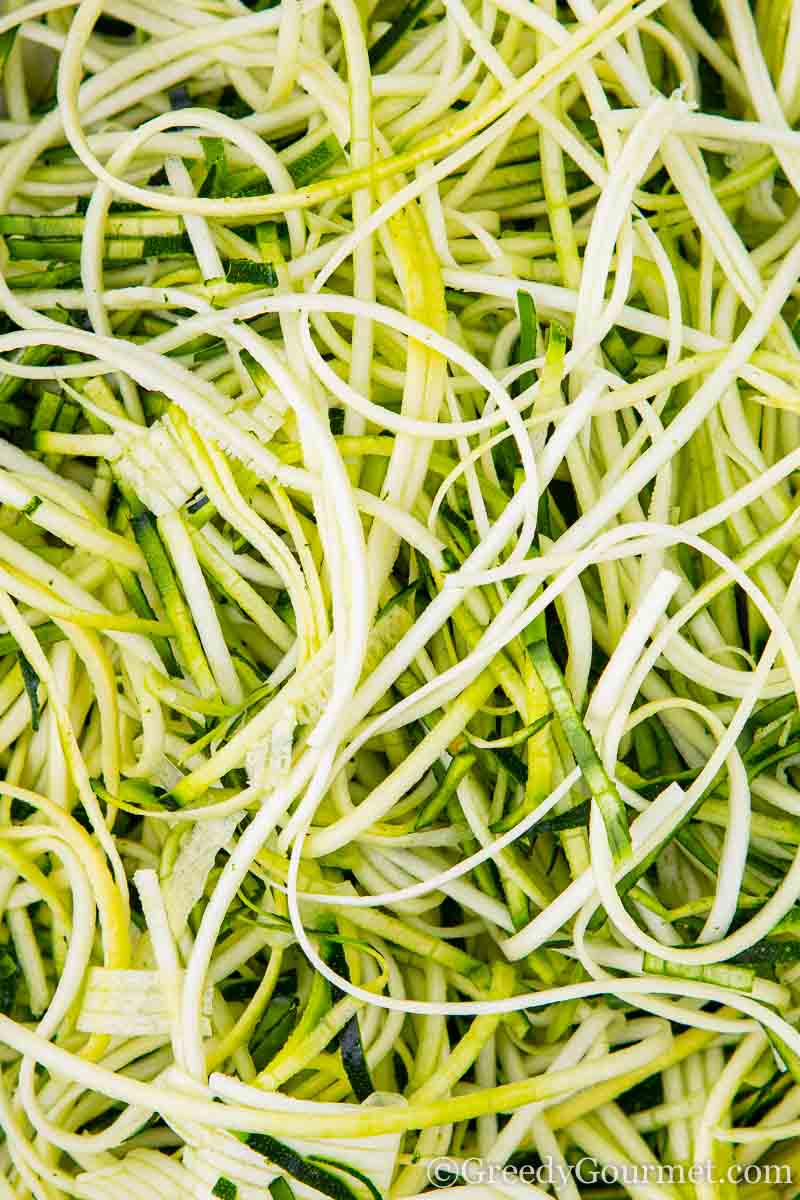 It's really easy to heat up courgetti. Just add a teaspoon of olive oil or vegetable oil into a pan and fry the ribboned courgette for 30 seconds on high. 
Any longer than a couple of minutes and you risk making courgetti soggy and wilted.
Can you make courgetti without a SpiraSlice?
You can use a mandoline or a vegetable peeler to make courgettes into ribbons. Just peel the side of the courgette, applying a bit of pressure to get perfect spiralized courgetti.
Making courgetti with a SpiraSlice is much easier and quicker though!
Is courgetti better than pasta?
Let's be honest. Pasta is delicious. 
The thing is, it's not good for some people. If you're one of them, you'll know that post-pasta feeling – the heavy bloated stomach, the fatigue, the urge to never see a bowl of pasta ever again.
That's why courgetti is a fantastic substitute. It contains 90% fewer calories and 80% less fat than spaghetti.
Add the garlic and chilli flavours or a great bolognese sauce and you've got an incredible tasting recipe that's extremely healthy.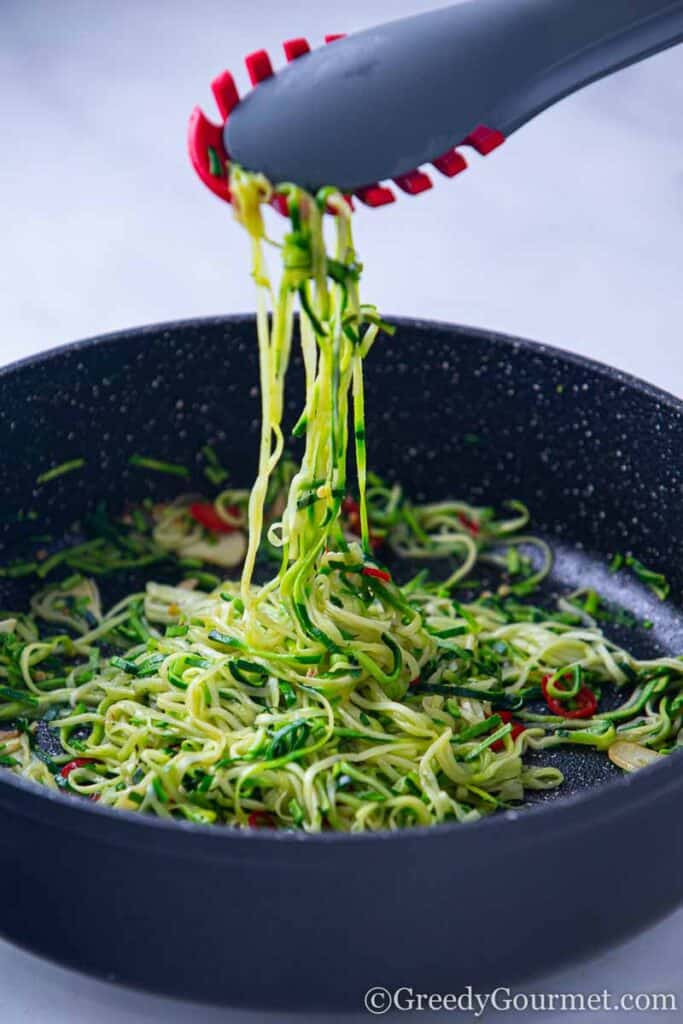 Delicious marrow and courgettes recipes
If you've got a taste for courgettes and want to make the most of this underrated vegetable, here are a few more simple yet delicious marrow and courgettes recipes.
 Roast marrow – if you've got a glut of marrows from the garden or allotment, this is a great recipe. It's simple and straightforward and makes for a great side to hearty dishes like a Sunday roast
Creamy curried courgette noodles – another delicious vegan dish with a pleasant spiciness, this recipe is a pure crowd-pleaser. Delicious as a starter as a part of a three course Indian-inspired meal or as a quick weeknight dinner, courgettes have never tasted so good
Courgette chutney – Discover the delightful combination of courgettes, onions, and spices in this flavorful courgette chutney
More sumptuous side dishes
Loved this garlic and chilli courgetti recipe? Excited to cook up another easy, irresistible side dish? Check out these delicious recipes:
Print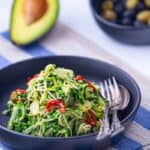 Garlic and Chilli Courgetti
---
Author:

Michelle Minnaar

Total Time:

18 minutes

Yield:

2

servings

1

x

Diet:

Vegan
Description
Garlic and Chilli Courgetti is a brilliant side dish that is quick & easy to prepare. Make a keto vegan meal by serving it with avocado and olives.
---
2

courgettes, washed

10

ml

(2 tsp) olive oil

2

cloves garlic, sliced or crushed

1

red chilli, thinly sliced
salt and pepper, to taste
---
Instructions
Top and tail the courgettes, then cut in half.
Using Zyliss' SpiraSlice, pierce the courgette half with the metal prong through the center and attach to the machine.
Using the spiral blade attachment, turn the handle and proceed to cut the courgettes into spaghetti shapes. Repeat until all courgettes have been processed.
In a large frying pan or wok, heat oil over a high heat.
Add the garlic and chilli and fry for 30 seconds to release the flavours.
Add the courgette spaghetti to the pan and stir vigorously while the vegetable is cooking.
Once the courgette has slightly softened, season to taste.
Remove from the heat and serve immediately.
Notes
Don't cook the courgette for too long because it will become soggy.
For a complete keto vegan meal, serve the courgetti with avocado and olives.
Prep Time:

15 minutes

Cook Time:

3 minutes

Category:

Side Dish

Method:

Stir Fry

Cuisine:

British
Keywords: courgetti, courgette spaghetti, courgetti recipes, courgette recipe, spiralized courgette, spiralizer recipe, courgetti pasta, how to cook courgetti
save the recipe to your pinterest board