You'll never forget your first bite of Ossobuco, knowing in that instant that it certainly would not be your last. That's how much of on impact this Italian stew will have on you.
Wahey, this is my first recipe in 2014 and the first one in six months! What happened?!?
Complacency is a dangerous thing and late last year I realised I've been stuck in it for years and was deeply unhappy. Realising that I'm the only one who can control my own destiny I jumped into action and haven't stopped since. In the space of six months, I moved out of the house with my kids, rented a place, completed a course, filed for divorce and started two businesses.
Very happy with the changes I made, I'm only kicking myself for not doing it sooner. As much as the changes are mostly positive, I can safely say this is the most stressful year in my life and I never want to repeat it ever again. Heck, I even broke out in shingles last week due to the stress and it constantly feels as if I'm holding on to lots of little threads of my new little web I built and if I let one go, the whole will construction collapse, so I'm incessantly on my toes.
In the meantime, I have had time to reflect and do some introspection. Where and how did my life go so horribly wrong? Backtracking to a long time ago, I came across my first of many mistakes. So at the ripe old age of 32, I'll impart one of life's fundamental lessons:
Don't Marry Too Young
Trust me. I've done it. Twice.
At the age of 19 I got engaged to my first husband who was 21 at the time and married when I was 20. We were good friends but ultimately mismatched. A few years later husband number two swept me off my feet and we got married when I was 24.
This is my point of view and not everyone experiences life the same way or has a similar outlook, but here goes.
The problem with marrying young is lack of maturity, self-awareness and in some cases self-esteem.
Maturity. I am an intelligent and sensible person, most days anyway, but at 20 fresh out of school I had zero life experience. In retrospect I had an easy childhood. As an only child I was spoilt and never had to face hardships and the difficult times I did have were self-devised by setting high goals for myself. Never did I have to deal with whether there will be food on the table, whether there will be a roof over my head in a month's time or fight my corner if someone tried to screw me over.
Self-Awareness. Real life problems. These hardships are character building. That's how you learn who you truly are; your strengths, weaknesses and boundaries. Only then, you should consider a serious relationship because knowing yourself you get to know what your relationship expectations are. I was putty in anyone's hands who came along.
Self-Esteem. I'm still grappling with this. The media certainly isn't helping by placing anorexics on magazine covers setting the desirable standard and meanwhile I'm on the voluptuous side. Another factor is the relationship with the parents. For reasons unbeknownst to me I haven't had a functional relationship with my mother since I was a teenager but hope than one day I'll figure out a solution and fix it. However, at 20, after years of fighting and feeling constantly rejected and unlovable to be able to flee the house was awfully tempting. Finally, flattered beyond belief, there was someone who loves me just the way I am and everything is sunshine and roses. Basically, your judgment is flawed from the outset so there is no way in hell you'll pick the right person for you.
Ah, filled with enthusiasm I was so young, naive and gullible to think that my life was going to be dandy and that my husband (take your pick) will be there for me forever.
Some will accuse me of navel-gazing and being self-indulgent in this post. My intention is just to warn parents and young people that marrying young is a bad idea. If I could help one person to avoid it, writing this post has been worth my while.
So if you're a parent of a teenager, no matter how crap they behave, remind them that you love them and prove it to them. Without that, you risk them leaving home, and doing something stupid like getting married young. That doesn't mean the strategy will work but at least your conscience is clear. Even if you have a great relationship with your child and think her lover is shitting diamonds when the sun isn't shining out of his ass, tell them to wait. What harm could it do?
---
Oh yes, I'm meant to talk about food here. If you're a comfort eater like me perhaps you shouldn't prepare ossobuco because you run the risk of eating way beyond the point of satiety. It simply is that good. This is a rustic Italian dish and if you're a fan of this cuisine, you'll love these books:
The recipe might look complicated but it's actually dead easy. The hardest part is obtaining the meat. Ossobuco is made with sliced shin of veal and isn't readily available at supermarkets. The best route to take is to order it from your local butcher. Another alternative is ordering it online. The result was so fabulous that I ordered more ossobuco from them and it was just as good as before.
This is another of my batch cooking recipes, so if you'd like to prepare a smaller quantity, divide the ingredients by 4 and the end result will serve 4 people.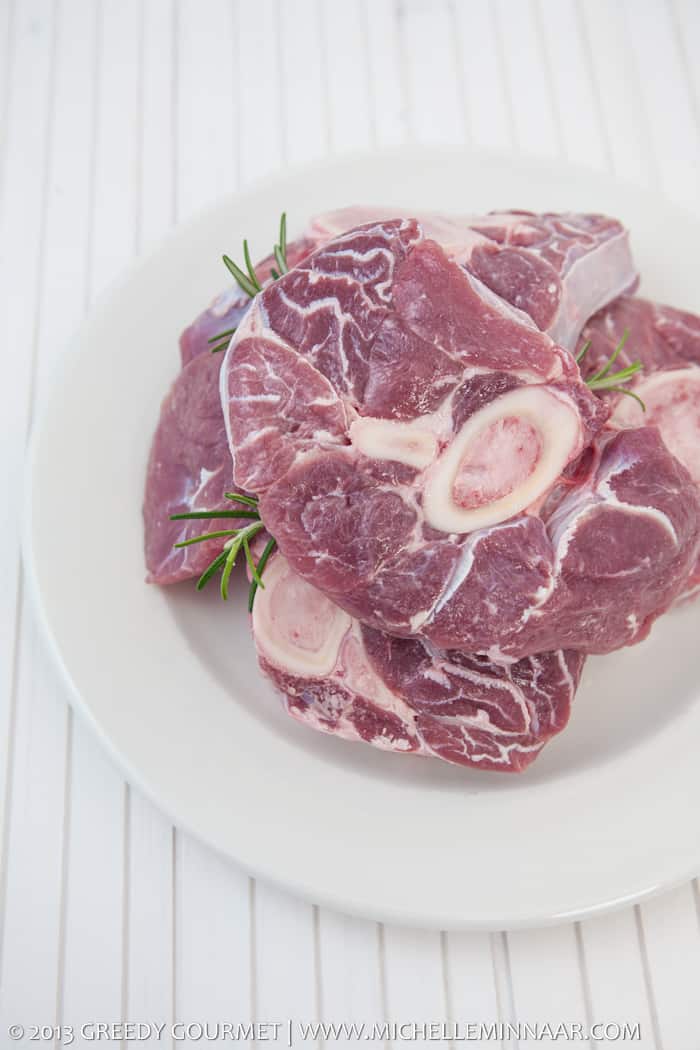 Next up, clean and peel all the vegetables.
My trusty Magimix
works like a charm every time I do grating.
Next, the flour needs to be prepared to dust the meat with. The 100g mentioned in the recipe is a ballpark figure. Use as much or little as you need.
Mix the salt, cloves, pepper and coriander into the flour.
Coat the meat with flour on both sides.
Melt the butter and oil in pan and let it sizzle.
Arrange the meat in a single layer in the heavy bottomed pan and fry on both sides until browned. Remove the pieces and keep on frying until all the meat has browned.
Add the grated vegetables to the empty pot and sweat them.
Continue cooking until the vegetables have softened.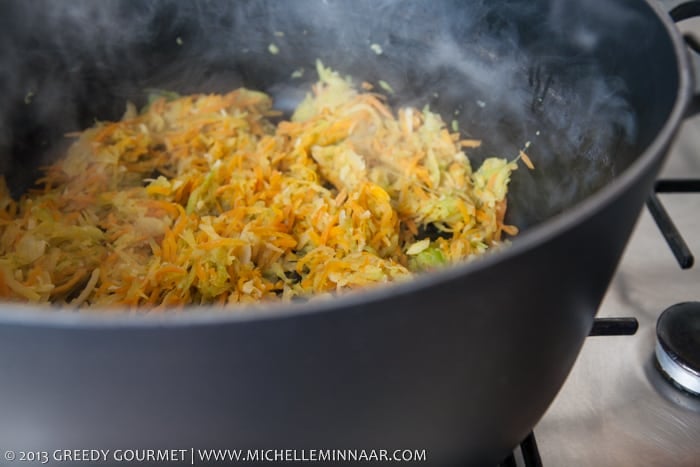 Place the browned meat back in the pot again and stir.
Next up you have to add the passata, red wine and sugar. I used OXO cubes, which I simply crumbled into the stew.
There are two versions of Ossobuco. One is made with white wine, also known as Ossobuco Milanese, and is lighter and cleaner in taste. This version is richer abd has plenty of depth and flavour to it which is why I love it so much.
When it comes to the wet ingredients you're welcome to play with the rations. Less tomatoes and more wine. You can also you concentrated tomato puree instead of passata and make up the quantity with water or stock. Play around and let me know your findings.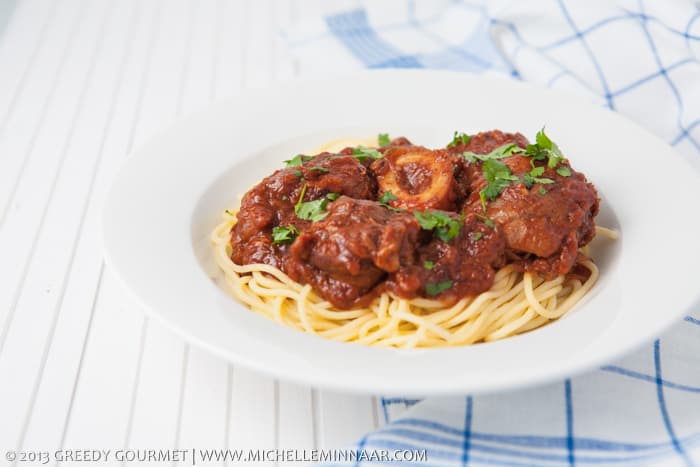 After 90 minutes in the oven the meat was cooked and tender. In fact, it fell to pieces when I tried dishing it up. Try the marrow – it's to die for.
Print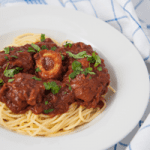 Ossobuco
---
Author:

Michelle Minnaar

Prep Time:

30 minutes

Cook Time:

2 hours

Total Time:

2 hours 30 minutes

Yield:

12

servings

1

x
Scale
Ingredients
4

large onions, peeled

8

garlic cloves, peeled

8

carrots, peeled

8

celery stalks

800

g (1¾lbs) mushrooms, cleaned

4

kg (8¾lbs) veal shin

100

g (3oz) all-purpose flour

15

ml (1 tbsp) salt

5

ml (1 tsp) black pepper

5

ml (1 tsp) coriander

5

ml (1 tsp) cloves

120

ml (8 tbsp) olive oil

120

ml (8 tbsp) butter

600

ml (1 pint) red wine

4

bouillon cubes

1.5

kg (3⅓) passata

60

ml (4 tbsp) brown sugar
---
Instructions
Grate the onions, garlic, carrots, celery and mushrooms with a food processor.
Season the flour with salt, black pepper, coriander and cloves and stir thoroughly.
Make cuts in the meat's rind.
Coat the meat in seasoned flour.
Melt the half the oil and butter in a heavy ovenproof proof pot until the mixture starts sizzling.
Place the meat in one layer and brown on both sides. Take them out and repeat the process until all the meat is browned.
Preheat the oven to 160°C/320°F/gas mark 3.
Add the remaining butter and oil to the empty pot and let the mixture heat up.
Add the grated vegetable mixture to the pot and fry lightly until semi-cooked.
Add the meat to the vegetable mixture.
Add the wine, passata, sugar to the stew and crumble in the bouillon cubes.
Give it a good stir and place in the oven for 90 minutes. Done!
---
Category:

Dinner

Method:

Braise

Cuisine:

Italian
Nutrition
Calories:

790

Sugar:

Sugars

Sodium:

1421 mg

Fat:

28.9 g

Carbohydrates:

47.1 g

Fiber:

Dietary Fiber

Protein:

75.5 g