An Italian classic that is the very definition of comfort food, osso buco is all about rich flavors, tender meat that falls apart and that feeling of bliss that only special dishes bring. So, are you ready to make this all-time favorite Italian stew?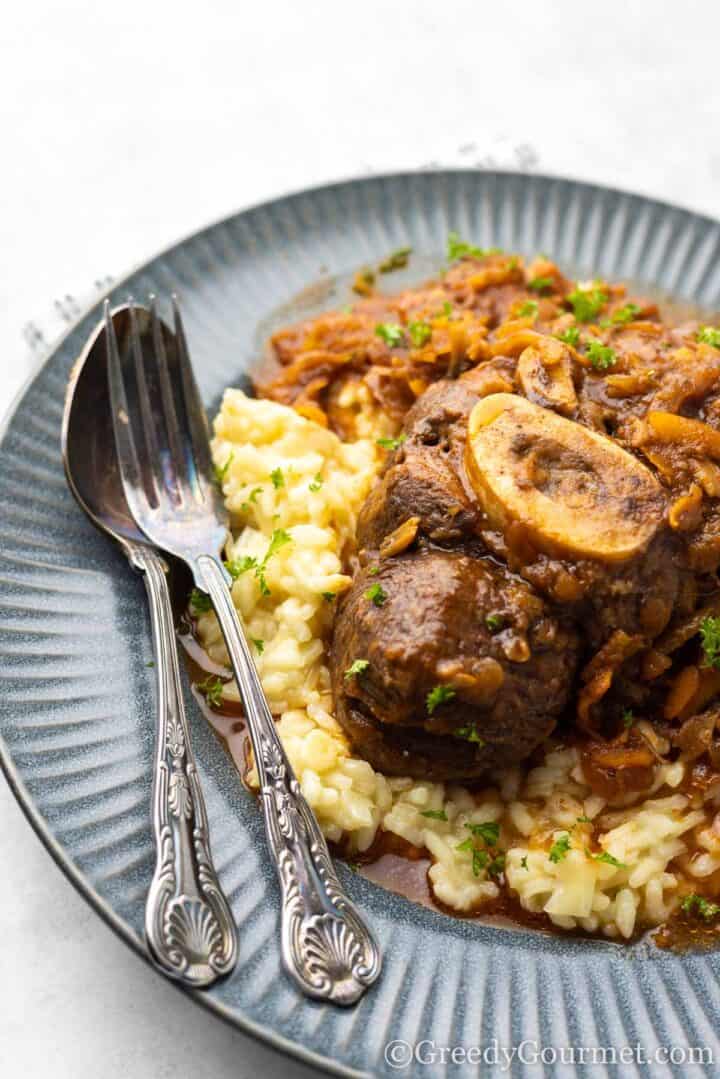 Your first taste of osso buco is one you'll never forget. When made right (and it is easy to make) beef osso buco has that winning combination of buttery meat that tastes divine and a whole mix of fragrances and flavors in a sublime sauce that never fails to hit the spot. It's a thing of simple beauty.
Why You'll Love This Recipe
The beef just falls apart and melts in your mouth
It's comfort food at its finest
Slow cooking makes for incredibly tender meat
Even the kids will go bananas for it!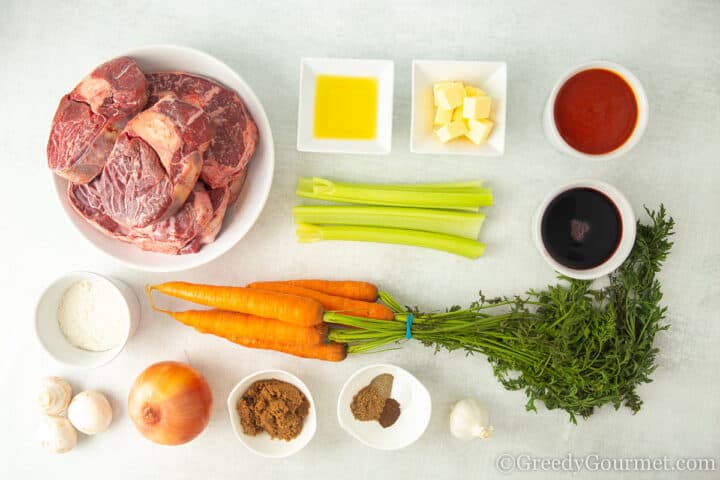 Equipment Needed To Make This Recipe
There are a few key items you'll need to make this traditional osso buco recipe:
Large casserole dish – go for a well-made, large casserole dish. A recipe this special deserves the best cooking pot, so go for something like a Dutch Oven
How To Make Osso Buco
Season the flour then dust the meat with it.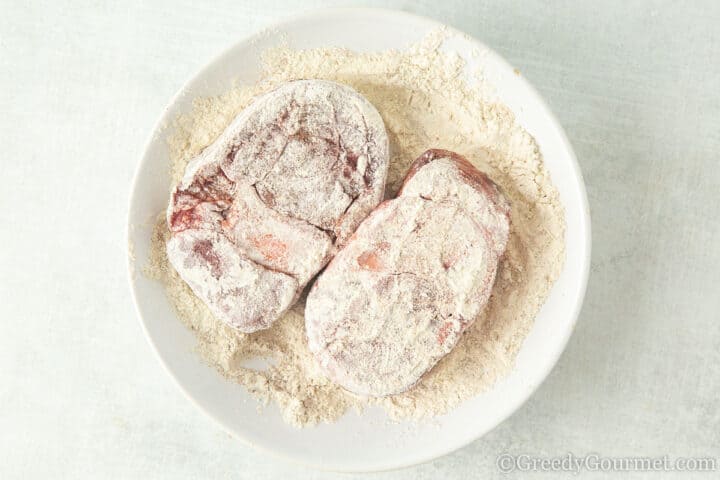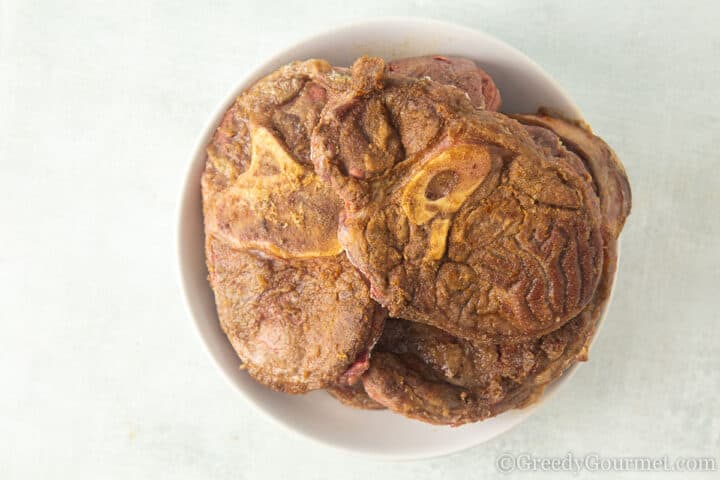 Brown the meat on all sides. Set aside.
Gently fry the vegetables for 5 minutes or until softened.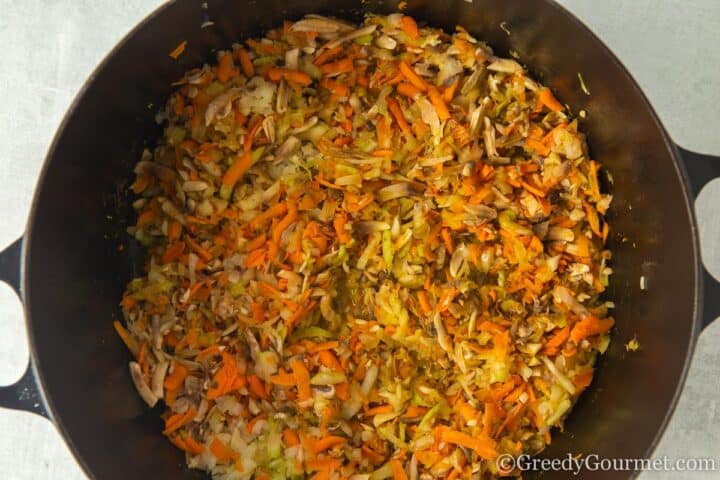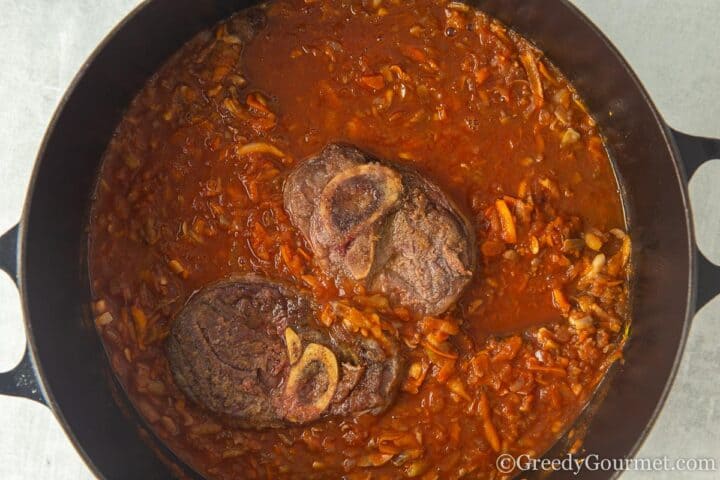 Add the wine and passata. Let it sizzle for a few minutes. Add the browned shin.
Cook for 90 minutes or until the meat is fork tender. Enjoy!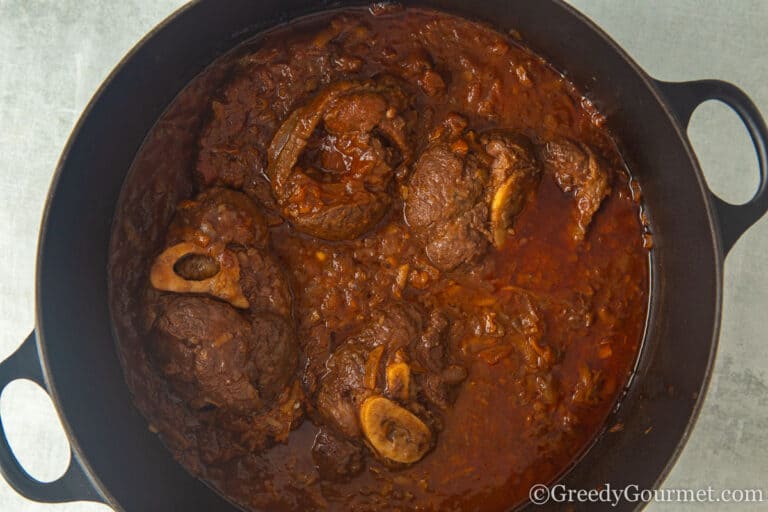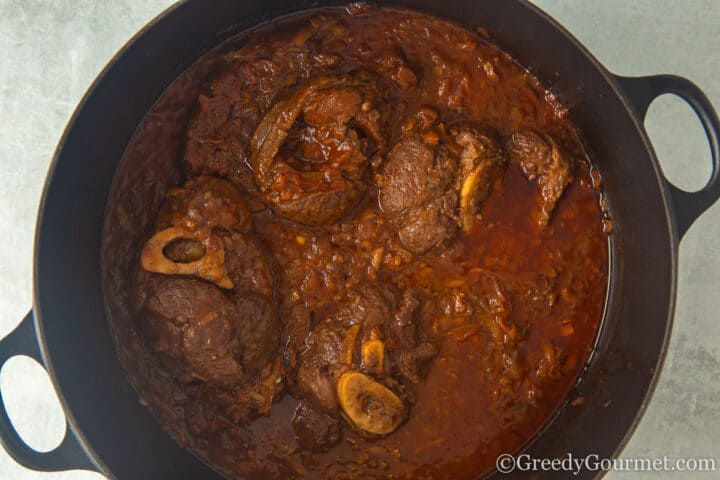 What to Serve with Your Ossco Buco
You can serve osso buco with any of the following:
Sides
Desserts
Let's keep it Italian, shall we? Panna cotta or tiramisu are traditionally served in northern Italy, while a delicious Sicilian cannelloni would make for the perfect north/south pairing.
You could also go for mini chocolate trifles for that tiramisu vibe or, for something lighter and less traditionally Italian, why not try a gooseberry fool?
Drinks pairing
It's got to be a deep red wine – the perfect pairing with this osso buco recipe! Keep it Italian and plump for a Nebbiolo. You'll be in heaven!
Popular Substitutions For This Recipe
You can use white wine in place of red wine. This is known as osso buco Milanese and makes for a lighter stew, with a cleaner aftertaste.
If you're not a fan of coriander, you can replace it with all kinds of herbs. My tip is to go for either rosemary, bay leaf, thyme or oregano, all of which work fantastically well with beef and tomato.
You can replace passata with tinned tomotoes. However, add two tablespoons of tomato paste to get the right consistency.
If you prefer, use olive oil instead of butter.
If you don't have any celery, you can use one of these celery alternatives.
Variations To This Recipe
Traditionally, braised veal shanks are used but, as they're hard to come by in the UK, I've gone with beef shin. If you can find veal shanks and want to go authentic Italian, be my guest! You could also tweak this recipe in the following ways:
Pork osso buco
Although the traditional Italian osso buco is made from beef or veal shanks, there is an alternative. You can easily substitute the beef or veal shanks with pork shanks. Make sure to season well, as the pork shanks are not quite as rich in flavor as the beef shanks.
Osso buco Milanese
You can use white wine in place of red wine. This is known as osso buco Milanese and makes for a lighter stew, with a cleaner aftertaste.
Osso buco with pancetta
Braising veal shanks or beef shanks with pancetta brings some incredible richness to osso buco. I've gone without it for this recipe, as I think it's rich enough. If you want to take things to another level, add pancetta to the pan with the meat and remove at the same time, before adding the vegetables.
Gremolata
A traditional osso buco recipe is often served with this Italian garnish. Gremolata is a mixture of parsley, garlic and lemon zest. The finely minced lemon zest brings a wonderful citric flavor. Sprinkle it on top of your osso buco.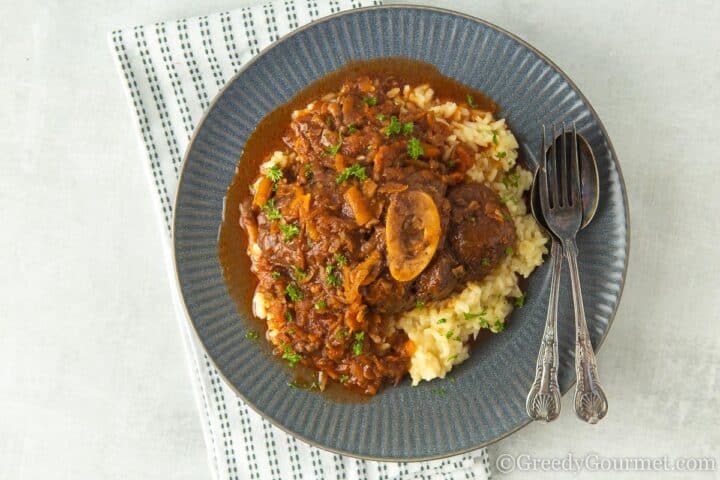 Top Tips
If you want to stay true to the origins of beef osso buco, you should choose a wine from Northern Italy.
A nice, full-bodied Chianti or a Nebbiolo will pair beautifully with osso buco. If you love beef stews with red wine, check out this beef stew with mushroom and red wine recipe.
How do I store leftovers?
The best way to store your beef leftover osso buco is in an airtight container in the refrigerator. If you want to store it long term, you can also freeze it.
How Long Will This Food Last In the Fridge?
When stored in an airtight container in the fridge, your osso buco leftovers will last for around 3 days.
Can I Freeze This Recipe?
Yes, this dish will keep just fine when frozen.  
To freeze osso buco leftovers, simply place in an airtight freezer safe container and place in the freezer. It will stay fresh for up to 4 months.
How do I Thaw This Dish?
As it's a meat dish, osso buco needs to be defrosted in the fridge. Leave to thaw overnight
How do I Reheat This Dish?
Beef osso buco is best reheated in a casserole pot on the hob. Add a splash of liquid and stir the contents as it heats, until it's piping hot.
Can this recipe be scaled?
Yes, this osso buco recipe can be scaled! You can double or treble the amounts below to make a large batch.
Can This Recipe be made in advance?
Yes, you can make osso bucco in advance. In fact, it's even better the next day!
Once it's cooked, allow it to cool and then place it in the fridge until you need it. When you're ready to eat, remove any solidified fat. Then simply heat it though in the same pot, giving it a stir until it's fully warmed.
Do I have to use beef shin for this recipe?
It doesn't have to be beef shin – it can be pork or veal shank – but the bone is an important part of what makes this dish so delicious!
As it cooks, the rich marrow from the shin bone bastes the meat, keeping it soft and tender. It also infuses the sauce with incredible flavor.
What does 'osso buco' mean?
It translates into English as 'marrowbone' or more literally as 'bone hole.'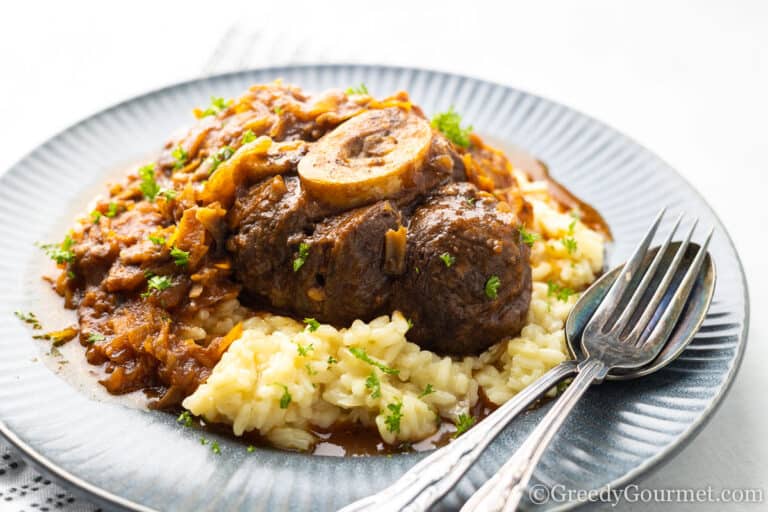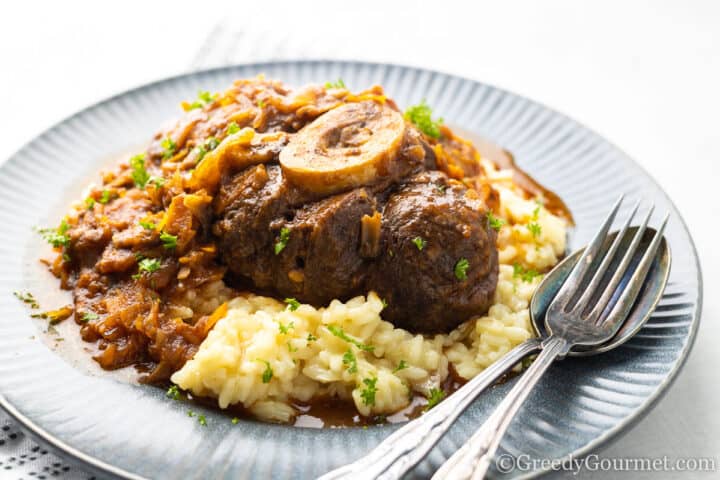 Other Italian Recipes You'll Love
Italian cuisine is an absolute joy, which is why I've tried my hand at so many Italian recipes over the years. Here are just a few of my favorites:
Food Safety
When using utensils with raw meat, always wash them thoroughly before using them with anything else
Wash hands thoroughly after touching raw meat
Don't leave food sitting out at room temperature for long periods
Always have good ventilation when using a gas stove
Print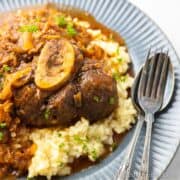 Osso Buco
---
Author:

Michelle Minnaar

Total Time:

2 hours 30 minutes

Yield:

8

servings

1

x

Diet:

Kosher
Description
Beef ossobuco is an Italian stew from the region of Lombardy. Prepare yourself for the most tender meat you've ever had.
---
2

onions, peeled

4

garlic cloves, crushed

4

carrots, peeled

4

celery stalks

450

g

(1lb) mushrooms, cleaned

50

g

(2oz) all-purpose flour

8

g

(1/2 tbsp) salt

1

g

(1/2 tsp) black pepper

1

g

(1/2 tsp) coriander

1

g

(1/2 tsp) cloves

2.2

kg

(5bs) beef shin

60

ml

(4 tbsp) olive oil

60

ml

(4 tbsp) butter

250

ml

(1 cup) red wine

2

bouillon cubes

800

g

(2 cartons) passata

25

g

(2 tbsp) brown sugar
---
Instructions
Preheat the oven to 160°C/fan 140°C/320°F/gas mark 3.
Grate the onions, garlic, carrots, celery and mushrooms with a food processor.
Season the flour with salt, black pepper, coriander and cloves and stir thoroughly.
Make cuts in the meat's rind.
Coat the meat in seasoned flour.
Melt half the oil and butter in a heavy ovenproof proof pot until the mixture starts sizzling.
Place the meat in one layer and brown on both sides. Remove them and place them on a plate while you repeat the process until all the meat is browned.
Add the remaining butter and oil to the empty pot and let the mixture start sizzling.
Add the grated vegetable mixture to the pot and fry lightly until semi-cooked.
Add the meat to the vegetable mixture.
Add the wine, passata, sugar to the stew and crumble in the bouillon cubes.
Give it a good stir and place in the oven for 90 minutes. Done!
Notes
In this recipe, I used beef shin. Traditionally, veal shin is used but it's hard to come by in the UK!
If you're gluten intolerant, use gluten free flour. If you're lactose intolerant, substitute the butter with more olive oil. 
Prep Time:

30 minutes

Cook Time:

2 hours

Category:

Dinner

Method:

Stew

Cuisine:

Italian
Keywords: osso buco, what to serve with osso buco, sicilian osso buco recipe, easy osso buco recipe, osso buco recipe slow cooker, mediterranean osso buco recipe, veal osso buco