Coming up with low-carb versions of classic comfort foods can be incredibly difficult sometimes, and those sticking to a low-carb lifestyle can start to feel like they are lacking options. If this sounds like you, this celeriac gratin recipe is going to change your mind.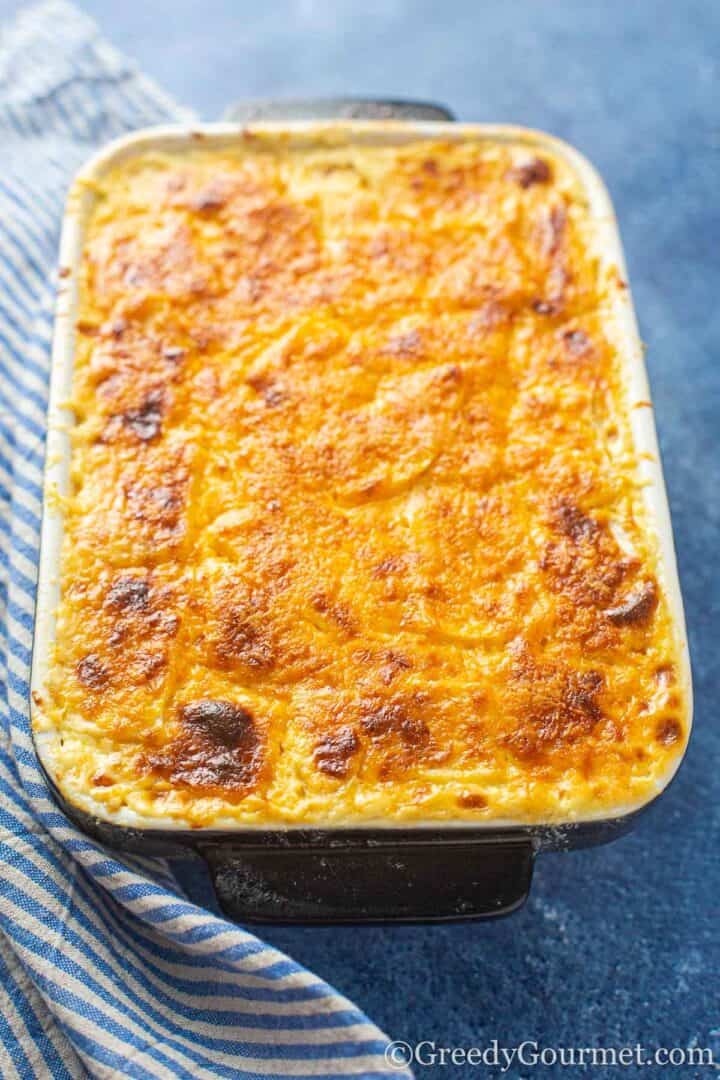 Why You'll Love Celeriac Gratin
Celeriac is a great alternative to potatoes for those looking to cut some carbs. As a bonus, it's a simple, one-pot superstar that you can throw together as a hearty side dish, or it can stand on its own as the main.
Not only that, but it needs just a few ingredients, along with things you most likely already have.
Special Equipment Needed To Make Celeriac Gratin
To slice the celeriac you may want a food processor or a nice mandolin slicer, otherwise, a sharp knife and steady hand are just fine.
You'll also need a large bowl or baking dish that is large enough to accommodate the number of celeriac slices you'll have, without crowding or piling.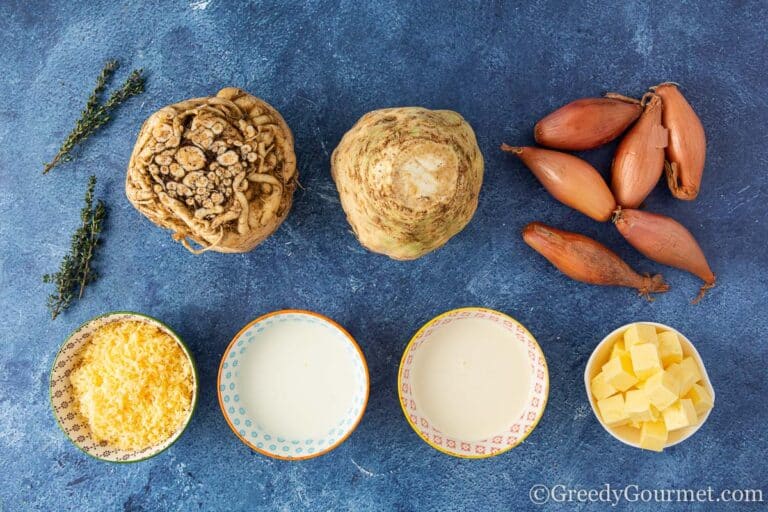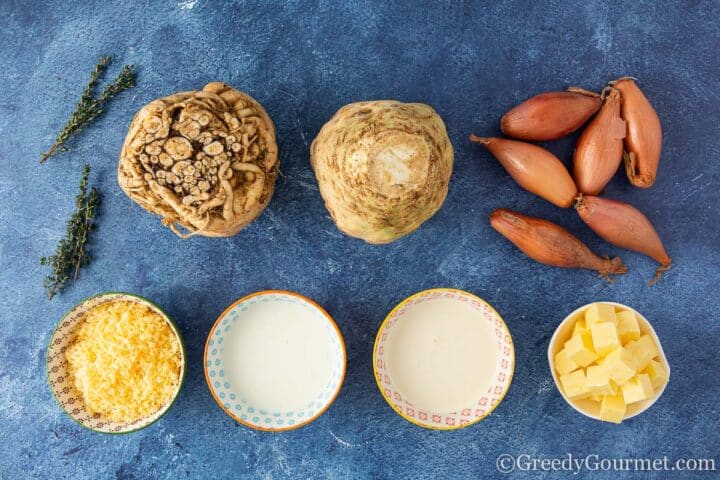 What to Serve/Pair with Your Celeriac Gratin
Celeriac gratin can be used as a side dish with just about any main course you like. The main compliment will be to a main of either beef or chicken.
Popular Substitutions For Celeriac Gratin
Feel free to substitute the shredded cheddar cheese for any other melty cheese with relatively low carbs. Some cheese options to explore include gouda, provolone, muenster, and Monterey Jack. Parmesan can also add a unique dimension.
Variations To Celeriac Gratin
A popular variation, particularly for those on low-carb or keto diets is to add more cream and a whole lot of bacon. The crispy bacon adds a nice crunch to the dish, as well as significant protein and a dose of fats.
Since the dish lends itself to seasoning easily, experiment with different spices and seasoning blends. Most blends have a significant salt component, however, so season sparingly at first, to ensure that you don't end up with a dish that's too salty.
How to make this recipe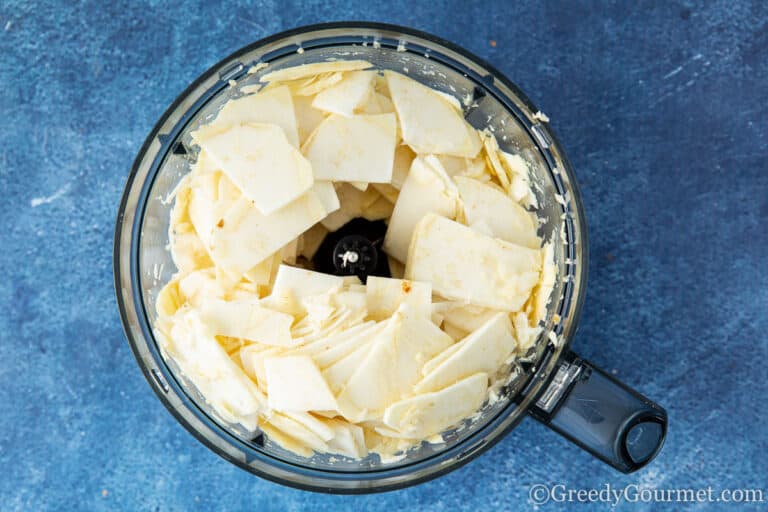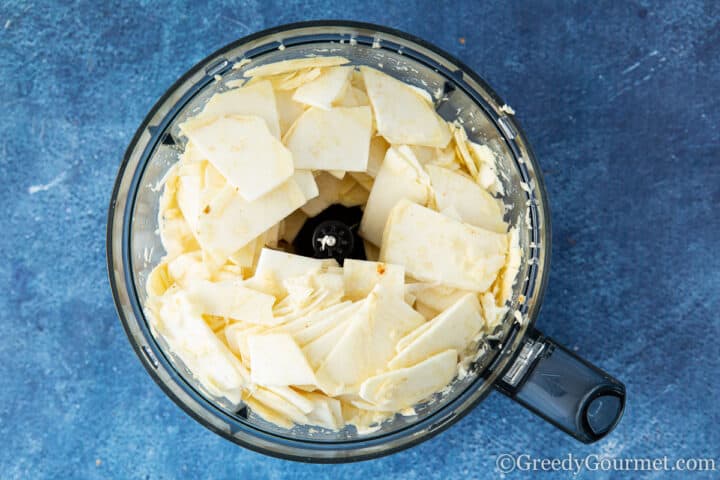 Peel the celeriac then slice as thin as possible. Use a processor to save time.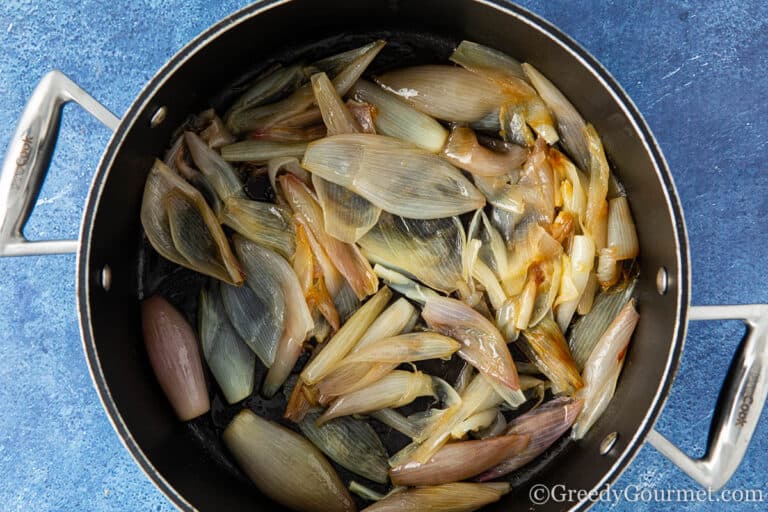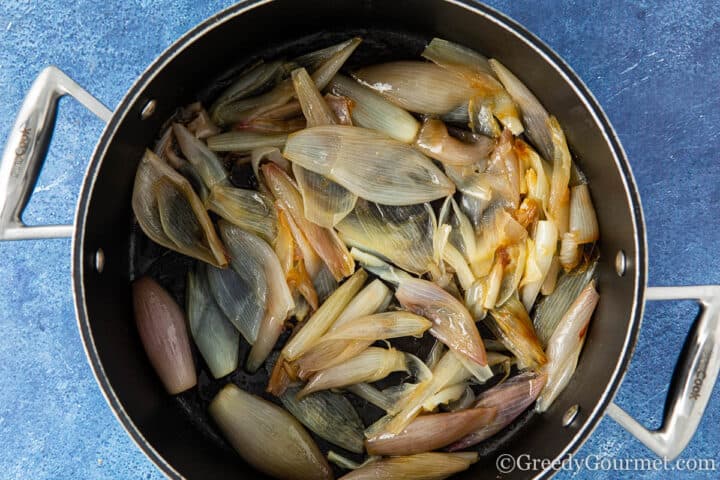 Caramelise the shallots in butter until softened.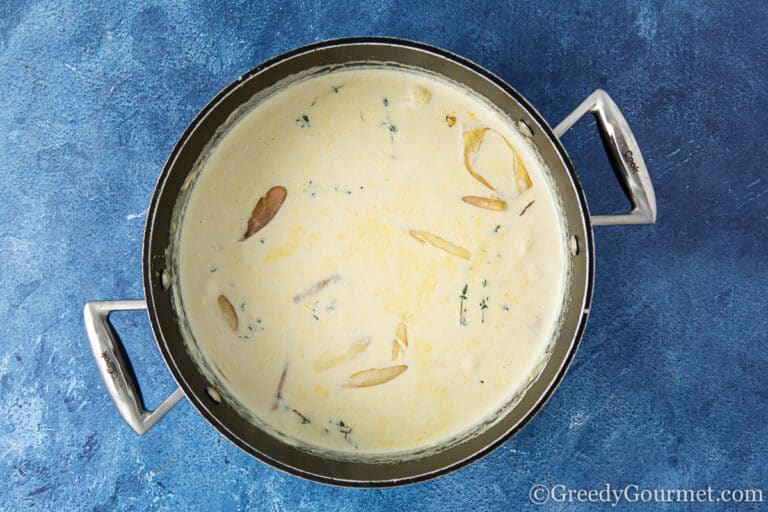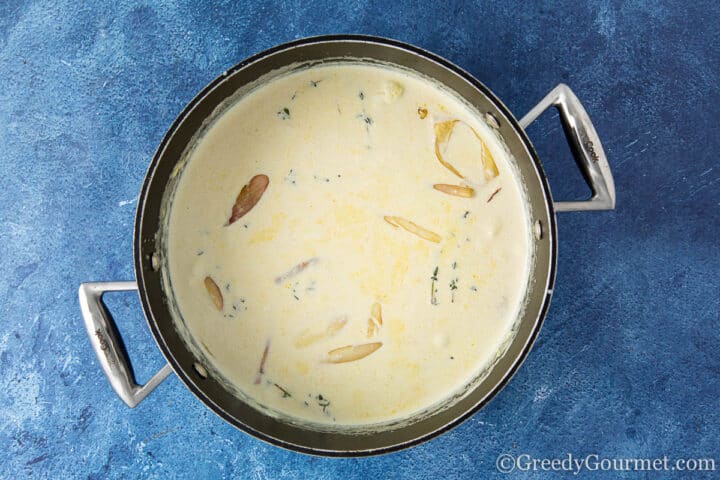 Add the thyme, cream and milk. Bring to the boil then immediately remove from heat.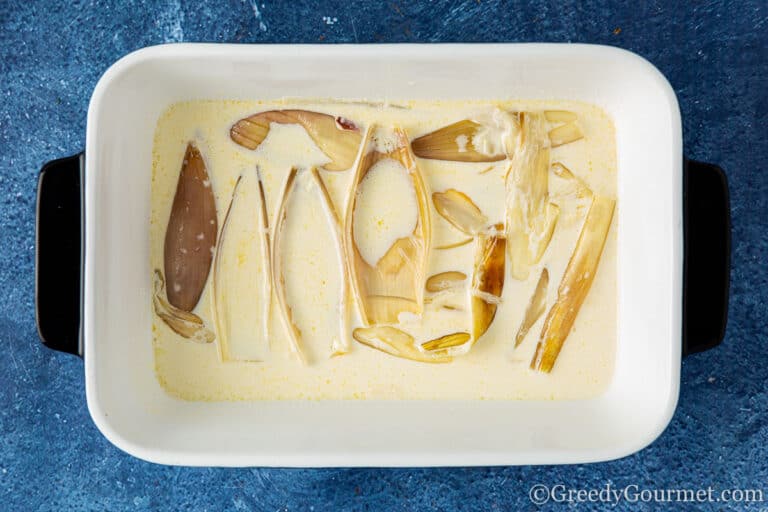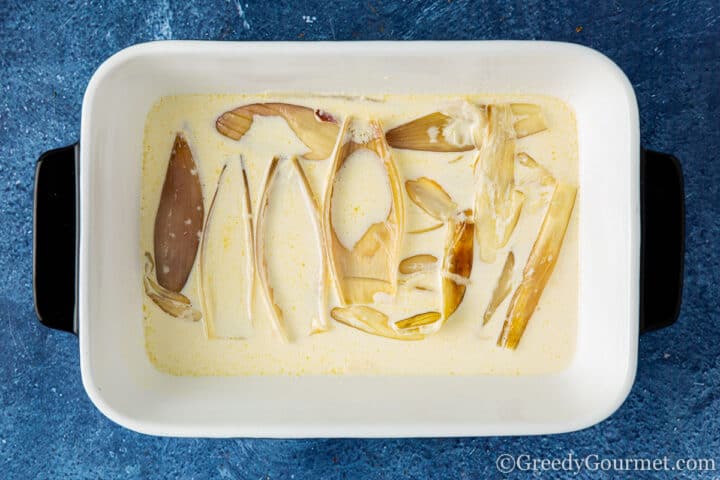 Layer the shallots and cream sauce.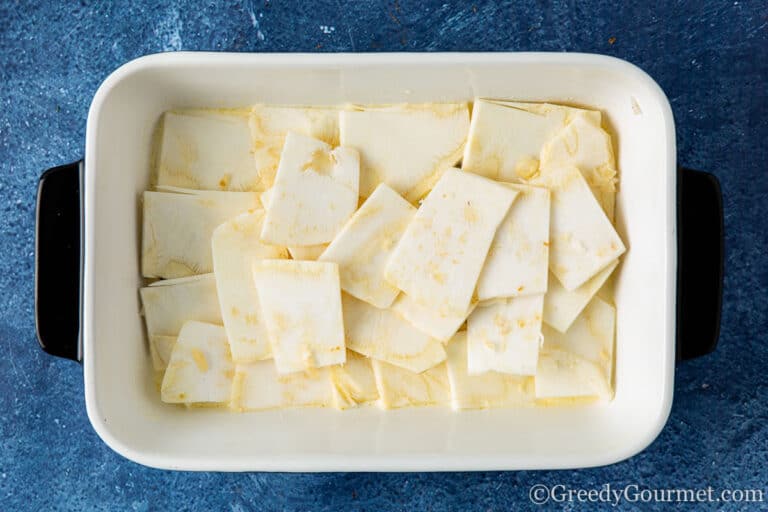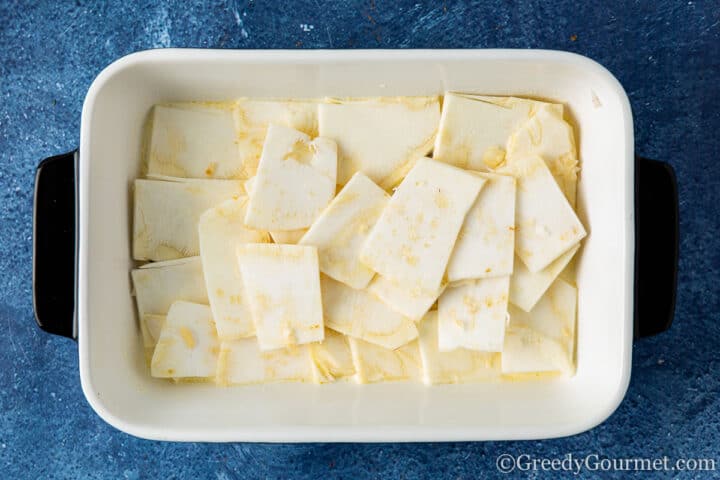 Add a layer of celeriac slices.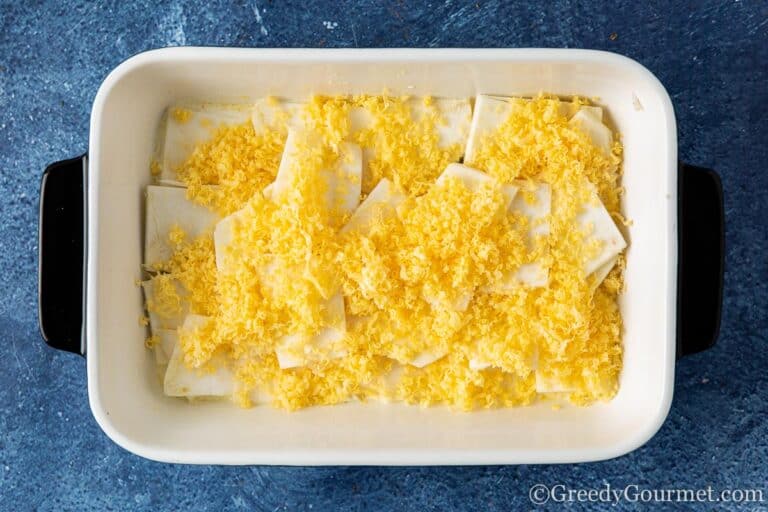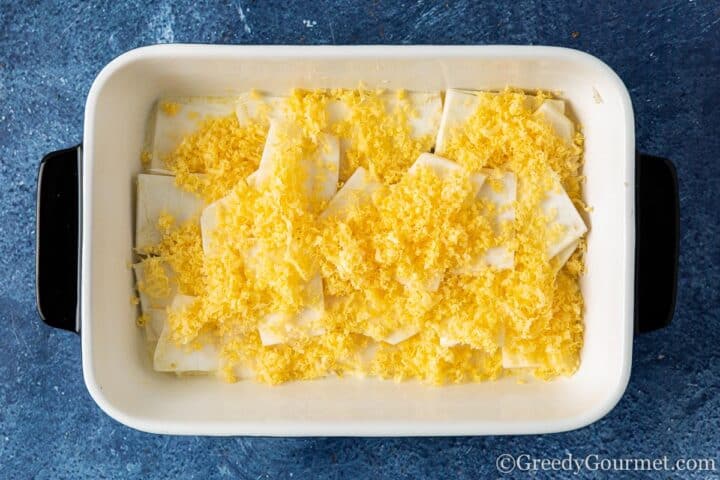 Top with a portion of the grated cheddar cheese.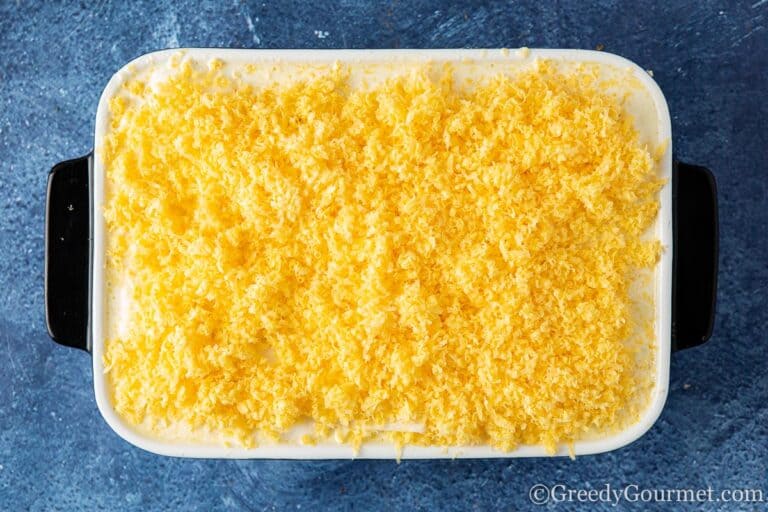 Repeat this process until the baking dish is full and end with the cheese layer. Bake until cooked and golden.
Top Tip
One of the best recipe tips for this is to get the celeriac slices as thin as possible so that all of the flavors can intermingle, and so it will have the signature potatoes au gratin feel.
How do I store leftovers?
Leftovers can be stored in the fridge or freezer, though they may not last very long in the freezer since there will be large amounts of air that could exacerbate freezer burn.
How Long Will This Food Last In the Fridge?
Celeriac gratin should last at least 3 days when properly stored in an air-tight container in the fridge. This makes it a great option for doing meal prep and can give you several days' worth of gratin to use with the week's lunches or dinners.
How do I Reheat This Dish?
Gently reheating in an ovenproof dish is the ideal way to reheat the celeriac.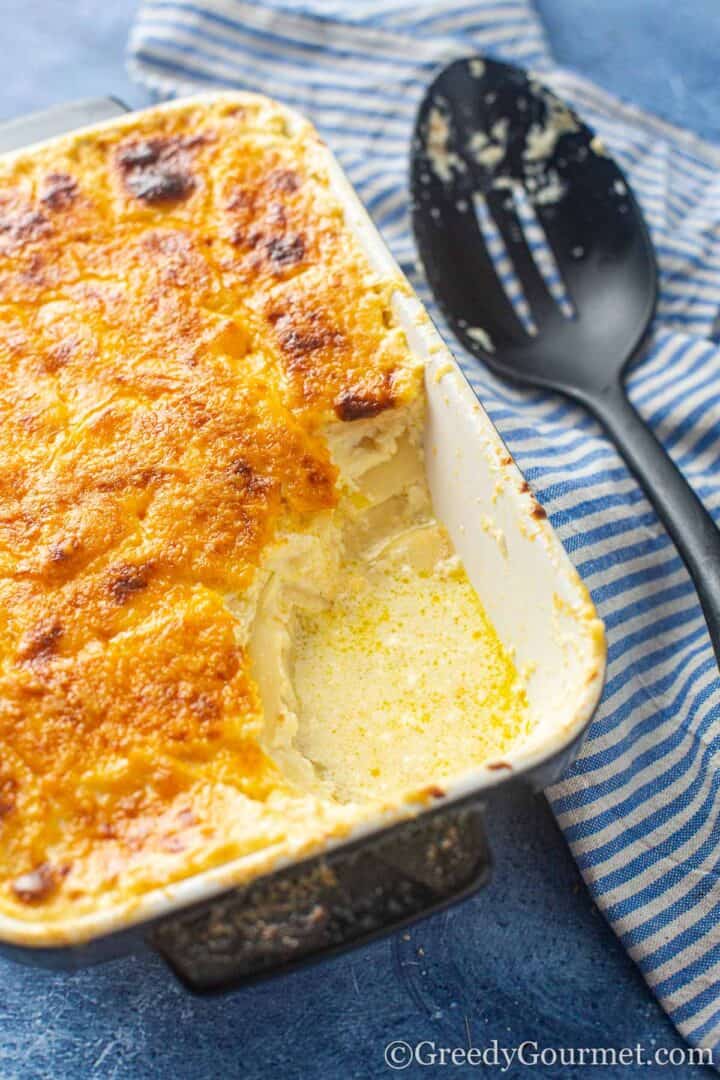 Other Celeriac Recipes You'll Love
Celeriac Rémoulade – This is one of the absolute healthiest side dishes, celeriac or otherwise, and best of all, you can pair it with nearly any other meal. One of the majorly appealing factors of this recipe is the crunch of the celeriac. For those on calorie-restricted diets, the fresh crunch of this dish helps get that crunch fix without overstepping your diet. This makes it a great starter salad, and while not entirely vegan, it's well vegetarian, and only uses a modicum of mayo. For a variation that does fit with vegans, you simply need a vegan alternative for the cream or mayo, and in less than 20 minutes you're done.
Celeriac Puree – If you have a savoury meat choice lined up for your main meal, such as grilled chicken or steak, even grilled pork chops or tenderloin, make this delicious and creamy celeriac puree an elegant accompaniment to the meal. It leaves the usual plain mashed potatoes in its dust and gives a much healthier alternative anyway.
One of the many draws of this recipe is the fresh earthy taste that has nutty notes. It's refined but not boring, but since it is rather mild on its own, it takes to a wide variety of seasonings quite easily. Salt and pepper are common, as is a pinch of cayenne, smoked paprika, and even various spice blends kick the puree into high gear.
Don't forget to come back and let me know how your recipe turned out!
Print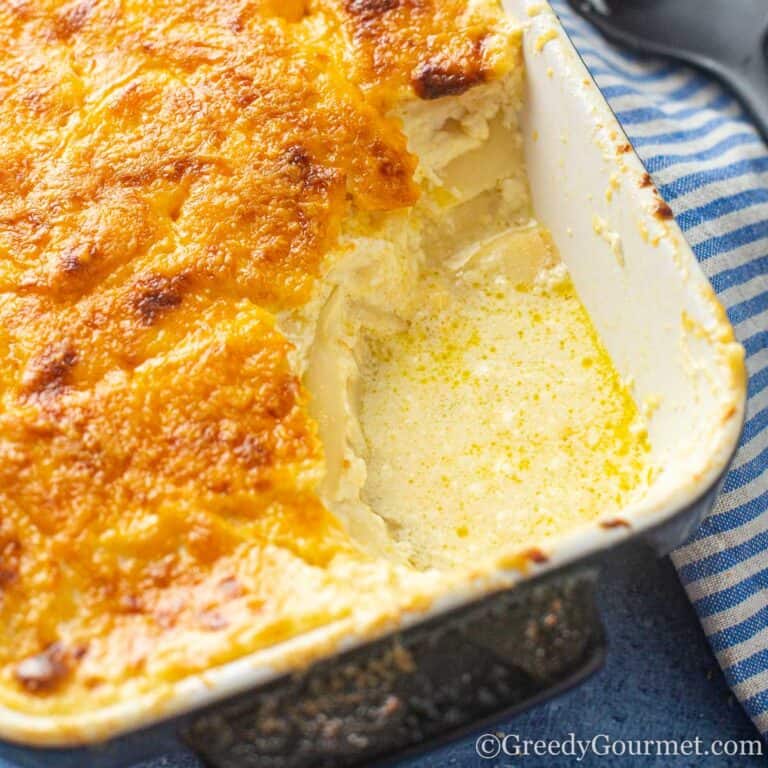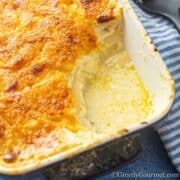 Celeriac Gratin
---
Author:

Michelle Minnaar

Total Time:

1 hour 50 minutes

Yield:

8

servings

1

x

Diet:

Vegetarian
Description
Celeriac can be a great alternative to potatoes if you're trying to lower your carbs. This Celeriac Gratin is simple to make and only needs a few ingredients.
---
1

celeriac

25g

(

2 tbsp

) butter

225g

(½lb) shallots, peeled and halved

4

thyme sprigs, leaves only

300

ml (1¼ cup) double cream

300

ml (1¼ cup) milk

100g

(

4oz

) cheddar
---
Instructions
Preheat the oven to 180°C / fan 160°C / 355°F / gas mark 4.
Preparing the celeriac: Peel the celeriac then slice it as thinly as possible. I used a food processor to get the job done in a jiffy. Set aside.
Preparing the Sauce: Melt the butter in a large saucepan and gently fry the shallots for 15 minutes until softened.
Add the thyme, cream and milk. Bring to a boil. Once a boiling point has been reached, immediately remove the saucepan from the heat and set aside. 
Layering the gratin: Use a 23cm x 15cm x 6cm  (9 x 6 x 2.5in) ovenproof dish. Spoon a layer of shallots and sauce into the bottom of the dish and spread out the shallots. 
Arrange a layer of celeriac on top, then sprinkle with cheese.
Add another layer of sauce over the celeriac.
Repeat this process until you end up with a layer of celeriac at the top, then cover abundantly with the remainder of the cheese (or simply use more). 
Cover with foil and bake for 1 hour in the oven. 
At this point, the vegetables should be tender and you're now aiming for that golden, crispy topping everyone yearns for. So crank up the oven's temperature to max and keep a keen eye on it. It should take about 15 minutes to reach the desired texture and colour. 
Remove from the oven and serve immediately. Enjoy!
Notes
After the celeriac is peeled, you should have around 450g (1lb) of flesh to work with, which is sufficient for this recipe.
Prep Time:

20 minutes

Cook Time:

1 hour 30 minutes

Category:

Side Dish

Method:

Bake

Cuisine:

French
Keywords: celeriac gratin recipe, keto celeriac gratin, celeriac side dish recipe, celeriac recipe, christmas side dish, celery root gratin