Celeriac remoulade is one of the healthiest side dishes that pairs with practically anything. Smoked salmon and celeriac remoulade are quite the popular combination, which you might have seen already.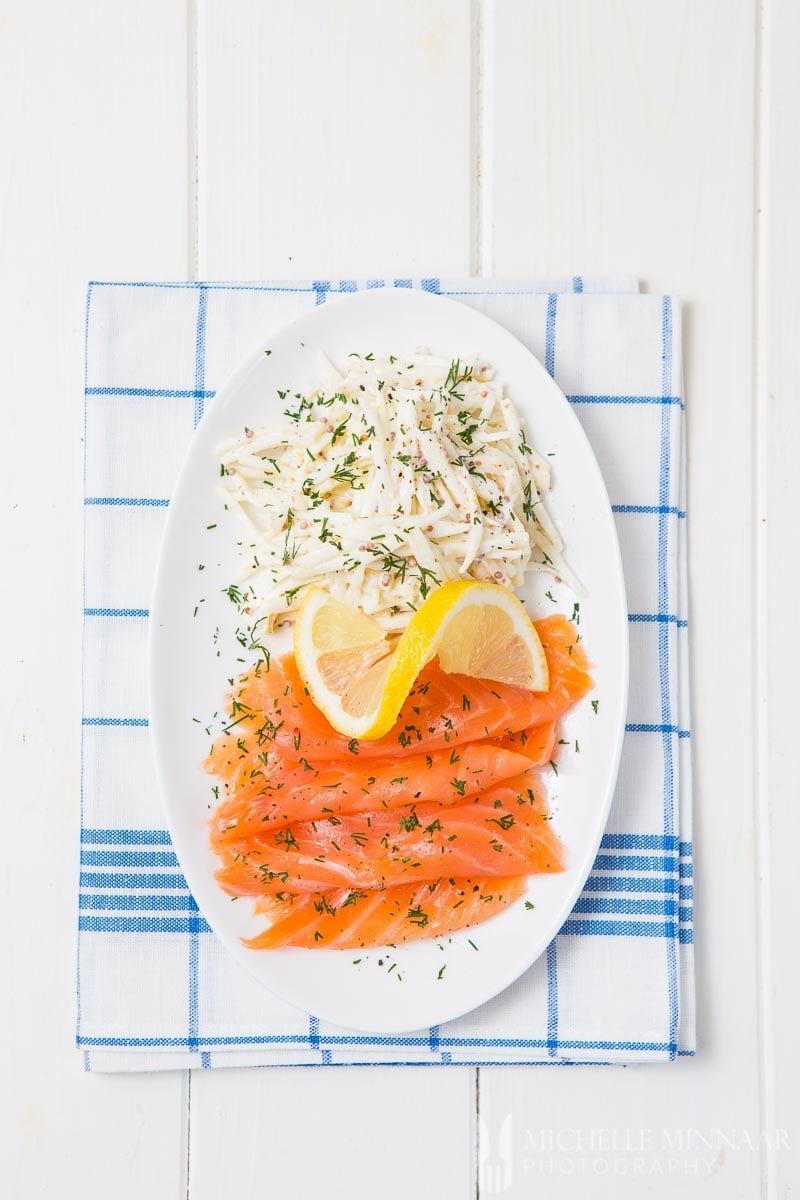 If you ask me about my favourite part of a fresh celeriac recipe, then I'll gladly tell you that the crunch factor is what you need to look forward to. Celeriac remoulade recipes are perfect if you are on a calorie diet or if you seek a healthier lifestyle.
It is commonly enjoyed as a side dish or as a starter. If you double up, you can also eat it alone as a celeriac remoulade salad.
This celeriac remoulade can be easily mistaken for a vegan coleslaw salad. However, this celeriac remoulade uses far less mayonnaise than a traditional coleslaw recipe usually requires.
For a healthier option, you can also opt to use a vegan alternative for the cream. Preparing this recipe from start to finish should not take you more than 20 minutes – including clean up! Take advantage of this amazing root vegetable!
Celeriac remoulade definition
Celeriac remoulade, in definition, is very thin slices of celeriac, mixed with cream, yoghurt, lemon juice and seasoned to taste. You can make various types of remoulades, however remoulades work best with vegetables that have a harder texture.
Good substitutes for celeriac are parsnip, kohlrabi or carrots. If you haven't got a clue what celeriac is, you might want to know the different between celeriac and celery.
Otherwise, if you use celery, your celeriac remoulade will have a completely different outcome.
First, celeriac is a beige bulbous root. In comparison, celery is the green stalks or sticks that grow out of the root. These two have two completely different purposes.
The celeriac is perfect for remoulades, making celeriac puree and flavouring stews or broths. It's a very solid vegetable so it takes quite a while to cook.
Whereas, celery sticks are sharper and more tangy. They are a very common addition to creating Italian pasta sauces and you can enjoy them raw with ranch dressing.
You are most likely to find celery sticks at a party within a vegetable platter being served with a healthy avocado dip.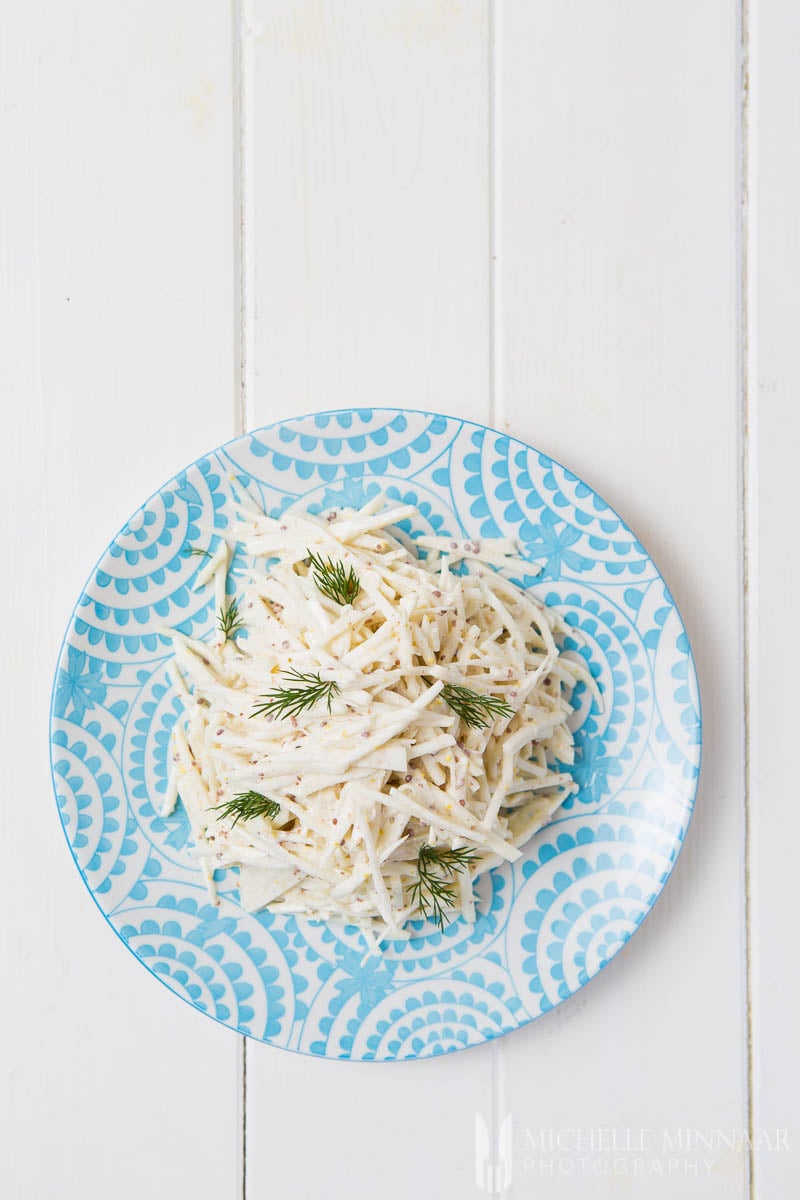 Cleaning celeriac
Now here it is where it gets tricky. Cleaning the root can be a tedious task for those who are unfamiliar with this root vegetable. In most cases, when you prepare the celeriac, you'll notice that most of the root goes to waste.
This is because it has a lot of dirt in between its tiny roots, so most people just cut off large chunks of the root. To get the most amount of celeriac for your celeriac remoulade, you'll need to dip it into a deep bowl of water and let it soak for roughly ten minutes.
During this time, the small bits of dirt will dissolve, and cleaning the celeriac will be that much easier. More importantly, you won't need to cut really large chunks from this delicious vegetable.
The more celeriac you save during this cleaning process, the more celeriac remoulade you'll be left with. Also, it's always nice to cook sustainably with as little waste as possible!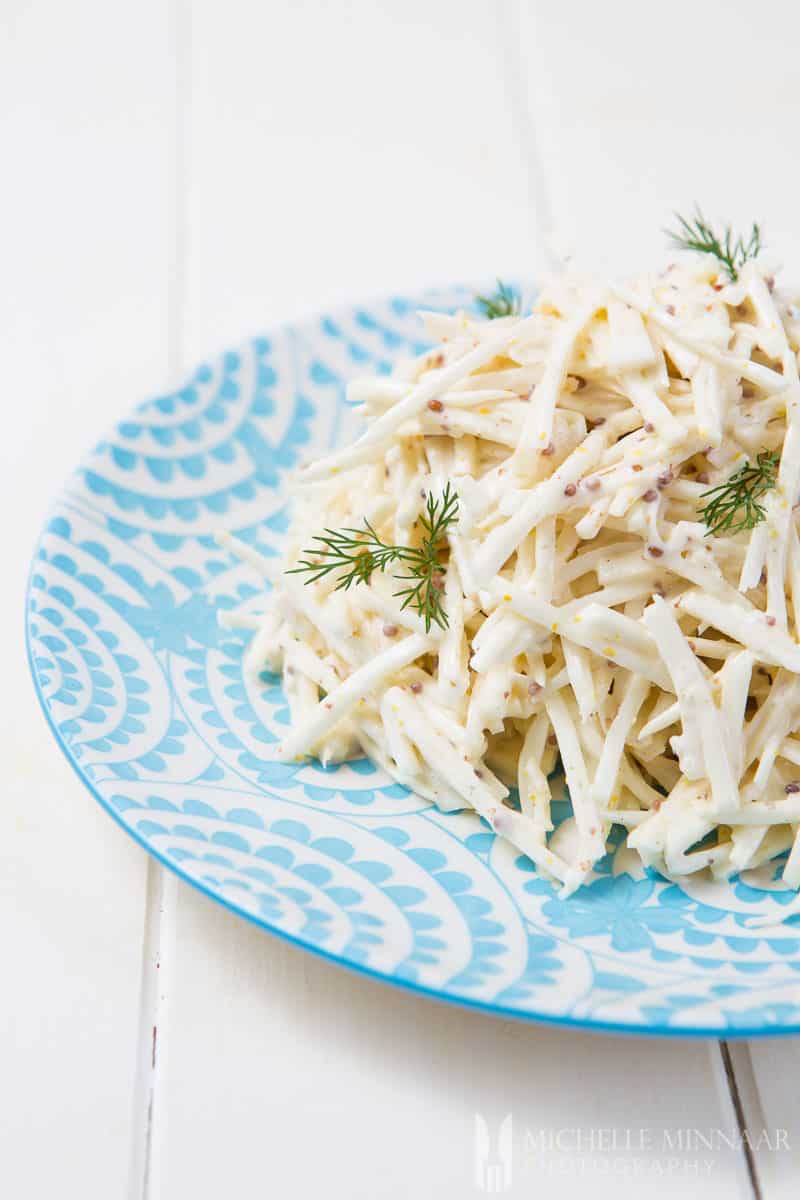 A quick celeriac remoulade recipe
You might be wondering whether it is even possible to enjoy raw celeriac in this remoulade recipe. The answer is very simple – of course!
It's all thanks to the julienne technique! To julienne an ingredient you need to cut it into long thin strips with a very sharp knife.
Consistency and precision are key. Some top restaurants have extreme standards when it comes to serving julienned ingredients and go as far as to measure every single millimeter.
Just think of the size of match sticks. When you julienne the celeriac, it is very enjoyable to eat and it will be much softer. Once you master this cutting technique, you can also use it in other stir fry recipes like this one.
Celeriac remoulade yoghurt
Preparing the mixture for the celeriac remoulade is just as important as the cleaning process of the root vegetable. Generally speaking, this celeriac recipe calls for mayonnaise, double cream and whole grain mustard.
However, it's completely fine to use vegan alternatives. For extra flavour, add a dash of Dijon mustard and sprinkle some cayenne pepper on top for a that lovely kick.
Don't forget to season with salt and pepper and add the lemon juice to prevent browning!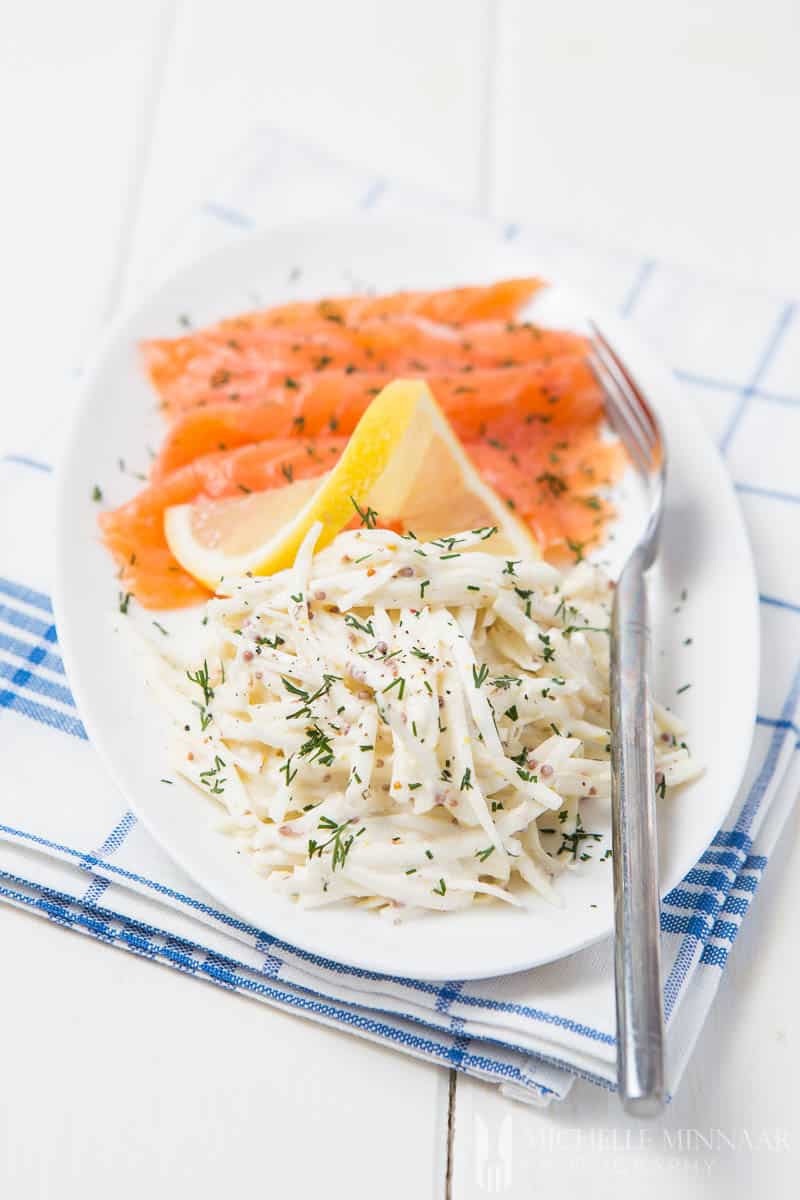 Fennel and celeriac remoulade
If you feel like something is still missing and your celeriac remoulade is still not quite there, then you can also add thin slices of fennel. Fennel is very fragrant and will complement the celeriac very well.
Otherwise, I am a huge fan of adding julienned slices of green apples. Make sure that you get those which are very acidic. This way, you don't need to add too much lemon and you can enjoy the natural acidity as well as sweetness from the apples.
If you do decide to go for the apples, fresh sugar peas will also work very well. Don't be shy to experiment a little.
Best celeriac remoulade recipe
There are two things you need to do in order to make this your best celeriac remoulade recipe ever. First, source the celeriac fresh from a farmer's market or grow it yourself.
A bio alternative will result in a more fragrant and sharper flavour. Cooking with fresh produce is always something you should strive to. Not only will you have more flavour, you'll have more nutrients and vitamins. So, that's step one to mastering the perfect celeriac remoulade.
The second element which is crucial for a delicious celeriac remoulade is storage. It's like with any beef stew or pasta sauce, it always tastes much better the next day.
The reason behind this is that the ingredients bind together over time, fusing different flavours. The same goes for a celeriac remoulade recipe.
If you keep it in the fridge overnight, the remoulade will be harmonious and you'll enjoy every single bite of it.
Celeriac remoulade is best served simply with slices of smoked salmon or salmon terrine.
What is your favourite way to enjoy Celeriac Remoulade?
Print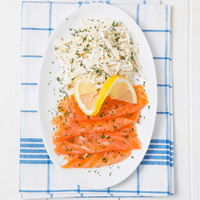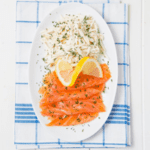 Celeriac Remoulade
---
Description
Celeriac remoulade comprises celeriac, mayonnaise, cream and mustard. It's best served with cold meats & fish such as smoked salmon and ham. Perfect lunch!
---
1

lemon, juiced

1

celeriac, weighing about 450g (1lb)

100

ml (7 tbsp) mayonnaise

45

ml (3 tbsp) wholegrain mustard

45

ml (3 tbsp) double cream

45

ml (3 tbsp) dill, finely chopped
salt and pepper
---
Instructions
Place the lemon juice in a large bowl.
Peel the celeriac and then cut it into matchsticks. As you finish slicing batches, place the julienned celeriac in the bowl with lemon juice and stir thoroughly to prevent the vegetable from browning.
In a separate bowl mix the mayonnaise, mustard and cream.
Stir the sauce into the celeriac.
Season to taste and sprinkle with dill.
Place in the fridge for a couple of hours for the flavours to fully develop, then serve.
Notes
Serving Suggestion
Serve with thin slices of ham, smoked salmon, watercress salad or toast.
Notes
Alternatively, you can use a mandolin in order to save time.
You can substitute the wholegrain mustard with Dijon.
You can easily adjust the sauce quantity to your preference; just stick to the ratios.
Nutrition
Serving Size:

1 serving

Calories:

196

Sugar:

3.8 g

Sodium:

306 mg

Fat:

13 g

Saturated Fat:

4 g

Carbohydrates:

19.7 g

Fiber:

2.9 g

Protein:

2.8 g

Cholesterol:

22 mg
save the recipe to your pinterest board