Quick and easy, this delicious celeriac puree recipe makes the ideal side to a flame-grilled steak, grilled chicken or a nut roast.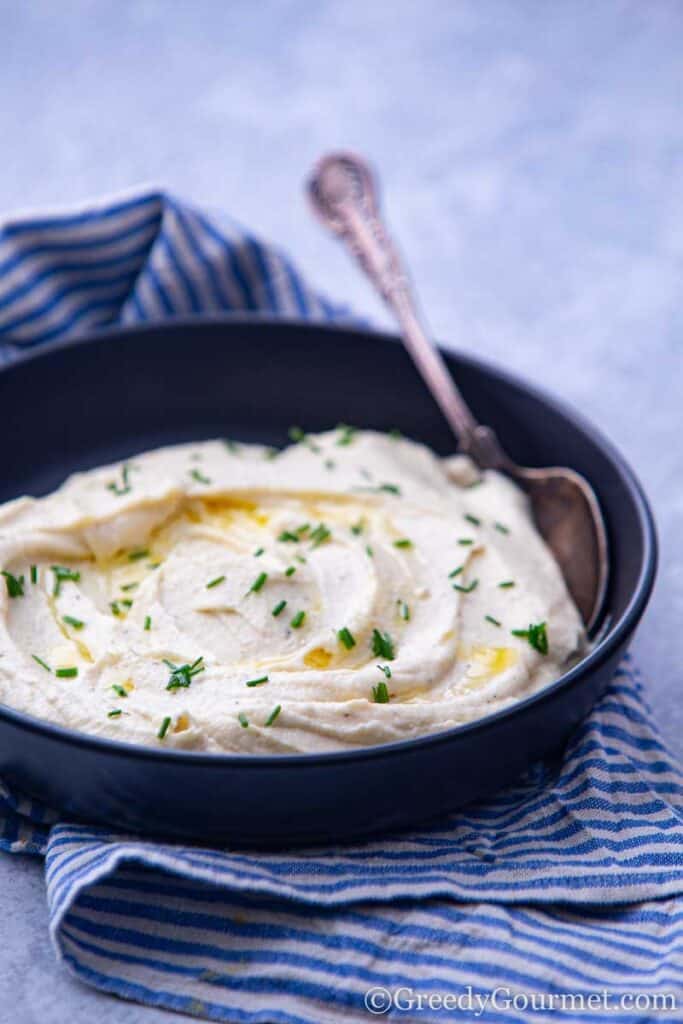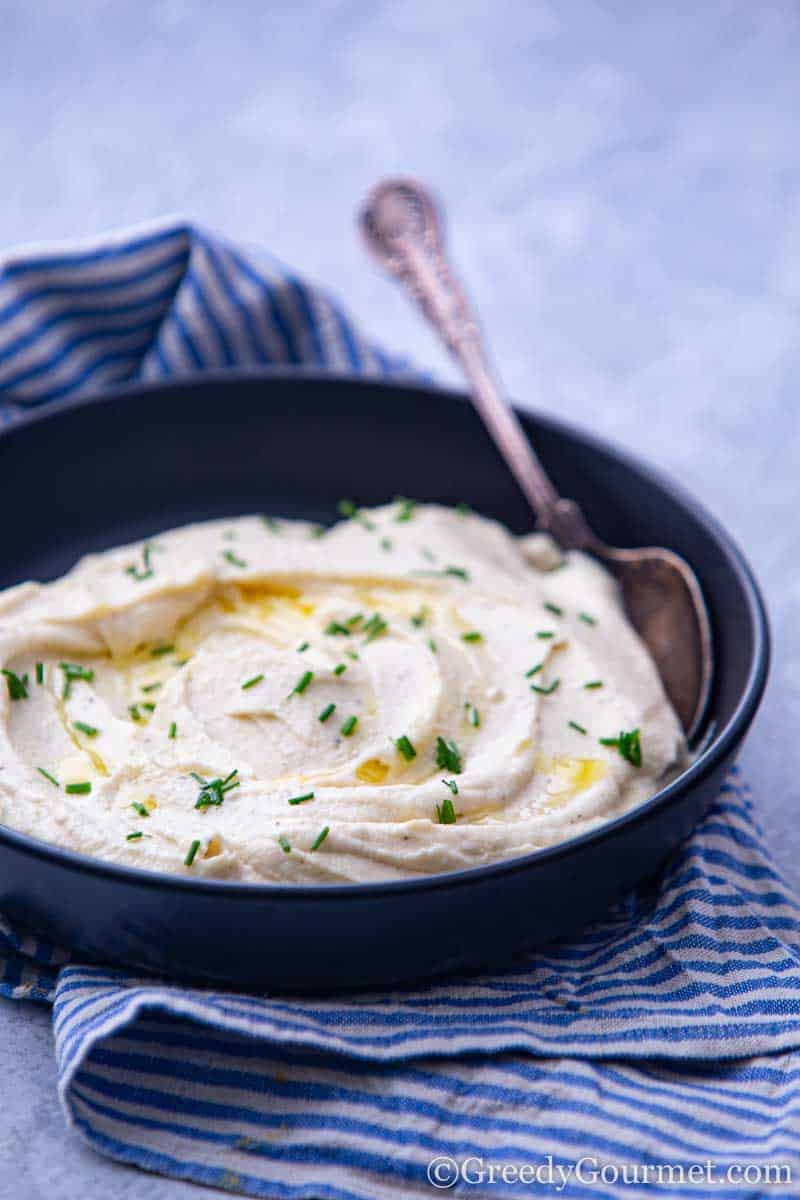 Want to know how to make this elegant creamy puree? It's surprisingly straight-forward. So, if you're bored of the same old mashed potato recipe and want a great alternative, this is the recipe for you!
Products you need for this recipe
Here's what you'll need to make this celeriac puree recipe:
Food processor or a high speed blender – either a food processor or a blender will come in handy when making anything from quick purees and dips to soups and smoothies. It's worth spending a bit extra to get something that's high quality and will stand the test of time
Baking tray – roasting the celeriac is going to give your puree a real depth of taste
Paring knife – the only way to peel celeriac is with a sharp paring knife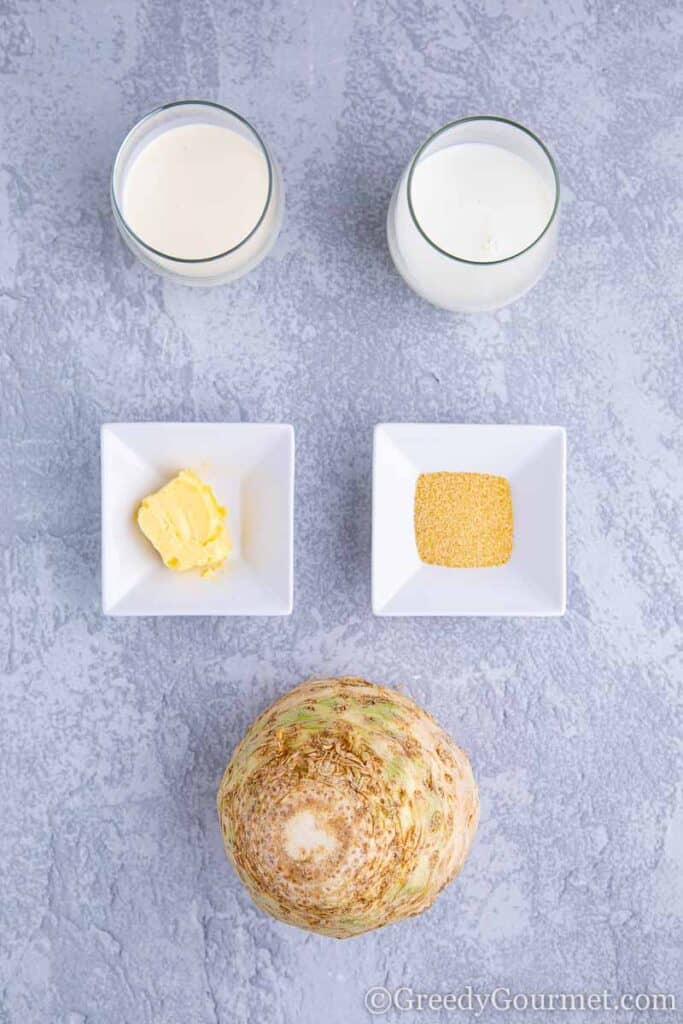 What does celeriac puree taste like?
With hints of nuttiness, mixed with the floral freshness and earthiness that's typical of celery, celeriac is probably the unsung hero of the vegetable world.
It's quite mild in taste, so definitely needs some other ingredients to enhance the flavour. A pinch of salt and black pepper, as well as a knob of butter are a must.
Other ingredients such as herbs (think rosemary and thyme), spices (a pinch of nutmeg or cumin) and garlic are optional.
Roasting it really gets the best out of this humble vegetable. Like any roasted vegetable, this will serve to intensify the flavour.
In terms of texture, celeriac has a natural starchiness that makes it smooth when mashed. Again, butter and cream will not only add to the delicious creamy flavour, but add a smooth consistency.
How do you prepare celeriac?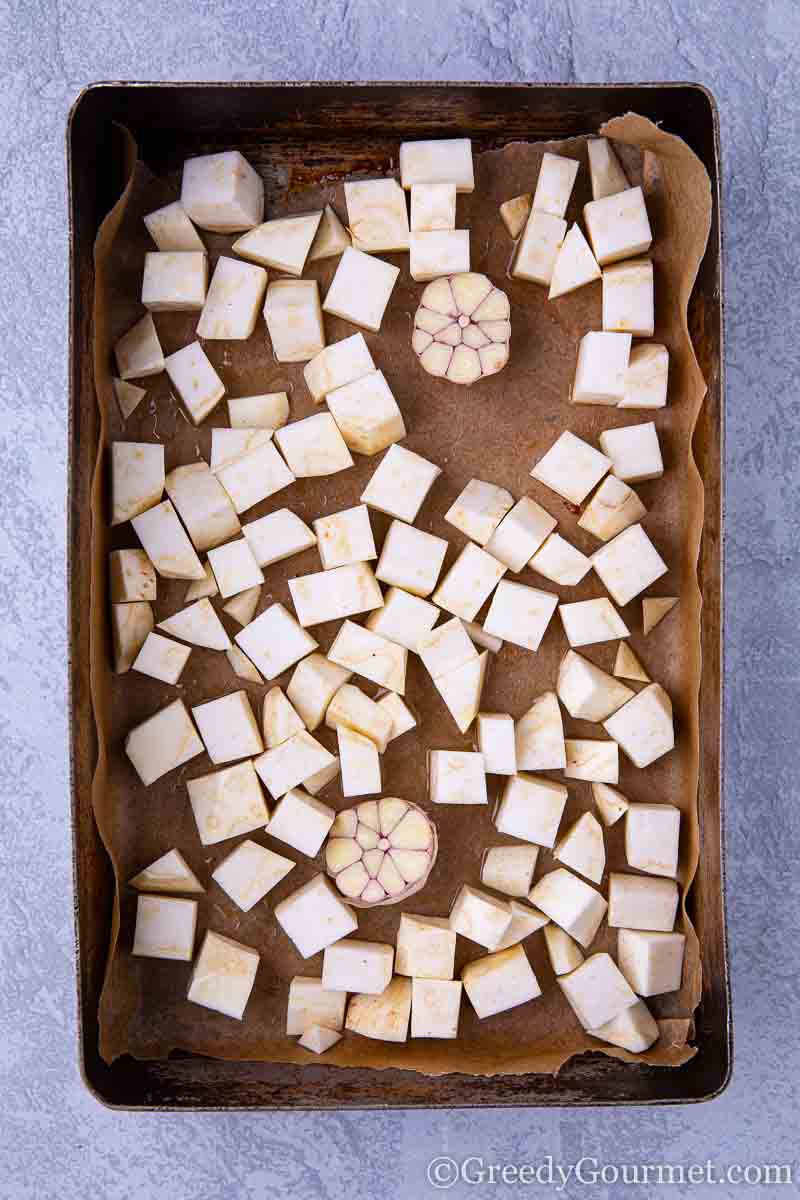 First of all, ditch the vegetable peeler for this bad boy. Celeriac is like a big gnarly creature from another planet – albeit one that tastes fantastic.
That's why a vegetable peeler is no good. You'll need something with a bit more stability to whip your celeriac into shape.
Use a paring knife to peel thin vertical strips from the celeriac. Once you've taken off the outer part of the celeriac, you'll be left with a far more appetising cream coloured vegetable, ready for roasting.
Cut your new and improved celeriac into 3cm cubes, brush with oil, scatter evenly across a baking sheet lined baking tray and you're good to go!
How do you store celeriac puree?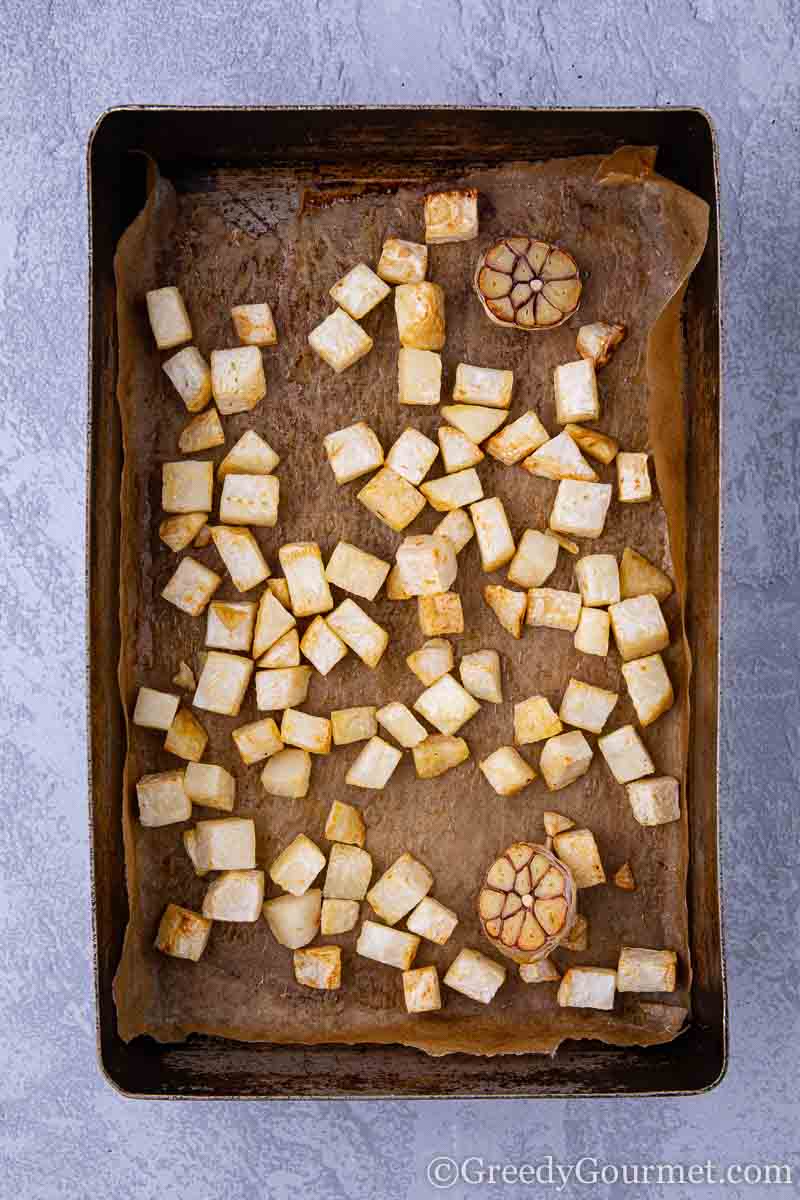 If you make a big batch of dish you can easily store it away for another day. Keep it in an airtight container in the fridge for about 3 days.
Can you reheat celeriac puree?
You can easily reheat this recipe. Reheat it on the hob in a saucepan on a low to medium heat until properly heated through.
Is celeriac good for you?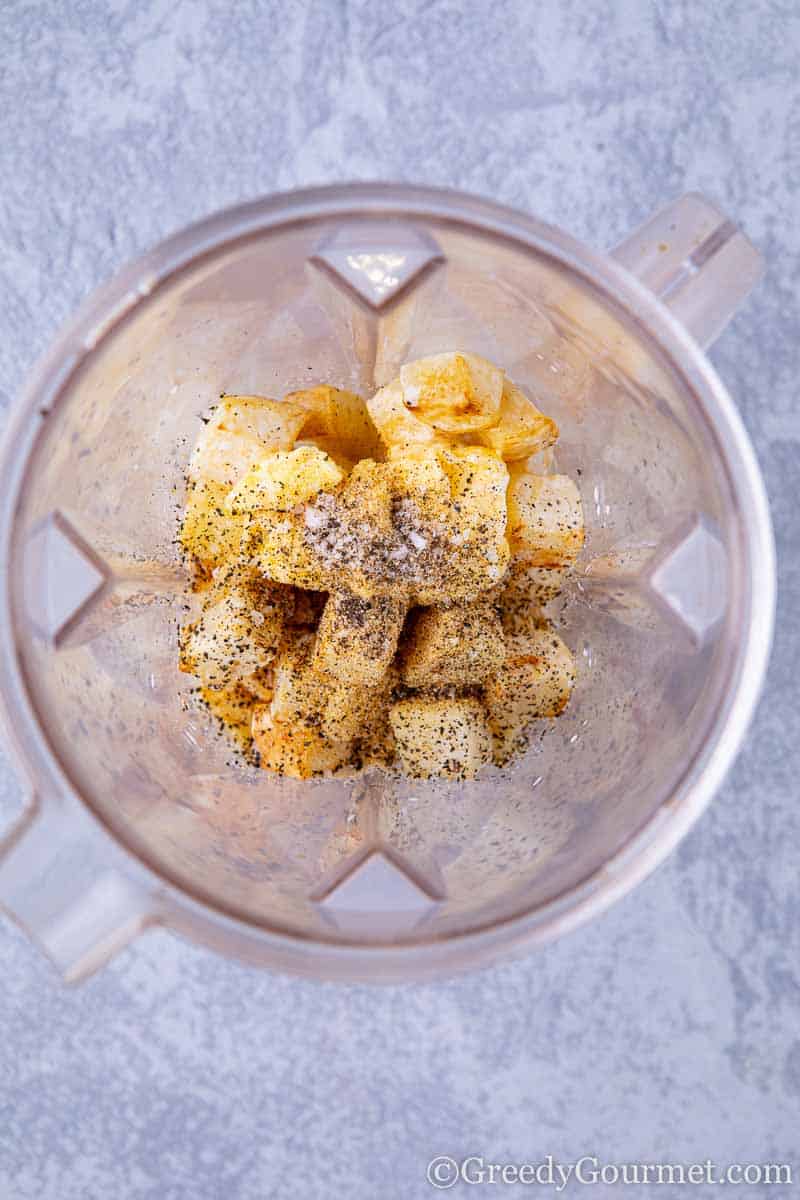 Celeriac is a very healthy vegetable that is full of antioxidants, vitamins and minerals. Also, when compared to potatoes, it's relatively low in carbs.
As well as being packed full of vitamin K – which helps promote a healthy heart and healthy bones – celeriac is high in fibre, which is good for digestive health.
It's also high in vitamin C, as well as minerals including potassium, phosphorus and manganese.
What do you eat with celeriac puree?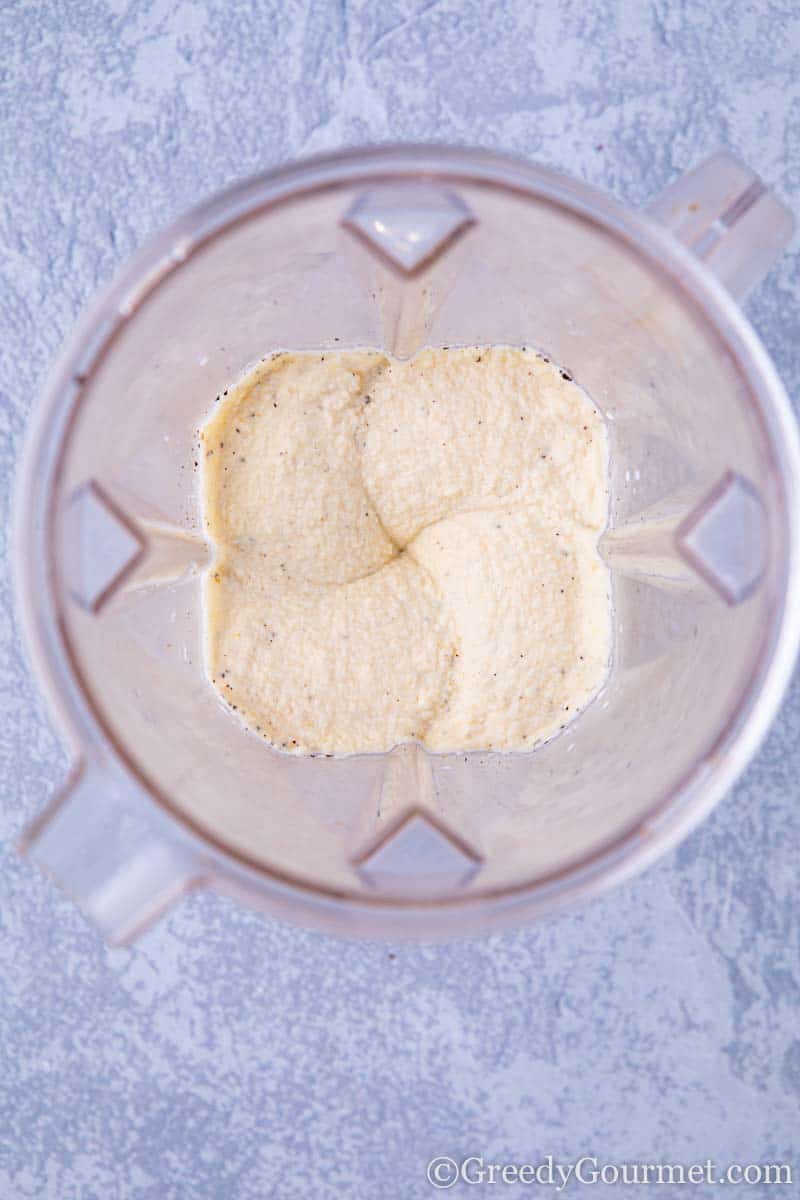 The real appeal of this dish is as an accompaniment to a rich and hearty main. It works just like mashed potato, albeit a bit lighter. The light, creamy, slightly nutty taste is tailor made to side beside dishes that are packed with big flavours.
Try out the following:
BBQ pulled lamb – tender, tasty and enough to make your mouth water at just the prospect, this dish is pure heaven. Each mouthful is a taste sensation. Serve a little mash or puree on the side to seal the deal
Rabo de toro – a Spanish classic, this oxtail dish is so rich and full of flavour. This puree would make the perfect foil
Pan fried duck breast – another incredibly tasty dish, this one is very quick to make but tricky to master. The richness of the duck and the nutty creaminess of celeriac mash would make a wonderful duo
Grilled lamb loin chops – lamb and celeriac really are great together. Pair your celeriac puree with these quick and delicious lamb chops for a fuss-free Sunday lunch that delivers plenty of flavour
Parmigiano reggiano baked cod – healthy, hearty food just doesn't get any better. The star ingredient is the parmesan, which elevates this dish to an entirely new level of flavour and complexity
Roast Indian leg of lamb – there's roast lamb dishes and then there's this. Complex spices intermingle to dance on your tastebuds, while the crispy/tender texture is a winning combo. Pair it with this dish and call the rest of the day off 
Beef ossobuco – an intense Italian stew that's got that classic rustic elegance, this recipe would pair perfectly with the mild creaminess of roasted celeriac puree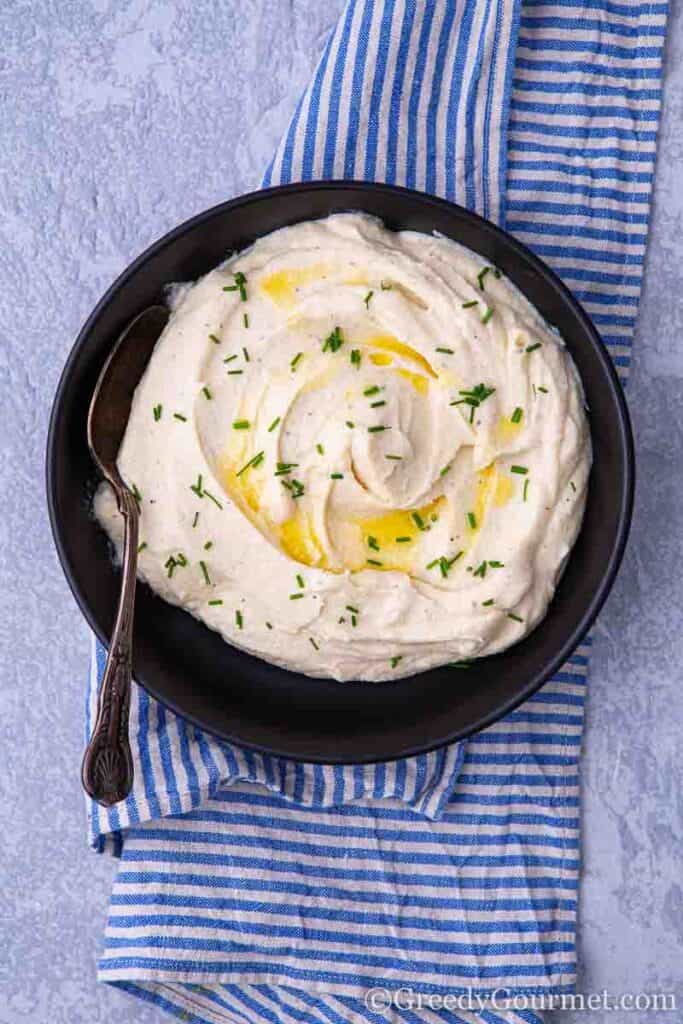 More amazing side dishes
Need some more side dish inspiration? Check these out:
Print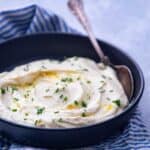 Celeriac Purée
---
Author:

Michelle Minnaar

Total Time:

45 minutes

Yield:

4

servings

1

x

Diet:

Vegetarian
Description
This Celeriac Puree comprises roasted celeriac blended with milk and cream, forming a creamy side dish to complement any keto main course recipe.
---
1

kg (2lbs) celeriac

30

ml (2 tbsp) olive oil

14g

(

1 tbsp

) butter

45

ml (3 tbsp) milk

100

ml (⅖ cup) double cream

2g

(

1 tsp

) onion powder [optional]
salt and pepper, to taste
---
Instructions
Preheat the oven to 200°C / fan 180°C / 400°F / gas mark 6.
Peel the celeriac, then cut into about 3cm (1½in) cubes.
Arrange the celeriac cubes in a single layer on top of a baking sheet and brush with oil.
Roast in the oven for 15 minutes, then stir and bake for another 10 minutes. The cubes should be browned and fork tender. In case the celeriac isn't cooked, roast it a few more minutes in the oven until a fork enters with ease.
Tip the cooked celeriac cubes into a food processor, along with the butter, milk, double cream and onion powder. Process until smooth.
Season to taste and serve as a side dish. Enjoy!
Notes
Adjust the amount of milk and cream used to suit your preference.
You can use a food processor or a high speed blender to puree the vegetable.
Prep Time:

15 minutes

Cook Time:

30 minutes

Category:

Side Dish

Method:

Roast

Cuisine:

French
Keywords: celeriac puree, celeriac mash, roasted celeriac, mashed celeriac, celeriac recipe, how to cook celeriac