This basic risotto recipe is a great one to master. Perfect for anyone's cooking repertoire, risotto is always a good idea at any occasion – whether it's served as a main course or a side dish. What I like most about prepare this basic risotto is the fact that you can add your own little twists to it. However, all you need with this basic risotto are a few shavings of Parmesan and you are good to go.
The key to making the perfect risotto is patience! This is not one of my best qualities, I must admit. However, when it comes to risotto, waiting and stirring properly pays off in the end. Remember to keep adding the liquid slowly and in small doses. Also, season generously with salt and pepper! I hope you enjoy making this delicious recipe!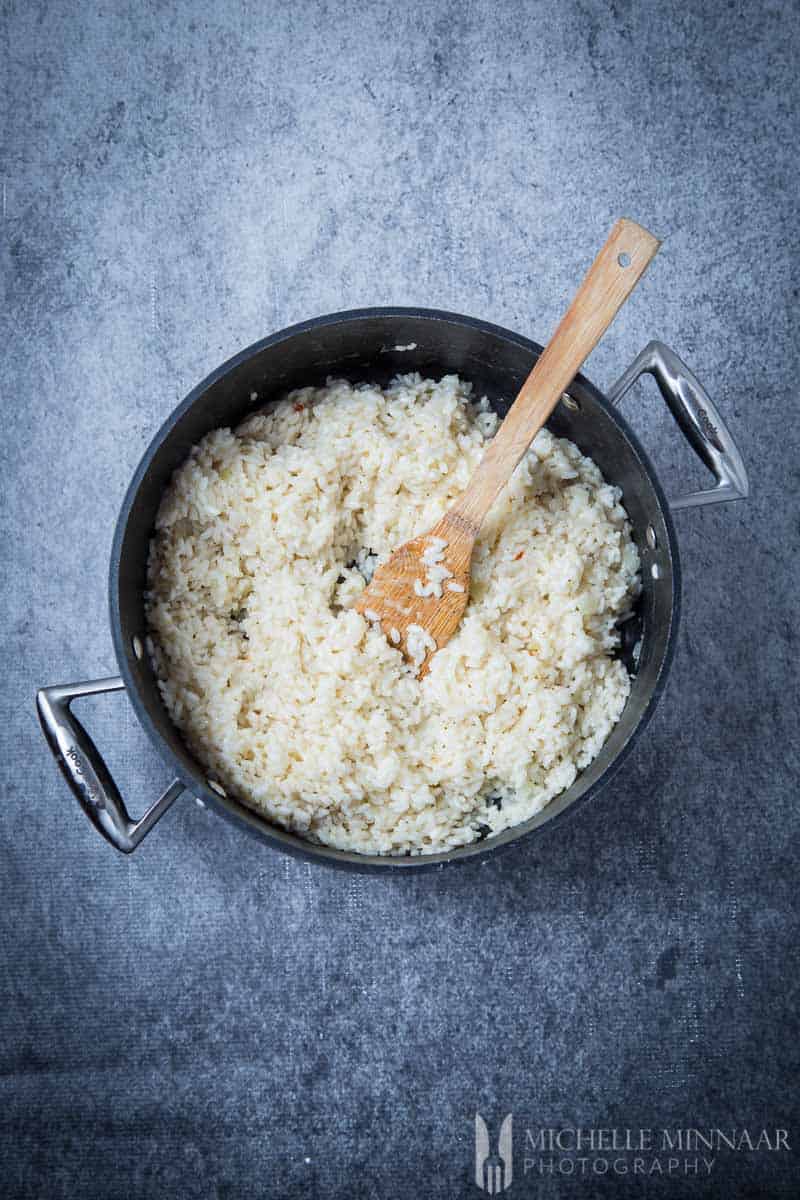 the rice
There is only one type of rice you need when you make this basic risotto – arborio rice. This ingredient is a special Italian rice which is creamy and firm at the same time. It's named after its town of origin, which is Arborio. It is a white short-grained rice, which is suitable for making the basic risotto because it releases its starches while you cook it. This is what makes the risotto so creamy and smooth. I really wouldn't recommend going for normal long grain rice or basmati rice. These are not great for making risottos. If absolutely necessary, you should go for other short grained white rice, but the result will never be the same as with arborio rice.
Before you start with cooking the rice, you should fry the onions in a bit of butter or olive oil. Personally, I prefer using butter as it's creamier. Sometimes, olive oil can be overpowering, and it can impact the flavour of the basic risotto. If you have olive oil that's not too fragrant, then it should be okay. Go easy on the oil though, you don't want to end up with a greasy basic risotto with a layer of oil at the top.
the onions
You can use any type of onion apart from a red one. The red onion releases a lot of colour, so you would end up with a purplish looking risotto. The best would be to use the Italian white onion, which is very smooth and not too strong. I would also recommend using shallots instead of onions. Shallots are more fragrant and two larger shallots should be sufficient.
Remember to chop the onions or shallots finely and evenly, since it's not very appetising to find huge onion chunks in a basic risotto. The small bits will help you distribute the flavour evenly. Once you finish chopping the onion, make sure you caramelise them properly, so they acquire a light golden colour. The onions will loose their tanginess and will become more pleasant to eat.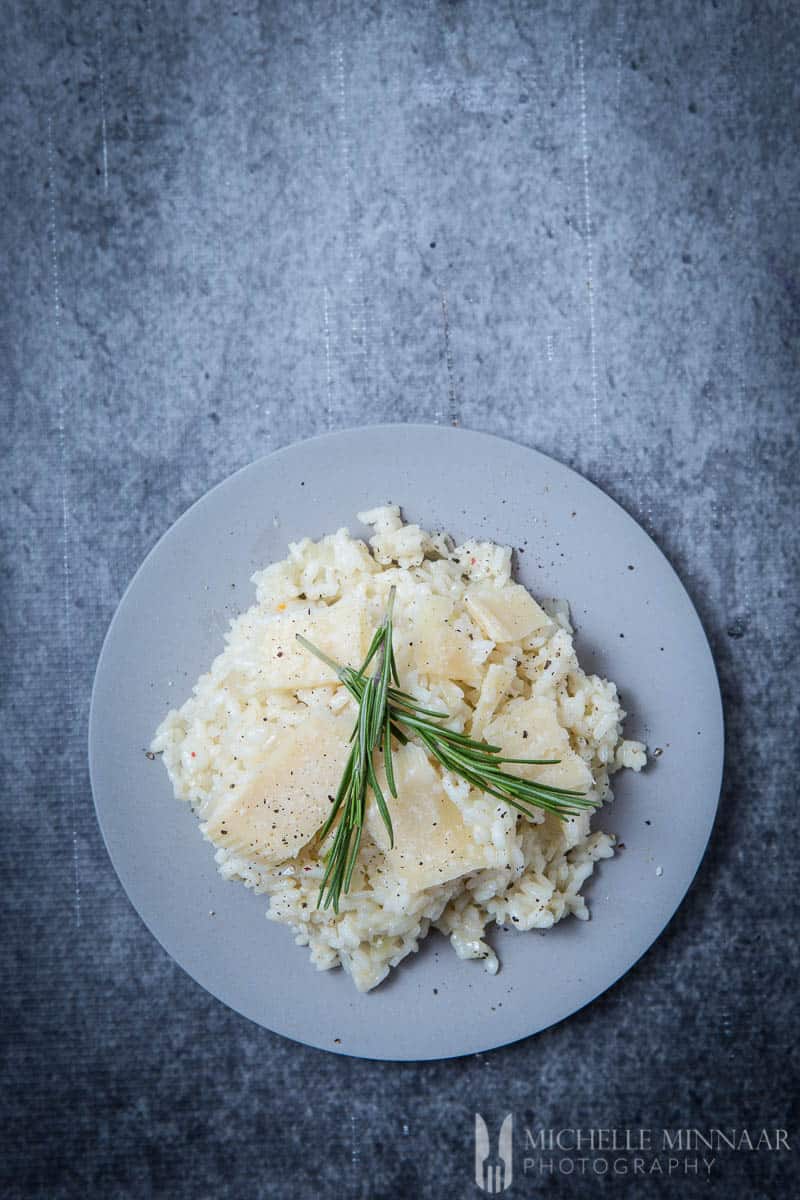 the wine
It's pivotal to pick the right type of wine when making the basic risotto. Make sure that you use a very dry white wine. A lot of people make the mistake of buying a wine that's demi-sec or semi-dry. These types of wines are sweeter and not very good for making risottos. You need a wine that's high in acidity to cut through the rich and intense flavours.
A lot of people wonder whether they should add the wine before or after the stock. The answer is definitely before! You need to add the wine before, so that the alcohol can burn off in due time. Don't worry if the risotto tastes a bit bitter in the beginning. This just means that the alcohol hasn't cooked off yet. Lastly, I like to use a good quality wine, so that I can drink it with the basic risotto. It's also a good idea to sneak a glass of wine while you cook the risotto. Cheers!
the stock
The stock can make or break the basic risotto. I used vegetable stock for this recipe, however, a lot of people also use chicken stock. It's perfectly fine to use both, just avoid beef or duck stock though. Of course, the best type of stock is to use your own. What I like to do is prepare a healthy vegetable soup for the day before. Afterwards, I use the leftover stock for the basic risotto. I am not so keen on using stock cubes because they usually contain all kinds of additives.
Be careful when you add the vegetable stock into the pot. You should never add all the liquid at once. If you do you will overcook the rice. In order to avoid this mistake, make sure you add small amounts at a time and stir vigorously. Again, this is a exercise in patience. If you find this step difficult, just take a sip of wine and enjoy while you stir.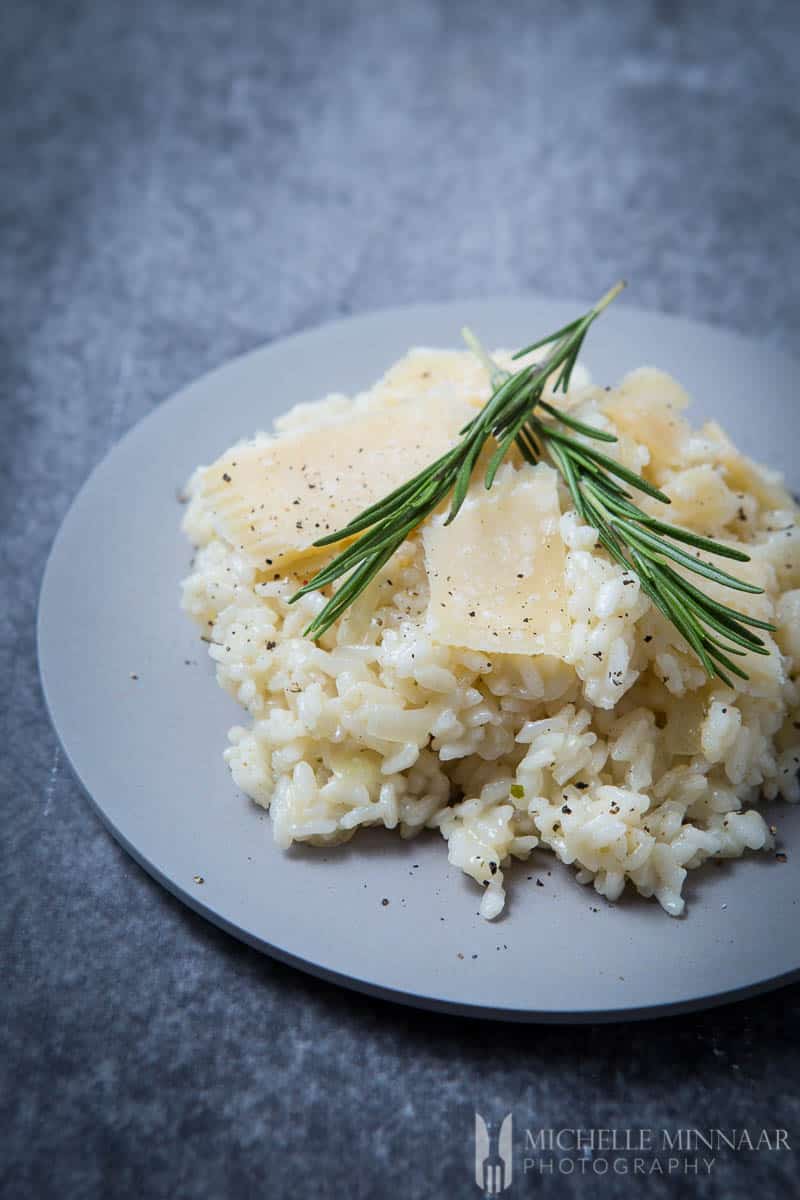 variations
As mentioned before, the best part about this basic risotto is that you can tweak it in any direction you like. I absolutely love using seasonal produce in my risottos. Therefore, I suggest using a butternut squash for a delicious butternut squash risotto. With this recipe, I like to include a bit of sage and top it off with fresh goats cheese. It's best to use a French firm goat cheese.
There is another type of risotto I like to make. This would be the broad bean and lemon risotto.  You can use the basic risotto as a base and just make it to your preference. Who could possibly say no to leek & bacon Risotto though? So, which one will you be making?
toppings
As you can see, I topped this basic risotto with rosemary and parmesan. I didn't include the rosemary inside the risotto itself as the essential oils would be too bitter. It's best to use the rosemary as garnish for a bit of fragrance on the top. Remember, you can serve as a main or as a side dish to something delicious!
What is your favourite risotto recipe?
Print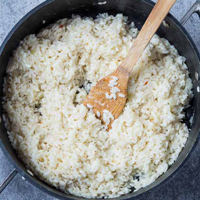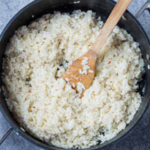 Basic Risotto
---
30

ml (2 tbsp) butter

15

ml (1 tbsp) olive oil

1

onion, finely chopped

500g

(1lb) arborio rice

250

ml (1 cup) white wine

1.25

ℓ (5 cups) vegetable stock
---
Instructions
Gently fry the onion in the butter and oil until translucent.
Add the rice and stir until covered in oil in a large pot.
Pour in the wine and let the rice simmer.
Once the liquid has been soaked up, add a ladleful of stock to the pot. Only add more stock once the rice absorbed most of the liquid.
Repeat this process until the stock is finished and the rice is cooked.
Sprinkle Parmesan cheese on top to finish off the dish.
Notes
Serve as a side dish to a main meal.
To make this recipe completely vegan, omit the butter and use a bit more oil. Don't use Parmesan.
Prep Time:

20 minutes

Cook Time:

10 minutes

Category:

Side Dish

Cuisine:

Italian
Nutrition
Serving Size:

1 serving

Calories:

407

Sugar:

1.5 g

Sodium:

186 mg

Fat:

7.1 g

Saturated Fat:

3.3 g

Carbohydrates:

71.3 g

Fiber:

2.7 g

Protein:

5.9 g

Cholesterol:

10 mg
save the recipe to your pinterest board