This exotic roasted carrot hummus recipe is vegan-friendly, lactose- and gluten-free. It's so versatile you can spread it, use it as a dip or as a condiment with any main meal or snack.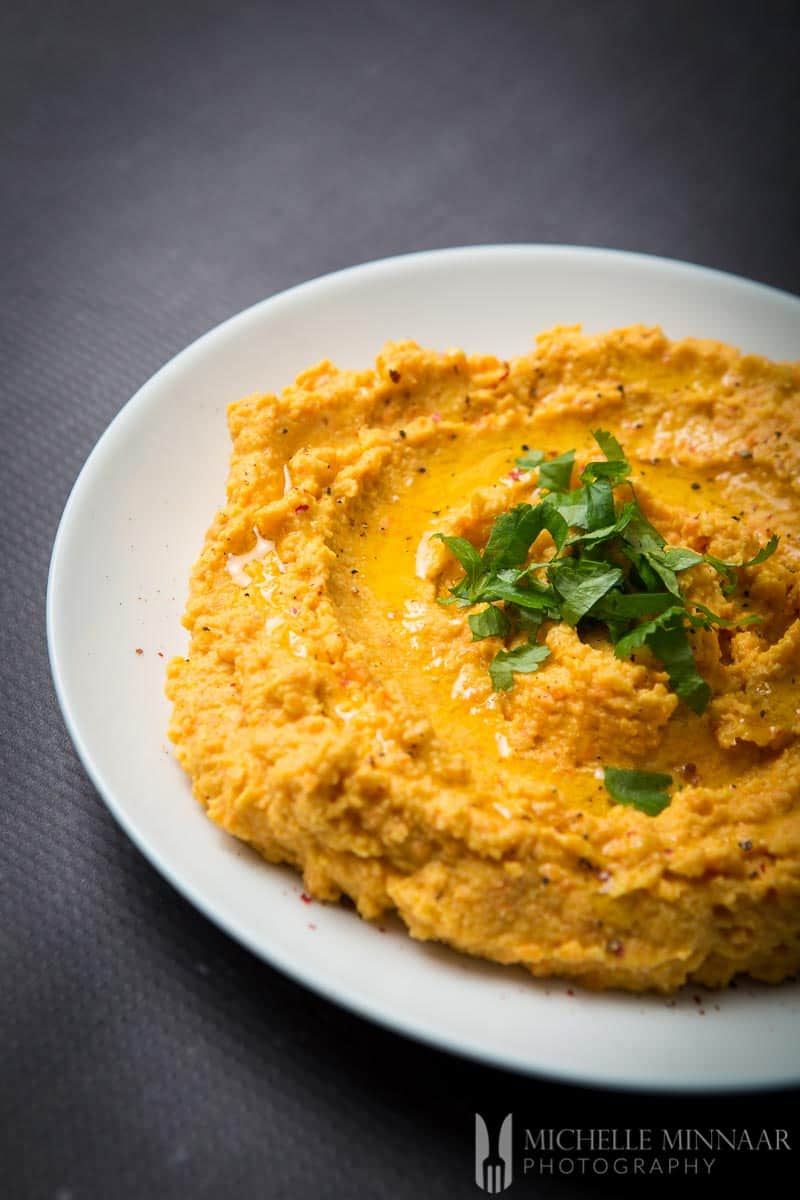 Kids will gravitate to it and you can play with so many different flavours.
Sweet and Savoury
This is a fun, colourful dip which is sweet, thanks to the roasted carrots and slightly spicy because of the traditional cumin.
In my quest to become vegetarian and ultimately vegan, I bought The Happy Pear: Healthy, Easy, Delicious Food to Change Your Life, for inspiration.
Throughout my lifetime I've regretted purchasing some things but this is definitely not one of them. The book is full of interesting recipes that make me want to run into the kitchen and start cooking, not to mention eating!
This was where I came across roasted carrot hummus and have recreated it on here. It's delicious!
Health Benefits
First, let's explore the health benefits of this versatile and exceptionally nutritious meze.
Nutritional value
Houmus is overflowing with minerals phosphorous, potassium, calcium, magnesium, zinc and iron. It provides vitamins A, B1, B2, B3, folate and B6.
The chickpeas are packed full of protein, valuable digestive fibre and essential fatty acids with no harmful cholesterol.
The added content of roasted carrot is extra vitamin A.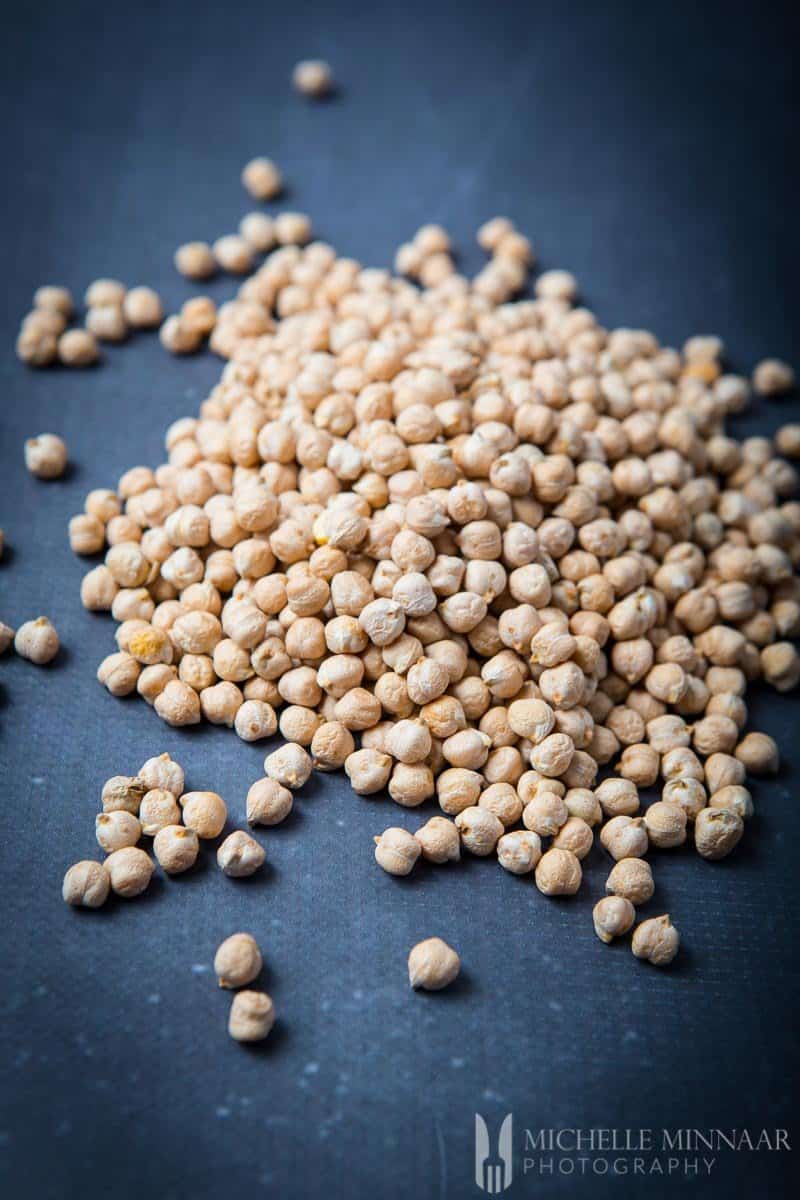 Health Check
Chickpeas are consumed worldwide and mixed as humus they provide an even healthier range of benefits. Olive oil, fresh lemons, sesame paste, carrots.
All additives to a basic chickpea hummus not only exponentially increase the nutritional value and health benefits,  but also the taste.
Diabetes
Hummus regulates blood sugar levels in diabetics due to the low glycemic index of chickpeas. As a complex carb, the fibre is not digested slowing down the sugar released into the body.
Dried chickpeas are the better option over the canned peas, in terms of flavour and purse.
Pregnancy
This is a very healthy snack during pregnancy. Hummus is rich in folate which helps prevent the possibility of birth defects in unborn babies, like spina bifida.
The other nutrients include minerals and proteins iron, potassium, calcium and omega-3 make significant contributions to the health of the mother and the growing foetus. Make loads and keep it handy for cravings!
Digestive system and Muscle Building
This starter maintains the digestive system regulating bowel movements, relieving constipation.
It contains amino acids which are pivotal in building healthy muscle and tissue. They are the builders of proteins that the body uses to increase muscular strength, tissue repair, brain functions and energy.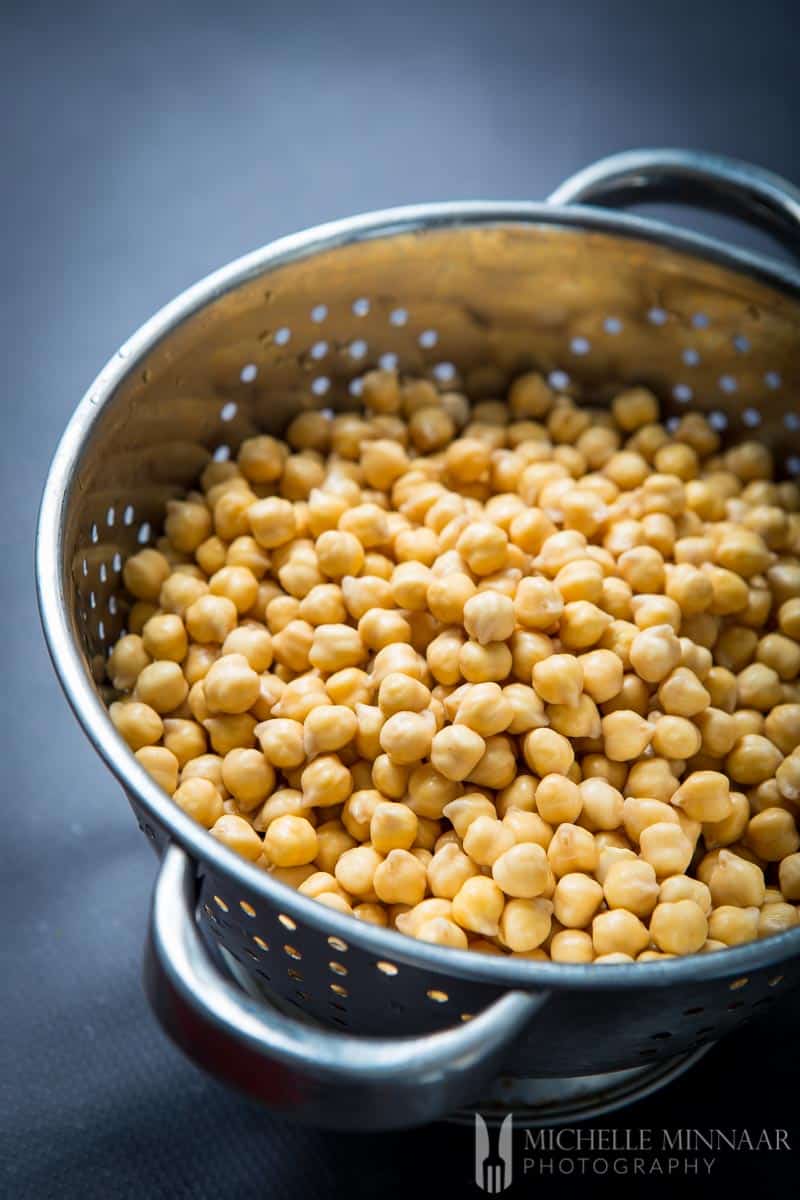 Vegan and Vegetarian
In the absence of a diet containing animal products like meat, dairy or fish, houmus provides essential nutrients and proteins for the body, thus making it ideal for vegans and vegetarians.
Cancer
Saponins and phytic acid in chickpeas are beneficial in preventing and treating cancers. Hummus stops toxins binding with the lining of the colon, flushing them from the body.
Phytoestrogens and isoflavones in chickpeas are seen to be beneficial in reducing the risk of lung cancer.
Rich in omega-3 fatty acids, these are polyunsaturated fatty acids which provide relief from inflammatory diseases such as coronary artery diseases, rheumatoid arthritis, hypertension and cancer.
Heart Diseases
The effect of olive oil on LDL levels has revealed a reduction of this harmful cholesterol. Indeed, it is a healthy heart oil. This is one of the reasons given for the very low mortality rate in cardiovascular diseases in the southern Mediterranean.
Carrots are also pro-heart health and eating them regularly protects the heart from plaque forming; it attaches itself to bad cholesterol and removes it from the body. The body absorbs the nutrients of cooked carrots more easily than that of raw carrots.
Roasted carrot hummus is an excellent substitute for sweets and teaches toddlers and kids to eat vegetables without all the fuss and drama.
Different Flavoured Roasted Carrot Hummus
The roasted carrot hummus can be refrigerated for up to five days.
Roasted carrots and chickpeas are the base of this easy-to-make roasted carrot hummus recipe below. It's been my experience that when carrots are roasted they lose around half their weight.
The magic ratio for this recipe is 1 : 1 for roasted carrots to cooked chickpeas. So when roasting the carrots, use 1kg, which will reduce to 500g when cooked. Match the chickpeas, i.e. 500g, in weight for the perfect balance.
Be careful not to eat all the carrots before placing them in the food processor! They are seriously difficult to resist.
The following flavours spices and herbs can either be added to the carrots before roasting or thrown in with the chick peas before blending the hummus.
Spices and Herbs
If you have the patience and the time peel the chickpeas, this makes the sauce smoother and creamier, then lightly roast the skins and use as a crunchy dressing on top of your hummus.
Chilli
Red chilli flakes can be rubbed on the carrots before roasting for a roasted chilli flavour or added to the blending for a raw burst of hot flavour. One teaspoon (5ml) would be sufficient. You don't want to burn all the flavour out of the dip.
Harissa
Roast the carrots with some North African Harissa paste mixed into the oil or buy the oil itself.
Pine Nuts
Throw some pine nuts into the roasting pan with the carrots and garlic. Or, simply sprinkle some toasted ones on top of the dip.
Pomegranate Seeds
As a dressing sprinkle ruby red pomegranate seeds on the top.
How to Serve and Enjoy
This roasted carrot hummus recipe can be served as a dip, alongside htipiti, tzatziki, white bean dip and melitzanosalata. It is a tasty alternative to all the other sauces served with crisps and crackers.
Houmus can also be used as a spread on burgers, sandwiches and wraps. Roasted carrot hummus can be served at any meal, alongside a variety of other dishes and meals.
Dip
As a dip, it works well with crudités and pita chips, normal crisps and naan bread. It is absolutely divine with the Moroccan bread such as M'smen.
Roast some red peppers slice them thinly, spread some roasted carrot hummus on rye bread and dress the open sandwiches with roasted red peppers and olives.
As a side with cauliflower tabbouleh and pita bread.
On its own
Eat it on its own as a meal straight out of the container.
Spread it on dry fried vegetable chips. I love it with beetroot chips, especially when I am craving something sweet.
Make a fresh platter of tomato salsa with chopped peppers and onions and dollops of roasted carrot hummus as a sauce on top.
Chunks of fresh baguette with a thick layer of carrot hummus.
Biltong
In South Africa, we use it as a dip for biltong, a traditional spicy dried meat snack.
Bruschettas with carrot hummus and cured meats on top, including biltong.
Have a play and let me know what you think!
Print
Roasted Carrot Hummus
---
Roasted Carrots
1

kg

(2lbs) carrots, peeled and chopped

30

ml

(2 tbsp) oil
Hummus
Roasted carrots

400

g

(1 can) chickpeas, drained and rinsed

1

clove garlic, peeled

60

ml

(4 tbsp) olive oil
Salt and pepper
Juice of

1

lemon

30

ml

(2 tbsp) tahini

10

ml

(2 tsp) ground cumin
---
Instructions
Roast the carrots according to these recipe instructions 
When carrots have cooled down, place them in the food processor along with the chickpeas, garlic, oil, lemon juice, tahini and cumin.
Blend until smooth and season to taste.
Notes
Serve with vegetable crudites and flatbread.
Prep Time:

30 minutes

Cook Time:

30 minutes
Nutrition
Serving Size:

1 serving

Calories:

101

Sugar:

2.8 g

Sodium:

170 mg

Fat:

3.1 g

Carbohydrates:

11 g

Fiber:

2.7 g

Protein:

2 g
save the recipe to your pinterest board