I don't know about you, but looking at this beetroot falafel makes me salivate. This beetroot falafel not only looks the part with its stunning colours, but it tastes incredible.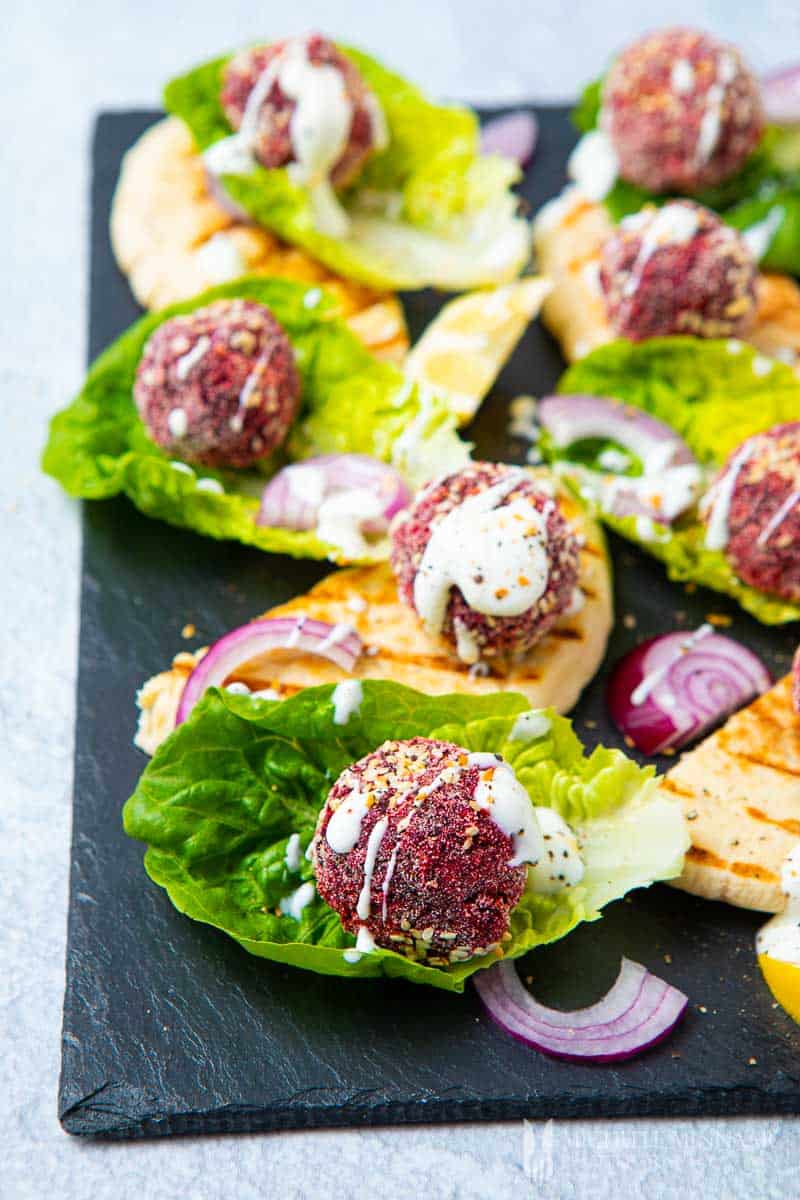 As with any falafel recipe, you can expect those extraordinary Middle Eastern flavours which are best paired with some hummus, pitta bread or tahini sauce. Hungry yet?
You can prepare this beetroot falafel in just under one hour. So, forget about going to your local kebab shop for a takeaway. Why should you?
Especially, when you can make your own large batch of healthy falafel in your own kitchen. Believe me, when I say that it makes all the difference in the world. Nothing beats biting into a fresh, steaming hot falafel.
Not only will you eat healthier, but you'll give your wallet some well-deserved rest. These little beetroot falafels, in my opinion, make the perfect finger food at garden parties or barbecues.
Better yet, if you plan on having a Middle Eastern themed dinner, then I recommend serving these as a starter. So, what are you waiting for? Come make this healthy beetroot dish and explore the joy of Middle Eastern cuisine.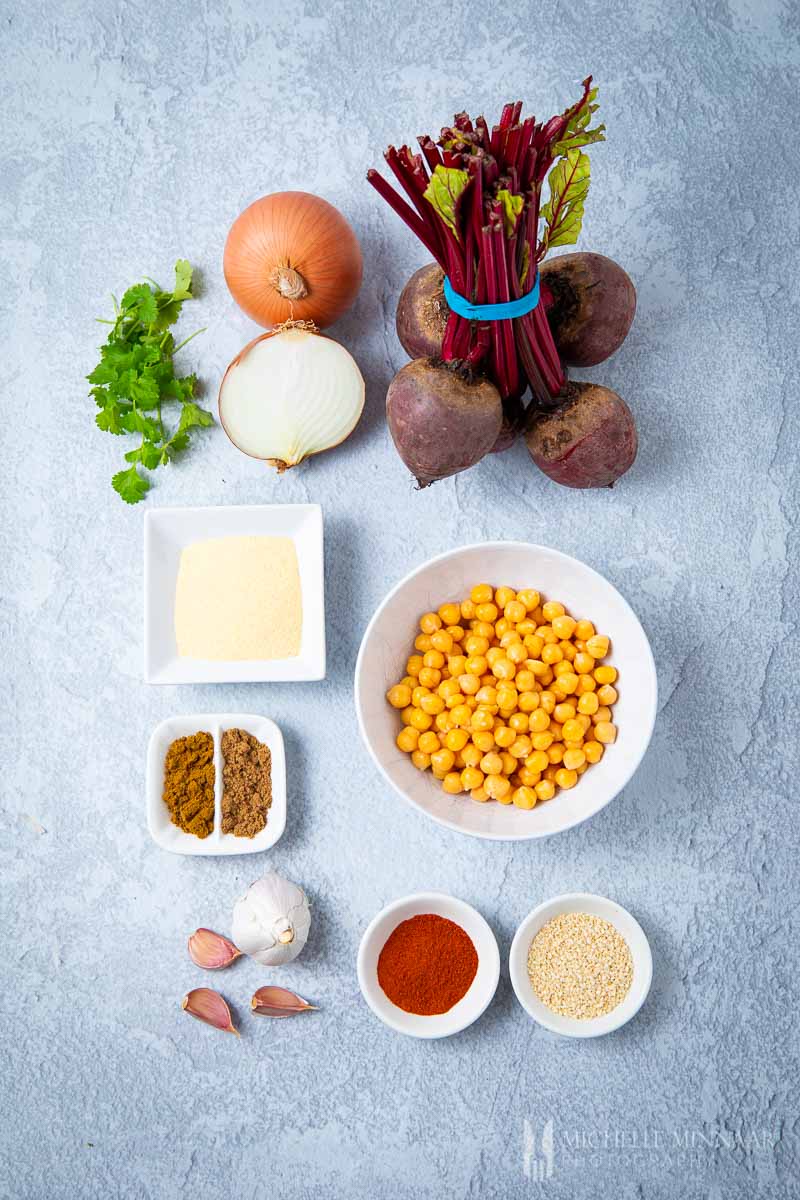 top products for beetroot falafel
Falafel-making is fun! Above all, it's really not as complicated as it appears at first. Don't let first impressions fool you. That being said, there are a couple of kitchen tools and ingredients you'll need to make this beetroot falafel recipe a success. Let's start with the equipment, see below:
falafel scoops - these three falafel scoops will let you control the size of your beetroot falafel. If you are having a party, use the smaller scoop to make a larger batch.
scoop spoon - you will need this type of steel spoon to take out the falafels from the fryer.
deep fryer - if you would like to make your beetroot falafel the authentic way, then you'll need a deep fryer. Otherwise you can always oven bake the falafels like I did.
Here are the ingredients you'll need to have in stock in your kitchen cupboard:
chickpeas - always go for organic chickpeas. Personally, I can never have enough chickpeas in my kitchen so I always go for a pack of 12.
ground cumin - the beetroot falafel calls for this spice. You can use this spice also to make these delicious cumin roast carrots.
ground coriander - similarly, ground coriander is integral to any falafel recipe. Also check out these coriander substitutes.
sesame seeds - the beetroot falafel is best topped with some white sesame seeds.
falafel mix - you can always cheat with an original falafel mix. This particular mix is suitable for vegans as well.
So, have you got a special falafel scoop at home? Believe me, it's a lot easier purchasing this special scooper than fiddling with making the perfect falafel balls. If you've got a special gadget or ingredient you love in your falafel recipes, I'd love to know about it. Let me know in the comments section below.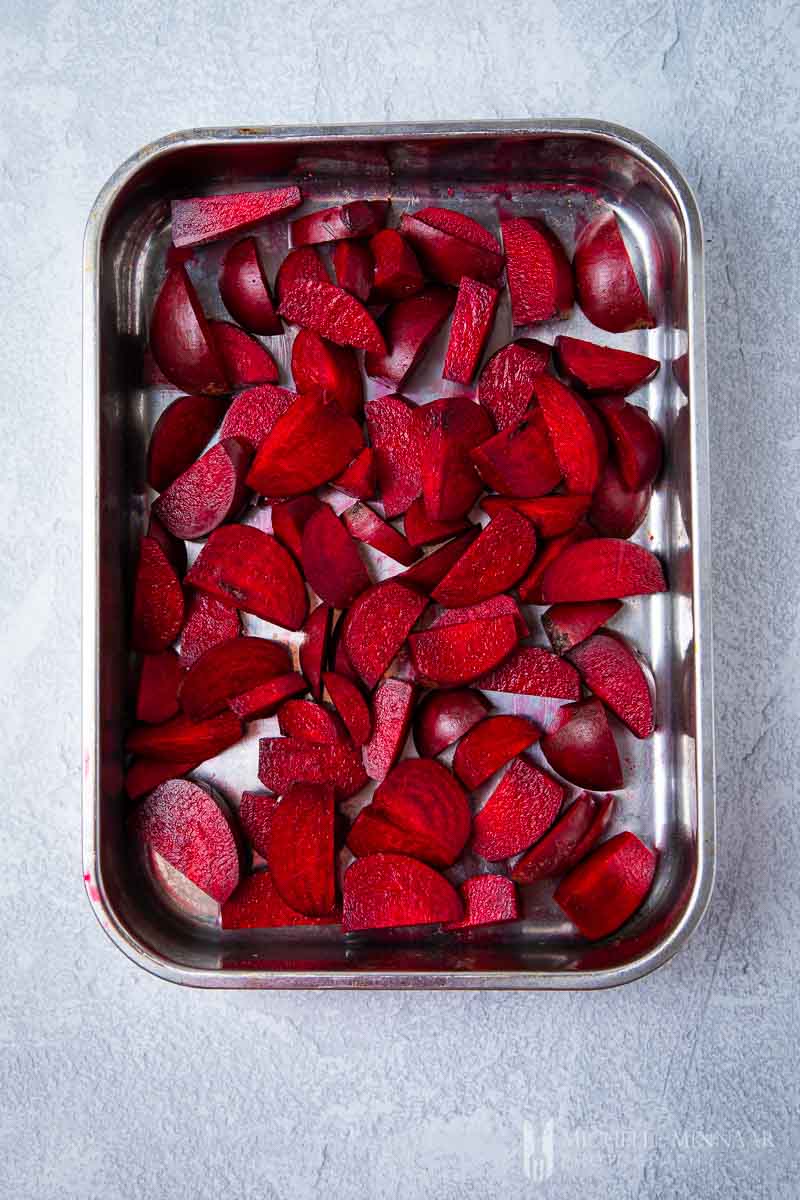 what is falafel?
Falafel is a popular street food dish found in many Middle Eastern countries. For instance, if you would stroll the streets of Israel, Lebanon, Turkey or Jordan, you would without a doubt find a falafel stand on some street corner. Rarely though, would you find beetroot falafel, as ordinary falafel is made mostly with chickpeas. Typically, the most popular version is made with chickpeas, especially in Yemen. In Egypt, it is also common to find a version of falafel made with fava beans.
To date, the origin of falafel is still unknown. Although it is said to have originated in ancient Egyptian times, Historians continue to debate its exact origin.
The term falafel or felafel comes from the Persian word 'pilpil' or from the Aramaic word 'pilpal'. Both words refer to something round or rolled. Today, falafel can also refer to a sandwich which contains falafel balls. In either case, it is an excellent choice of meal for vegetarians and vegans.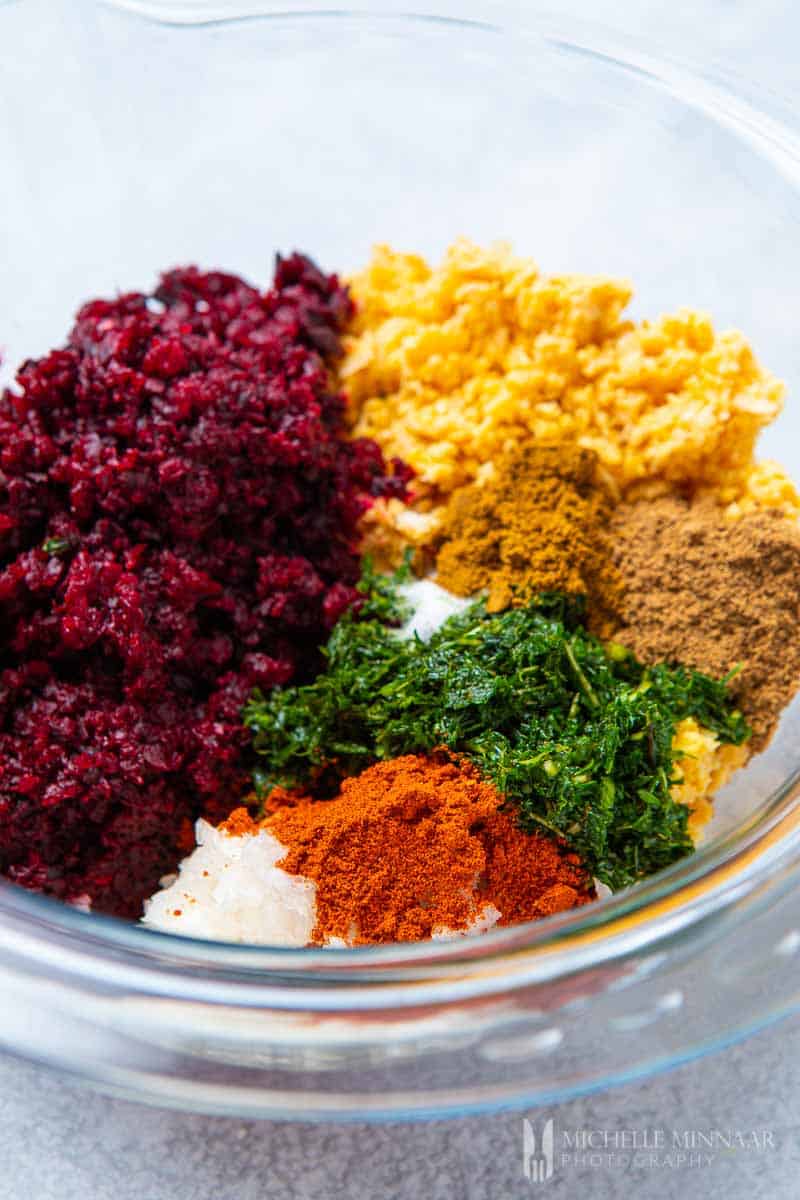 beetroot falafel taste
This beetroot falafel is a fabulous recipe suitable for vegans. It combines the earthy flavours of the beetroot with the traditional flavours of the falafel. That being said, overall, beetroot falafel tastes almost identical to the ordinary falafel you would find at a falafel stand. Nevertheless, this beetroot falafel recipe isn't deep fried.
Instead, it is oven-baked. So, you might miss the usual crunchy bite of the falafel.
If you are a fan of falafel recipes and want to make them more at home, then check out these recipes below:
These falafel recipes are an excellent alternative to meat and can help you become vegetarian or vegan. Plus, they are an excellent source of proteins and other nutrients.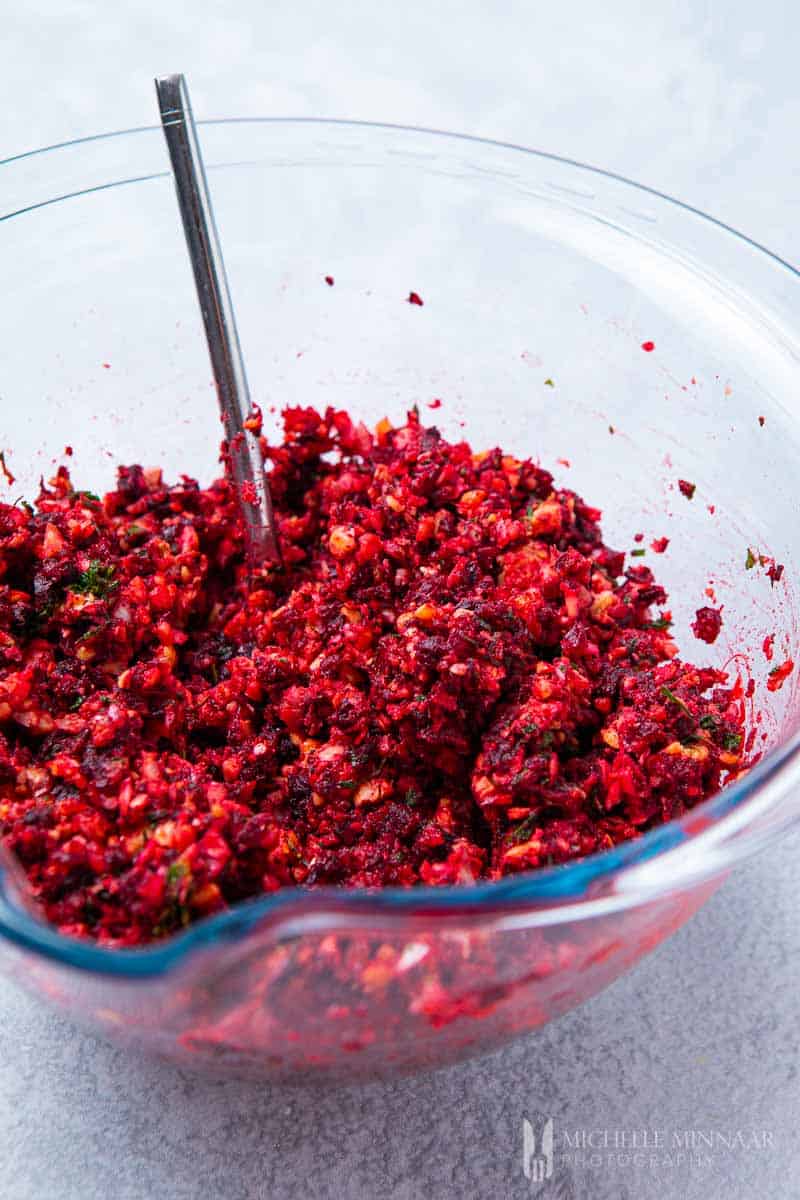 beetroot falafel burger recipe
You can also make a vegan burger with this beetroot falafel recipe. Instead of rolling the falafels into a ball, make patties out of the beetroot falafel mix. For instance, take inspiration from my delicious chana tikki recipe. Chana tikki are traditional patties you can find on the streets in India. Think of it as an Indian falafel.
In either case, you can form the beetroot falafel into shapes which resemble the chana tikkis. Stack the patties up, throw in some veggies along with a vegetable salsa and you've got a fabulous vegetarian burger recipe!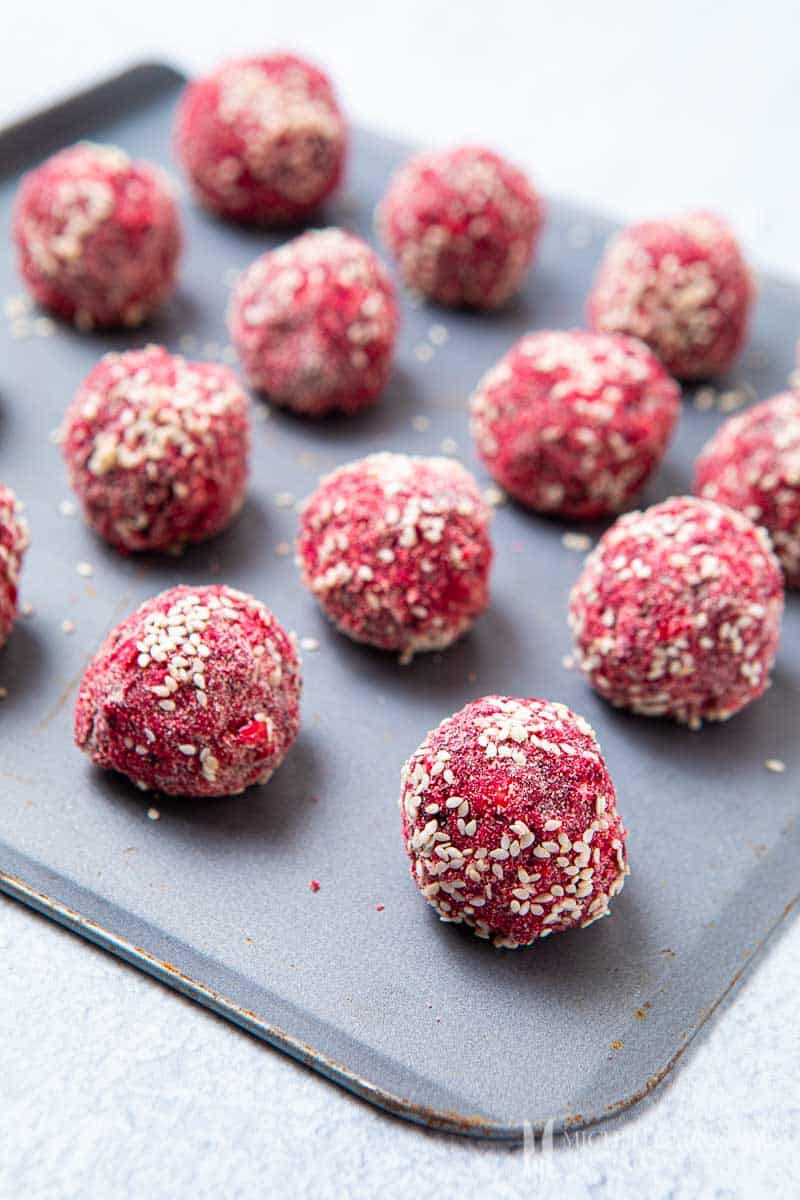 beetroot recipes
If you are a fan of beetroot, here are some other fantastic beetroot recipes other than this beetroot falafel which you might enjoy:
All of these beetroot recipes stem from a cuisine from a different part of the world. However, the taste of the beetroot is beautiful in all of these options. Try them out!
how to serve falafel
The most common way to serve falafel is with hummus or with tahini sauce. Other common ways of serving falafel is in a pitta sandwich with chilli, salad, and fresh and pickled vegetables inside. I decided to serve the beetroot falafel on top of some pitta bread, lettuce and plain yoghurt. Although, I believe that this beetroot falafel will pair very nicely with this Middle Eastern roasted beetroot and pistachio dip. Enjoy!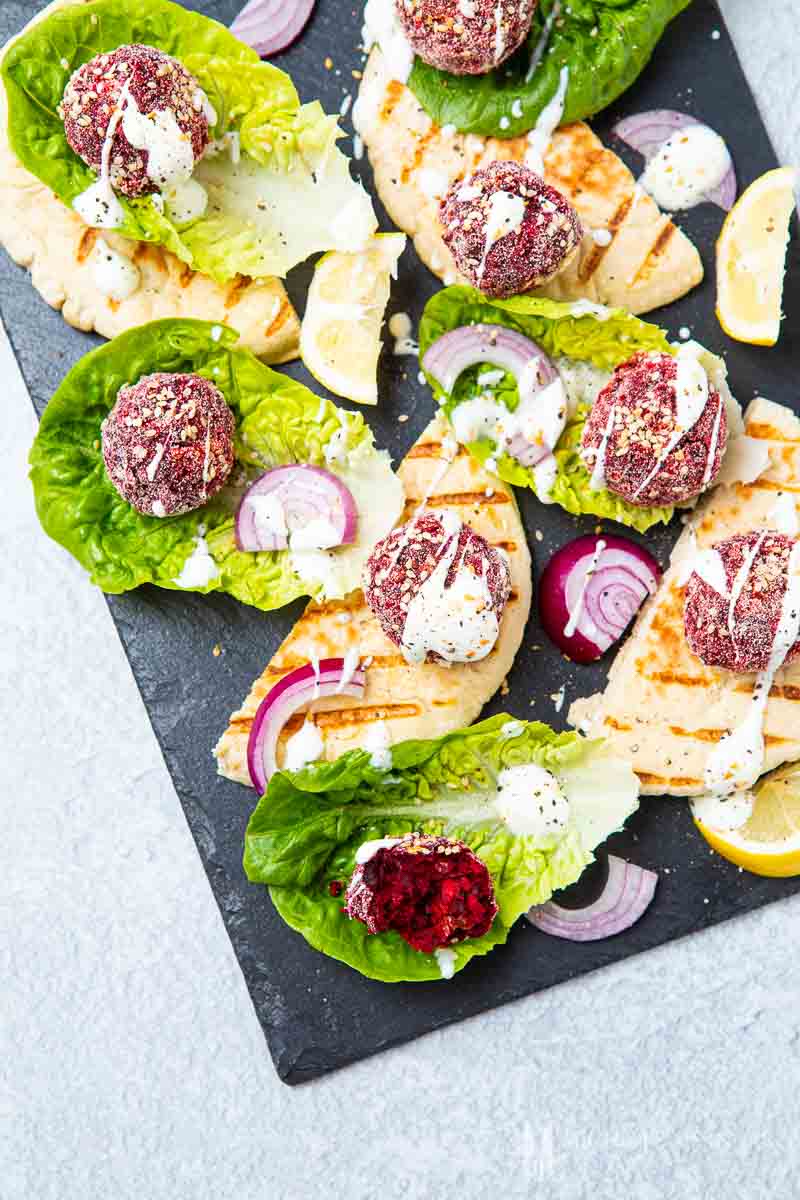 How do you like to enjoy your falafels? In a sandwich or by themselves with a traditional Middle Eastern side dish like hummus or tahini sauce? Let me know in the comments section below.
Print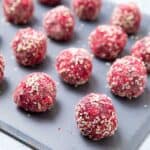 Beetroot Falafel
---
Description
Learn how to make homemade beetroot falafel instead of ordering it as a takeaway. These vegan falafels are best served in wraps and salads.
---
450

g

(1lb) cooked beetroot, minced

1

onion, peeled and finely chopped

2

garlic cloves, peeled and crushed

10

ml

(2 tsp) ground cumin

10

ml

(2 tsp) ground coriander

5

ml

(1 tsp) cayenne pepper

600

g

(1 1/2 cans) cooked chickpeas, blitzed to a coarse crumb

45

ml

(3 tbsp) coriander, washed and finely chopped

2.5

ml

(1/2 tsp) salt

125

ml

(1/2 cup) semolina, for dusting

30

ml

(2 tbsp) sesame seeds
---
Instructions
Preheat oven to 200°C / fan 180°C / 390°F / gas 6.
Place all the ingredients, minus the semolina, in a large mixing bowl and stir.
Roll the contents with your hands in 3.5cm (1½in) balls.
Cover each ball with semolina and place on an oiled baking sheet.
Sprinkle with sesame seeds.
Bake in the oven for 20 minutes, turning halfway through.

Serve the falafel your favourite way. Enjoy!
Notes
When it comes to beetroot, I prefer to buy mine fresh and roast them. For a simple recipe, click here.
In this case, I used lettuce cups, pita, red onion and plain yogurt.
Alternatively, you can cook them in an air fryer.
Prep Time:

30 minutes

Cook Time:

20 minutes

Category:

Dinner

Method:

Bake

Cuisine:

Israeli
Keywords: beetroot falafel, vegan falafel recipe, baked falafel, falafel salad