Falafel is probably one of my favourite Middle-Eastern dishes of all time. Lentil falafel is best served when fresh, you can enjoy it with any dip of your preference. This version is a little different though. Instead of the usual chickpea mixture, these falafels are based on a combination of chickpeas and lentils. It is the creation of Alexander's Bar & Kitchen in Skipton, Yorkshire.
What's on at Alexander's?
I recently visited Alexander's and was delighted to discover a diverse cosmopolitan and innovative menu. The surroundings are classy and elegant, inviting you in for any occasion, whether it be lunch, dinner or after work drinks. The secret garden, for instance, is quite a remarkable place and I can't wait to go back in the summer months and enjoy it to the fullest.
Alexander's take the spirit of the explorers and turned it into a whole new dining concept. With an interesting and international menu, there is something for everyone to enjoy. There is plenty to choose from the vast bar menu featuring a number of creative signature cocktails.
If you are planning a visit to Alexander's in Skipton, one tip is to check out their What's On page first on their website, right here. On this page the good people behind Alexander's will keep you updated about ongoing and upcoming events, and special offers. This is where new additions and changes to the menu are announced. At Alexander's they value seasonal produce so expect regular updates. For a full review, click right here.
Alexander's special events
This is also where you can find the latest information on special events. For instance, Alexander's just hosted the event Gin & Jazz night – an opportunity to enjoy a performance by the talented saxophone and piano duo Laurie Covell and Chris Bland. Can you imagine anything cooler than to kick back with an excellent gin and tonic while listening to live jazz? Fingers crossed that these guys will be making another appearance soon. Furthermore, with a range of 30 different gins on stock, there should be more than enough for at least a few tastings.
Apart from events such as the jazz night, there are also ongoing offers such as Cocktail Hour. It is on from Monday through Thursday from 17h00 to 19h00 and in this time frame you can order two signature cocktails for the price of one. Basically, a steal considering the quality you receive. So if you are in the area Alexander's is a great venue to meet up with friends after work.
Another great offer is the option to become a member of the A Club. As a member you will receive exclusive invitations for events, master classes, tastings and much more. In addition, you will even receive a gift on your birthday! Oh, and did I mention that members of the 'A' club are on the constant receiving end of seasonal freebies? Throughout February and March 'A' club members can enjoy one complimentary coffee each week! I can't wait to see what they come up with next.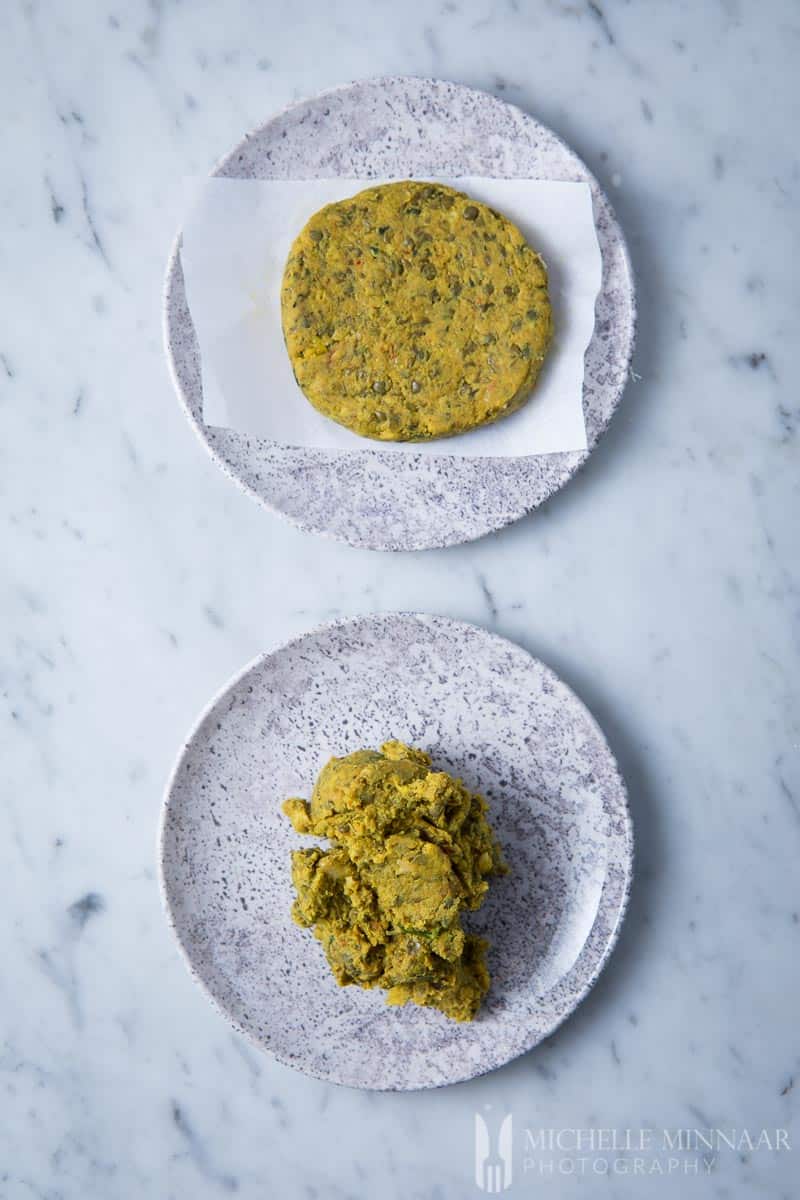 Lentil falafel
Falafel-wise, it is important to get the seasoning just right – exotic and flavourful but not overpowering. You can add a pinch of chili powder to the falafel mixture but be careful not to overdo it. Alternatively, preserve the balance of the falafel and then add the kick in the form of a chili dipping sauce afterward.
It takes a bit of preparation to precook the chickpeas and lentils if you buy the dried ones but it will work out cheaper. Once you have the basic ingredients ready to go, you can blend with a batch of falafel mixture in no time.
To prevent the falafel from burning you fry them for only a few minutes in the oil before finishing them off in the oven. They should be warmed through without getting burned on the outside or becoming dry inside. If you want to try a different kind of falafel, check out my sweet potato and mung bean falafel here.
Make vegan lentil burgers instead
The beauty of working with a mixture/batter is that you can transform it into any shape you like. If you're dead bored of falafel, there is nothing stopping you from making patties and serving vegan burgers instead. The egg is used in this recipe to bind the ingredients. Omitting it simply means the patties will be brittler. For more inspiration on this th,eme you can also have a look at my chana tikki.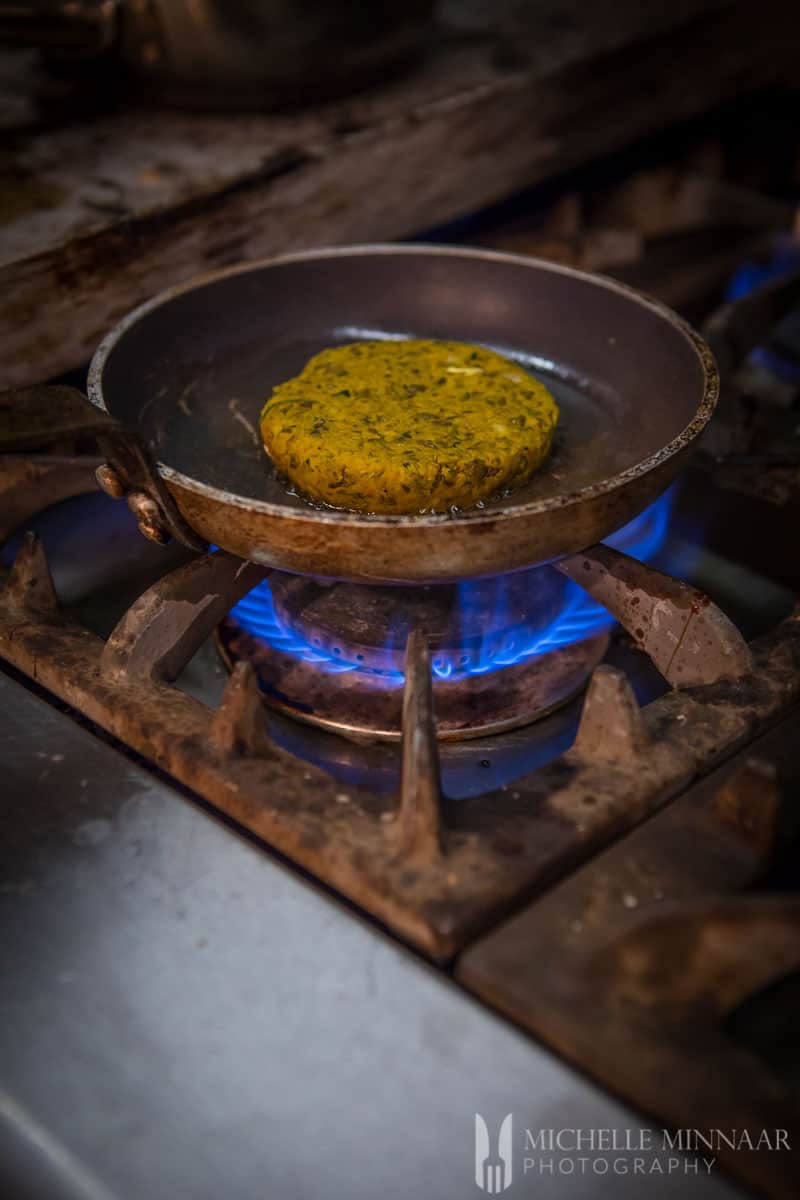 Build your own vegan lentil burgers with the vegetables of your choice using the homemade patties instead of meat. Personally, I am trying to cut back on meat. It has not been easy but tasty dishes like this one makes it all the more possible to actually go through with my vegetarian challenge.
Serve with lime yogurt
The flavours of this dressing are typical for the Middle East. The combination of lime and coriander in a yogurt dressing is the ideal companion for the lentil falafels. Actually, you can serve it with a side of my cucumber raita too, which is also a delicious yogurt based dip. For a vegan alternative, try this coriander chutney.
In terms of salad, I like to keep it simple, but the textures and flavours should complement each other. For example, it is great to have some crisp and crunchy salad, some fresh and sharp spring onion, and some juicy sweet tomatoes. These flavours go particularly well with the lentil falafel and lime yogurt.
Place the falafel on a plate with the lime yogurt, some salad and flatbread and you have a gorgeous meal, perfect for a weekend lunch or an unusual weekday dinner. That said, if you can't be bothered with all the faff, just visit Alexander's for a quick fix!
What is your favourite way to enjoy falafel?
Print
Lentil Falafel with Lime Yogurt
---
---
30

ml (2 tbsp) olive oil

4

spring onions, finely chopped

1

red onion, sliced

3

garlic cloves, crushed

15

ml (1 tbsp) ground turmeric

15

ml (1 tbsp) ground cumin

400g

(1lb) cooked chickpeas

400g

(1lb) cooked Puy lentils

125

ml (½ cup) sunflower seeds

125

ml (½ cup) coriander leaves

2

eggs, lightly beaten

250

ml (1 cup) gram flour

30

ml (2 tbsp) vegetable oil

50g

(

2 oz

) butter, chopped
---
Instructions
Heat olive oil in a frying pan over medium heat. Add onion and cook until soft. Add garlic, turmeric and cumin and cook, stirring, for 4 minutes or until soft.

Process chickpeas, lentils, sunflower seeds, coriander, egg and onion mixture in a food processor until almost smooth. Transfer to a large bowl and add spring onions. Add 160ml (⅔ cup) flour. Stir until well combined.

Place remaining flour on a tray. Form chickpea mixture into 8 patties. Coat in flour.

Preheat oven to 175°C. Cover base of a frying pan with oil. Heat over medium heat. Cook patties, in batches, for 3 minutes each side or until golden.

Place on a baking tray with a small knob of butter on each and bake for approximately 8 mins until warmed through. This helps complete cooking without risking the patties becoming burnt in the pan.

Serve with yogurt dressing, flatbread and salad.
Category:

Main Course

Cuisine:

Israeli
Nutrition
Serving Size:

1 serving

Calories:

572

Sugar:

8.7 g

Sodium:

135 mg

Fat:

34.2 g

Saturated Fat:

10.3 g

Carbohydrates:

51.5 g

Fiber:

12.9 g

Protein:

20.8 g

Cholesterol:

109 mg
Print
---
400

ml (1½ cup) plain yoghurt

1

lime, juiced and zested

1.25

ml (¼ tsp) salt
---
Instructions
Whisk everything together.
Nutrition
Serving Size:

1 serving

Calories:

72

Sodium:

78 mg

Carbohydrates:

10.2 g

Protein:

6.1 g
save the recipe to your pinterest board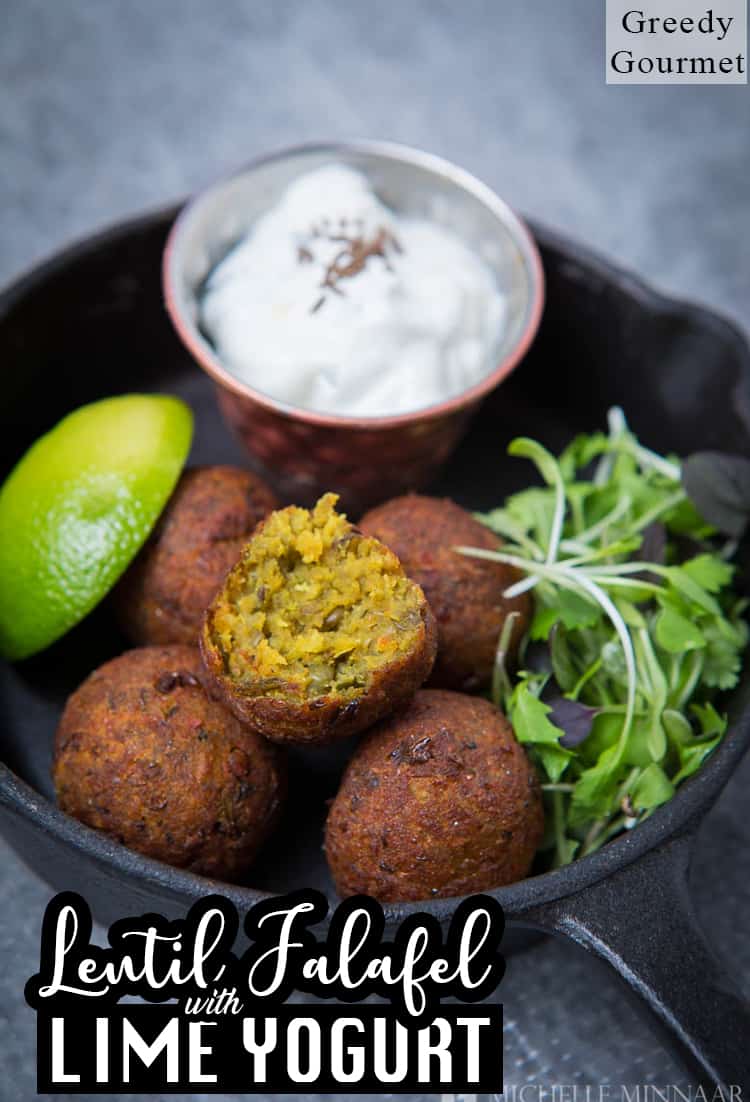 P.S. This is a sponsored post.