The ranch dressing is a popular cold sauce for salads, especially in the US. It's creamy but light with lovely herbal flavours and just the right touch of garlic without being overpowering. Also, it's one of those things that you can whip up yourself in a jiffy. The result you get will be way better than the store-bought dressings. I f you look at the nutritional values on the store-bought ranch dressing, you'd wish you made your own years ago! So, the next time you serve up a homemade burger with potato wedges, take the time to make your own ranch dressing. Sometimes the devil is in the detail, so put the finishing touch by making your own ranch dressing. You can season it to your own personal taste by adjusting the herbs you use.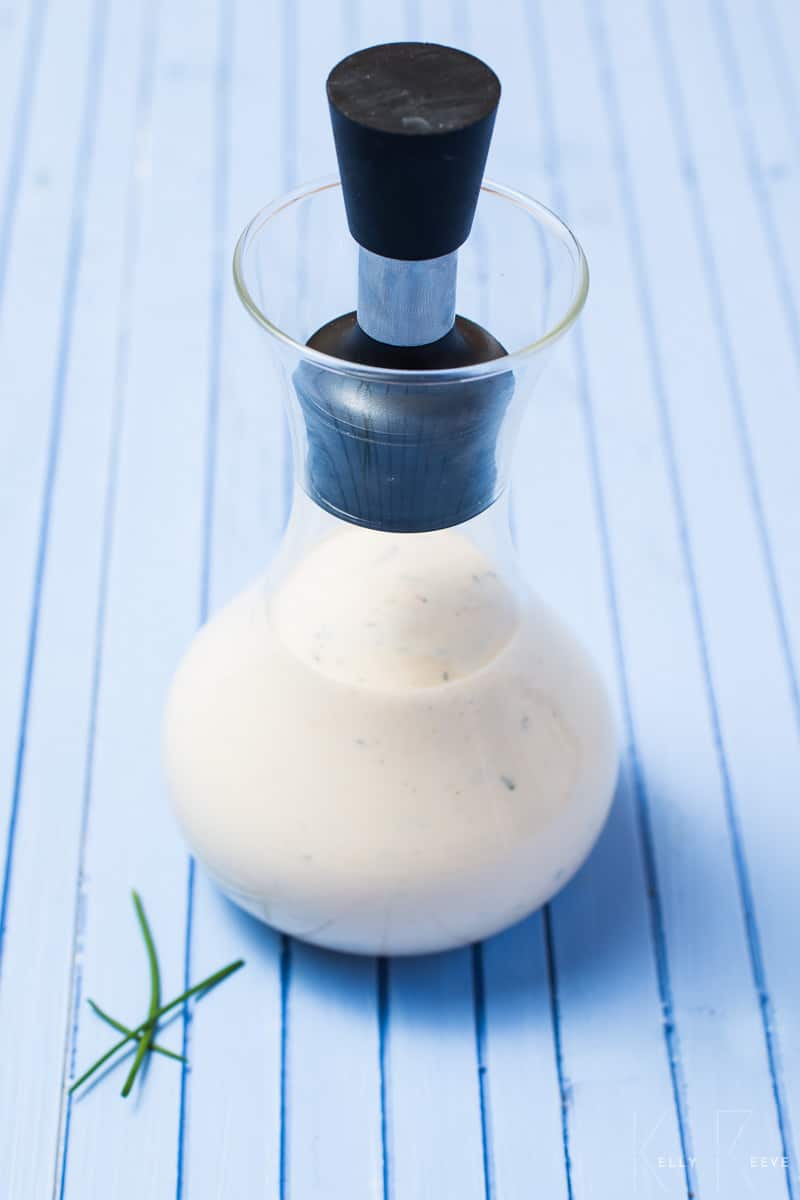 history of ranch dressing
The original ranch dressing consists of a base of mayonnaise and buttermilk. Originally from the United States, it was invented by a man named Steve Henson, who was actually a plumber, not a chef! Later on, he and his wife opened up a guest house called the Hidden Valley Ranch, where they served the dressing to their guests. Thus, the name "ranch dressing" was born. It quickly became so popular that eventually they made portions for people to take home with them. In time, this small side business grew in to an actual factory. Quite impressive for something that was at first whipped together on the kitchen table in a cottage in Alaska. This is just evidence that even the smallest thing can change the world!
Since then variations of the recipe have multiplied throughout the food industry, making ranch dressing extremely popular throughout North America. However delicious, there is no reason why Americans should have it all to themselves.
seasoning
The seasoning of ranch dressing is all about the herbs you use. Traditionally, it is a mix of parsley, dill and chives. These three herbs work complementing each other beautifully. Some people use dried herbs, but I strongly recommend you to use fresh herbs instead. Not only do you get a much fresher and more vibrant taste from it. You also get a much more pleasant texture in the dressing than with dried herbs.
The same goes for the garlic. Some recipes use garlic powder but you will get a much better flavour using freshly crushed garlic. You just have to be careful not to use too much as it could overpower the other flavours. It also depends on the size and strength of the cloves used. So, start with a little, then taste and add gradually add until you reach the flavour you like.
If you don't have parsley, dill and chives in your garden, don't worry. You can also use chervil or watercress if you can get hold of these. Of course, the outcome will be a bit different but still delicious! Finish off with a few drops of lemon juice to give it balance and sprinkle generously with chopped chives on top. Alternatively, you can use the tops of spring onions. These are a little stronger in taste but paired with the creamy dressing it balances out very nicely.
serving
A very popular use for ranch dressing in the states is as a dip for party food. It's a great alternative or addition to serving vegetable crudités with guacamole. A more elegant serving suggestion is to julienne the vegetables to serve with the creamy herbal sauce. I talk about the technique in this recipe for celeriac remoulade.
Basically, you cut the vegetable into little sticks. Carrots, cucumber celery and peppers are ideal for the purpose. Be careful not to make the sticks too small if you want to use them as party snacks. They should be delicate, but not so small that they become difficult to dip in the dressing. If you want a bit of variation, serve cherry tomatoes that you can dip in the ranch dressing with a toothpick. When in season, you can also use fresh green asparagus as a healthy snack.
This recipe also makes an excellent dip for potato crisps. Next time your husband's team is playing, or when you are having a movie night with friends, why not make a bowl of ranch dressing?
dressing as dip for the crisps
A healthier option is to make a prawn salad with avocado using the ranch dressing instead of the traditional Marie Rose sauce. If however, you want to learn how to make your own Marie Rose sauce, check out my recipe here.
With warm meals
Ranch dressing was traditionally served as a kind of steak sauce and it is still great for this purpose. Even though the barbeque season is slowly coming to an end, there is no reason why you shouldn't treat yourself to a nice steak. As a sauce for potato wedges, the ranch dressing is also an excellent match. If you haven't tried my sweet potato fries yet, I recommend that you cook up a batch and have them with the ranch dressing.
I love these rustic steak house servings, but have you considered that you can use ranch dressing for fish as well? Serve the ranch dressing as a cold sauce with a piece of poached salmon, some small boiled potatoes topped with chopped dill and you have beautiful, delicate dish.
Storage
As with many other dishes, you get the best flavour when you prepare the ranch dressing just before serving time. You need to chill it first though. You can prepare the ranch dressing in advance and it can easily keep in a sealed container in the fridge for 3-4 days. It is, however, not suitable for freezing.
Print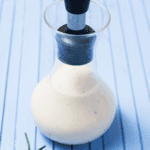 Simple Ranch Dressing
---
Description
Ranch dressing is famous and for good reason. Click here to find a UK and world-friendly recipe of this American salad dressing. You'll save money too!
---
250

ml (1 cup) mayonnaise

125

ml (½ cup) sour cream

125

ml (½ cup) buttermilk

1

clove garlic, peeled and finely chopped

30

ml (2 tbsp) dill, washed and finely chopped

30

ml (2 tbsp) flat-leaf parsley, washed and finely chopped

1.25

ml (¼ tsp) salt
---
Instructions
Place all the ingredients in a bowl and stir thoroughly.
Chill for 2 hours before serving.
Prep Time:

5 minutes

Cook Time:

0 minutes

Category:

Salad Dressing

Method:

No Cook

Cuisine:

American
Keywords: ranch dressing uk recipe, American salad dressing, American ranch dressing, ranch sauce
save the recipe to your pinterest board

A special thanks to Kelly Reeve for assisting with the recipe shoot.