Sweet potato fries are a much healthier substitute to regular French fries. I first came across sweet potato fries at a restaurant, which specialises in making dishes out of fresh local produce.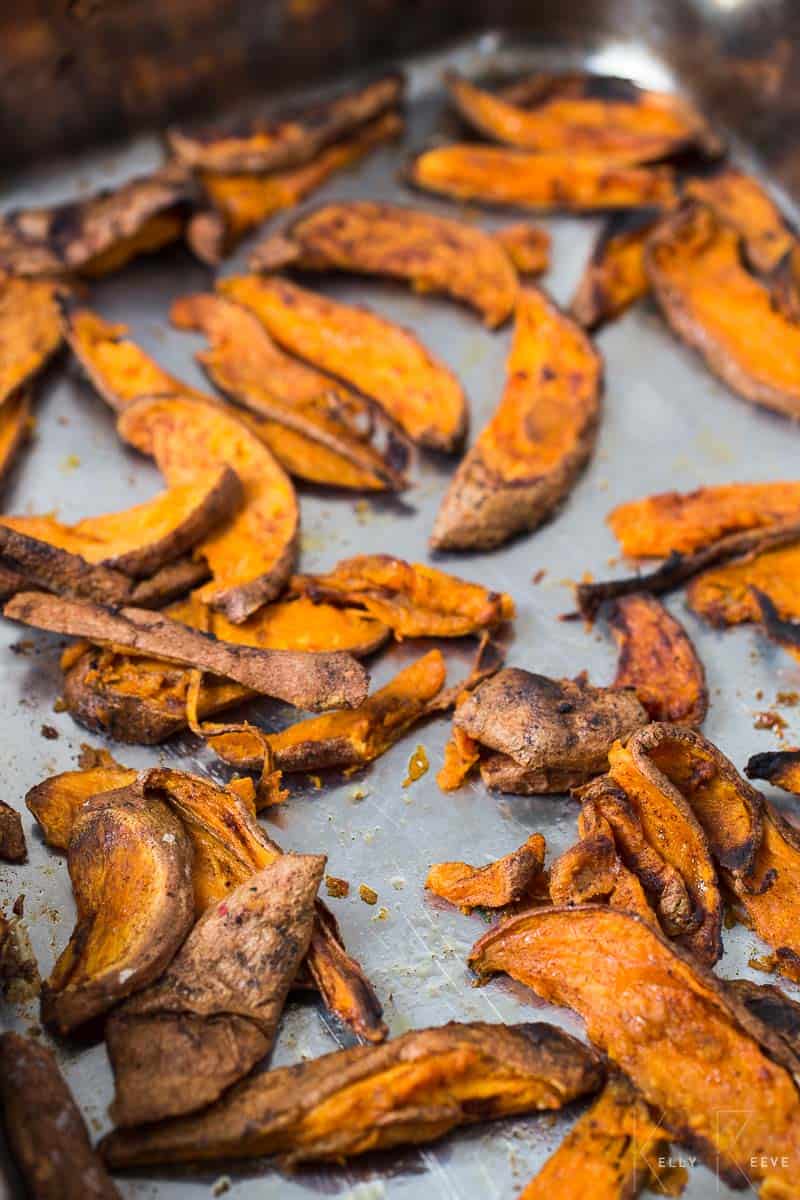 It was there where I first discovered the delicious crunch of that perfect sweet potato fry. If I remember correctly, I ate my sweet potato fries with a mango chili dip.
It was so delicious, I went to that same place three times in that week alone! Totally not embarrassed about that. Made properly, these sweet potatoes fries are the ultimate comfort food.
sourcing sweet potatoes
Sweet potatoes are at their best in October and November. You can check out my sweet potato gratin recipe, where I mention lots of detail on sweet potatoes.
In the meantime, I recommend getting this delicious root vegetable anywhere you can. They go very fast!
Whenever I am doing my usual shopping trip, they are never there! Also, you know how it is when you are a working full-time mother. Mostly, you tend getting those things that kids love first.
Only then do you think about the stuff that you actually want. Well, I can't wait to get these fresh in the autumn and winter.
oven baking
Oven baking can be quite tricky when it comes to sweet potato fries. If you drizzle them with olive oil and stick them in the oven, they may become soggy. There are a couple of tricks you can do to ensure that they stay crispy.
Try soaking them in water for two or three hours prior to baking them. The water releases the starch which keeps the moisture inside the sweet potato.
Once you take them out, remember to dry them well! Then, cut your sweet potato into very thin even slices. The thinner the slices, the better the chances that they'll crisp up in the oven.
Another option is to dehydrate your sweet potato fries, before you cook them. This can be done with a dehydrator but will take a couple of hours.
Lastly, dusting them with a thin layer of cornflour also yields better results.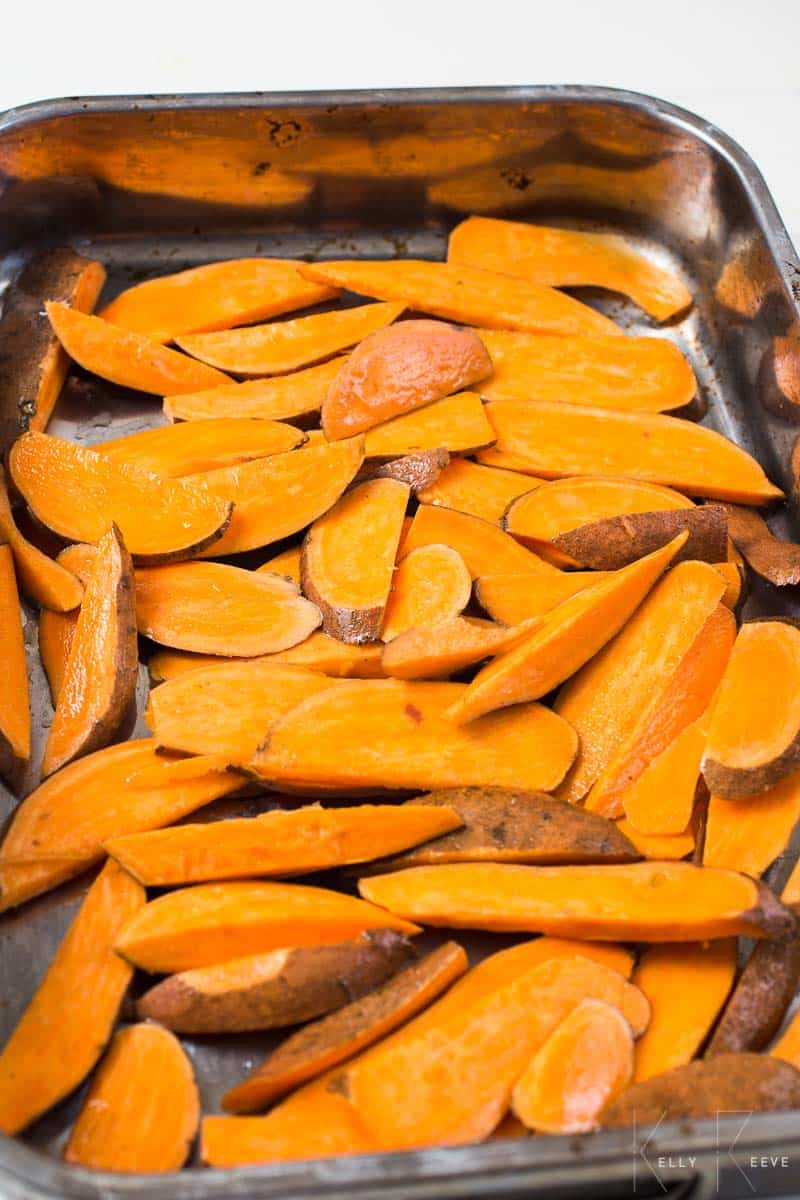 double or triple frying
For those who don't suffer from diabetes, feel free to cook the sweet potatoes in a deep-fryer. Nowadays, to get that extra crunch sweet potato fries are double or even triple fried.
This technique was first discovered by today's leading chefs Heston Blumenthal back in 1993. Just make sure that you've got tons and tons of frying oil ready before you start.
herb and spice combinations
For this sweet potato fries recipe, I've used good old salt, pepper and cinnamon. The cinnamon is an excellent addition, which will increase your metabolic rate and make the sweet potatoes even healthier.
However, I also like other types of herb and spice combinations. You can try:
Chili and ground ginger – gives it a nice kick.
Smoked paprika – gives it a alluring smoky taste.
Herb crusted – sprinkle with thyme and garlic and you've got yourself one of the best combinations in the world.
You can also try jerk spice  – I know that this is usually for meat, but it could work.
dips to make things interesting
The best sauce that I've ever had with sweet potato fries was a yogurt mixture with a mango infusion and chili, which refreshes your palate. Also, you can also go for a garlic mixture.
Simply cut up the garlic into very small parts and add it into the yogurt mixture with salt and pepper. Delicious, but beware of garlic breath!
If you are lactose intolerant and ultimately can't use any yogurt-like mixture, why don't you try the avocado dip? Finally, I would also add a dash of lime to up the acidity.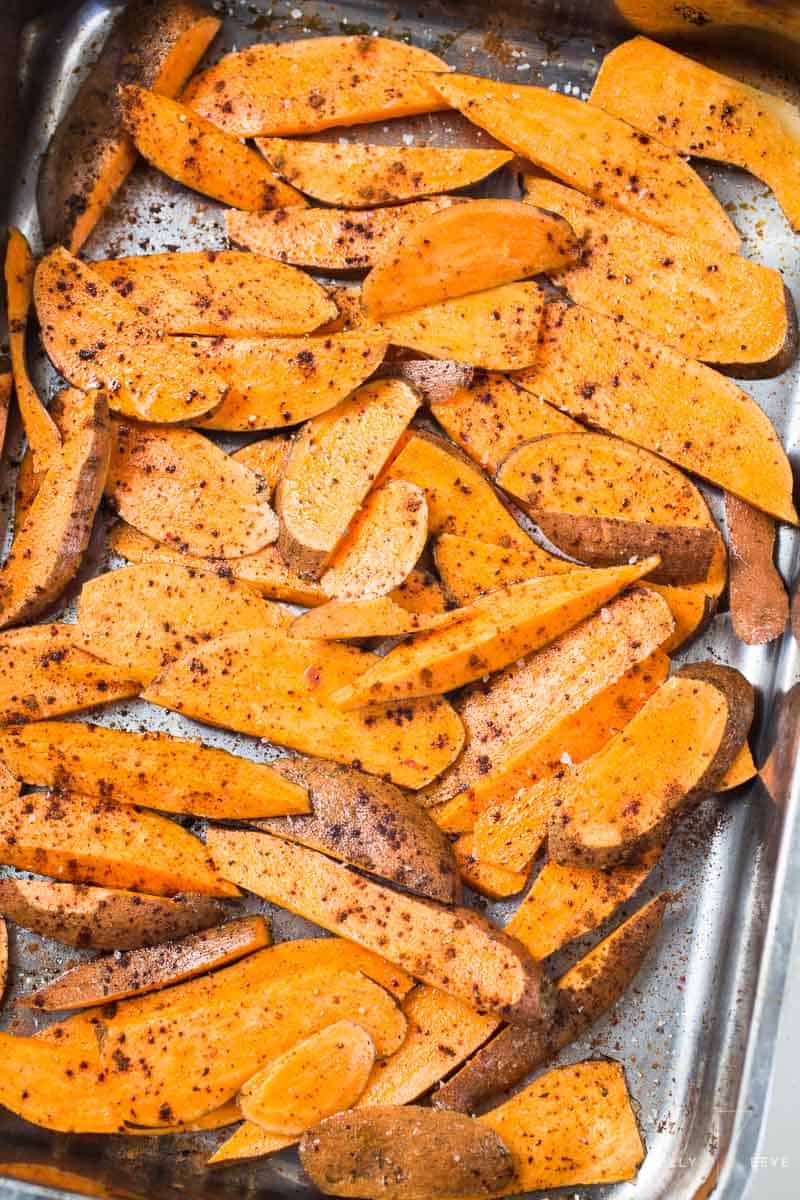 substitute
Sometimes, you can't find sweet potatoes in the market because they are not in season. The obvious substitute here is a normal white potato, which is starchier but easier to get crunchy.
serving
You can serve these sweet potato fries with your favourite main meal. I've paired it with the spicy smoked ribs.
Also, you can try serving it with smoked chicken, creating a nice family and hearty dish. However, not all of us are carnivores.
Finally, for my veggie friends, I recommend tossing the sweet potato fries on top of a salad to make things interesting,
snack
What I love about sweet potato fries is that you can simply snack on them. No need to serve with a main course if you don't feel like eating too much.
If you spice the sweet potato fries well enough, these can become addictive on their own and everything else will just take your attention away from the amazing taste.
I hope you guys enjoyed this one, and let me know if you decide to go for my recommended spice mix or if you go for more of a kick!
This recipe will go beautifully with smoked ribs.
Here are more great side dishes for your to enjoy:
Print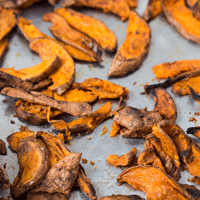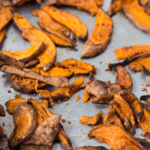 Roasted Sweet Potato with Cinnamon
---
4

medium sweet potatoes, scrubbed

30

ml (2 tbsp) vegetable oil

5

ml (1 tsp) ground cinnamon
Salt and pepper
---
Instructions
Preheat the oven to 180°C/356°F/gas mark 4.
Cut the sweet potatoes into 1cm(½in) slices and toss in the oil.
Arrange the sweet potato in a single layer in a baking sheet, sprinkle with cinnamon and season to taste.
Bake in the oven for 20 minutes, then turn the slices around and roast for another 25 minutes. Alternatively, cook until soft and browned.
Serve with main course of your choice!
Prep Time:

10 minutes

Cook Time:

45 minutes
Nutrition
Serving Size:

1 serving

Calories:

151

Sodium:

7 mg

Fat:

7 g

Saturated Fat:

1.4 g

Carbohydrates:

21.4 g

Fiber:

3.4 g

Protein:

1.2 g
save the recipe to your pinterest board

A special thanks to Kelly Reeve for assisting with the recipe shoot.