Nothing screams healthy and quick lunch like this egg and cress sandwich. This is the best egg and cress sandwich recipe around and it sets apart from the traditional heavy egg and mayo sandwich recipe. The addition of the cress makes this the type of sandwich that you can easily serve at a lady's luncheon with some afternoon tea. What I enjoy most about this recipe is that you don't need a lot of ingredients to make this egg sandwich. However, don't let it fool you that an egg sandwich is plain. You can easily jazz it up with additional ingredients, spices and alter the cooking method of the egg. Make the egg and cress sandwich your own. How would you serve your egg sandwiches? Leave a comment below.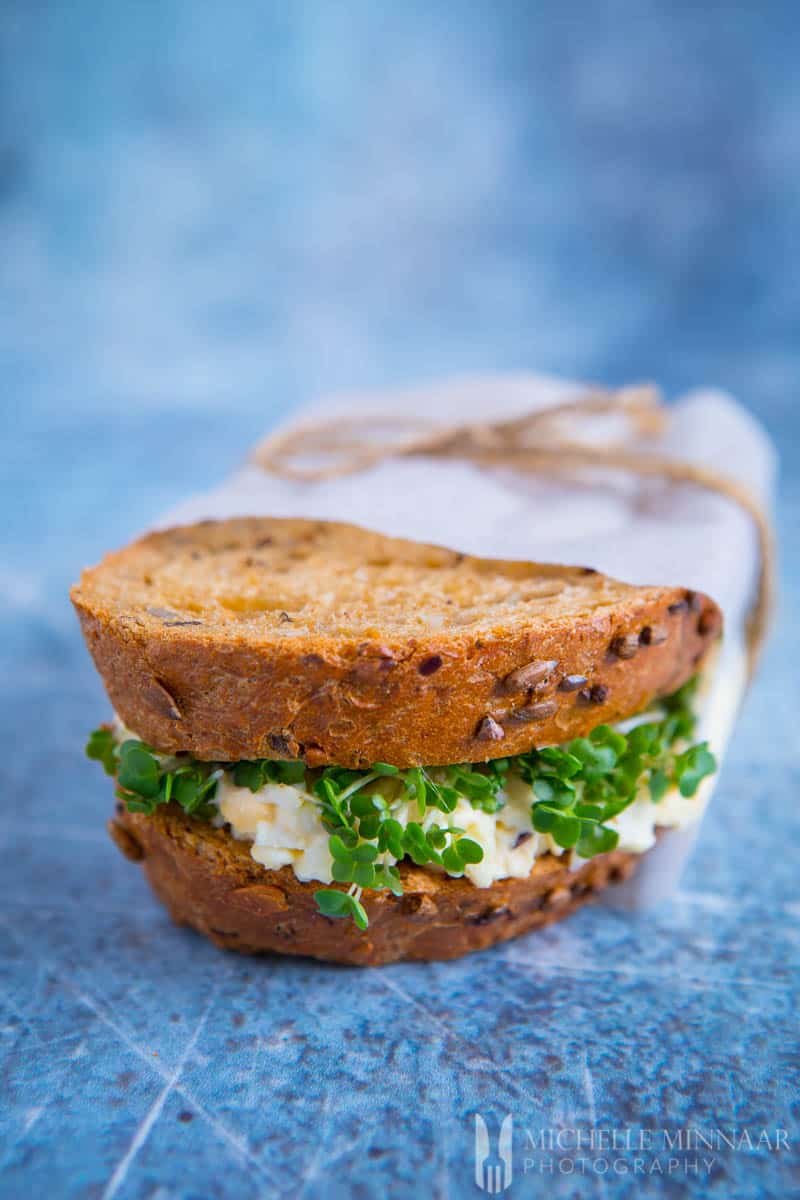 egg and cress sandwich recipe origins
Nobody really knows the origin of the egg and cress sandwich. There is a lot of historical debate whether or not the traditional egg mayo sandwich has its origins in the U.S. or in Britain. It was very common to enjoy breakfast sandwiches throughout the 19th century in the US, however, the first egg sandwiches showed up only after World War II in the U.S. fast food industry. Back then, an egg sandwich was typically served with a fried egg. More egg sandwiches were later adapted by the McDonald's fast food chain.
When it comes to Britain, the egg and cress sandwich is Britain's most famous snack. In fact, the British love their sandwiches so much, they even have a British Sandwich Week every year. The term sandwich is indeed an English term, so for these reasons, historians tend to lean more towards crediting the origin of egg sandwiches to Britain. Historically speaking, the term sandwich is named after the 4th Earl of Sandwich from the mid-18th century. Apparently, while he was gambling, he ordered some meat stuffed between two pieces of bread because it allowed him to continue playing. From then on, the concept of the sandwich came to life and continues to be one of the most popular finger-foods throughout the world!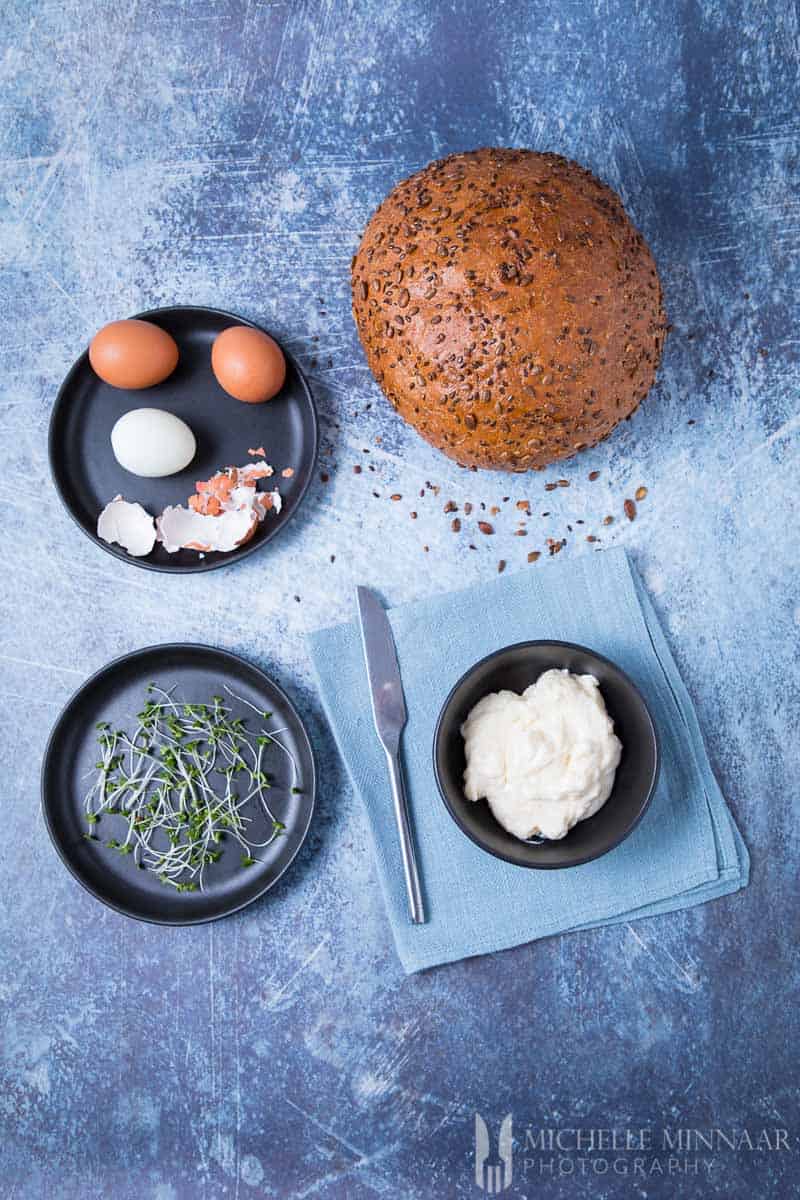 the perfect eggs for egg mayonnaise recipe
Obviously, the egg is the hero ingredient of this egg and cress sandwich recipe. For the best results, definitely opt for bio large free-range eggs. Although they might cost you slightly more, they are worth the end result. The large free-range eggs will result in a delicious and fluffy egg salad. In any case, those are the best eggs to purchase not only for the extra flavour but also for your health. Don't go for the inexpensive versions which are from caged chickens.
best fluffy egg salad for sandwiches
Again, as mentioned above, the key element here is to purchase the right type of eggs. However, the mayonnaise is also a crucial ingredient for the egg and cress sandwich. For best results, don't go for the heavy store-bought mayonnaise, but make your own instead! Click here to learn how to make homemade mayonnaise from scratch. Plus, this mayonnaise is unlike any traditional mayonnaise, because it is made with avocado oil. The avocado oil will make the mayonnaise smoother. So, once you incorporate it with the egg, it'll make a fantastic egg salad.
Once you have your eggs and your mayo ready, you need to be careful not to overwork the egg salad. Otherwise, you'll end up with a lumpy egg salad for your egg and cress sandwich. Just carefully fold the eggs into the mayonnaise so you have a light and fluffy egg salad.
Remember to add seasoning and your favourite spices. I recommend adding just a hint of nutmeg or a smoked paprika. You can also opt for tarragon or use any of these tarragon substitutes.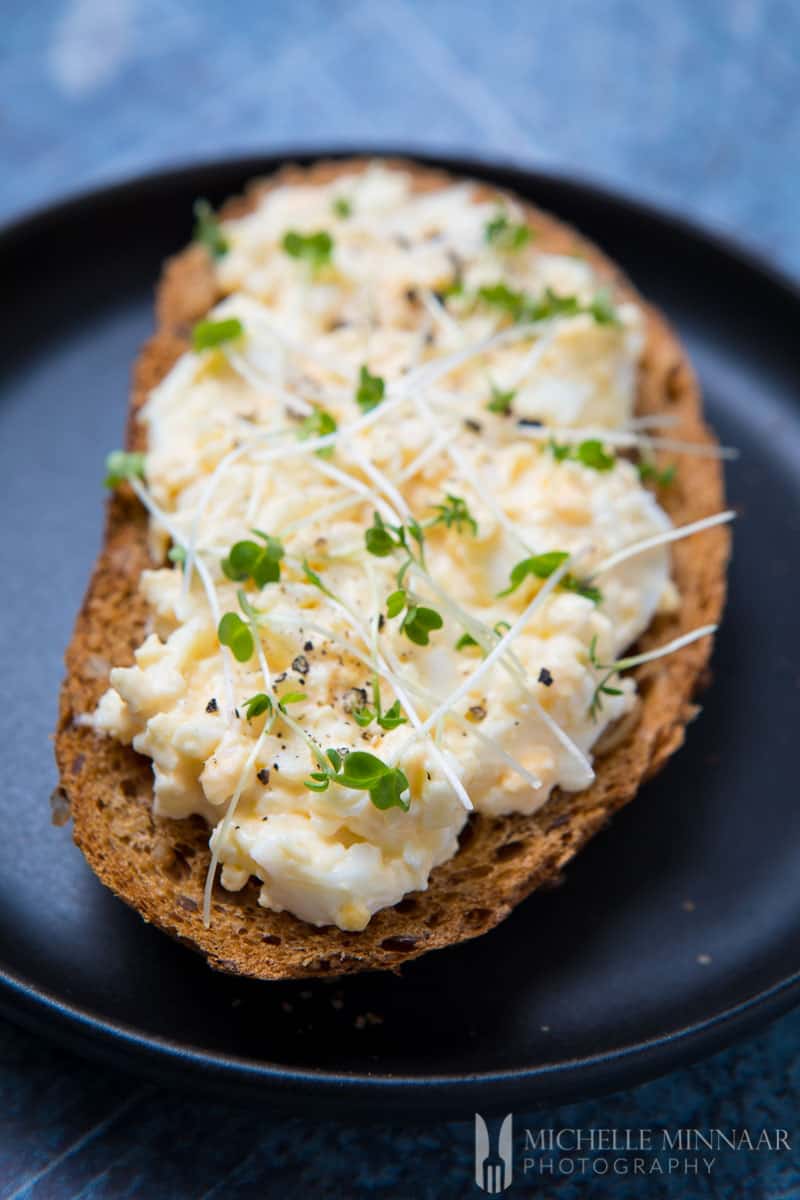 how to make an elegant egg mayo sandwich
There is a great way to jazz up a simple egg mayo sandwich recipe. Instead of making a traditional egg salad for the egg and cress sandwich as filling, make a poached egg. Although you might consider this quite the challenge, once you master making poached eggs, your egg and cress sandwich will be on a whole other level. Simply poach the egg, place it on the bread and decorate with some cress and thin slices of avocado. Then all that's left to do is to cut into that beautiful egg and cress sandwich and enjoy that oozing center! However, this specific preparation method calls for more time.
how to make healthier egg mayo sandwich recipe
You might be thinking that there is absolutely no way this egg and cress sandwich can get any healthier. Well, it certainly can if you make the sandwich with the right type of bread. First and foremost, if you really want to cut down on excess sugars, you should omit using white bread. Try using oat bread, flaxseed bread, rye bread or whole wheat bread. Otherwise, go for gluten-free bread which is very good for your metabolism. Ever since I started eating gluten-free bread, I started feeling more energized and I also came to the realization that I don't crave excess food. Therefore, you have the most nutritious sandwich, in combination with protein from the egg and antioxidants from the cress.
Have you ever heard of sweet potato bread or cauliflower bread? You heard me – you can actually enjoy bread made entirely from vegetables! If you can get your hands on these, you'll have the healthiest egg and cress sandwich recipe around!
egg salad and cress sandwich serving
You can enjoy your egg and cress sandwich recipe alone as finger-food, or you can serve it with a side salad. If you are serving your egg and cress sandwich for breakfast, don't forget to serve it with strips of fried bacon and roasted asparagus. Or better yet, serve asparagus wrapped in parma ham.
Remember to sprinkle that beautiful cress over the top of the egg sandwich. It will add a certain tanginess and a bit of a crunch.
How will you serve your egg and cress sandwich?
Print
Egg, Mayonnaise & Cress Sandwich
---
Description
Learn how to make the perfect egg and cress sandwich recipe with a fluffy tasty egg salad. Also, learn how to serve the egg mayo sandwich elegantly. Enjoy.
---
1

hard-boiled egg
mayonnaise, to taste
cress
salt and pepper, to taste

2

slices of bread
---
Instructions
For directions on how to boil an egg, click here.
Mash the egg with a fork. Start off using 15ml (1 tbsp) of mayonnaise and mix it thoroughly with the egg. If you prefer to use more mayo, then please do so. Sprinkle some cress in the egg mixture, stir and season to taste.
Spread the filling evenly across a slice of bread (you choose what type: white, brown, wholegrain, you name it) then close the sandwich with the other slice of bread and quarter the sandwich.
Notes
Preparing your own sandwich is a personal matter. If you're like me and prefer a thick and robust filling, double up on the egg, mayo and cress, but still use only 2 slices of bread.
Prep Time:

10 minutes

Cook Time:

5 minutes

Category:

Sandwich

Method:

No Cook

Cuisine:

English
Nutrition
Serving Size:

1 serving

Calories:

220

Sugar:

4.1 g

Sodium:

357 mg

Fat:

6.8 g

Saturated Fat:

2 g

Carbohydrates:

24.8 g

Fiber:

4 g

Protein:

14.2 g

Cholesterol:

186 mg
save the recipe to your pinterest board