Lomo saltado is a classic Peruvian classic stir-fry dish that is very popular in South America. If you've ever travelled around the country, there's no doubt you've come across this flavourful meal. An alternative version to a Chinese stir fry, this Peruvian stir fry will leave you coming back for more too. This might not come as a surprise, but it actually has Chinese roots. Enjoy this exotic and cross-cultural dish and please let me know what you think.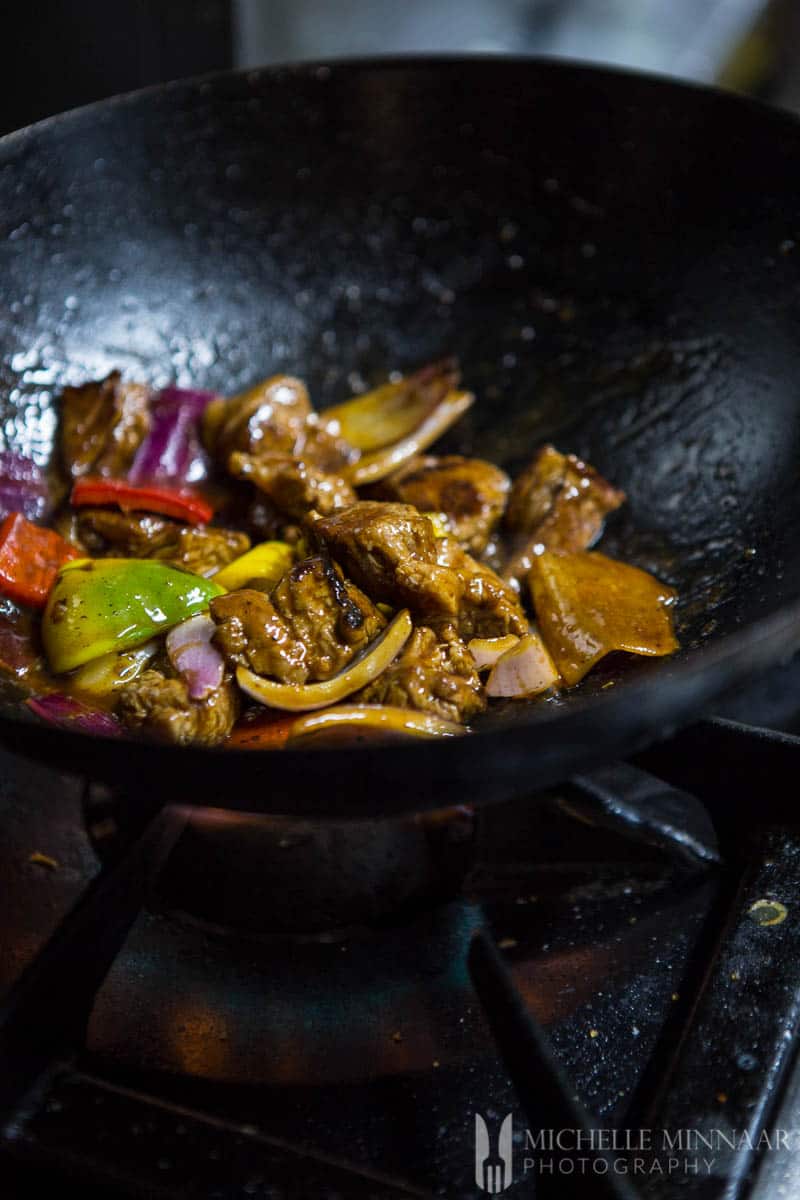 lomo saltado at the Aborigen restaurant
Luckily for me, I didn't have to travel all the way to Peru to enjoy lomo saltado. Instead I was taught by Marcos Tavío how to prepare this authentic lomo saltado recipe during my stay in Tenerife.
Aborigen is the name of Marcos Tavío´s new gourmet venture in the villa, Casa del Duque. You can find it in the gardens of the Hotel Mencey in Santa Cruz. It specialises in Canarian cuisine with Japanese and Peruvian influences. Marcos believes that the Tenerife's climate is ideal to serve such food, because its year round fabulous ensures that fresh local produce are available at all times. It makes all the different in the world when it comes to the end result, trust me!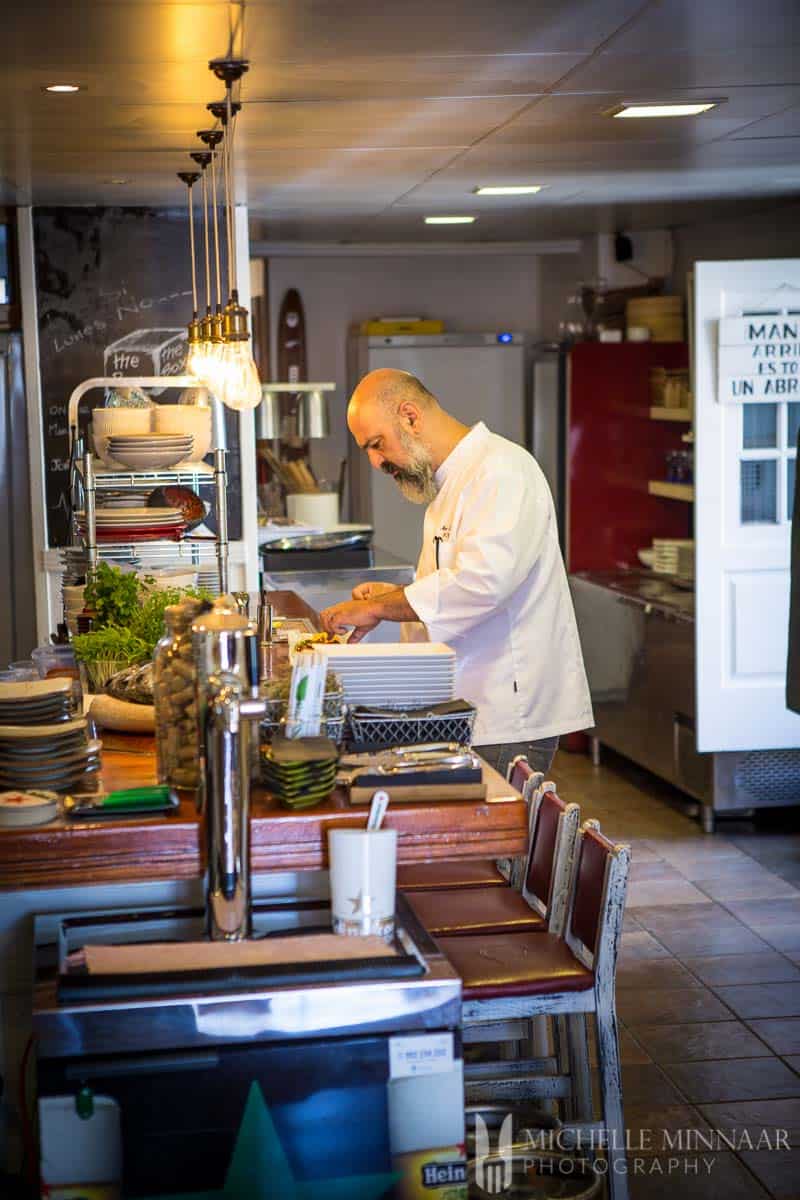 To learn more about Marcos Tavío, see my Peruvian ceviche with tiger's milk post.
Overall, the gastronomic project at Aborigen was first presented by Javier Muñoz and Marcos Tavío. Javier Muñoz is the Operations Director of the IBEROSTAR Group for the Canary Island and Cape Verde.  Together, they offer an "unforgettable experience". The aim is not only to make Mencey hotel a tourist reference but a reference of innovation, raw materials and gourmet cuisine. Eating here sounds like an experience to remember, doesn't it? If you are ever fortunate enough to visit the Canary Islands and want to learn more and enjoy exquisite food, then look check out Aborigen.
lomo saltado peruano
Lomo saltado peruano, simply known as lomo saltado is one of Peru's most recognised dishes. So, what is lomo saltado in English? The word 'lomo' translates to loin and 'saltado' translates to 'jumped' or stir-fried. Typically, lomo saltado involves sirloin or beef steak cut in strips, onions, peppers, aji amarillo paste, and much more. You'll see that the best part of lomo saltado is that it combines many flavours and textures into one dish.
lomo saltado history
Lomo saltado is a cross-cultural dish, celebrating Peruvian and Chinese cuisines. The lomo saltado recipe combines techniques of cooking from both cultures. It dates back to the start of 19th century, although some historians argue that it has been around for a lot longer. Ages ago, there was a lot of migration around Peru - with Creole, Chinese and Cantonese influence. This Eastern influence is clearly visible as the technique to prepare the lomo saltado recipe requires a frying pan.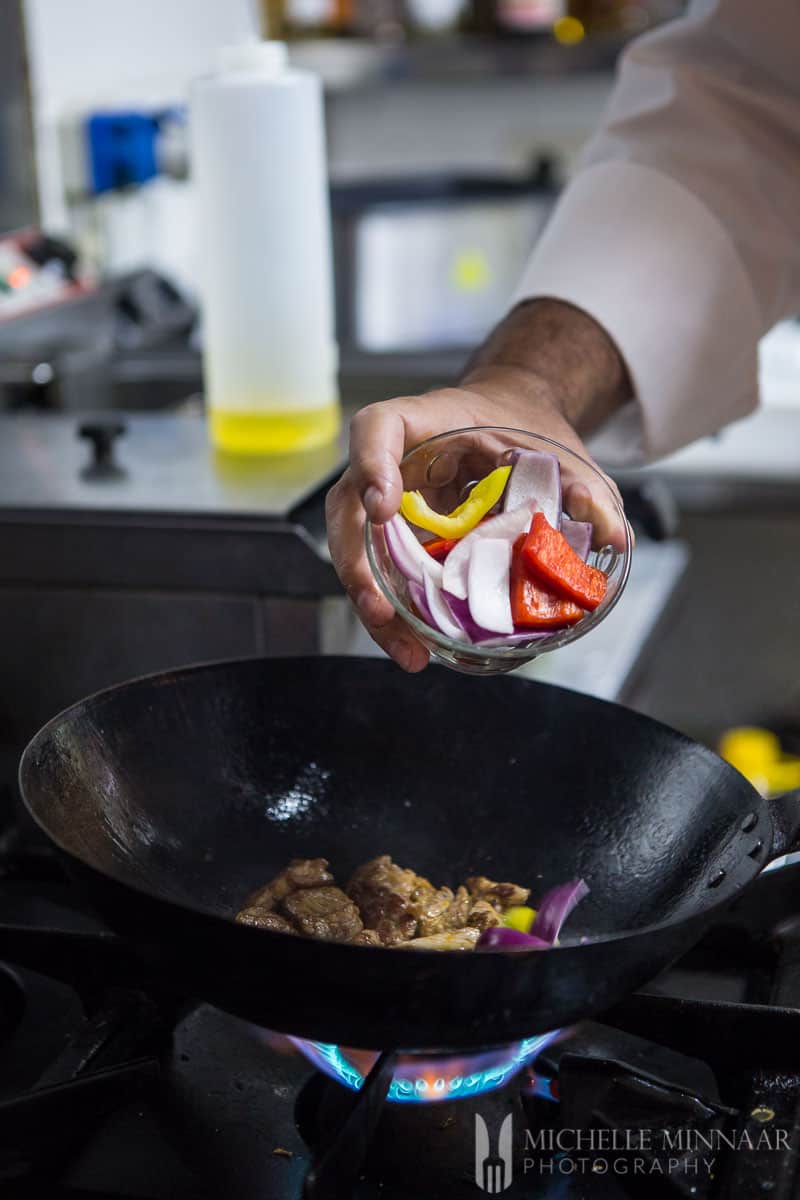 lomo saltado sauce
Naturally, every stir fry is all about this sauce. Therefore, this lomo saltado is no expection. Before you add the aji amarillo paste (yellow paste made from ajo chillies), you'll need to make sure you've got all the ingredients at hand. You'll need ketchup, oyster sauce, soy sauce and don't forget to stir well to evenly distribute the flavours.
You don't need to worry about the aroma of the oyster sauce. Some people find it overwhelming but when you mix it in with the rest of the sauces, it fuses very well with the meat juices. You won't even notice that oyster sauce went in there, however it is an integral ingredient to lomo saltado!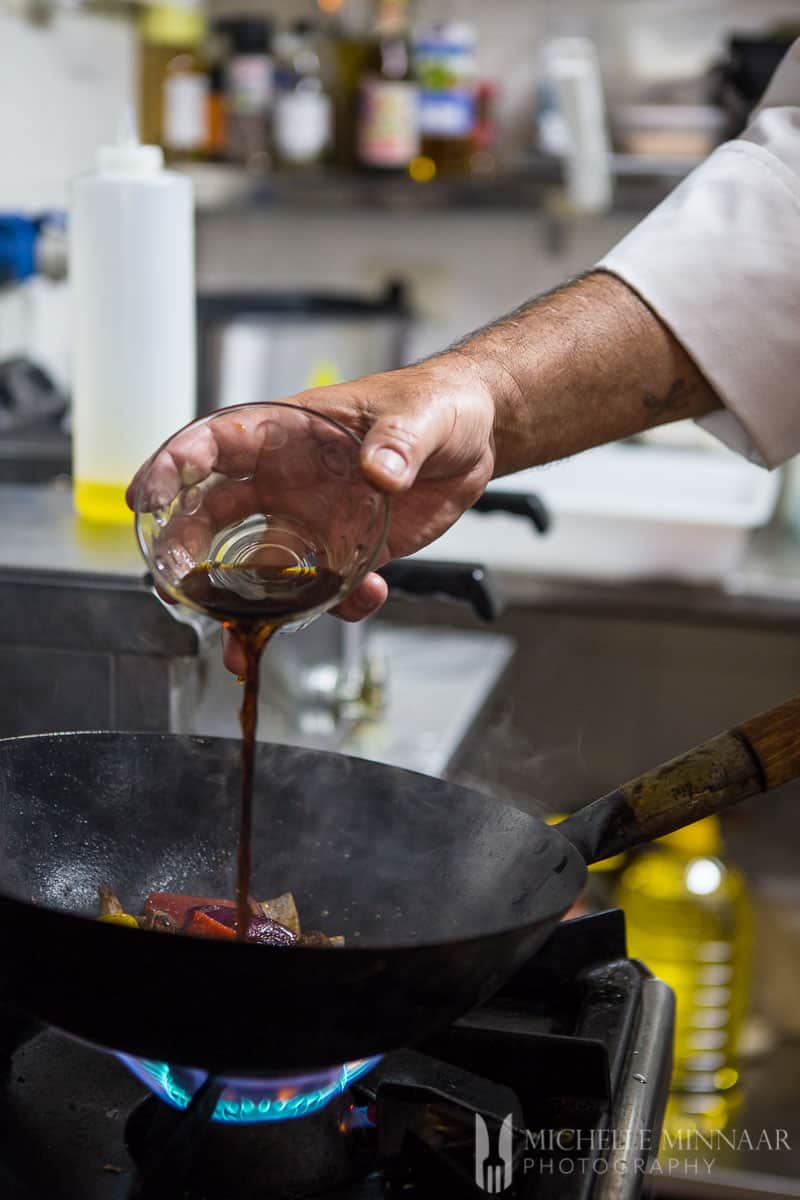 meat substitutes
Lomo saltado usually involves pork but beef is often used as a substitute. You might also come across pollo saltado, which uses chicken breasts. So, if for whatever reason you don't eat pork, do try it with these alternative meats.
Otherwise, you can go vegetarian and easily prepare a delicious meatless lomo saltado. For inspiration, check out my Chinese mixed vegetables stir fry recipe which is also meat free!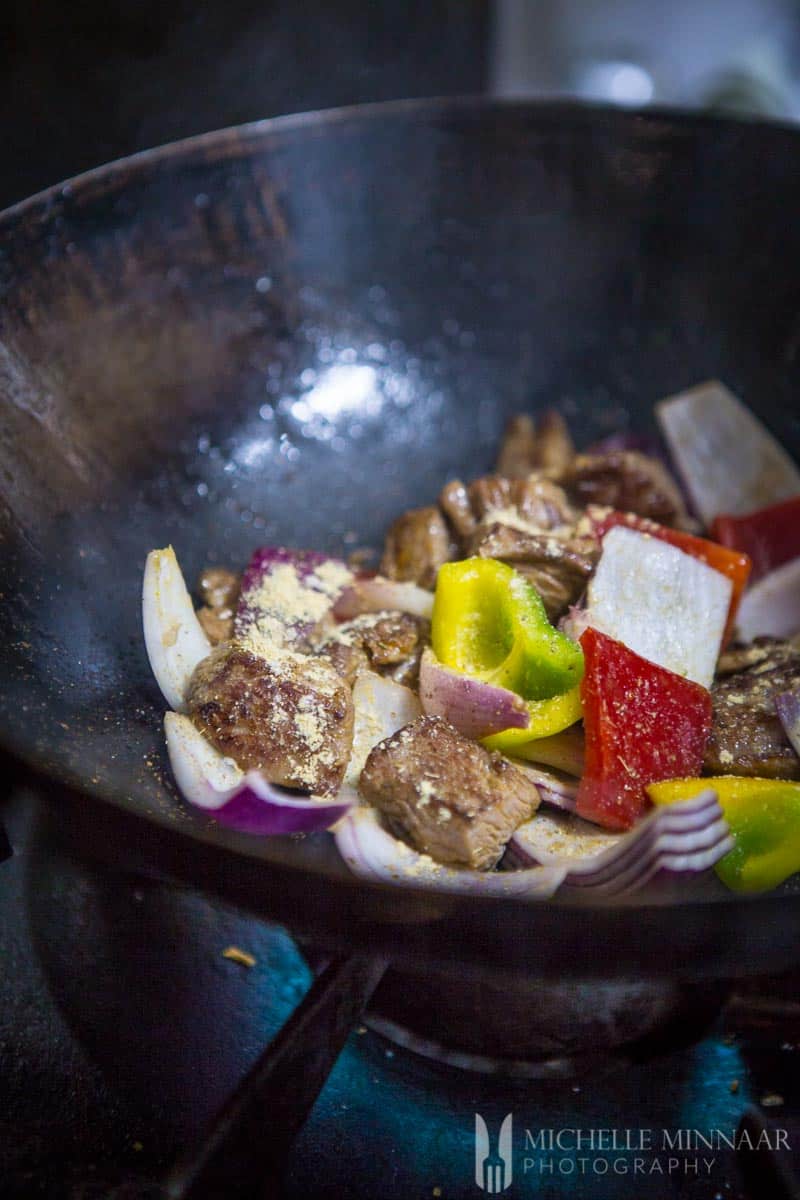 french fries
To follow the recipe, you'll need to add the french fries. You can make these from scratch, which I believe is the best option. Careful though, timing the fries with the cooking of the lomo saltado can be tricky. So, you'll need to calculate when you can have the fries and the stir fry ready ready at the same time.
To save some time in the kitchen, you can pre-order some from your local takeaway. Otherwise, you can also turn to the frozen stuff in the supermarkets.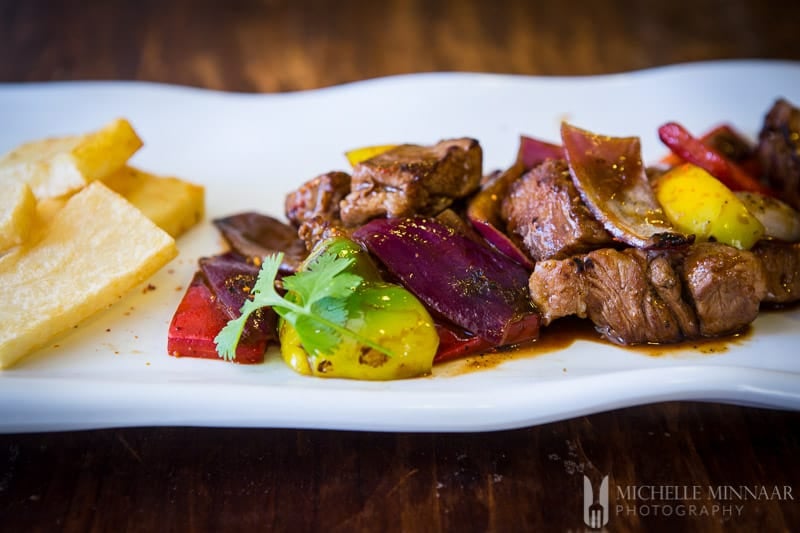 Healthy alternatives
For a healthier and diabetes-friendly alternative, you can top this recipe with baked sweet potato fries instead. Their sweetness will play against the salty tones and the umami flavours of the soy sauce in the lomo saltado. For more Asian flavours, just sprinkle some sesame seeds on top of the fries.
One more thing that pops to mind when speaking about stir fries are noodles. Nowadays, when you look at Chinese stir fries, almost all come with a side of noodles. So, this could also be a good option for the lomo saltado. If you want to have a carb-free side, then why don't you try making garlic and chilli courgetti?
traditional serving
Nonetheless, lomo saltado is traditionally served with plain white rice. Why? Since rice is neutral, it is a flavour enhancer and it will bring out all the spices of the lomo saltado.
By the way, remember to serve the lomo saltado immediately while having the French fries ready at hand. You don't want the dish to get cold while you are waiting for the rest of the meal.
What is your favourite Peruvian recipe?
Print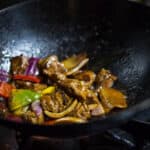 Lomo Saltado
---
1

medium potato
Sunflower oil

4

cherry tomatoes, washed

200

g

(7oz) pork loin, sliced

15

ml

(1 tbsp) yellow ají pepper paste

2.5

ml

(1/2 tsp) ground cumin

2.5

ml

(1/2 tsp) ground ginger

1/4

medium red onion, peeled and sliced

1

yellow/red pepper, washed and sliced

15

ml

(1 tbsp) oyster sauce

60

ml

(4 tbsp) soy sauce

15

ml

(1 tbsp) red wine vinegar

5

ml

(1 tsp) ketchup

2

spring onion, washed and chopped
---
Instructions
Peel and cut the potato into 4x1cm rectangles. Leave them cooking in sunflower oil at low temperature in the skillet for about 20 minutes. The oil should cover the potatoes. Remove and drain on kitchen paper.
In another pan, fry the potatoes in very hot (180ºC) oil to brown and salt until crisp on the outside and soft on the inside.
Scald the cherry tomatoes and put in ice water to stop cooking and peel them.
Heat the oil in a wok until it releases smoke.
Sauté the meat with the yellow pepper paste and add the cumin and ginger.
Add the onion wedges and the peppers and sprinkle with a little vinegar.
Add the ketchup, oyster sauce and soy sauce, then stir until cooked.
Decorate with the tomatoes and the spring onion, sauté a little more and serve with the potatoes.
Notes
Lomo Saltado is a dish that should be served immediately, and it's recommended that you have the french fries ready. Alternatively, fry them but calculate the time so they are ready just before you finish the meat.
Prep Time:

15 minutes

Cook Time:

30 minutes

Category:

Main Course

Cuisine:

Peruvian
Nutrition
Serving Size:

1 serving

Calories:

426

Sugar:

9.7 g

Sodium:

1988 mg

Fat:

17 g

Saturated Fat:

5.6 g

Carbohydrates:

35 g

Fiber:

6.6 g

Protein:

34.4 g

Cholesterol:

80 mg
save the recipe to your pinterest board