In summer, this overnight oats recipe is super easy and quick to prepare. What's more it streamlines your morning rush, ensuring a healthy start to the day for your whole family.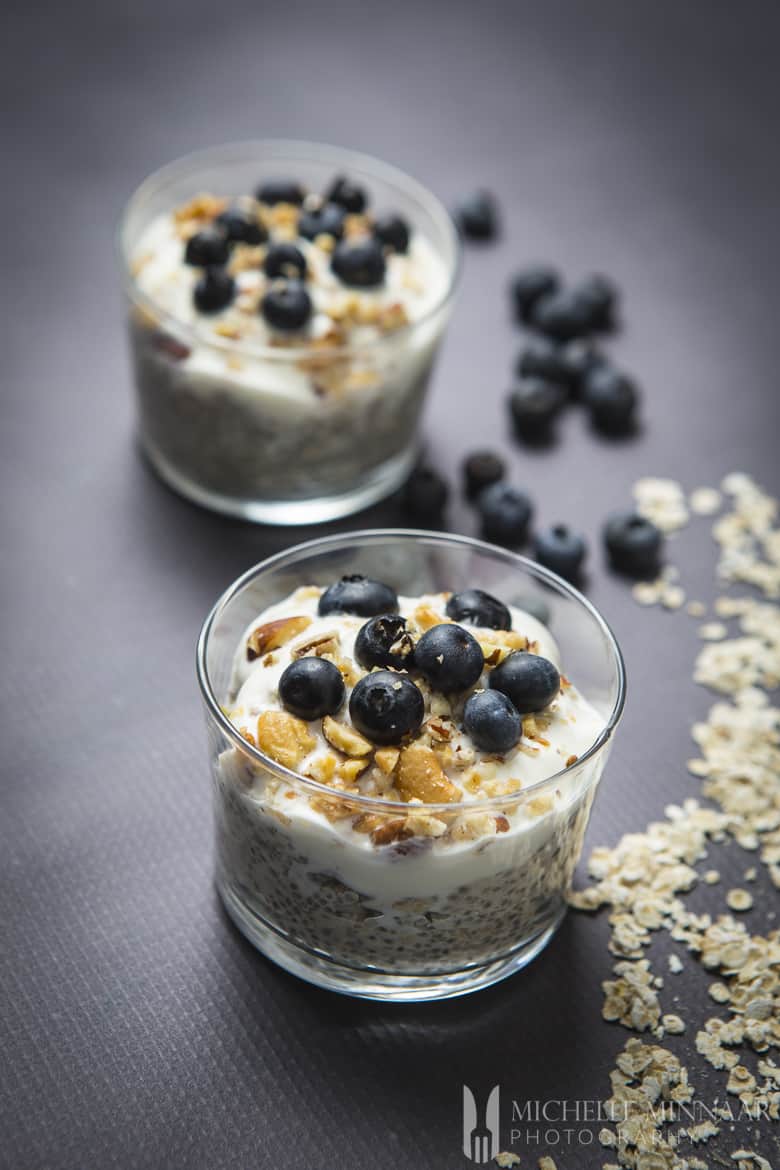 Most weekday mornings run fairly smoothly in my household. I must admit, sometimes it is just so convenient to allow my kids to grab a piece of bread, slather on butter and eat breakfast. For me it's just not a good way to start my day though, laden with guilt for not feeding my children a nutritious breakfast.
This overnight oats recipe is my staple go to breakfast for summer mornings. There are so many variations I can play with. My kids don't even know they are eating the same food repeatedly.
Nutrition of Oats
Rich in dietary fibre, oats has a specific type of fibre called beta-glucan. This beta-glucan lowers bad cholesterol levels. One cup (81g) of dry oats contains 8.2 g of fibre and approximately 307 calories. The recommended daily intake of fibre is 25g for women and 38g for men.
Packed with essential minerals, oats contains manganese, selenium, phosphorus, fibre, magnesium, and zinc. Oats has high levels of carotenoids, tocols (Vitamin E), flavonoids and avenanthramides, which is a class of polyphenols.
What is Oats?
Oats, Avena Sativa, is a cereal commonly eaten in the form of oatmeal or rolled oats.
The grain is mainly eaten as porridge cooked on its own or as an ingredient in breakfast cereals and in baked goods, such as crunchies, oatcakes, oat cookies and oat bread. Oats is a very popular "health food". Many people eat it raw with some fruit juice poured over it for breakfast.
Chia Seeds
This overnight oats breakfast recipe contains chia seeds, depending on your personal preference you can omit them from the meal altogether.
In my mind, chia seeds are fast becoming the next super healthy seed of our generation, bursting with everything that could possibly be beneficial to our health. If you have never tried them before now is the time to start.
So before you indifferently dismiss it, why not give it a whirl? I think they are an acquired taste and texture, so you will either like them or not at all.
Highly Nutritious
An excellent source of omega-3 fatty acids 28 g contains 131 calories, 8.4 g of fat, 13.07 g of carbohydrates, 11.2 g of fibre, 5.6 g of protein and no sugar.
Eating one 30g (1oz) of chia seeds each day would provide 18 percent of daily calcium needs, 27% phosphorus, 30% manganese, and smaller amounts of potassium and copper.
Compared to flaxseeds, chia seeds provide more omega-3s, calcium, phosphorus and fibre. Most people do not consume enough of these essential nutrients.
How to incorporate more Chia Seeds into Your Diet
Chia seeds are relatively easy to find in any major grocery store. They are black in colour and they have a mild, nutty flavour.
Chia seeds can be eaten raw, or cooked and added to yoghurt, cereal, and smoothies. Raw, they can be sprinkled on cereal, yoghurt, oatmeal, or smoothies. They can also be eaten cooked and added to baked goods like bread and muffins.
In vegan baking, they can replace eggs. To use them as an egg substitute in baking, try mixing 1 tablespoon of chia seeds with 3 tablespoons of water, then let them sit for a few minutes. A gel will form that can be used instead of eggs in baking.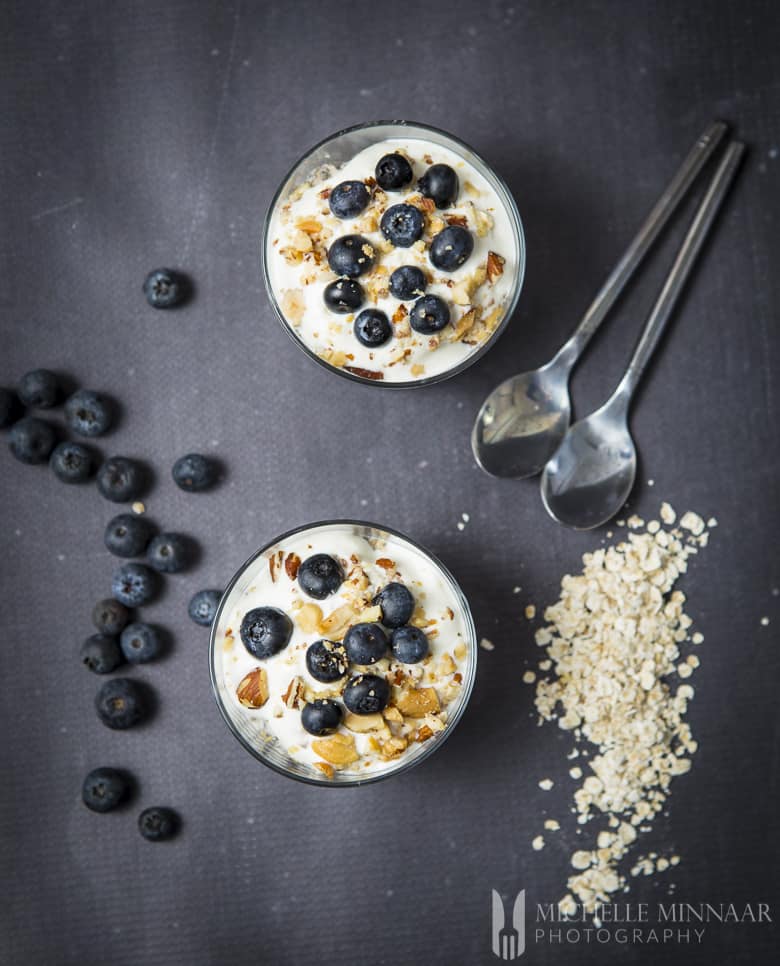 Potential health risks of chia
Chia seeds can absorb up to 27 times their weight in water.
People with oesophageal problems must not consume chia seeds dry, the chia seeds absorb moisture and swell into a gel - which may get stuck in the oesophageal tract. First, soak them or mix them into another food, allow for them to swell then eat them.
Health Benefits of Consuming Oats and Chia Seeds
Eating plant-based, high fibre foods reduces the risk of many adverse health conditions, including obesity, diabetes, heart disease, and overall mortality. As many vegans and vegetarians will confirm, eating these types of foods develops a healthy complexion, increased energy and overall maintaining a lower weight.
Treating Diverticulosis
High-fibre diets have been shown to decrease the flare-ups of diverticulitis by absorbing water in the colon and making bowel movements easier to pass.
Eating a healthy, fibre diet with plenty of fruit and vegetables can reduce pressure and inflammation in the colon.
Heart Disease - Coronary Artery Disease
The U.S. Food and Drug Administration claims that oats, as part of an overall heart-healthy diet, could lower the risk of heart disease.
The possible health benefits of oats include: reducing the risk of coronary artery disease, lowering levels of cholesterol, and reducing one's risk of colorectal cancer.
A study titled "Oats at 10 Years", published in the American Journal of Lifestyle Medicine, found that eating foods rich in whole oats sources of soluble fibre (oats, oat bran, and oat flour) may help reduce the risk of coronary heart disease.
Cardiovascular Disease and Cholesterol
Increased fibre intake has been shown to lower blood pressure and cholesterol levels. A review of 67 separate controlled trials found that even a modest 10-gram per day increase in fibre intake reduced LDL, or "bad" cholesterol, as well as total cholesterol.
Blood Pressure
An article published in the American Journal of Clinical Nutrition concluded that a diet which includes plenty of whole grains (such as oats or wholemeal bread) is just as effective as taking anti-hypertensive medication in lowering blood pressure.
Omega-3s to Fight Heart Disease
Research suggests that omega-3s can decrease the risk for thrombosis and arrhythmias, disorders that can lead to heart attack, stroke and sudden cardiac death.
Omega-3s may also decrease LDL, total cholesterol and triglyceride levels, reduce atherosclerotic plaque, improve endothelial function, and slightly lower blood pressure.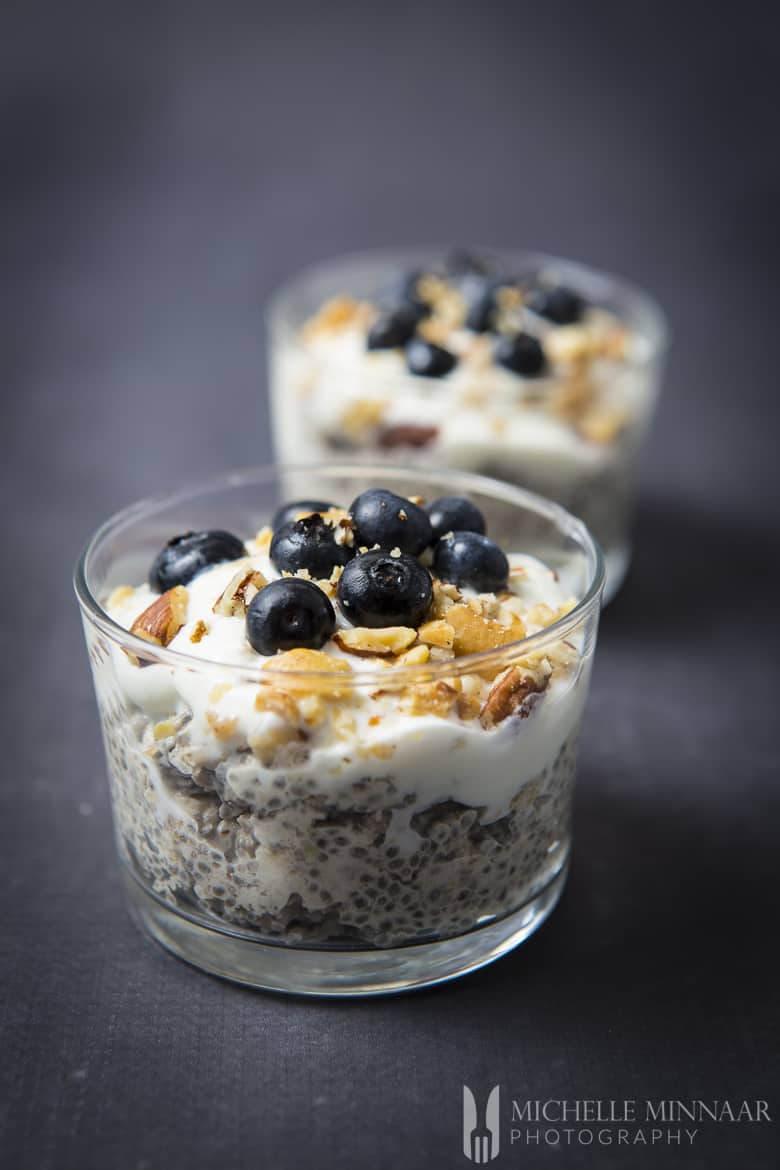 Digestion and Obesity
According to a wide-reaching collection of scientific reviews published in the October 2014 supplement issue of the British Journal of Nutrition, oats may play an important role in improving satiety and diet quality, while increasing digestive, cardiovascular and general metabolic health.
Whole grains are recommended for their beneficial effects on the gastrointestinal tract. The effects range from improved immune health to reducing the risk for obesity and chronic disease.
Epidemiological evidence suggests that regular consumption of whole-grain foods may be correlated with lower body mass index (BMI). The researchers state that eating oats appears to help reduce hunger and increase feelings of fullness.
Digestion and Detox
A diet with adequate fibre prevents constipation and promotes regularity for a healthy digestive tract. Regular bowel movements are crucial for the daily excretion of toxins through the bile and stool.
Colorectal Cancer
Researchers in Britain and the Netherlands pooled published evidence that covered nearly 2 million people to evaluate whether a high fibre diet, mainly from whole grains and cereals like oats, is linked to a lower risk of colorectal cancer.
The study found that for every additional 10g of fibre in someone's diet there is a 10% reduction in their risk of developing colorectal cancer.
Diabetes
High-fibre diets are associated with a lower risk of developing diabetes. Eating high-fibre meals helps to keep blood sugar stable. Based on a review of findings from several large studies, The National Institute of Medicine found that diets with 14g of fibre for every 1,000 calories were associated with significant reductions in the risk of both coronary heart disease and type 2 diabetes.
Start your day with a healthy dose of fibre in this overnight oats recipe and play with flavours, fruits and nuts.
Some Variations on this Overnight Oats Recipe for Enhanced Flavour
Fruits
Mash or blend a banana with a tablespoon of peanut butter during preparation the night before.
Mix some cinnamon into the mixture, just before serving the next morning dry roast some cashew nuts in a pan and serve with more sliced banana and/or strawberries.
Play with fresh fruit. It does not have to be berries - slice any fresh fruit you like onto the cereal.
Make fresh fruit purées and pour on top just before serving - one of my favourites is fresh mango purée.
Nuts
I prefer raw nuts as opposed to processed salted nuts but you can use any nuts you like. Again play with variations. Roast them, toast them or leave them raw, salt them or lightly sprinkle some sugar on them.
Try roasted pine nuts with fresh pineapple.
Different Kinds of Milk
If you have one of those juicing machines that compress almonds and extracts almond milk, this is an ideal recipe for you to use almond milk. Then throw some raw almonds on just before serving with cranberries or pomegranate seeds.
You can use yoghurt in the recipe but please bear in mind the chia seeds need liquid to expand and absorb moisture.So even if you do use extra yoghurt, you must keep the liquid amount consistent in the recipe.
Print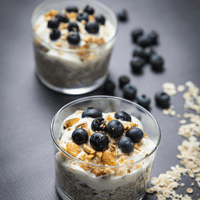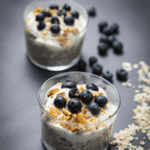 Overnight Oats with Chia and Blueberries
---
125

ml

(1/2 cup) rolled oats

60

ml

(1/4 cup) chia

250

ml

(1 cup) milk

15

ml

(1 tbsp) maple syrup

60

ml

(4 tbsp) plain yogurt

10

blueberries

5

almonds, crushed
---
Instructions
Place the oats, chia, milk and maple syrup in a jar or bowl and stir.
Leave in the fridge overnight.
Top with yogurt, fruit and almonds.
Nutrition
Serving Size:

1 serving

Calories:

492

Sugar:

32.1 g

Sodium:

143 mg

Fat:

14.5 g

Saturated Fat:

2.9 g

Carbohydrates:

71.9 g

Fiber:

13.1 g

Protein:

19.6 g

Cholesterol:

14 mg
save the recipe to your pinterest board