Can you reheat prawns? If you've ever had really delicious prawns, you have probably wondered if it is safe to do so. If you're in this position to learn more about cooking prawns, storing prawns, and reheating them.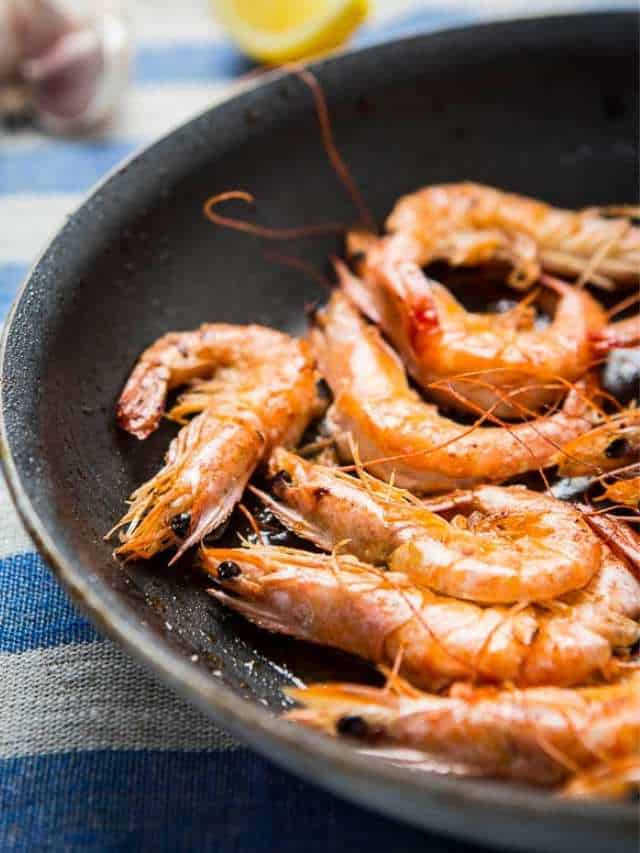 Equipment Needed to Reheat Prawns
The equipment you'll need to reheat prawns depends on the method you are using.
If you are using an oven, you'll need a cookie sheet. If you are reheating on the stovetop, you'll need a large saucepan.
If you are reheating them in the microwave, you'll need paper towels and a microwave-safe plate. If you are reheating them in the air fryer, you will need either parchment paper or foil.
You'll also need oil or melted butter to drizzle no matter what apparatus you are using to reheat them.
Their Taste When Reheated
Prawns, when reheated properly, still taste perfectly fine. They should have a similar flavour and texture to shrimp, and be just as delicious as the first time they were cooked.
Their Texture When Reheated
If you are safely reheating prawns, their texture could change a little bit, but it won't be a major change.
Proper Internal Temperature
Prawns should have an internal temp of 145°F. This is when you know they are safe to eat.
If prawns have a temperature less than 145°F, you put yourself at risk of food poisoning. This is why it is important to make sure they were properly handled, and cooked thoroughly.
What Are Prawns?
Prawns are a freshwater crustacean that have a similar taste and texture to shrimp. They are a very versatile food that tastes great in a variety of recipes, like salad, pasta, or even just in a bowl with grains.
Because they are similar to shrimp, they pair well in many a dish you'd find shrimp in, and can even be used as a substitute. 
If you would like, you can use them as a chicken substitute, too.
Can You Eat Them Raw?
Prawns can be eaten raw. Raw prawns are bluish-grey in colour, and are most often used in sushi dishes.
Can You Eat Cooked Prawns?
Yes, you can eat cooked prawns. One of the beauties of prawns is that they can be consumed in so many ways.
You will typically find prawn in a dish that's cooked.
Do They Need to be Piping Hot Throughout?
It would behoove you to ensure that your prawns are piping hot throughout. This is the best way to avoid harmful bacteria and illness in leftovers.
What Is the Best Method to Reheat Prawns?
The best method for reheating prawns depends on the recipe and the amount of prawns you are cooking.
If you only want to reheat a couple of prawns, I suggest using the air fryer or the microwave. 
But if you want to reheat a lot, I suggest using the oven as you can fit more on a cookie sheet than in a microwave or the air fryer.
Where Should You Store Leftover Prawns?
Storing prawns in a great way to enjoy them later. You can store leftover prawns in the fridge or the freezer. Again, though, they will last longer in the freezer.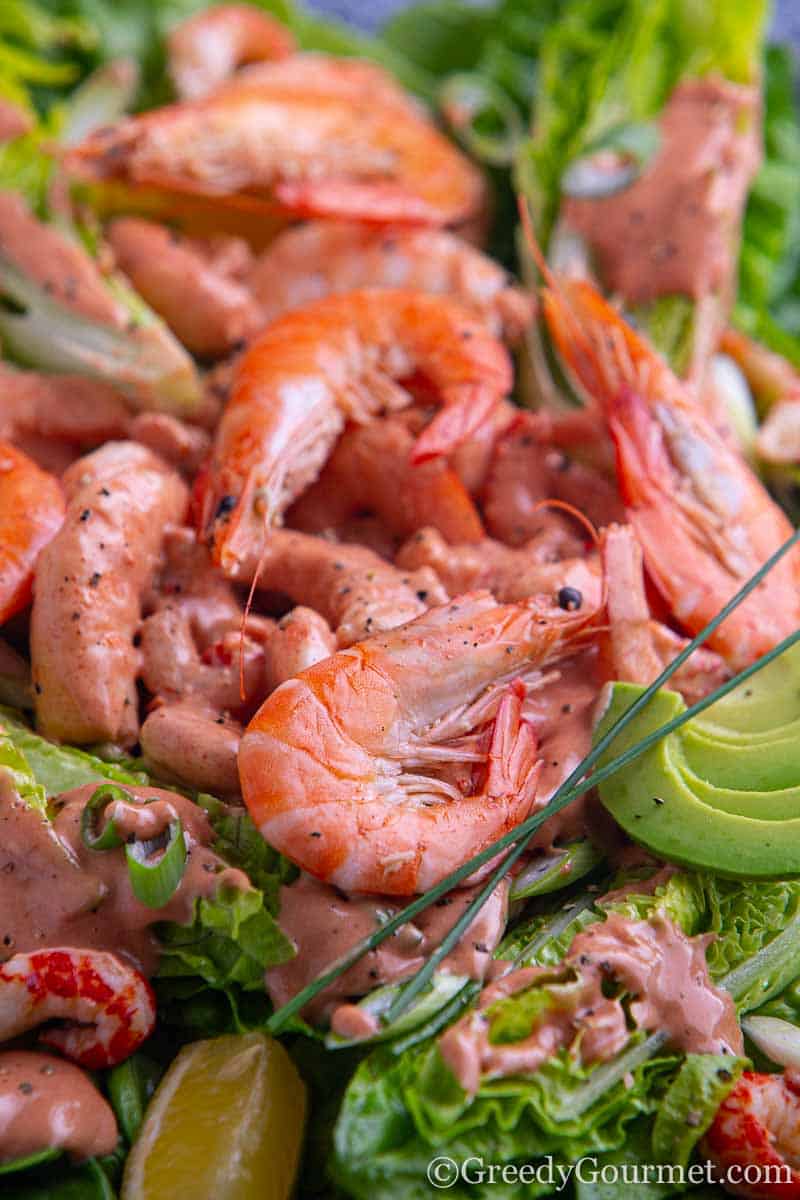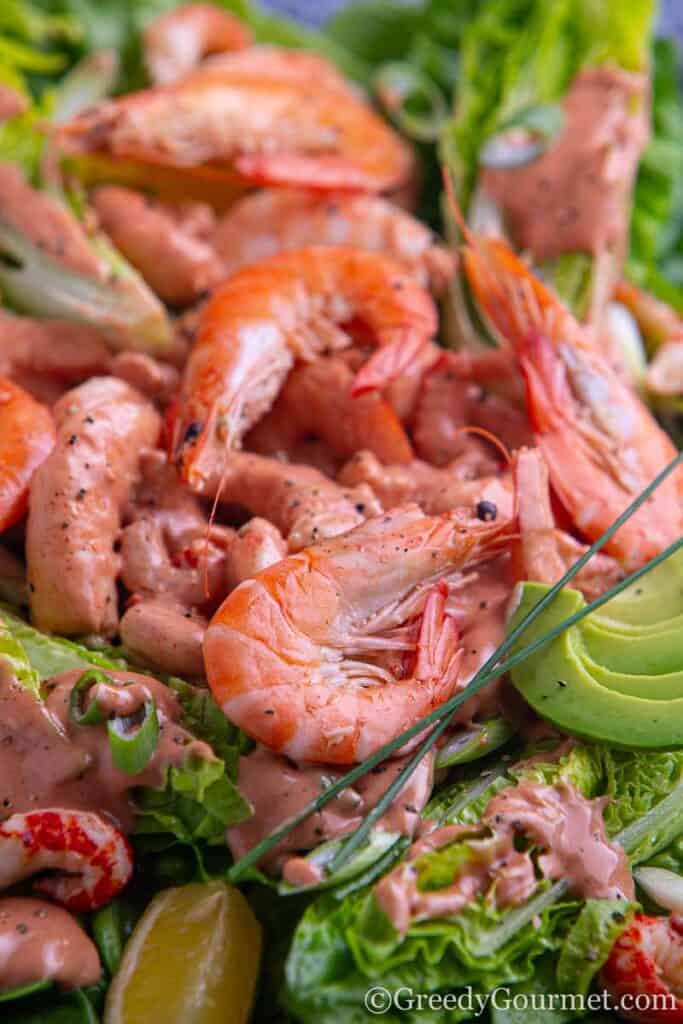 How Long Do They Last When Stored?
Prawns do not last that long, although they will last a little bit longer in the freezer, they only last a couple days in the fridge. 
If you want to reheat them, it's important that you do so within a couple days of storing them.
How to Freeze Prawns
You can freeze prawns, but you cannot refreeze them if they have been frozen before. Once you thaw frozen prawns, you cannot put them back in the freezer.
Can You Reheat Prawns More Than Once?
You should not reheat prawns more than once. Doing so can be harmful and make you sick.
The best way to eat prawns cooked is either when they are freshly cooked or after reheating them once.
Can You Leave Them Out Overnight?
No, like shrimp, you cannot leave prawns out overnight. They will become spoiled and be unsafe to eat. Whether they were cooked or raw, they should not be left out overnight.
Always save uneaten prawn in the fridge or freezer.
What Other Seafood Can You Reheat?
You can reheat other seafood like scallops and shrimp. You can also reheat a variety of fish.
Although it doesn't always taste the best, or smell the best, you can reheat a lot of underwater foods.
Do You Need to Reheat Red Prawns and White Prawns Differently?
Nope, you do not have to worry about cooking prawns or reheating them differently according to their color. All you have to worry about is what delicious recipes you are going to use them in.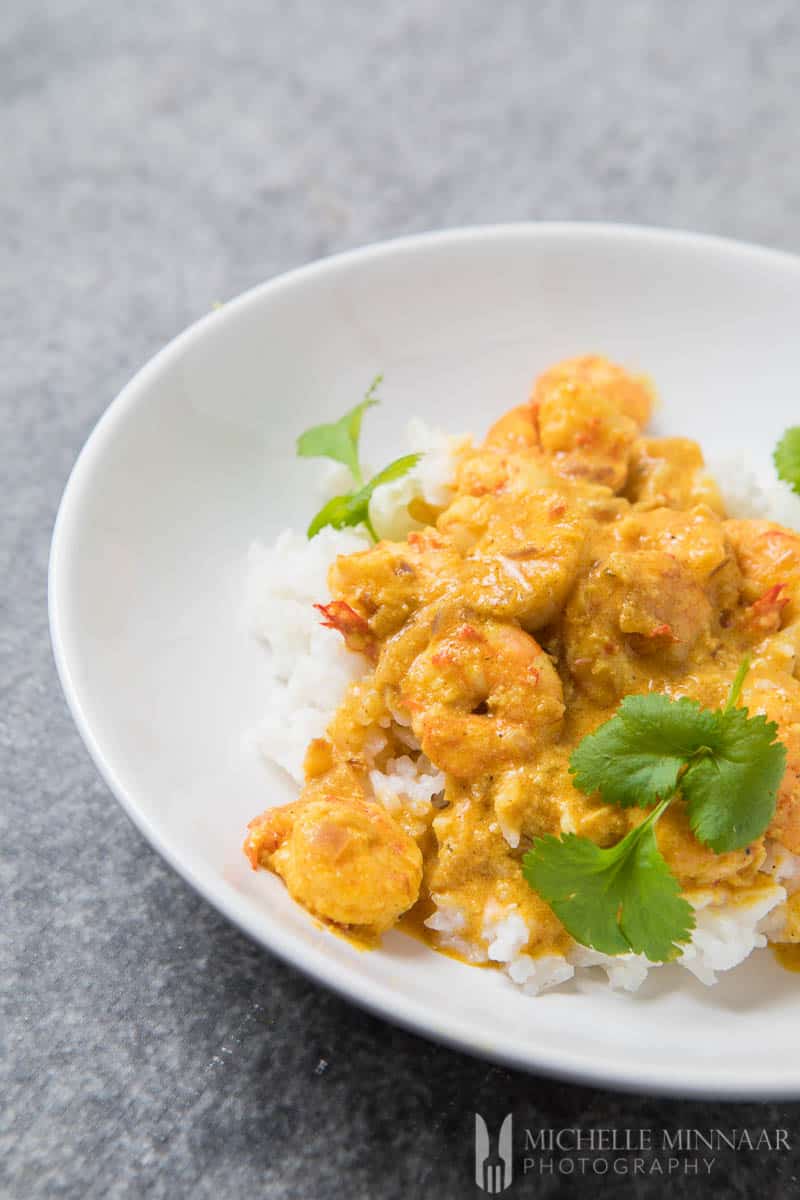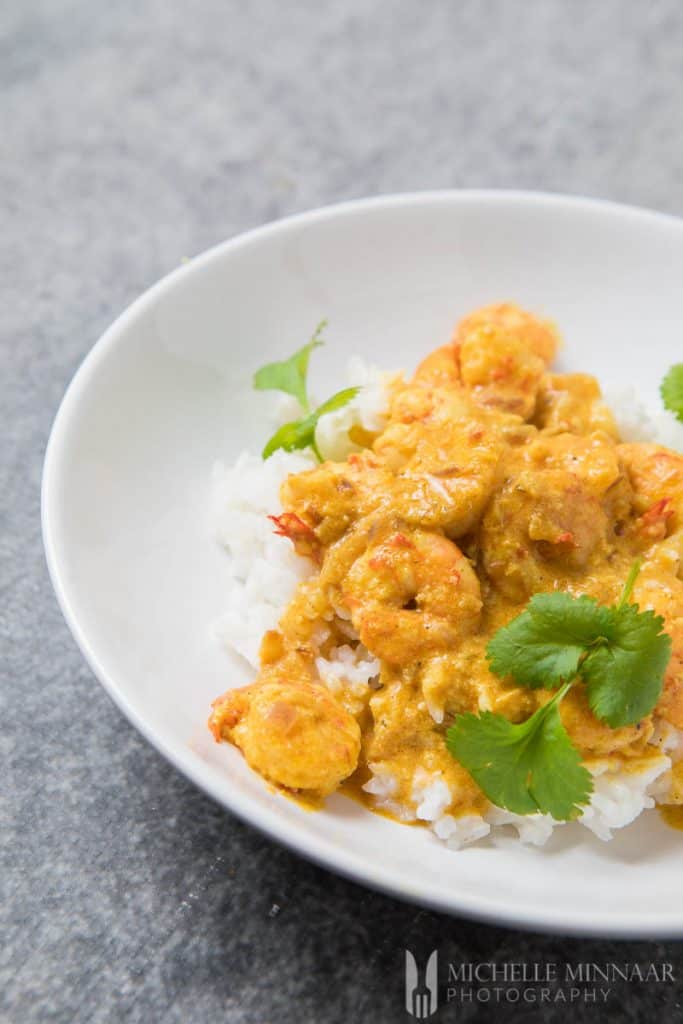 Do They Have Bacteria?
Yes, they do have bacteria. That is why it is so important to cook prawns and ensure they are piping hot throughout.
Remember, you can eat prawns raw, but this does increase your chance of contracting a foodborne illness.
Can You Eat Cooked Prawns Cold?
If you know that your prawns were handled, cooked, and stored properly, then you can eat cooked prawns cold. Keep in mind that you may have to cook prawns yourself to be certain that they were handled properly.
Eating prawns cold can make you more susceptible to foodborne illnesses and harmful bacteria, so it is best to reheat them before eating instead of eating them cold.
Can You Reheat Prawns on the Stovetop?
It is safe to reheat prawns on the stove top. Put them in a large saucepan and stir occasionally to prevent scorching, but not too much so that they are given time to cook. Make sure they are spread out throughout the saucepan, and that you cook them with butter or oil.
Can You Reheat Prawns in the Microwave?
You can definitely reheat prawns in the microwave.
Sandwich them in between paper towels and microwave until reheated in 30 second increments. Flip them over after each pass in the microwave to make sure they are reheated on both sides.
You can also heat them in a glass container, like a Pyrex storage bin. Try to avoid plastic, though. 
This is a great way to reheat when you are only cooking for yourself or a couple people as it does not take much time, nor does it cause a mess. It's also a great way if you are adding them to a cold dish like salad.
What About Boiling Them?
It is not a great idea to reheat prawns by boiling them. Although it would be safe to reheat them in this way, it would affect the texture, and not taste very good.
Instead of eating boiled prawn, fry them in a skillet. It'll taste delicious!
Can You Reheat Prawns in the Air Fryer?
Reheating prawns is also very easy to do in the air fryer. Air fryers that double as toaster ovens often have a reheat setting, but if they don't, just set the air fryer to 300°F and cook for about two minutes. 
You should not need to flip them since air fryers work as convection ovens, circulating the air throughout.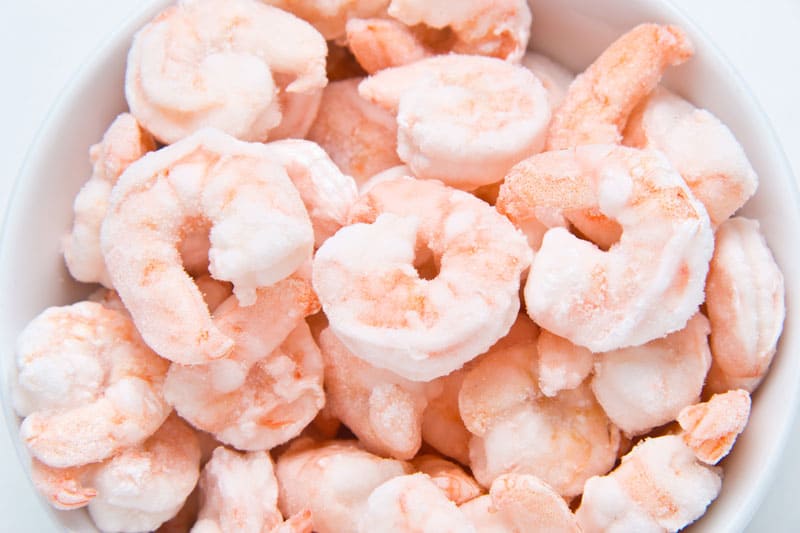 How to Avoid Food Poisoning
There is a chance of becoming ill when eating prawns, especially raw prawns. The best way to avoid foodborne illness from prawn is by eating them cooked, but you can safely eat them raw, too.
If you have a weakened immune system or are pregnant, it is best to avoid eating raw prawns to avoid foodborne illness. If you are eating raw prawns, and you notice a funky taste or odor, stop eating them immediately, as this could be a sign of bacteria that could cause food poisoning.
Do not eat them if they've been sitting out at room temperature for too long, or if other foods in your dish exhibit unsafe signs, too.
How to Properly Handle Prawns
Prawns need to be handled with care to avoid contamination. They should be peeled, cleaned, and deveined before eating.
How to Know if a Prawn is Properly Cooked
You will be able to tell whether a prawn is properly cooked by looking at its color, but don't forget to check the internal temperature. You want it to be piping hot throughout before eating.
Do not add a prawn to a dish if it has only gotten warm, not hot. If you want cool prawn in your meals, like salad, cook them until hot and let them cool before adding them.
How to Know if a Prawn Has Gone Bad
Do not eat prawns after three days of cooking them.
If prawns have a rotten odor, or are discolored, you should not consume them. Telling whether prawns are safe to eat is similar to telling whether fish is safe to eat.
Proper Storage
You can easily store prawns, but not for very long. They make good leftovers, but only if you eat them within a couple days and after they are properly stored.
Store prawns in the fridge in airtight packaging, like a glass container or a vacuum-sealed plastic freezer bag.
When you properly prepare to store them, it makes it much easier to defrost, too. Click here to see our complete guide as to how to do so.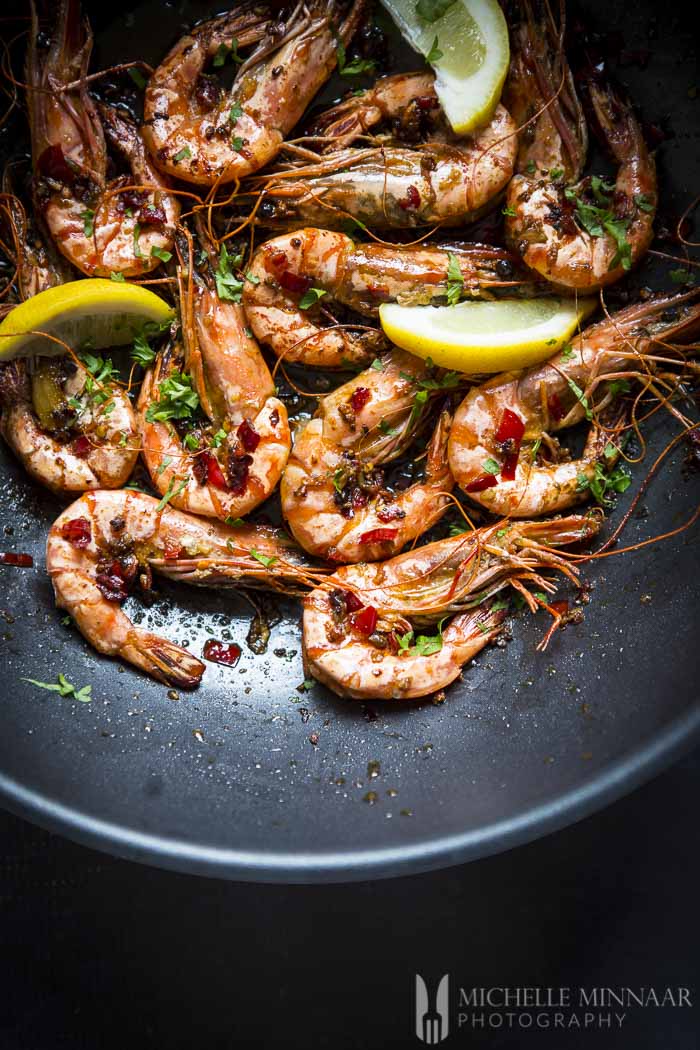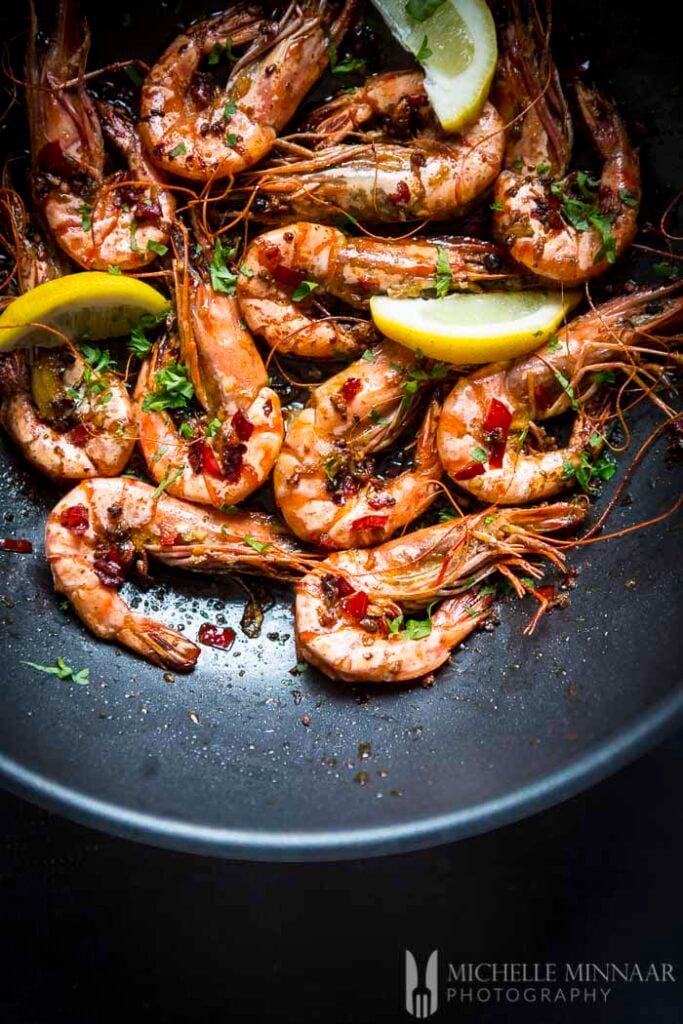 How to Package Leftover Prawns
Again, storing prawns is a great way to enjoy them after you have cooked them. You can store them in a glass container, as this will keep them from taking on a smell or taste from the fridge or freezer.
General Advice for Reheating Prawns
Here are a couple of tips to follow when you are reheating prawns:
Flip halfway through. Flipping halfway through is an important step, because it gets both sides of the prawns cooked, and ensures they are piping hot throughout.
Don't forget the liquid. Drizzling prawns in oil or butter before reheating gives them some moisture and prevents them from drying out. No one wants a dry prawn in their dish!
Don't overheat. If you overheat your prawns, they will take on a rubbery, chewy texture. You want them to have the texture of shrimp, and that will come more naturally when you do not overheat them.
Cooking with Leftover Prawns
After safely reheating prawns, you can eat them in a variety of delicious recipes. Here are some of my favorite ways to eat leftover prawns:
Salads
Pasta
Rice dishes, such as fried rice
Breaded
To me, there is no dish that doesn't taste good with prawn!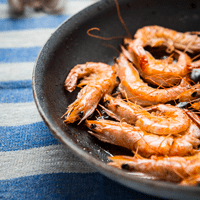 How To Reheat Prawns
Reheating Time:
20 minutes
Do you have plenty of leftover cooked prawns and wondering whether you can reheat them? Learn which reheating method works the best!
Instructions
The best method for reheating prawns is in the oven. To do so:
Lightly grease a parchment-lined baking sheet.
Place the prawns evenly across the sheet and add a bit of oil. Then bake for about 20 minutes at 400°F, flipping them over halfway through the baking time.
Cooking prawns in the oven is a great way to safely reheat prawns, especially if you're reheating for your entire family.