Explore Norway and its raw, rugged and natural beauty with Hurtigruten's Classic Voyage cruise.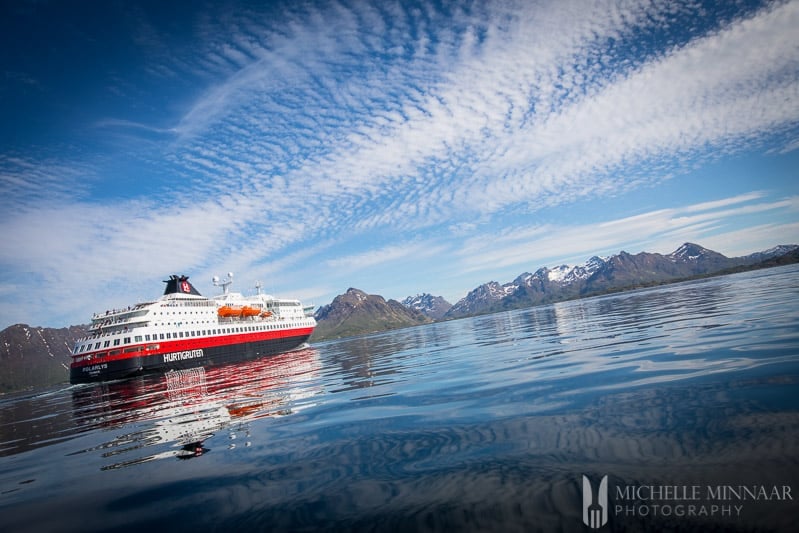 Truth be told, I never would have visited Norway if I weren't invited. Earlier this year, I had a choice of 16 European cities to travel to. Still reeling from the Beast of the East, I looked for the most southern city on the list, which happened to be Lisbon and traveled there, happy as a clam.
Since UK isn't renowned for its glorious weather, my natural inclination is to opt for warm destinations. I don't know about you, but I certainly recognise that at times I need to expand my comfort zones a bit. In this case I travelled the most north I've ever been, well within the realms of the Arctic Circle. Not only did I brave the cold but also lost another virginity - going on a cruise ship.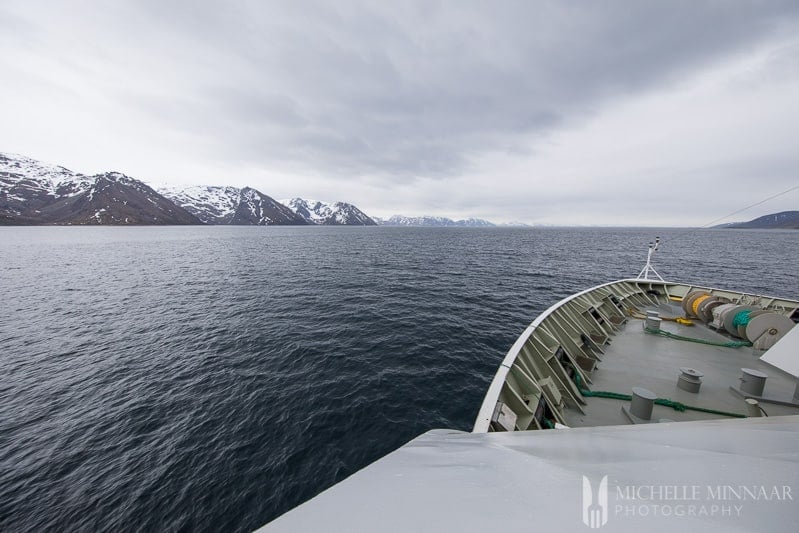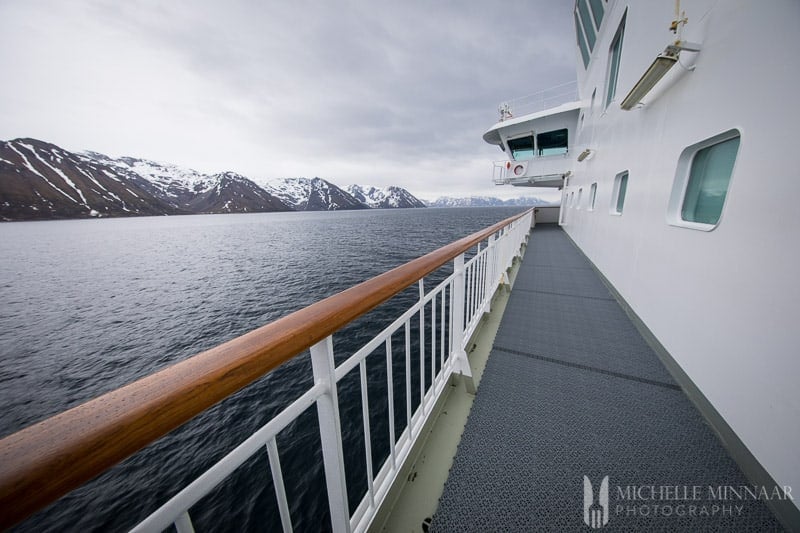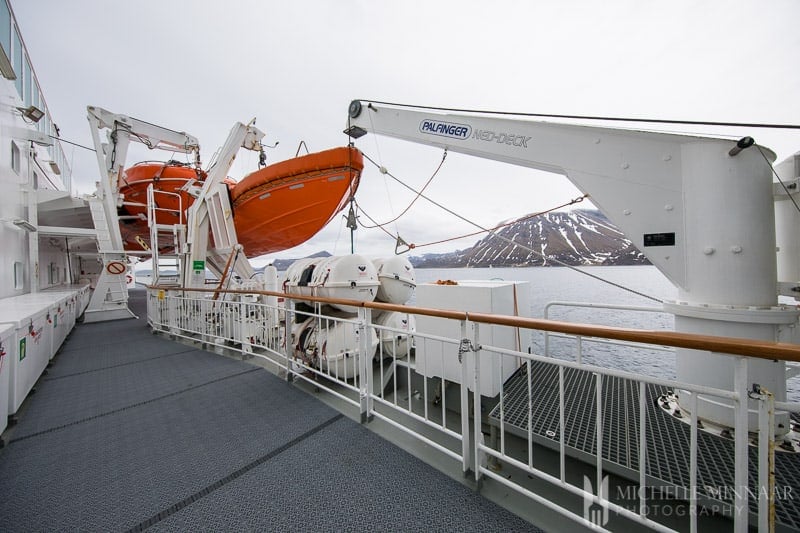 Amongst younger generations the stereotypical image of a cruise is filled with imagery of retired, old people playing bingo between ports, hoping to squeeze the most out of life before they kick the bucket. As I were to find out, this wasn't necessarily the case.
Hurtigruten might be well known in Scandinavia and in some parts of Europe, but not so much so in the UK. This isn't just any kind of cruise company who decided to get in on a quick buck with the growing demand for cruise holidays.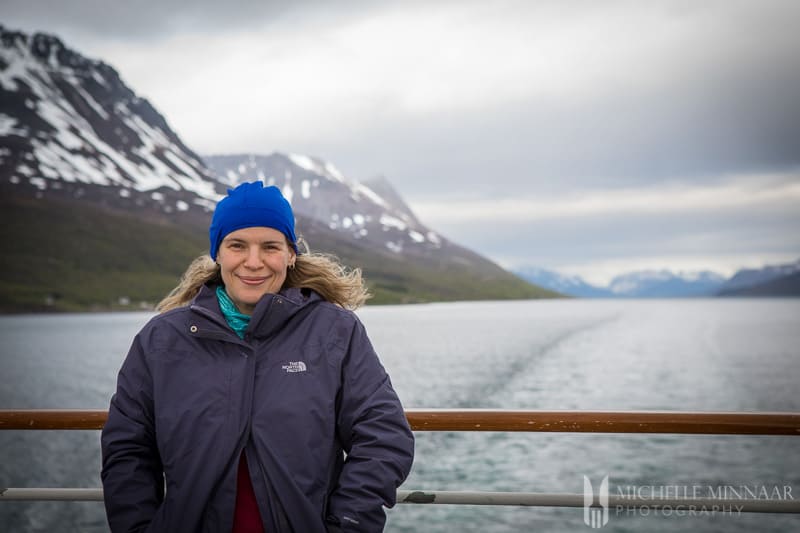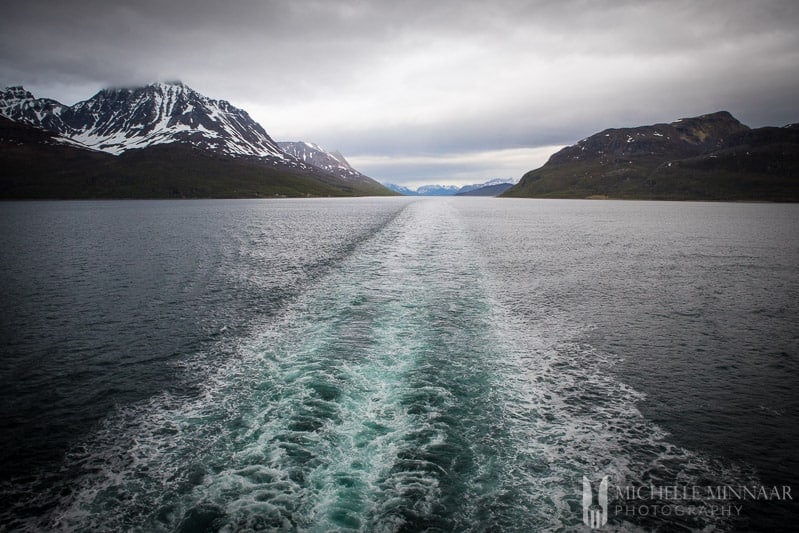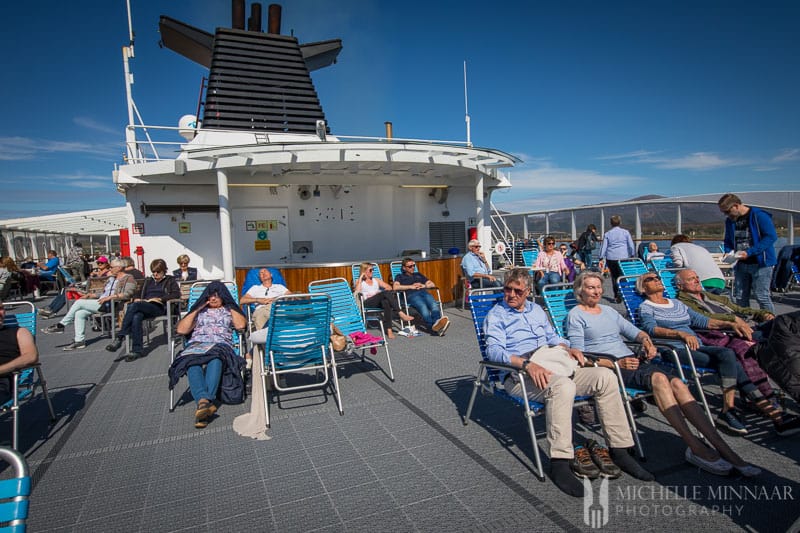 If I had to come up with an analogy it will be to compare Dubai to Rome. A lot of money has been thrown at the middle of the desert to create a booming tourism industry, where entertainment and shopping abound and you can even bizarrely partake in activities such as skiing. Fun? Yes. Does it have a soul? No.
Rome is steeped in history, and if you remove one layer, you'll find another underneath, and another. History, architecture, food. You can spend a lifetime there and still discover surprising facts about this ancient city.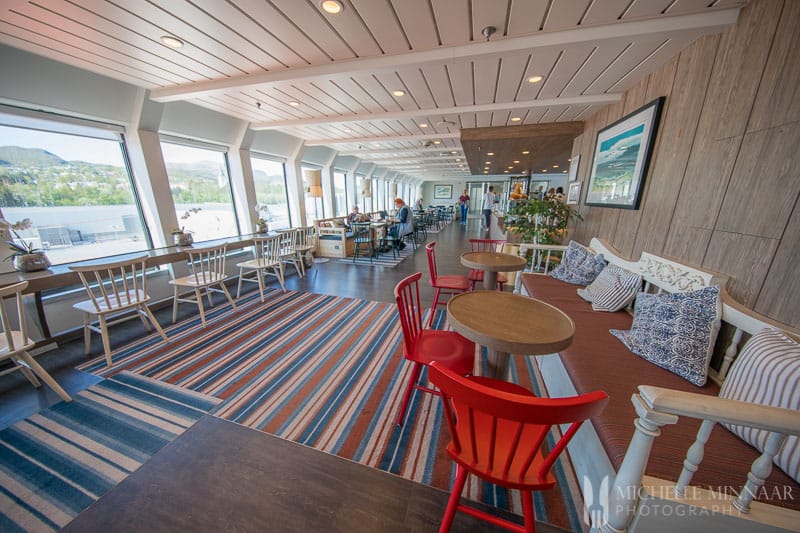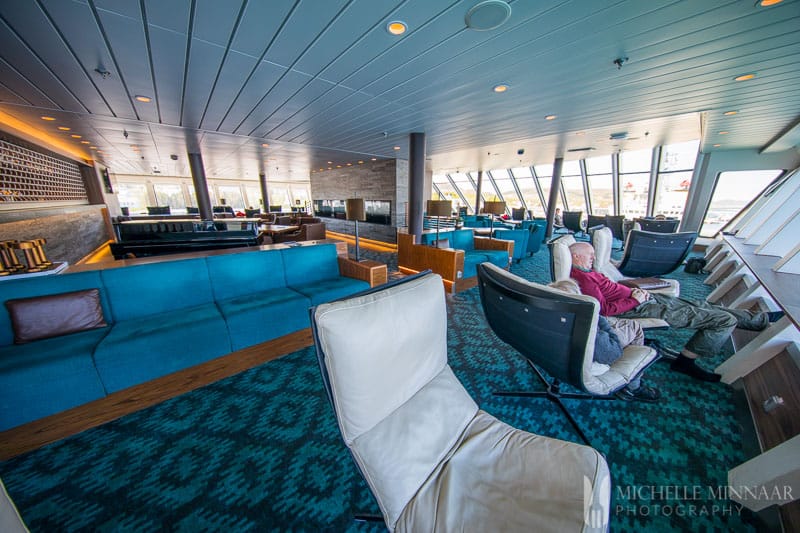 Huge, purpose-built cruise liners sail the seas all across the world on a daily basis. These floating resorts provide entertainment, in various forms, around the clock serving food that will satisfy every palate. What's not to like?
Yet, Hurtigruten is where the soul is at. It all started in 1893, coastal steam liners, where transport links were created to create a closer-knit community between the coastal cities. Not only did the boat transport goods, such as skrei (fish) to the different ports, but mail as well. People came later and its onboard facilities improved and organically evolved into what it is today. More specifically, the captain that established these routes from north to south was called Richard With. Today, the history of Hurtigruten celebrates its 125th year!
Hurtigruten's history
Back in the late 19th century, coastal travel was limited, especially between the cities of Trondheim, Tromsø and Hammerfest. At that time, there were only 28 lighthouses in the area which made travel very difficult and hazardous. Seas can get rough in these areas and lighthouses are needed for guidance.
In 1893, the Vesteraalen's Steamship Company decided to tackle this problem. With Captain Richard With's support, they were able to expand the traffic lines from Trondheim and Hammerfest all the way to Bergen and Kirkenes. The trip only took 7 days, therefore it was called 'hurtig ruten', meaning "fast route". Hurtigruten!
In 1896 the Captain helped transport a hotel to Svalbard, outside Longyearbyen, with hopes to increase traffic. The hotel called Hotellneset still stands there to this day. In the same year, he established a "sport route", carrying passengers from Hammerfest and Svalbard. In 1988, due to its popularity, the route expanded yet again to the south of Norway and in 1908, it was possible to go all the way to Kirkenes, which is near the Russian border. With each passing year, the ships expanded their routes and cites like Lofoten and Vesteralen became permanent stops for the ships. Moreover, each year, as with the expansion, the ships saw vast technical advancements in the design of the ships. For example, the cabins were of the first that were fitted with water and had separate ventilation systems.
The number of passengers grew from 230,000 in 1936 to 500,000 passengers by 1949. Today, there are 15 ships in operation, ready to accommodate you on your next Arctic trip. Don't worry, today the ships have modern facilities, making the Hurtigruten ships a hallmark with respect to travel on the Norwegian coast.
Transport today
Locals regularly use this form of transport with one such example being mothers of newborns. The further up north you go, the sparser the population and facilities available. Hours away from the closest hospitals, expectant mothers opt more often than not to stay at the hospital from 4 weeks before birth, ensuring the arrival of their babies in the smoothest and safest way possible. The problem comes in when they want to return home but can't take babies onboard planes because of the health risks posed. In this case, Hurtigruten saves the day by providing safe passage for mother and child. This is just one example of the functional purpose this company serves for the greater good.
There are 15 boats in the current Norwegian fleet offering the Hurtigruten experience. Believe it or not, but it actually is a large number of ships considering their size and vast service offerings. The Polarlys, which I went on, accommodates 35 cars as well, which makes Norway ideal for an unforgettable, idyllic road trip. Alternatively, you can let Hurtigruten take the lead when it comes to excursions.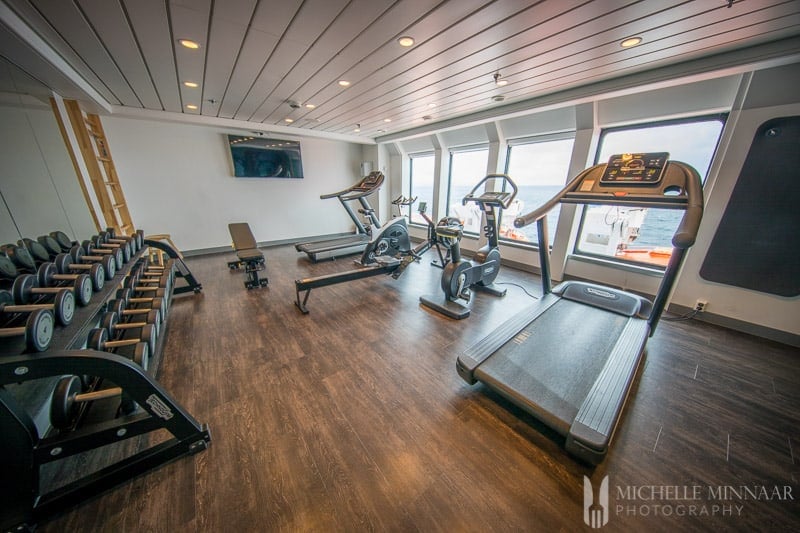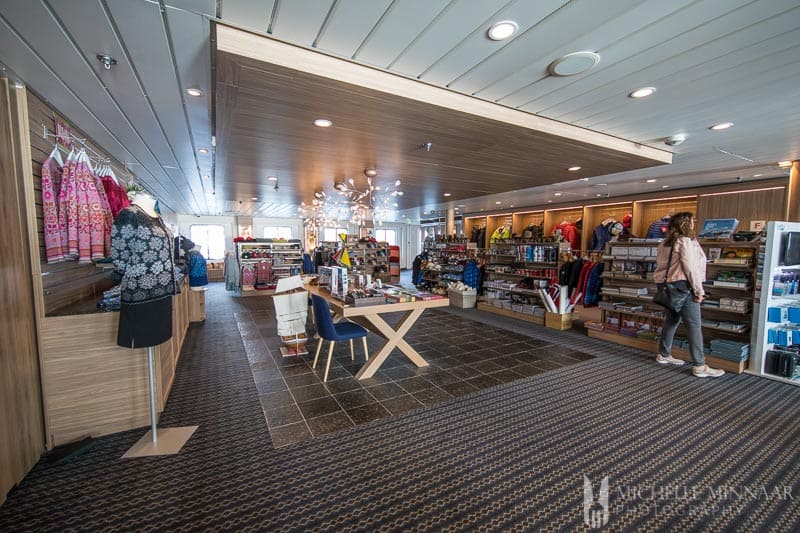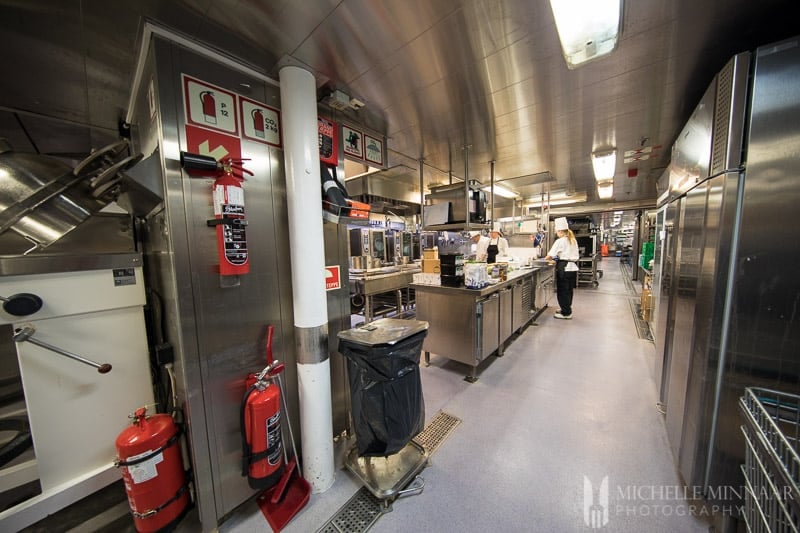 Looking at these photos, you can really grasp just how modern the ship's facilities are, with hint of true Norwegian authenticity.
Dining on Hurtigruten
The food onboard the Hurtigruten was amazing. First and foremost, there is the open buffet which can accommodate all types of guests. One of my favourite parts was they also had fresh produce from the local cuisine, staying true to its roots! Wouldn't you want to have freshly caught seafood while you are up there? Only the best!
Some of these delicacies available at the buffet included herring, gravad lax, smoked salmon, cooked salmon and other sea creatures that you can hardly find back home in the UK or on the continent. This is why Hurtigruten is an amazing culinary experience for the biggest foodies and seafood lovers.
Otherwise, the buffet also includes the usual items such as eggs, bacon, baked beans, roasted vegetables, soup, salad ingredients, various sauces, pastas and limited pudding. Overall, the food is overwhelmingly healthy, which is a big bonus.
Hurtigruten also caters for vegetarians, vegans and others on special diets. Even if you are gluten or lactose intolerant, you are covered. The selection is so vast that there is something for everyone to eat. All in all, the buffet is great and it gets a big thumbs up from me.
For a more premium culinary experience,  there is a set menu available at times too where you can indulge yourself in a fancy luncheon or dinner. I had a joint dinner at the ship's main restaurant "Torget" – enjoying the culinary concept Norway's Coastal Kitchen.
Norway's Coastal Kitchen
The set menu of the day was cured salmon, venison, and apple cake.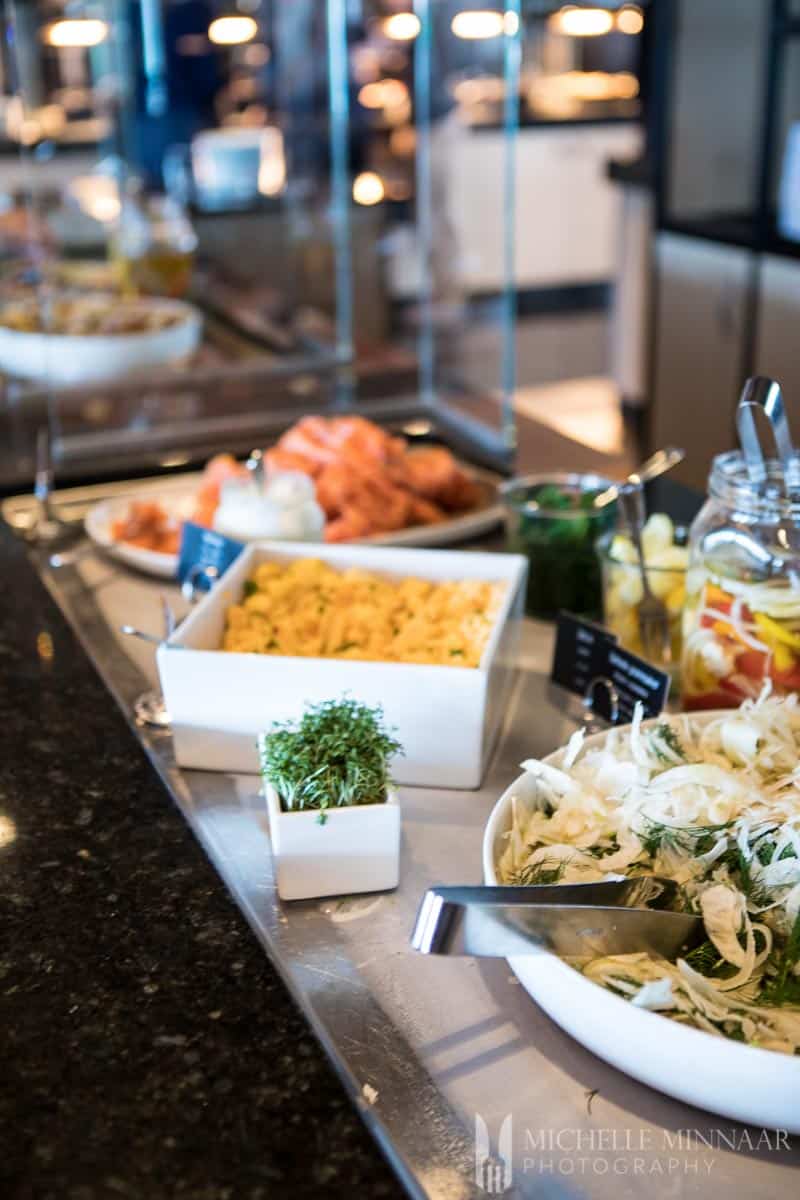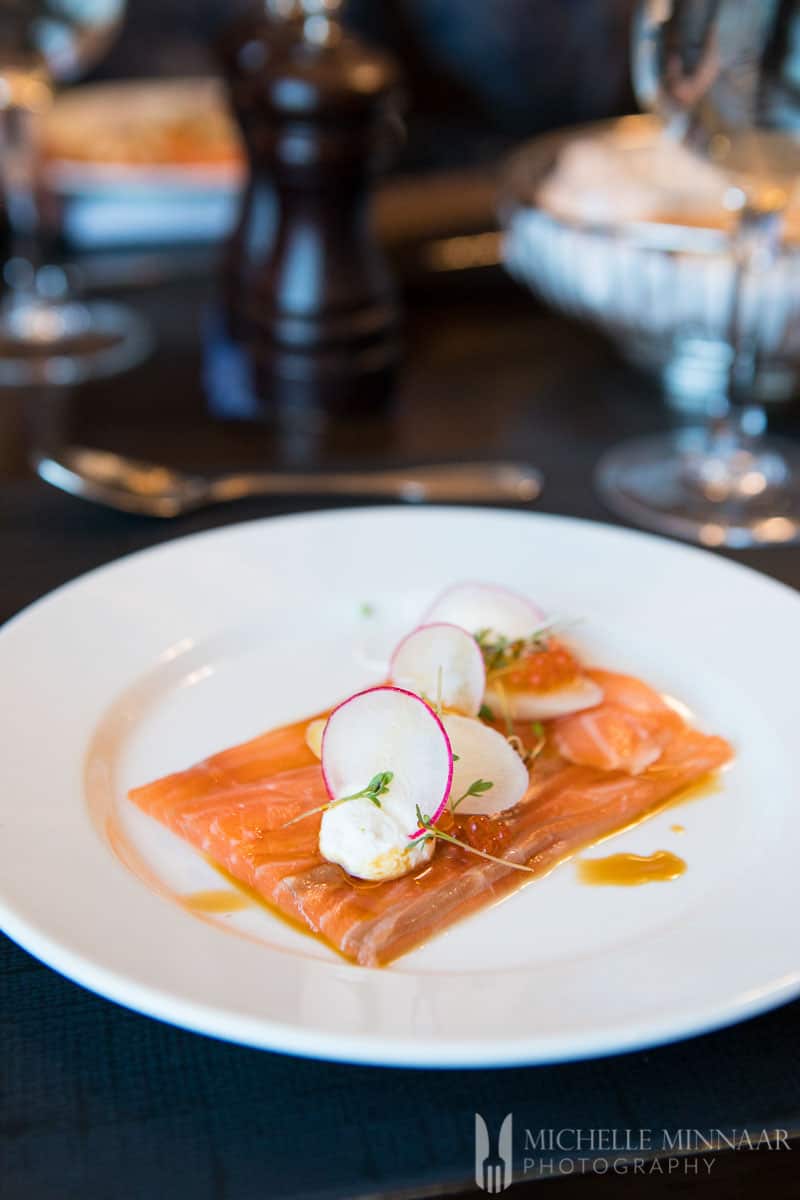 The cured salmon was for a lack of a better word - perfect! The salmon was beautifully cut, showcasing the amazing knife skills of the chefs onboard. Accompanied by some salmon roe, cress and thin slices of radish, this cured salmon disappeared extremely fast from my plate!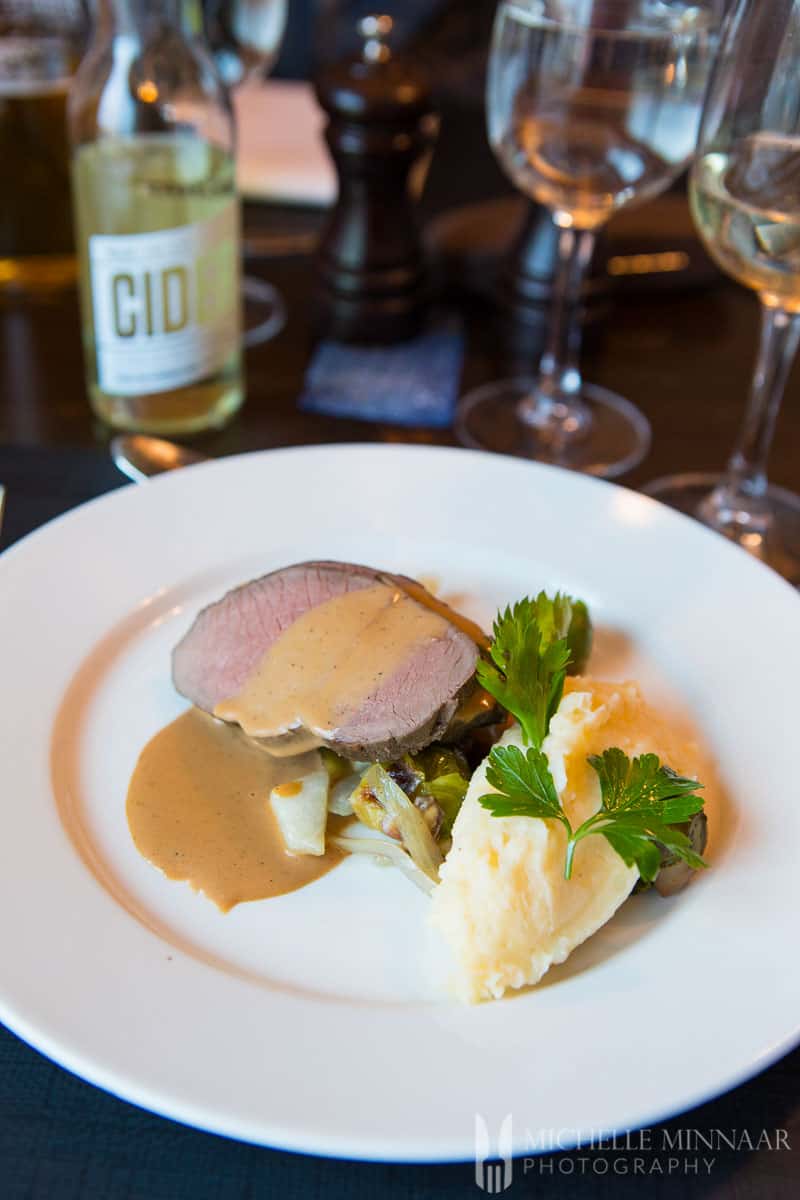 Next came the venison main course dish. The venison was cooked just right, with a tender, pinkish center. The gravy was a perfect addition to the meat as well as the potato mash. This is a very common side dish in Scandinavian cuisine.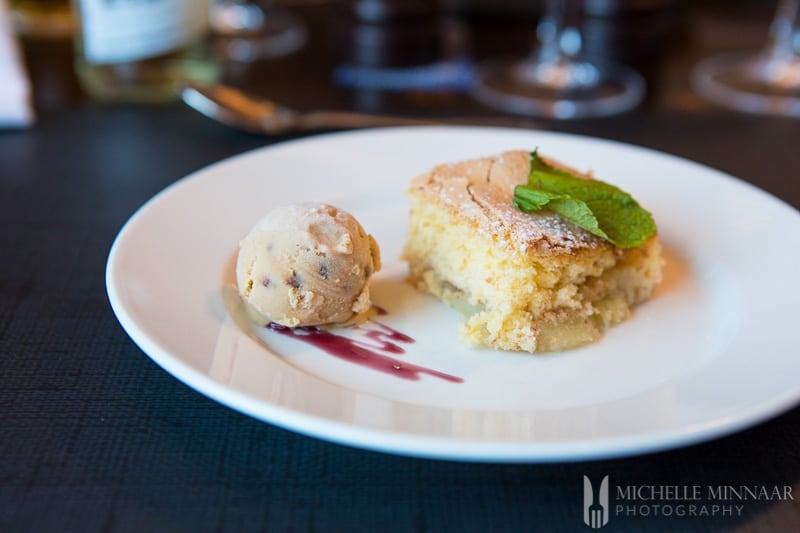 The apple cake was soft in the center, the sponge was moist and it was most enjoyable with a scoop of ice cream. In my opinion, a very solid restaurant meal onboard a ship.
What surprised me even more is the fact that there is an option to go fine dining, where you can order king crab too along with the option of pairing wine with each dish.
Kysten menu
Alternatively, you can also enjoy a dinner at "Kysten", trying the local specialties and delicacies of the Hurtigruten à la carte menu. Here you'll find everything when it comes to local cuisine.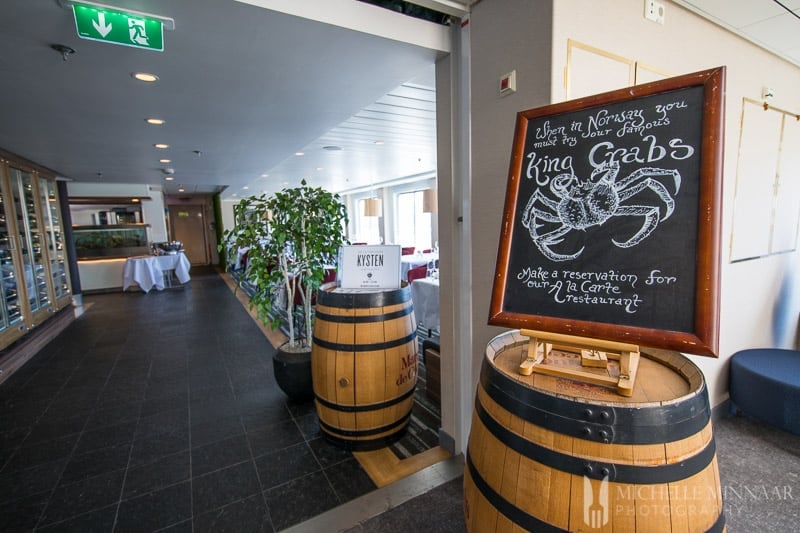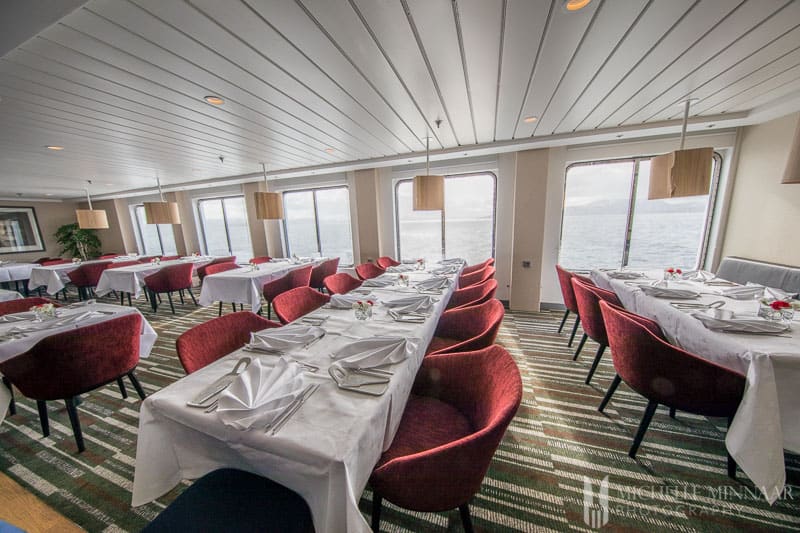 Aren't the views incredible? Imagine a fine dining experience with arctic and coastal views.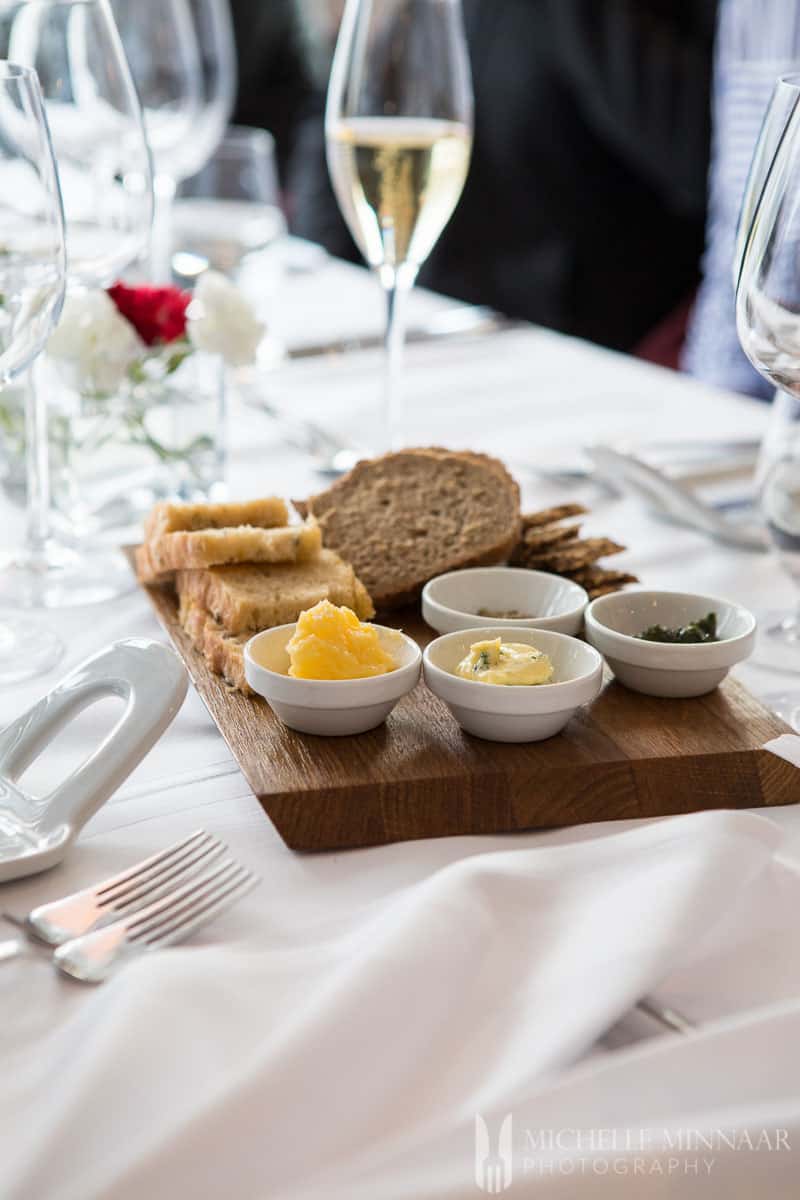 First, it all started with different flavoured butters and fresh bread.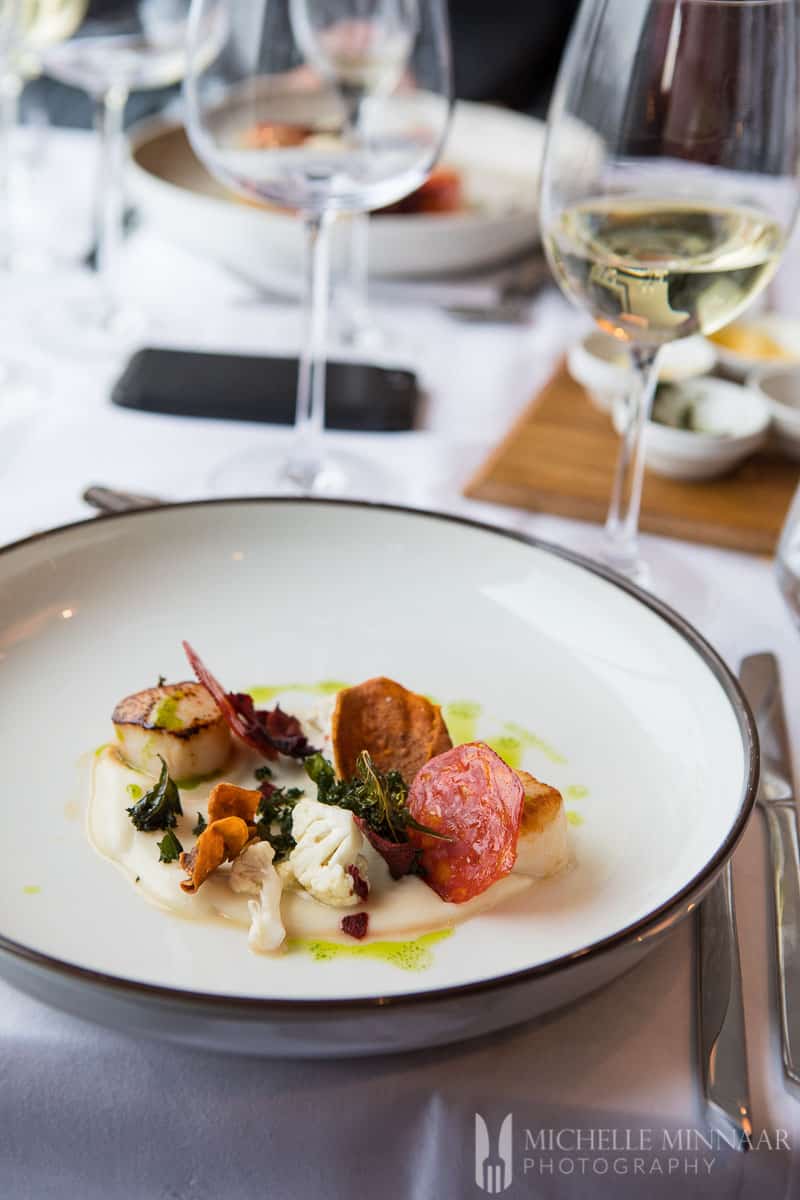 Next came the scallop and chorizo dish which was very well balanced with small portions of seasonal vegetables. Doesn't this dish look like it came from a Michelin-starred restaurant? Plus, the white wine pairing further enhanced the umami flavours of the scallops and chorizo.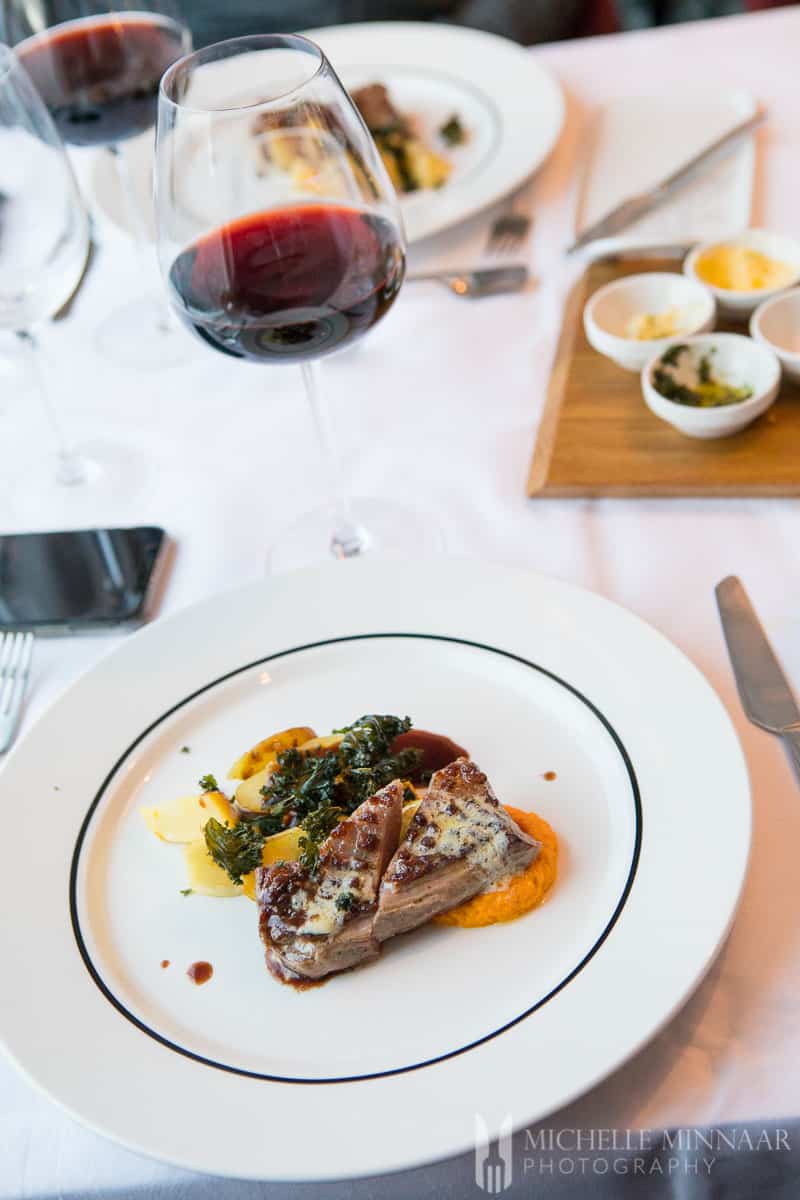 The lamb rump was very memorable and filled me up completely. Don't be fooled by the portion size, it's more generous than it appears.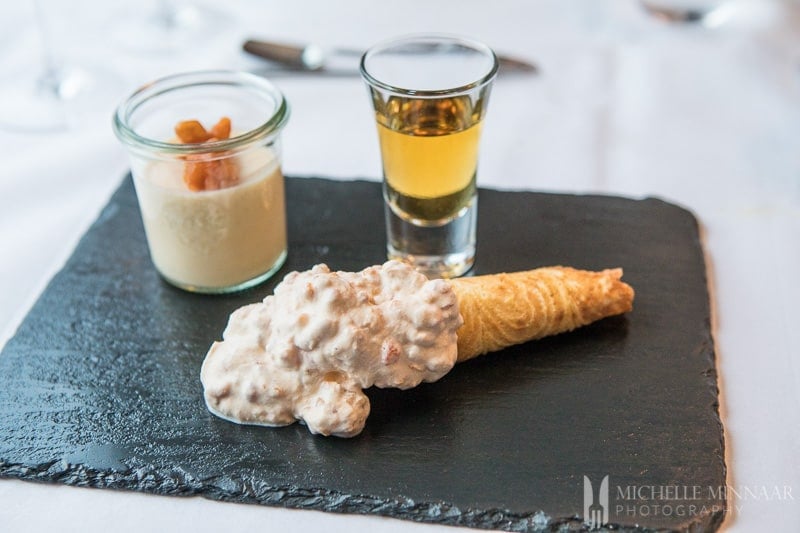 The evening ended with an authentic Norwegian dessert which came with a shot of a little digestive. The waffle was soft and overall the dessert was delicious.
free prawns anyone?
One event I truly enjoyed on board the Hurtigruten was the fact how the passengers were given Norwegian flag. The tourists would then wave at a tiny village, which was a very amicable experience. Traditionally, the villagers wave back at the same time every day of the week and sometimes they even respond with a display of fireworks.
Beforehand passengers are handed a cup of fresh prawns to enjoy on deck.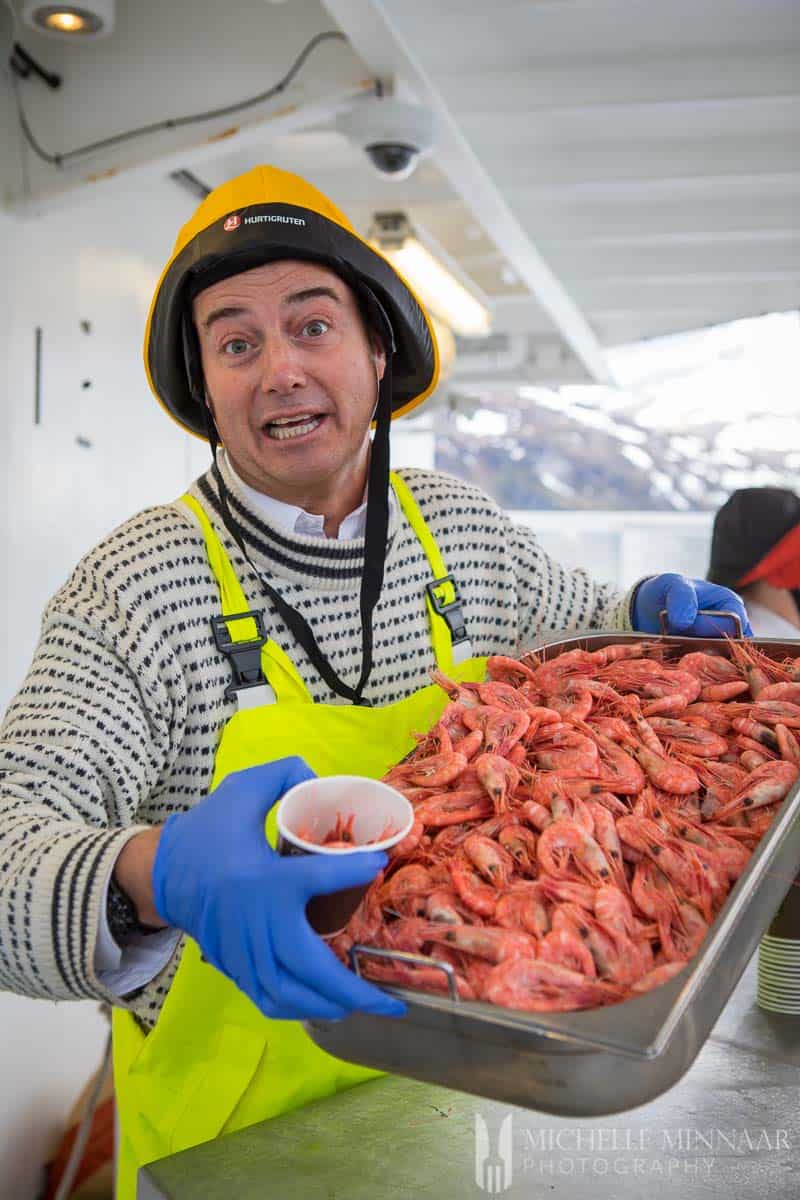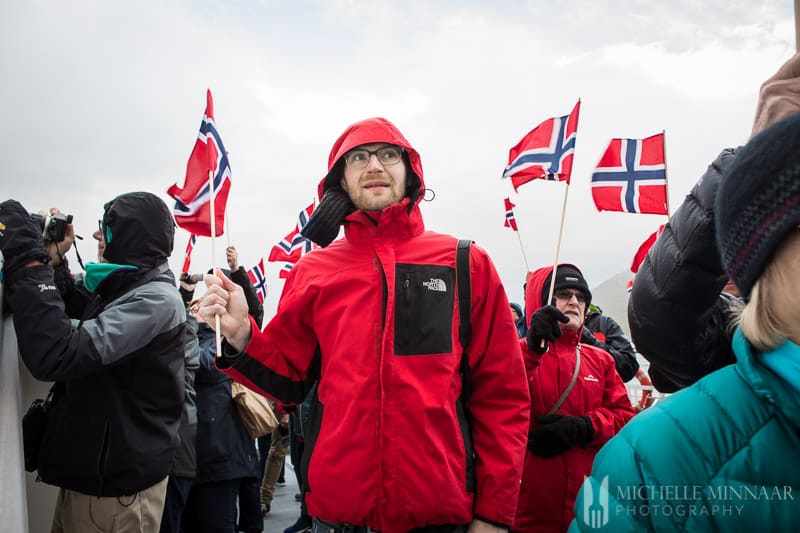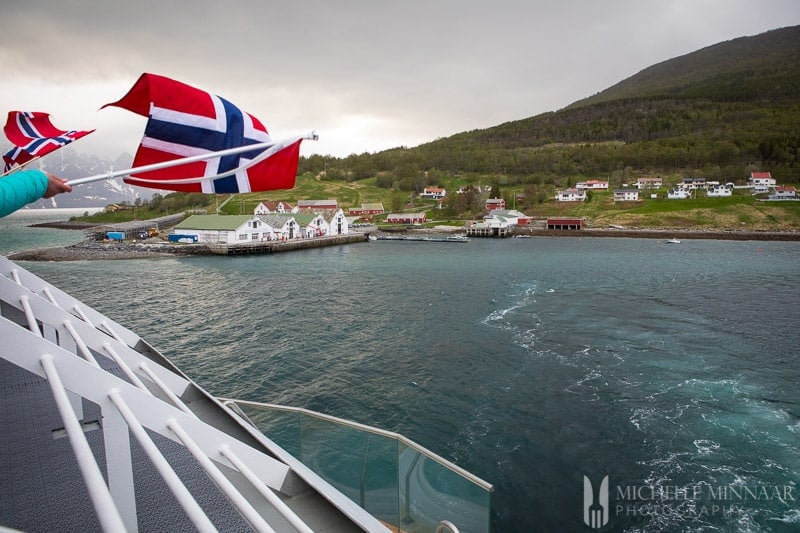 The press trip ended at the MS Polarlys docking at Svolvær where we wished the ship and its crew farewell. In Svolvaer, there was great food and accommodation to be had. For example, I enjoyed a wonderful dinner at the renowned Børsen Spiseri. There again, you have the opportunity to eat amazing local seafood. Just take a scroll through the photos and be the judge yourself.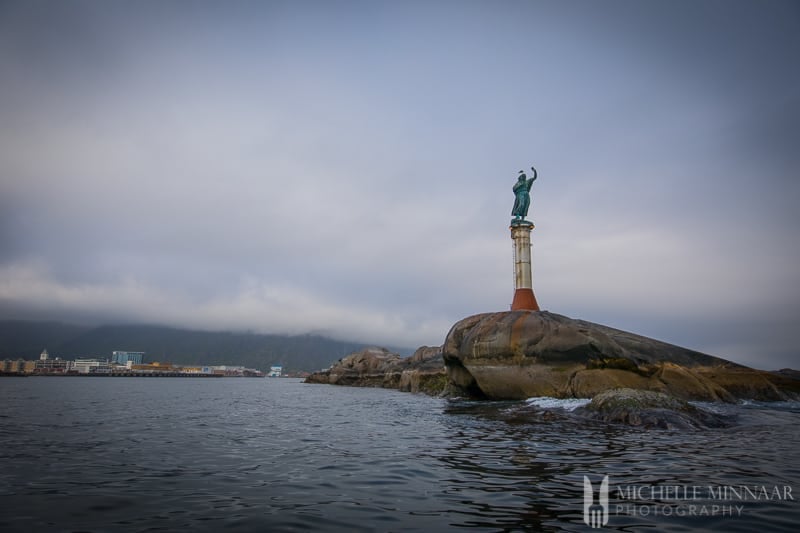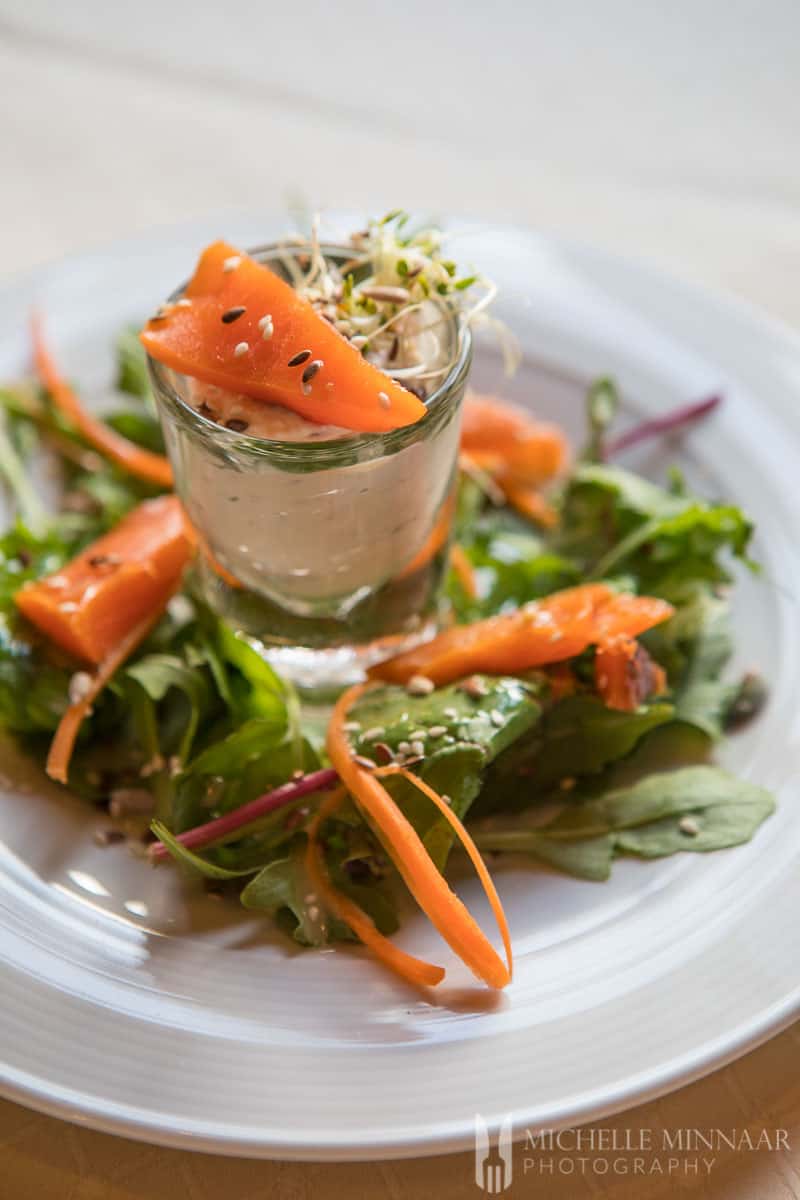 After the meal, I stayed overnight at the cosy and comfortable cabins of Svinøya Rorbu. In my opinion, this little cabin hosted the best views. In the background, as you can see, is a stunning mountain backdrop with scenic views of the lakes.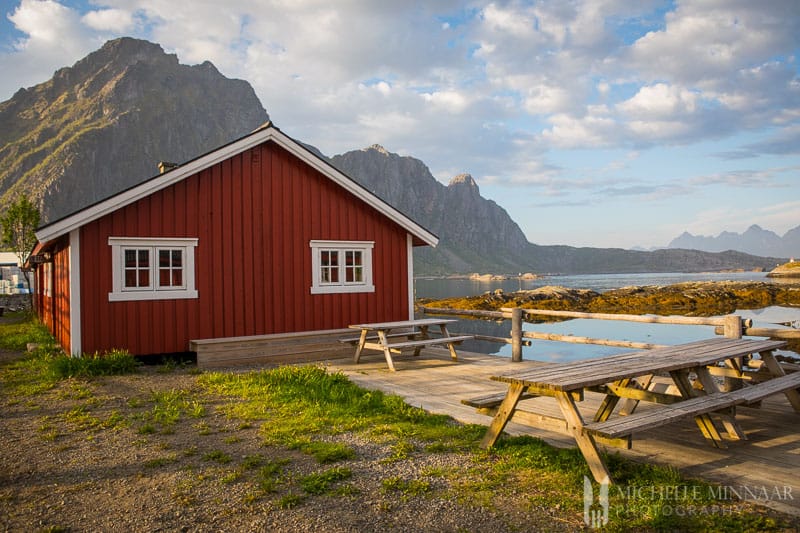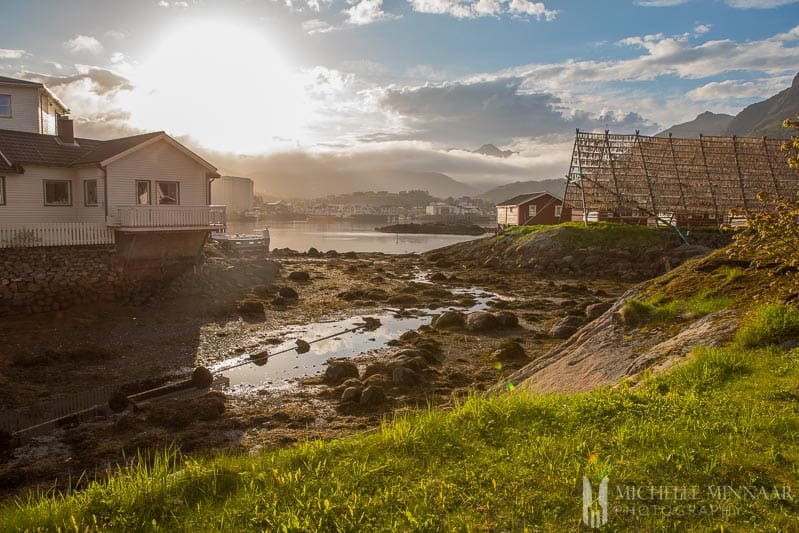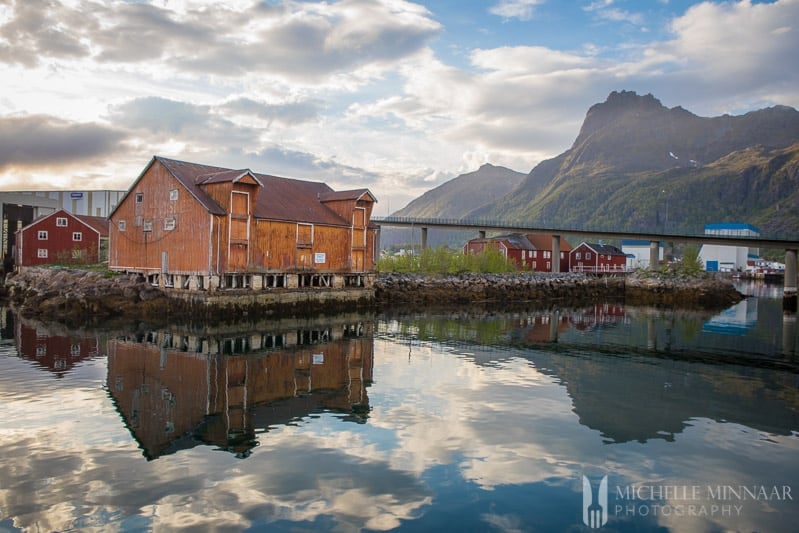 What I really loved about Hurtrigruten is that they are passionate about supporting local producers. These Hurtigruten included Arkt-is and Lofotpils that are both located in Svolvær.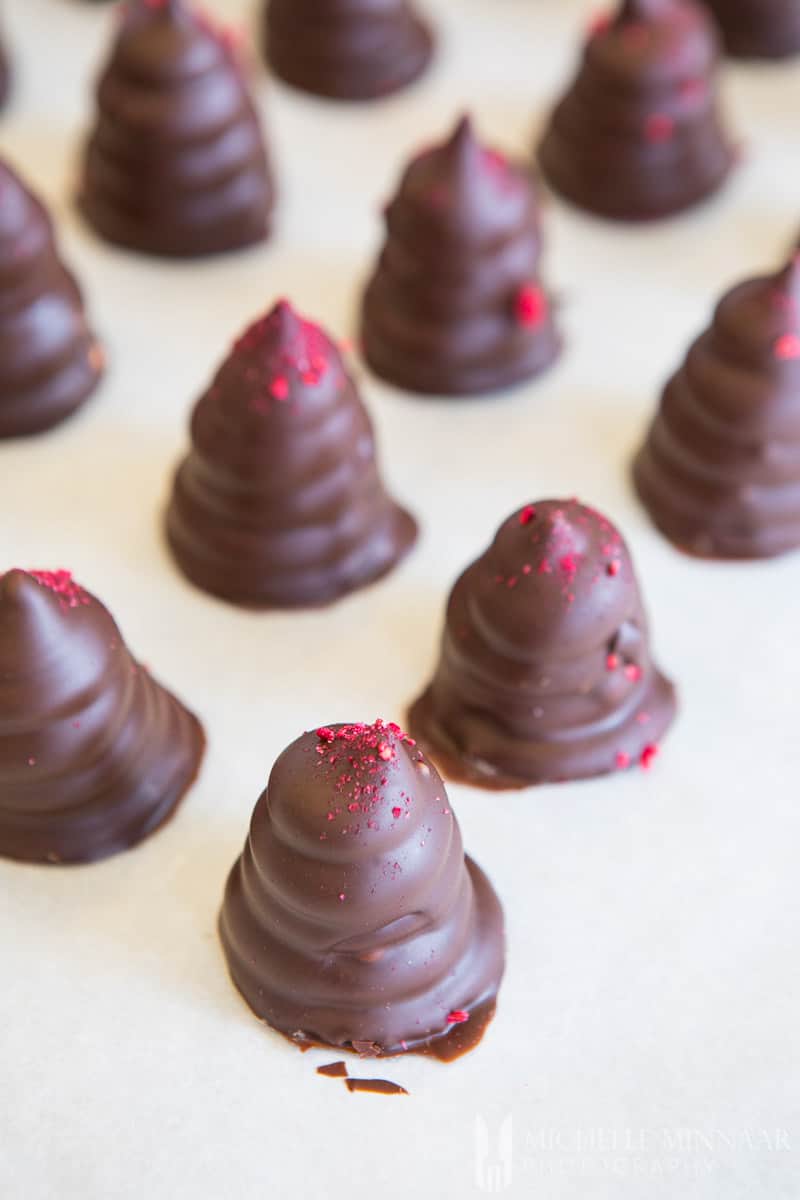 Later, I enjoyed a scenic drive through Lofoten islands to visit Hurtigruten supplier Aalan Gård, a diverse working farm renowned for its herbs and organic cheeses. Just look at this cheese platter below, and check out the brown cheese!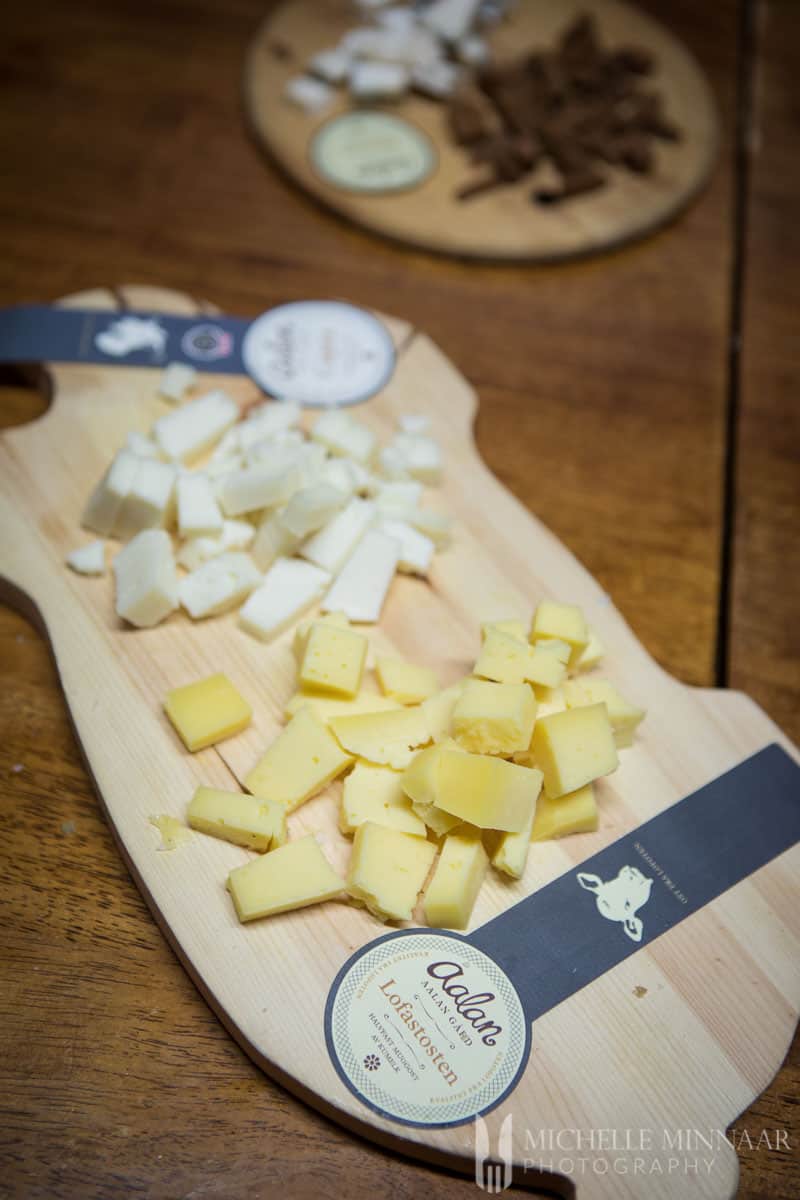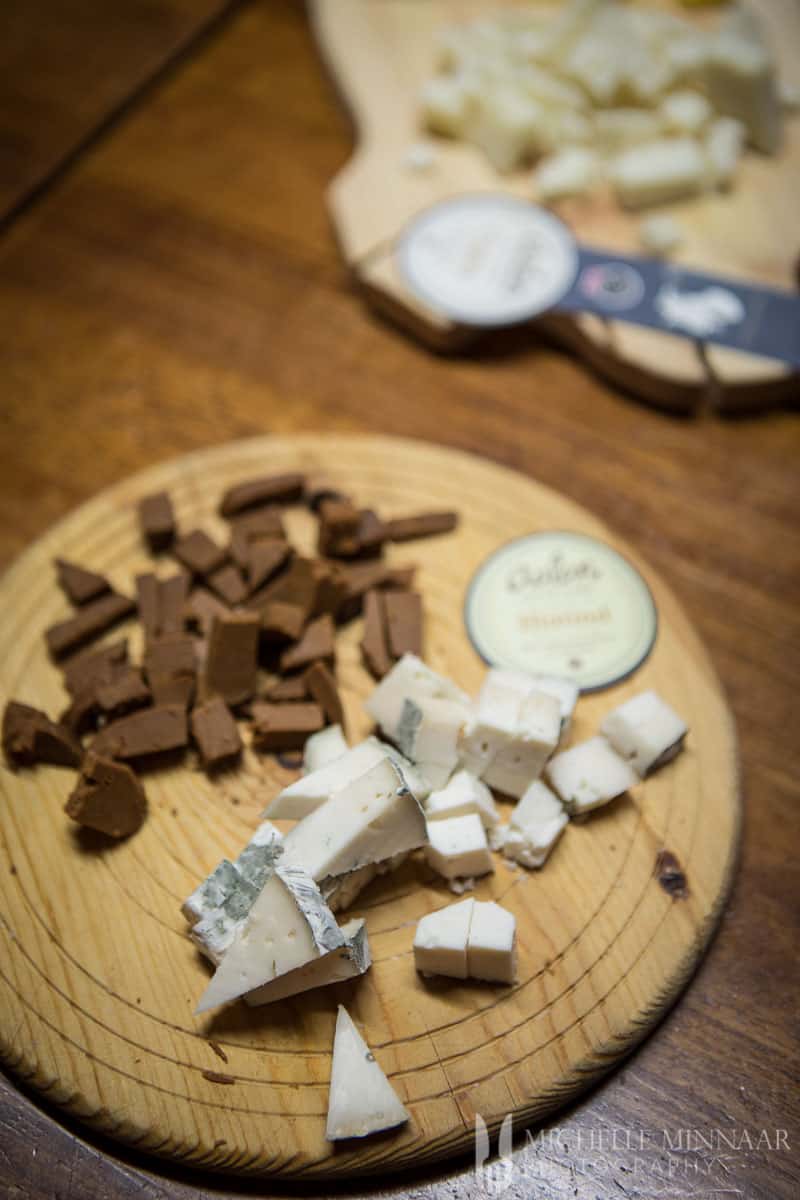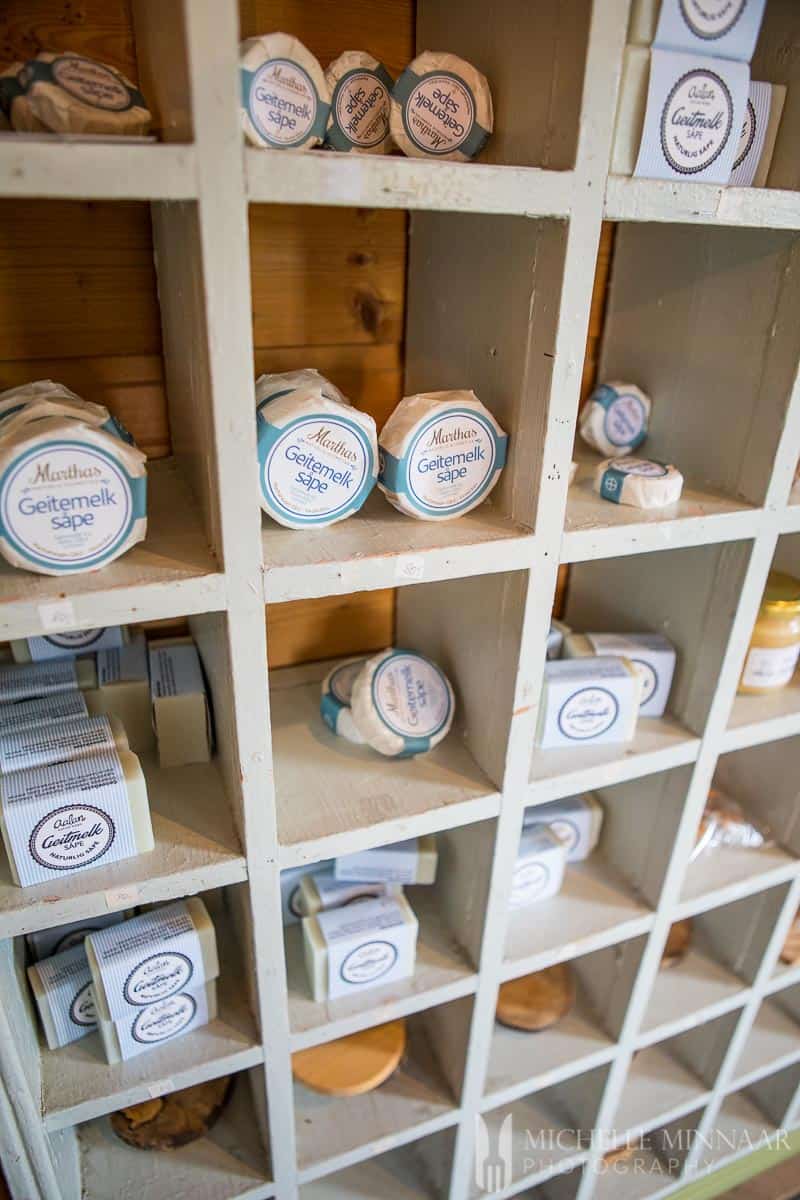 As you can see, Hurtigruten has so much to offer. More importantly, it offers freedom as well to hop on and off anytime you wish. You are free to do your own activities and visit local towns. It's truly great when you can just head off on your own and make a little adventure yourself. Also, it's a good chance to getaway from the ship for a while and appreciate the different faces of Norway.
By the way, did you know that Hurtigruten is the world leader in sustainable nature-based expedition travel?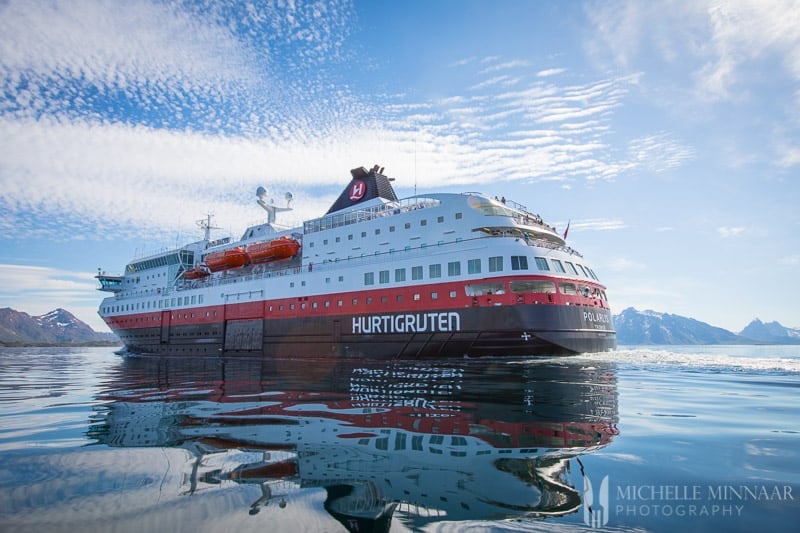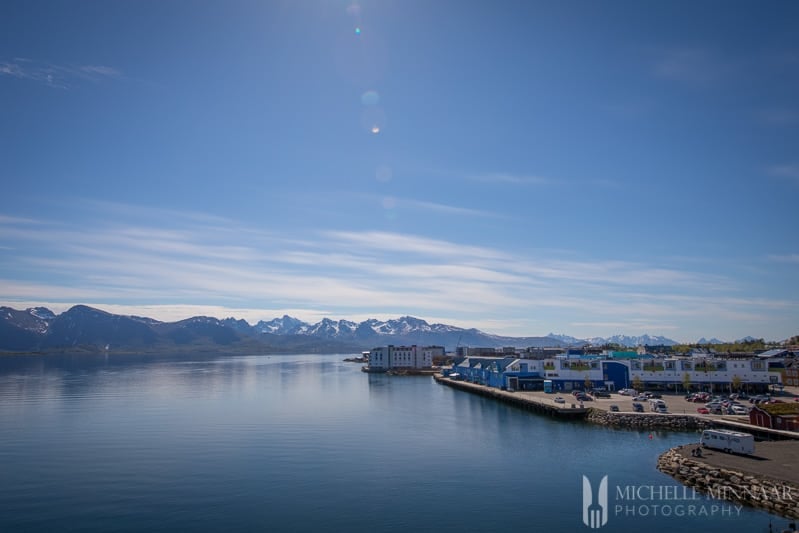 Hurtigruten Excursions
King Crab Safari
Remember the photo of me holding a massive crab? Well, this was all thanks to the King Crab Safari - you can read all about it in my review of the King Crab Safari here. All in all, it was an experience of a lifetime where I learned all there is to know about crab fishing in Norwegian deep seas.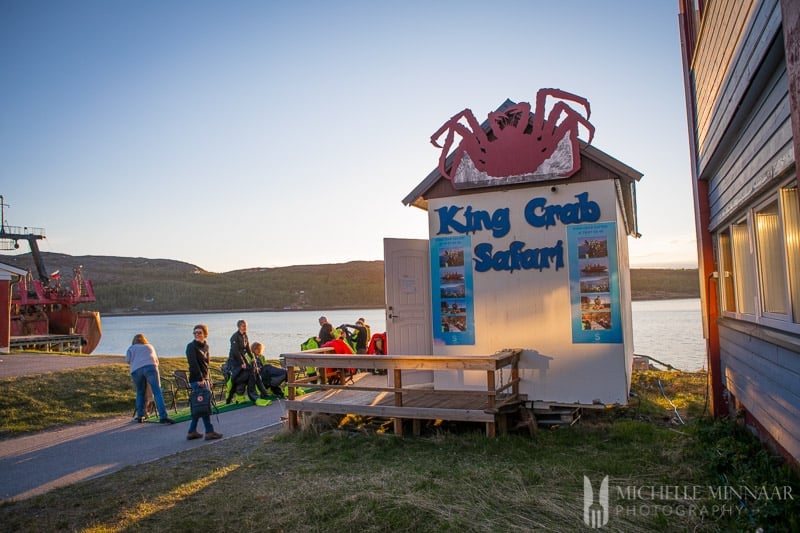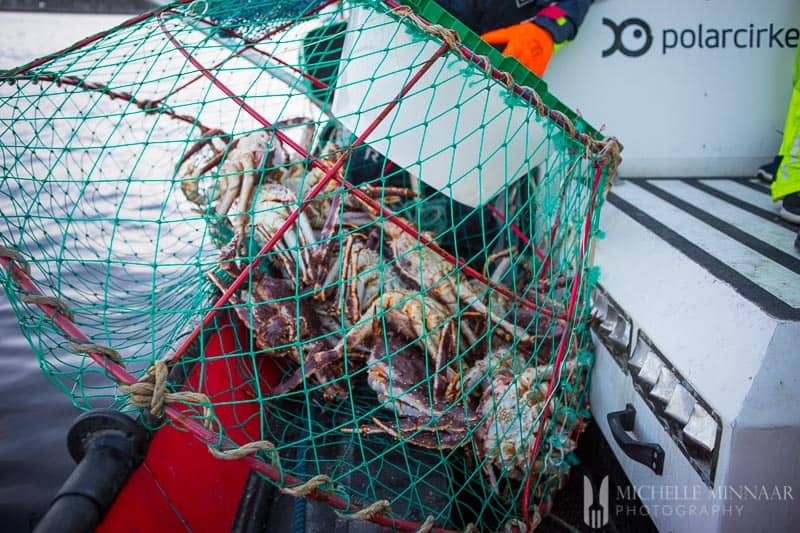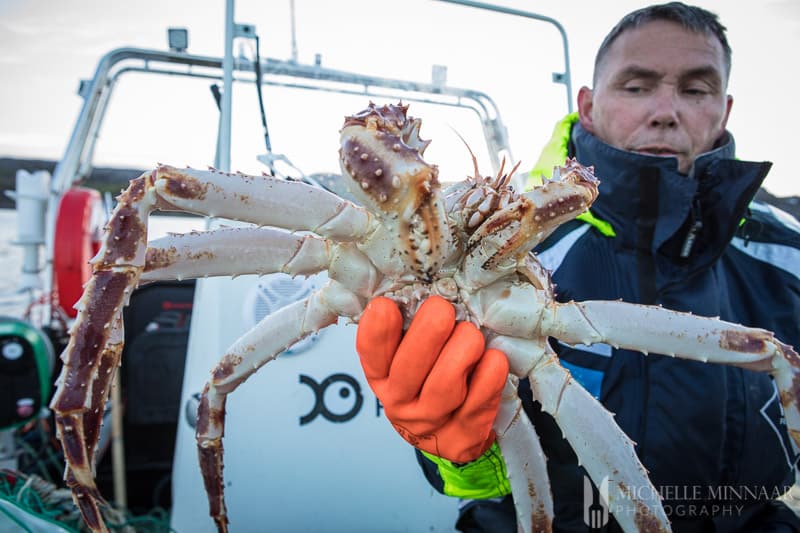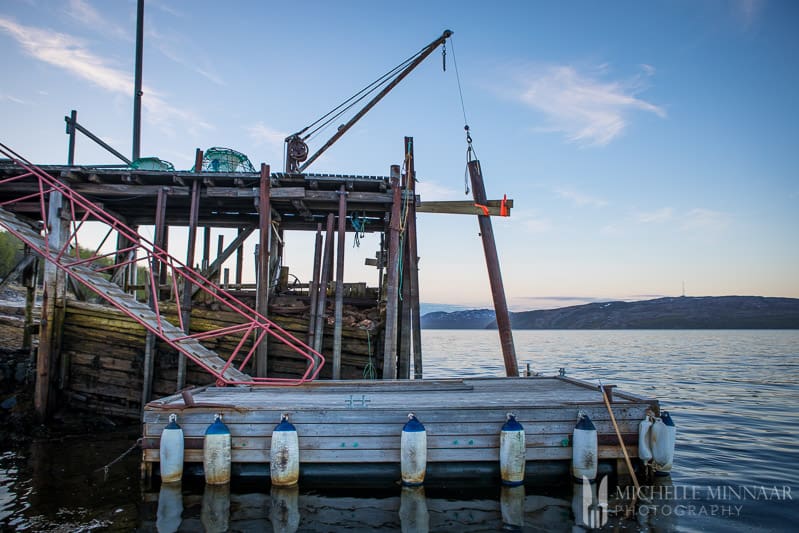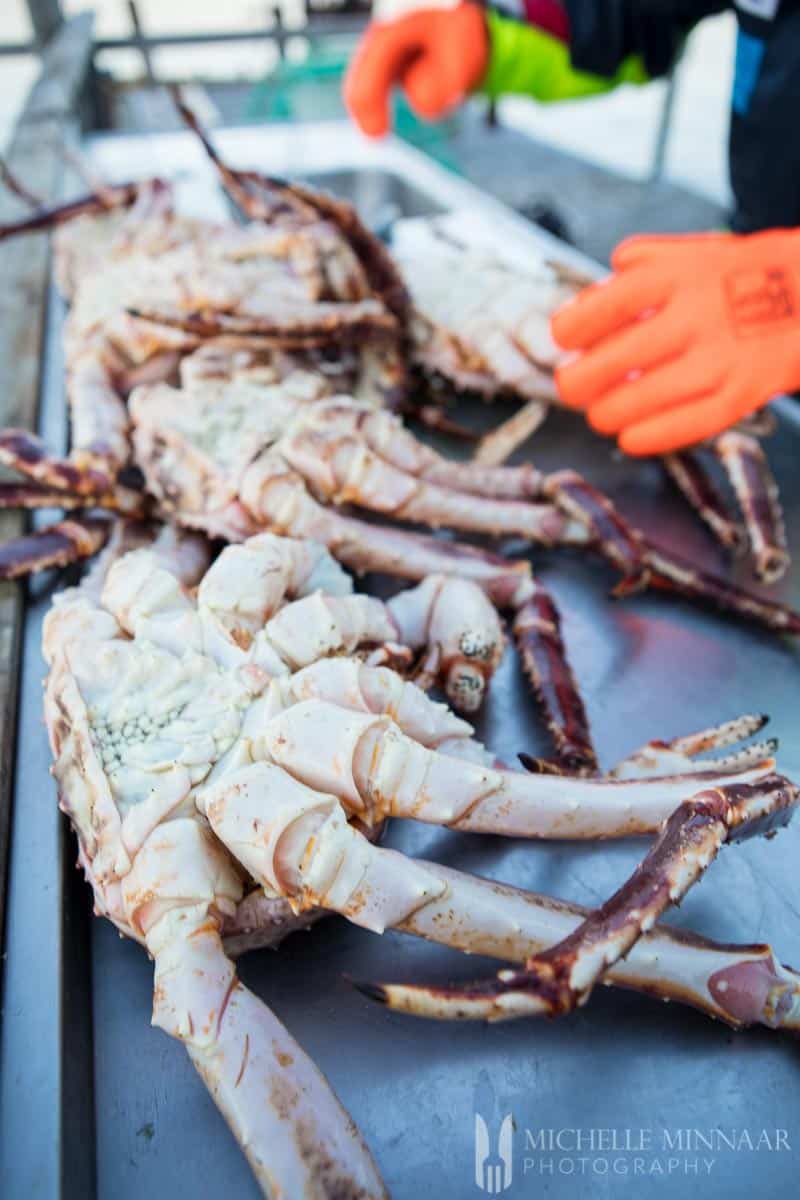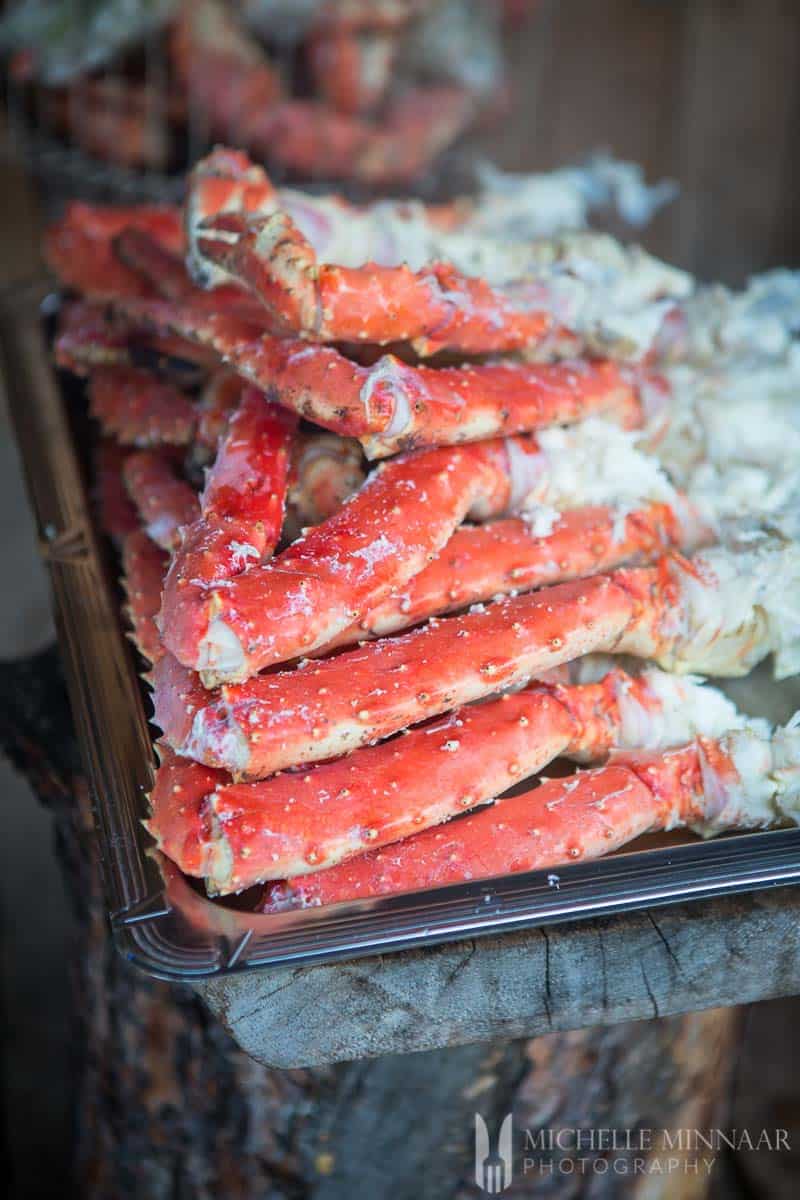 You learn how to prepare king crab and afterward get to eat fresh steamed crab legs! Eating king crab while enjoying magnificent scenery thank to the midnight sun truly is a once in a lifetime experience.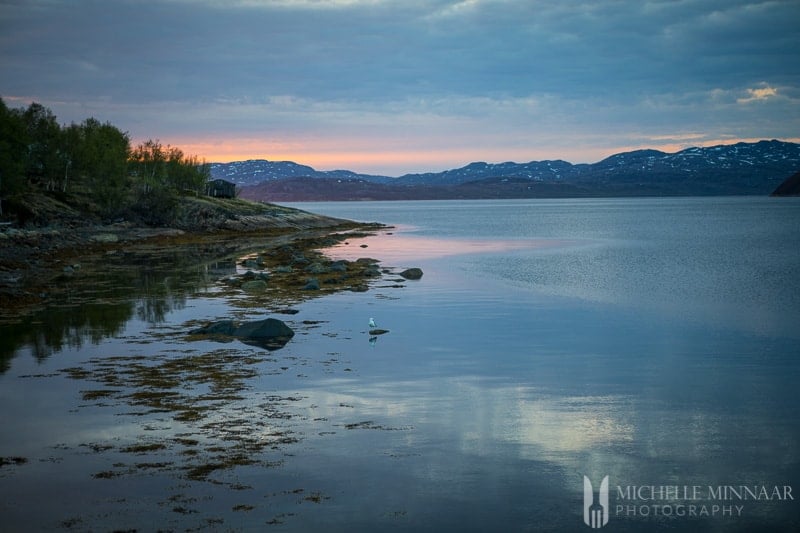 Artic walks
Another one of our trips with Hurtigruten was the Arctic walk. Accompanied by the Hurtigruten Expedition Team, I went on a coastal hike which took around 2.5 hours and it was a relatively easy walk. It's a good opportunity to stretch those sea legs. Other excursions which you can take part in include:
The mountain hike with huskies. It's perfect if you love dogs as much as I do.
The Arctic coastal walk - another scenic walk that holds breathtaking views.
I would have loved to get involved with the huskies but this is primarily a winter activity. I also managed to take part in the traditional activity of taking a break and grilling viennas on an open fire, sipping tea and coffee and eating Kvikk Lunsj. Don't know what the latter is?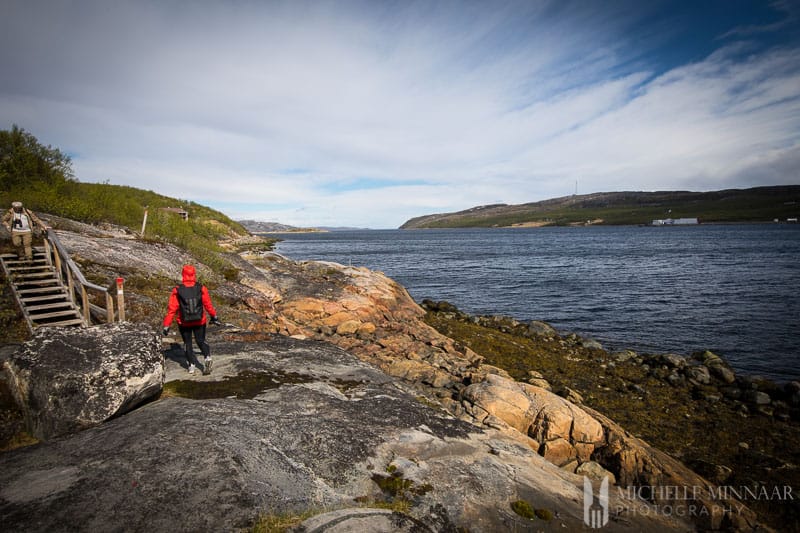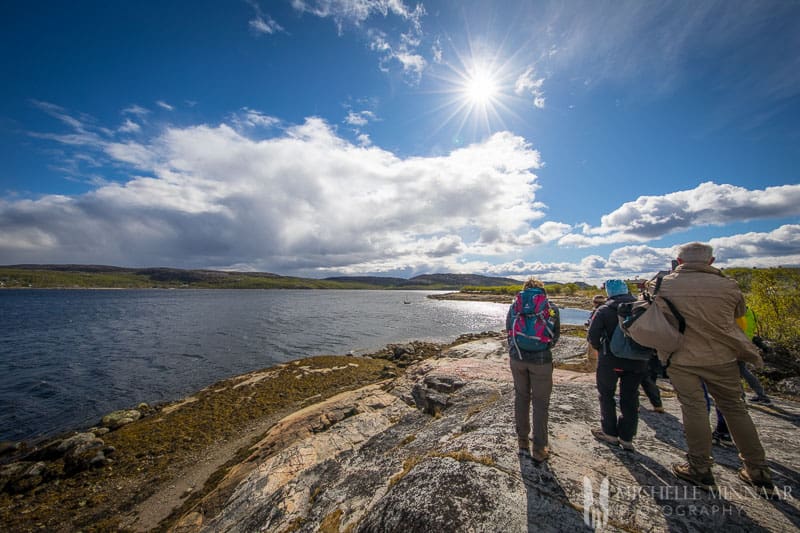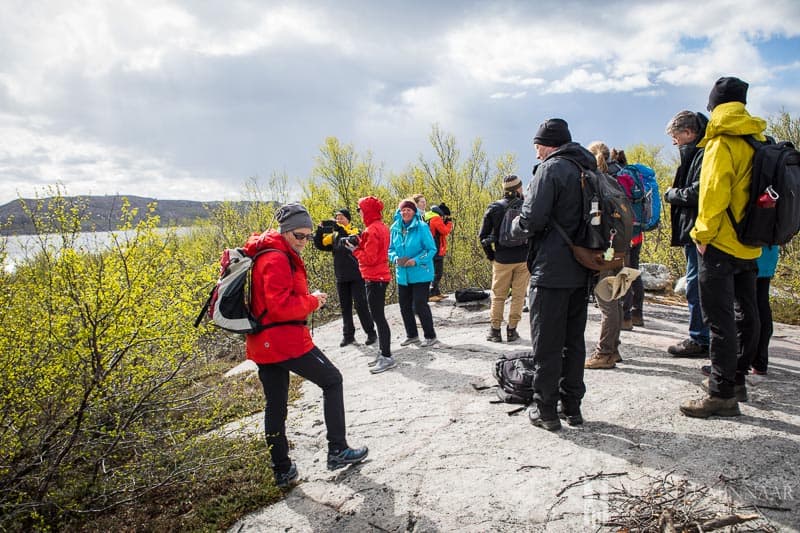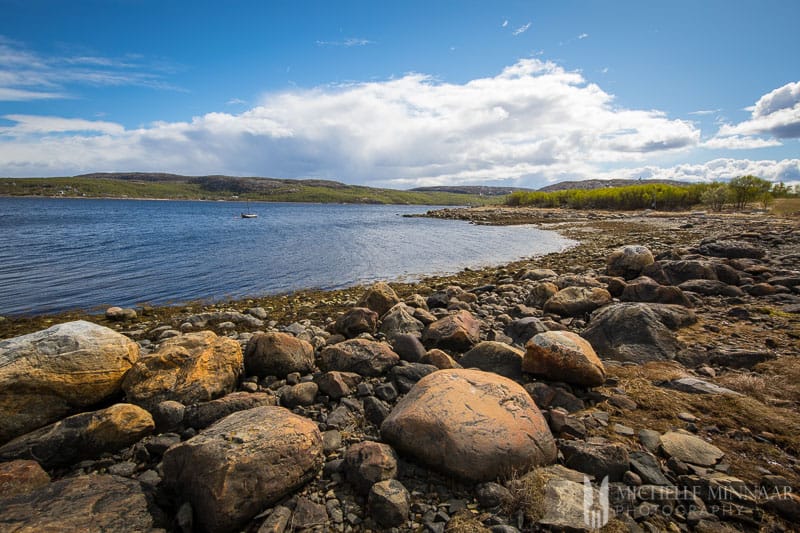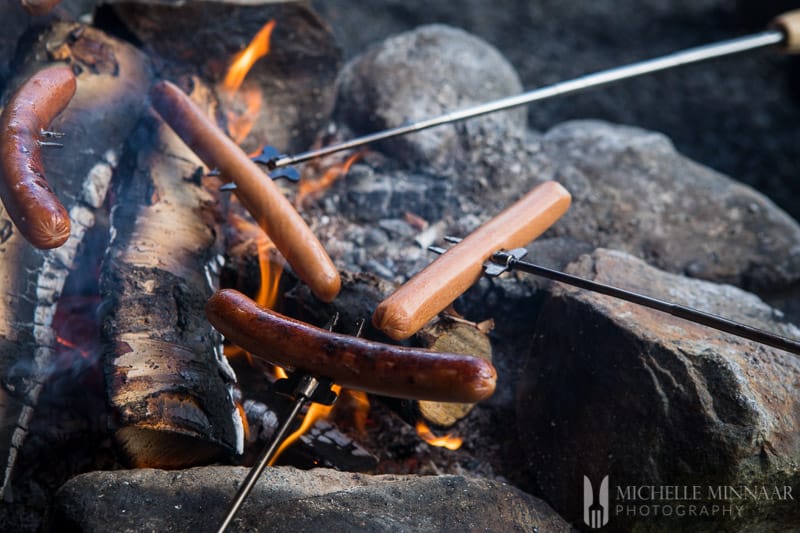 Midnight Concert
Would you be interested in a midnight concert way up north within the realms of the Artic Circle? Imagine yourself in a gorgeous and iconic arctic cathedral Tromsø. You'll have a chance to experience the impressive interior Nordic architecture while looking at breathtaking stained glass mosaics. All the while listening to the sounds of Norwegian folk music performed by professional musicians. It is a truly moving musical experience where you hear the music within the acoustics of the cathedral.
Unfortunately, I skipped the midnight concert. Instead, I opted to be shown around by a local, which was an adventure in itself. Just take a look below, you'll see some amazing photos of the local city and the scenery that envelopes it. These people are just so lucky to live here. Really breathtaking views and a memorable experience for all those who love nature!
Polaria Museum
In the meantime, while I was touring the city and clicking away, I had the chance to stop by the Polaria Museum. If you ever have the chance to visit this museum, you'll see that it has a very specific structure. Actually, it sort of looks like dominoes.
The Polaria Museum has an Arctic aquarium, knowledge-based exhibits, a panoramic cinema and a giant souvenir shop.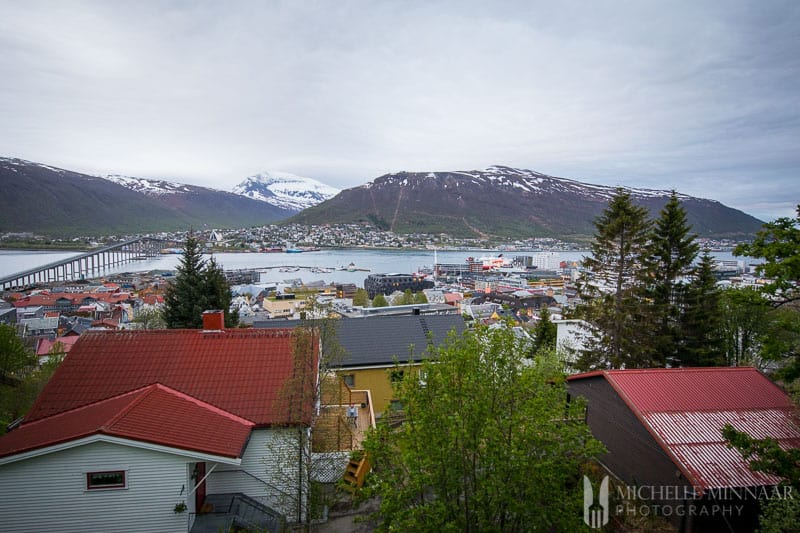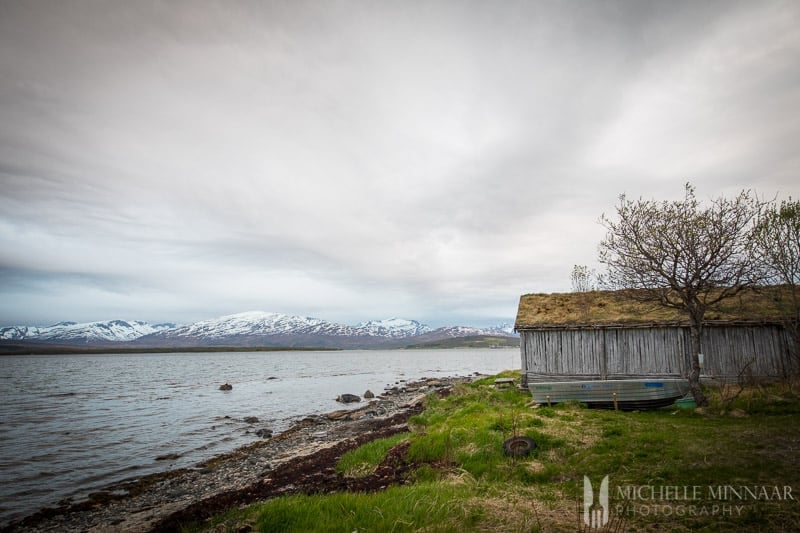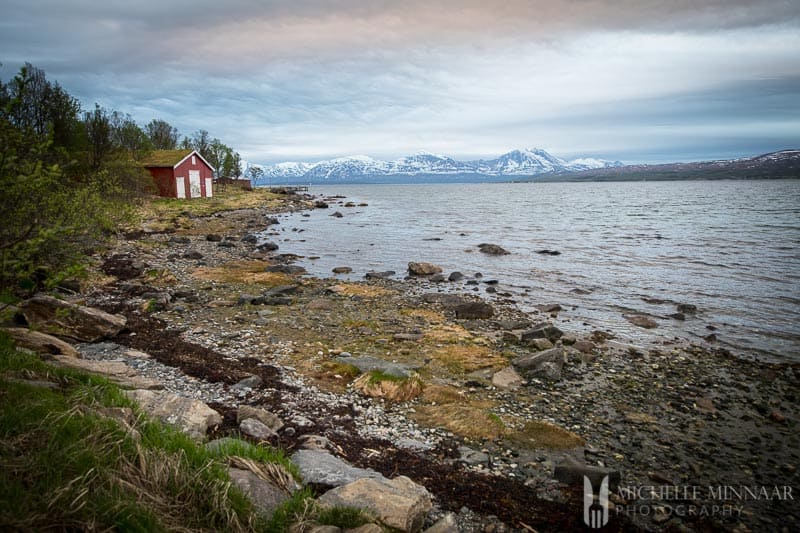 RIB BOAT SAFARI
Surprisingly, I truly enjoyed the adventurous RIB boat safari which takes you through beautiful Raftsund and dramatic Trollfjord and we even saw sea eagles! This just comes to show how much freedom Hurtigruten actually gives you so you can discover things that you love.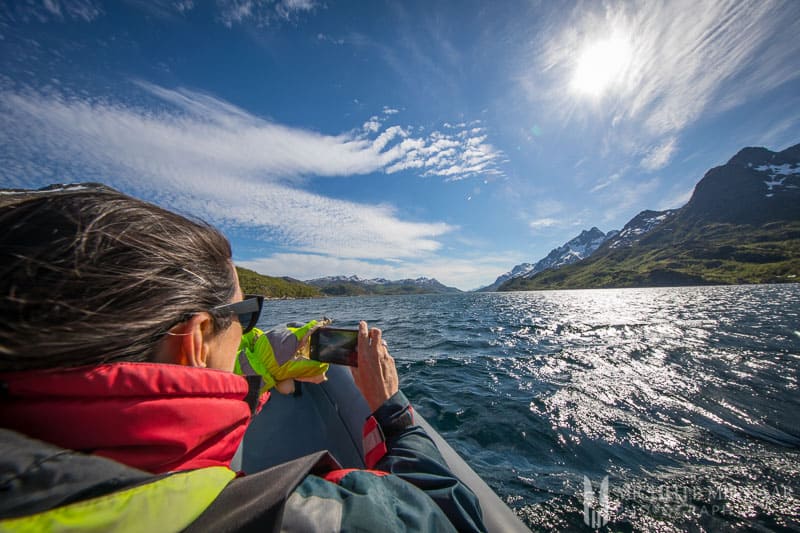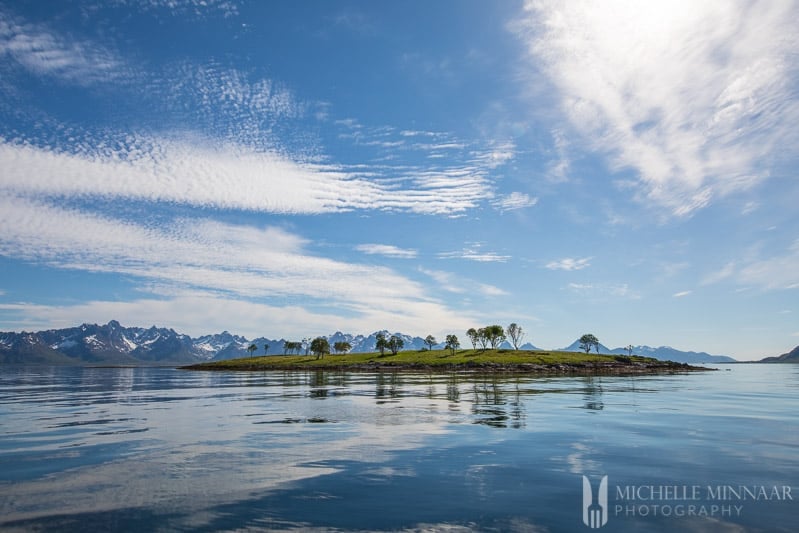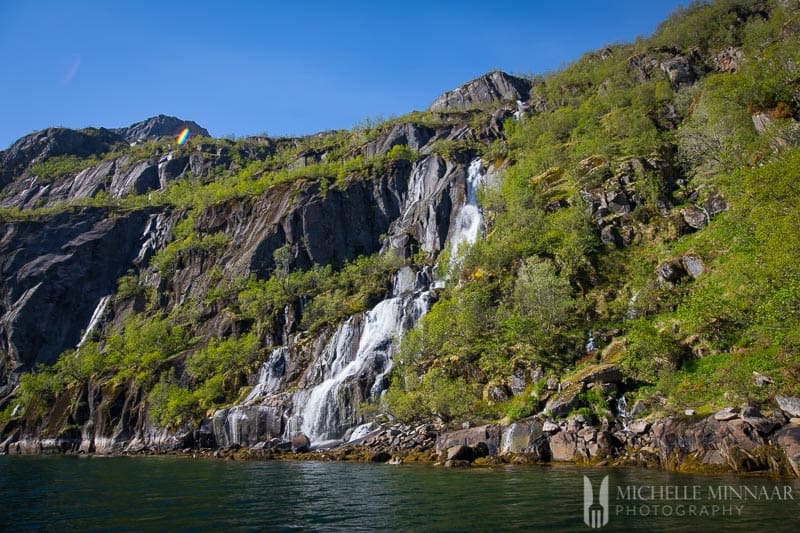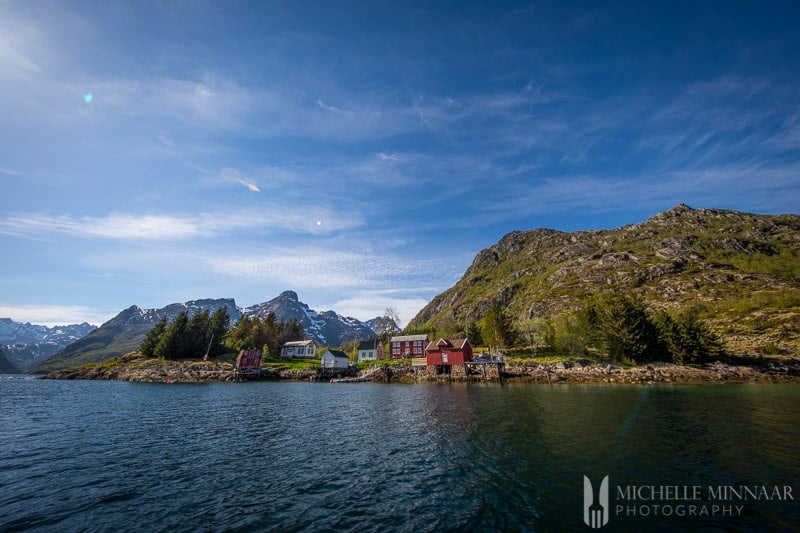 In the past, the high season used to be in the summer due to the long daylight hours. However, now there is a growing demand for colder months where tourists can enjoy winter activities such as husky sledding. Also, I think that people still want to enjoy viewing the icy glaciers and mountains while they are still there. Yes people, global warming is a really big problem and the problem with plastic is just one factor. If we wish to enjoy more of this natural beauty, we should all act responsibly and take some accountability for the mess we've made on the planet.
Here are some tips that you can follow to help save the planet and the environment.
Nonetheless, Hurtigruten has 15 ships that offer different experiences. Check them out here as well as their destinations. In fact, Hurtigruten offers so many voyages it's hard to keep track because they all sound so amazing.
Find a cruise that suits your needs and your taste of adventure. Some of these include a 16 day Viking Heritage Trip to Iceland and Greenland, or spending Christmas with penguins in Antarctica. Although, I've seen that they also offer some Caribbean trips all over, discovering the warm seas, corals, beaches and reeds. Quite different from the colder excursion of Antarctica and Norway.
the ending
All good things come to an end and it certainly did with Hurtigruten. It was an adventure every single minute, whether it was a culinary adventure or a daring coastal hike with incredible views. This trip really opened my eyes just how amazing colder adventures can be. So, it's important to keep an open mind and not go for only the exotic paradise stuff, because this was paradise in itself as well.
I highly recommend for you to discover just how beautiful our northern hemisphere is., not to mention the amazing fresh seafood caught the same day as you eat it. I mean, could life even possibly get better than that?
Don't forget to check out Hurtigruten's website for availability and the type of cruises they offer. Good luck finding your perfect adventure!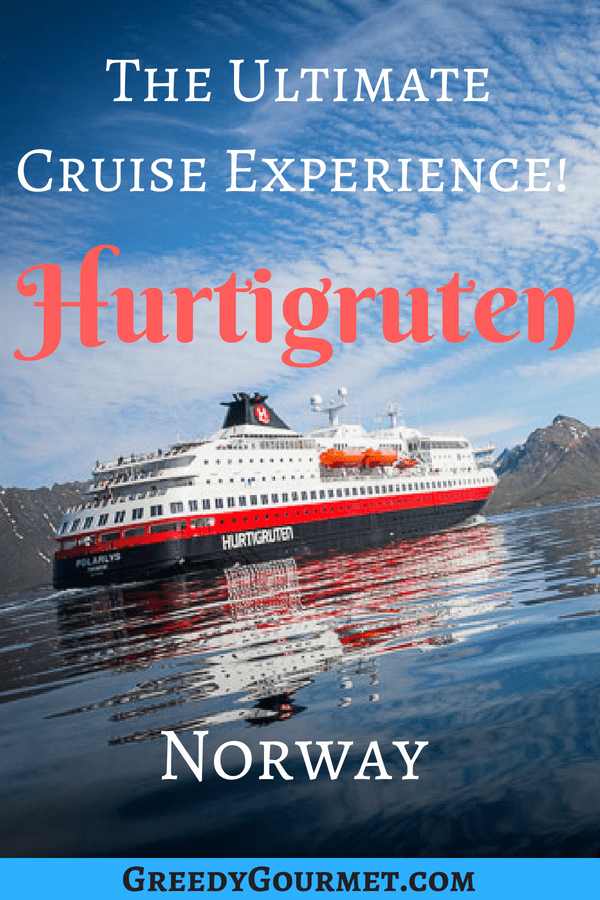 P.S. I was a guest of Hurtigruten.