As I mentioned earlier, our veg plot has suffered greatly this year because of our unintentional neglect. Other than the abundance of tomatoes in the summer, we have one consolation for the winter. Brussels sprouts. Just like chestnuts, sprouts remind us that winter is just around the corner. Do not despair! When Brussels sprouts are prepared properly, they are just as desirable as the next vegetable, if not more so.
Brussels Sprouts with Parmesan
Serves 4
Preparation: 10 mins – Cooking: 10 mins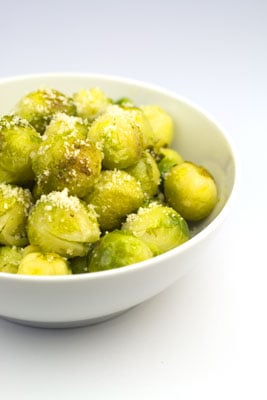 Ingredients
20 Brussels sprouts, washed and trimmed
30ml (2 tbsp) butter
30ml (2 tbsp) grated Parmesan cheese
Method
Boil the Brussels sprouts in lightly salted water for 5 minutes, until barely tender. Drain well and pat dry with kitchen paper.
Melt the oil in a frying pan and sauté the sprouts until golden.
Remove the sprouts with a slotted spoon and allow to drain on kitchen paper. Place in a bowl and sprinkle with Parmesan cheese. Serve immediately.
Notes
If you prefer to not to cook with butter use an oil of your choice.
Other brussels sprouts recipes in the blogosphere:
Other Tasty Recipes For You To Enjoy