Who would have known that you can take something so humble as Brussels sprouts and turn them into a gourmet side dish? Ladies and gentlemen, I give you my irresistible sous vide Brussels sprouts recipe.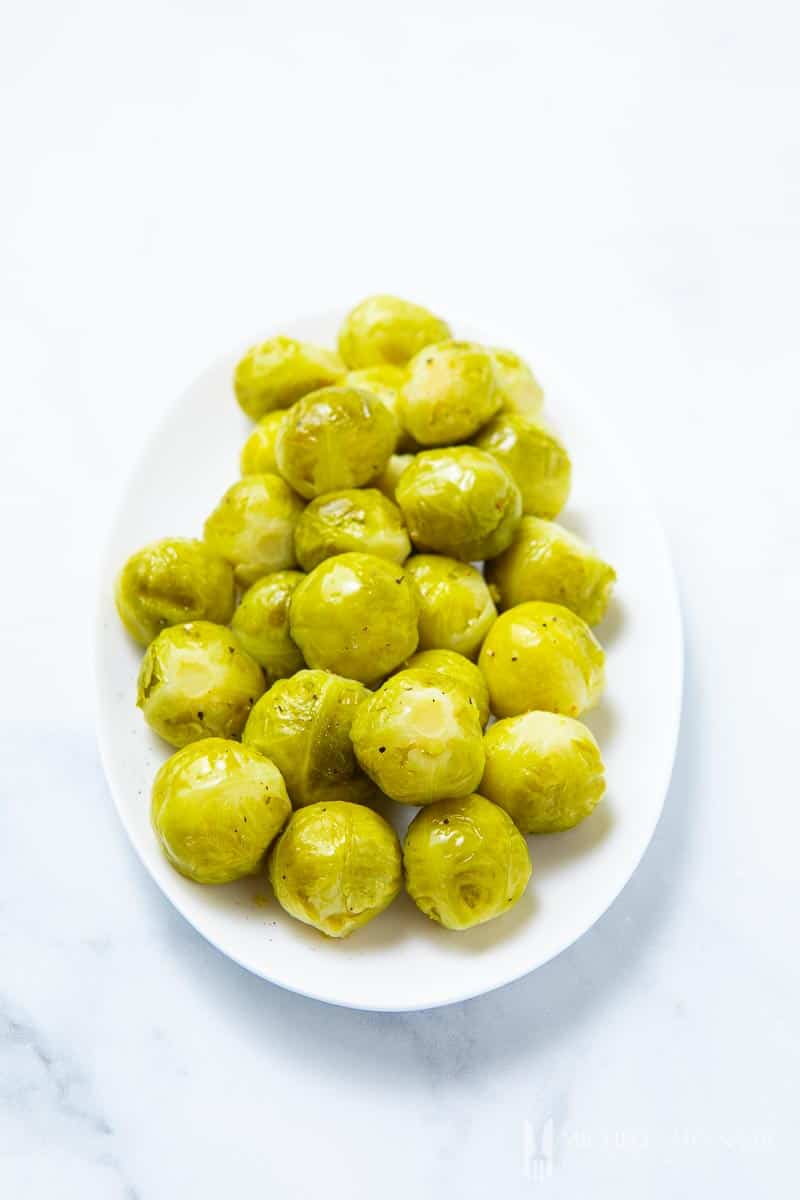 Do not underestimate this dish! Although Brussels sprouts may seem quite ordinary and plain at first, I guarantee you that you won't think that after you try to sous vide them.
Sous vide Brussels sprouts are just extraordinarily tender. If you combine them with one of the world's best ingredients (butter), the end result will be tender, juicy and flavourful.
Forget normal par-boiled Brussels sprouts. Wouldn't you want to enjoy the best of what Brussels sprouts can offer?
You can do so if you try my sous vide recipe. All you'll need is a sous vide machine.
sous vide Brussels sprouts with butter
Are you looking for ways on how to make the most of your keto diet? Well, this is a good place to start. Not only are Brussels sprouts an excellent choice in the autumn, they are great for people on keto diets.
A keto diet is a high-fat and adequate protein diet. Most noteworthy it is a low-carb diet. So, Brussels sprouts are great for this reason.
Arguably, I like to eat Brussels sprouts all year-round because they are always available. Not to mention my sous vide Brussels sprouts. I could eat these all day!
what are Brussels sprouts?
Brussels sprouts are these green mini cabbage like buds. They are edible and completely delicious. In essence, Brussels sprouts are leafy greens which you cook.
You can eat them alone, as they are (seasoned of course), or you can add them to soups, stews or casseroles for extra flavour.
In fact, my first recollection of coming across Brussels sprouts was in a chicken vegetable broth. Back then I thought this was a funny little vegetable. I had no idea I would grow to love them so much as I do now!
how to cook Brussels sprouts
You can prepare Brussels sprouts in the following ways:
boil them
cook them
steam them
stir-fry them
pan-fry them
roast them
bake them
slow cook them
and above all sous vide them!
So many options for you to consider. I've cooked Brussels sprouts countless times. Some of my previous recipes include:
Nevertheless, I highly recommend going for the sous vide Brussels sprouts. This is when you get the most of Brussels sprouts.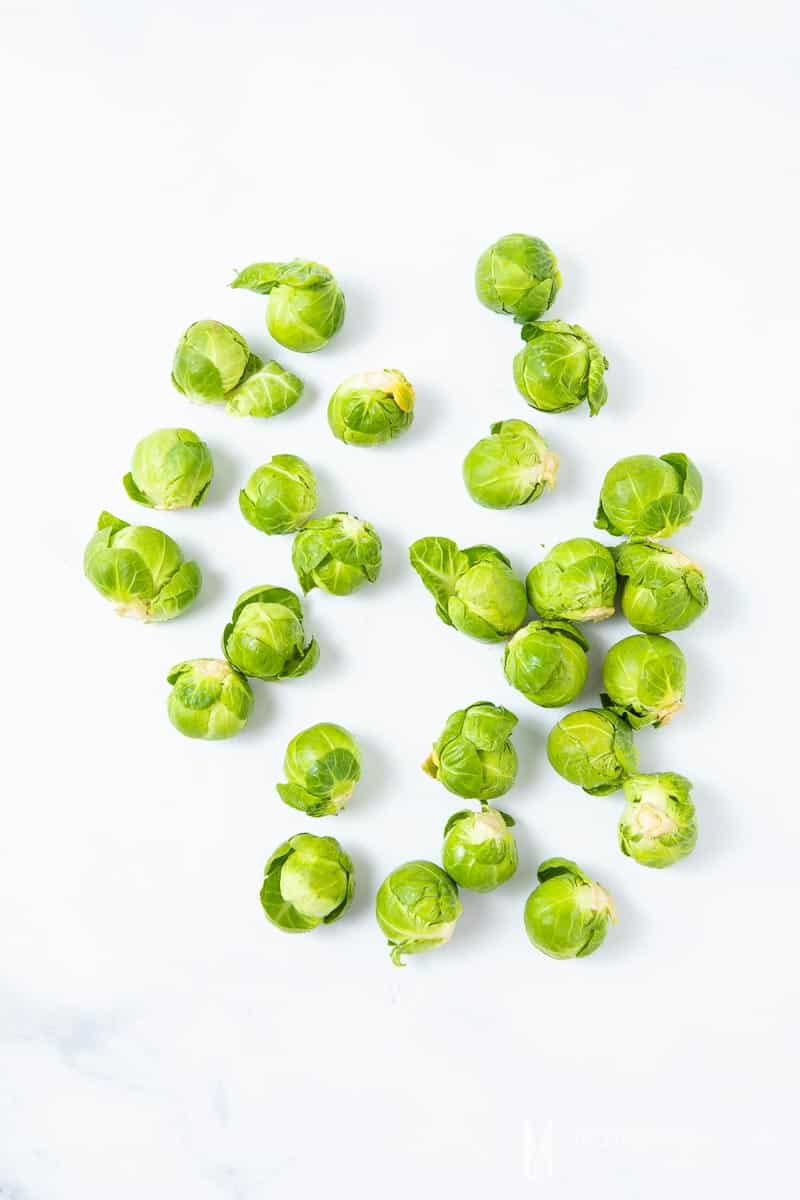 how to cook Brussels sprouts sous vide
First and foremost, you need to make sure you have a sous vide machine at home. Either that, or you need to procure one soon if you are planning to go forward with this sous vide Brussels sprouts recipe.
Next, you'll need to clean the Brussels sprouts of any excess leaves you may find. Place them in the sous vide bag and close it tight.
Prior to closing, make sure you've included all the ingredients in the bag. These include all the spices, salt, herbs, oil, and butter.
Once the bag is sealed, all that remains is the cooking process. So, let's go a step back and discuss which are the best ingredients for making the perfect sous vide Brussels sprouts.
sous vide Brussels sprouts butter
The key to all this tenderness is the butter. Yes, I know that butter has a reputation of making everything taste exceptional. However, these sous vide Brussels sprouts literally cannot live without butter.
It's a classic combination – a bit like butter and garlic. I recommend using a salted butter. This way you won't have to add too much extra salt. You can also opt for using an unsalted butter and then adding salt at a later stage. The choice is yours.
Next, you can also consider flavouring the Brussels sprouts with various herbs. For example, you can consider:
fresh parsley
dried or fresh oregano
fresh rosemary
chives
dill (careful, this is a very powerful herb)
In terms of spices, you can always add a pinch of:
curry spice - for extra Asian flavour
masala spice - for an Indian flavour
jerk spice - for a Caribbean flavour
Just some food for thought! You never know if you feel like experimenting with your sous vide Brussels sprouts.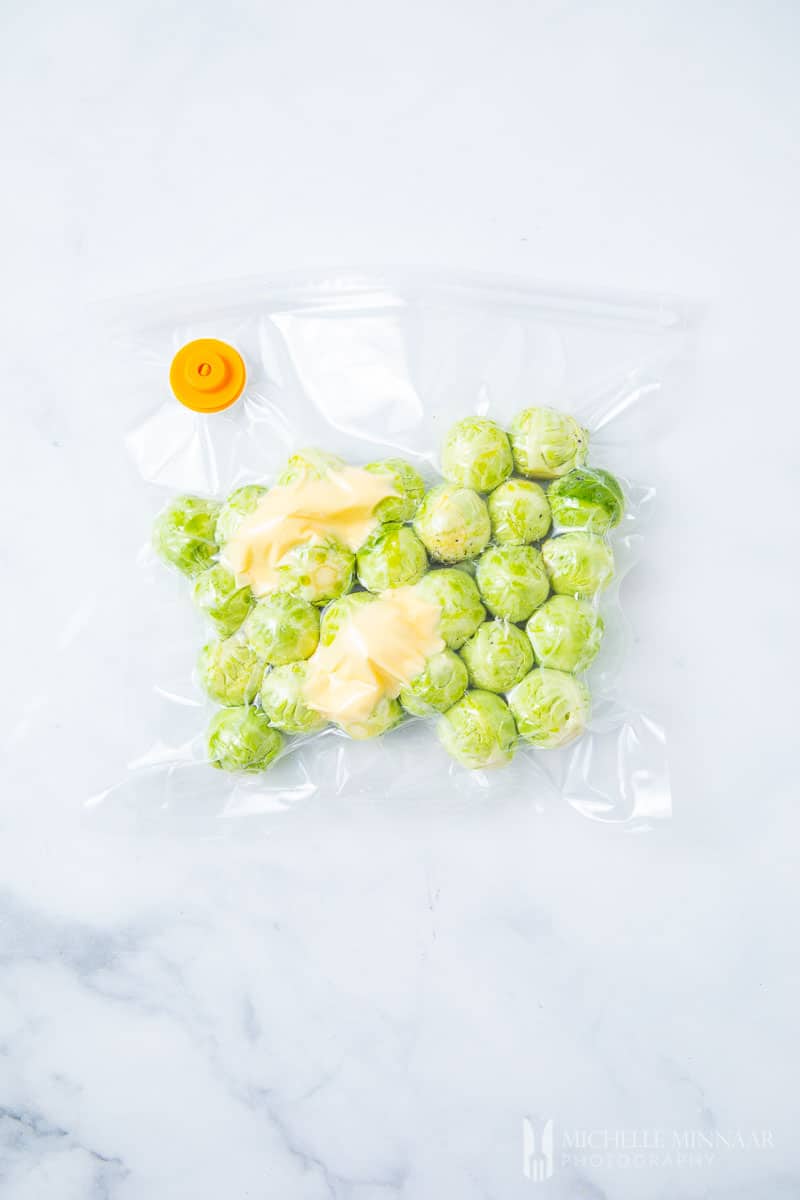 what else can I sous vide?
sous vide brussels sprouts
As you know, once you own a sous vide machine, you can sous vide a lot of ingredients. Especially when it comes to making the perfect tender vegetables or meat.
Here are just a few examples, but don't think that sous vide Brussels sprouts are the only thing that's delicious out of a sous vide machine.
sous vide carrots or parsnips
You can substitute sous vide Brussels sprouts for sous vide carrots or parsnips. Unlike roasted carrots, sous vide carrots will literally fall apart in your mouth.
You can use butter to flavour the carrots and add cumin. I've used this spice combination before in my cumin roast carrots recipe.
For a vegan option, use olive oil instead of butter.
sous vide broccoli
I've never tried to sous vide broccoli, but I can imagine the end result turning out the same as with sous vide Brussels sprouts. I recommend combining teriyaki sauce or soy sauce into the bag for a lovely Asian sous vide broccoli.
sous vide asparagus
Again, unlike roasted asparagus, the sous vide asparagus will fall apart in your mouth. It works best with butter as always. However, you can make it vegan and use another oil.
sous vide vegetables
All in all, I think one can say, that you can sous vide practically any type of vegetable. Just choose your favourite one.
sous vide meat
Lastly, any person can tell you that the sous vide machine is best for meat recipes. For example, just take a look at my sous vide shoulder of lamb recipe.
The meat was literally melt-in-your-mouth. The same can be said about my sous vide salmon recipe. The fish just fell apart in my mouth as well.
For more information, you can also check out my guide on how to sous vide steak and how to sous vide chicken breasts.
sous vide sprouts grill
As a finishing touch, you can finish the Brussels sprouts on the grill. There is nothing wrong with adding a bit of a char.
serving the Brussels sprouts
Serve them immediately for best results. You can also serve them cold. Shave a bit of parmesan on top or sprinkle with fresh herbs like parsley.
For more great side dishes, check out the ones below:
Print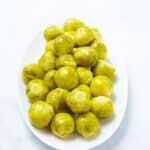 Sous Vide Brussels Sprouts
---
Author:

Michelle Minnaar

Total Time:

1 hour 15 minutes

Yield:

4

1

x

Diet:

Gluten Free
Description
Sous vide Brussels sprouts are the best when it comes to preparing and cooking Brussels sprouts. Using butter, the Brussels sprouts will melt in your mouth.
---
450

g

(1lb) Brussels sprouts, trimmed

30

ml

(2 tbsp) butter
Salt and pepper
---
Instructions
Preheat the water bath to 85°C (185°F).
Vacuum-seal the sprouts, along with the butter and a pinch of salt and pepper, in a single layer.
Put the sealed pouch into the preheated water bath and cook for 60 minutes.
Remove the sprouts from the pouch and serve immediately.
Prep Time:

15 minutes

Cook Time:

60 minutes

Category:

Side Dish

Method:

Sous Vide

Cuisine:

French
Keywords: sous vide Brussels sprouts, Brussels sprouts recipe, sous vide recipe, Keto Brussels sprouts recipe, Brussels sprouts side dish
save the recipe to your pinterest board