The evening I received Abel & Cole's Mixed Organic Fruit & Vegetable Box, I got to work. How can I enjoy as many fresh vegetables as possible in one sitting?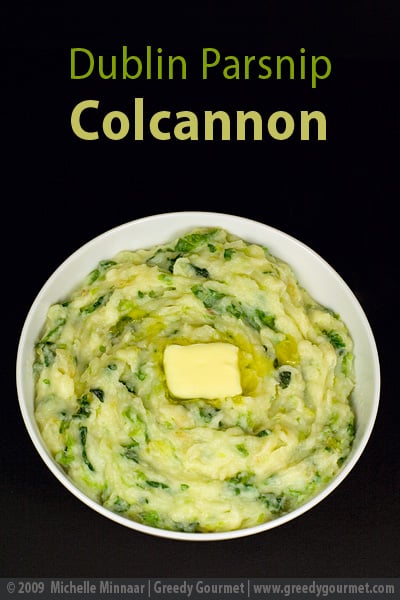 In the back of my mind my memory sparked where I saw a specific recipe that will be apt for this occasion. Slowly I made my way upstairs and pulled out Irish Traditional Cooking from my overflowing bookcase. (I have this habit of buying a traditional cookbook of every country I visit.)
Potatoes, parsnips, cabbage and onions. Colcannon. I read the recipe. There was a problem.
Never have I met one nasty Irishman. All of the ones I've met have been very friendly, bubbly and enthusiastic, and talk so much that I can't get a word in edgeways.
They have one small flaw though. Never ever ask them for directions. They might not know the answer, but will still give you directions anyway, because they really, really want to help.
When Neil told me about this habit, I didn't believe him. Then I saw Amazing Race where a lot of Americans ended up in Timbuktu in Ireland because they stopped to ask for directions.
So when it came to recipes, the same seemed to apply. After reading it five times, I gave up. Maybe a native English speaker could help me. Neil, who is also 25% Irish, put on his best Irish accent and read it out loud for me. Afterwards, he didn't have a clue either. I just had to wing it.
When you have been cooking for a while and have enough experience under the belt you break free from recipes. You cook with feeling.
Feeling that you need more of this or that. You use all your senses. You also prepare dishes exactly the way you want them to.
This recipe is an example where you have to trust yourself. The quantities below are simply guidelines.
More side dish recipes
Print
Dublin Parsnip Colcannon
---
450g

(

1

lb) parsnips

450g

(

1

lb) potatoes

450g

(

1

lb) cabbage, central rib removed and finely sliced

1

large onion

250

ml (8 fl oz) milk

55g

(

2 oz

) butter
salt and freshly ground pepper
---
Instructions
Peel the potatoes and parsnips, and place them in a saucepan filled with salted, boiling water. When the potatoes and parsnips are cooked, strain off the water, add the milk and mash.
While they are cooking, bring a pot of well salted water to the boil. Cook the cabbage until the leaves are tender. Drain and set aside.
Melt the butter in a large frying pan and fry the onions until soft and sweet. Add the cabbage and stir well to get everything thoroughly coated with butter. Add the cabbage mixture to the pot with mash and stir well.
Season to taste. Serve immediately.
Notes
If you are placing the Colcannon in a serving bowl, add a chunk of butter on top as a garnish.
Traditionally the Irish use curly kale instead of cabbage.
If you prepare your vegetables less sweet, omit the parsnips and double up on the potatoes.
Prep Time:

20 minutes

Cook Time:

10 minutes
Nutrition
Serving Size:

1 serving

Calories:

335

Sugar:

9.7 g

Sodium:

385 mg

Fat:

12.6 g

Saturated Fat:

7.4 g

Carbohydrates:

51.2 g

Fiber:

8.3 g

Protein:

6.8 g

Cholesterol:

31 mg