You can never have enough eggnog, right?! If you just answered yes, this eggnog French toast recipe is going to blow you away.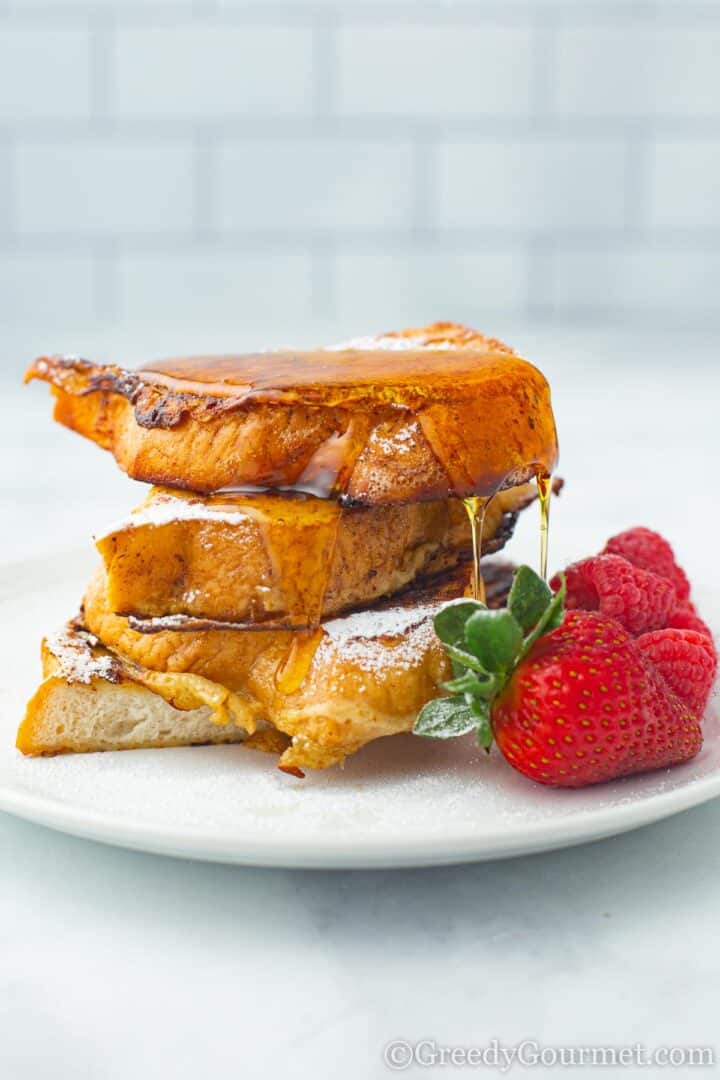 If, on the other hand, you're sick of the sight of eggnog, you'll be completely won over by this holiday breakfast.
Trust me on this one… there are few better ways to start a festive day than a big helping of eggnog French toast.
Products you need for this recipe
There are a few key items you'll need to get hold of for this eggnog French toast recipe:
Large mixing bowl – you'll need this to whisk up your eggnog mixture, which you'll dip your bread into
Electric whisk – balloon whisks are great, but save your yourself the trouble of whisking away and let a electric whisk do the work for you
Large frying pan or griddle – invest in a quality griddle or frying pan to fry up the toast for your holiday breakfast treat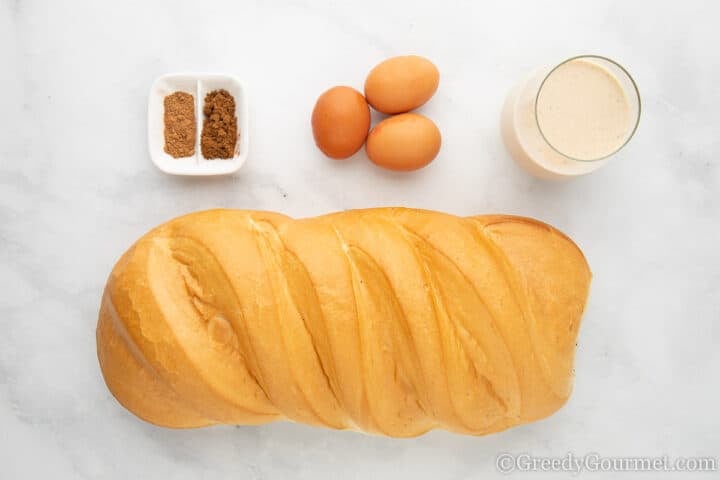 Eggnog French toast recipe – the ultimate holiday breakfast
Have you ever heard of this incredible festive spin on a breakfast classic?
If you're a firm fan of French toast, you'll know that, when done right, it's a big tasty breakfast/brunch sensation.
The ingredients are simple. Bread slices drenched in egg, milk and spices, then fried up in a generous dollop of butter – pure indulgent heaven!
This festive family favorite kicks things up a notch. Instead of milk, we're using everyone's favorite timeless tipple... eggnog.
Eggnog… love it or hate it, in this recipe you're going to love it
Okay, okay…. maybe it's not everyone's favorite. We've established that egg nog divides people like few other dishes. It's safe to say there are plenty of haters out there.
Look, I get it. It's not for everyone and it's really easy to get wrong. Diving into raw or overcooked eggy liquid is nobody's idea of a good time.
Get it right though and it tastes like liquid Christmas. Spicy, slightly boozy and deliciously creamy, it warms you right through with just one taste.
Still haven't convinced you? Well, if drinking egg nog on its own doesn't appeal, don't let that put you off this recipe. When cooked into the dish it's wonderfully satisfying.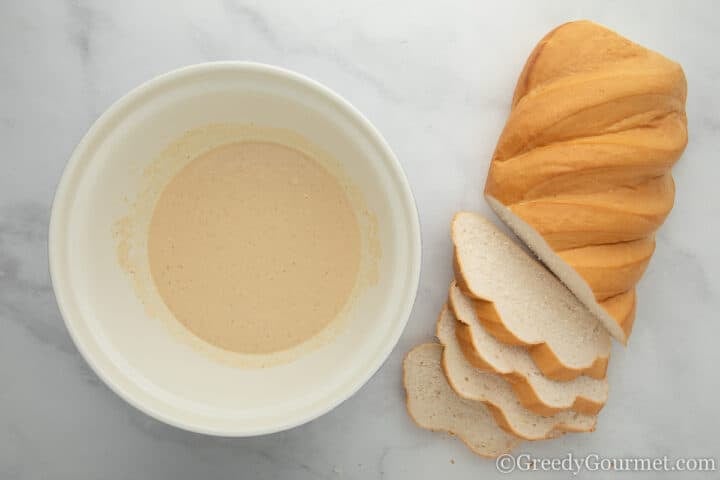 What kind of bread should be used for French toast?
When it comes to the best bread for French toast, it's a personal preference. I opted for bloomer bread. It's one of the most popular types of bread in the UK and is quite dense yet soft, with a crunchy crust.
If you don't go for a bloomer, I recommend choosing something hearty and rustic. This kind of bread is better for soaking up the delicious eggnog custard. Sourdough or brioche bread would also be perfect! (Check out my Brioche French Toast Casserole!)
If you prefer your French toast to have a chewy texture, leave it on your counter for a day or two. This will dry it out slightly and will allow it to soak up even more of the egg mixture.
How thick should eggnog French toast be?
Ideally, you want thick toast. Eggnog French toast works best when you slice the bread into 1-1½ inch thick slices. This will help it to keep its shape and soak up the eggnog mixture.
How do you make French toast not soggy?
This is all down to the bread you use. Follow my advice above and go for a denser bread. You can also allow it to sit for a day or two. Slightly stale bread works better when making French toast, as it holds together better.
Can you make this recipe ahead of time?
Overnight eggnog French toast is a thing of beauty! 
Provided you haven't fallen asleep during 'It's a Wonderful Life' due to one too many eggnogs, make the eggnog French toast mixture last thing Christmas Eve night, ready for the morning.
Keep your overnight eggnog French toast in the fridge in an airtight container then, come morning, all you have to do is fry up your festive French toast.
What spices work well in this recipe?
While egg nog is already spicy, this recipe is all about adding a little extra something.
For me, eggnog French toast works best with a touch of ground nutmeg and cinnamon. Don't forget, nutmeg is always best when freshly ground. The smell is pure Christmas! 
Can you freeze eggnog French toast?
Yes you can! If you've made eggnog French toast mixture for Thanksgiving, for example, freezing it and storing it ready for Christmas is a great idea.
To freeze eggnog French toast, allow it to cool completely, then place it in a freezer safe bag or airtight container. It will stay fresh for up to 3 months.
Defrost overnight in the fridge. When fully defrosted, add the bread and fry as per the instructions at the bottom.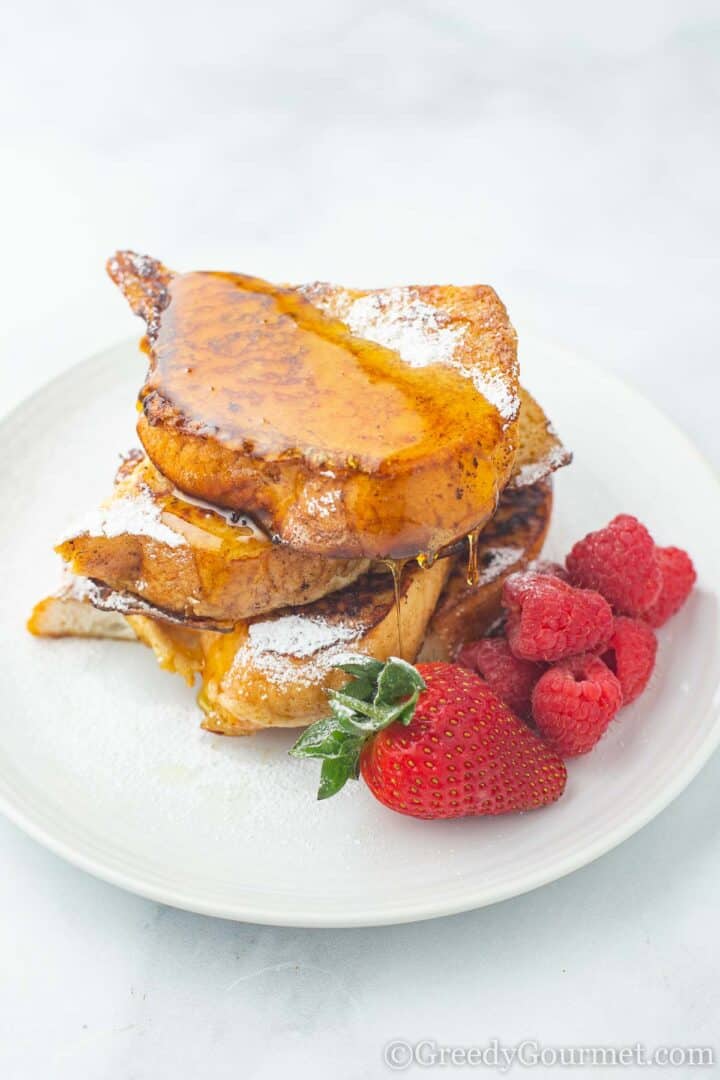 How to serve eggnog French toast
On its own, eggnog French toast is a Christmas morning marvel. Still, you can always dress it up with some tinselly bits to make it all the more enjoyable.
If you want to add a little bit of sweetness and light, scatter some fresh berries such as blueberries, strawberries, cranberries and blueberries. You could also add some grapefruit slices for a bitter fruitiness.
As well as the berries, you could also add a generous helping of Greek yoghurt and a sprinkle of icing sugar, brown sugar or a drizzle of maple syrup.
If you want to take it in a savory direction, add some rashers of bacon. Add the maple syrup for pure decadent delight!
More amazing eggnog recipes
There are many exciting ways you can use your leftover Christmas eggnog. As well as this delicious eggnog French toast recipe, eggnog can play a big part in your Christmas dishes.
Here are some wonderful recipes for some festive inspiration!
Eggnog creme brulee – minimal effort and maximum satisfaction, this delicious recipe is a great way to use up that leftover eggnog
Eggnog cheesecake – another tantalizing dessert, eggnog cheesecake will become a firm festive family favorite in your household
Eggnog ice cream – a pure delight, this one will be a hit with anyone with taste buds
Eggnog cookies – these sweet baked beauties are the ultimate Christmas snack for the whole family
Vegan eggnog – the essential vegan festive brunch recipe
Eggnog waffles – another incredible eggnog breakfast dish, especially around the holiday season
Eggnog French Toast - a fantastic way to spice up your breakfast
Print
Eggnog French Toast recipe
---
Author:

Michelle Minnaar

Total Time:

30 minutes

Yield:

8

servings

1

x

Diet:

Vegetarian
Description
Quick and easy to make, Eggnog French Toast is the perfect Christmas time breakfast and a great way to use up any leftover eggnog. Serve with fresh berries and dollops of Greek yoghurt.
---
2

cups

(500ml) eggnog

3

eggs

1 tsp

(

3g

) ground cinnamon

1 tsp

(

3g

) ground nutmeg

1

loaf bloomer bread

2 tbsp

(

40g

) butter
---
Instructions
Place the eggnog, eggs, cinnamon and nutmeg into a large bowl and then whisk together
Slice the bread into 1-1½ inch thick slices.
Heat a frying pan on a medium heat and melt a knob of butter in the pan.
Dip the bread into the eggnog mixture and leave for around 5 seconds and then turn and do the same.
Move the bread to the frying pan and cook for around 3-5 minutes on each side or until golden brown.
Serve with toppings of your choice, we chose icing sugar, fruit, maple syrup, Greek yogurt and berries. Enjoy!
Notes
We used Bloomer bread but feel free to swap with a bread of your choice. I decided on the Bloomer as it is a little denser and holds together better when moist.
You can adjust the quantities of nutmeg and cinnamon to your liking.
Prep Time:

15 minutes

Cook Time:

10 minutes

Category:

Breakfast

Method:

Pan Fry

Cuisine:

American
Keywords: eggnog french toast, french toast with eggnog, french toast breakfast, eggnog, French toast, Christmas breakfast recipe, thanksgiving breakfast