Sometimes, we all need a bit of indulgence in life. Nothing beats a no-holds-barred weekend breakfast and, when it comes to decadent breakfast recipes, brioche French toast casserole takes some beating!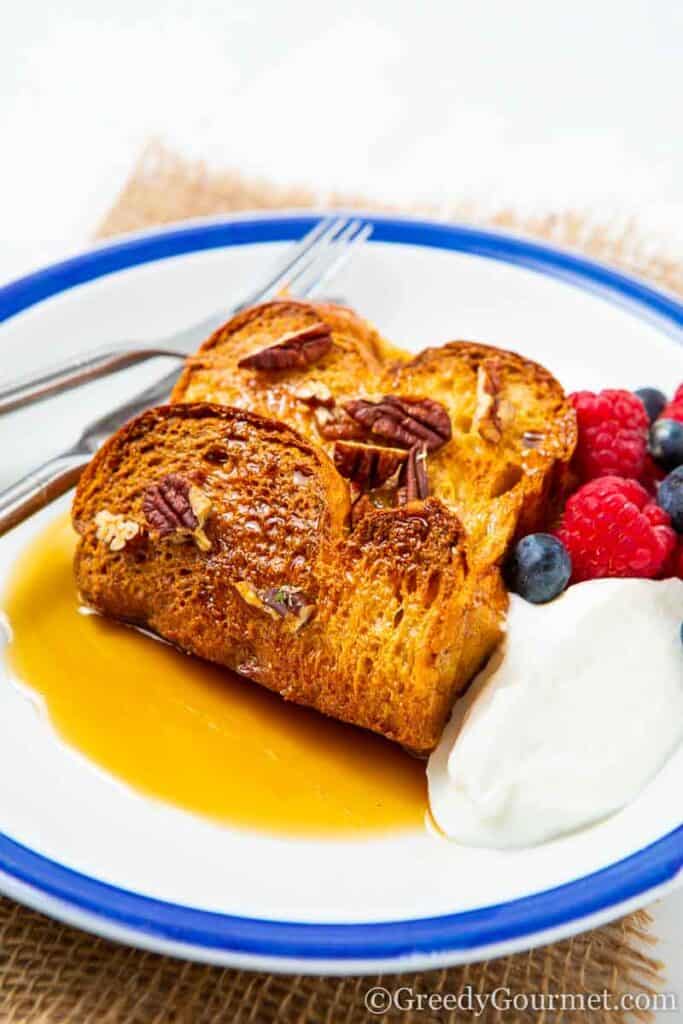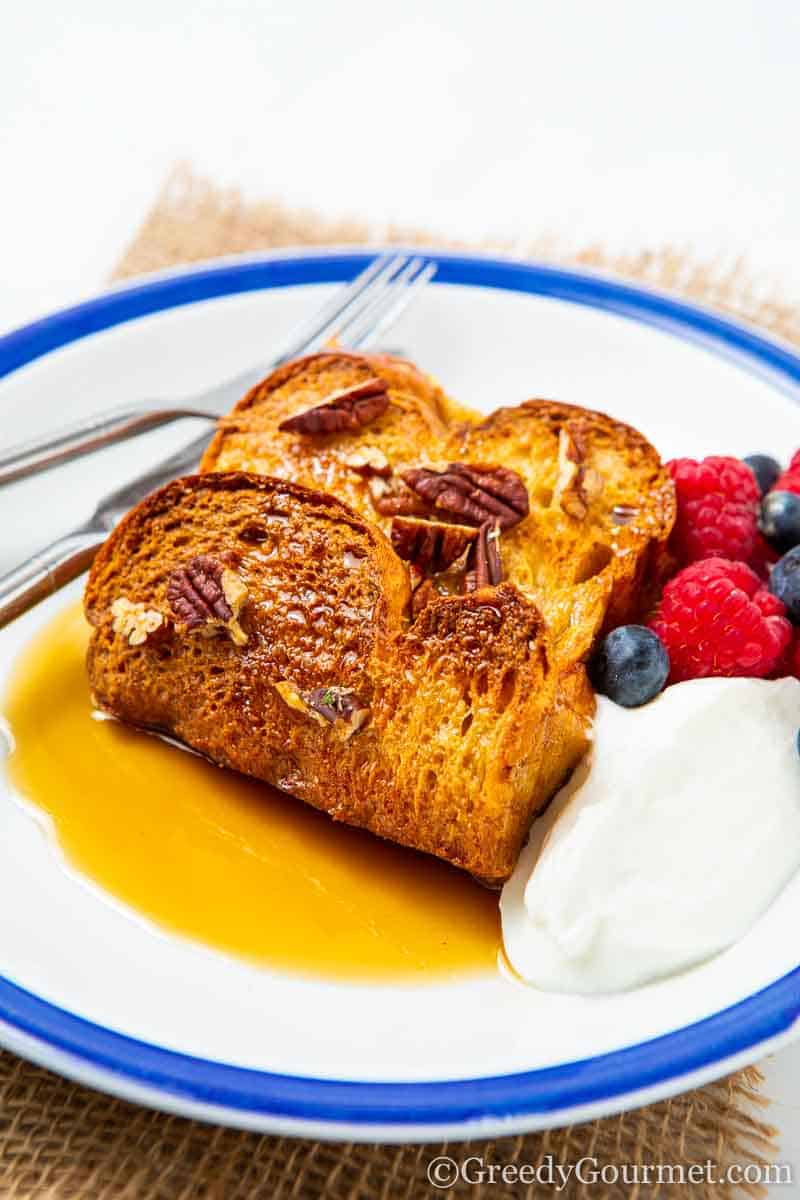 My baked French toast recipe is easy to make and impossible to resist. So, what are you waiting for? Let's make breakfast!
Products you need for this recipe
Mixing bowl – for the first step of this baked French toast recipe, you'll need to mix melted butter with sugar in a mixing bowl
Casserole dish – you'll need a good quality oven-proof casserole dish as a base for this recipe
Electric whisk – use an electric whisk to make everything easier and whisk up your egg, milk and spice mixture, ready to be added to the dish
Saran wrap – covering the casserole in Saran wrap and placing it in the fridge overnight allows the bread to soak up the liquid for the perfect French toast casserole
Tin foil – covering the casserole dish with tin foil for the first part of the baking process helps to get the right texture
Vanilla extract – an important part of this recipe, vanilla extract brings that amazing deep flavor to this French bread recipe
Ground cinnamon – with just a teaspoon, cinnamon brings a sweet fragrance and flavor to baked brunch or breakfast recipes like this one
Ground ginger – a little ginger kick adds a subtle depth
Ground nutmeg – another subtle earthy spice, nutmeg works well in this brunch recipe
Pecan nuts – a scattering of pecan nuts on top of adds a wonderful nutty crunch
Maple syrup – an essential part of this recipe is a luscious drizzle of maple syrup on top
Icing sugar – a final dusting of powdered sugar on top seals the deal!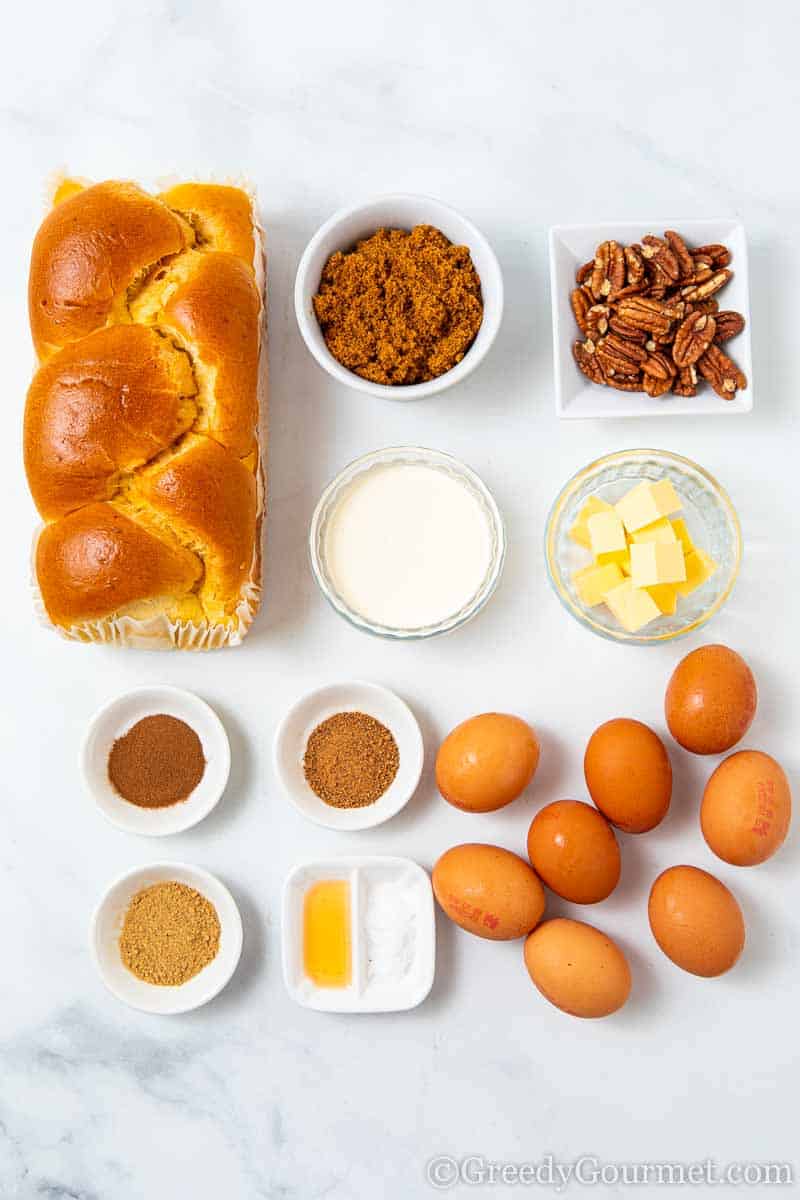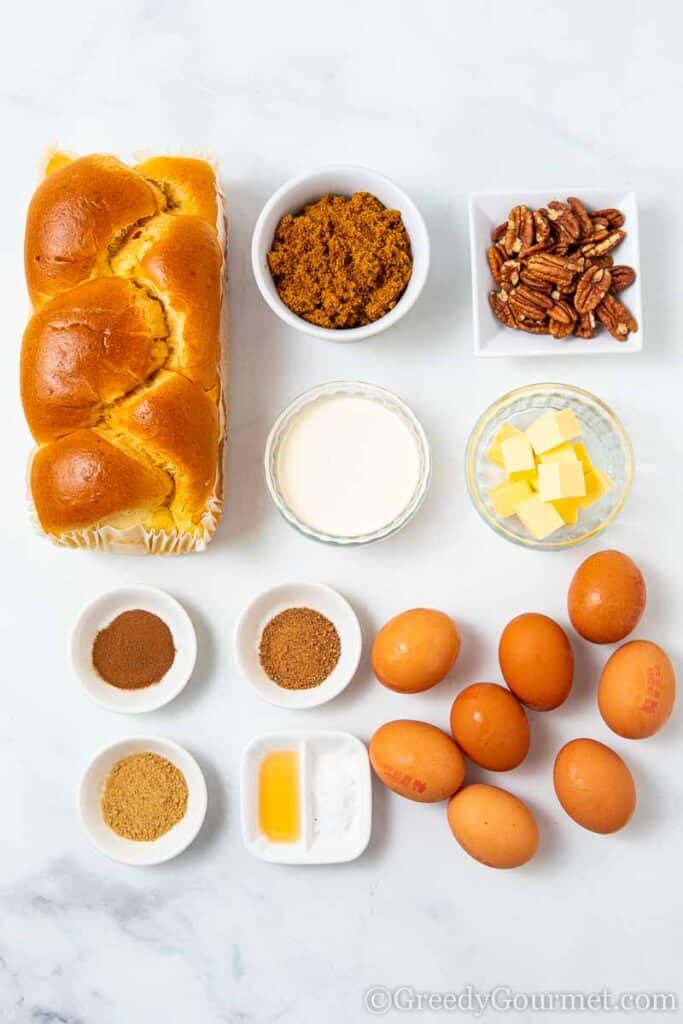 Brioche French Toast Casserole recipe
This breakfast recipe is a people pleaser, there's no doubt about it! Whether you're making it for yourself as a well-earned weekend treat, or for the whole family as a Sunday morning breakfast surprise, it's going to be hugely popular.
Once the smell of brioche baking in the oven hits the air, you'll be sold!
Aside from the divine taste of French bread, maple syrup, cinnamon, ginger mixed with milk or cream, the best thing about this recipe is how easy it is.
While we all love French toast, standing over a skillet on a Sunday morning can be a pain in the proverbial. Well, this breakfast recipe takes barely any effort and is light on prep time – about 5–10 minutes.
All the magic happens in the fridge overnight before baking and in the oven the next day. Yep, that's right, this one requires a little patience.
It's all about planning ahead. Still, all it takes is a tiny bit of effort.
Then you can let the ingredients mingle and do their thing. In the end, this overnight French toast recipe is so worth the wait!
What is brioche bread?
Brioche is not like your standard bread. Instead of just containing water, flour, yeast and salt, like many normal breads, French brioche is rich and packed full of flavor.
This extra rich delicious taste comes from the addition of eggs, milk and butter.
Where does brioche come from?
Where else? Those master bakers, the French, are responsible for this delicious bread.
What is the history of brioche?
It dates back hundreds of years, when it was traditionally served up as a blessed bread in churches.
Over the years, it was sweetened more and more, with the addition of extra brown sugar, vanilla and certain spices taking the taste to another level.
In the 17th century, with the widespread use of butter in France, this delicious bread became widely made, especially for the rich.
By the 20th century, this classic French recipe went international, becoming popular with bakers all around the world.
Where do you get good brioche bread?
Most quality supermarkets, as well as independent stores and bakeries, should sell brioche bread. Always go for the best quality – even if it means paying a little extra. This recipe is all about indulgence and brioche bread is the central part.
So, make sure you go out of your way to get quality bread for this French toast casserole. It'll be worth it!
Why is my French toast casserole soggy?
Few things are as disappointing as soggy French toast.
So, there are a few things you need to keep in mind when making this recipe to make sure that your baked French toast comes out golden brown on the outside and fluffy on the inside every time.
First of all, the bread should be thick and spongy enough to absorb the egg mixture. That's why brioche is perfect. The bread lining the baking dish should be ¾ of an inch to an inch thick.
It's also crucial to get the balance of ingredients right for the egg mixture, as well as the right amount of egg mixture. With this recipe, I've found just the right balance to ensure your French toast casserole will have a nice crispiness on the outside, with nothing soggy in sight.
So, it's really important to not guess the measurements and follow the recipe carefully.
Finally, there's a little-known trick that makes for the perfect French toast casserole...
Can you use stale bread for French toast?
Yep, you guessed it. The secret to good French toast is… stale bread!
Not many know that slightly stale bread actually makes for a better French toast casserole. This is because fresh bread can sometimes be a little too soft.
Stale bread is drier and can absorb more of the liquid, giving you a firmer baked French toast casserole.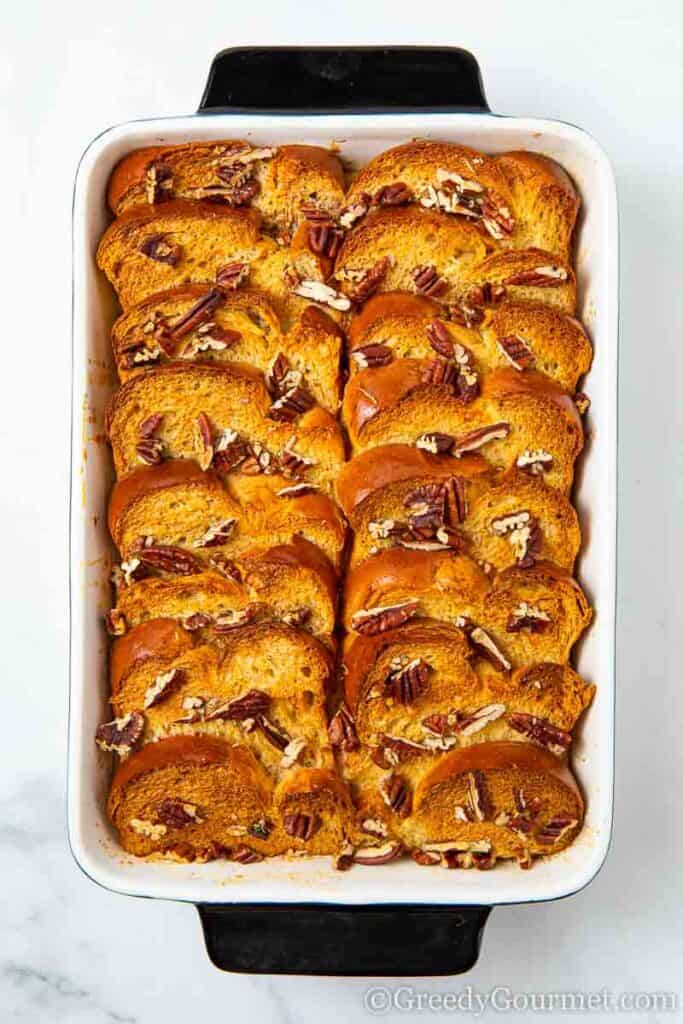 How stale should bread be for French toast?
Obviously, you don't want it too stale. Stacking French briquettes in a baking dish and pouring over the custard mixture is no one's idea of an appetizing breakfast.
Bread left for a few hours to a maximum of two days will make for great French toast.
What is brioche bread good for?
Besides an amazing French toast casserole, you can use this heavenly bread to make some mouth watering snacks and dishes.
From bread pudding and extra special PB&Js to souped-up hamburgers and next-level grilled-cheese sandwiches, this incredible French-made classic is the perfect bread for ultimate indulgent treats.
Is French toast healthy for you?
It's definitely possible to make healthy French toast. If you want a less sweetened bread, go for something like challah, which contains a lot less sugar.
You could also replace the maple syrup with a low-calorie sugar free syrup.
While it's relatively high in calories, this recipe is packed full of protein. It also contains some super spices, which have anti-inflammatory and antioxidant properties.
Can French toast casserole be reheated in the microwave?
It's easy to reheat French toast casserole. You can either reheat it in the microwave or in the oven.
To reheat a slice of French toast casserole in the microwave, place it on a microwave-safe plate and cover loosely with a paper towel. Then microwave on medium for 45 seconds to a minute.
Can French toast casserole be reheated in the oven?
To reheat baked French toast casserole in the oven, place it in an oven-proof dish covered with foil, preheat the oven to 350 degrees Fahrenheit and heat for 20–30 minutes, until fully heated.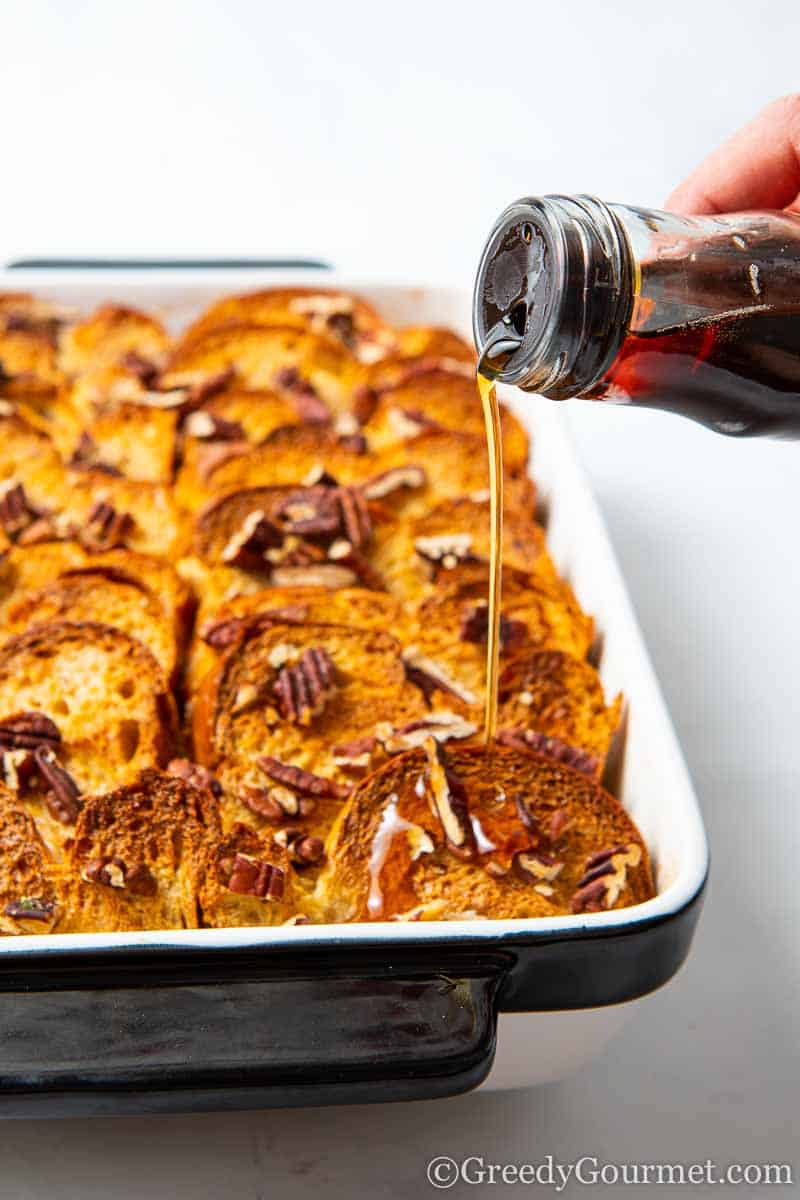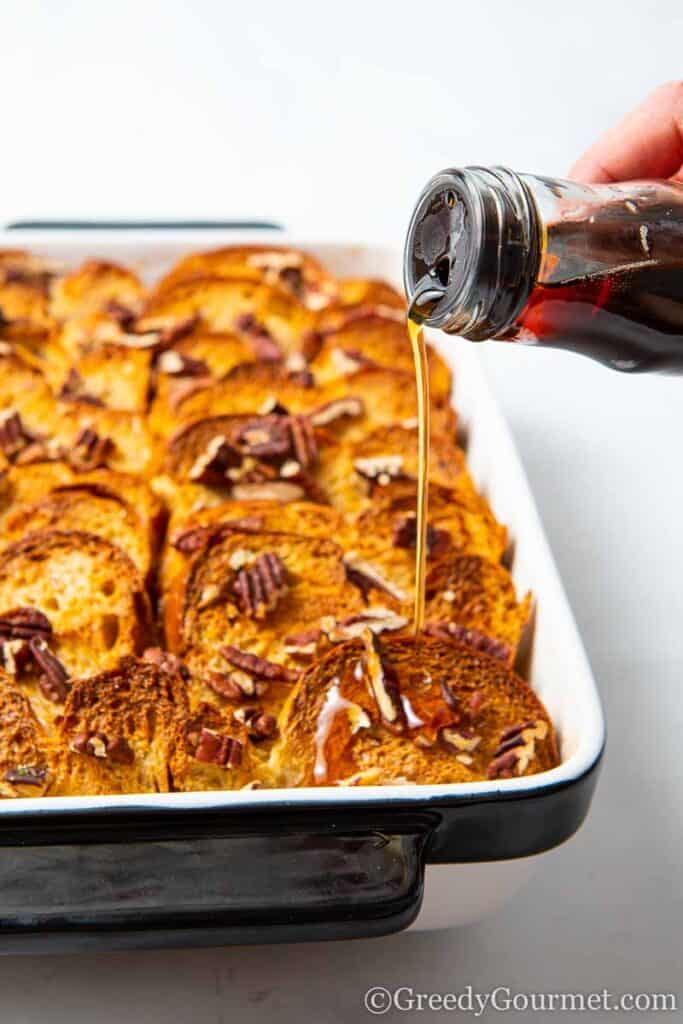 What do you serve with French toast casserole?
If you want to make your breakfast/brunch all the more satisfying, why not serve it alongside one of these delicious recipes?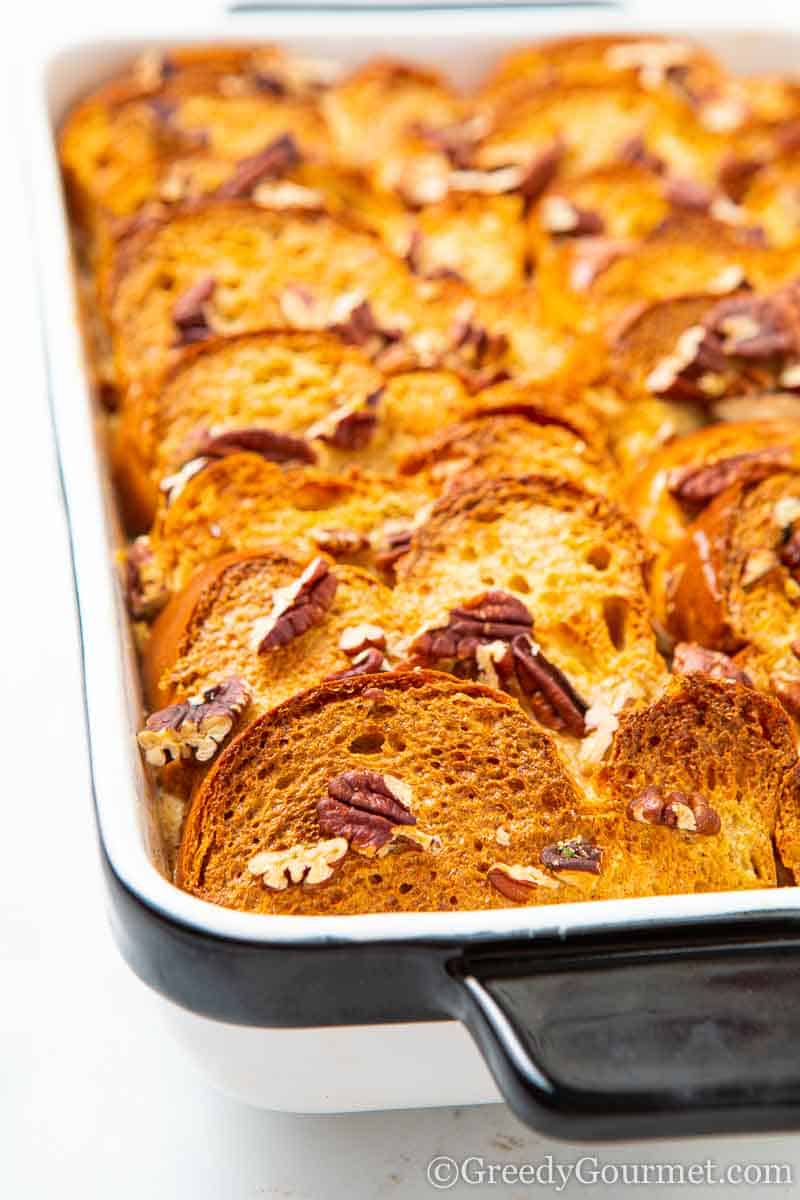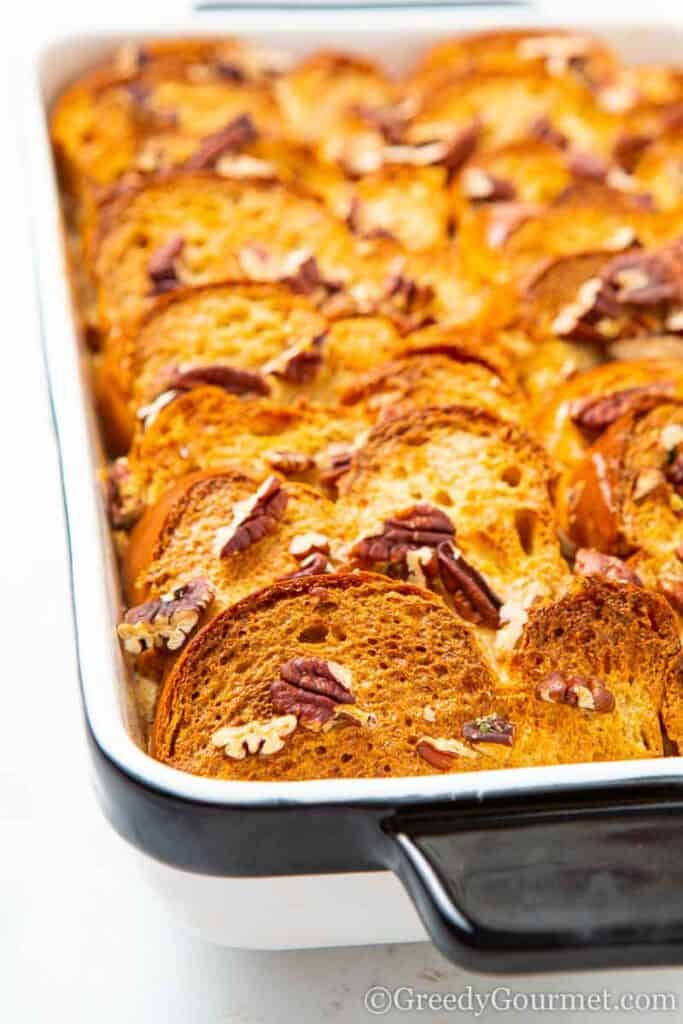 Other delicious breakfast recipes
If this delicious overnight French toast recipe left you wanting more, check out these other mouth watering recipes.
Print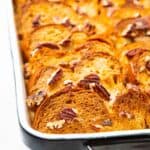 Brioche French Toast Casserole
---
Author:

Michelle Minnaar

Total Time:

1 hour 5 minutes

Yield:

12

portions

1

x

Diet:

Vegetarian
Description
Brioche French Toast Casserole is the perfect recipe to serve for breakfast on Christmas morning. Best of all it can be prepped the night before.
---
---
Instructions
Combine the melted butter and sugar in a small bowl.
Tip the contents into a 33x23x7cm (13x9x3in) casserole dish and cover the base evenly.
Arrange the brioche slices in the casserole dish and cut to fit where necessary.
Whisk together the milk, eggs, vanilla, cinnamon, ginger, nutmeg and salt in a bowl.
Pour the eggy mixture evenly over the bread slices.
Sprinkle the pecans over the casserole evenly.
Cover the casserole with Saran wrap then place in the fridge for at least 4 hours, but preferably overnight.
Remove the casserole from the fridge and leave at room temperature for between 10-15 minutes.
Meanwhile, preheat the oven to 180˚C/fan 160˚C/350˚F/gas 4.
Remove the Saran wrap, then cover with tin foil.
Place the casserole in the oven and bake for 30 minutes.
Remove the tin foil and cook for another 30 minutes until golden and crispy.
Dust with icing sugar, drizzle with maple syrup, fresh fruit, a dollop of Greek yogurt, or a quenelle of whipped vanilla cream. Enjoy!
Notes
If you are feeling extra indulgent, you can substitute the milk with heavy/double cream.
Prep Time:

20 minutes

Cook Time:

45 minutes

Category:

Breakfast

Method:

Bake

Cuisine:

American
Keywords: brioche French toast casserole, French toast casserole recipe, christmas breakfast, overnight French toast casserole, baked French toast casserole