I love this recipe on the weekends where it is possible to sit a little longer at the breakfast table and enjoy some family time. Dried fruits are often overlooked in today's cooking, where the main focus is on fresh ingredients.
However, dry does not mean bad. In fact, it's quite the opposite in this case. Dried fruit compote is perfect for serving with yogurt, or even as a sweet touch with oatmeal or porridge.
Even though the preparation time is a bit higher than what you would normally use for a breakfast dish, the end result is certainly worth it.
The sweet, rich flavours of the dried fruit compote will have you longing for the next Sunday breakfast, just to get another taste of it.
Dried fruit
The practice of drying fruits stems from the Mediterranean region and the Middle East where fruit trees such as figs and apricots have been cultivated for a long time.
The process of sun drying the fruit meant that it could keep for a long time without spoiling. This was vital for the people to stay well-nourished during the wintertime, when other crops were sparse.
In our modern society, the appetite for dried fruits have not declined and dried fruits are produced on an industrial scale worldwide. If you go to an oriental market you can buy all sorts of dried fruits.
Even exotic things like papaya and kiwi. A treasure chest of various dried fruits can be explored and used for a tasty compote. What dried fruits would you use for your compote?
My recipe for dried fruit compote is actually quite versatile and adjustable. The fruit I used this time was what I could find in my local supermarket, namely prunes, cherries, raisins, figs and apricots.
Other great options are apple, pear, dates, mango or pineapple. You can also use dried berries such as strawberries, blueberries or cranberries. The possibilities are nearly endless, so set your imagination free.
Depending on what kind of dried fruits you pick, you may have to adjust the sweetness of the compote. This can be done by adding either more or less honey. Let your taste buds guide you to the goal.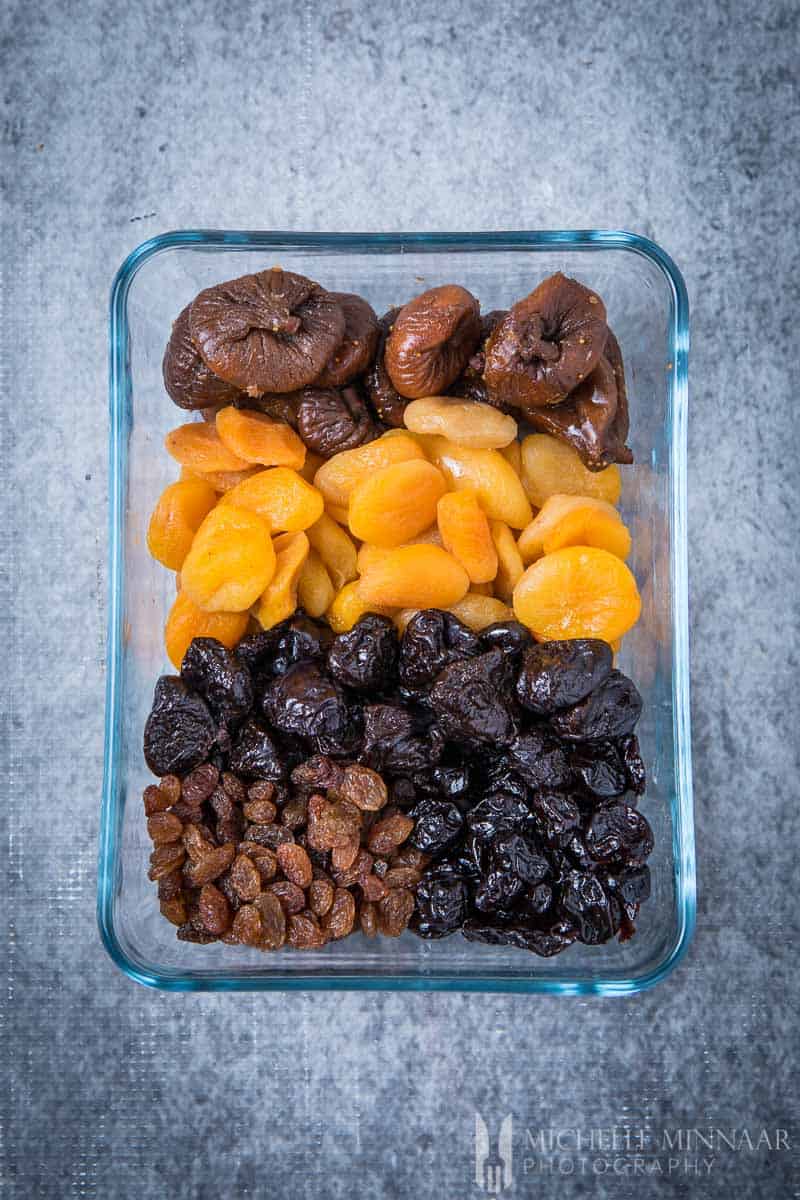 Play with the spicing
For extra flavour in the dried fruit compote, I have used cinnamon stick, cloves, orange zest and star anise. These are added to lend more flavour and need to be removed at the end of the stewing.
An easy solution is to place these ingredients in a small muslin bag so you can remove them all at once at the end of cooking time. Consider as if it's like out a tea bag after your tea has finished brewing.
The use of a muslin bag also prevents ingredients such as star anise or cloves to break and disappear into compote.
Feel free to play with the spices. Other flavour suggestions are vanilla beans or even cardamoms. The orange zest can also be substituted for grape fruit or lemon zest.
Apple juice can be replaced with orange juice but other fruit will work too. This just goes to show how many ways there are to make dried fruit compote.
There are enough variations to keep your weekend breakfasts interesting for a long time to come. Vegans can simply omit the honey and use sugar instead if needed.
A tip to using dried fruits
Sometimes the fruit can be very dry and chewy at first. In order to make them soft and pliable again, you can cover them with water in a bowl for about an hour.
Drain the water and you should be left with softened fruits. Don't be afraid that you lose any flavour by doing this. The dried fruits simply absorb the water but maintain the flavour inside.
This is especially useful if you use dried fruits in large slices such as pineapple or mango. Once the fruit has been softened by the water, they will be much easier to cut as well.
However, this time consuming step means that you need to plan a little bit ahead when you want dried fruit compote for your breakfast.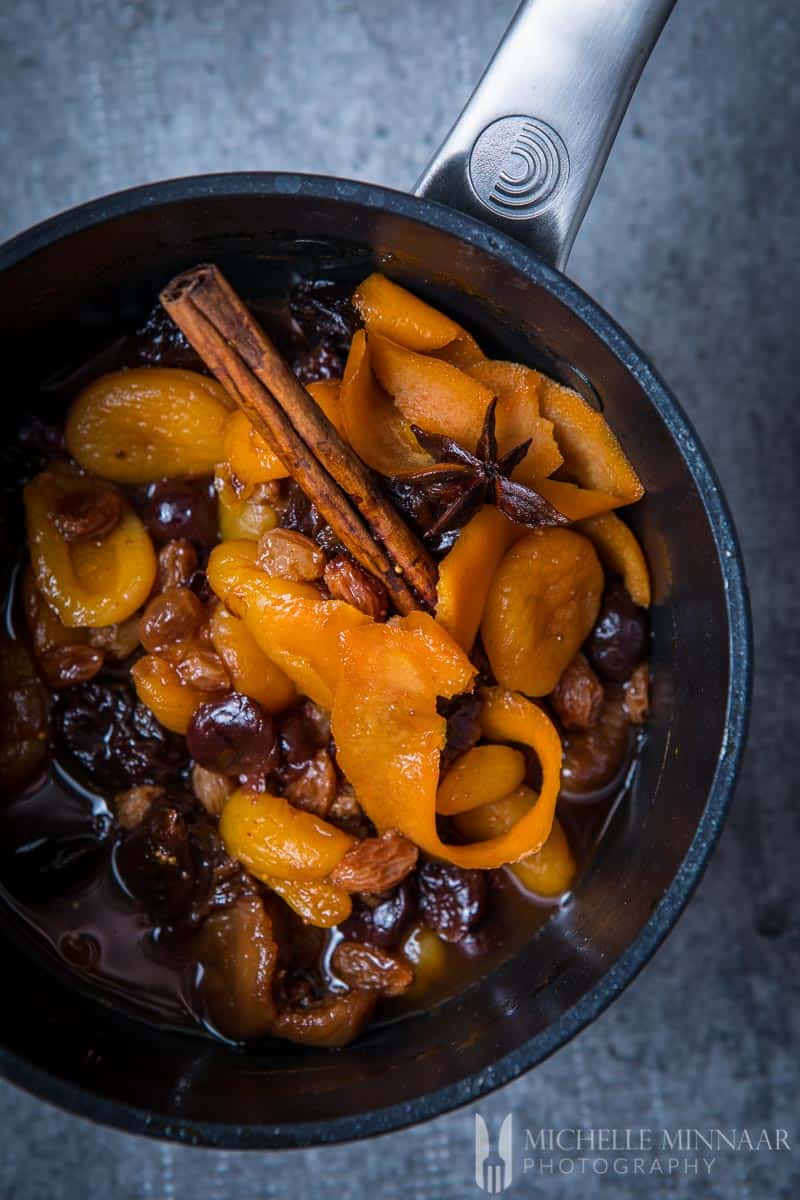 Serve for breakfast or dessert
The dried fruit compote is an excellent addition to a good weekend breakfast or brunch. Serve it cooled down on top of neutral yogurt and enjoy the rich fruity flavours.
In fact, why don't you add a spoonful of my seville orange marmalade? It's a tangy addition that will leave a zesty taste! For a more nutty flavour, add amlou.
Dried fruit compote is also a lovely topping for oatmeal, porridge or overnight oats. A spoonful or two of this compote will have even your kids eating up their oatmeal in no time.
The good thing is that you can prepare the dried fruit compote in advance and store it for later use. Kept in a sealed jar, it will easily last a week in the fridge.
Breakfast is not the only meal where you can enjoy dried fruit compote though. It is also excellent for dessert, so instead of serving it could you can serve it warm with vanilla ice cream or frozen yogurt.
You could also use Greek yogurt with compote as a dessert. It is quite common in Greece to simply enjoy the yogurt with just drizzle of honey for a dessert.
Further uses for sweet dishes could be as topping for pancakes or waffles. After all, dried fruits have been used in confectionery and baked goods for centuries.
Say cheese
Believe it or not but a dried fruit compote is also a wonderful addition to cheese. You can have this instead of marmalade on top of a slice of bread with cheese.
Or, you can use it with a cheese platter at the end of a dinner. Dried fruit compote is particularly good for mature cheeses and blue cheese.
It's an excellent addition to a cheese and wine evening, and you can impress your guests with a touch of homemade cooking among the store-bought cheeses.
If you plan to use the compote for a cheese platter you can throw in a handful of hazelnuts at the end of cooking time, in order to give the compote more bite and texture.
Love fruity recipes? Check out this blackberry compote!
Print
Dried Fruit Compote
---
750g

(

1 1/2

lb) mixed dried fruit
zest of

1

orange
juice of

3

oranges

500

ml (2 cups) water

1

cinnamon stick

2

cloves

1

star anise

60

ml (4 tbsp) honey
---
Instructions
Place all the ingredients in a medium saucepan and simmer for 1 hour.
Serve warm as a dessert with ice cream or cold with yogurt for breakfast.
Notes
Use your favourite dried fruit for this compote. I used prunes, cherries, raisins, figs and apricots.
Other ideas include apple, pear, mango and pineapple.
Sometimes the fruit can be really dry and chewy. To make them soft and pliable again, cover them with water in a large bowl for about one hour. Then start the cooking process.
Try and keep the peeled orange zest in one piece to make for easy removal at the end of the cooking process.
If possible, place the cinnamon stick, zest, cloves and star anise in a small muslin bag, to enable removal all in one go once the fruit compote has finished stewing. You can substitute the orange juice with apple juice.
Prep Time:

15 minutes

Cook Time:

60 minutes

Category:

Breakfast

Cuisine:

French
Nutrition
Serving Size:

1 serving

Calories:

205

Sugar:

3.3 g

Sodium:

18 mg

Carbohydrates:

53.3 g

Fiber:

6.8 g

Protein:

2.3 g
save the recipe to your pinterest board