Fancy a memorable dinner for the holidays to come? Look no further than this venison steak with blackberry sauce. This dish is delicious and is perfect for when you have guests or family over.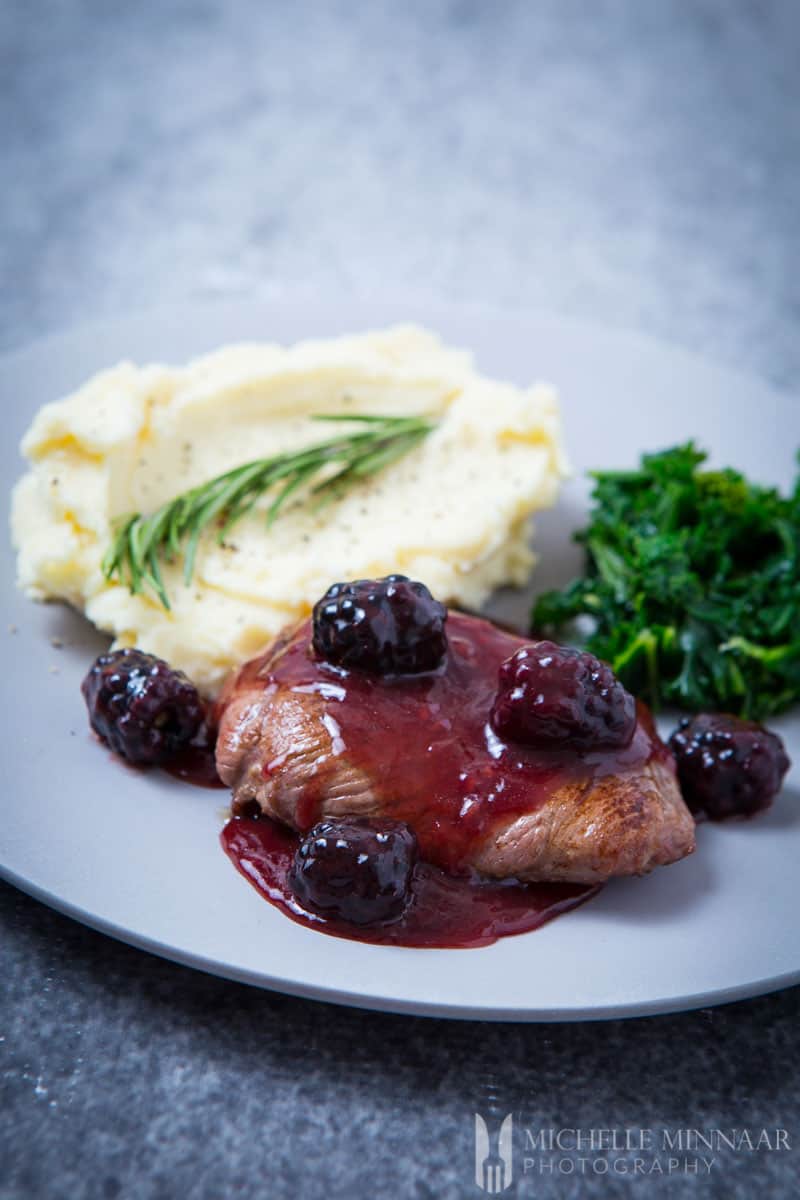 With its beautiful umami flavours paired with a creamy mash and blackberry sauce, this recipe will definitely impress. My favourite part about this recipe is the blackberry sauce itself.
It's one of those sauces that make you reach for the wooden spoon and get licking. Don't pretend that you haven't done this – we all have our favourite sauce we go mad for.
If you can't get hold of blackberries, just substitute it with another berry, such as blackcurrant, raspberry, strawberry or even cherry!
Steak and blackberry sauce with Box'd Fresh
We all know that the period between the end of November to New Year's Eve tends to be the most stressful – especially at work! Clients want to finish assignments and projects before the holidays and getting home at a regular time can be a nightmare.
Cooking feels like a chore and may be considered time consuming. Luckily, we have companies like Box'd Fresh to help us out when there is no time to faff about with devising meal plans, compiling grocery lists and getting in the car to go shopping.
Box'd Fresh does all that for you. Simply order which recipes you'd like to cook, receive the box and get cooking, giving you the freedom to spend more time with your loved ones and less time on menial tasks.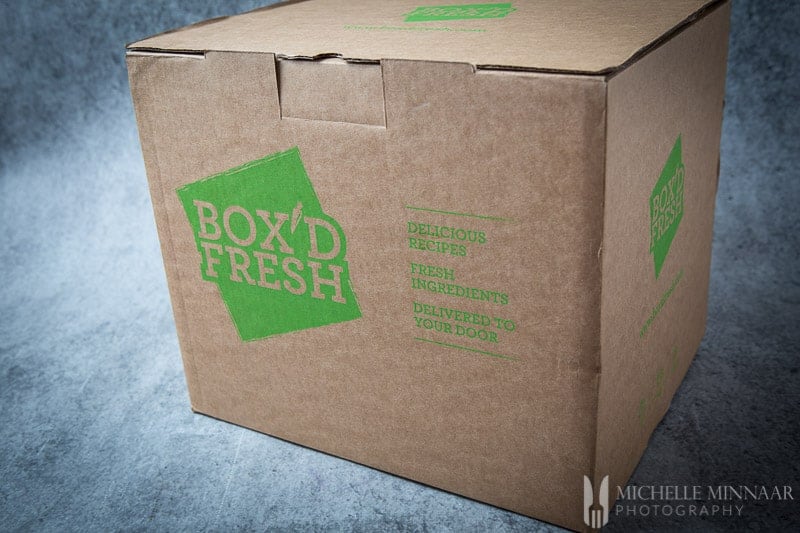 about Box'd Fresh
Box'd Fresh , established in 2016, is a recipe box company that makes it easier for us to cook amazing dinners from scratch. Working with experienced chefs to create inspiring and nutritious recipes, you'll definitely find something that makes your mouth water.
Box'd Fresh focuses on making recipes easy for everyone to enjoy. All recipes can be cooked within 20-30 minutes and have less than eight steps.
So why don't you try the venison steak, creamy mash potato and black berry sauce recipe box and make it from scratch?
Working only with suppliers with sustainable farming practices, you'll have produce from Suffolk to Cornwall of the highest quality. Apart from a delicious meal, you can also expect the following in your recipe box:
organic vegetables
free-range meat and poultry
sustainability sourced fish
easy-to-follow recipe cards
woolcool to keep your food chilled
You can choose from nine quick and easy recipes that varies on a weekly basis, depending on season and availability. Next, their globally-inspired recipes and fresh ingredients are delivered straight to your door.
Finally, you can cook a delicious and nutritious dinner in less than 30 minutes using the easy-to-follow recipe cards and pre-measured ingredients.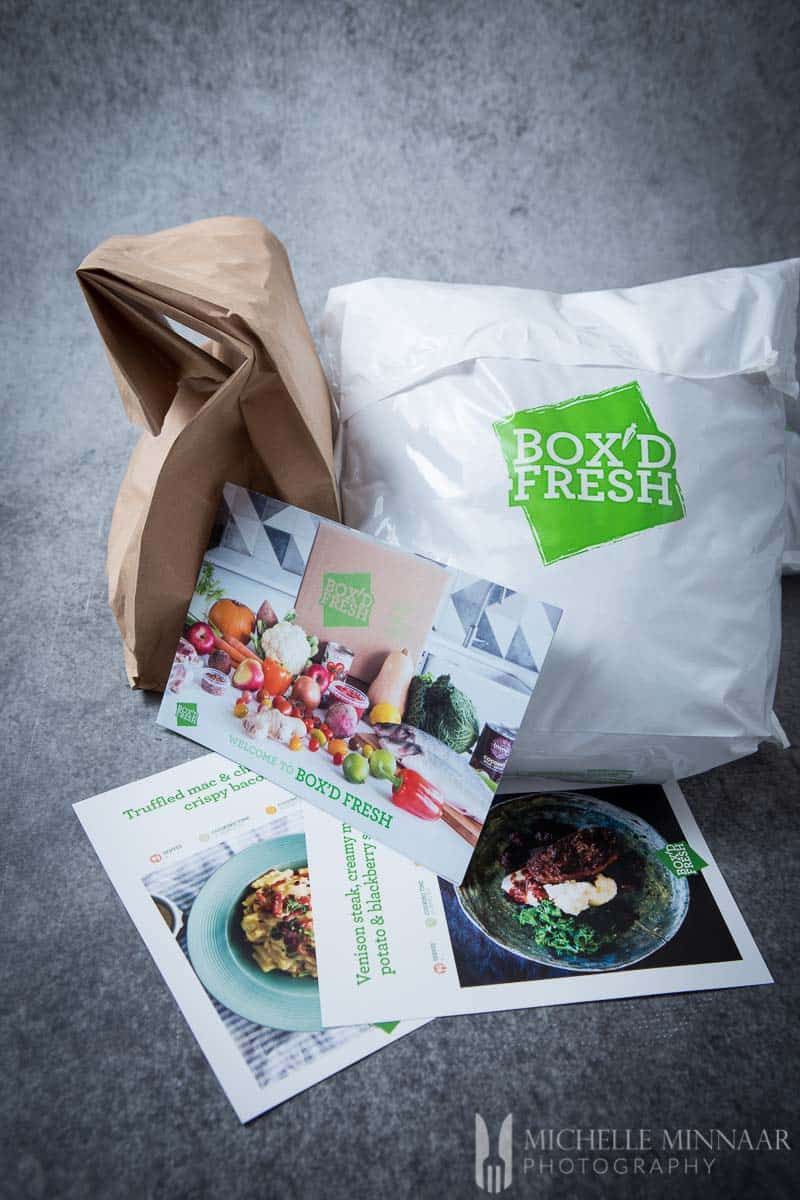 venison
Simply put, venison is the meat of a deer. Although, technically speaking, venison can be referred to as meat from these specific animals: any type of deer, moose, reindeer, elk and even antelopes.
It's very similar to beef, although darker in colour. Venison is much leaner than beef as well as a finer texture. It tastes rich and can have a gamey note.
If you are in Australia, then get your hands on some kangaroo meat- it's probably the best alternative to venison. Ostrich from South Africa will also work.
Remember, wild game and gamey meats go perfectly with a nice blackberry sauce. So, if you don't like gamey meat, you can easily substitute with a beef steak.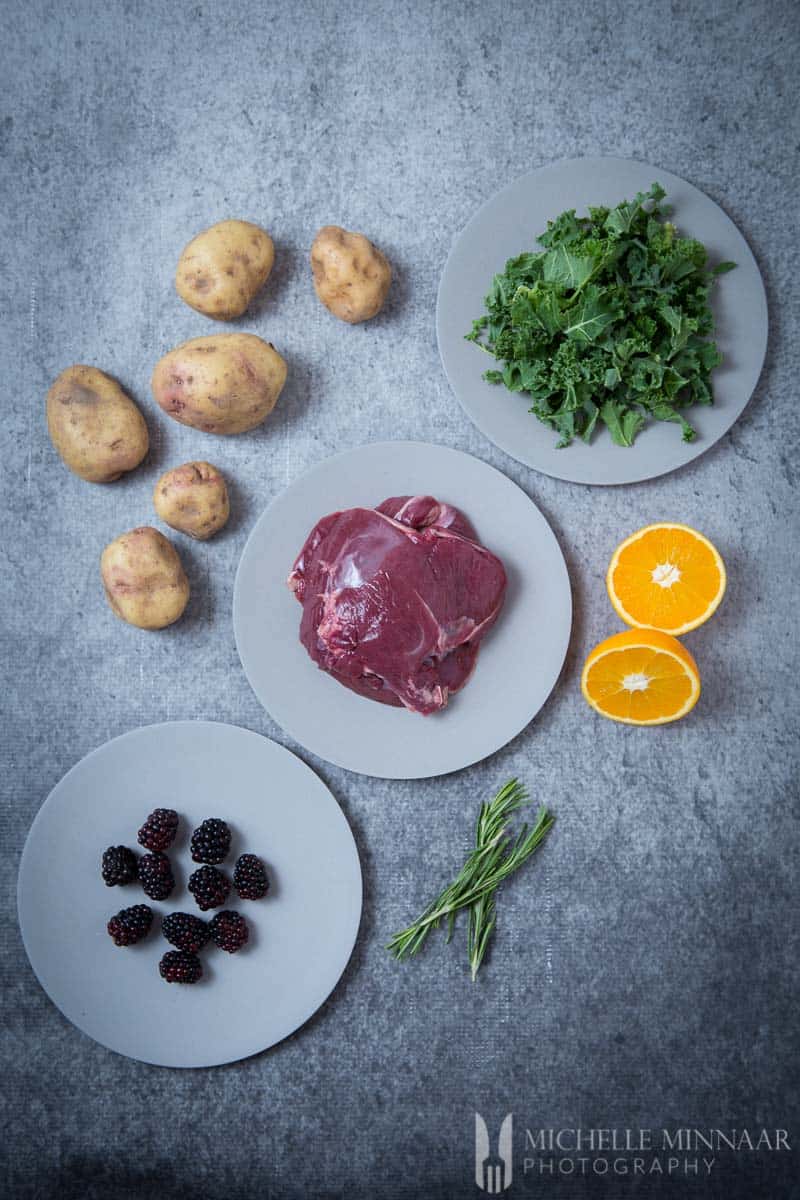 how to cook venison
Remember to leave the venison at room temperature for a while before cooking. Another common sin I've committed for years is to season my meat with salt and pepper before frying or grilling.
Do you know why this is not good for the meat? It's because the salt will ruin the meat juices and make the venison dryer. Only season the meat after cooking!
Remember to give the venison, or any steak for that matter, some time to rest, so that the juices settle. Roughly five minutes of resting time, depending on the size of the cut, will do.
the sauce
I hope you don't chuck the skillet in the sink with all the juices! You can reuse them for the blackberry sauce to enhance the flavour of the entire meal.
The same principle goes for the juices from the resting time. Make sure you add this to the blackberry sauce as well. Generally, the sauce marries all the ingredients in the dish so getting the sauce right is important.
To make the sauce, I recommend using fresh blackberries for maximum flavour. Although, if it's not possible to source these fresh, you can also use frozen blackberries.
Alternatively, you can use blueberries – check out my ostrich fillet with creamy blueberry sauce.
Make sure you leave enough time for the blackberry sauce to simmer on low heat. This way, the flavours will be distributed evenly and intesify as the sauce reduces.
sides
You can serve a decadent, creamy mash with the steak and blackberry sauce. However, if you wish to go for a healthier option, roast some Jerusalem artichokes.
With its creamy texture and nutty flavours, it's a delightful substitute. Instead of kale, you can also serve green beans or a simple green mixed garden salad.
wine pairing
I assume that with a gorgeous venison steak with blackberry sauce you'll have a nice bottle of red! The best type of red wine with this meal is a full-bodied rich wine.
Perhaps, something from Bordeaux. Try going for a bottle from 2015 as this was an excellent year!
Love blackberries? Check out this blackberry compote!
Print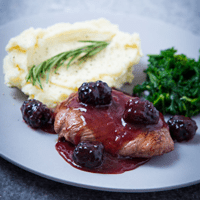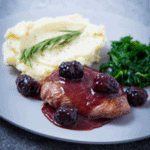 Venison Steak with Blackberry Sauce
---
15

ml (1 tbsp) butter

15

ml (1 tbsp) olive oil

4

venison steaks, weighing 175g (

6oz

) each

250

ml (1 cup) red wine

250

ml (1 cup) beef stock

1

orange, juiced [optional]

30

ml (2 tbsp) blackcurrant jelly

20

blackberries
---
Instructions
Fry the steaks in the butter and oil on a high heat for 2 minutes on each side.
Remove the steak from the pan, put aside and keep warm.
In the same pan, add the wine and let it bubble away until halved, which would take about 5 minutes.
Add the stock and let it bubble for another 5 minutes.
Stir in the orange juice and jelly.
Serve the steaks with creamy potato mash, steamed kale and blackberry sauce.
Notes
Frying the venison two minutes on each side will yield a rare result. If you like your meat more cooked, lower the heat after two minutes and cook until desired doneness.
The blackcurrant jelly can be substituted with any berry jelly but see if you can find blackberry!
If you'd like to thicken the sauce you can make a cornflour slurry and slowly stir it into the sauce until thickened to desired consistency. The only downside is that the cornflour mutes the flavour a bit.
Prep Time:

10 minutes

Cook Time:

20 minutes

Category:

Main Course

Cuisine:

English
Nutrition
Serving Size:

1 serving

Calories:

479

Sugar:

6.6 g

Sodium:

346 mg

Fat:

11.7 g

Saturated Fat:

4.8 g

Carbohydrates:

17.5 g

Fiber:

3 g

Protein:

62.2 g

Cholesterol:

185 mg
save the recipe to your pinterest board

P.S. This is a sponsored post.