Have you ever made homemade seedless blackberry jam before? Now is the time to do so as blackberries are in season!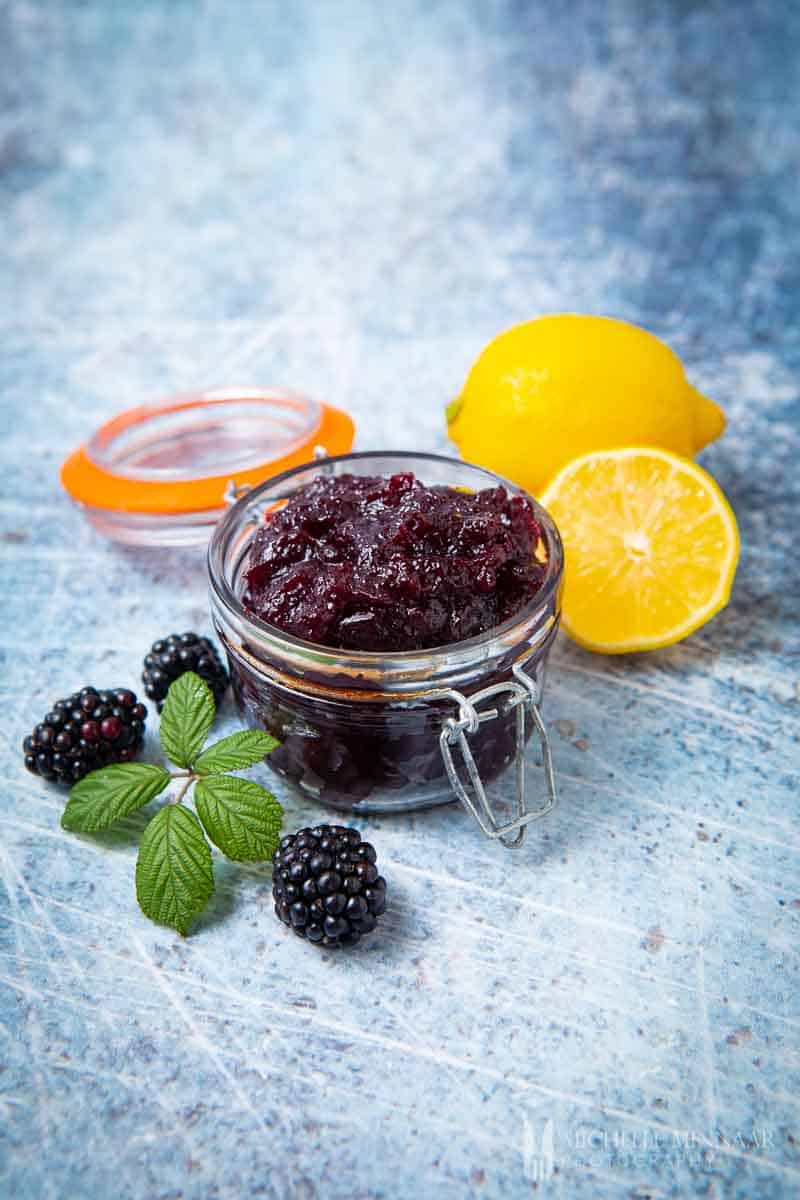 How to make blackberry jam
If you have brambles in the garden, at least this time of year they serve a purpose. If not, head to the park or woods to go blackberry picking.
It's a fun activity to do with the kids and if you teach them how to make this blackberry jam recipe they will love you forever.
You can use it as a spread for toasts, scones or with any pancake recipe. In addition, I love to pair the seedless blackberry jam with game and red meat.
Just drop a dollop of blackberry jam into your sauce for extra complexity. Along with a full-bodied red wine, it makes for one gourmet-style meal with complementing flavours.
If you're intimidated by the idea of jam making, don't be. The hardest part of preparing this seedless blackberry jam is to resist snacking on the blackberries before cooking them.
Make sure you have enough, so that you can nibble on them as you cook along.
What I admire most about this blackberry jam recipe is that it is completely seedless. You won't have to worry about the seeds getting stuck between your teeth.
An added bonus is that there will be no bitterness which generally comes from biting into the seeds. If you feel like trying something more citrusy, you can also give this Seville orange marmalade a whirl.
seedless blackberry jam recipe
I don't know about you, but I've always been confused when it comes to blackberries, blueberries and blackcurrants.
The latter can be challenging to distinguish, especially if you are not a native English speaker. Just to be clear, blackberries look like black or dark-purplish raspberries.
These berries do differ though. For example, when you pick the blackberry fruit, the stem, otherwise botanically known as the torus, stays on.
In comparison, when you pick the raspberry, the torus comes off. Meaning, when you pick the raspberry without the stem, the core stays hollow.
However, for the seedless blackberry jam, just make sure that you clean and stem the blackberries properly before you get to the jam-making part.

Raspberry blackberry jam
Here is the best part about making this seedless blackberry jam recipe. You can combine the fruits you find in your garden as most are interchangeable.
First, the most straightforward combination is to add raspberries to the mix with this seedless blackberry jam. Since raspberries and blackberries are technically cousins, their flavours work well together.
Plus, they also have similar textures. By adding the raspberries, the seedless blackberry jam will develop a 'forest fruit' flavour.
Also, speaking of forest fruits, you can also mix in these delicious berries:
Strawberries – for extra sweetness
Redcurrant – for more acidity and tartness
Blackcurrant – for more acidity and preserving the jam's dark colour
Blueberries – for a subtle sweetness
Plums – also delicious in combination with blackberries
Do you have a preferred berry or fruit to add into this seedless blackberry jam? In my opinion, most berries pair very well. Together, you can make a delicious seedless forest fruit jam.
Blackberry jelly recipe
Here's a fun fact. Did you know that technically speaking, blackberries are not berries? In fact, a blackberry is an aggregate fruit.
Now, do you know where blackberries were first found? The first ever discovery of blackberries was actually within the remains of a preserved woman in Denmark, which dated back 2,500 years.
Forensic experts found the blackberries in the stomach along with other foods. Historically speaking, blackberries also had a medical significance.
For example, the leaves of the blackberry bush were used to cure and prevent many mouth-related illnesses, which include bleeding gums and sores.
Back in the Middle Ages and ancient times, the roots and the leaves were also brewed to make a medicinal tea. Apparently, the tea helped individuals who suffer from intestinal problems.
Of course, blackberries were also used to make all sorts of pies and jams.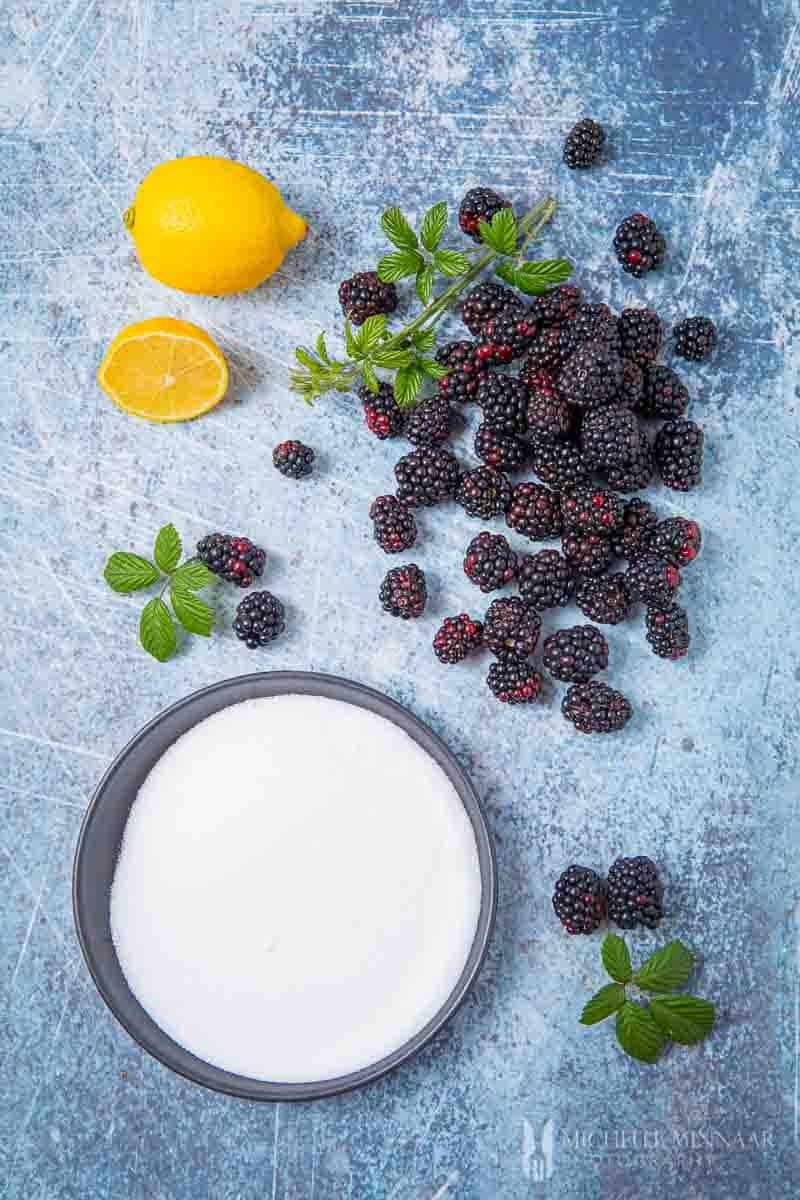 Seedless blackberry sauce
As mentioned above, this seedless blackberry jam also goes hand-in-hand with savoury recipes too. For instance, I think it works exceptionally well with red meat like game, venison or lamb. Try to use it with this delicious lamb sandwich with avocado and jam.
Otherwise, you can also use the jam to enhance the flavour of a savoury sauce to be served with a lovely piece of meat.
For example, take a look at this venison steak with blackberry sauce recipe. It is one of my favourite festive dishes!
Seasoning the jam
I used thyme springs to give my seedless blackberry jam extra complexity. If you find that the thyme is too strong, you can always opt for lemon thyme.
It is more subtle and will give the seedless blackberry jam a slight citrusy touch. In addition, you can also add more of the lemon juice to control the acidity level of the jam.
Similarly, you can control the amount of sugar that goes into the jam. Honestly, I prefer mine with a little bit less sugar.
However, you are in control of your own seedless blackberry jam - add as much as your taste buds desire.
As for the serving, you can easily pair the seedless blackberry jam with:
scones - especially homemade ones!
French toast
standard bread with a touch of butter
recipes with leftover blackberries
If you have leftover blackberries, I highly recommend you try making this delicious blackberry and yogurt smoothie. Otherwise, you can try making this fruity apple and blackberry crumble or blackberry compote.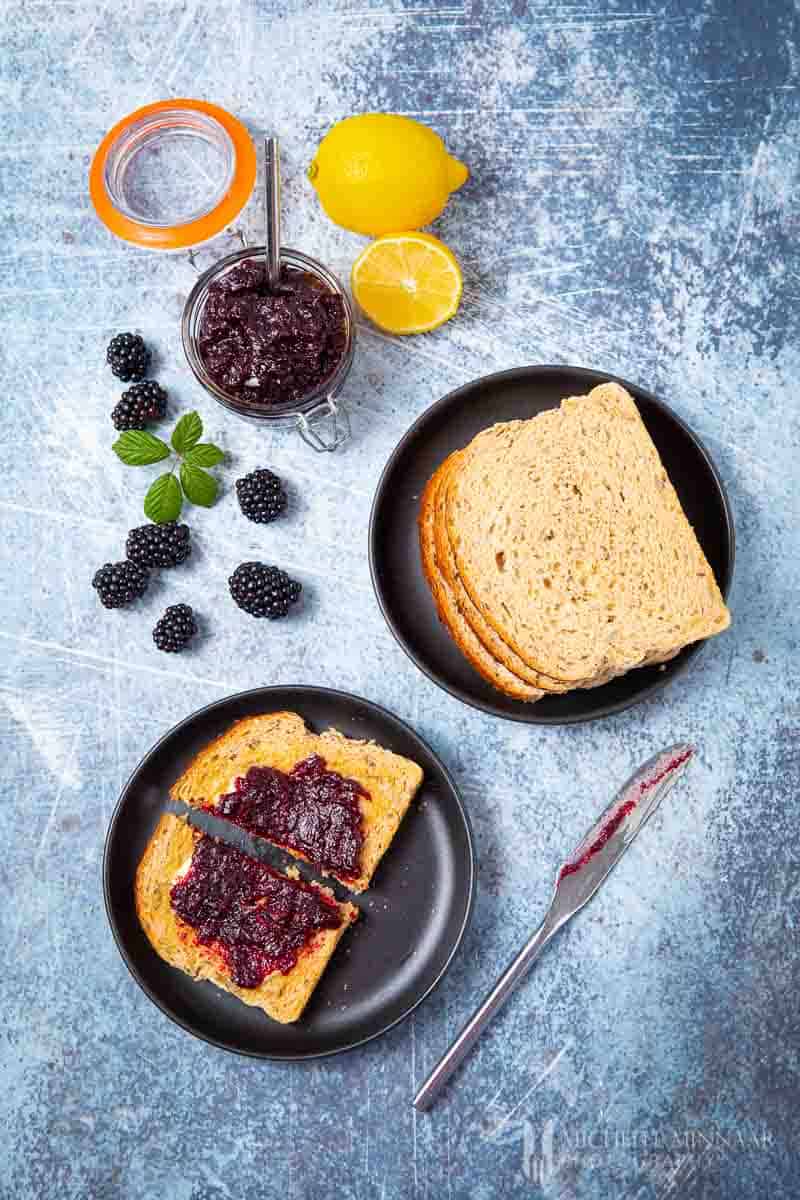 When was the last time you had a seedless blackberry jam? What would you eat it with? Let me know in the comments below!
Print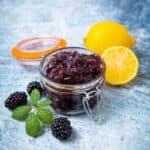 Seedless Blackberry Jam
---
Description
This seedless blackberry jam is one of the best blackberry jam recipes around. Truly seedless! Make sure you take advantage of this delicious fruit when it's available.
---
600g

(1⅓lb ) blackberries, washed

200g

(

7oz

) jam sugar

1

lemon, juiced

3

thyme sprigs [optional]
---
Instructions
The night before you make your jam, layer the blackberries and sugar together in a large bowl, then cover and set aside at room temperature.
Place the berry mixture, lemon juice and thyme in a large saucepan and heat the contents slowly until the sugar has dissolved.
Remove the thyme sprig, if you used it.
Sieve the liquid to remove all the seeds, then return to the saucepan. 
Bring to the boil and simmer for 5 minutes. Preferably, use a sugar thermometer. Your aim is for the mixture to reach 105°C/221°F, which is the setting temperature.
Remove from the heat and let a small dollop cool off on the cold saucer. Push it with your finger. You want it to go wrinkly. If it doesn't, return the saucepan to the heat and boil for another 2 minutes before removing from the heat again and testing it. Repeat until you get the desired result.
Once the jam is ready, leave to cool for 15 minutes.
Place in a sterilised jar. Store in a cool dry place and refrigerate once opened. Enjoy!
Prep Time:

5 minutes

Cook Time:

20 minutes

Category:

Jam

Method:

Boil

Cuisine:

English
Keywords: seedless blackberry jam, blackberry jam recipe, how to make seedless blackberry jam, homemade jam recipe