Even though Christmas is already far behind us, it doesn't mean that we can't have a little treat. My apple pie cookies take the best from the traditional American apple pie and puts it into a cookie. This classic combination of flavours is simply unbeatable. Rich caramel combined with aromatic apple and cinnamon make this a snack sized cookie memorable. No one will be able to resist it!
what are apple pie cookies?
Who doesn't love a good apple pie? Especially the one made by our grandmothers! However, sometimes a pie is a bit too much for the occasion. Imagine that you want to serve a little sweet something with your afternoon tea or coffee. Now, naturally there are any number of biscuits you can buy, but it's just nicer to have something homemade. Although chocolate chip cookies are lovely, they're also a little boring – a bit of 'been there, done that' type of thing. Apple pie cookies are a thing you probably haven't seen before, and chances are neither have your guests.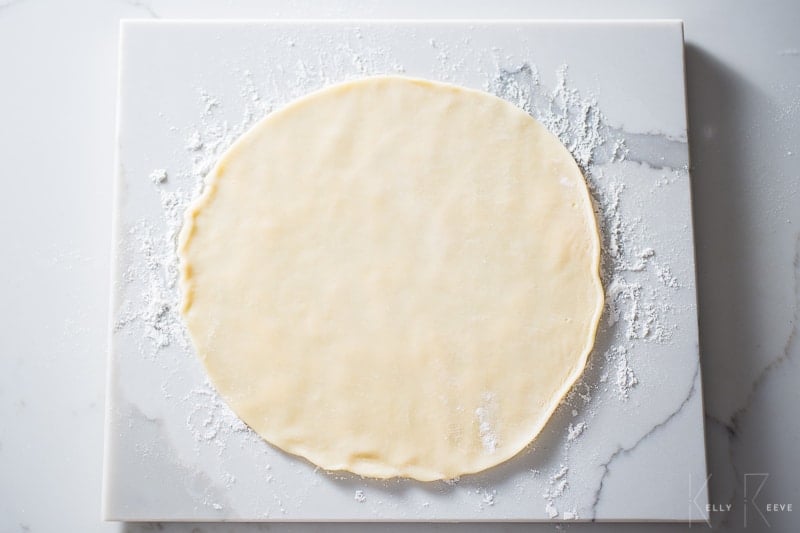 Don't worry though, they are not complicated to prepare at all. All you need is a simple shortcrust pastry topped with caramel and apple filling. Then close the cookies with strips of pastry. These strips will keep the filling in place and makes the cookies look appealing. Putting the old familiar flavours into a new context allows you to enjoy them in a new way. The apple pie cookies can be served as a snack for coffee or you can take it with you to work and have a little dessert with your lunch.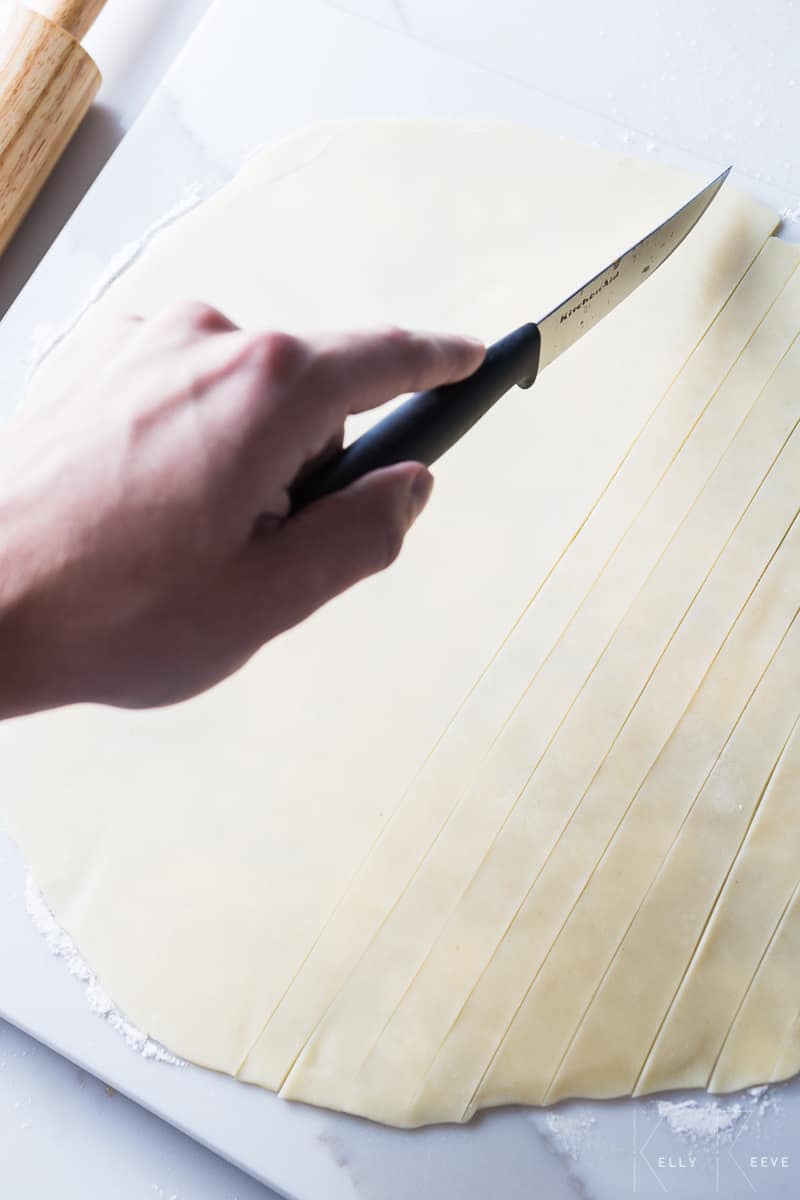 the shortcrust pastry
A good shortcrust pastry dough is the base of many a good dessert. If you are in a hurry you can buy frozen sheets in the supermarket. Admittedly, this is a quite practical option. Especially for me, since I am not the best baker around. Not only do you not need to spend time making the pastry, you can also be much more spontaneous in your cooking. A major advantage of the apple pie cookies is that you can actually make them from things that will keep very long in your cupboard. This means you might have all the ingredients in stock already.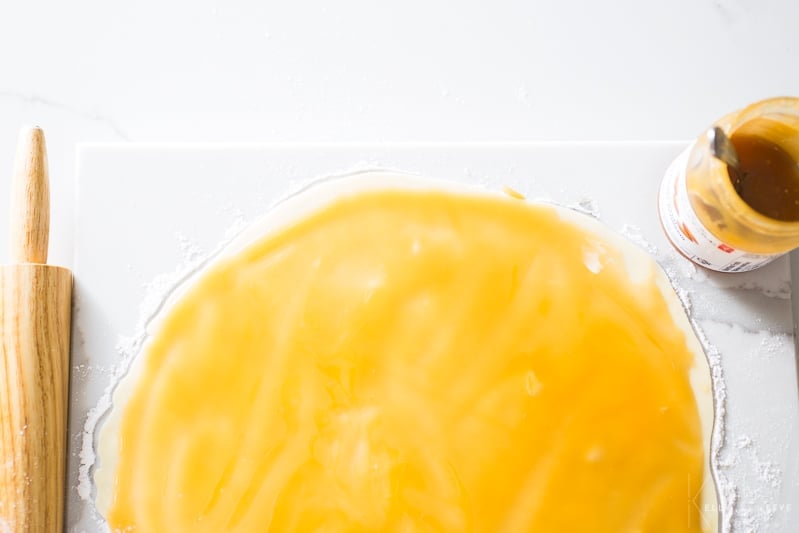 That being said, you can also choose to make your own homemade shortcrust pastry. This is actually simple too and the result will taste much better when you taste the fruits of your labour. Some people prepare their shortcrust pastry in a food processor but I prefer to do it by hand. I find that you have better control this way. The secret to making a good shortcrust pastry is not to overwork it. If you do, the pastry will be dry and difficult to work with. If you don't make your own, use a good store bought one for the apple pie cookies.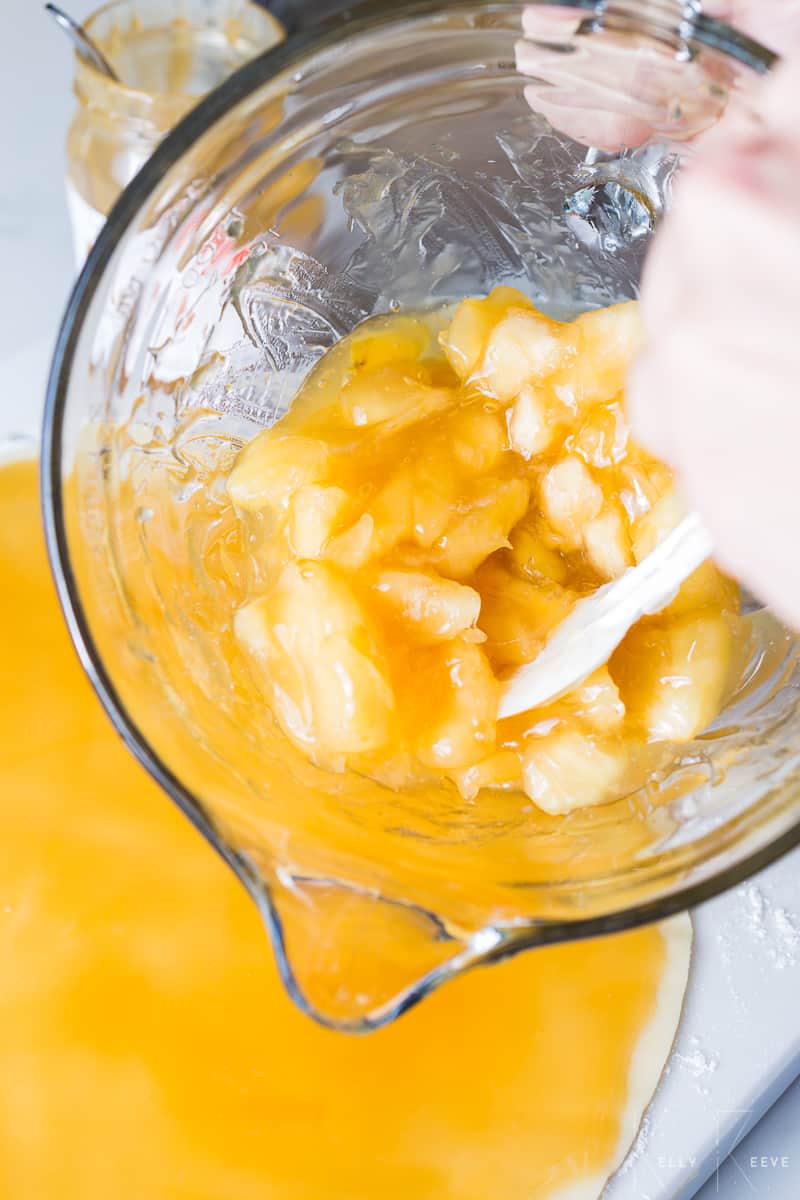 caramel
You need a lovely, rich caramel to smear on the pastry for the apple pie cookies. Opt for good quality store bought caramel sauce, or you can make you own. Being an ambassador of cooking with fresh ingredients, I'd say try making your own caramel. Caramel is actually easy to make.
All you need to do is to melt butter with sugar. The trick is to heat the mixture up gently, starting at low temperature. You are looking for a nice golden brown colour on the caramel, but keep a sharp eye on it. If you take the caramel too far it will acquire a bitter taste. Trust me, burnt caramel will not make the apple pie cookies a success, so be careful if you attempt to make your own caramel. The best bit about making your own caramel is that you control its intensity.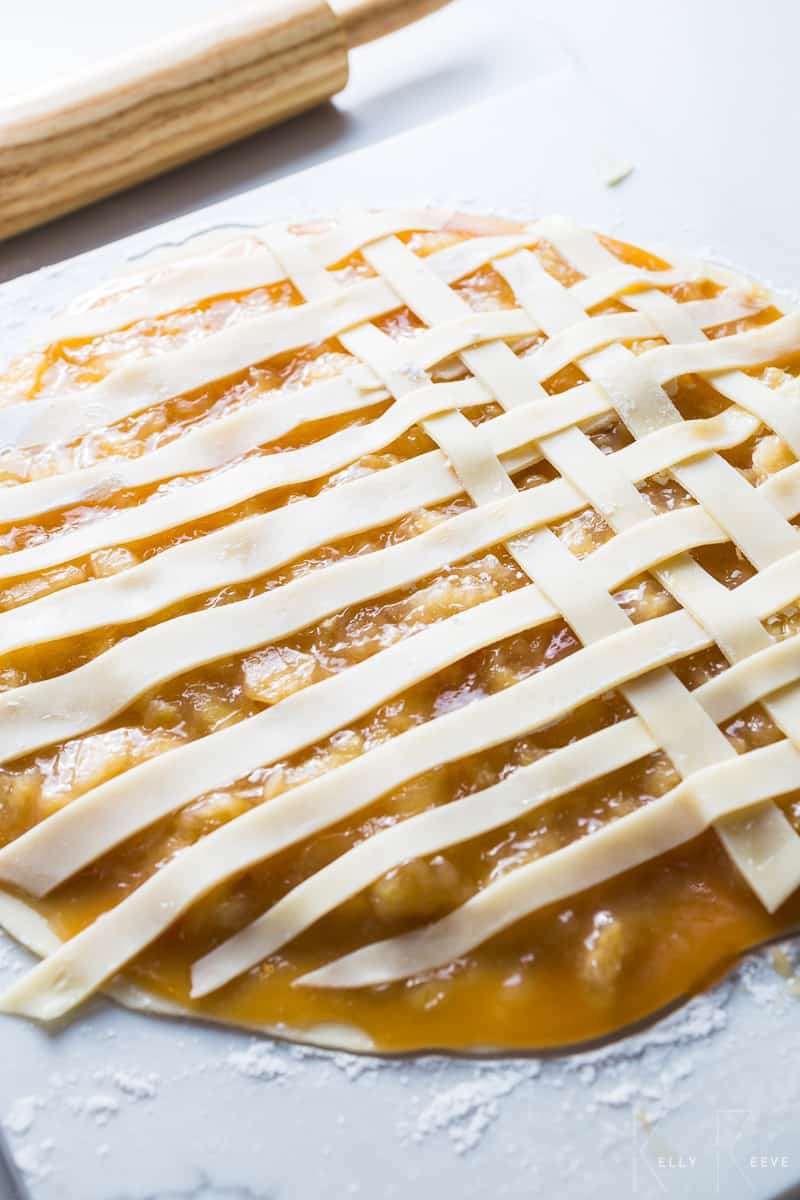 apple pie filling
As for the apple pie filling, there are some good ready-made ones you can get in the store. This is one of the things that make this recipe so practical. You can put together a batch of apple pie cookies relatively easily, using premade ingredients. On the other hand, you can make the apple pie filling yourself if you have the time. This is also a good way to make use of any leftover apples you might have. If you have apple trees in your garden, you probably know how plentiful the harvest can be.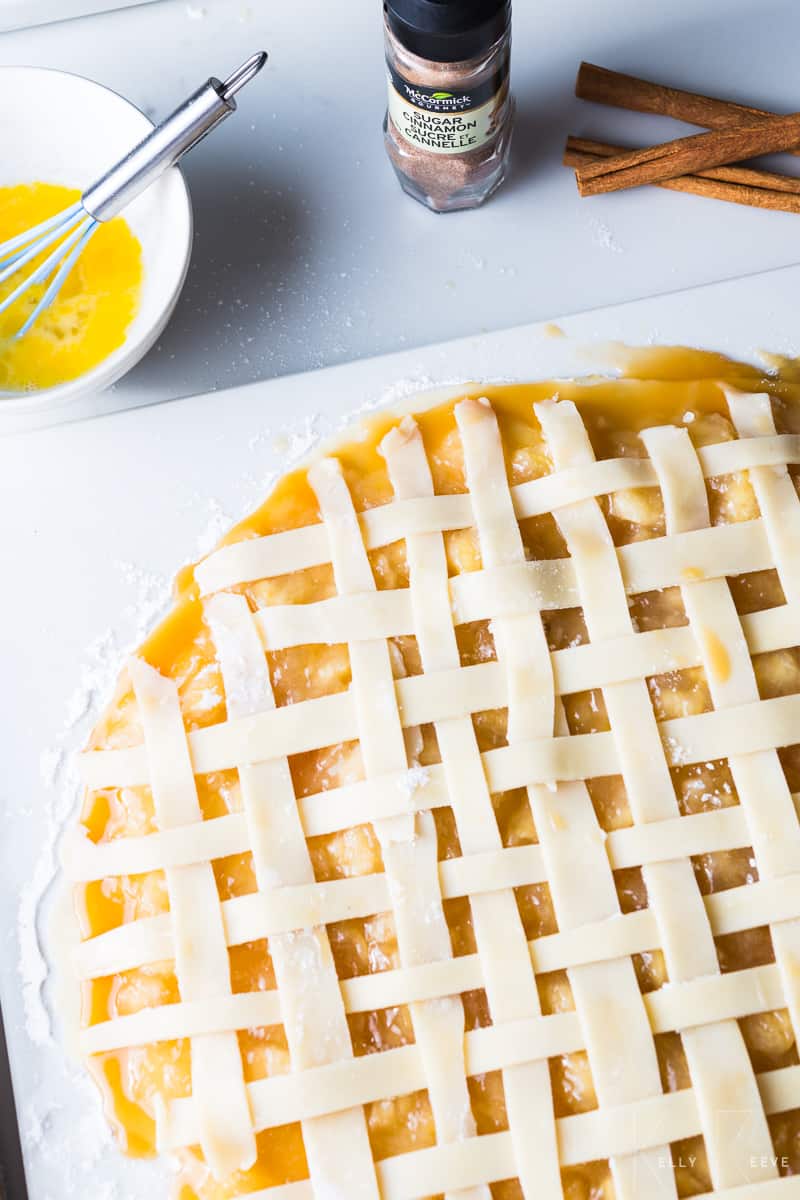 To make your own apple pie filing you will need to peel, core and slice about four big apples. Next, melt two tablespoons of butter in a sauce pan on low heat then adding a teaspoon of cinnamon. Stir in the apples along with three tablespoons of water and sugar, as much as you desire. Cook for a while until you have that mushy texture.
By the way, the apple pie filling can be frozen for later use or conserved in sterilised jars. I love how these ingredients are so practical!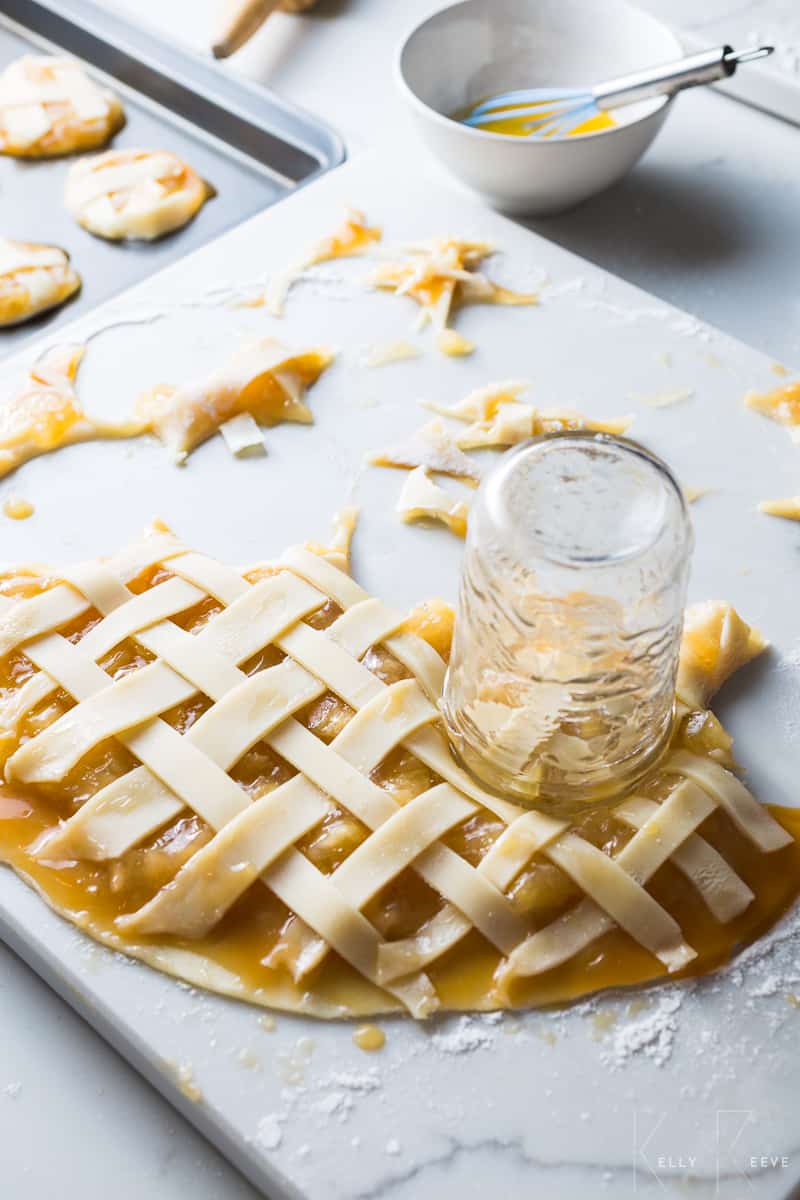 variations
As mentioned shortcrust pastry is quite versatile and so is this recipe. Instead of the apple pie filling, you can use compote of your favourite fruit, such as berries or apricot. This is your opportunity to get creative. Personally, I love using rhubarb when in season, or even red currants. I wouldn't pair these with the caramel though and omit the sauce altogether. What is your favourite pie filling?
topping and serving
As we all know, we also eat with our eyes. Since we have now taken the effort to make these pastry strips that give the apple pie cookies their unique look, you need to give it the last touch. Brush the finished cookies with egg wash before baking and they will turn beautifully golden. If you want to make it a little fancier, you can add some chopped almonds on top after you take the apple pie cookies out of the oven. If you serve the apple pie cookies with a generous scoop of vanilla ice cream, you have a simple yet very tasty dessert!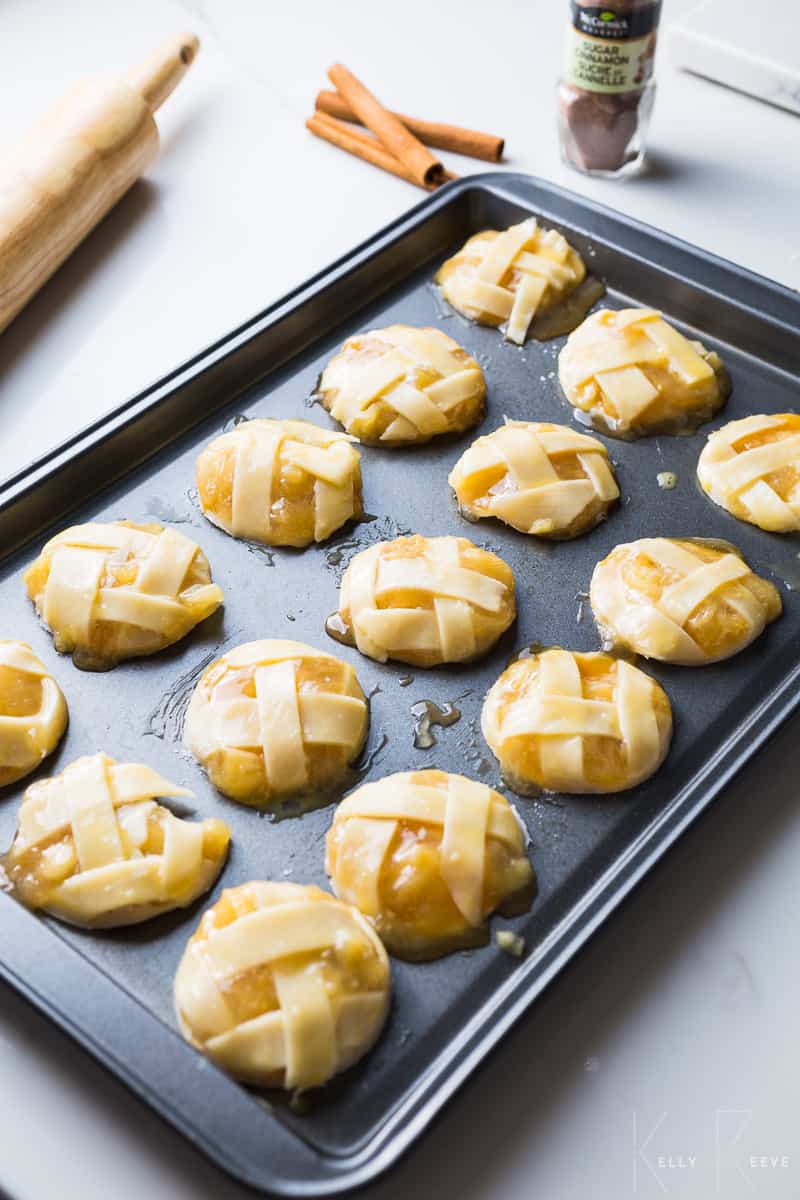 P.S. Don't throw away the leftovers. You can reuse them as topping for other desserts such as the peppermint crisp tart or the no churn oreo ice cream. Or, you can just eat them as they are.
What is your favourite type of cookie?
Print
Apple Pie Cookies
---
Author:

Michelle Minnaar

Prep Time:

15 minutes

Cook Time:

25 minutes

Total Time:

40 minutes

Yield:

12

1

x
Scale
Ingredients
Flour, for dusting

2

x 320g (

11oz

) ready-rolled shortcrust pastry sheets

250

ml (1 cup) caramel sauce

395

g (1 can) apple pie filling

1

egg, beaten

45

ml (3 tbsp) cinnamon sugar
---
Instructions
Preheat the oven to 180°C (350°F/gas mark 4).
Dust a clean work surface with flour and flatten one sheet of pastry on it.
Spoon the caramel onto the pastry and spread thinly across the whole surface.
Empty the apple pie filling can into a bowl and shop into smaller bits. Spoon the filling onto the caramel pastry and spread into a thin, even layer.
On a dusted work surface flatten the other pastry roll then, using a pastry cutter or a knife, slice all of it into thin ribbons about 1cm (½ in) wide.
Make a lattice, using the pastry ribbons, over the top of the pie.
Using a round cookie cutter, cut out as many cookies as possible.
Transfer the cookies, using a spatula, onto an oiled non-stick baking sheet.
Brush egg wash onto the latticed pastry and sprinkle with cinnamon sugar.
Bake for 20-25 minutes until golden brown. Enjoy!
---
Notes
Cinnamon sugar comprises a ration of 50:50 cinnamon and sugar, which you can make up yourself.
You shouldn't necessarily use all the ingredients, such as a complete jar of caramel sauce or apple pie filling. Play it by ear!
The scraps can be baked as well. They might not be as pretty but tastes the same!
Category:

Dessert

Cuisine:

American
Nutrition
Serving Size:

1 serving

Calories:

231

Sugar:

5 g

Sodium:

141 mg

Fat:

5.7 g

Saturated Fat:

2.1 g

Carbohydrates:

43.3 g

Fiber:

1.3 g

Protein:

3.3 g

Cholesterol:

14 mg
save the recipe to your pinterest board
A special thanks to Kelly Reeve for assisting with the recipe shoot.