This simple yet fantastic tapas classic is a must if you like rustic Spanish cuisine. Pimientos de Padron is sure to be found on the menu on just about every single tapas bar.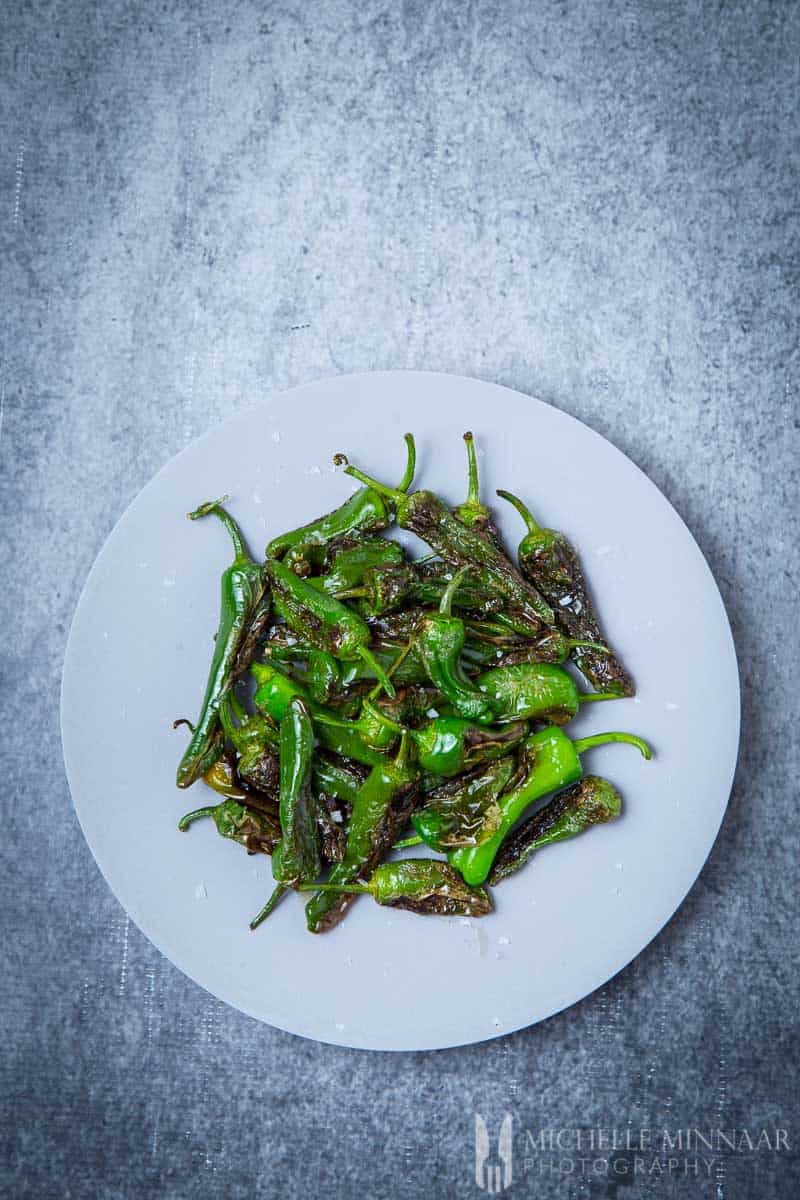 However, it is actually very simple to make, so if you are longing for a bit of holiday atmosphere at home, pimientos de Padron is an effective shortcut.
You can serve pimientos de Padron as part of a bigger tapas buffet or as a delicious, savoury snack. The perfect thing to enjoy with guests over a glass of wine.
If you are looking for some inspiration for your next dinner party, think about pimientos de Padron.
what are pimientos de Padron?
This particular type of pepper, or pimiento in Spanish, takes its name from the Spanish Town of Padrón, located in the Coruna province in the northwest corner of Spain, where the locals have been growing these little peppers for ages.
Over time the cultivation has spread to southern Spain as well, and they are widely grown in Mexico and some southern American states, too.
Actually, it is believed that Franciscan monks brought the peppers back to Spain from the new world in the 16th century.
A fun fact about pimientos de Padron is that it is a game of chance if a pepper is hot or mild! Most of them are mild in taste, with a slight savoury bitterness to them.
However approximately one out of every ten is rather hot and spicy. This means that eating a dish of pimientos de Padron becomes a sort of Russian roulette.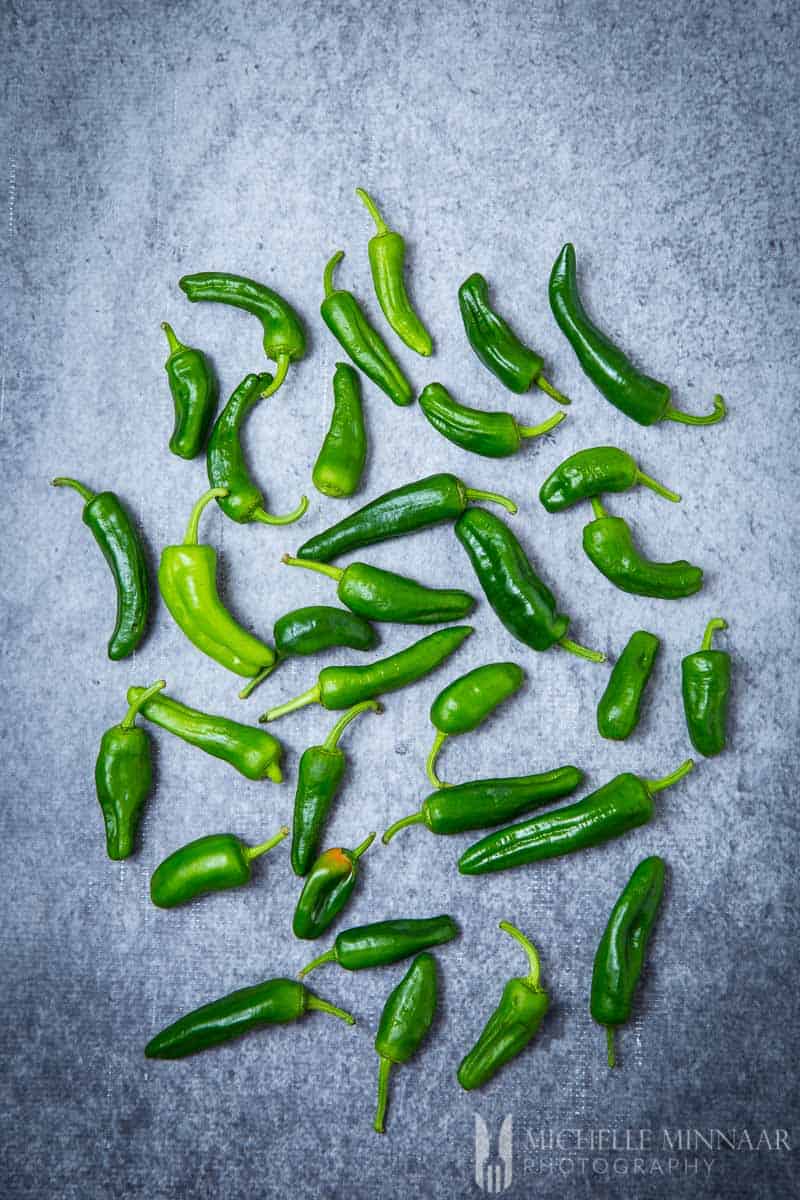 pimientos de Padron – where to buy
Through the ever-increasing popularity of these delicious peppers, they are actually not that hard to come by, though you might not stumble upon them in the local corner shop or the discount stores.
Look in well assorted supermarkets or greengrocers or Spanish delicacy stores and you should have a good chance of finding them.
Padron peppers are normally harvested quite early in the season, as early as mid-May in fact. At this point, the peppers are still quite small, usually no more than four to six centimetres.
This however does not mean that you can only get Padron peppers in a short period of time. Fortunately, the peppers are nowadays grown mostly in greenhouses, meaning they are available all year round.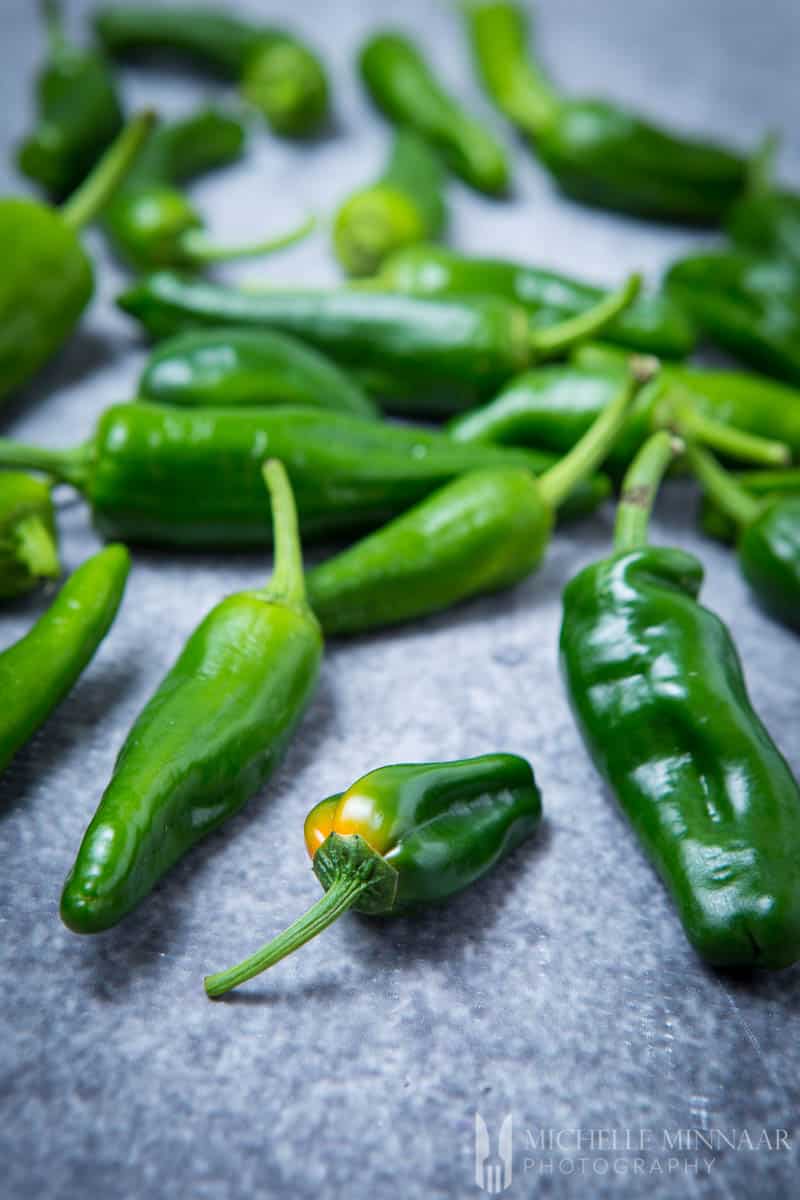 what to serve with pimientos de Padron
The traditional way to serve pimientos de Padron is to serve them hot from the frying pan, sprinkled with salt flakes. Drizzle with a few drops of good quality olive oil and sprinkle with freshly chopped parsley for the final touch.
In this way pimientos de Padron sums up the beauty of Mediterranean cooking – simple, good quality ingredients prepared well. Above all, make sure to have some fresh bread to serve on the side.
how to cook pimientos de Padron
This is probably one of the most simple tapas recipes you can find. All you need to do is to wash Padron peppers and heat up a pan with oil.
Then simply fry the peppers whole in the hot oil until the skin reaches a nice golden brown colour with a crinkled surface. Do not despair if some of them end up slightly darker.
With a good pinch of sea salt they will still taste amazing. If you end up cooking too big a batch, the peppers can easily be stored in the fridge for a couple of days.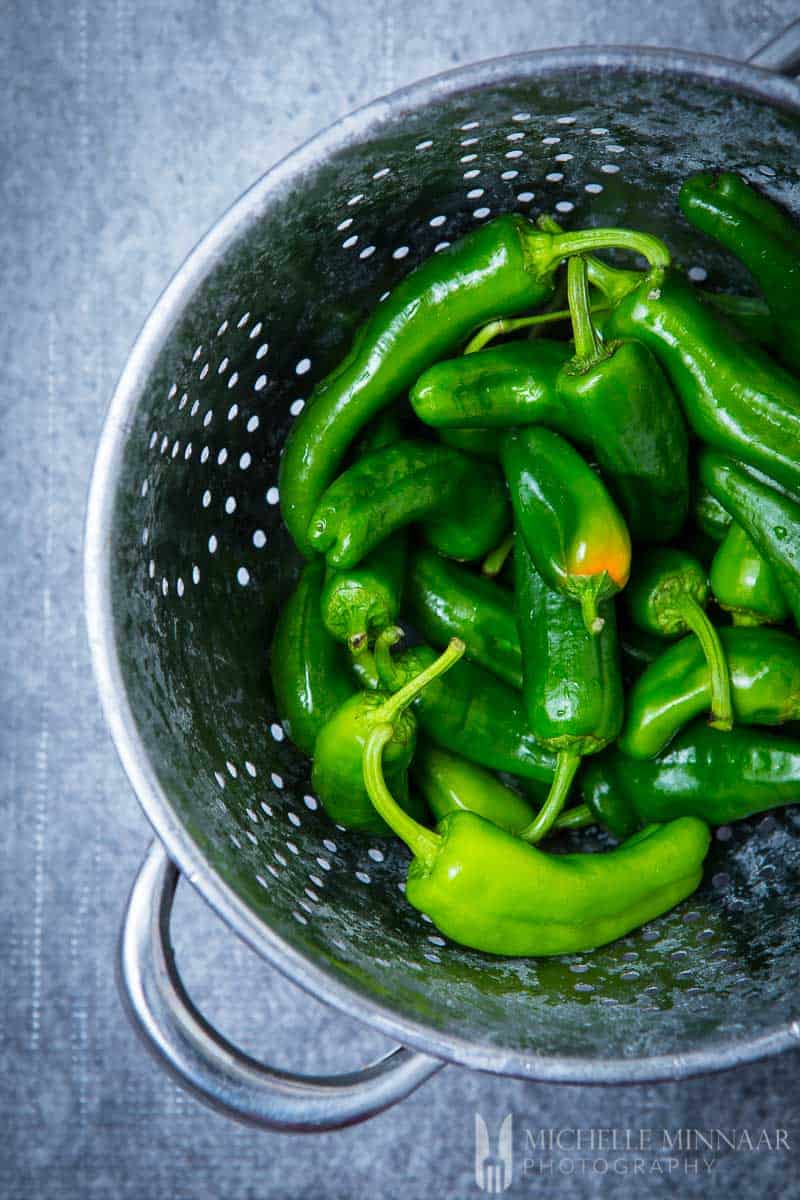 pimientos de Padron recipe
Even though it is not traditional to serve pimientos de Padron with a dipping sauce, it doesn't mean it is not a good idea! For example you can whip up a homemade aioli to go with it.
An aioli is basically a garlic-flavoured mayonnaise that you can easily make yourself. If you have not tried making your own mayonnaise before, have a look at my avocado oil mayo recipe for guidance.
Once you master the art of making your own mayonnaise you can start experimenting with all sorts of flavours. You could make a chilli mayo, or flavour it with smoked paprika for a more BBQ-style flavour.
For a greener alternative try this delicious Spanish herbal pesto, mojo verde.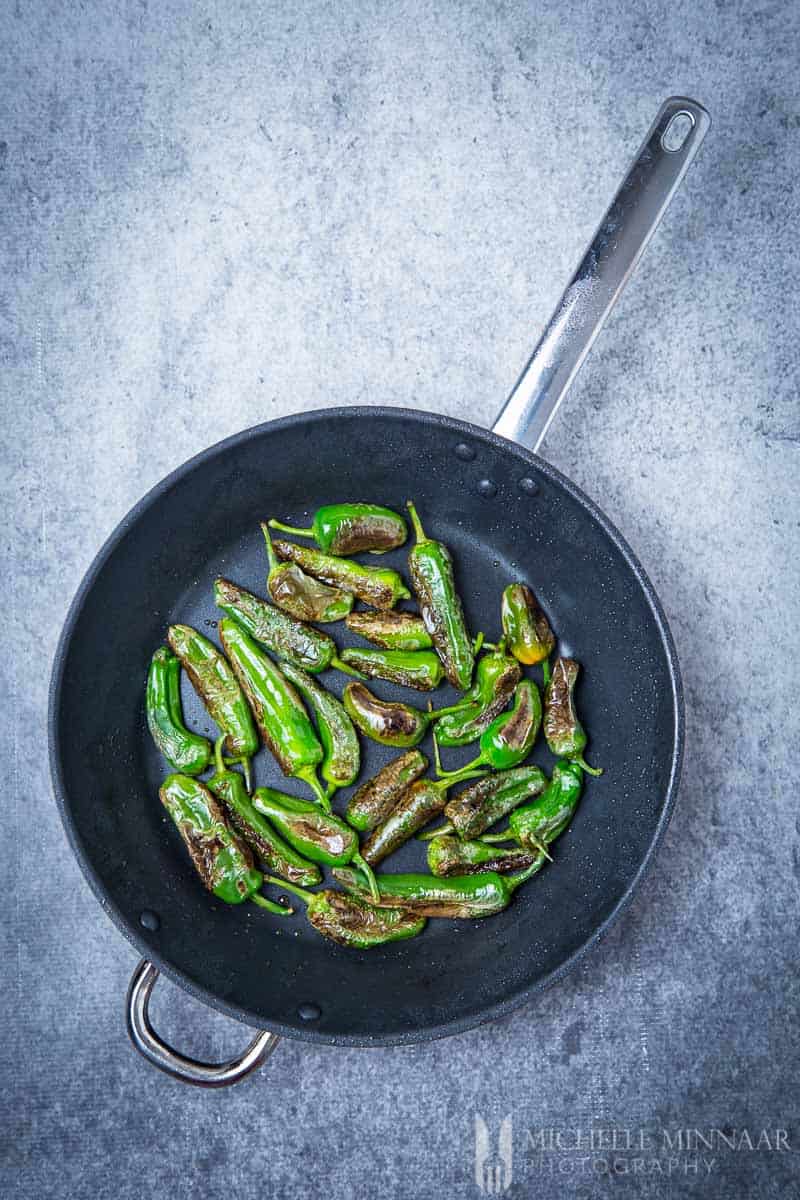 Padron peppers tapas
Though it might sound complicated and like a lot of work, most tapas dishes are actually quite simple to prepare.
If you are planning to have guests over any time soon, why not bring some Mediterranean flair to the table by making your own tapas.
Needless to say these pimientos de Padron are a must for a good tapas buffet. Another idea for a good tapas table could be my roasted artichoke hearts.
Of course no tapas buffet would be complete without patatas bravas. If you have not yet tried to make your own, it's easier than you think!
With these basics you are well on your way to having a fantastic tapas buffet. All you need now is some serrano ham, some manchego cheese, some olives and of course some lovely fresh bread.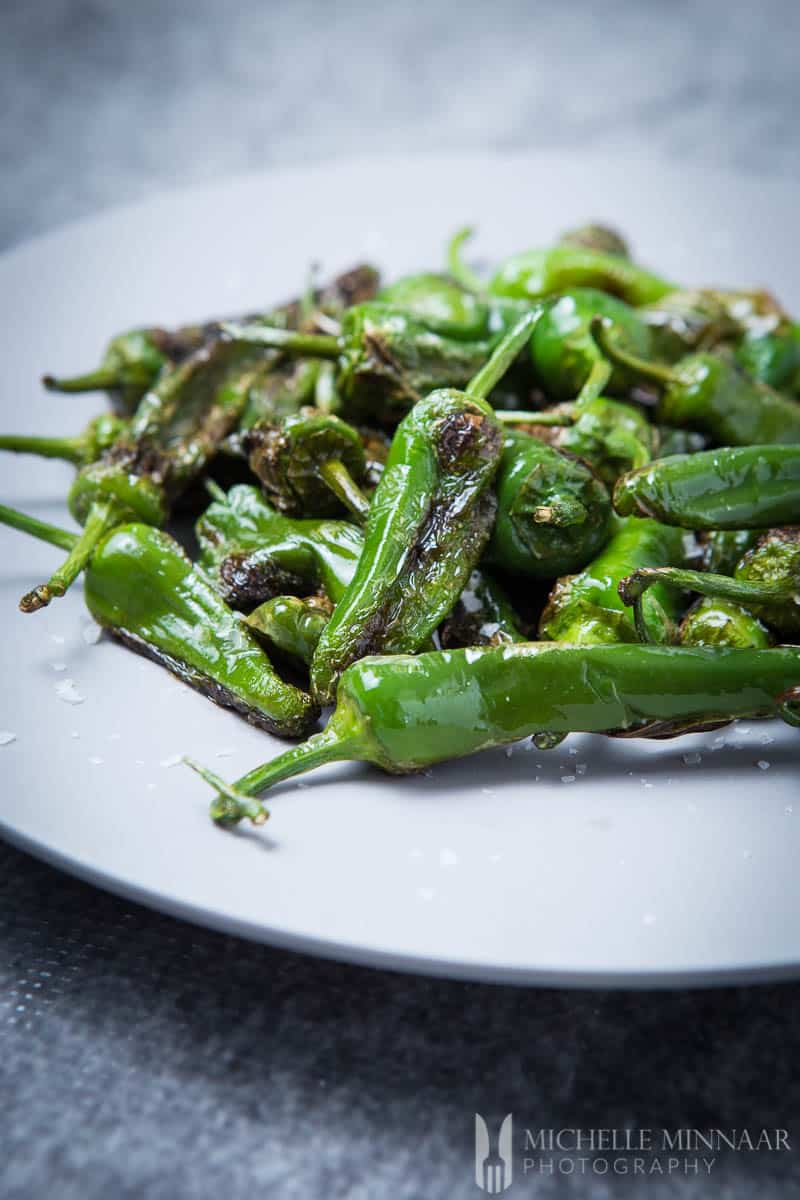 drinks to go with tapas
The Spanish often drink dry sherry with their tapas. You might think of sherry as some dusty bottle from the back of granny's front room cupboard.
However, sherry, in Spanish Jerez, is a much more complex wine to buy than you might think, so here it is good to team up with your local wine shop.
A cheap bottle from the lower shelves in the supermarket will not do good tapas the justice it deserves. If sherry is not to your taste or you find it has too much alcohol for a meal, choose a white wine of your liking instead.
It can be a dry wine with mineral notes or a fruitier one, depending on what you like.
Alternatively, you can serve your tapas with a refreshing homemade lemonade. This will also help you cool down if you happen to get one of the spicy pimientos de Padron! Enjoy this healthy tapas recipe!
More complementary side dishes
Print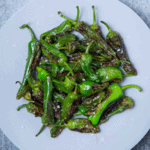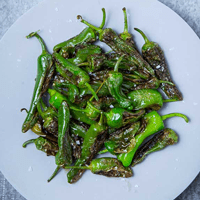 Pimientos de Padrón
---
225

g

(1/2 lb) padron peppers, washed

30

ml

(2 tbsp) vegetable oil

2.5

ml

(1/2 tsp) coarse sea salt
---
Instructions
Wash the peppers in cold water and pat them dry. Keep them intact.
Heat the oil in a large, heavy based frying pan.
Place the peppers in a single layer. Cook it in batches if you need to.
Fry for 5 minutes or until their skins start browning.
Remove from the heat and serve immediately with a sprinkling of salt.
Prep Time:

5 minutes

Cook Time:

5 minutes

Category:

Side Dish

Cuisine:

Spanish
Nutrition
Serving Size:

1 serving

Calories:

72

Sugar:

1.4 g

Sodium:

246 mg

Fat:

7 g

Saturated Fat:

1.4 g

Carbohydrates:

2.6 g

Fiber:

1 g
save the recipe to your pinterest board