How well do you know delicacies from around the world?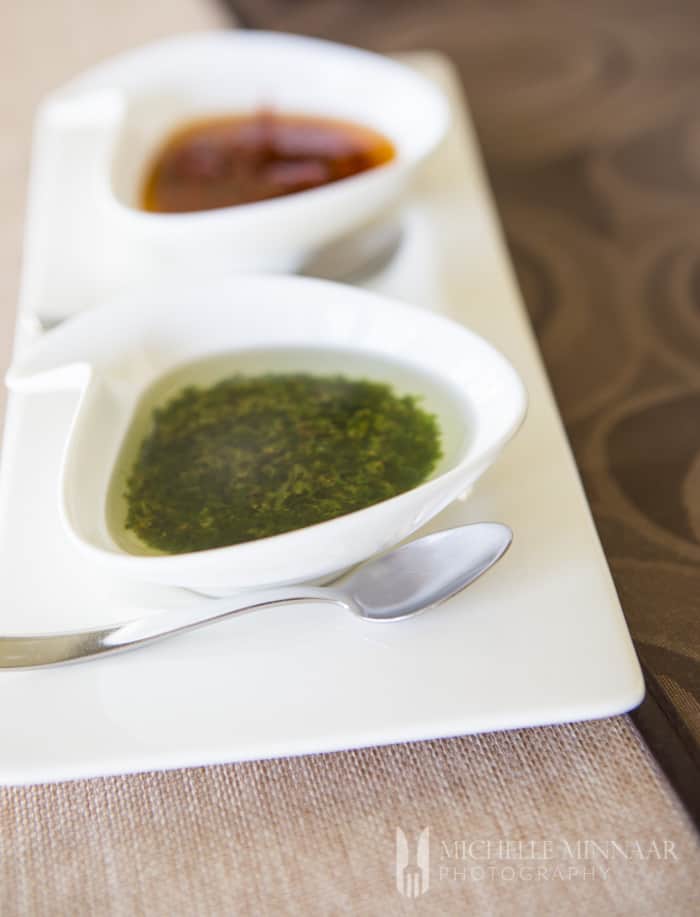 Cook More Spanish Food At Home
While I was in Tenerife, in an effort to keep my weight down, I skipped breakfast. It worked. Phew. However, it's very easy to understand how anyone can go ever so slightly overboard when holidaying on the island, with an every flowing supply of sangria and its plethora of restaurants with an enviable array of ingredients at their disposal. With culinary influences from Africa, Latin America, Spain as well as the islanders' own creation, the food is bound to be good!
There are two very famous items you need to try when visiting:
Gofio – made from toasted barley, maize and wheat. Nutritious it may be but if you suffer from arachibutyrophobia it is best avoided in porridge form. The flour has multiple uses but can be used to thicken sauces and soups.
Papas Arrugadas – meaning "wrinkled potatoes", are new potatoes boiled with their jackets on in salty water served with Mojo Rojo and Mojo Verde.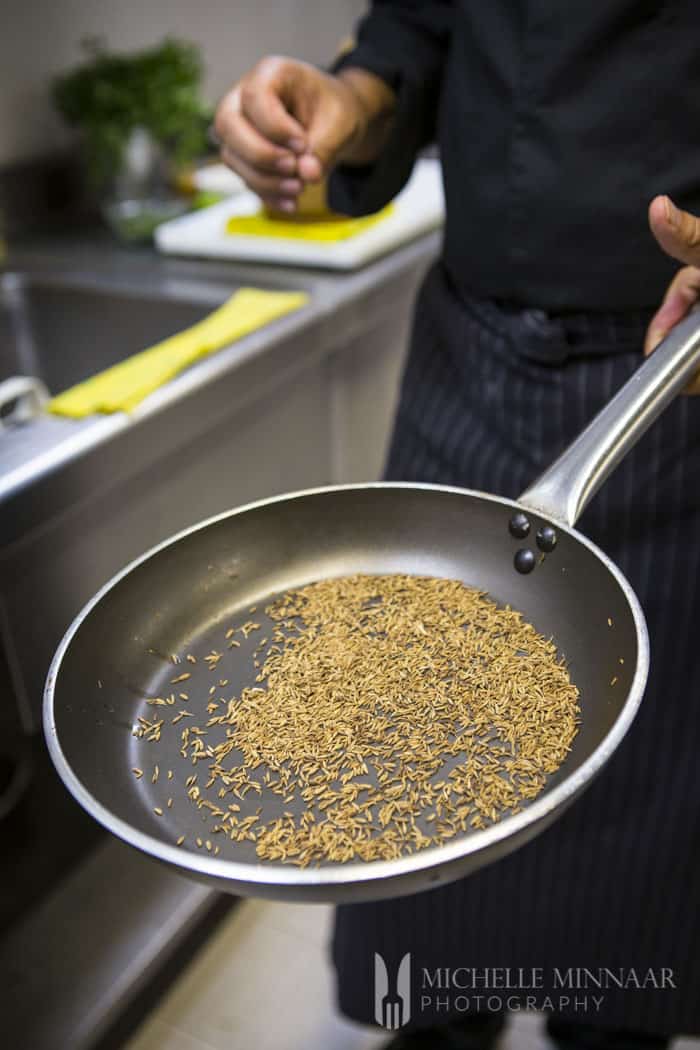 Other Canarian dishes with some offbeat ones in between:
Bienmesabe – a combination of ground almonds, lemon rind, sugar and eggs
Caldo de pescado – fish soup
Caracas – thin strips of cow or pig liver marinated in garlic, chili and parsley and then stewed
Carne de Cabra – Goat stew
Chorizo de Teror – garlic, orange sausage that is more like a pate in a sausage skin
Chuchangas – snails stewed with tomatoes, peppers, onion, garlic and some chorizo
Erizos – sea urchin
Vieja sancochada – sea-bream casserole
You can read on Wikipedia of what more the cuisine has got to offer.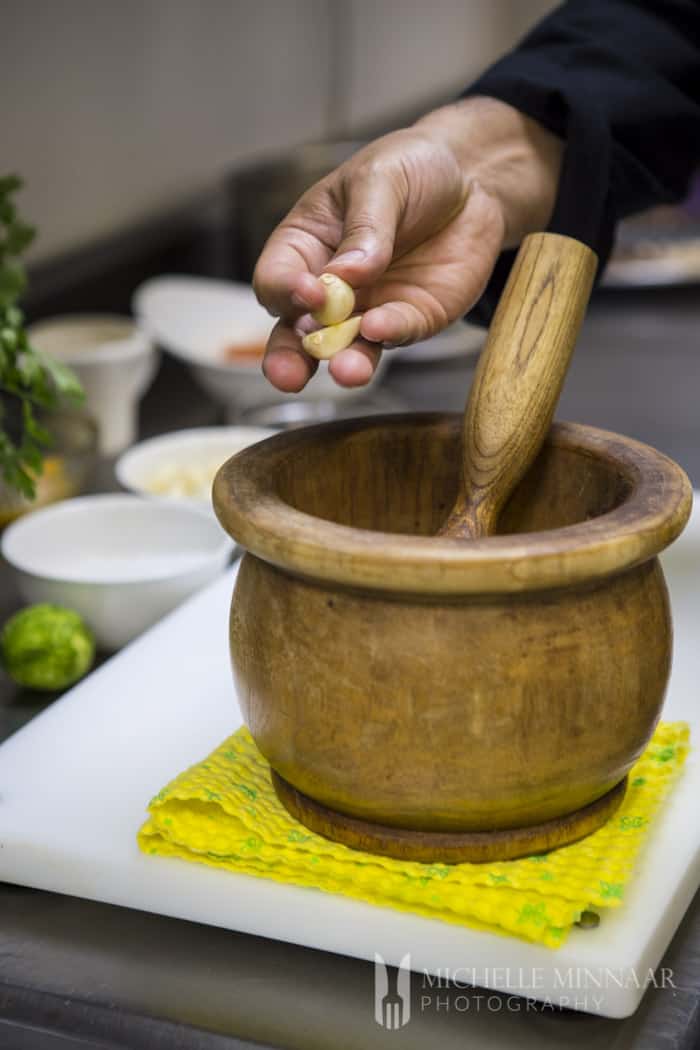 Speaking of which, how well do you know British delicacies? Recently, I did a fun quiz on the subject and still don't know how I scored 70% just winging it. Have a go!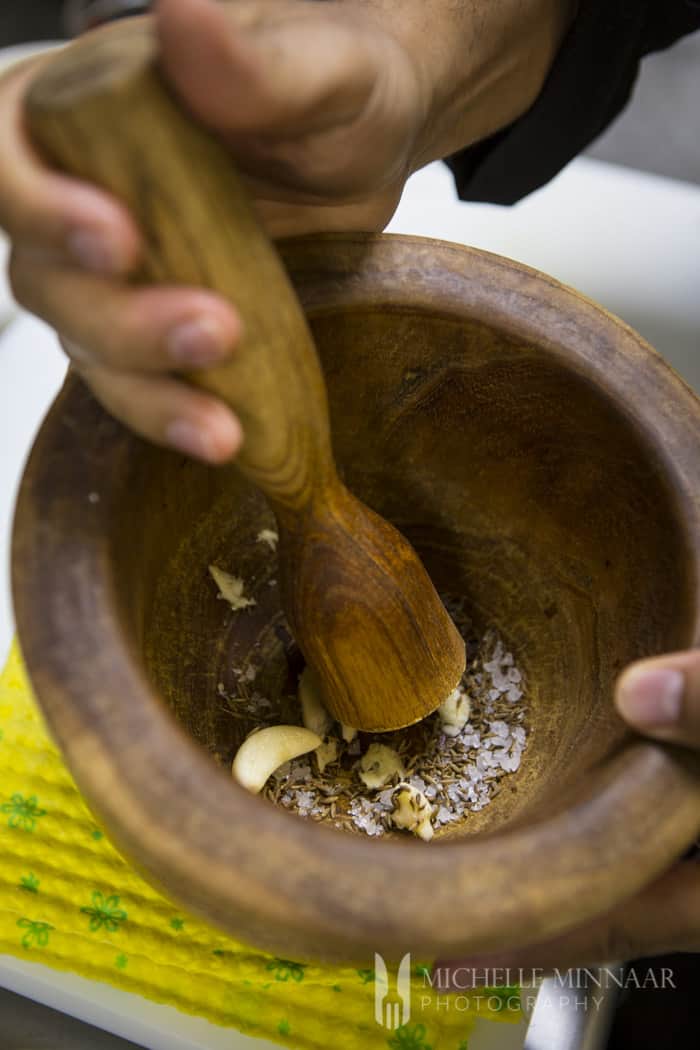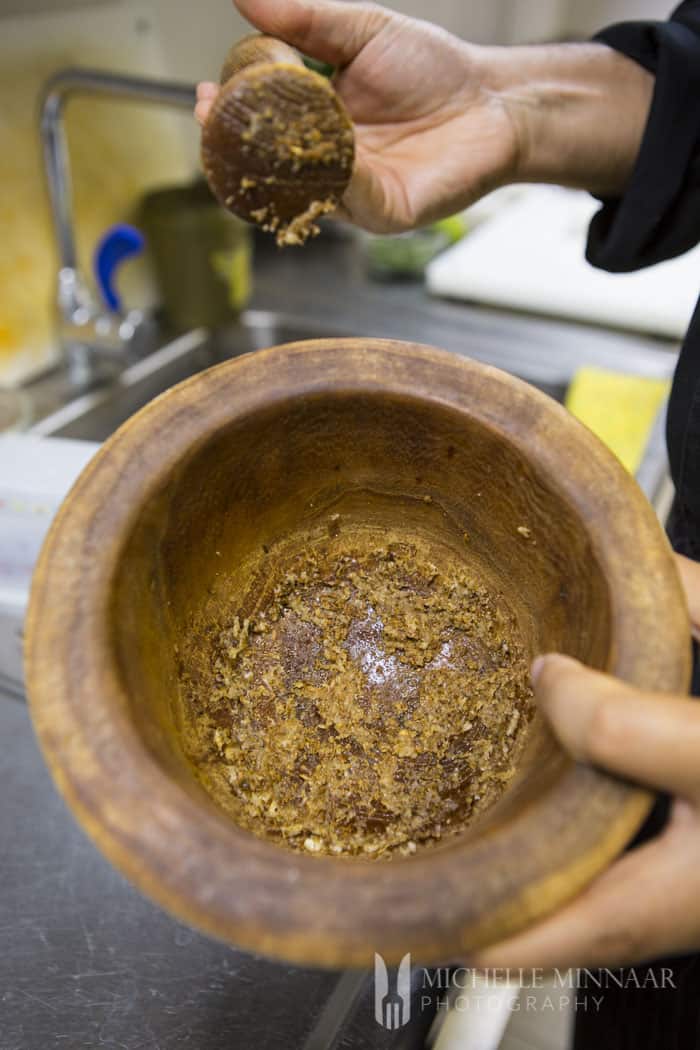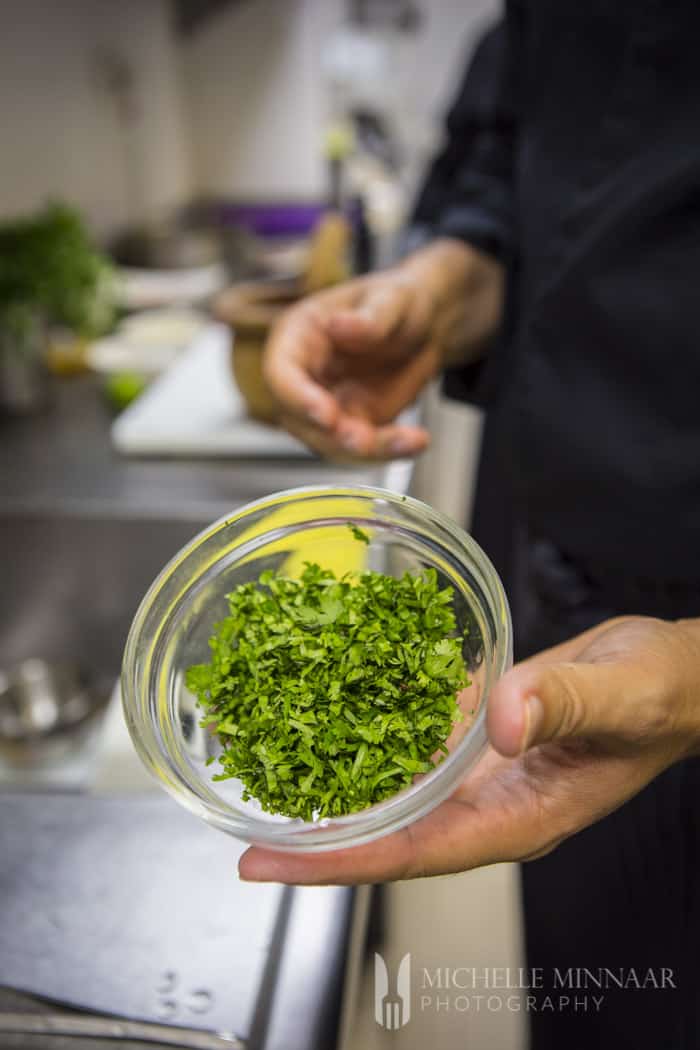 Mojo Verde, meaning "green sauce", is a traditional Canarian sauce that is served at every meal. Its red counterpart usually goes best with meat whereas this green one is better with fish. In this case, olive oil shouldn't be used as a base because of its strong overpowering taste. Instead, a neutral oil such as sunflower or vegetable should be used instead.
In Tenerife, "Macho" is the red wine vinegar favoured by chefs. As the name suggests, the vinegar is strong. Unfortunately, this particular brand can't be found in the UK, so look out for the strongest red wine vinegar available. You might make this sauce for the first time and make such a great discovery that you'd like to make it in bulk. This is entirely possible but the only thing you need to keep in mind is holding off on the vinegar until serving. The rest of the ingredients would happily remain mixed together in the fridge.
As you can see, it's simply a case of placing all ingredients in a mortar, crushing it with a pestle and mixing it with oil. Easy!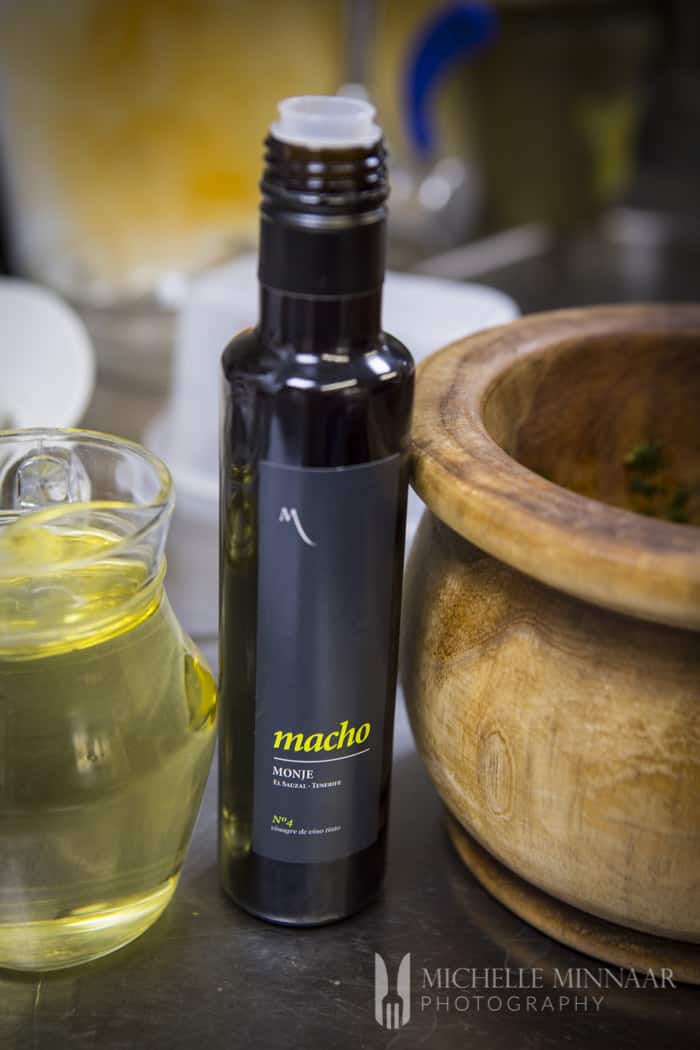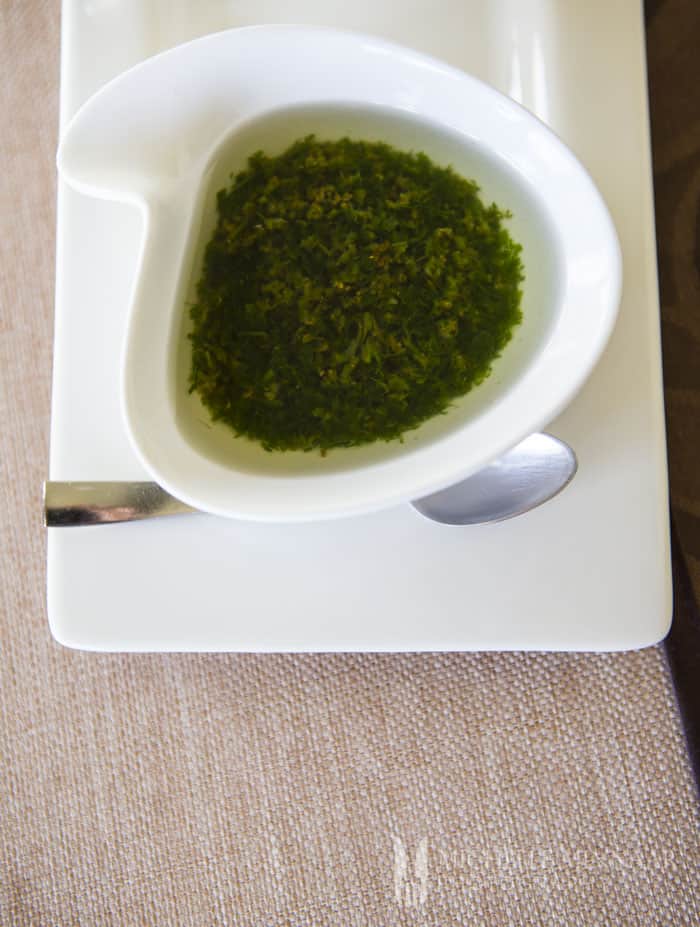 A special thanks to Tenerife Tourism, El Ancla and Juan Carlos Clemente for making this recipe possible.
Print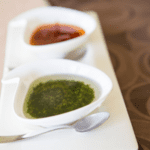 Mojo Verde
---
Description
Taro Laing is rich and full of flavour and vitamins – the perfect side dish!
---
Scale
Ingredients
2

cloves garlic

5

ml (1tsp) of roasted cumin

2

handfuls fresh coriander leaves

2.5

ml (1/2 tsp) sea salt

30

ml (2 tbsp) red wine vinegar

125

ml (1/2 cup) of sunflower oil
---
Instructions
Crush everything in the mortar, first the solid ingredients and then add the liquid.
---
Notes
Serve the sauce with bread, potatoes and fish.
Category:

Side Dish

Cuisine:

Canarian
Nutrition
Serving Size:

51.2g

Calories:

300

Sodium:

5 mg

Fat:

31.7 g

Saturated Fat:

2.3 g

Carbohydrates:

1 g
Print