Autumn is here and what better time of the year than now, than to enjoy a warm, filling mustard soup directly from the Netherlands? There are so many hearty soups you can cook to warm your soul and body through the colder months, like this seasonal chestnut soup. Some of them, however, are quite labour intensive like this sausage soup with butter beans. That does not go for this Dutch mustard soup though. If you have never heard of mustard soup before, don't let the idea of it scare you away. It is not as sharp or overpowering as you might imagine. Besides, it's within your control as to how much mustard you add to it.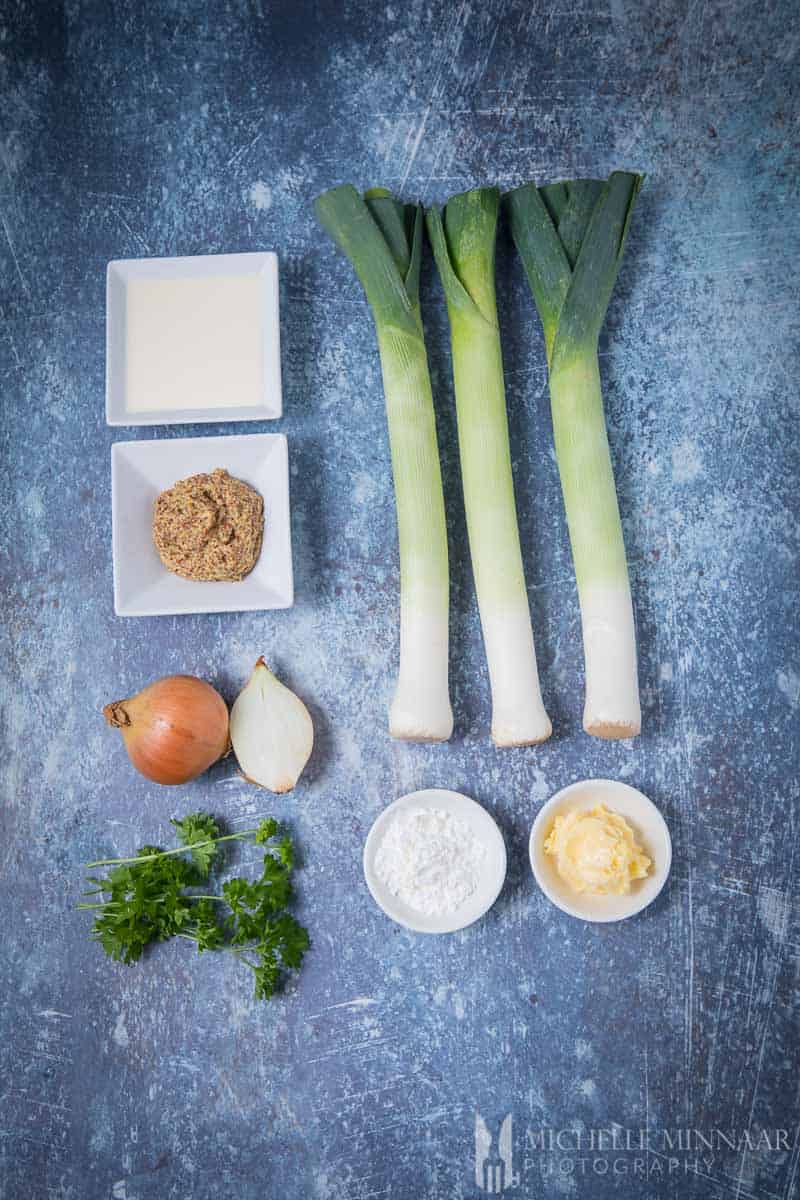 a traditional mustard soup recipe from Groningen
Before my first visit to the Netherlands, I've never even come across mustard soup. On my recent trip to the beautiful northern Dutch province and city of Groningen, I had the chance to sample some of the local, traditional meals. This included me dining in the Michelin-starred restaurant Onder de Linden, as well as t' Kleine Oestertje.
Also known as Dutch mustard soup or Groningen mustard soup, this is one of the recipes I brought with me for all of you to enjoy. If you are fortunate enough to travel to Holland, look out for mosterdsoep on restaurant menus and give it a try!
typical cuisine of Groningen Netherlands
Groningen is located in the northern part of the Netherlands. It is a young, lively city with a big student life thanks to universities in the area. As you walk around in the city centre, you can tell the place has a lot of history and have amazing dining options. Groningen Museum is easy to spot, so if you're an art aficionado this is simply a must visit. Of course, I came for the food!
Firstly, you can attend the fish market, called vismarkt, every Tuesday, Friday and Saturday. This is the best place to source fresh seafood and other ingredients, like vegetables and fruits. You can also hit Folkingestraat to spot some of the best food shops in northern Netherlands! Dutch cuisine is world famous for its stunning cheeses and stroopwafels. Other classic Dutch dishes include frikandel, which is a deep-fried meatball. However, what's native to Groningen is the Groninger eierbal. It's like a deep-fried egg coated with meat and breadcrumbs. It's a very popular snack and pairs well with beer!
Mosterdsoep originated from the eastern province of Holland called Overijssel. Traditionally, there are different versions of mustard soup, which vary from region to region.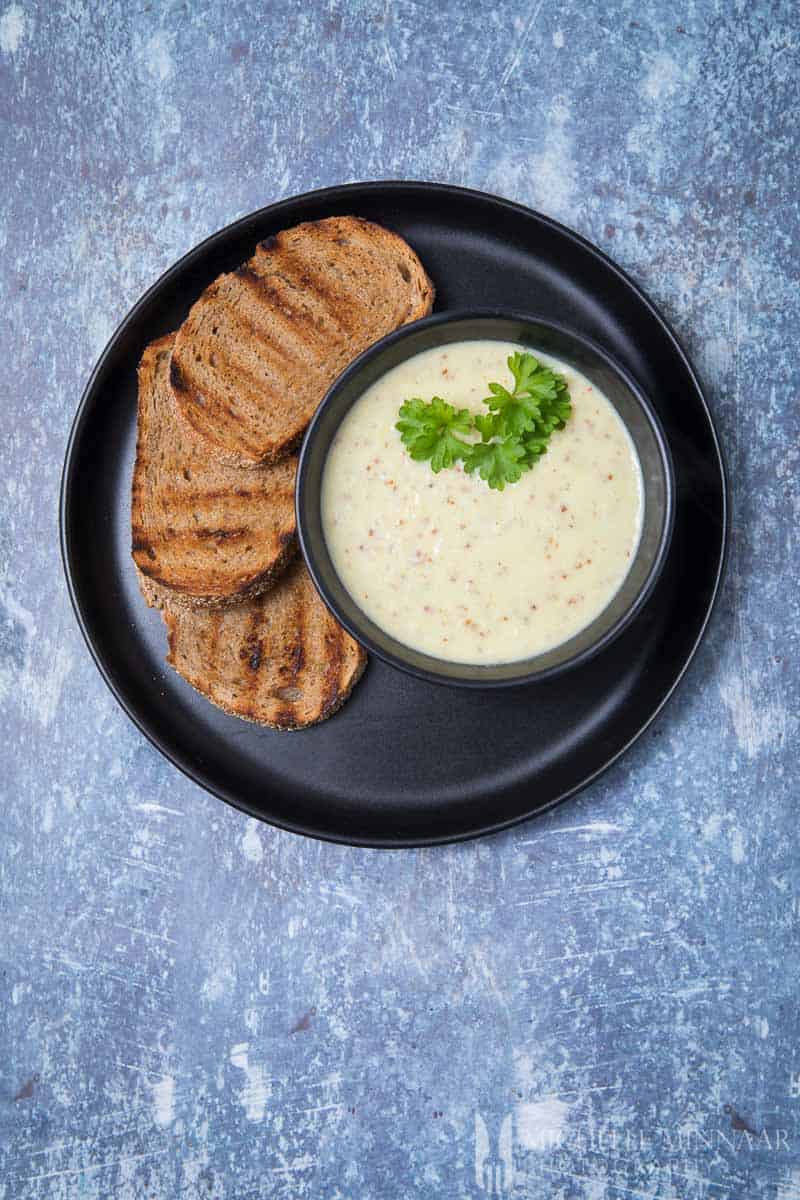 authentic mosterdsoep recipe from the netherlands
Making soup can sometimes be quite time consuming, especially when you make the stock from scratch. This is not the case with mustard soup though, which takes a little over 30 minutes. Furthermore, you only need a handful of ingredients to prepare the mustard soup, so there is a good chance that you accomplish it even without going to the shops.
You can serve mustard soup as a hearty meal for the family, or serve it up in small portion-sized cups as a starter. This is a great recipe for your weekly repertoire and mustard soup is regularly served in Dutch households.
which mustard to use for mustard soup
Mustard is a condiment made out of crushed mustard seeds, vinegar and other flavourings such as wine, spirits, herbs etc. It is believed that mustard production back to the time of the Roman Empire. Supposedly, the Romans also brought the mustard plant to France, which ultimately led to the French city of Dijon to become the mustard capital of the world.
Dijon was already a centre for mustard production as far back as the 13th century. Mustard only arrived at Britain shores much later. Nowadays, mustard is one of the most common condiments in the world, with loads and loads of varieties.
It is important not to use just any old mustard you have sitting in the back of the cupboard. For the best mustard soup, use a high-quality wholegrain mustard. The mustard should be coarse rather than fine, so have a proper look at the different jars on the supermarket shelves.
Using a fine Dijon mustard will result in a sharp-tasting. If you opt for a French mustard look for the description moutarde á l'ancienne on the label. You can also find many good British wholegrain mustards and if you are lucky you might even stumble upon a Dutch mustard. For the most authentic Dutch mustard soup, I would pick a neutral wholegrain mustard without any additional herbs or flavourings. Remember, you can always experiment with your own seasoning later!
Different types of mustard soups
My mustard soup follows the classic recipe, using only onion and leek the base. If you are planning on serving the mustard soup as a complete meal, there are ways to make it more filling. For example, you can add potatoes by dicing the potatoes into small cubes. When you add the stock to the vegetables you can add the potatoes and let it cook gently.
For a different version with a bit more flavour you can do the same kind of thing by using celeriac, parsnips or Jerusalem artichokes instead of potatoes. Use the leftover Jerusalem artichokes for a creamy Jerusalem artichoke recipe. Another one of my favourites!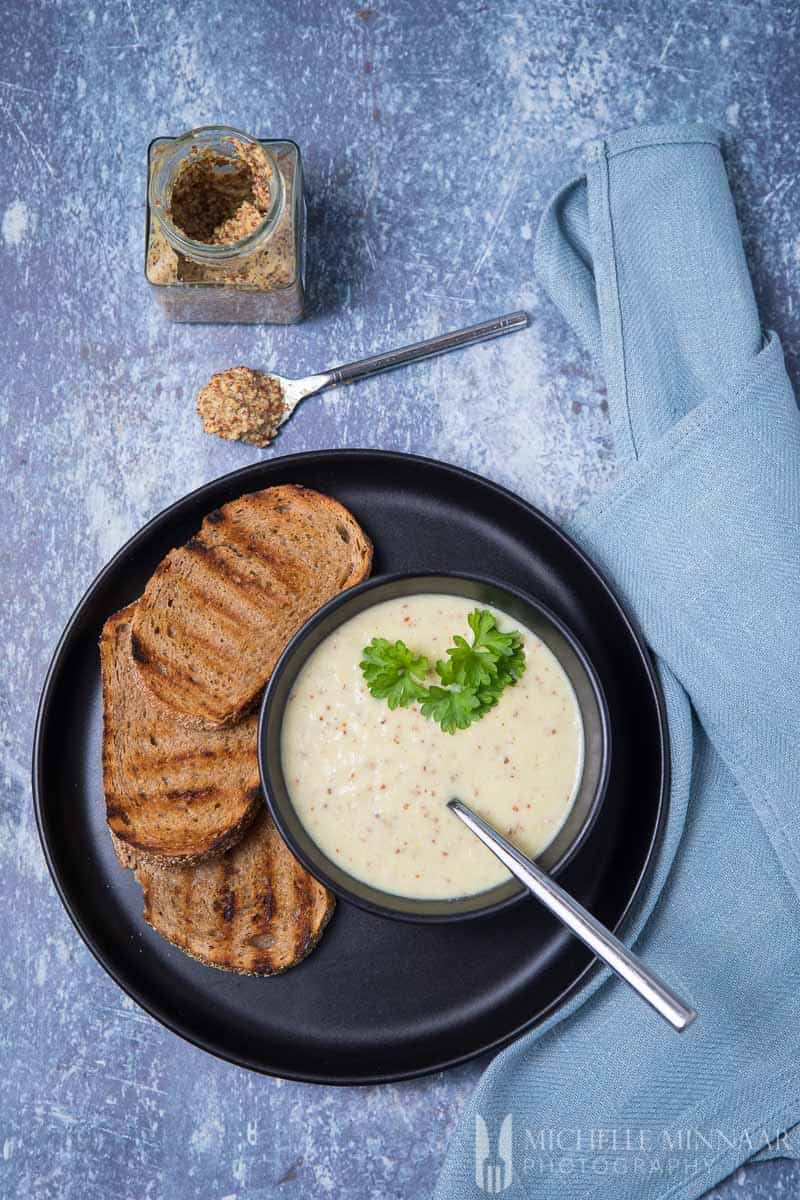 Mosterdsoep from Holland
Keeping things simple, I've topped my mustard soup simply with parsley. If you are after a robust meal, you can add crispy, fried bacon to it. Just take a look at my brussels sprout soup for inspiration.
Alternatively, you can make your own bread croutons. Simply take some stale bread and dice it up into small cubes. `roast the croutons in butter in a pan with seasoning and drain them on a paper towel. For seasoning, parsley is an obvious choice, although tarragon works well with mustard too.
Otherwise, a simple sprinkling of chopped fresh herbs on the soup is always delicious. You can also use watercress or even chives. Freshly chopped chives are especially good if you are already topping the mustard soup with roasted bacon. Those flavours marry so well.
What to serve with mustard soup with
Good soup deserves good bread. I would suggest a full grain loaf or even a sourdough one. The best way is to toast some slices to get a crispy piece of bread that you can dip in the mustard soup. Personally, I find that the rich malty taste of a good sourdough bread balances well with the mustard soup. If you generally prefer white bread, you can use that too. Or, try this cheesy garlic bread!
go to Groningen to learn how to make mustard soup
Travelling to Groningen from the UK is a piece of cake. There is no need to take the ferry and drive for hours. In fact, you can fly to Groningen daily from London Southend Airport with Flybe, operated by Stobart Air. One way tickets are available from only £39.99.
What is your favourite soup?
Print
Mustard Soup
---
Description
A mustard soup is an exciting soup recipe that uses the world's most popular condiment in the world, mustard! Try this traditional Dutch mustard soup today!
---
15

ml

(1 tbsp) butter

5

ml

(1 tsp) vegetable oil

2

onions, peeled and chopped

2

leeks, washed, trimmed and chopped

1

garlic clove, peeled and crushed

45

ml

(3 tbsp) wholegrain mustard

750

ml

(3 cups) vegetable stock

250

ml

(1 cup) single cream

15

ml

(1 tbsp) cornstarch [optional]
---
Instructions
Gently fry the onion, leek and garlic in the butter and oil until softened.
Pour in the stock, cream and mustard and let the soup simmer for 10 minutes or until the vegetables are cooked.
Blend the soup in a food processor until smooth and return it to the pot to heat through.
The soup can be thickened by preparing a slurry comprising 2 parts water to 1 part cornstarch.
Serve immediately with your favourite bread.
Notes
There are variations to this recipe. If you like different textures in your soup, don't blend it.
Traditionally, this soup is served with ham or bacon.
Use more cornstarch if you like your soup's consistency on the thicker side.
If you're having trouble finding leeks, try one of these leek substitutes instead.
Prep Time:

20 minutes

Cook Time:

20 minutes

Category:

Starter

Cuisine:

Dutch
Nutrition
Serving Size:

1 serving

Calories:

204

Sugar:

6.1 g

Sodium:

303 mg

Fat:

13.1 g

Saturated Fat:

6.8 g

Carbohydrates:

17.8 g

Fiber:

3.4 g

Protein:

5 g

Cholesterol:

31 mg
save the recipe to your pinterest board