Do you like ordering out a fantastic Asian stir fry recipe? How about chicken in oyster sauce? This chicken and oyster sauce is a stir fry that is full of irresistible umami flavours as well as the earthy flavours of the mushrooms. Before you start this recipe, make sure that you have all the ingredients at home, especially when it comes to making that sauce! Otherwise, this chicken in oyster sauce stir fry is really easy to prepare. Simply toss in all the ingredients, stir and serve! It's that easy. Make your own Chinese fakeaway!
The best part is that you can make large batches in a wok. This chicken stir fry recipe stores well too, so don't be shy and make as much as you want.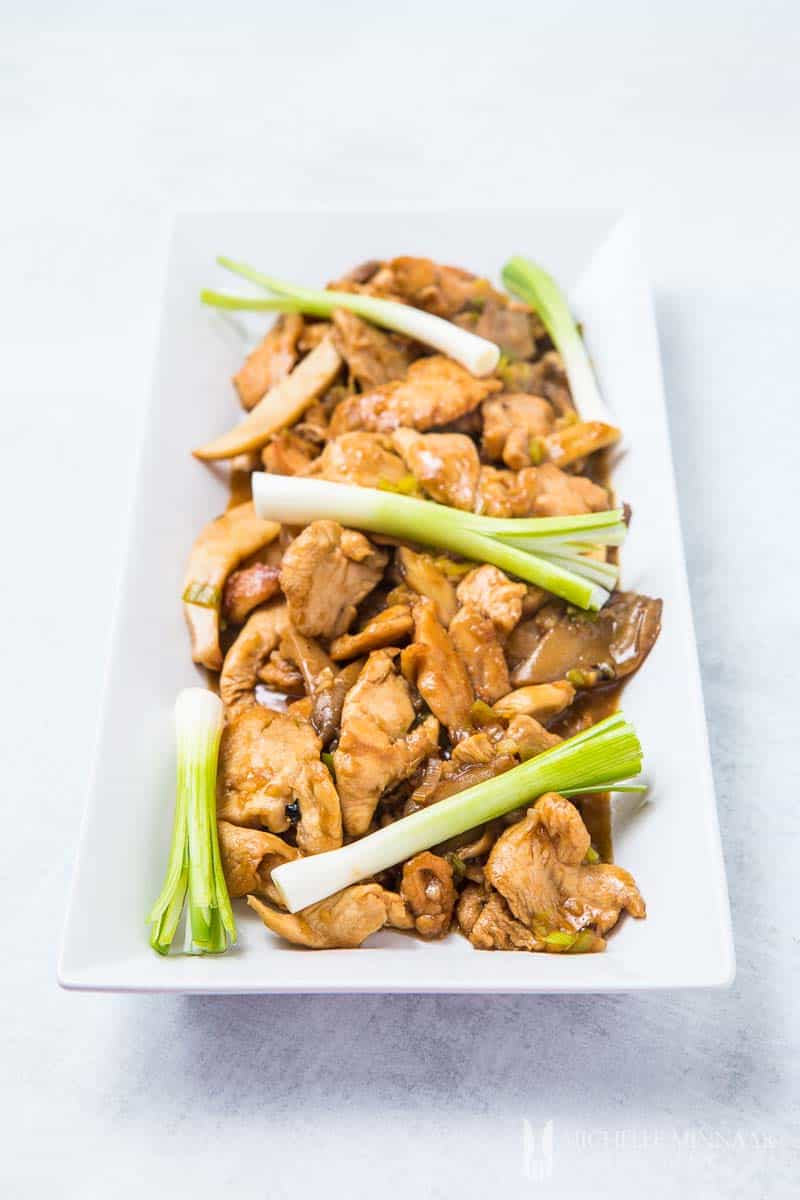 chicken in oyster sauce and mushrooms
Chicken in oyster sauce is absolutely delicious. At first glance, you might think that the flavours of chicken and oysters don't go together. However, they really do. Chicken with oyster sauce is actually a match made in heaven! The flavour combination is similar when shrimp sauce is added into red thai curry or green thai curry. The shrimp sauce brings out the umami flavours of the curry and makes them more intense. The same goes for the oyster sauce, soy sauce and other sauces.
Just take a look at some of the stir fries which you can create if you already bought a bottle of oyster sauce. These include:
oyster sauce – chicken marinade
If you're still unsure about this chicken in oyster sauce recipe, let me tell you more about oyster sauce. In short, oyster sauce is one that's made from cooked oysters. Generally speaking, it looks like a balsamic thick glaze. However, it is a dark brown sauce that's super-viscous. You make it from oysters, sugar, water, and salt. Usually you thicken it with corn starch. Sometimes, more intense versions are seasoned and thickened with caramel. In essence, oyster sauce is a vital ingredient in Chinese, Cantonese, Vietnamese, Thai, Khmer and Malay cuisines. In conclusion, most Asian cuisines use this thick sauce.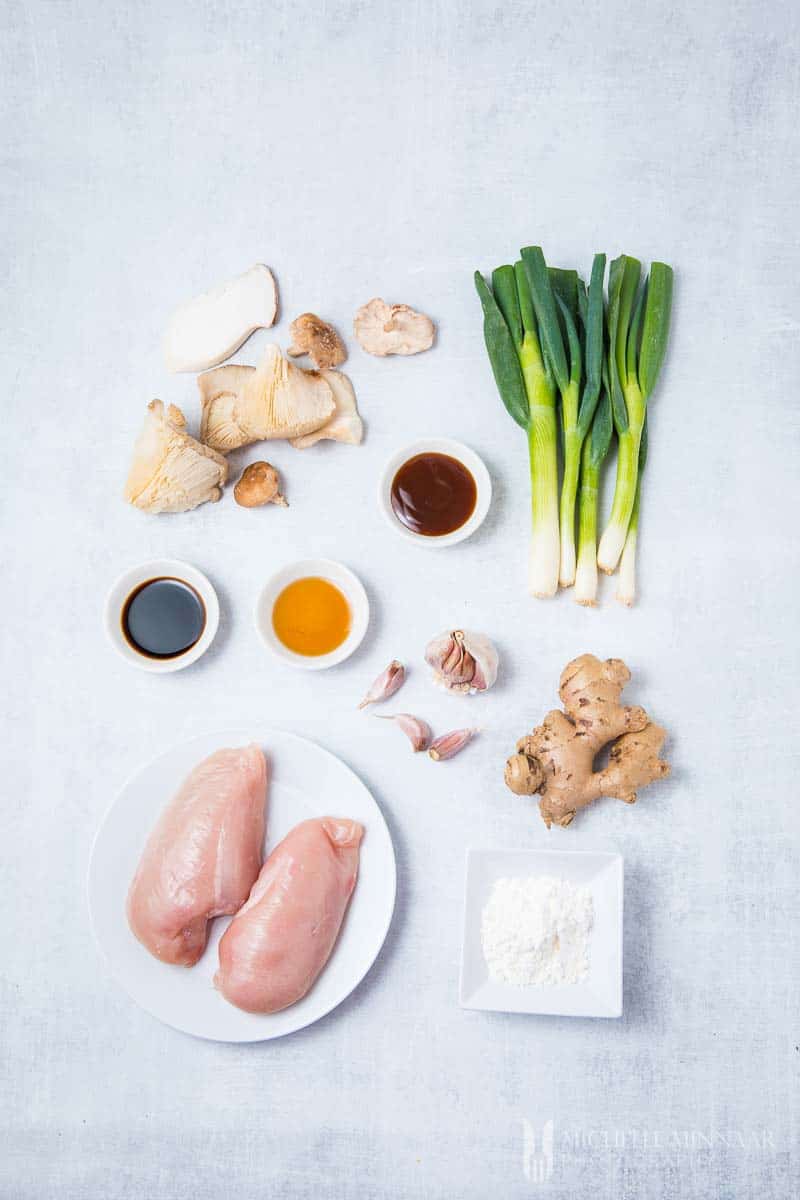 oyster sauce – history
Oyster sauce first appeared in 1888 by Lee Kum Sheung in the Chinese province of Guangdong. The invention of the oyster sauce was one of those genius accidents that was just meant to happen. Apparently, Lee was making oyster broth and he let it simmer way too long because he lost track of time. Funnily enough, he found out when there was a super-strong aroma in the air. When he went to see what had happened, he was happy to find that instead of the oyster broth he found a thick oyster glaze. Instead of it being clear, it was dark and thick. Lee was the first person to start selling his new invention. He is widely credited for the discovery of oyster sauce and its promotion in Asian cuisine. What a history!
how to cook a stir fry
To replicate this chicken in oyster sauce as authentically as possible, then use a stir fry wok for the cooking process. A wok is a large deep dish, where one generally makes the stir fries. You can purchase them in any home appliances store or Asian stores. Moreover, you can also find them online. Just take a look below if you are in doubt.
Otherwise you can also use a stir fry pan:
Tefal precision plus stir fry pan – click right here
Again, the best part is that you can easily reuse these woks or stir fry pans for other Asian stir fry recipes. These include:
Take a look and perhaps you'll find further information for your chicken in oyster sauce and mushroom stir fry.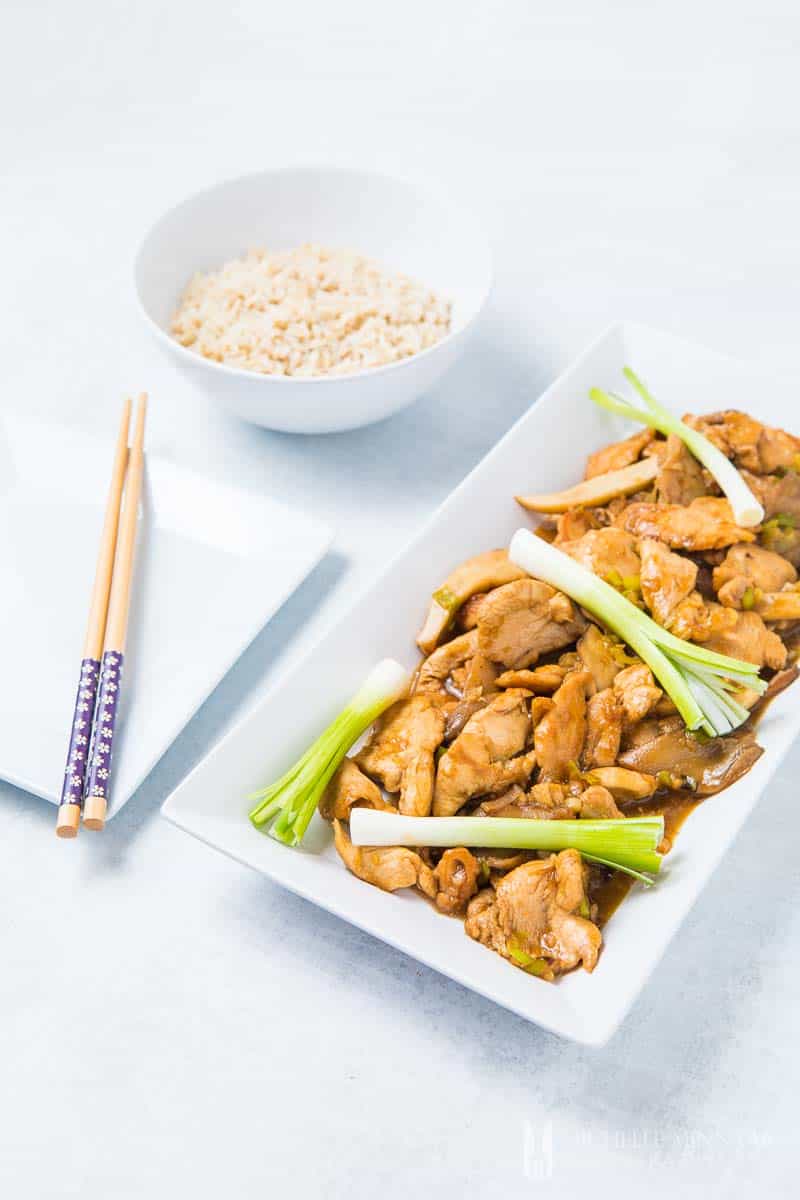 mushroom with oyster sauce stir fry
First of all, you can easily make this chicken in oyster sauce stir fry recipe vegetarian. In fact, mushrooms make up a large part of this stir fry. Hence, you can easily leave out the meat element and make it heavy on the mushrooms. Therefore, you can make a fabulous Asian stir fried mushrooms recipe or Chinese mushroom stir fry.
types of mushrooms
However, for this, you'll need to know about the best possible mushrooms for Asian stir fries. Here is a list of the best Asian mushrooms:
shiitake mushroom
oyster mushroom
beech mushroom
maitake mushroom
crimini mushroom
enokitake mushroom
One of these mushrooms would be the best. My top picks include the shiitake or oyster mushrooms. However, you can also stick to the common mushroom as a last resort. You won't ruin the recipe.
different topping ideas
For any meaty or vegetable stir fry recipe, I encourage you to add these toppings:
spring onions – chopped or whole, they refresh the palate and add a lovely crunch
takuan – Japanese pickled yellow daikon that's a total neutraliser
coriander or parsley – for a bit of freshness
onions or shallots – for a hint of acidity and freshness
sesame (black or white) – both are an excellent option
fresh red chilli peppers – for a bit of heat if you want to spice up your stir fry
bamboo – works also as a topping
sprouts – typical topping that's refreshing and crunchy
peanuts – I love using peanuts with a salty sauce. It's a heavenly combination!
lime juice – this is my favourite topping for all types of Asian recipes
Have you got any more in mind that you'd like to use with this chicken in oyster sauce? With the oyster sauce being so pungent and distinct, the more ingredients the better!
Print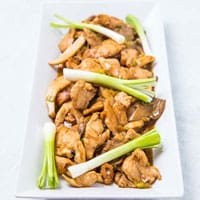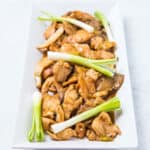 Chicken in Oyster Sauce Stir Fry with Mushrooms
---
Description
Make this chicken in oyster sauce stir fry recipe tonight for dinner. Using shiitake or chestnut mushrooms makes this Chinese stir fry recipe unforgettable!
---
450g

(

1

lb) chicken breasts, skinned

10

ml (2 tsp) soy sauce

10

ml (2 tsp) sherry

5

ml (1 tsp) sesame oil

10

ml (2 tsp) corn flour

45

ml (3 tbsp) groundnut oil

3

garlic cloves, crushed

2.5

cml (1 inch) piece ginger, cut into thin strips

225g

(

8oz

) mixed mushrooms, sliced

2

spring onions, shredded

45

ml (3 tbsp) oyster sauce

5

ml (1 tsp) light soy sauce

5

ml (1 tsp) dark soy sauce

10

ml (2 tsp) caster sugar

90

ml (3 fl oz) chicken stock
---
Instructions
Cut the chicken into strips and toss with the soy sauce, sherry, sesame oil and corn flour.
Heat 30ml (2 tbsp) groundnut oil in a wok. Add the chicken and stir-fry for 5-7 minutes until browned. Remove and set aside.
Add the remaining groundnut oil, garlic, ginger, mushrooms and spring onions and stir-fry for 30 seconds.
Return the chicken to the wok with the oyster sauce, light and dark soy sauces, sugar and stock.
Simmer for 1 minute and serve immediately.
Notes
Serve with noodles.
Plain, white mushrooms work for this dish but experiment with different varieties of Chinese mushrooms, e.g. shiitake, for more intense and interesting flavours.
Prep Time:

15 minutes

Cook Time:

10 minutes

Category:

Dinner

Method:

Stir Fry

Cuisine:

Chinese
Keywords: chicken in oyster sauce, oyster sauce recipe, chicken with oyster sauce stir fry, mushroom and oyster sauce
save the recipe to your pinterest board