I'm sure this year's Easter treat will be a real hit with everyone! Mini egg brownies!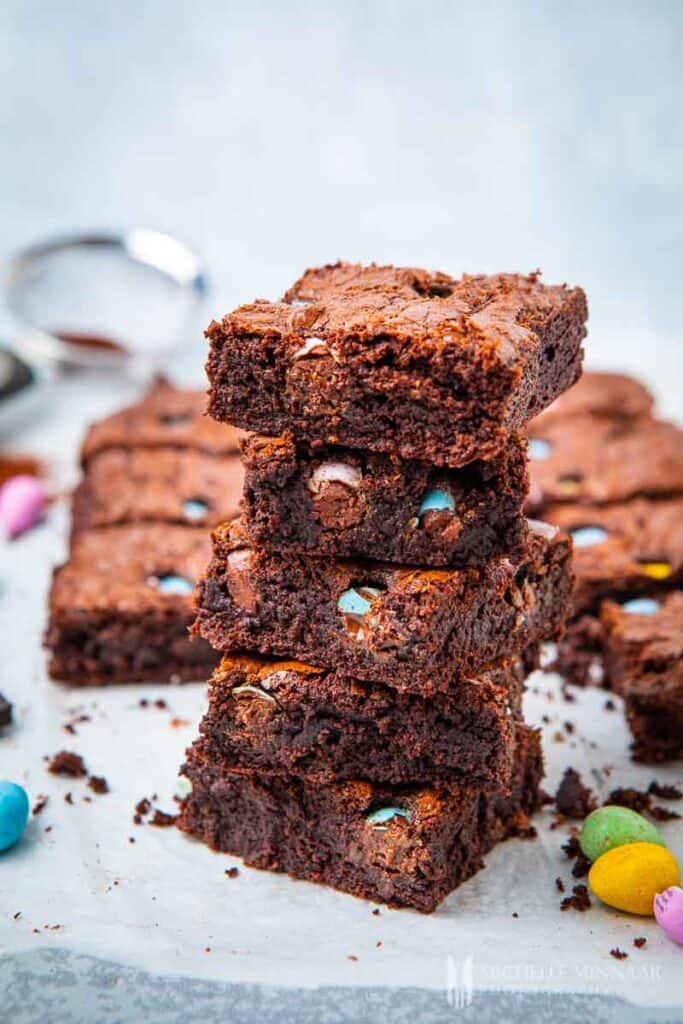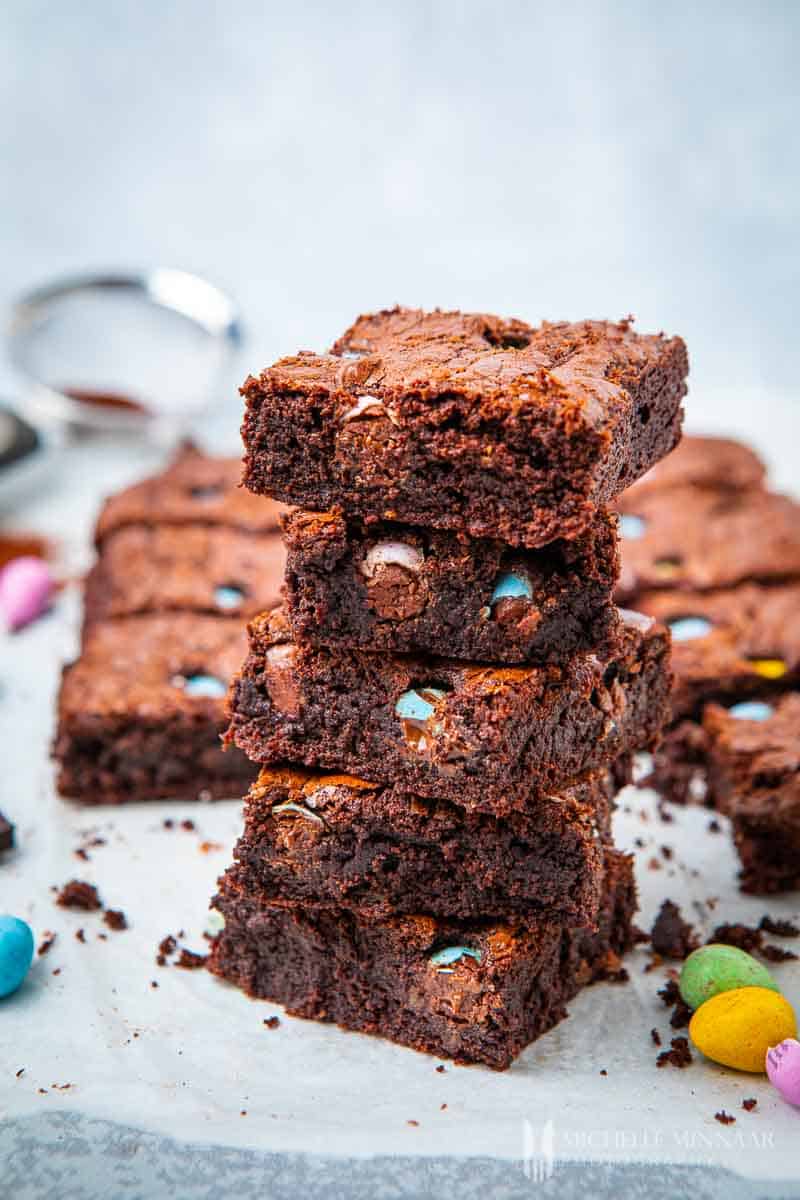 Spring is in the air, flowers are blooming, and Easter is just around the corner. There are many traditional treats baked at this time of year.
Easter brownies are a great way of enjoying Easter candy, especially mini eggs, and everyone always appreciates a tasty bake. If you like regular chocolate brownies just wait, this mini egg recipe for brownies is amazing!
Products you'll need for this recipe
Brownie Tin - Option 1: A square tin, it's great because it's the ideal size for brownies, but also for making other 'bar' snacks, or square cakes, etc.
Brownie Tin - Option 2: This is better for those with dubious knife/cutting skills. If this is you, don't miss out on these amazing brownies, just use this brownie tin, it does all the hard work.
Parchment: If you choose to go with the square tin, then I'd recommend you use baking parchment to make sure the brownies don't stick. If you're happy to do some parchment origami, then this baking parchment is perfect. If you want to keep your folding to a minimum, then these pre-cut sheets will be better.
Mixing bowl: I prefer stainless steel, and this bowl is ideal for this type of baking.
Electric mixer: To get your brownie batter super smooth use this mixer!
Wooden spoons: It's always helpful to have wooden spoons in the kitchen.
Spatula: Don't waste a drop of that chocolate, this spatula to get every last drop.
70% Chocolate: This really does make a huge difference to the texture of your brownie. I'd recommend this 70% chocolate to anyone who enjoys a deep, rich, and fudgy brownie.
Mini eggs: You don't have to wait for Easter to get these mini eggs, you can get a stash of them from Glisten and enjoy small through to large batches of my Easter mini egg brownies all-year-round!
So, now you have everything you need, it's time to make those mini eggs brownies!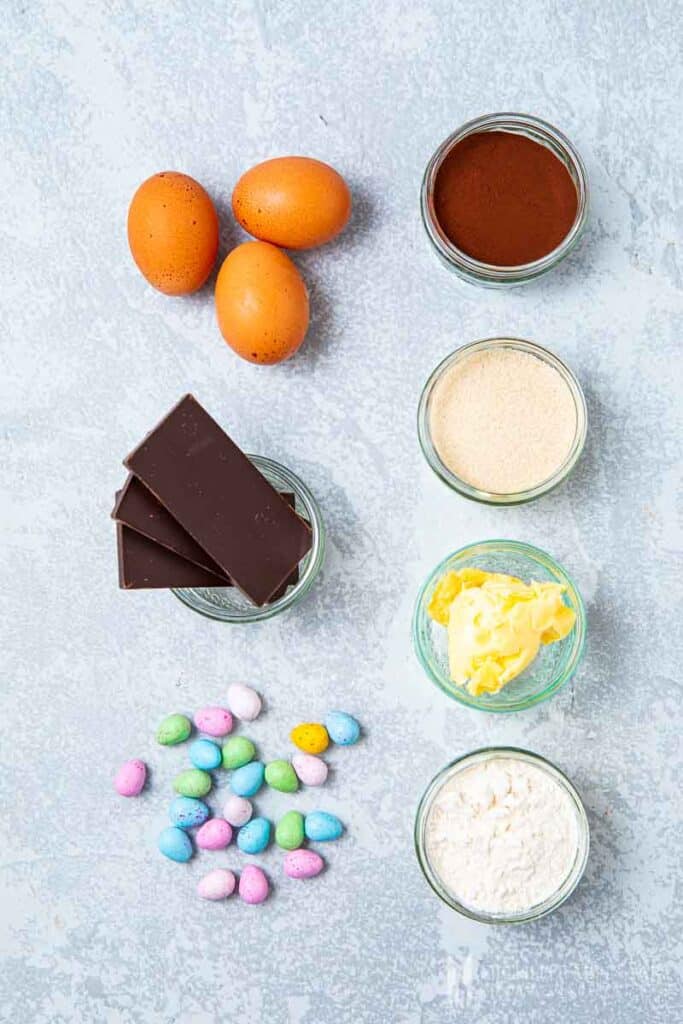 Baked Easter Egg Brownies
I love Easter baking, and I love all the different sweet treats that you can get during the Easter period. For so many of us, Easter is a time spent with family and friends. What better way of sharing that time than with delicious food, and this mini eggs recipe is just perfect for that!
My Easter egg cheesecake is fantastic, and it's a great dessert to share. But, what about when you want that small treat just for yourself, maybe with a mini egg or two?
That's why these Easter brownies are so great; they're a small square of indulgent fudgy-chocolate heaven just for you!
Mini egg brownies are what make them special, and I'm sure they'll be a new fudgy Easter treat. We've all had regular fudgy brownies, and they're great.
But, when it comes to delicious, dark chocolate brownies, nothing beats these mini egg brownies, and they're so easy to make!
That's what you're really here for, to find out how to make mini eggs brownies. That's what's important because you don't want to waste your stash of Easter candy on a dud recipe.
Luckily, I've *cough cough* tested this one for you, and it's a winner. Believe me, the pleasure was all mine.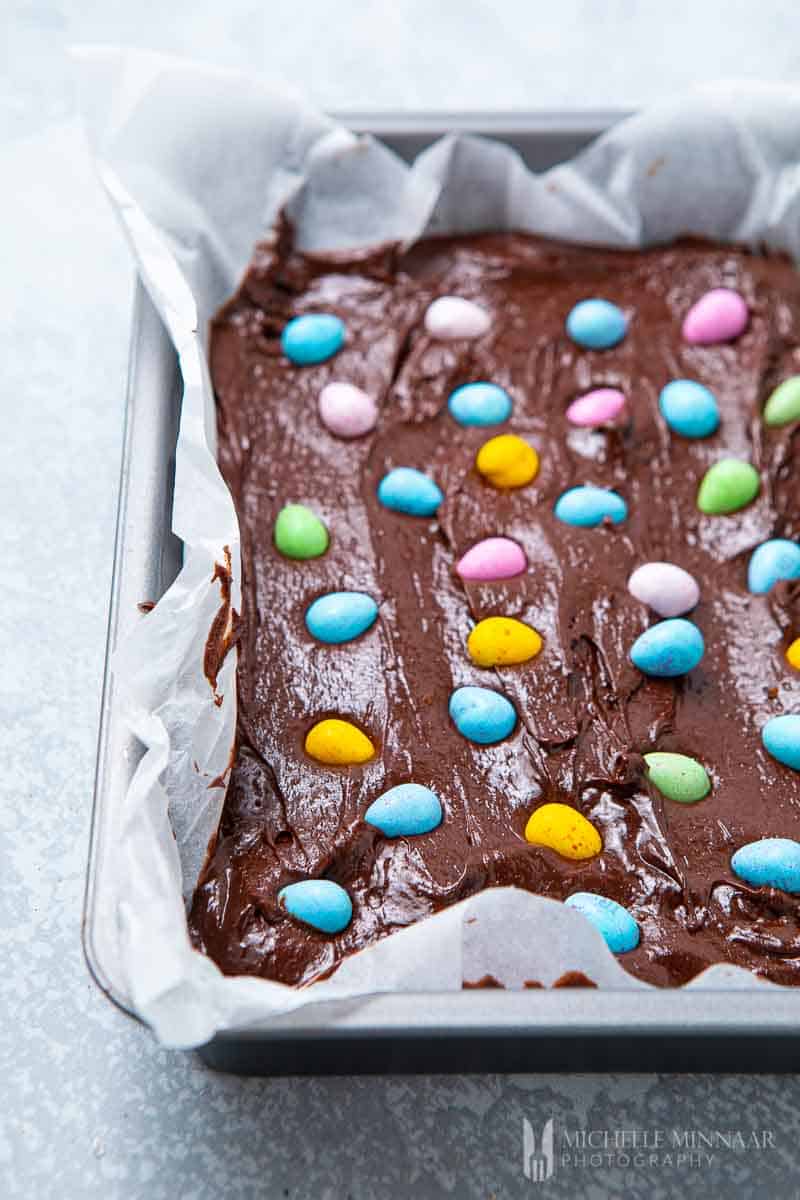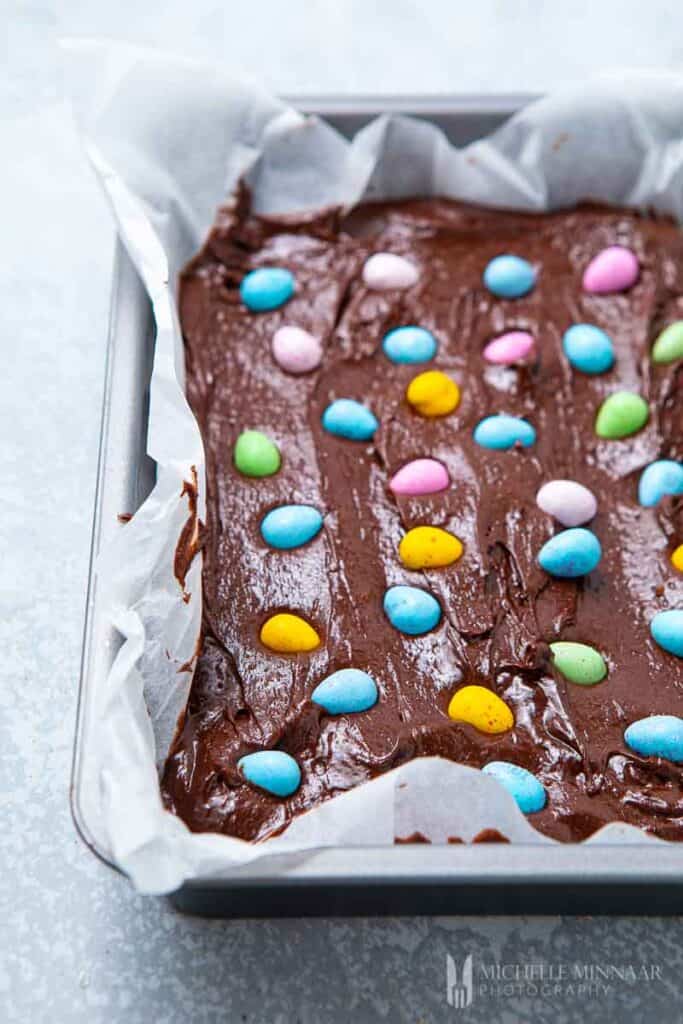 How to Make Easter Mini Egg Brownies
Making these mini eggs brownies really couldn't be easier. Like most brownie recipes, you'll start by melting the chocolate. Then let it cool a little, or you'll risk cooking your normal eggs when you add the chocolate to the 'wet' ingredients.
The 'wet' part is when you've whisked up the eggs and sugar. It's important to do the whisking for long enough to get thick and fluffy ribbons. It sounds counter-intuitive, but this fluffiness is what then collapses into the dense and gooey middle.
It's also important to make sure the sugar is fully dissolved during the whisking process. Not dissolving the sugar will give you gritty mini egg brownies that's not overly pleasant.
Then, make sure you sift your flour and cocoa powder before you add it to the mixed chocolate and 'wet' ingredients. This is your only chance to sift any lumps of flour or cocoa into fine particles.
When you're stirring in the flour to the wet ingredients, do so slowly and carefully. Try to keep as much of the fluffy texture as you can, so that the brownies rise and fall properly. Aim to fold the batter up and over, rather than stirring around and around.
Now comes the mini eggs; don't be scared of having too many! Let a few sink below the surface! Scatter them liberally, but if they don't all make it into your brownies due to 'quality control', that's okay too!
When it comes to the baking the mini egg brownies, place them on the middle shelf of your oven carefully. Remember, every hard knock, or jiggle is letting air out of your brownies, which means the rise and fall won't be as spectacular.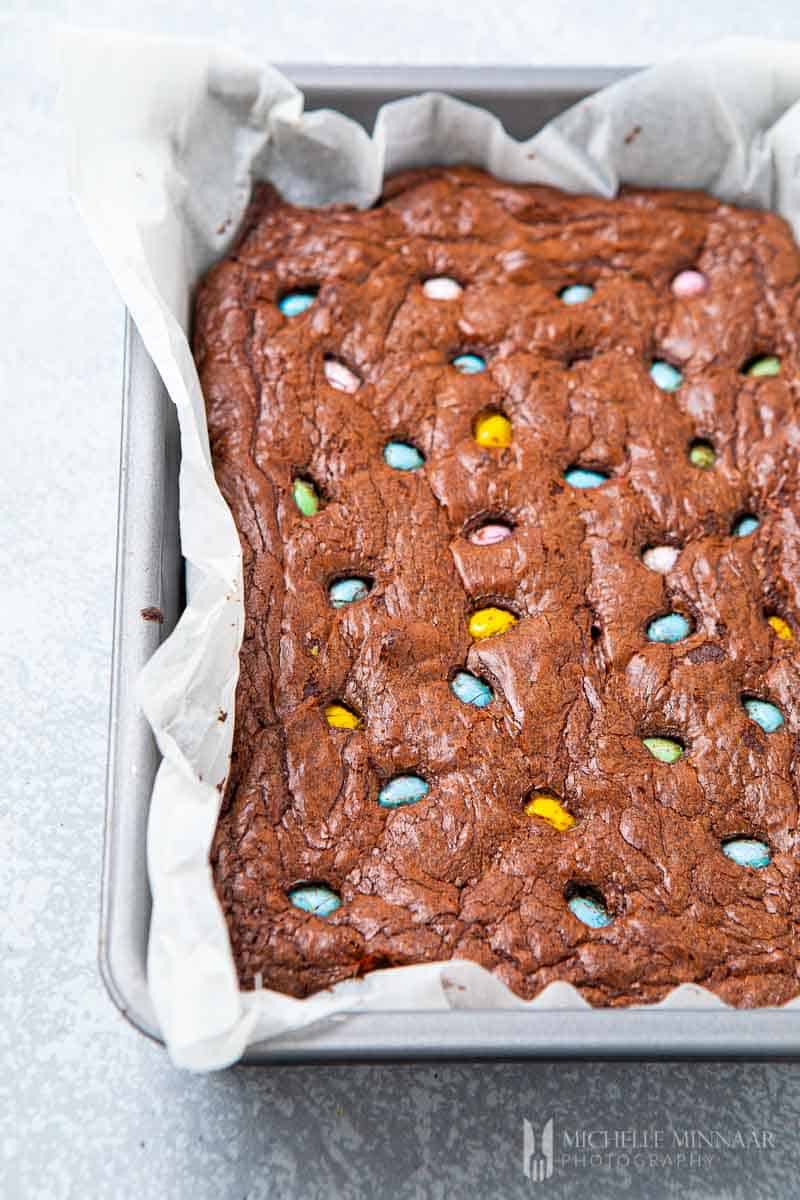 You'll know the mini eggs brownies are done when the top looks dry and flaky, and the batter has come away from the sides. The centre of the brownies shouldn't be firm, but not wobble either, just enough softness that if you touch it the bounce-back isn't immediate.
The next bit is the hardest: waiting for it to cool down before lifting. Don't rush it, if you try to lift them out too soon the brownie will fall apart.
It takes time for that fudgy centre to become solid and stable. When it's cooled, then you can cut it into squares and enjoy the fruits, or mini eggs, of your labours.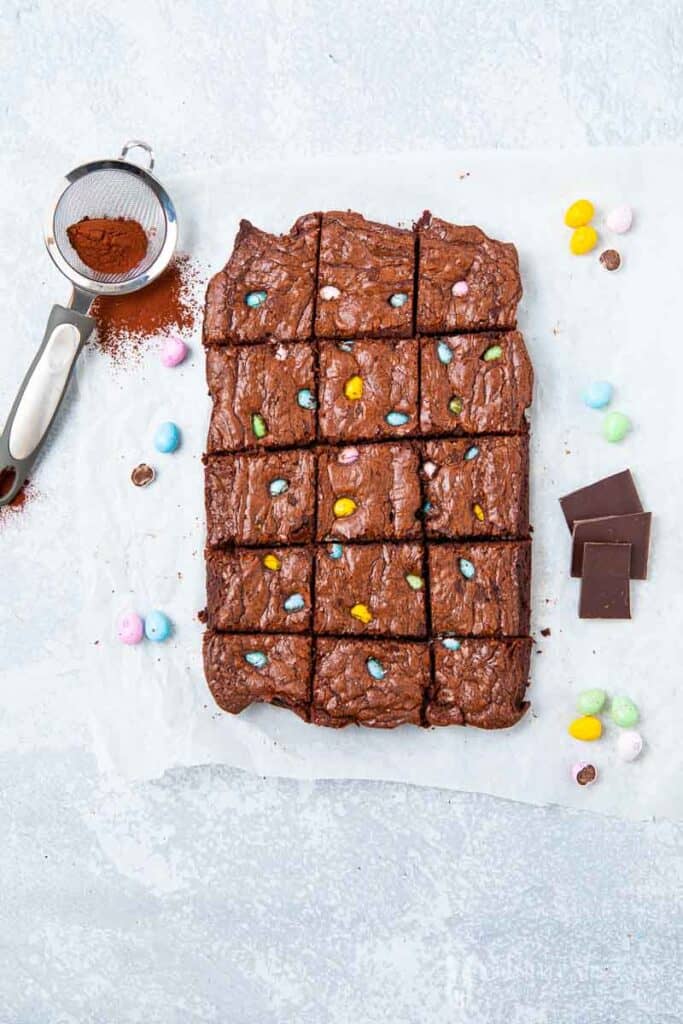 More Baking Tips
Another way to enhance the deep chocolate flavour is the use of vanilla extract or a pinch of salt. Much like salted caramel, the vanilla or salt works very well with chocolate.
The vanilla extract will support the complex chocolate flavours, so that the flavour last longer. Whereas the salt gives a different twist that can add another complexity.
Well, there you have it, my dark chocolate mini egg brownies. This recipe is so easy, and these egg brownies are absolutely delicious, and so much more decadent than milk chocolate brownies.
So make sure you bookmark my mini egg recipes, I'm sure you'll be baking them again!
If you enjoyed this brownie recipe, I also have a host of other brownie recipes, like:
Also, there's my Easter Egg Cheesecake, Chocolate Concrete, and don't forget to check out my other 31 Easter Recipes to enjoy throughout the season!
Print
Mini Egg Brownies
---
Description
Mini Egg Brownies are perfect to celebrate Easter with. The Easter baking recipe is easy to follow and great to get kids cooking in the kitchen.
---
---
Instructions
Cut the butter into smaller pieces.
Melt the butter and chocolate pieces, and set aside to cool. See Notes.
Preheat the oven to 180°C / 160°C / 350°F / gas mark 4.
Line a 20cm (8in) square tin with baking parchment.
Using an electric (stand) mixer, whisk the eggs and sugar until the mixture is pale, thick, creamy and double its volume. 
Gently fold the cooled melted chocolate mixture into the egg mixture until everything is well combined. 
Sieve the flour and cocoa powder over the chocolate egg mixture, coating it evenly.
Fold the flour and cocoa powder into the wet mixture until well combined.
Pour the mixture into the prepared tin and spread it evenly with a spatula.
Sprinkle with mini eggs.
Bake the brownies for 25 minutes or until the top crust is dry, the sides are coming away from the pan and the center is stable, i.e. not wobbly. 
Leave to cool down completely before cutting and serving. Enjoy! 
Notes
There are two ways you can melt the chocolate and butter together. Firstly, you can do it in a bowl over a pan of simmering water. Or, you can give it short zaps in the microwave until everything is melted, giving it a stir in between.
Store in an airtight container for no more than a week. It can be frozen too, but should be consumed within a month.
Prep Time:

25 minutes

Cook Time:

30 minutes

Category:

Dessert

Method:

Bake

Cuisine:

American
Keywords: mini egg brownies, Cadbury mini egg brownies recipe, Easter egg brownies, easter baking recipe, easter chocolate brownies, kids baking recipes