Pork pies have been served hot and cold for generations as a centerpiece for a table or on a cold buffet. But if you have pies left over, what can you do with them?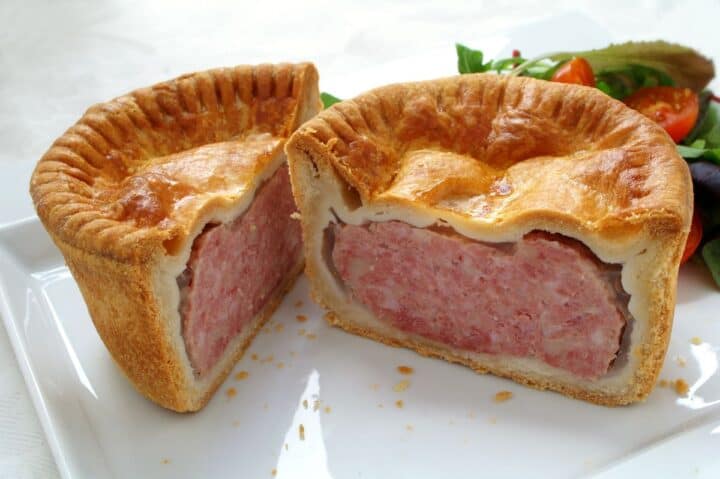 So, can you freeze pork pies?
The good news is that frozen correctly pork pies freeze well and should be just as delicious as freshly made ones. Frozen fresh, home freezing pork pies is straightforward, as pork pies freeze without any trouble.
You just need to follow a few simple steps to ensure you freeze and defrost them in the correct way, so they will be just as good once you thaw them out.
How Long Can You Freeze Pork Pies?
How long can you  freeze pork pies is partly down to the star rating of your freezer. However, as a general rule freezing pork pies works well for up to three months in the freezer and there is little change in texture or flavour to frozen pork pies. You do need to adhere to the rules above when freezing pork pies to maintain the quality.
However, thawing them out afterwards needs a little care and attention to make sure you have great tasting pork pies.
How do you thaw pork pies?
To defrost pork pies, take them from the freezer but leave them in their original freezer bag and wrapping, and lay the frozen pork pie on a tray.
Ideally, defrost pork pies in the fridge for 24 hours at least, until fully defrosted. Defrosting in the fridge is always the safest way to thaw any food.
If you take the pork pie from the freezer and unwrap it, the moisture in the kitchen air will condense on the pastry and quickly make the pie crust soggy. Keeping pork pies wrapped means no moisture can access the surface of the crust and it can defrost safely.
The quality of a pork pie is very much down to the crunch of the crust, so it's important they are defrosted correctly in the fridge.
Can you Refreeze Pork Pies?
Freezing pork pies that have already been frozen and thawed once before is never a good idea.
If a pork pie is defrosting in the fridge at too high a temperature, then pathogenic bacteria will start to grow. Freezing it again will only compound the situation, so that when you thaw the pork pie for the second time it may have dangerous amounts of bacteria growing in it.
How can you serve pork pies?
In the United Kingdom, there is a strong tradition with pork pies in the Midlands and Yorkshire particularly. The Melton Mowbray pork pie has long been regarded as some of the best cooked in the country. It is actually still regarded as the best pie.
Melton Mowbray pork pies were first baked there in the late 18th century and as the story goes visiting riders from a foxhunt saw local servants eating a pork pie and wanted to try them. They went down a storm and so the fame of Melton Mowbray pork pies quickly spread far and wide.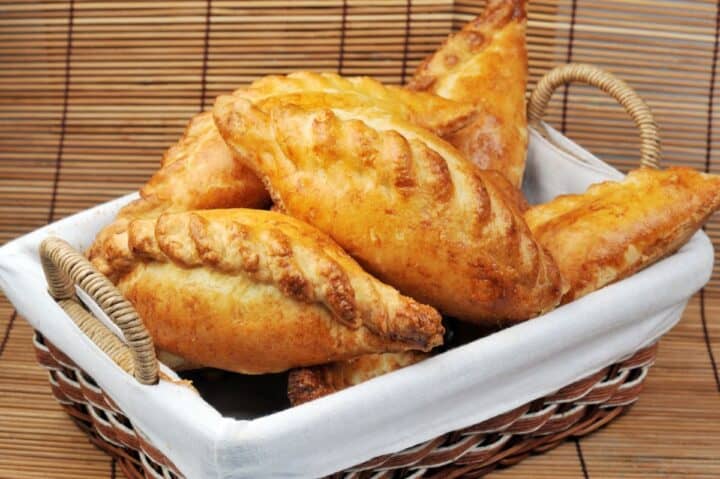 How can you eat pork pies?
Pie and a Pint
The tradition of going to the pub for a 'pie and a pint' has been making a recovery in recent years. More and more pubs opt to produce quality, local food, serving a dish such as traditional pork pie, where they find it a perfect match with their locally brewed beer.
Ploughman's Lunch variation
 As a variation on the traditional cheese Ploughman's lunch, a wedge of pork pie is often now substituted. Served with salad, pickled onions, chutney, and relish it is one meal that's a light and healthy lunchtime favourite.
Picnics
Research has suggested that at least 50% of Brits would be disappointed if they didn't see pork pies included in their picnic. It is ideal picnic food from pies to a large pork pie. They are easily transported and served, along with your favourite salad and chutney or relish.
Pie and Mushy Peas
The Yorkshire delicacy 'pie and mushy peas' has taken on a new slant, where the pork pie is served hot and mushy peas are ladled over the top. It's one of Yorkshire's favourite dishes!
Where did pie crust come from?
Most foreigners, when asked about typical English food, will most likely reply with 'meat pies' and 'fish and chips' – they both make up part of the English identity.
Pies first appeared in England during the 12th century, influenced by the cooking of Northern Europe.
The colder climate meant butter and lard were more readily at hand rather than olive oil. When mixed with flour, lard and butter formed into an easily moulded dough, which when filled with meat baked well and tasted great.
The crust was just for protection
The crust on meat pies or pyes, as they were, was as a container for the filling, like an airtight container, rather than something to be eaten.
In the same way, the Cornish pasty was originally designed as a pastry case with a crust handle, which miners could easily eat when their hands were filthy from the mine.
For ships on long voyages, meat pies became a preservation method for food, whereas before they were forced to take livestock on the ships to eat throughout the journey.
Similarly, the first North American colonies used meat pies to preserve food and see them through the long, hard American winters. Over time, however, meat pies fell out of fashion, to be taken over by sweet pastry with fruit fillings. Check out this Cherry Crumble Pie!
How old are pork pies?
Pork pies also have a long history back to the courts of Richard II in 1390. The chopped pork and herb was encased in a hot water crust pastry into one large pie, which with its high lard content baked in the oven to a delicious taste and crunch.
The pastry is made by boiling pork fat and water, adding this to flour, and mixing well. When put in the oven to bake it creates a short, crunchy texture and a golden brown colour.
Pork pies are a meal on their own or slices can be cut off a large pie, such as gala pies. Pork pies are great as a snack, on picnics or as part of a larger buffet.
Once unwrapped they keep well in the fridge for a few days but if you have several left over, after a party, for example, they are suitable to freeze.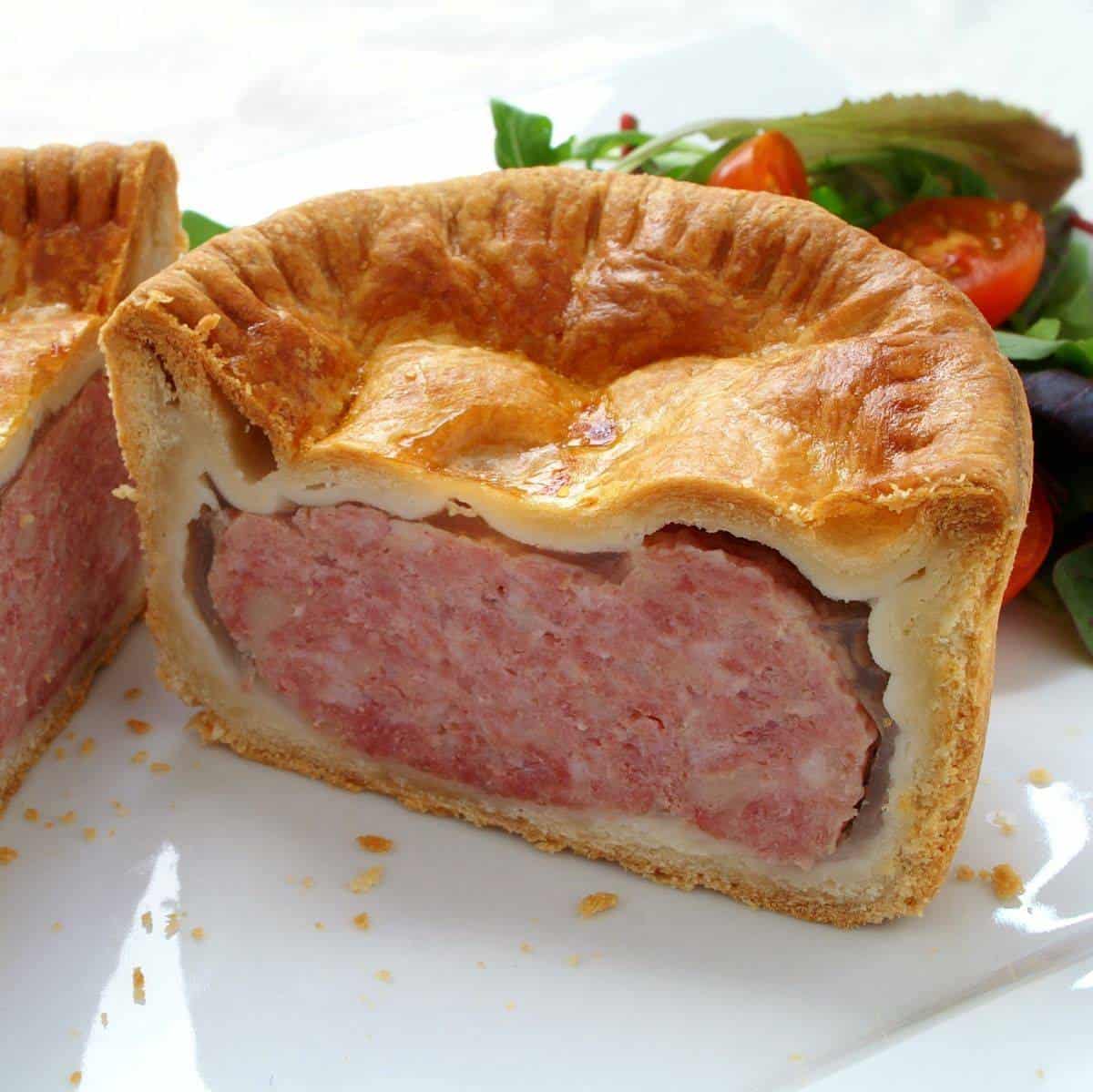 How to freeze pork pies
Total Time:
3 hours
6 minutes
Do you have plenty of pork pies you don't know what to do with? Learn how to freeze pork pies in a few simple steps.
Materials
Wax paper
Aluminium Foil or Tin Foil
Freezer bags
Freezer labels
Sharpie pen
Instructions
Prepare your pork pies
If you made the pork pies yourself, you need to take them from the oven to let them rest before adding the jellied pork stock. This needs to set overnight before you wrap them in wax or parchment paper before they are suitable for home freezing.
Wrap the pork pies
If you freeze pork pies you have bought then leave them wrapped in their paper layers and wrap it again in an outer layer of wax paper. The aim is to stop the damp atmosphere of the freezer from affecting the texture of the crust.
Additionally, when you freeze pork pies they can be prone to freezer burn if they are not wrapped properly. As they freeze, ice crystals in the surface layer of the pastry can evaporate leaving a dried surface, which is called freezer burn.
When the pork pies are wrapped in its paper go on to wrap it tightly in a layer of aluminium foil. This is easy to scrunch up and create a good seal around the pie and parchment paper.
A pork pie prepared for freezing is then placed in a polythene freezer bag and zip it or tie it closed, again to keep out moisture.
Label and freeze the pies
Always write the name of the product on the label and date it. You know what the product is now but in four months' time, you will probably have forgotten. I strongly recommend you follow these three steps to freeze pork pies!