Cherry crumble pie is both a seasonal delight and an easy pie recipe to master. Arguably, the best cherry pies are those that come directly from your grandmother's kitchen.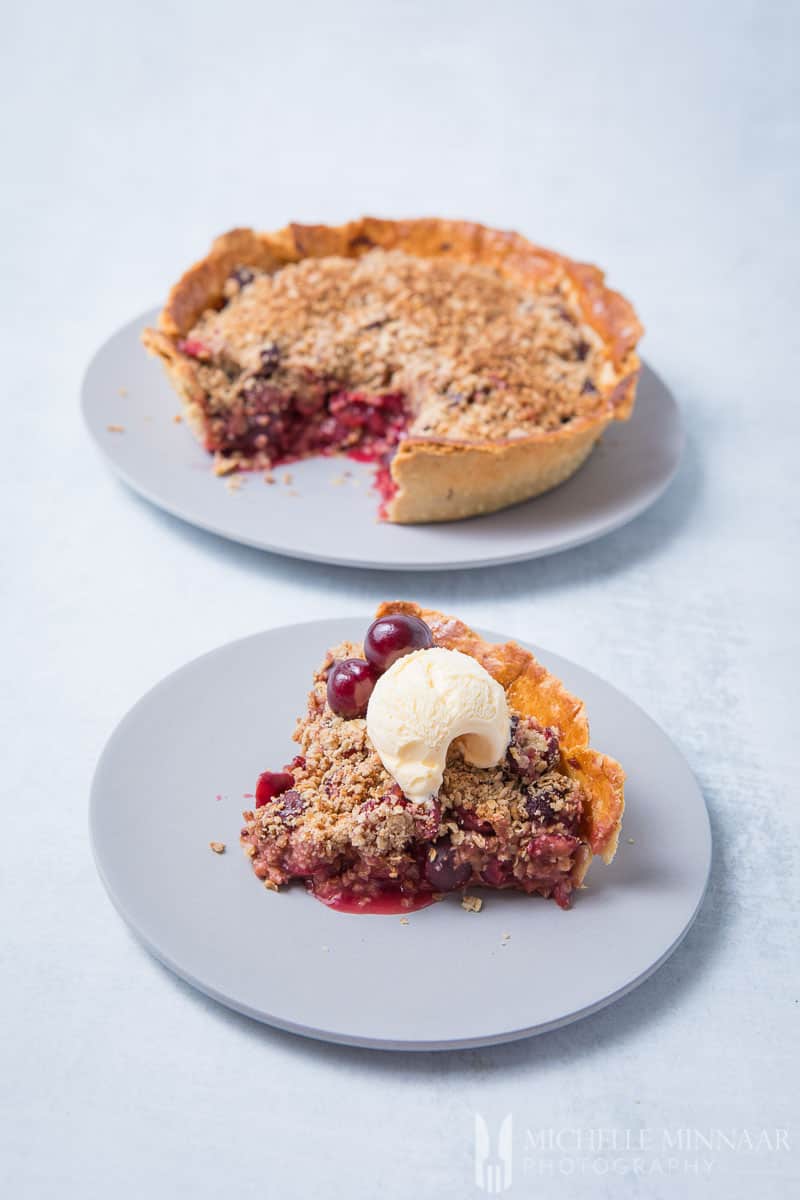 Comparatively, this cherry crumble pie will compete with the best, making your cherry the new family favourite. What you are looking for when it comes to cherry crumble pie is that golden flaky crust of the pie and that beautiful sweet resonance from fresh cherries.
Don't hesitate to put your own twist on the cherry crumble pie by tossing in some of your favourite spices and other fruits.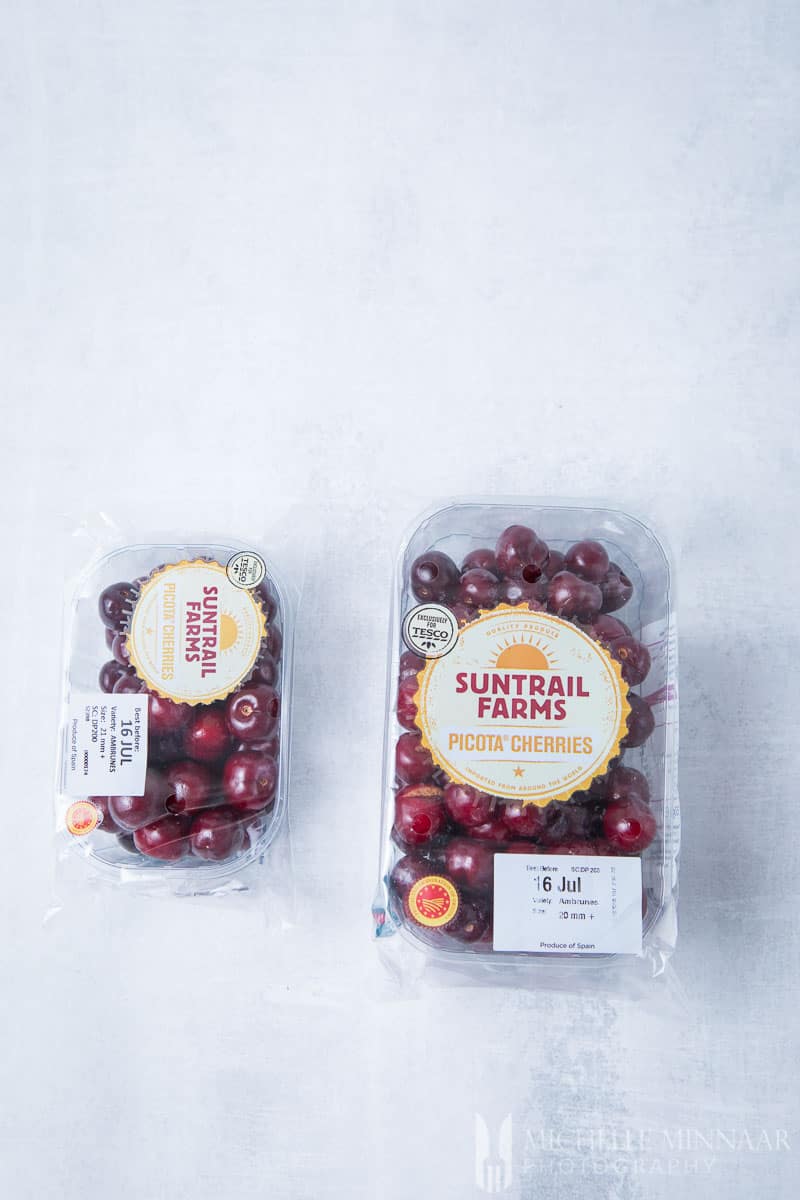 cherry crumble pie
Cherry crumble pie is literally a marriage between a cherry crumble and a cherry pie! As you can see, you have the best of both worlds. It is encrusted with short crust pastry, filled with delicious cherries and topped with a crunchy crumble.
A crumble pie is similar to a cobbler, but differs in the sense that a cobbler is topped with batter, whereas this crumble pie is topped with crumble. The secret to this crumble pie is sourcing the best and freshest cherries!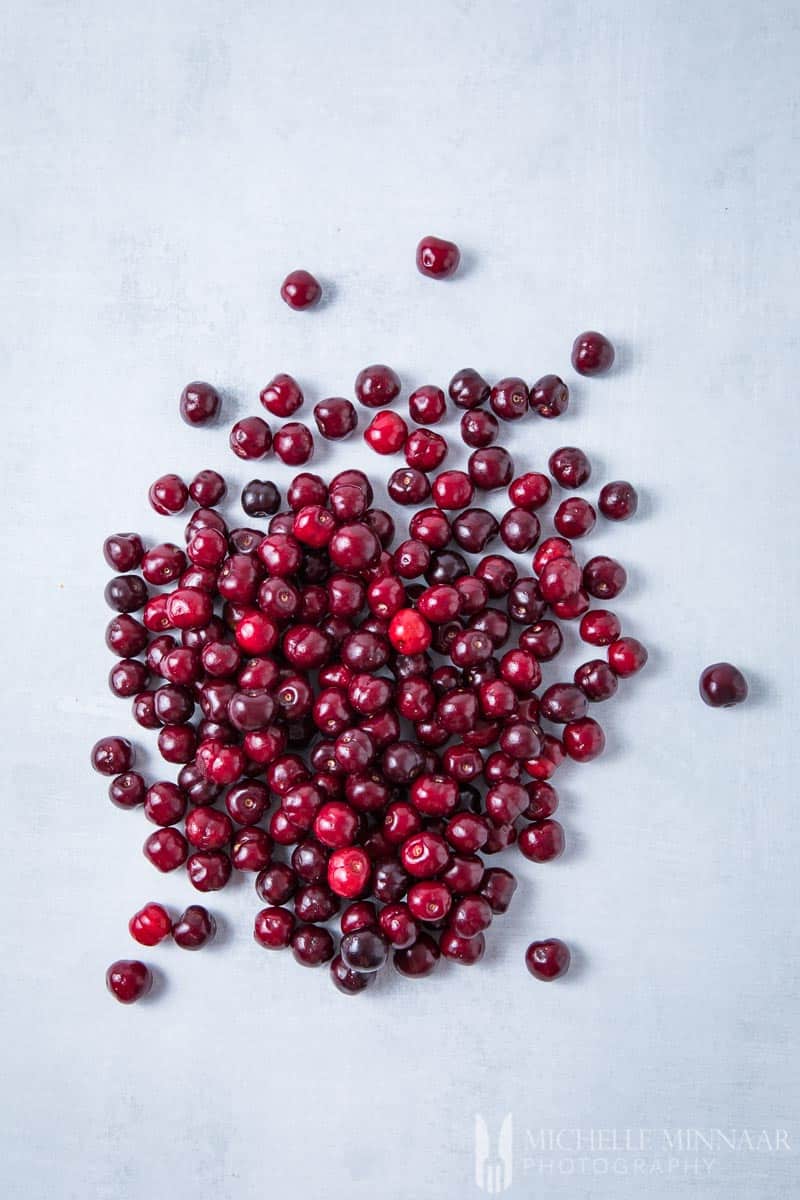 cherries
What better cherries to use for this cherry crumble pie than these freshly hand-picked Jerte Picota cherries? These cherries have a P.D.O. (Protected Designation of Origin) status, ensuring multiple things.
Firstly, that the cherries comply with growing regulations, and how the fruit is harvested and packed in the Jerte Valley in Northern Extremadura, Spain. Secondly, the P.D.O. status certifies their stalkless harvest.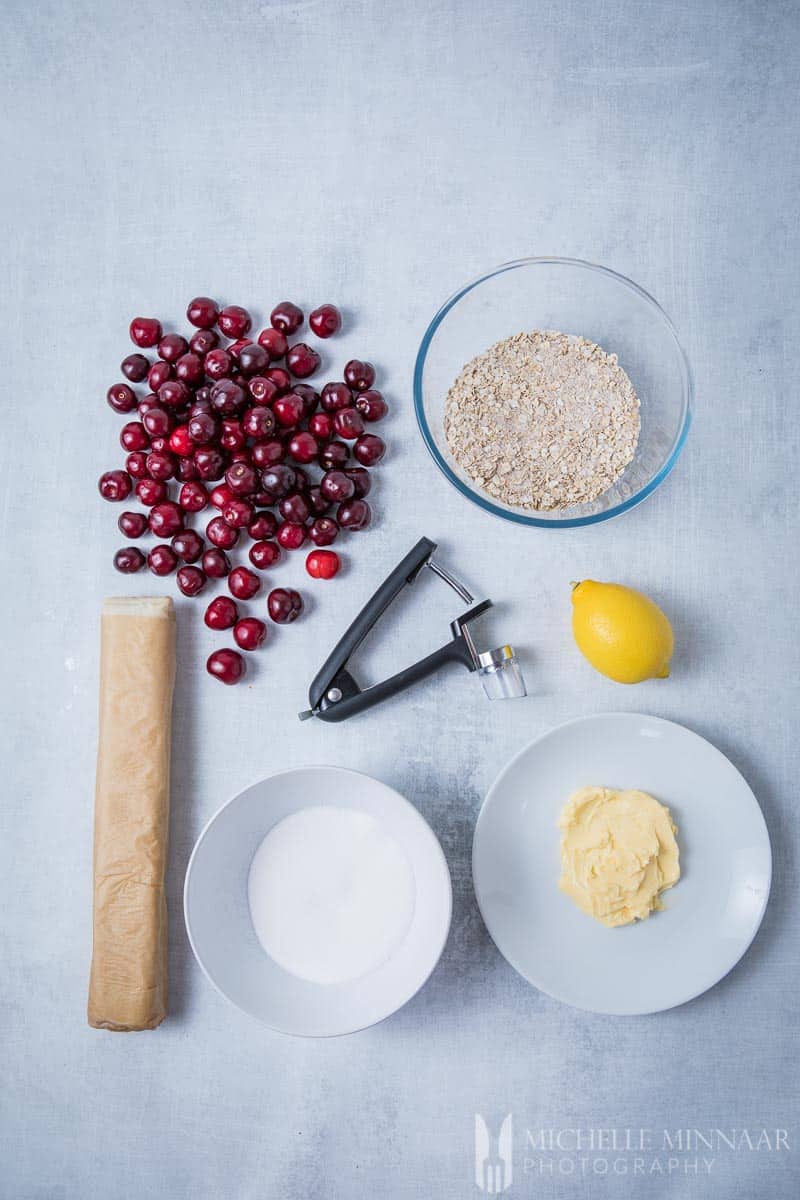 To learn more about the Jerte Picota P.D.O. status, go to my cherry muffins recipe, where I've also used these amazing cherries.
Usually Jerte Picota cherries are available in UK supermarkets from the end of June to the beginning of August. This year, they have arrived in the UK beginning of July, due to the cold winter.
Don't miss out on this 100% natural product this summer. It is the perfect fruit for making baked goods, fruit and savoury salads, jams, chutneys as well as eating them as they are.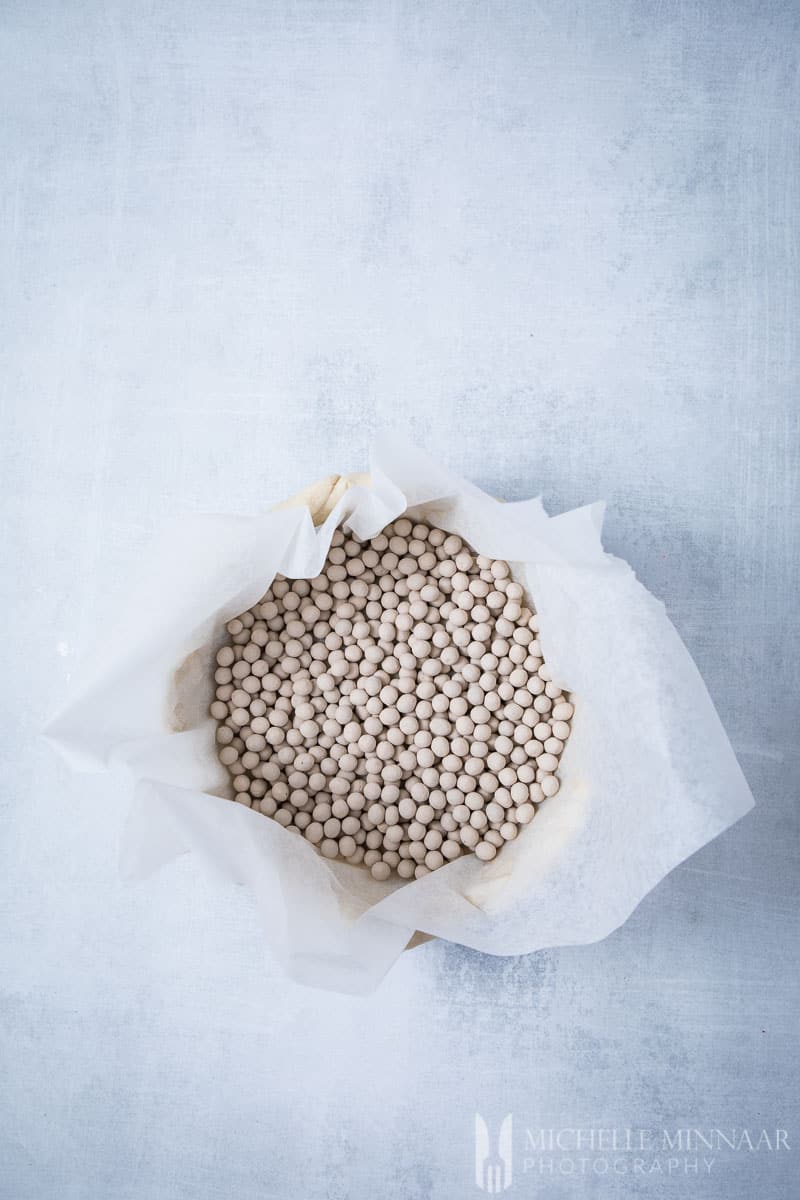 pie crust
The key to making this cherry crumble pie moist, apart from the Jerte Picota cherries is the crust. I know that this pie recipe calls for store bought short crust pastry to cut your cooking time. However, there are tips and tricks to making your store bought crust taste like it's homemade!
First, take some cookies or digestives from your cabinet, some cinnamon and some granulated sugar. Put a fair amount of cookies in the blender and season with granulated sugar and cinnamon to your taste.
Blitz the ingredients together, making a sort of cookie dust. Next, unroll your store bought short crust pastry and sprinkle the cookie dust all over. It will that homemade texture and look and feel to the pastry. Next, follow the recipe as required.
These tricks are really handy for Thanksgiving or Christmas recipes, when you are pressed for time. If you follow these steps, your guests and relatives will never know the difference!
Also, if you need to make more pies, try making this traditional British lemon chess pie. Or this rhubarb dump cake or apple rhubarb crumble.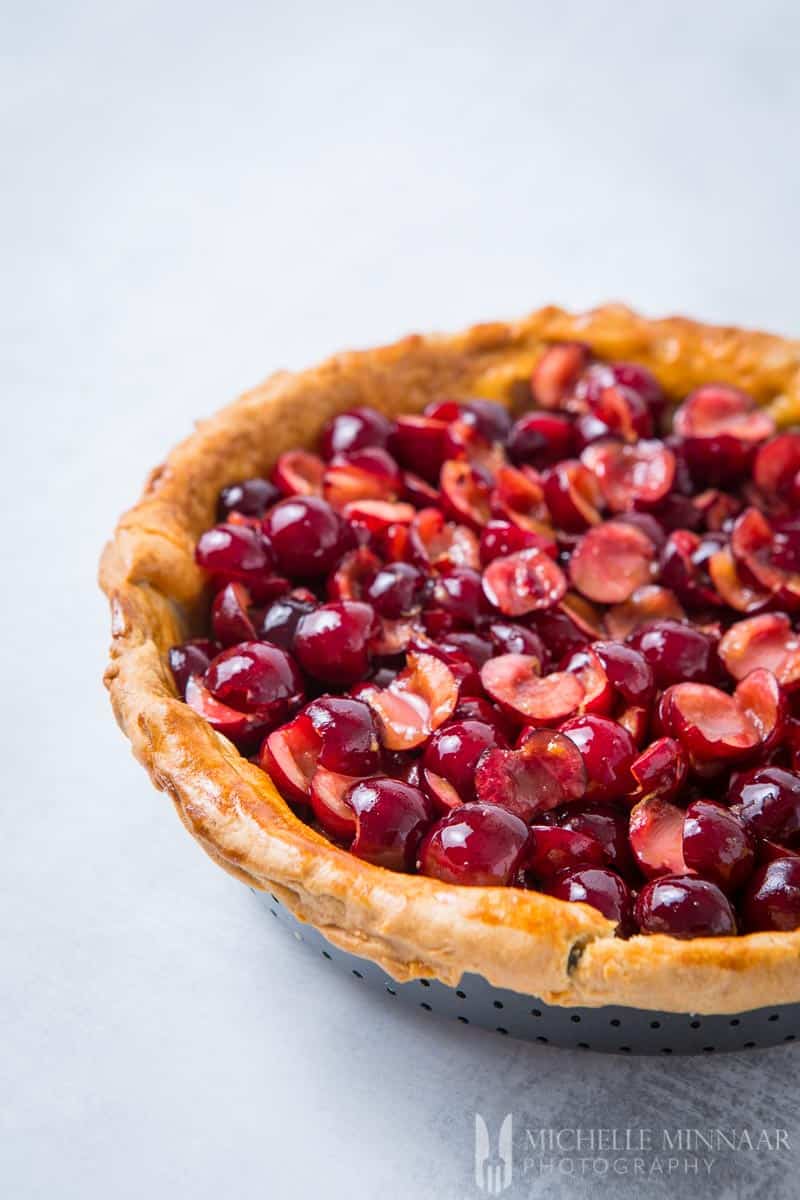 cherry pie
What I genuinely enjoy about making crumble pies is that you are not limited to only cherries. You can add any type of ingredients you deem fit for this cherry crumble pie recipe.
For example, you can toss in some almonds, poppy seeds, cinnamon, walnuts or even red currant for more acidity. These are just a few examples of the many ingredients which you can use for putting your own twist on this cherry crumble pie.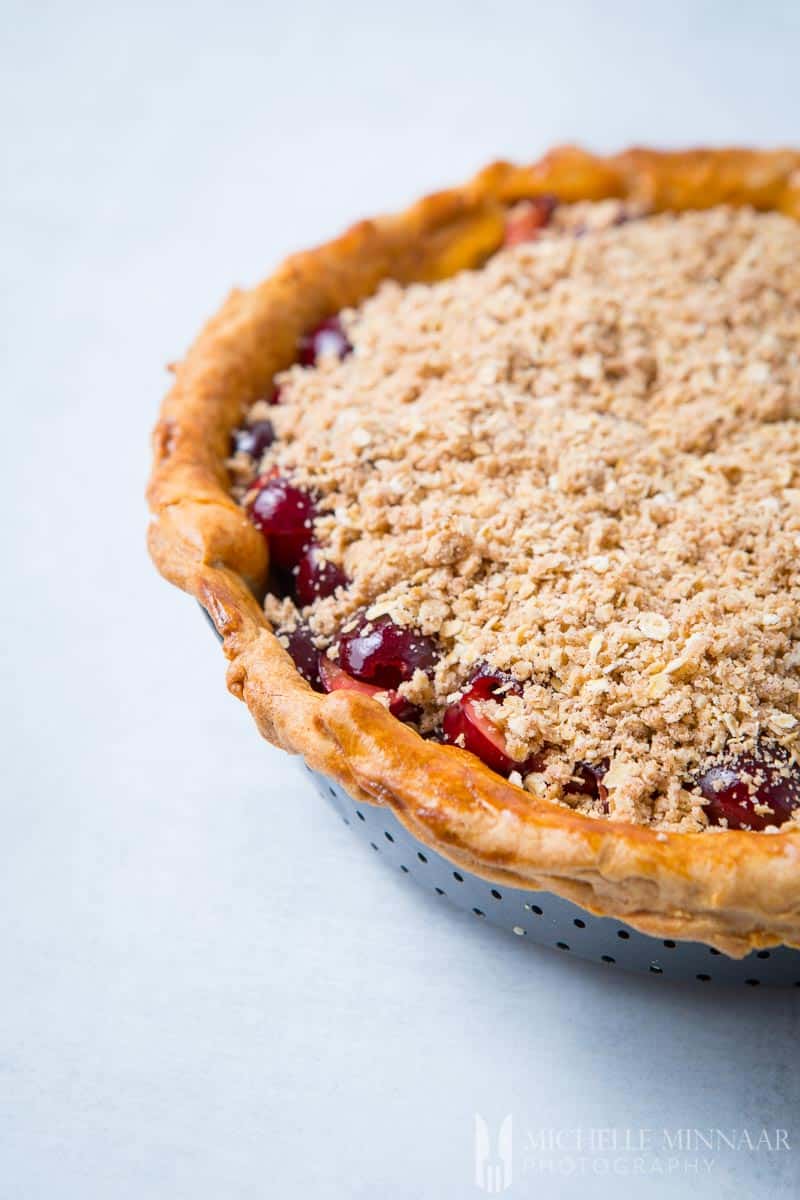 Otherwise, if you happen to be making a dried fruit compote, you can easily drain the leftovers and make a dried fruit crumble pie. Other substitutes to cherries include the use of apples (both green and red), blue berries and more.
In fact, why not combine the two and make an apple and blackberry crumble pie? Click here for this crumble recipe to follow specific instructions on how to merge those two ingredients together.
You can also stick to seasonal produce such as juicy William pears combined with dark chocolate chips. Together, they make a finger-licking good combination!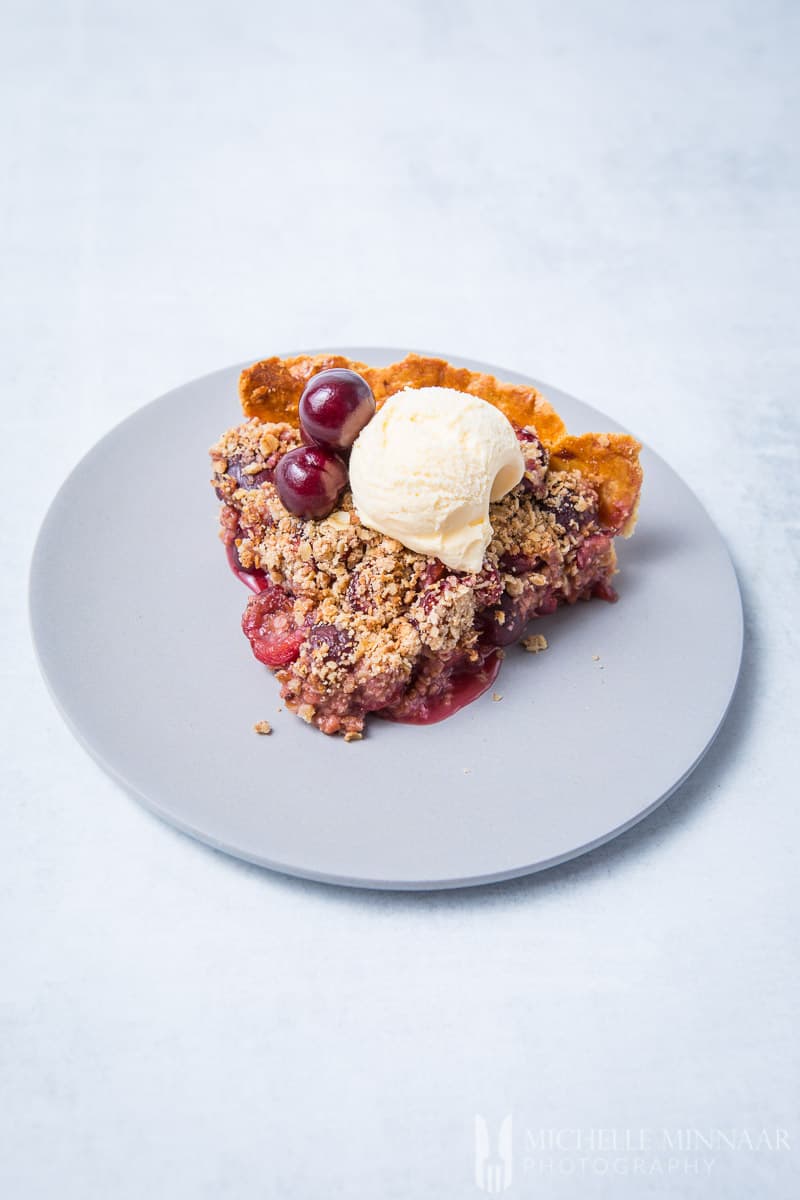 cherry crumble
Here's some food for thought. You can use the cherries and ditch the shortcrust pastry, opting for a simple crumble recipe. Just put your focus on the crumb itself and make sure it's nice and golden for that amazing crispness.
I recommend using smaller clay oven dishes, as used in France. Otherwise, you can opt for your usual pie dish!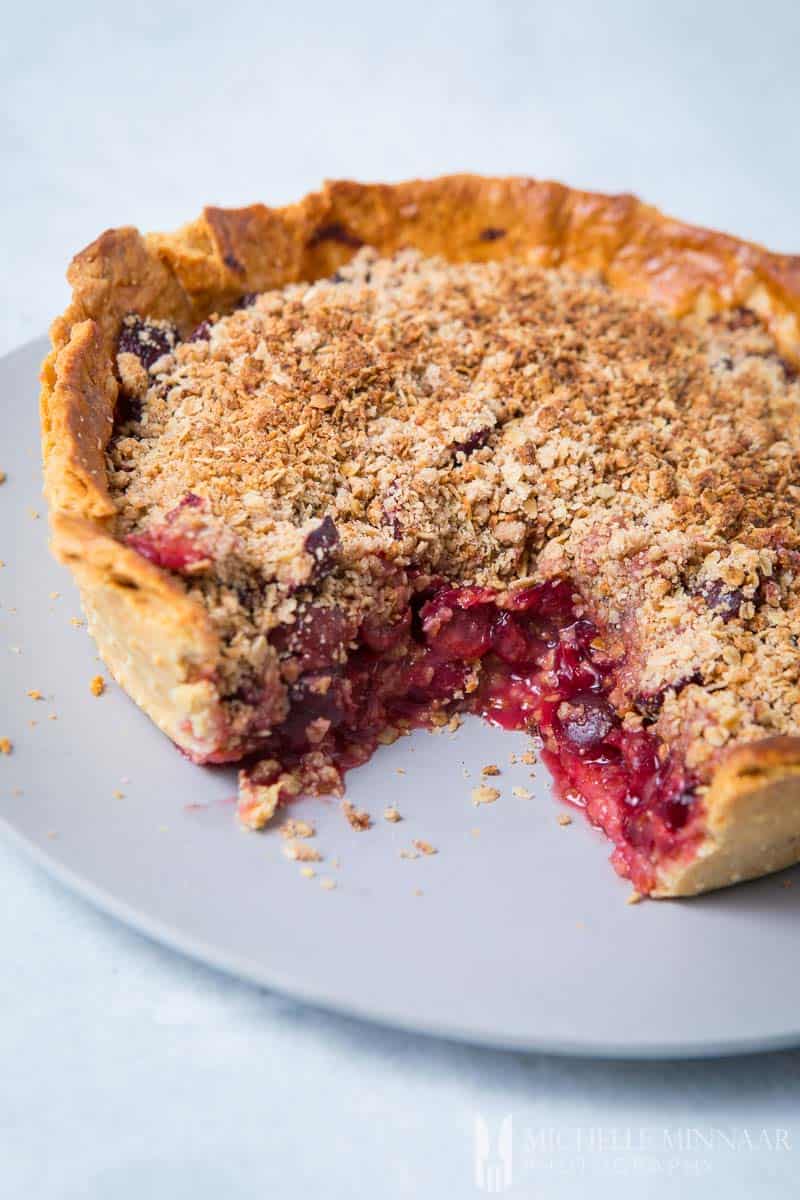 tasty recipe ingredients
There are plenty of tasty ingredients you can include as a finishing touch for your cherry crumble pie. First, you can add almond flakes for an extra crunch in the crumble.
Plus, cherries work very well with almonds. I've used such a combination before for my cherry muffins. Learn how to make the best muffins here.
I also recommend topping the cherry crumble pie with either a scoop of vanilla ice cream or Chantilly cream, i.e. whipped cream with sugar. The creaminess of the ice cream or the whipped cream will complement the fresh elements, highlighting the sweetness of the cherries even more.
Lastly, for the ultimate refined cherry crumble pie, I highly recommend getting your hands of some lait d'amande ice cream. Lait d'amande, or almond milk ice cream, is one of my absolutely favourite pairings when it comes to fruity crumble recipes.
You might have to go to a premium store to test your luck whether they have it or not. Otherwise, you might need to do an ice cream scavenger hunt. Who knows, maybe you'll get lucky and find some. Lait d'amande ice cream is very popular nowadays! Try it!
Pink custard is another great alternative if you want to take a trip down memory lane...
Print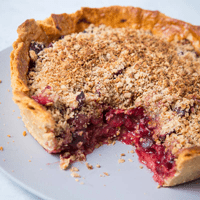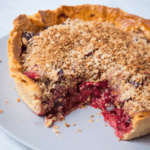 Cherry Crumble Pie
---
Description
A cherry crubmle pie is the perfect marriage between a cherry pie and a cherry crumble. Don't miss out on this season's best cherries for making a dessert.
---
320

g

(11oz) ready made shortcrust pastry

1

egg, whisked

1

kg

(2.2lbs) Picota cherries, washed, pitted and halved

100

g

(3oz) sugar

30

g

(1oz) corn starch
zest of

1

lemon

30

ml

(2 tbsp) lemon juice

75

g

(2 1/2oz) oats

25

g

(1 oz) plain flour

25

g

(1 oz) ground almonds

1.25

ml

(1/4 tsp) cinnamon

40

g

(1 1/2oz) butter
---
Instructions
Preheat the oven to 200°C/180°C fan/390°F/gas 6.
On a floured work surface, roll out the chilled pie dough.
Transfer it to your pie tin then trim the edges and crimp.
Chill the pie crust in the refrigerator for at least 30 minutes.
Remove from the fridge and line with baking parchment or foil.
Pour in baking beads and make sure they cover the bottom of the pie and press against the sides of the pie.
Bake for 15 minutes or until the edges are barely golden.
Remove the pie from the oven and remove the baking beads.
Dock the pie crust but pricking holes in the base with a fork.
Brush the pie shell with egg wash with a pastry brush.
Bake the pie shell for another 7 minutes to crisp up the base. Now you have a partially blind baked pie crust.
Meanwhile, mix the cherries, sugar, corn starch, zest and lemon juice in a large bowl.
In another bowl, rub the oats, flour, ground almonds, cinnamon and butter together with your hands until crumble has a light breadcrumb texture.  
Once the pie shell has finished cooking, remove from the oven and wait for it to cool down a bit.
Lower the oven's heat to 180°C/160°C fan/350°F/gas 4.
Pour the cherry filling into the pie shell and even out the mixture.
Sprinkle on the crumble topping and continue to bake for a further 50 minutes or until the pie has browned on top.
Remove from the oven and wait for the pie to cool down enough to slice and serve. Ice cream works well!
Alternatively, serve the pie cold with whipped cream.
Notes
In this recipe I used a 23cm (9in) pie tin.
If you don't have baking beads, you can use dried beans, rice, or popcorn kernels instead.
Prep Time:

60 minutes

Cook Time:

75 minutes

Category:

Dessert

Cuisine:

American
Nutrition
Serving Size:

1 serving

Calories:

383

Sugar:

27.7 g

Sodium:

100 mg

Fat:

13.7 g

Saturated Fat:

6.2 g

Carbohydrates:

58 g

Fiber:

3.4 g

Protein:

6.4 g

Cholesterol:

31 mg
save the recipe to your pinterest board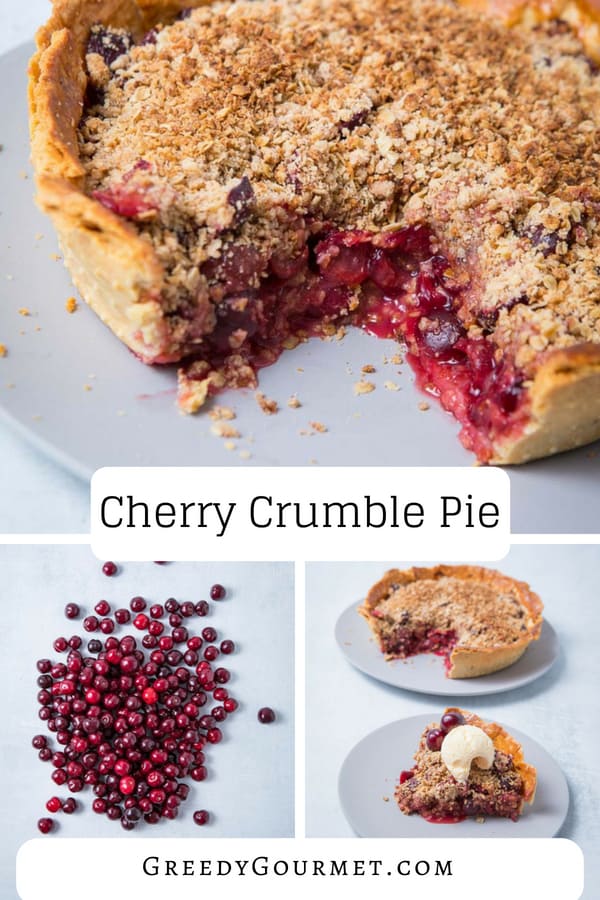 P.S. This is a sponsored post.