These mars bar cakes are an excellent choice when you are looking for something to nibble on. Fair warning though, while you prepare these mars bar cakes, it's really difficult to resist eating the original ingredients. Actually – scratch that! The hardest part is hiding them so that the rest of your family members don't have a go at these before you try this mars bar crispy cakes recipe. Yes, they are that good and very addictive! This is the ultimate dessert for mars bar lovers as well as rice crispy cake lovers. Imagine, when you combine the two, you are left with crunchy, chocolatey goodness that just melts in your mouth ...while you reach for seconds.
If the name mars bar cake hasn't convinced you that these are worthy of making at home from scratch, then just imagine the smell when they are done! Impossible to resist! These little babies are in my opinion the perfect serving size if you are looking to nibble on something small. Also, they are a fantastic idea if you've got company and wish to serve your guests something sweet. Otherwise, if you have a child's birthday party to plan, then serve these mars bar cakes next to these Oreo cupcakes, creme egg cupcakes or for another rice krispie recipe check out these mickey mouse rice krispie treats. You'll definitely be the most popular mom in school!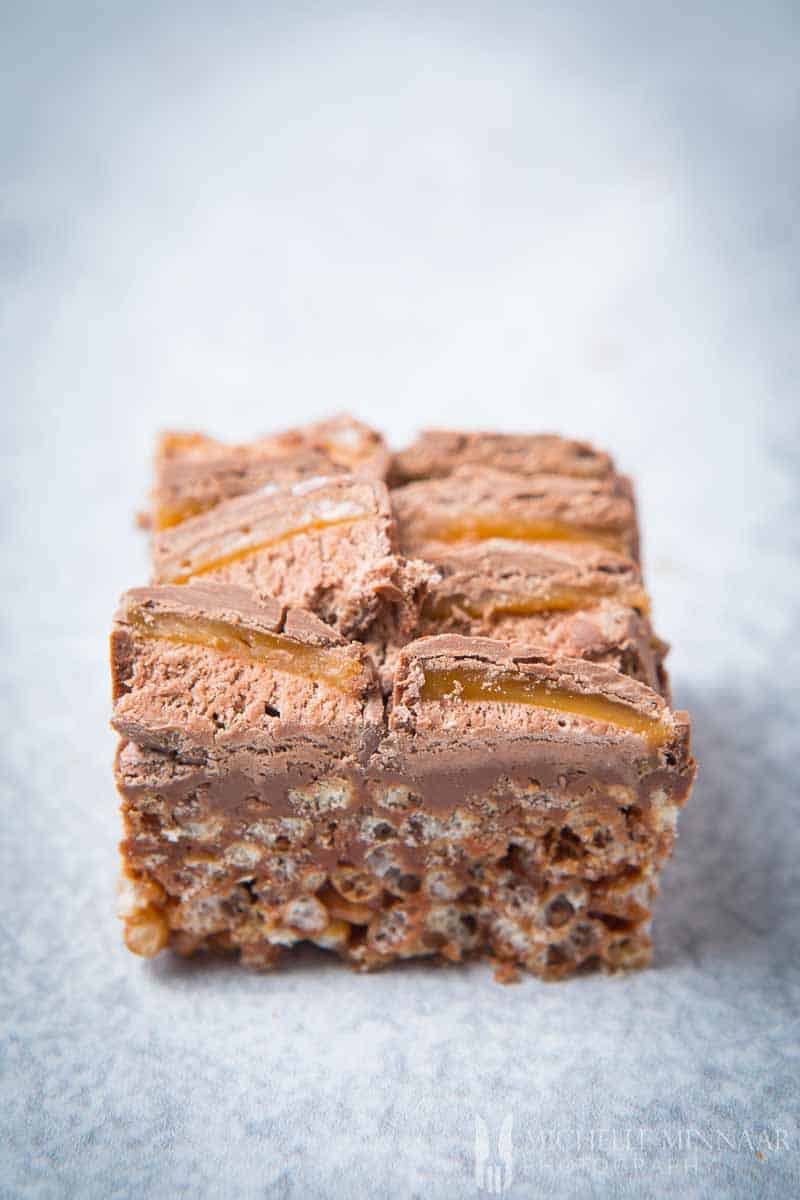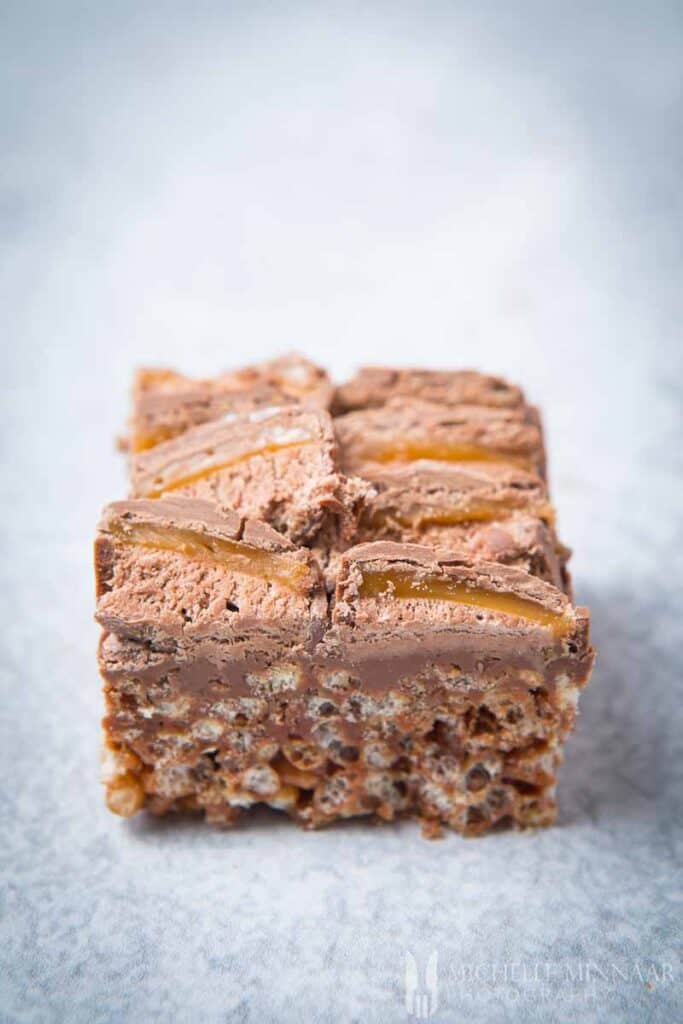 mars bar cakes or mars bar squares?
For those of you who have never tried mars bar cakes you are in for a treat! You might also know mars bar cakes as mars bar squares or simply put – mars bar krispies. Ultimately, if you ask any child, they will be able to come up with an exact definition of what they are. Generally speaking, they are rice krispies mixed in and coated with melted mars bars and butter. One usually serves them in the shape of squares. However, it is not so uncommon to serve them as little cakes – resembling small cup cakes.
When I first saw this mars bar cakes recipe, my eyes grew big and my mouth went "ooooooh". These had the same effect on my children, too. Ever since, they've been a family favourite and occasionally the kids beg me to make them. Be warned that some things will become big and strange sounds will be emitted if you serve these crispy bundles of joy to the ones you love.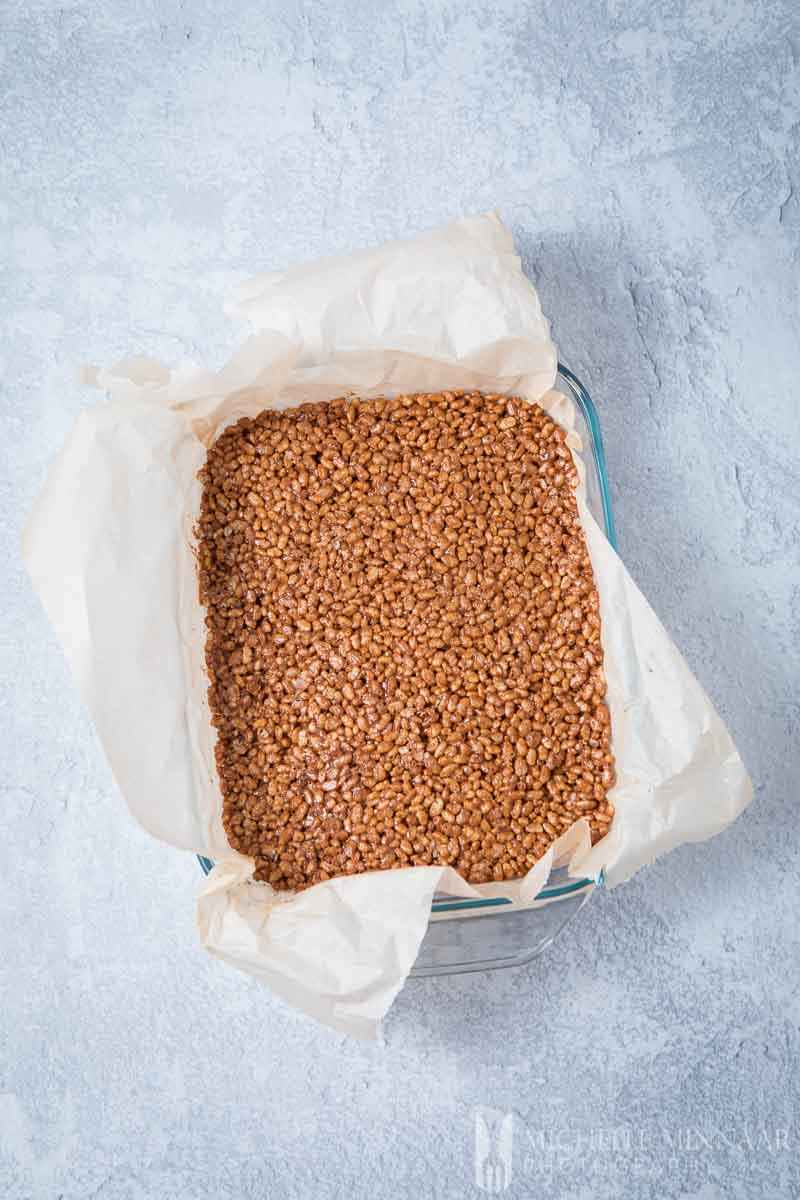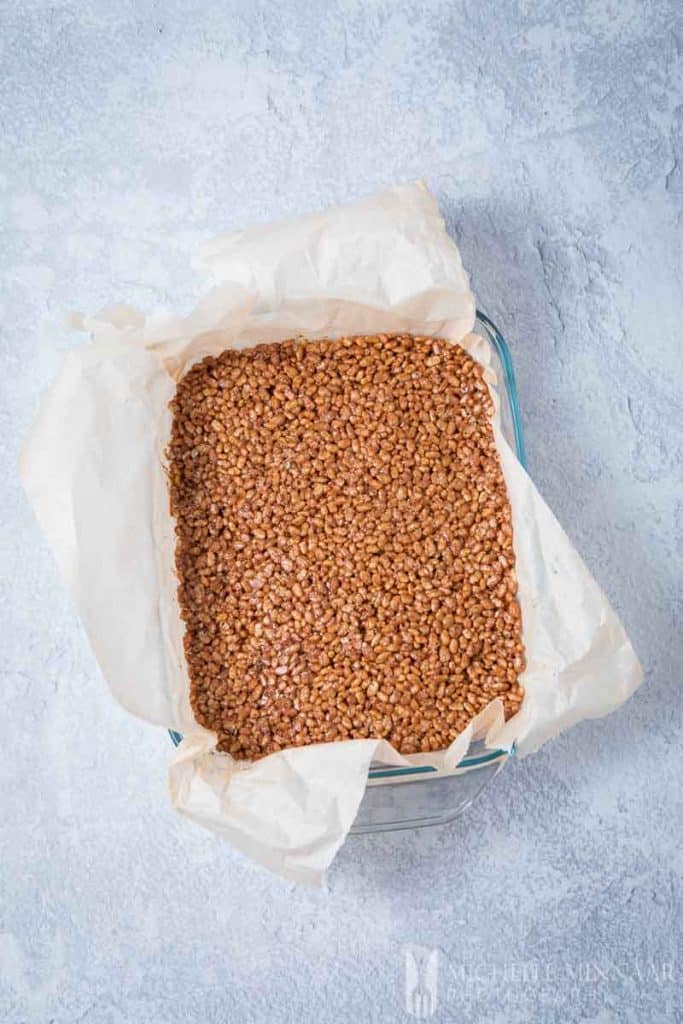 Nigella Lawson's Mars Bar Cakes with Golden Syrup
I first saw a version of this mars bar cake recipe by Nigella Lawson. After reading through her recipe here and giving it a go, I must admit I was super-excited and looking forward to the end result. It was then when I first fell in love with these mars bar cakes. However, after having a few, I noticed that they were slightly overloaded with the tons of sugar contained in the golden syrup. I am not saying that adding golden syrup makes the mars bar crispy cakes bad. On the contrary, they are quite moist and tasty!
However, after some reflection, I came to the conclusion that this recipe is even better without the addition of the golden syrup. It doesn't need the extra sugar and the mars bar cakes feel more balanced. You are not overpowered by the overwhelming sweetness, but rather you get to really experience the fusion and taste of the mars bars and the rice krispies. No need to overcomplicate things that are best kept simple, don't you agree?
The best mars bar rice Krispie cake recipe
To make the best mars bar rice cakes you've ever had, you'll need to carefully select the one ingredient that you have influence over. The additional chocolate! This recipe calls for 200 grams of milk chocolate. This generally amounts to two bars of chocolate. However, I must insist on the fact that if you want the best mars bar cakes ever, you will have to invest a little bit into the chocolate. So, don't go for the cheapest chocolate bar available. The cheap ones usually have a minimum amount of cocoa (you can actually check this on the packaging). Go for a fair trade premium chocolate instead.
In my experience, they carry a higher dose of cocoa and they taste much better. When you compare the cheap ones to the premium chocolate, they are beyond comparison. First, the cheap chocolate only tastes of sugar or butter, whereas the premium chocolate will actually yield some flavour.
Take my advice and make a chocolate shopping trip. Select a few premium chocolates and see which one tastes best (keeping the best value for money principle in mind). Ultimately, it's the chocolate that will make or break your mars bar cakes.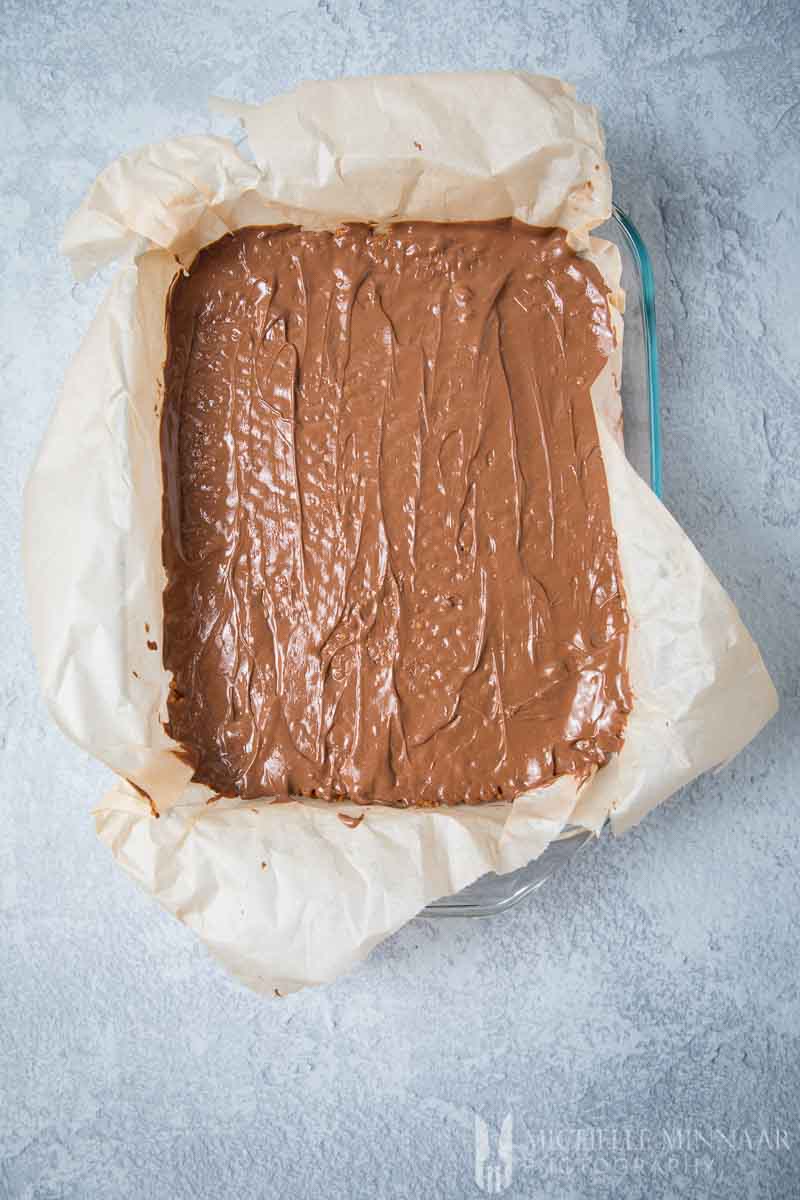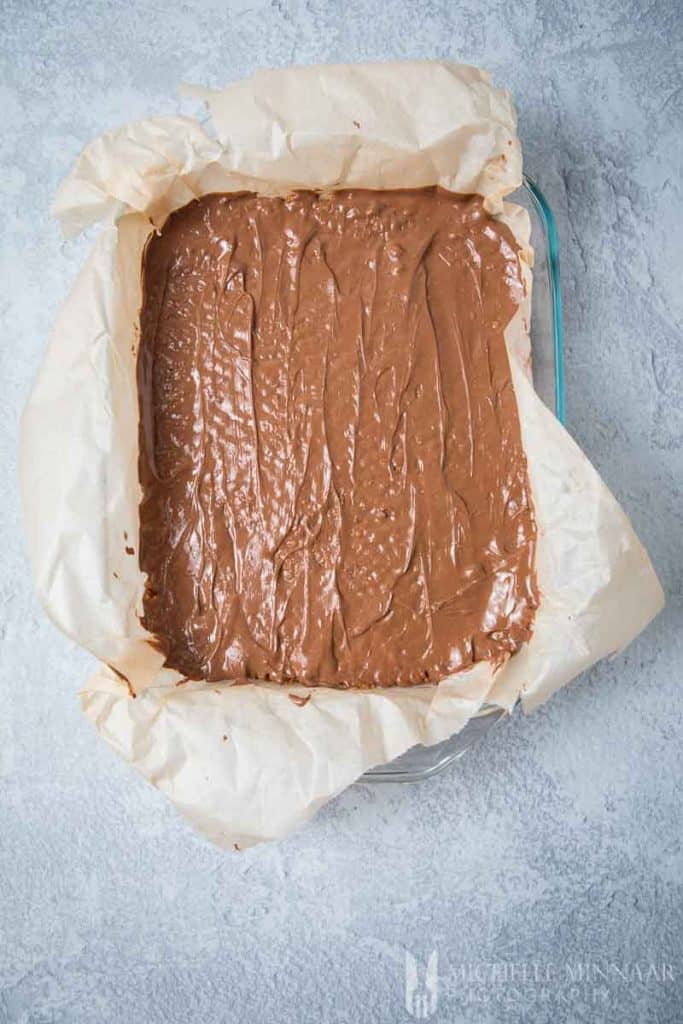 How to melt a mars bar in the oven
Here comes the really difficult part. Try not to bite off or eat some of the mars bar. If you think that you won't be able to resist the temptation, then purchase an extra one (just for you). Admittedly, I've thought about doing just that!
So, first chop up the mars bars into coarse pieces. You can place them in the pan with butter and gently stir until smooth. However, you can also do this step in the microwave. Place the coarse mars bar pieces into a deep bowl and add the butter. Take out the bowl between 10-15 second intervals and give the chocolate a gentle stir until the chocolate is completely smooth. Of course, this also depends on your microwave settings.
Scottish mars bar cake
You can also try to make a Scottish variation of these mars bar cakes. These include purchasing extra ingredients like nougat and toffee. You should place the nougat into the centre of the mars bar square, and cover it with toffee and chocolate. It's not so different in fact.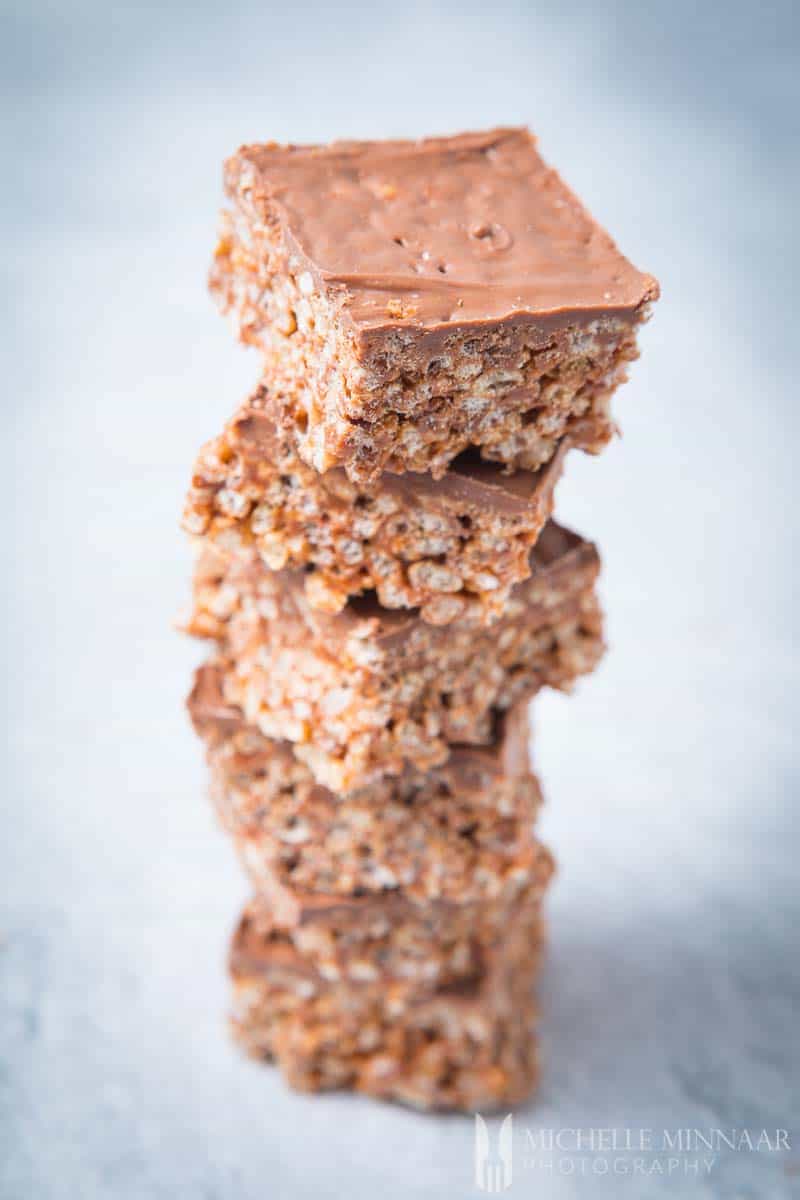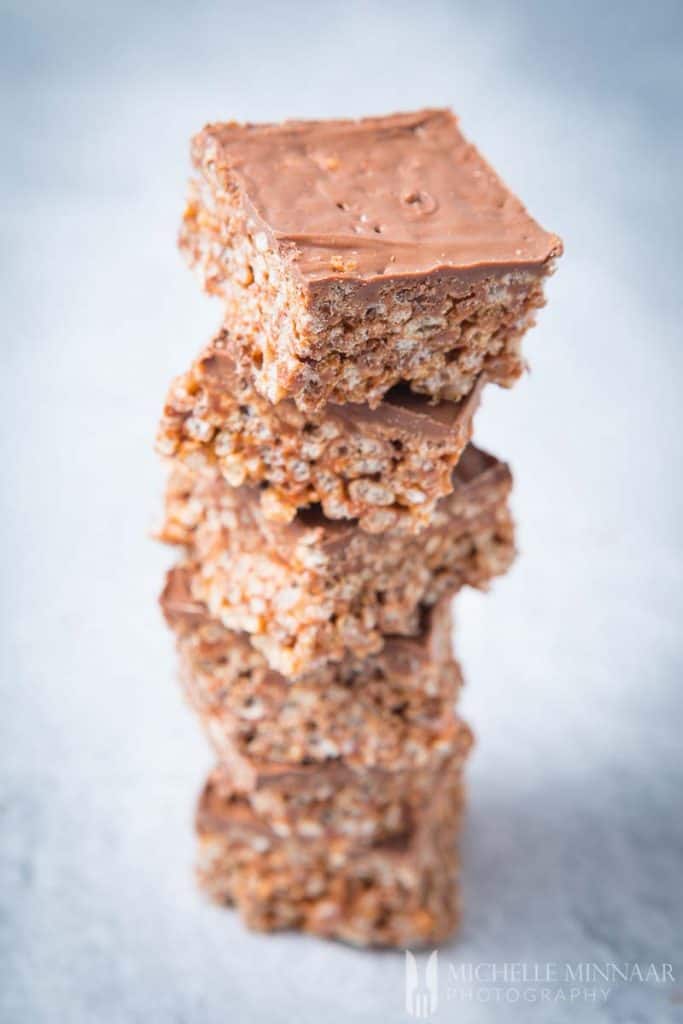 mars bar slices with marshmallows
Create a different variation of this recipe by adding bits of marshmallow to make the mars bar cakes extra soft. Plus, who doesn't love marshmallows right?
If you love making these mars bar cakes and are looking for more inspiration, then try these sugar-free flap jacks. They are also to die for! Also, you can't go wrong with these sugar-free chocolate chip cookies.
Print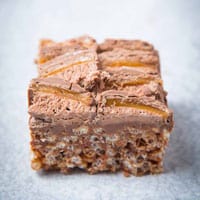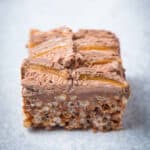 Mars Bar Krispies
---
Description
These mars bar cakes, also known as mars bar crispies are the next-level! They combine three main items, mars bars, chocolate and rice krispies. Enjoy!
---
300

g

(10 1/2 oz) Mars bars

50

g

(2 oz) butter

150

g

(4 cups) Kellogg's Rice Krispies

200

g

(7 oz) milk chocolate, melted
---
Instructions
Melt the butter and Mars bars in a pot and stir until smooth.
Pour in the Rice Krispies and stir until everything is completely covered by the chocolate sauce.
Pour the mixture into a greased 20cm (12in) baking dish and flatten with a spatula or potato masher.
Melt the chocolate in a heatproof bowl in the microwave, by giving it quick 20 second zaps and stirring until everything is melted.
Pour the melted chocolate over the Rice Krispie tray and smoothen the surface.
Place the tray in the fridge to set.
When the dessert has set, leave for 10 minutes before slicing into squares.
Notes
Feeling extra naughty? If you have extra Mars Bars lying around, slice them up thinly and layer them on top of the melted chocolate!
Prep Time:

15 minutes

Cook Time:

15 minutes

Category:

Desserts

Cuisine:

International
Nutrition
Serving Size:

1 serving

Calories:

172

Sugar:

17.2 g

Sodium:

92 mg

Fat:

7.8 g

Saturated Fat:

5.2 g

Carbohydrates:

23.4 g

Protein:

1.8 g

Cholesterol:

9 mg
save the recipe to your pinterest board