Guidelines currently suggest that we eat fish at least once a week. Yet many of us fail to do so. It's a common, misguided belief among less enthusiastic home cooks that preparing fish is difficult or complicated. Some don't have the confidence to choose what type of fish to cook with or complain when they find bones in it. Maybe you even have one of these fish pessimists in your family, who refuses to eat fish and always have an excuse at hand. Other common comments are that the fish is too dry or perhaps tastes too fishy! Why not prepare this baked basa recipe to change these people's minds?
It makes cooking with fish as easy as you can possibly imagine, as well as succulent and flavourful at the same time. This time, I served my baked basa with vegetable noodles but as always you can put your own twist on it. A truly enjoyable dish!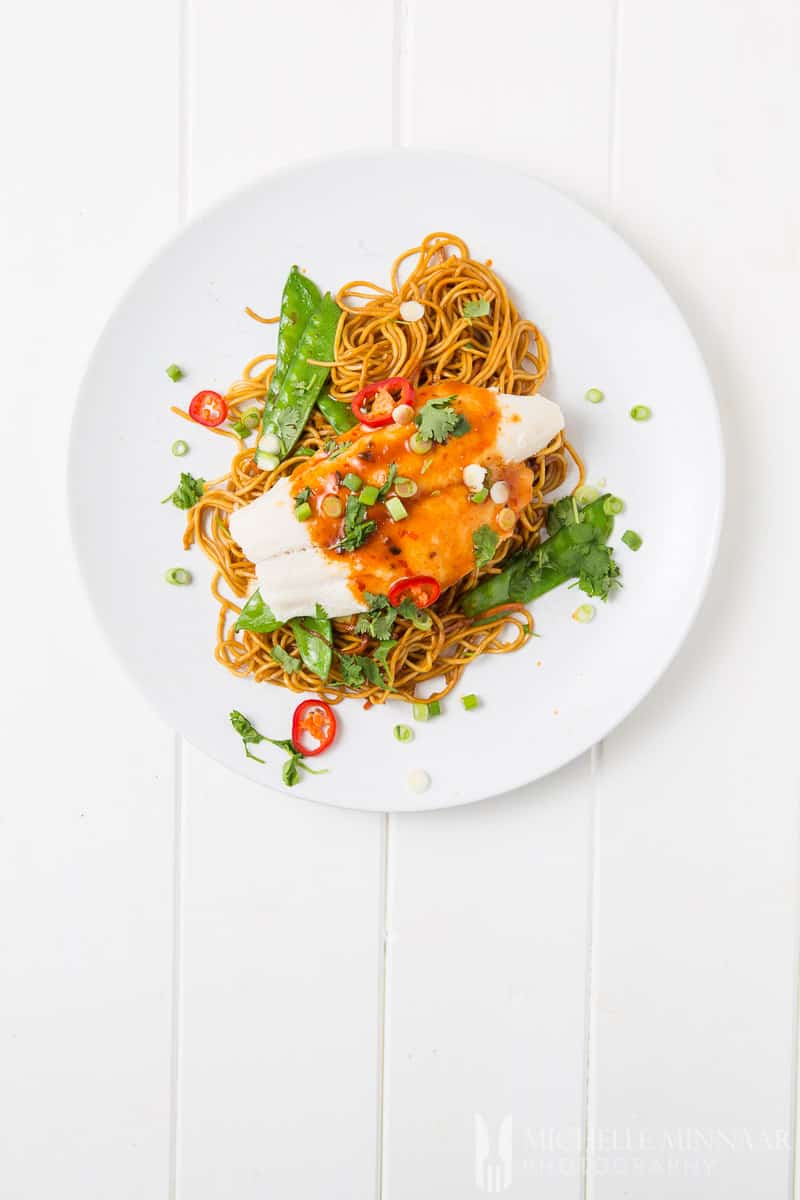 baked basa with the fishy sauce co.
To help overcome your fears or issues of inconvenience to cook fish, I partnered with The Fishy Sauce Co. This company, based in the fishing town of Grimsby, has made it its ambition to not just be able to cook fish more easily, but also more exciting! With this in mind, it has created a whole range of fish with interesting sauces. You can read all about the company and the vision on its website.
In order to create a recipe suited for a week day dinner, when you have little time to cook, I opted for the pack of basa filets. In fact, you can prepare this dish in less than 30 minutes. The pack not only contains two filets of basa and an Asian inspired BBQ sauce, but also a practical oven-bake bag to cook the fish in. It really doesn't get any easier than this to work with fish. All you have to do is to cook the fish in the oven bag provided, then heat the sauce before pouring it over your food.
In order to match the Asian inspired flavours of the BBQ sauce from The Saucy Fish Co., I have created a side dish of vegetable noodles. However, if this has wetted your appetite for more exciting fish and sauce combos you can check out the entire range on the website. The products are widely available in supermarkets across the country, so keep an eye out next time you go shopping. Furthermore, for your convenience, you can even order the products directly via the online shop, click here.
The Saucy Fish Co.'s cook from frozen Basa with Asian BBQ sauce and Salmon with Chilli Lime and Ginger are available at the reduced price of £3 from Tesco stores nationwide, for a limited time only.
about the basa fish
The basa is a freshwater fish native to Vietnam and its neighboring countries in Southeast Asia. It is a lean white fish with firm meat and few bones, and has a mild taste similar to cod or haddock. If you are American, this will remind your of catfish. If you weren't able to buy the package from The Saucy Fish Co. or find basa elsewhere, you can use just about any white fish variety. Simply wrap them separately in foil and bake. As the flavour of the fish itself is relatively neutral, it is important that you serve the baked basa with punchy sides.
the vegetable noodles
To keep in line with the Asian flavours in the BBQ sauce provided, I picked noodles. My vegetable noodles comprise egg noodles, chili, carrots, spring onions and sugar snap peas. I love to use sugar snap peas in noodle and wok dishes. The sweet taste and the crunchy texture complement noodles perfectly.
Other possible vegetables to use could be strings of courgette, sliced bell pepper or mushrooms. In addition, you can try adding and handful of shitake mushrooms in there to get an earthier note to the flavour. You can also add small bouquets of broccoli or cauliflower, or if you want to go even more Chinese, bok choy. Even courgetti will work! To get those Asian flavours going, you can inspire yourself with more delicious fish recipes like the coconut fish curry or the Thai fish cakes. If you want to go low carb, then check out this baked seabasss recipe with avocado and carrot salad.
Most importantly, aim to get all the elements of the dish, fish and noodles, ready at the same time. Just imagine the steaming hot noodles on the plate, still with a good crunch in the vegetables just as the basa comes out of the oven.
alternative sides
I love to cook noodles because it's so easy to create something full of flavour in no time at all. If you're not so keen on noodles and prefer to go gluten free, you can serve the baked basa with boiled basmati rice and fried vegetables instead. Don't forget about rice noodles! You can also steam some vegetables such as courgette, spring onion or even bok choy. This tweak will change it into an even lighter meal – perfect for a January diet, if you believe in those!
serving and seasoning
Make sure that you serve the dish steaming hot, with the sauce poured directly onto the fish. To finish it off, I have sprinkled the dish with chopped spring onion, chillies and fresh coriander. I find that this adds the final touch of Asian flavour to the baked basa. As always, this bit is completely optional. You can leave the coriander out or replace it with the herb of your choice. In this case, chives or watercress could be good alternatives if you're not a fan of coriander. The good thing about this dish is that it can easily be scaled up. Especially, to serve more people without adding much to the preparation time. It's great option if you need to feed a large family or group of friends on short notice.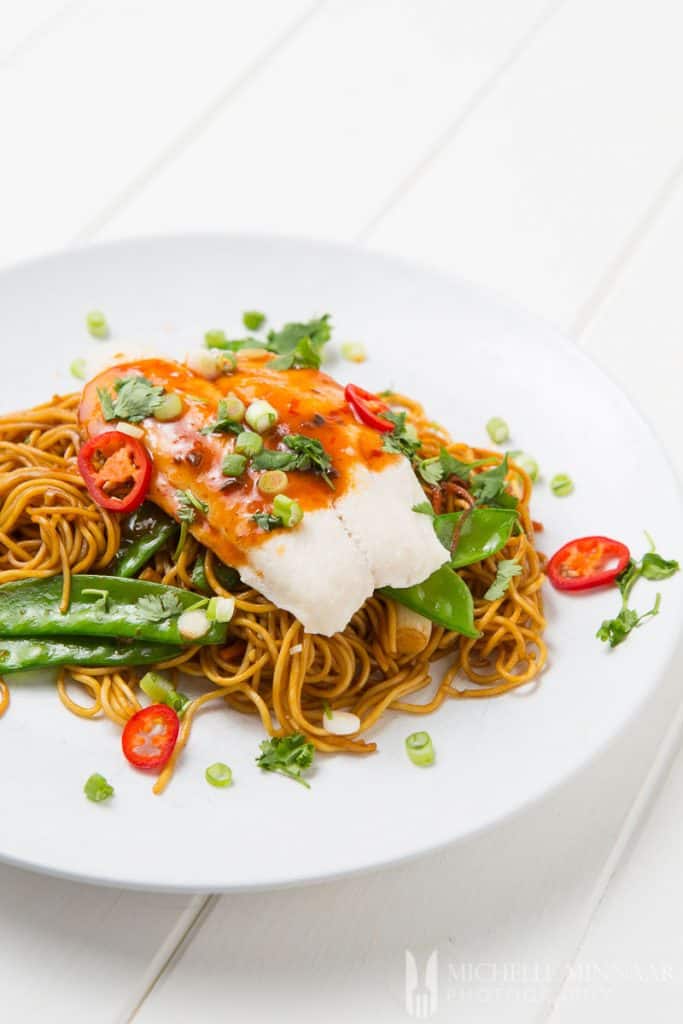 As with most fish dishes, the bakes basa doesn't get better the next day. Therefore I do not recommend to save the baked base for the next day's lunch or dinner. Instead serve and eat the baked basa immediately after cooking it.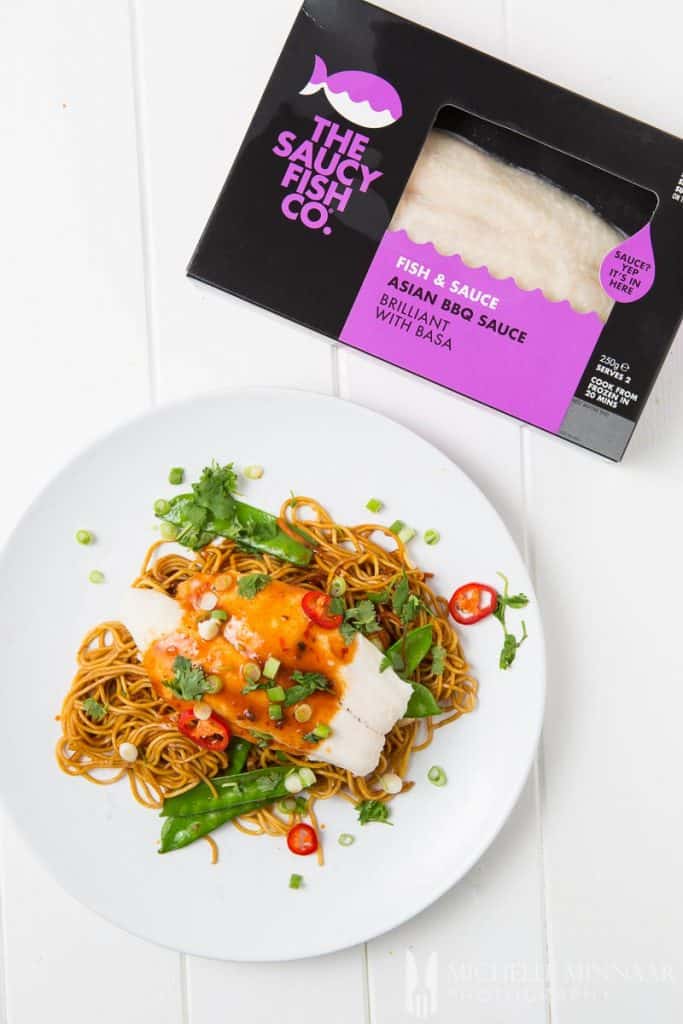 What is your favourite way to prepare white fish?
Print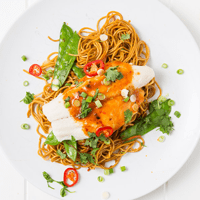 Baked Basa with Vegetable Noodles
---
4

basa fillets

15

ml (1 tbsp) oil

1

garlic clove, crushed

1

red chilli, washed and sliced

2

carrots, peeled and julienned

120g

(

4oz

) mangetout or sugar snap peas, washed and trimmed

4

spring onions, trimmed and chopped

30

ml (2 tbsp) soy sauce

30

ml (2 tbsp) honey

250g

(1/2lb) dried egg noodles, cooked

60

ml (4 tbsp) coriander leaves, washed and chopped
---
Instructions
Preheat oven to 160°C/180°C fan/320°F/gas 4.
Wrap the fillets separately in foil and bake for 20 minutes.
Meanwhile, heat the oil in a wok and fry the garlic and chilli on a high heat.
After 1 minute add the carrots, peas and spring onions and stir for 2 minutes.
Add the soy and honey, then the noodles.
Stir until everything is evenly coated with sauce.
After 20 minutes cooking time, the fish should be ready. Remove from the oven.
Divide the vegetable noodles between the plates and top with a fillet of fish.
Sprinkle with coriander and serve immediately.
Notes
Alternatively, buy The Saucy Fish Co.'s Basa with Asian BBQ Sauce and use the oven bag provided to cook the fish in. When serving the fish, serve with the heated barbecue sauce on top.
Prep Time:

15 minutes

Cook Time:

25 minutes

Category:

Main Course

Cuisine:

Chinese
Nutrition
Serving Size:

1 serving

Calories:

284

Sugar:

12.2 g

Sodium:

533 mg

Fat:

7.2 g

Saturated Fat:

1.7 g

Carbohydrates:

32.5 g

Fiber:

2.9 g

Protein:

23.3 g

Cholesterol:

18 mg
save the recipe to your pinterest board
P.S. This is a sponsored post.