Skip the takeout and make your own tasty Japanese beef yaki udon. Made with stir-fried udon noodles, this udon recipe is one you'll be keeping on rotation.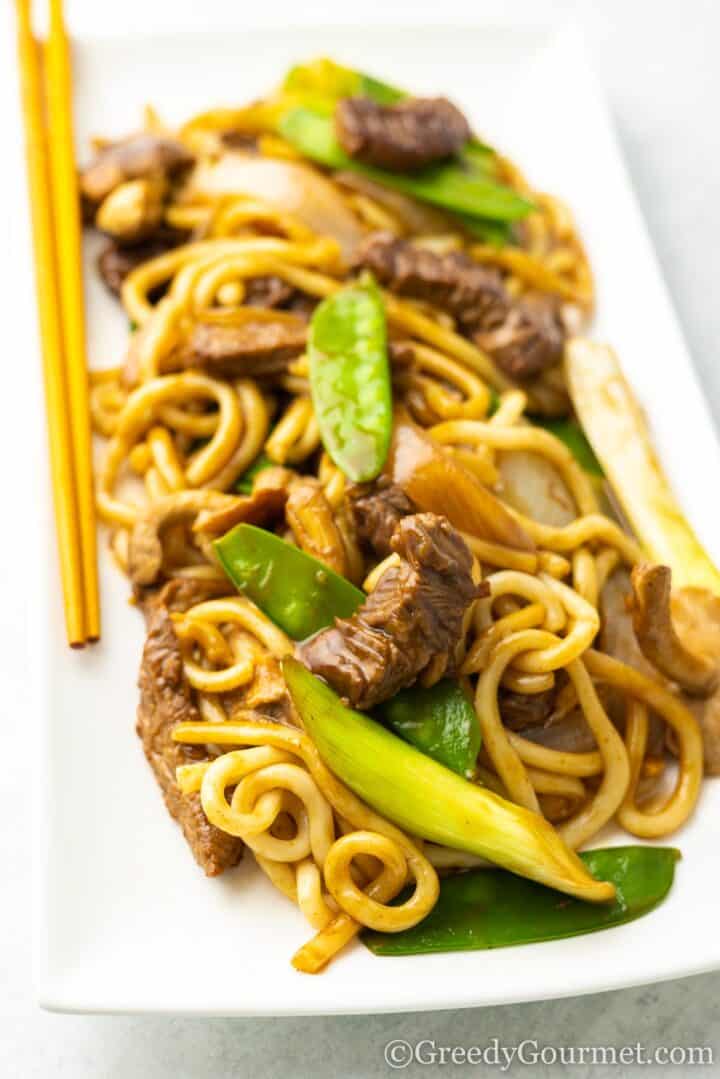 It's nearly indistinguishable from a traditional beef yaki udon, making it one of my favorite recipes when I'm craving Japanese food, and soon to be one of yours, too. Here's everything you need to know about this stir fry:
Why You'll Love This Recipe
You'll love this stir fry because it's easy to make, can come together so quickly, and has the most delicious umami flavor.
Special Equipment Needed To Make This Recipe
Wok – The only special piece of equipment you need for this beef yaki udon is a wok.
This pan is a special pan that is used in many Asian recipes. It's traditionally used when making stir fry, because of its round bottom, but it can be used to make a variety of recipes.
Its round bottom gives you plenty of space and surface area to toss your dish and ensure that all of the flavors are melded together.
By using this pan, you'll be able to get your beef udon stir fry and all of its contents covered in delicious oyster sauce and soy sauce. It's possible to make this recipe without using a wok, but I highly recommend it.
Special Ingredients You Need For This Recipe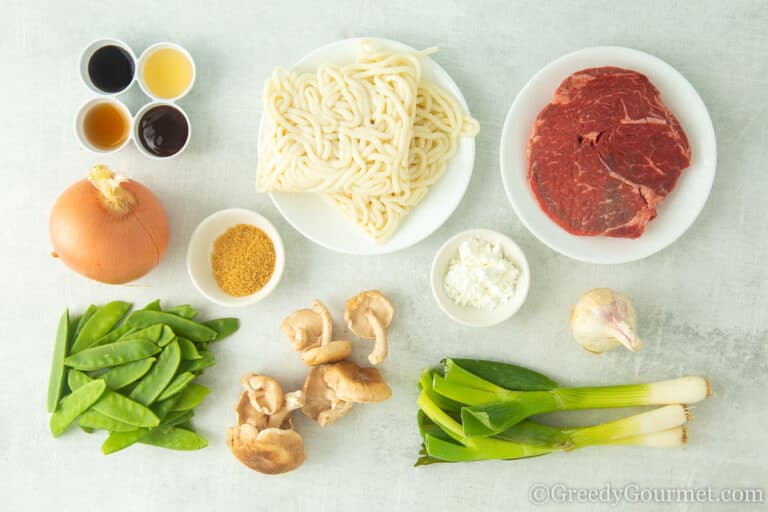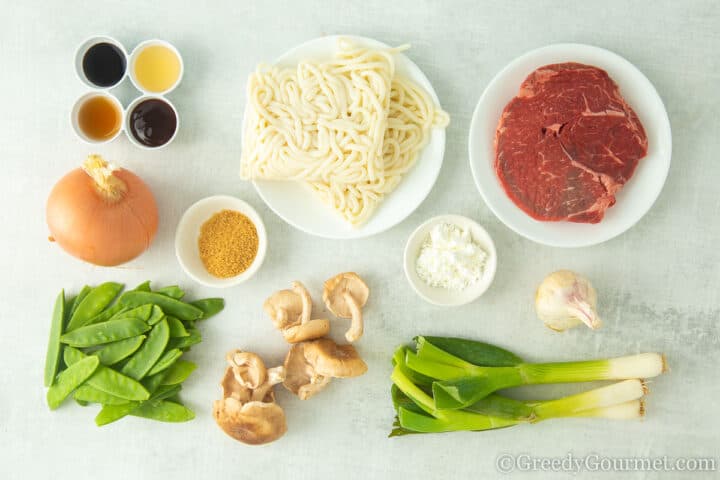 What to Serve with Your Udon Noodles
Sides
Slow Cooker Red Cabbage – Cabbage is one of the best vegetables to serve alongside stir fried udon noodles. Beef udon tastes amazing with a side of cabbage, and it's perfect to stir in, too.
Sauteed Peppers and Onions – I love having sauteed peppers added to my beef udon stir fry, but if I'm serving someone who doesn't like them, I like to make them on the side. That way I can easily mix them with my yaki udon, but those who prefer their stir fried udon noodles plain can still enjoy their meal.
Bok Choy Stir Fry – Bok choy stir fry is another stir fry recipe I like to have alongside my beef udon stir fry for the same reason as the peppers. Stir frying doesn't take much work, so it's nice for everyone to have an option they can enjoy!

Top Tip
For ultra flavorful yaki udon, marinate your steak overnight.
Popular Substitutions For This Recipe
Noodles
If you are out of udon noodles, or you just don't like the chewy wheat noodles, you can substitute them for something else. People like to use soba noodles instead.
This recipe calls for pre-cooked udon noodles, but you can also use frozen udon noodles or dried udon noodles. I just make sure that if you use frozen noodles or dried noodles, you cook them according to their package.
Meat
Steak can be very expensive to use in beef yaki udon. If you do not want to use steak, but still want beef udon stir fry, you can use ground beef instead.
This is a much less expensive cut of meat, will still be flavorful, and will give you a tasty beef udon stir fry.
Veggies
This yaki udon calls for onions, spring onions, mushrooms, and mangetout, but you can use whatever kind of vegetables you want.
You can use bell peppers, broccoli, carrots, cabbage, scallions, baby bok choi, or anything else that you would like. You can use those in place of the recipe's vegetables or in addition.
How To Make This Recipe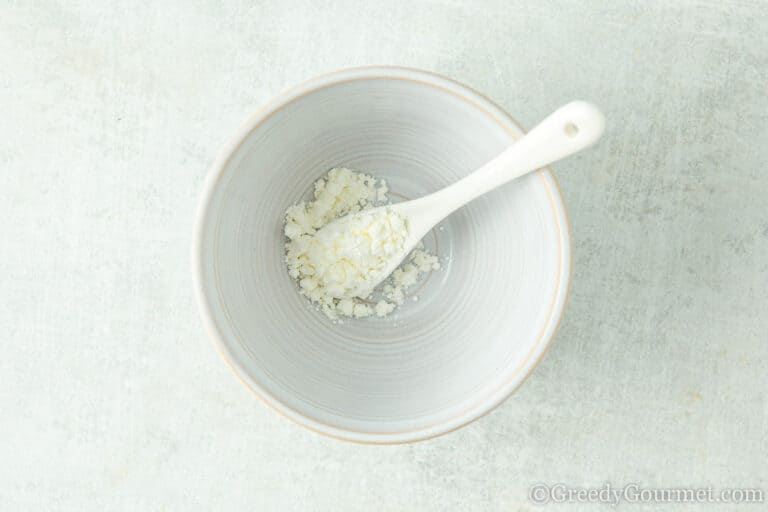 Place the cornstarch in a bowl.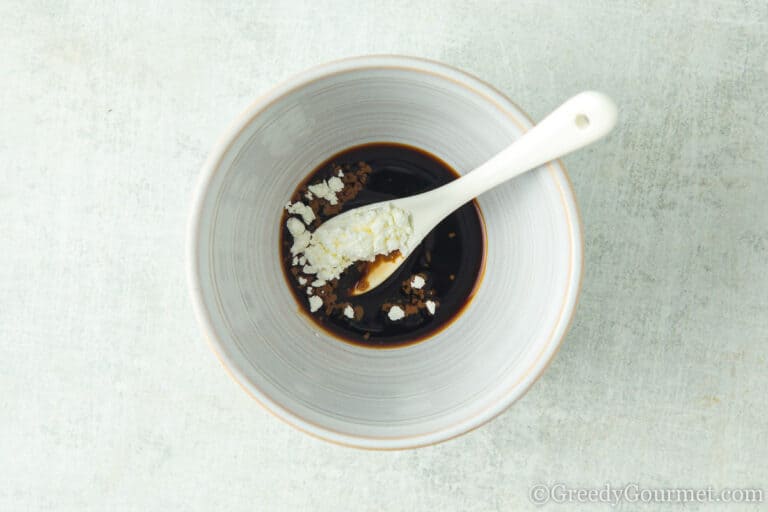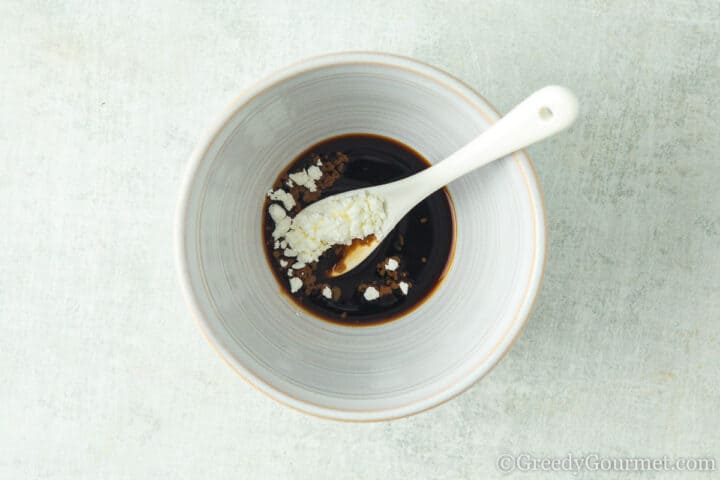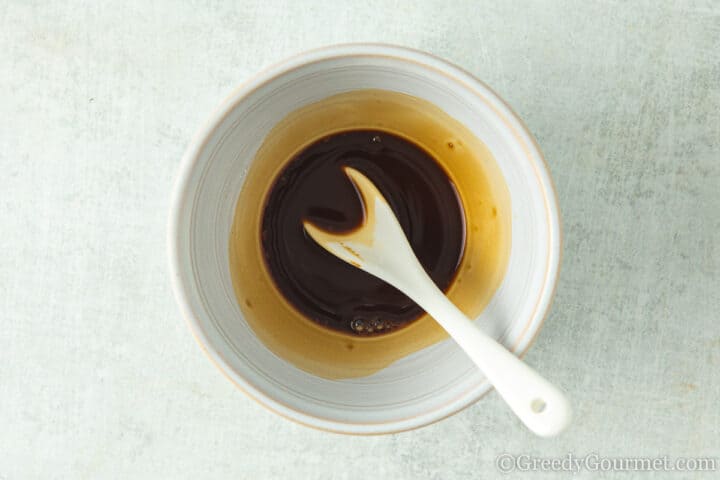 Add the oyster sauce, mirin, sugar and sesame oil.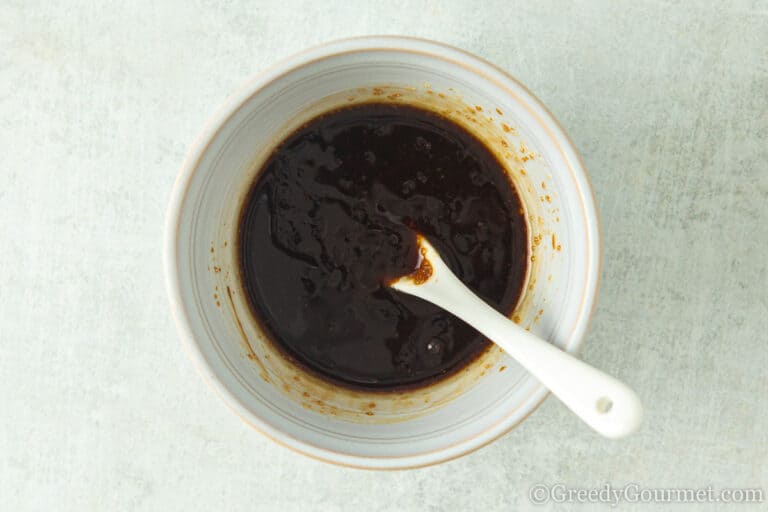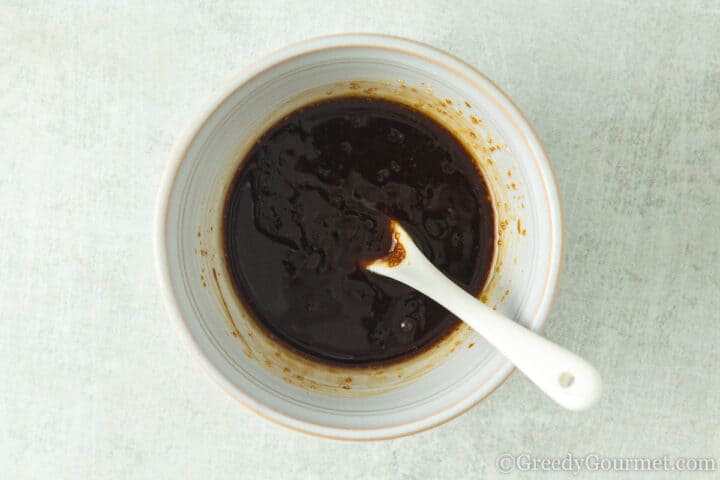 Stir until a paste forms.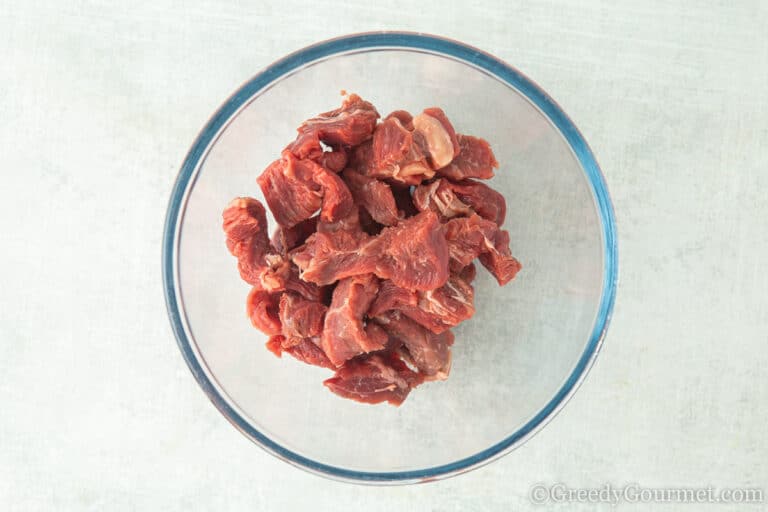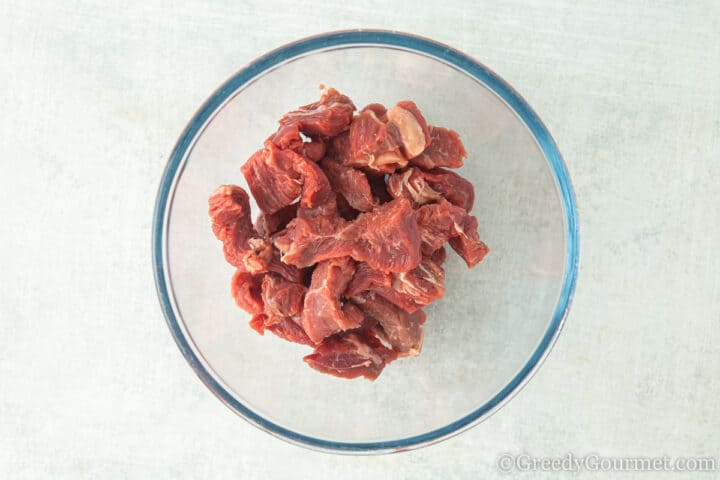 Slice the beef thinly and place in a bowl.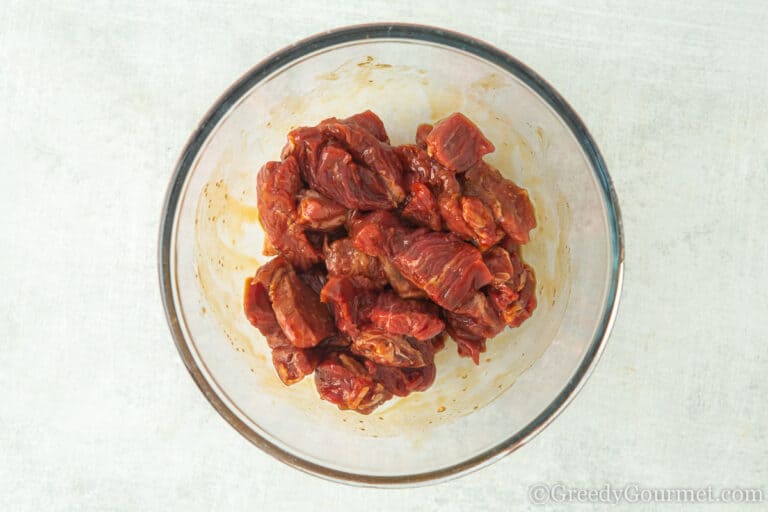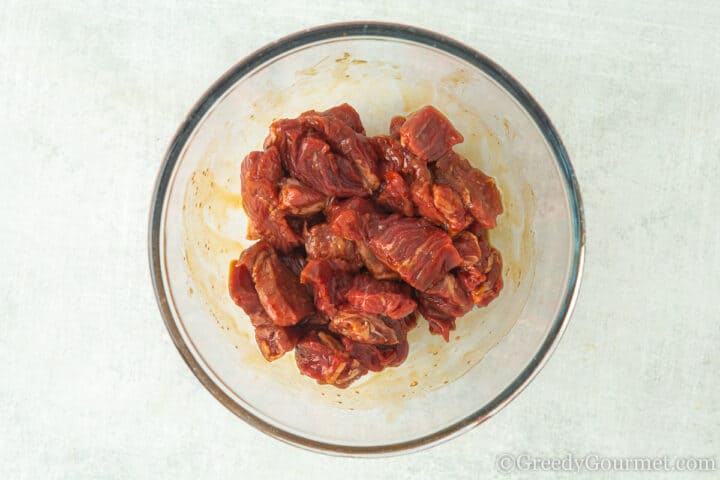 Take a bit of the sauce and marinate the meat while you prep the vegetables.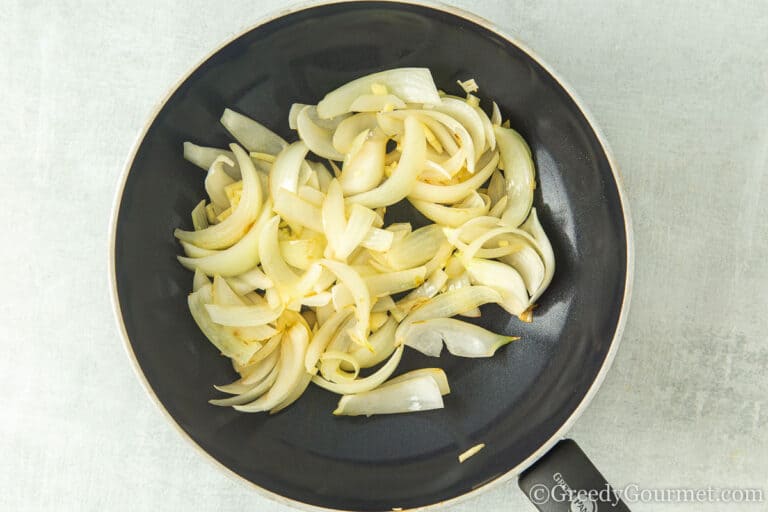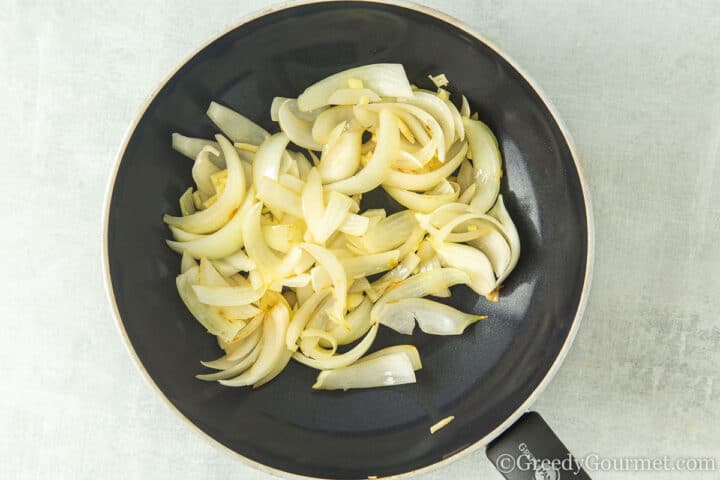 Fry the onions for a few minutes.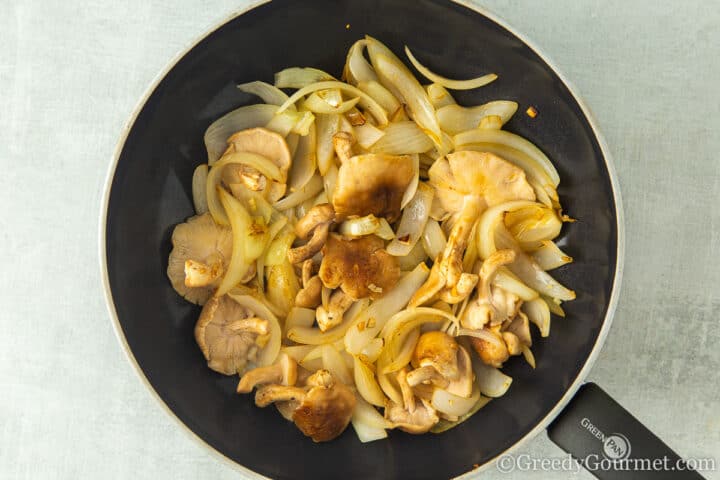 Add the mushrooms and cook for a bit.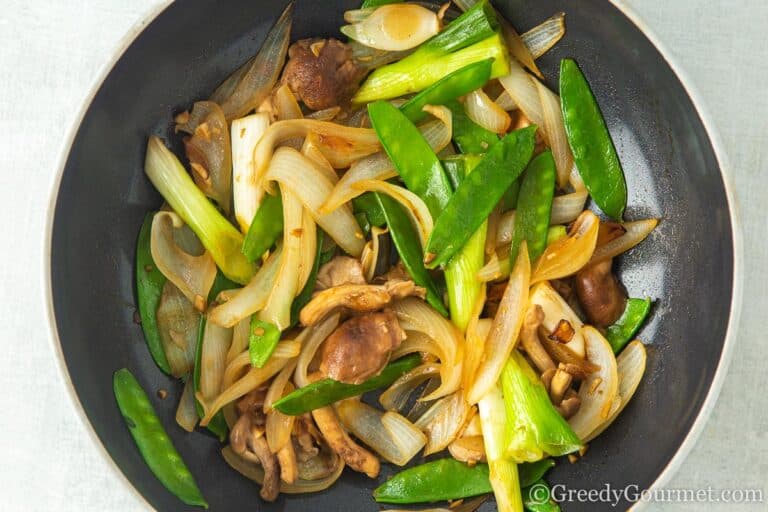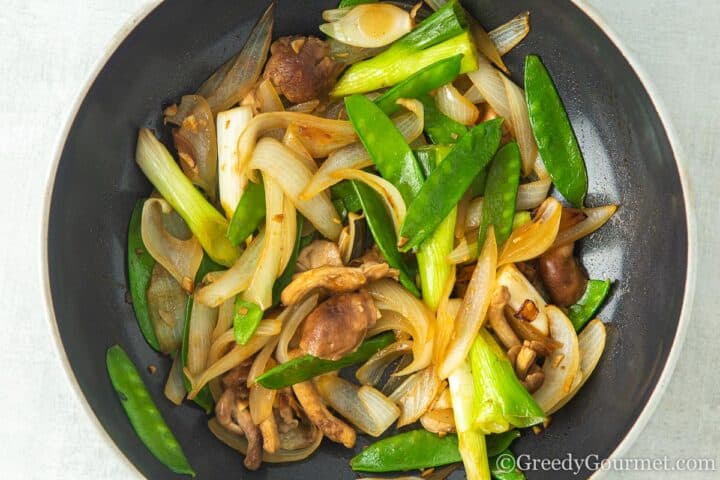 Tip in the spring onions and snow peas. Fry for few minutes then place on plate and set aside.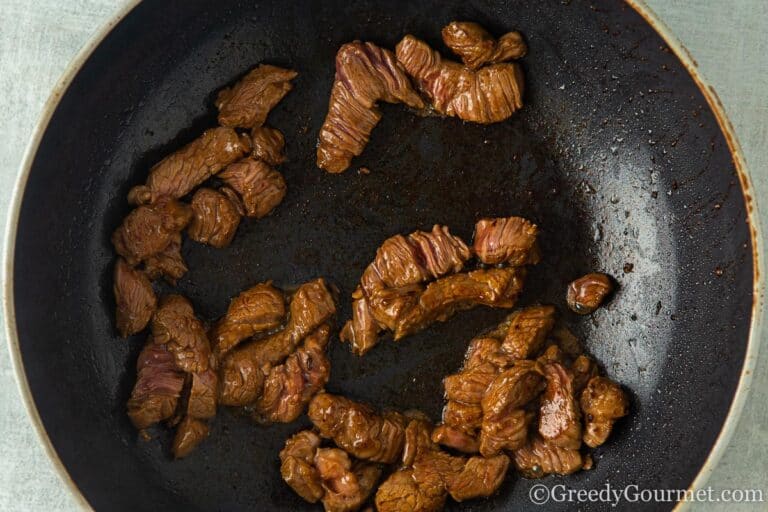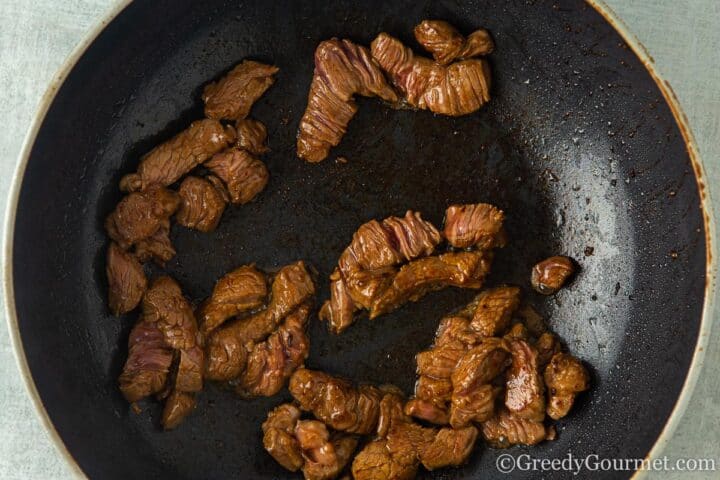 In the same pan, brown the marinated steak.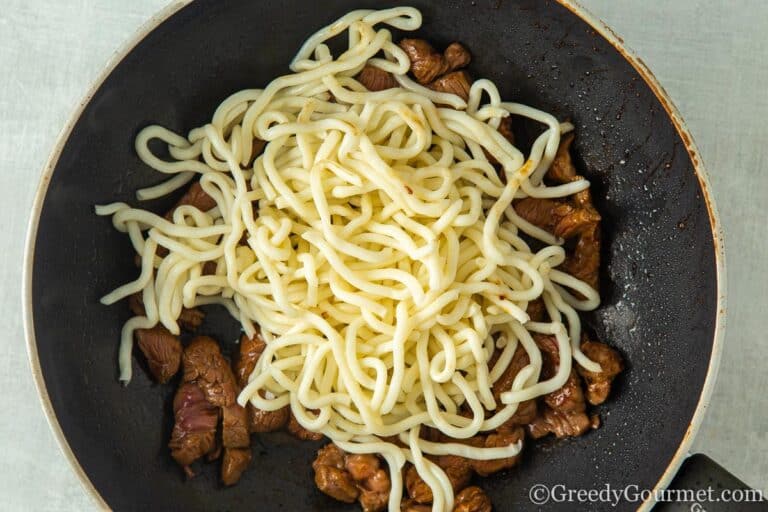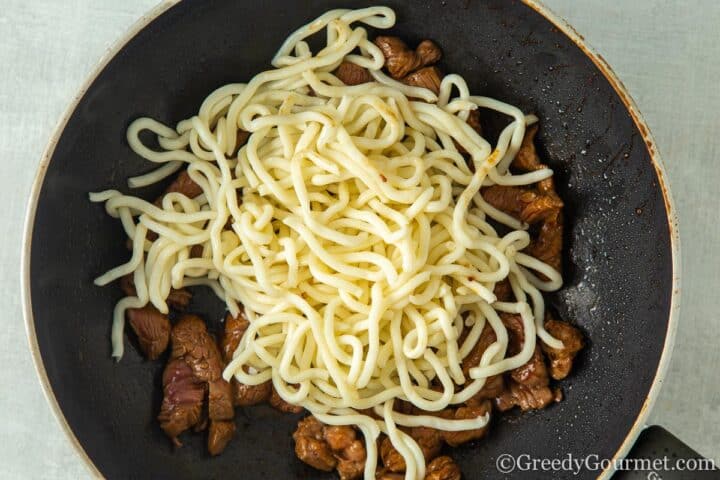 Add the udon noodles and remaining sauce.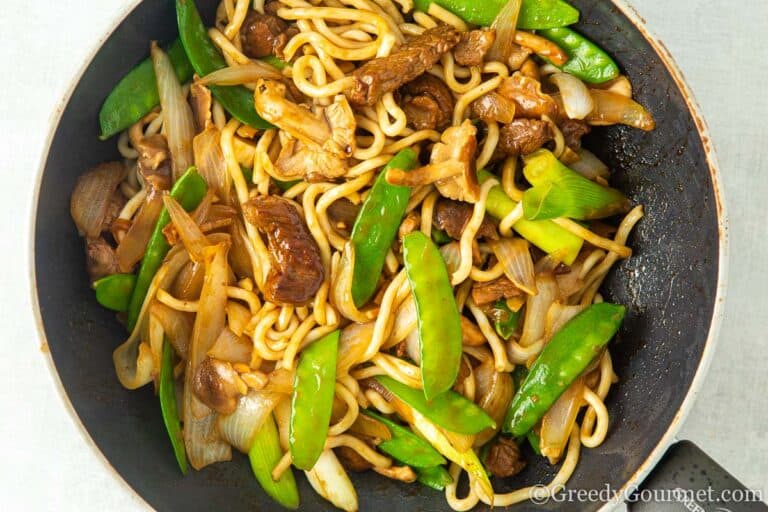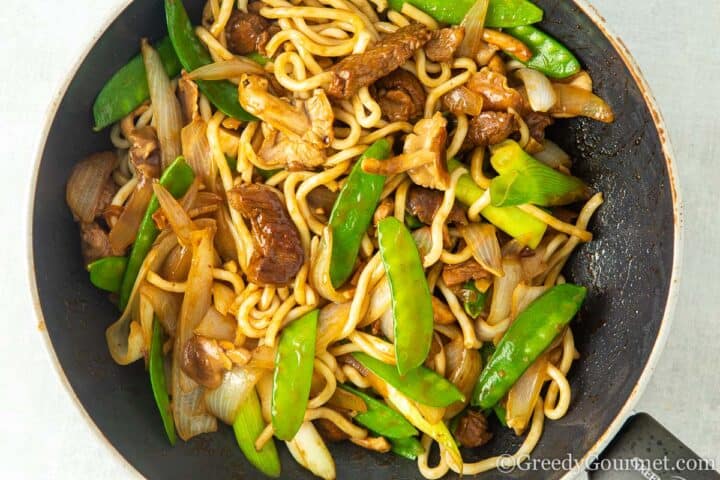 Add the vegetables and give it a good stir. Serve immediately. Enjoy!
Top Tip
Keep your pan hot! This is the key to a good stir fry.
Variations To Beef Yaki Udon
Spicy
This beef udon is not very spicy unless you add more garlic than is called for. So, if you want your beef yaki udon to be a spicy stirfry, you can ramp up the garlic or add some other spices.
Red pepper chili flakes are a great spice to add for a little heat. You could also just top it with some Sriracha or add some hoisin sauce to the mix.
Vegetarian
You can totally have your udon noodles in a vegetarian stir fry. You do not have to use beef or any other meat for that matter.
You can instead omit all the meat. If you want a little extra protein, you could add some firm tofu.
Chicken yaki udon
If you want some stir fried meat but you don't like beef, turn your beef Yaki udon into a chicken yaki udon.
There are many yaki udon recipes available, but you can just swap the beef for chicken with this recipe. You could also use pork or another stir fried meat that you prefer.
Gluten free
Unfortunately, there is a lot of gluten in udon noodles, making them unsafe to eat for anybody who has celiac disease or just wants to avoid gluten. Instead of omitting the noodles altogether, try to find some gluten-free udon noodles.
You can get these online, they may be available in your larger supermarket. There are many ways to safely eat yaki udon!
How do I store leftovers?
Store leftover stir fry by putting it in the refrigerator in an airtight container. It will stay good for up to three or four days.
Can I Freeze This Recipe?
Yes, you can freeze this recipe. Make sure you put it in an airtight container and only keep it in the freezer for up to one month. I suggest separating the stir fried udon noodles and the vegetables.
You can reheat this dish by stir frying it again or putting it in the microwave or the air fryer.
Can this recipe be scaled?
Yes, this recipe can be scaled, but I do not suggest making it much bigger than it already is. It can be difficult to cook that much food at once, even if you do have room in the wok.
However, it can be scaled back and made a half size or even a quarter size if that's all you want.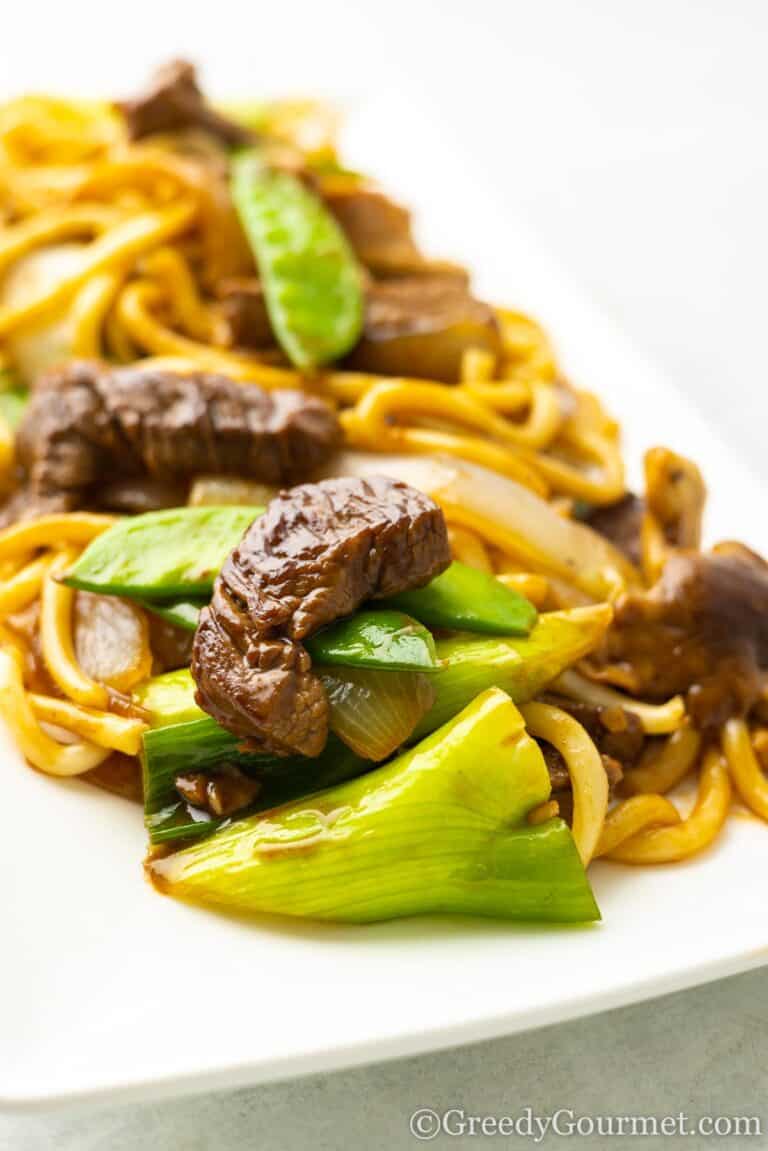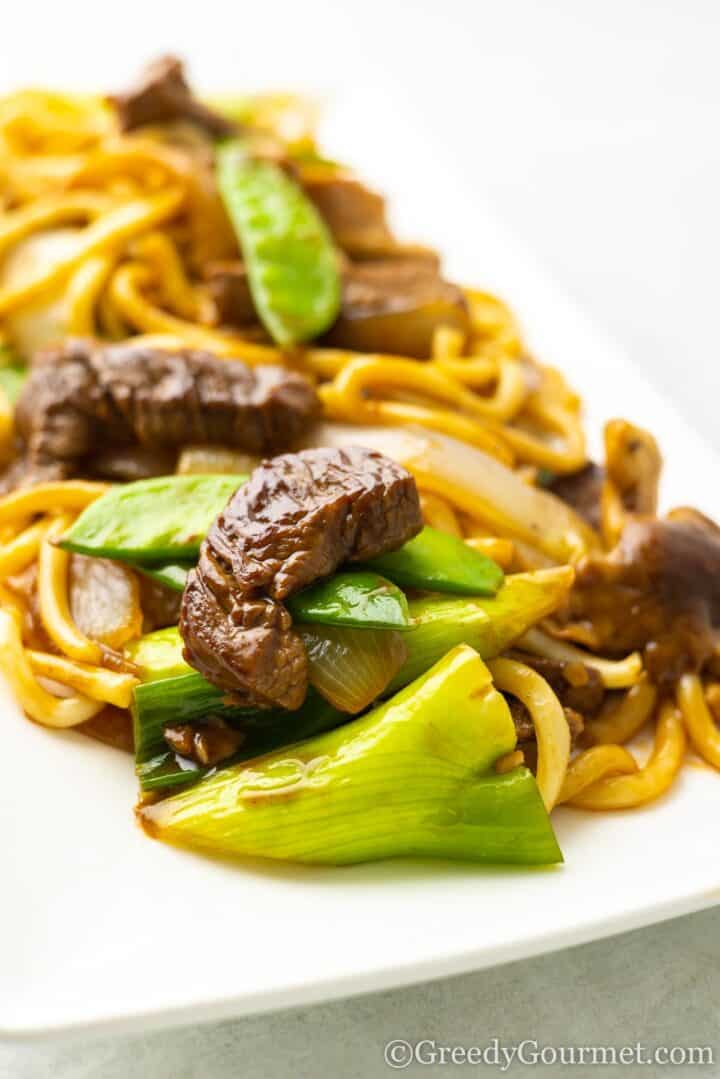 Other Stir Fry Recipes You'll Love
Beef, Broccoli & Cashew Nut Stir-Fry – There are endless possibilities for stir fries, and this is one of my favorites. Once you make it, you'll be begging for more.
Mongolian Lamb Stir Fry – Cultures of all kinds make stir fry recipes, and this is a unique one you'll want to write down. It uses tender lamb and is so tasty.
Food Safety
Cook to a minimum temperature of 165 °F (74 °C)
Do not use the same utensils on cooked food, that previously touched raw meat
Wash hands after touching raw meat
Don't leave food sitting out at room temperature for extended periods
Never leave cooking food unattended
Use oils with high smoking point to avoid harmful compounds
Always have good ventilation when using a gas stove
I can't wait to hear what you think of this yaki udon recipe! Once you make it, let me know your thoughts.
GIVEAWAY
One winner will receive a Swaledale Classic Steak Meat Box!
The Swaledale Classic Steak Meat Box celebrates our traditional breeds of cattle, such as Dexter, Highland and Belted Galloway, slowly grown on limestone pasture and high quality hay, then properly dry-aged on the bone in our Himalayan salt ageing room for 28 days.
When paired with the low density farming methods employed by our farmers across the Yorkshire Dales, complex flavours can be expected. Featuring 3 classic prime steaks – Sirloin, Ribeye and Rump, a steak-lovers delight, perfect for a stylish BBQ or simply pan-fried over intense heat.
All steaks are prepared on the day of despatch by our dedicated team of artisan butchers. Always fresh and suitable for home freezing.
What's in the box?
2 x 250g Ribeye Steaks
2 x 220g Rump Steaks
2 x 250g Sirloin Steaks
Entering is easy, just follow the instructions below.
a Rafflecopter giveaway
HELP
Here you can find a tutorial on how to enter with Rafflecopter.
If your form is not showing, try refreshing the page.
Complete the form, otherwise your entries will not count.
Make sure the mandatory entries (e.g. leave a blog comment) are completed first.
Don't forget to come back daily for extra entries via Twitter.
If you're viewing this post by email, please come to the actual webpage to enter.
Competition Question: What is your favourite Japanese dish?
Print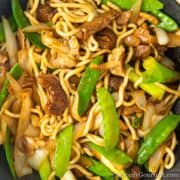 Beef Yaki Udon Recipe
---
Author:

Michelle Minaar

Total Time:

20 minutes

Yield:

2

servings

1

x

Diet:

Low Lactose
Description
There's no need for takeout when you've got this tasty Beef Yaki Udon recipe. Made with stir-fry udon noodles and a tender steak.
---
Stir Fry Sauce
2.5g

(

1 tsp

) cornstarch 

30

ml (2 tbsp) dark soy sauce

30

ml (2 tbsp) oyster sauce

30

ml (2 tbsp) mirin

12.5g

(

1 tbsp

) sugar

5

ml (1 tsp) sesame oil
Stir Fry Vegetables
30

ml (2 tbsp) vegetable oil

1

onion, sliced

2

garlic cloves, crushed

2

spring onions, sliced

120g

(

4oz

) mushrooms, cleaned

100g

(

3oz

) mangetout

300g

(

10oz

) pre cooked udon noodles
---
Instructions
Slice the steak into thin strips. Set aside in a bowl. 
For the Sauce: Place the cornstarch in a small bowl and stir in the soy sauce until a paste forms. Be sure to make sure it's smooth with no lumps.
Stir in the rest of the sauce ingredients. 
Spoon 45ml (3 tbsp) over the steak strips and stir until the meat is covered in the sauce and starts marinating. Set everything to one side while you prep the vegetables.
Stir Fry Vegetables: When your vegetables are ready, heat the oil in a wok over a high heat.
Fry the onions for 2 minutes, then add the garlic and cook for another minute. 
Tip in the spring onions, mushrooms and mangetout. Stir fry for 4 minutes, or until the mushrooms are cooked. 
Place the vegetables in a large bowl and place the wok back on the heat. 
Beef Yaki Udon: Stir fry the beef for 1 minute until browned. 
Tip in the udon noodles and the stir fry sauce. 
Stir vigorously until the meat and noodles are evenly distributed and covered in sauce. 
Add the vegetables back in and give it a stir. Serve immediately. Enjoy!
Notes
The type of steak you use is up to you – sirloin, rump, ribeye or filet are all good options.
Traditionally, bok choy (2 needed) is used in this recipe but since the shops didn't stock it I opted for mangetout. Check out other substitutes you can use.
In this recipe, I used shiitake mushrooms. Use whichever you can get hold of.
This recipe makes a large portion for 2 people. For those with smaller stomachs it can serve 3-4 people. Extra side dishes always help!
Prep Time:

10 minutes

Cook Time:

10 minutes

Category:

Dinner

Method:

Stir Fry

Cuisine:

Japanese
Keywords: beef yaki udon, beef udon stir fry, steak yaki udon, japanese beef stir fry, udon stir fry recipe